As soon as I got off the Celebrity Edge, after 7 nights in the Caribbean, I took a taxi to go from Fort Lauderdale to Miami, 2 high places for cruise departures. This is the first time I've sailed on Seabourn, a company that belongs to the same group as Costa or Princess: Carnival. Slight apprehension therefore when boarding because I have never had good comments on Carnival in general, I was able to test the poor quality of Costa myself, and I find Princess a little too classic in its approach to cruises , even if these last years have shown their will to evolve a little.
Seabourn presents itself as a luxury company, which is characterized, in addition to its high prices, by an all-inclusive offer: waters, coffees, freshly squeezed fruit juices, cocktails, beers, wines, champagnes and strong alcohols. Only very high-end alcohols have a fee. The restaurants are also included: buffet, main restaurant and specialty restaurants never ask to pay a dollar, nor even what you can order in the cabin, at any time. What's in the fridge too. Its content is made à la carte, according to each one's tastes, and remains well filled throughout the duration of the trip. There is no tipping during or at the end of the cruise. Wi-Fi is also included, in its basic version (ie without streaming), for 1 device per passenger.
However, there are 2 exceptions: excursions and the spa. They are not included in the fare of the cruise.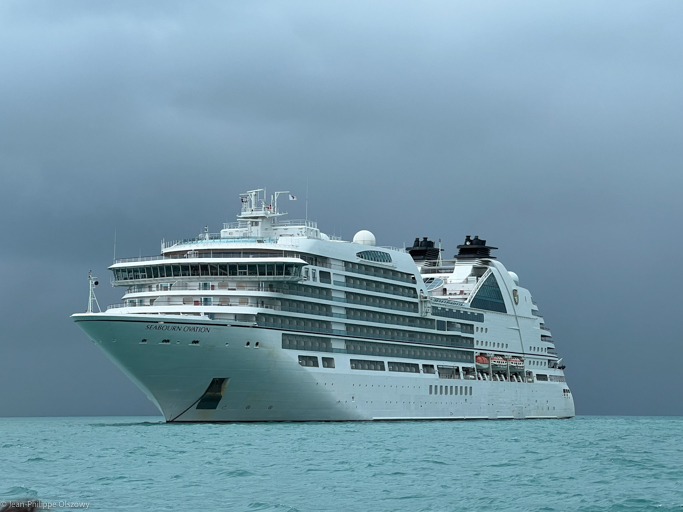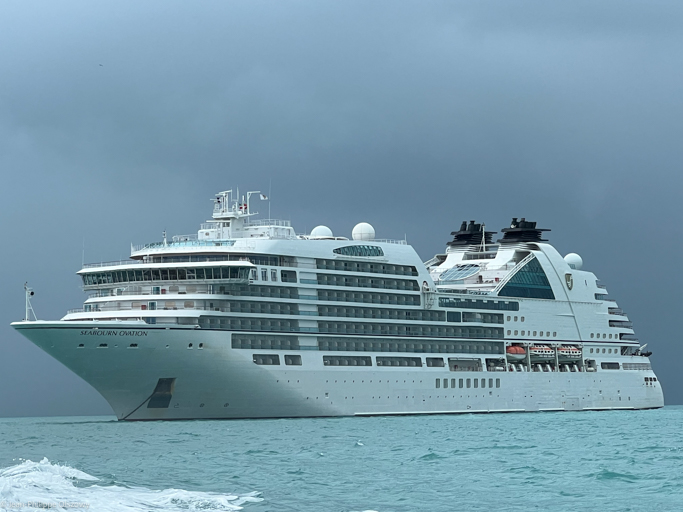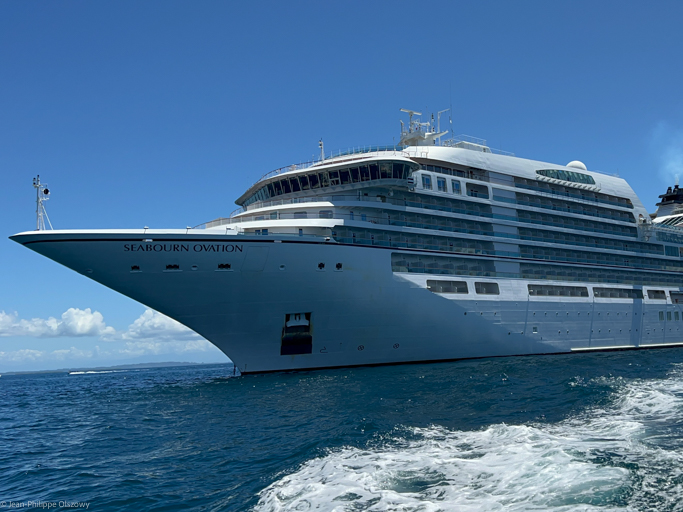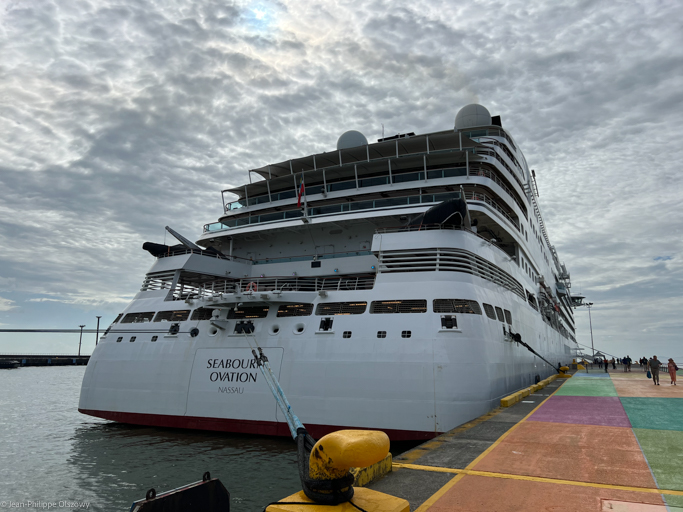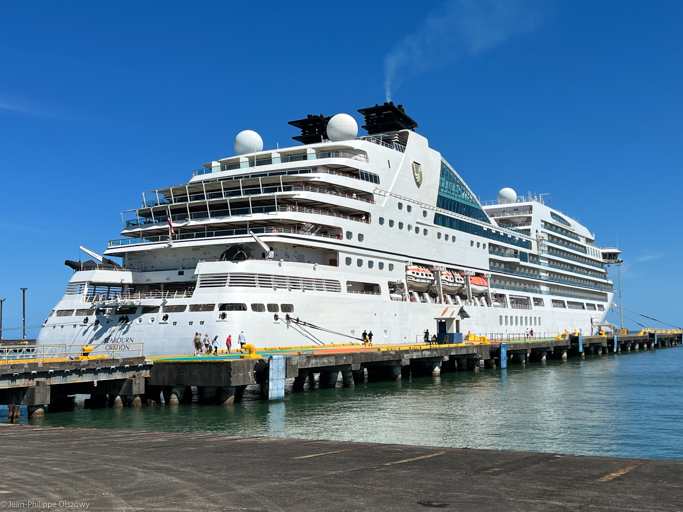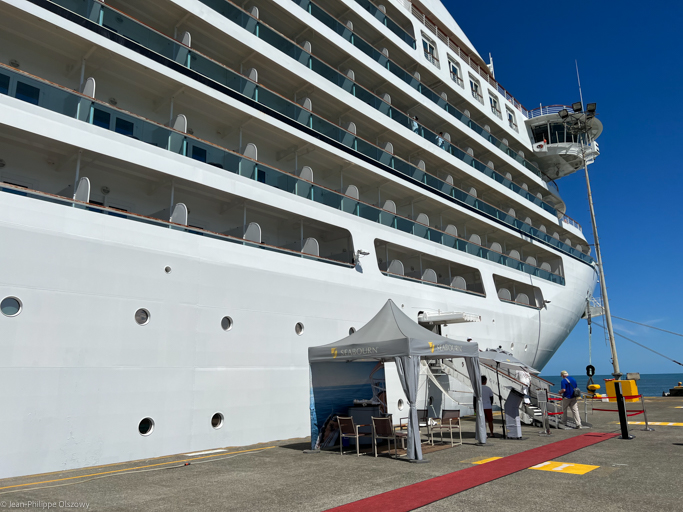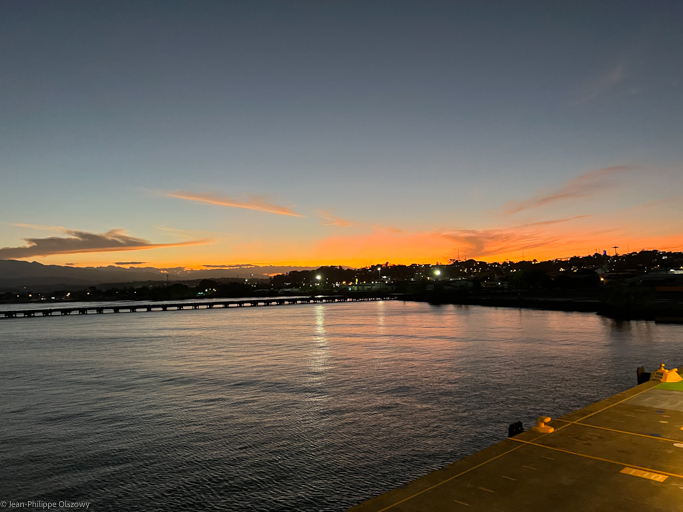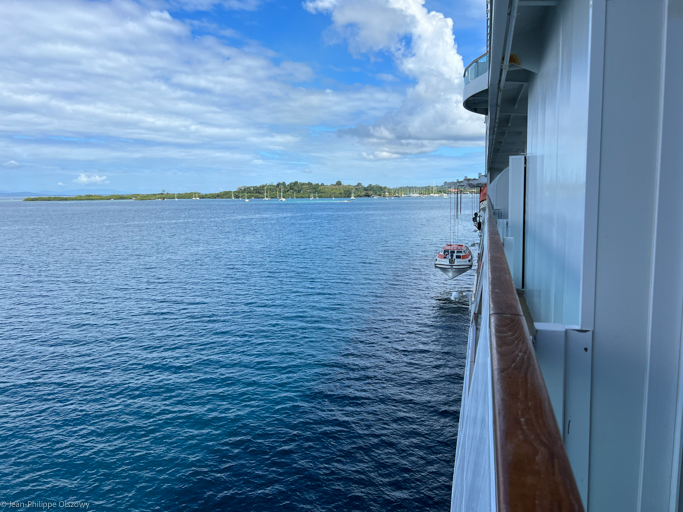 The interior design of the Seabourn Ovation is quite classic, maritime woods and marbles. The main staircase is double-revolution, unusual but beautiful.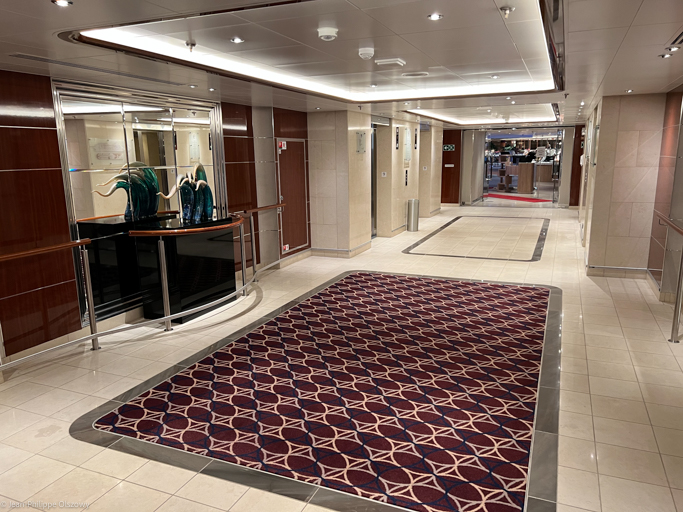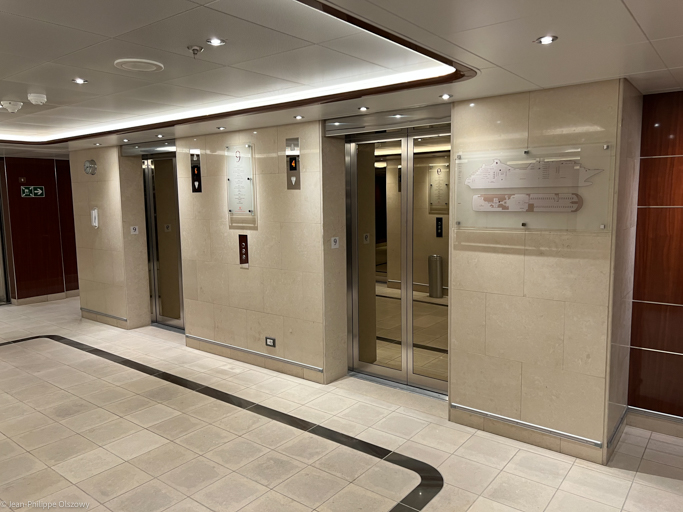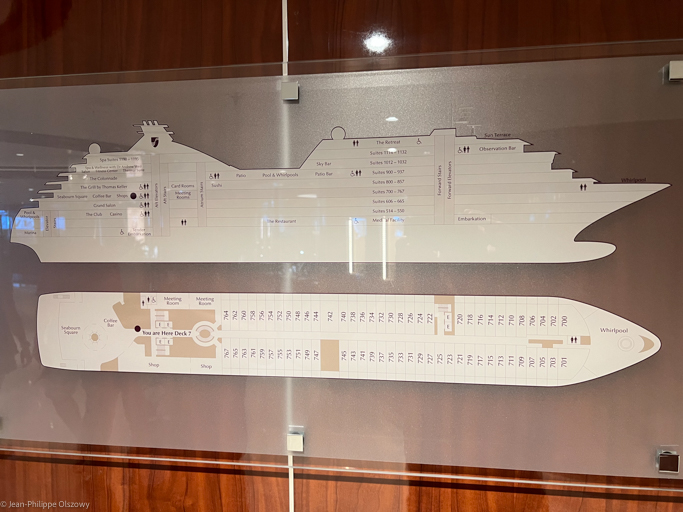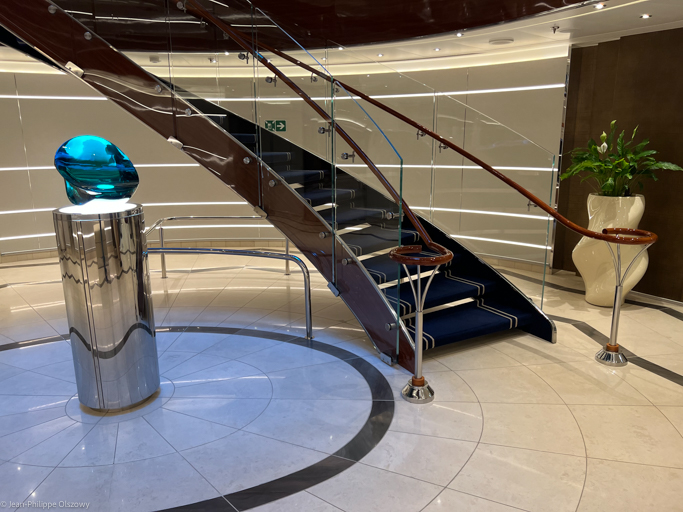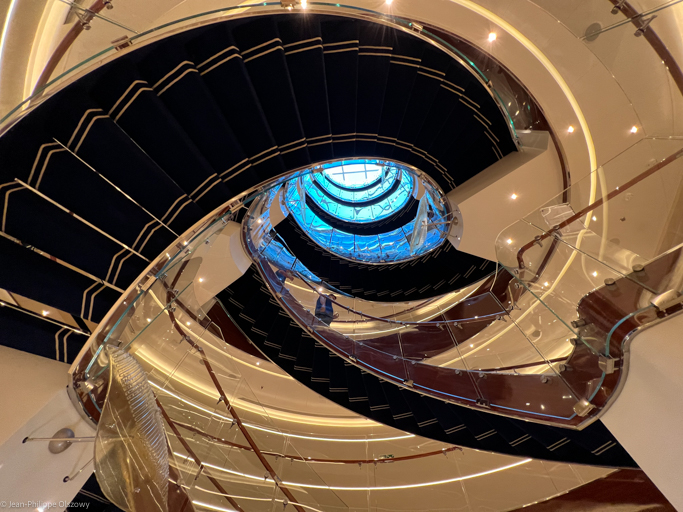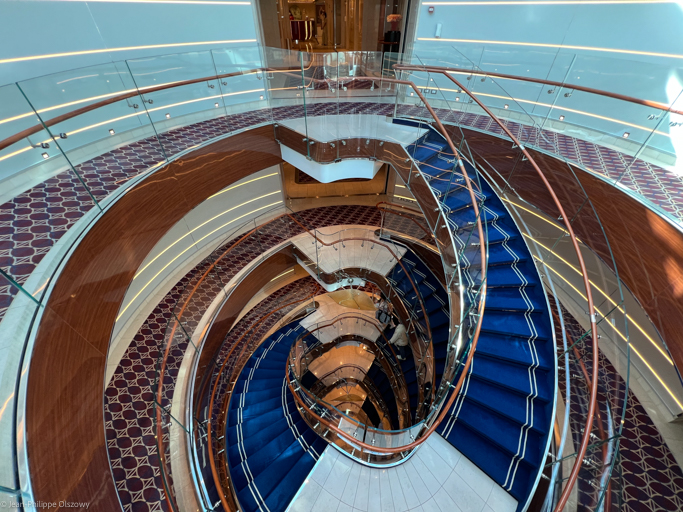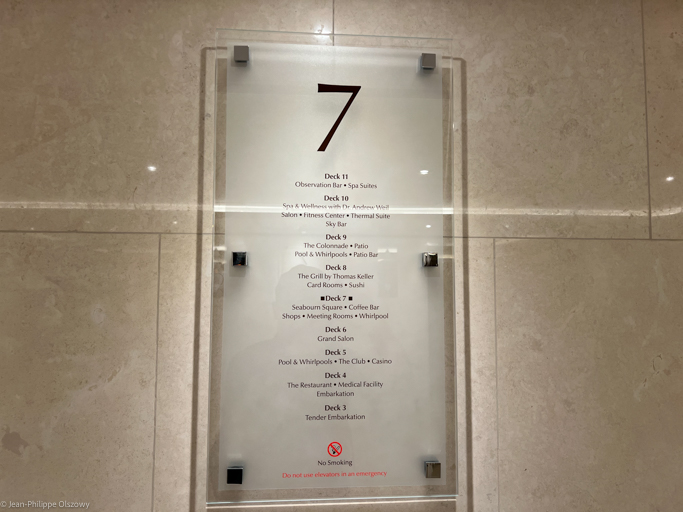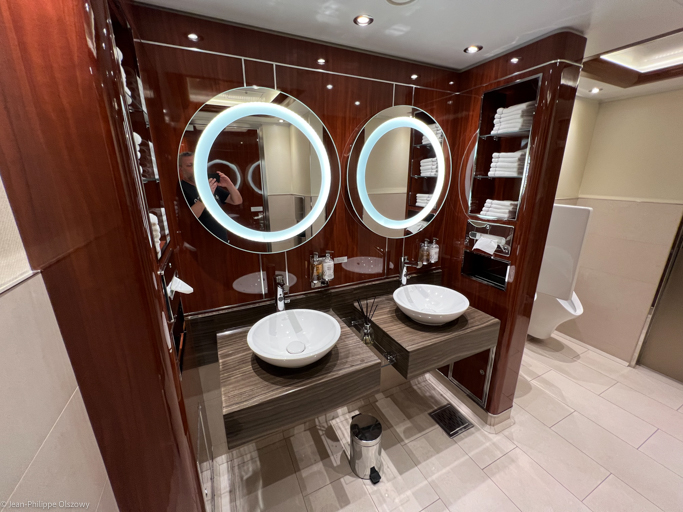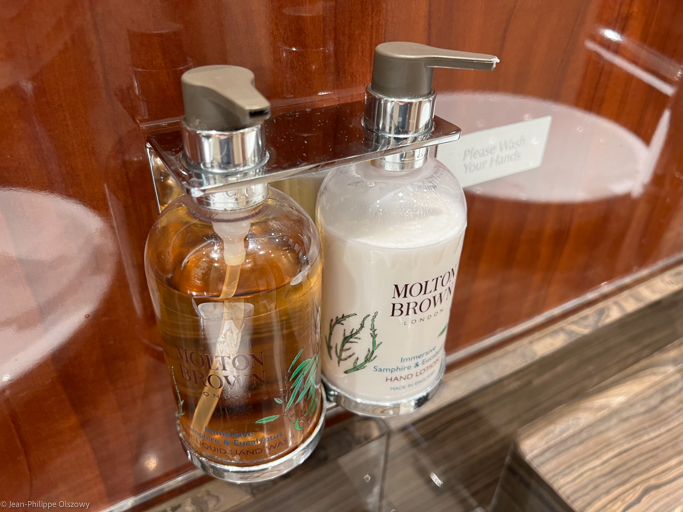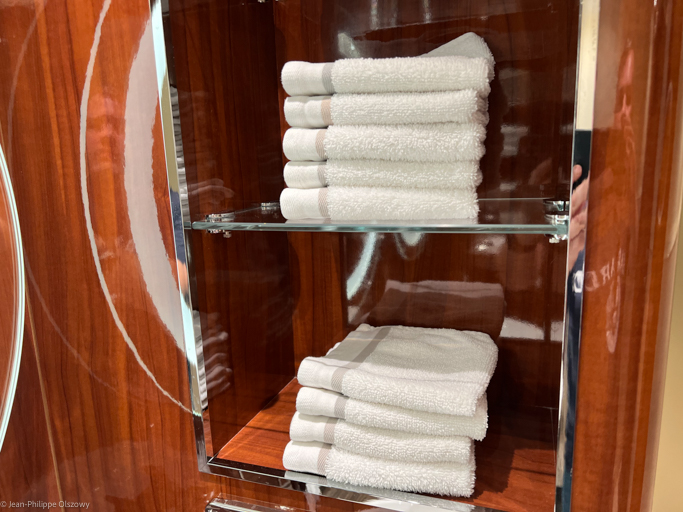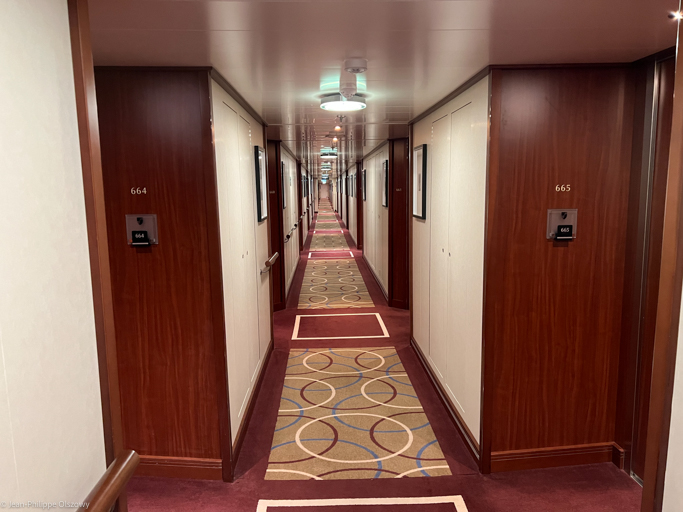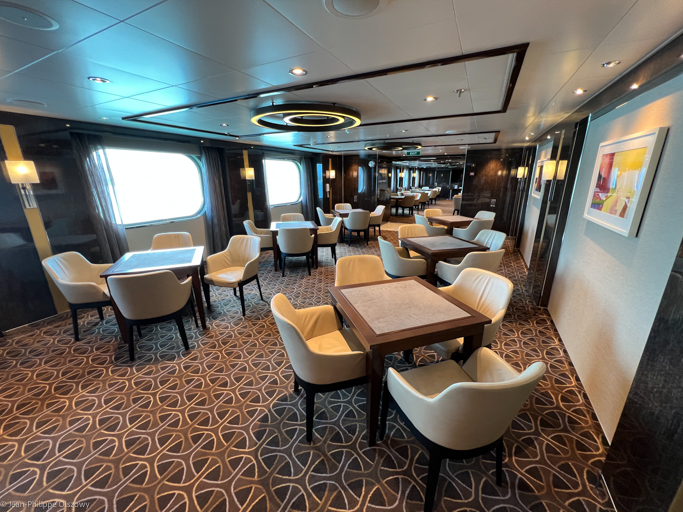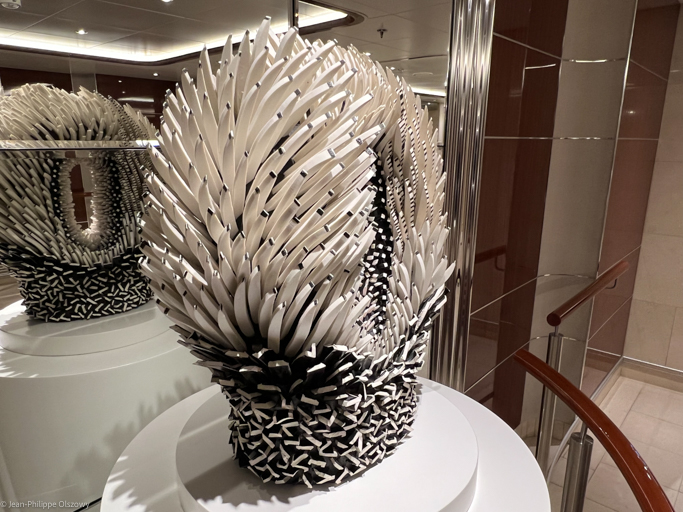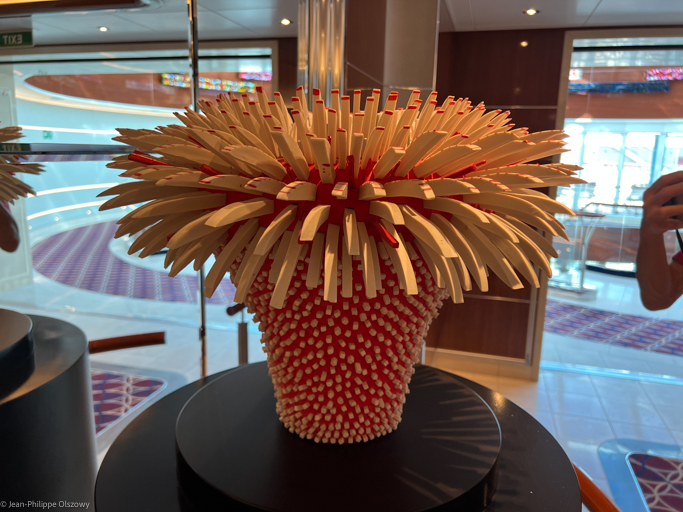 The ship aft therefore has the particularity of being only occupied by common areas, with the exception of deck 11 which houses a few spa suites, just above the spa. You can go from deck to deck via exterior stairs. The front of the boat, on deck 7, also offers a rest and sunbathing area with a hot tub.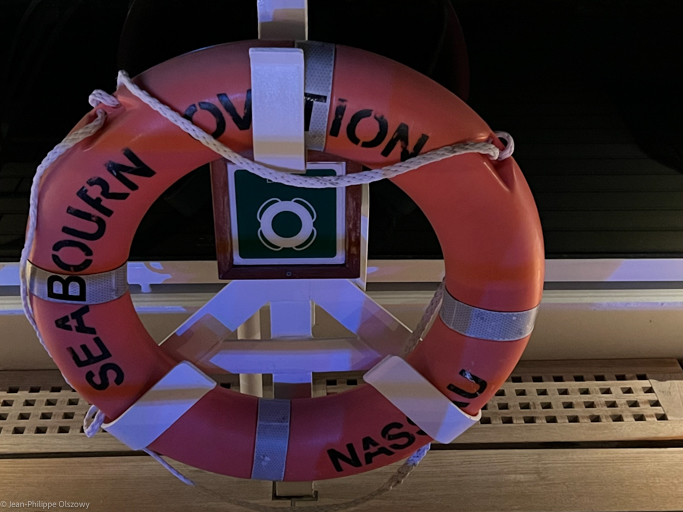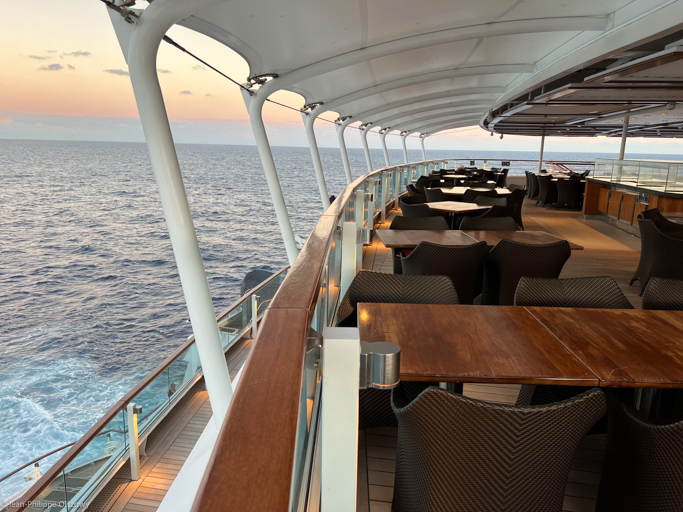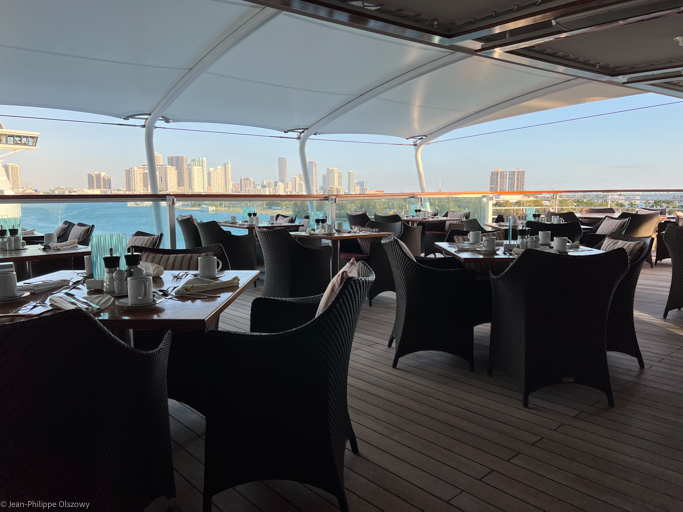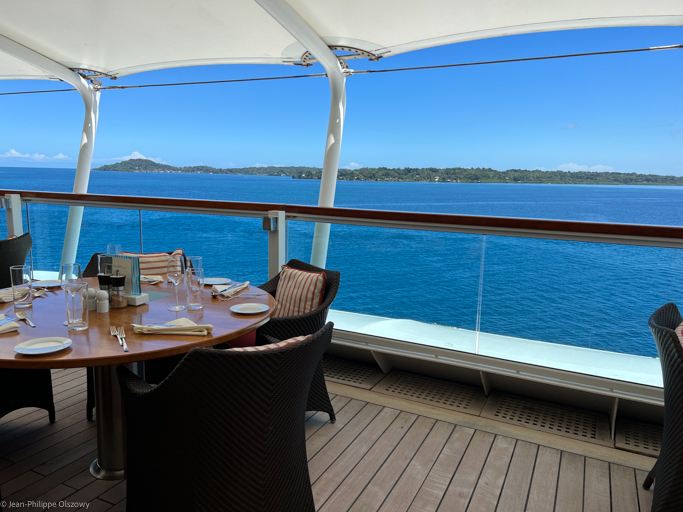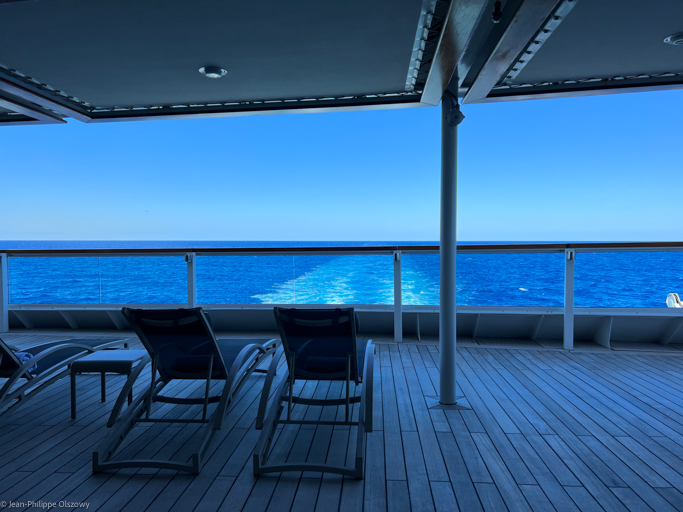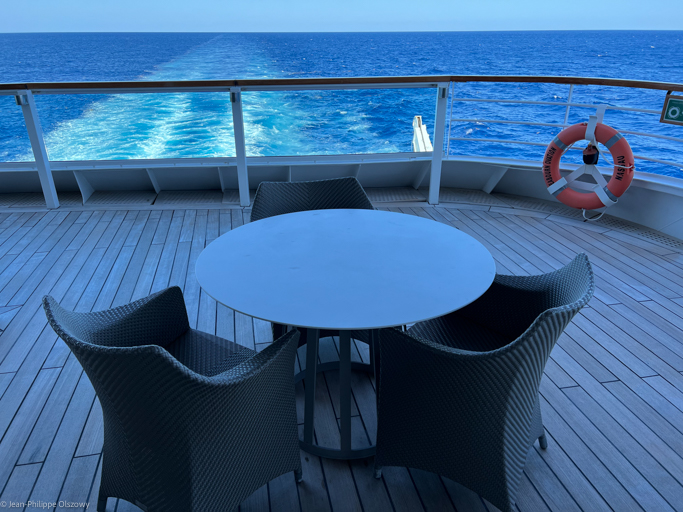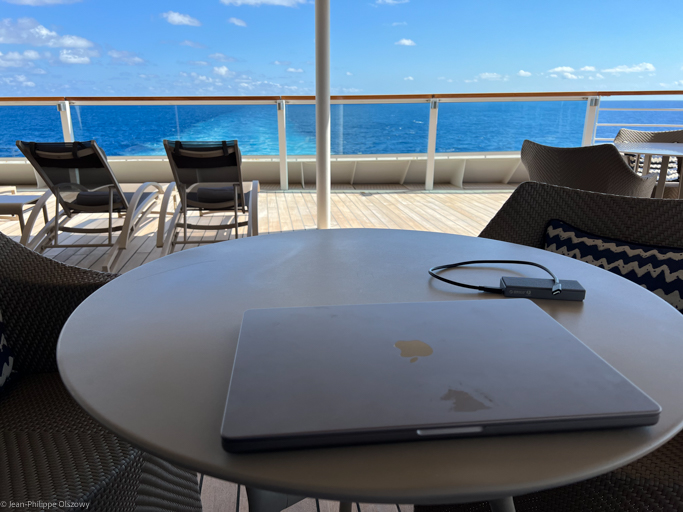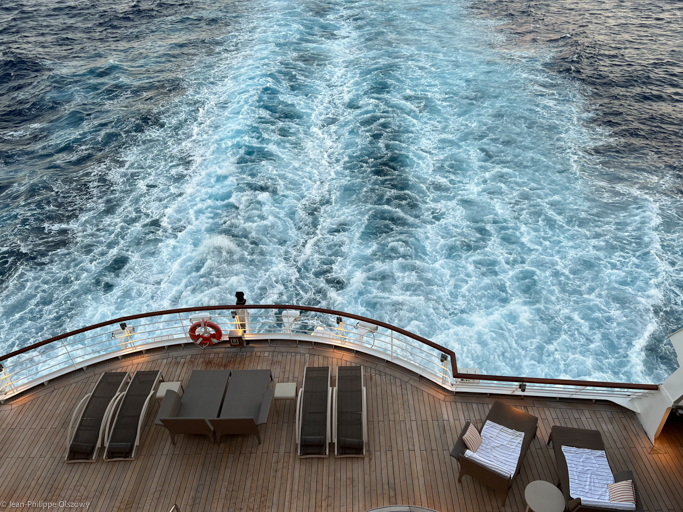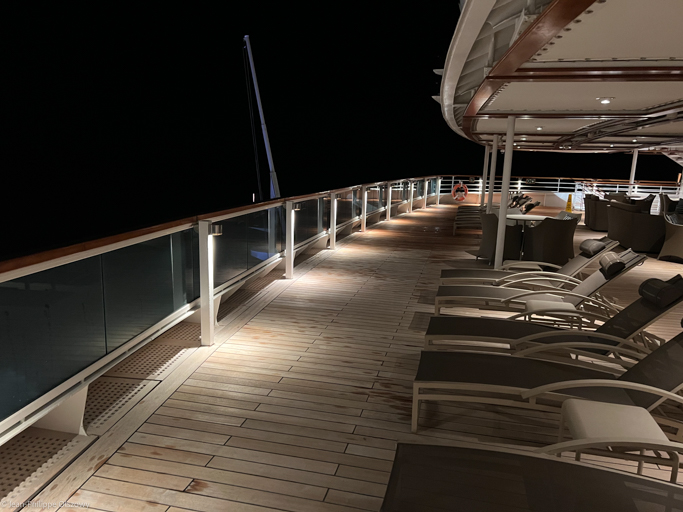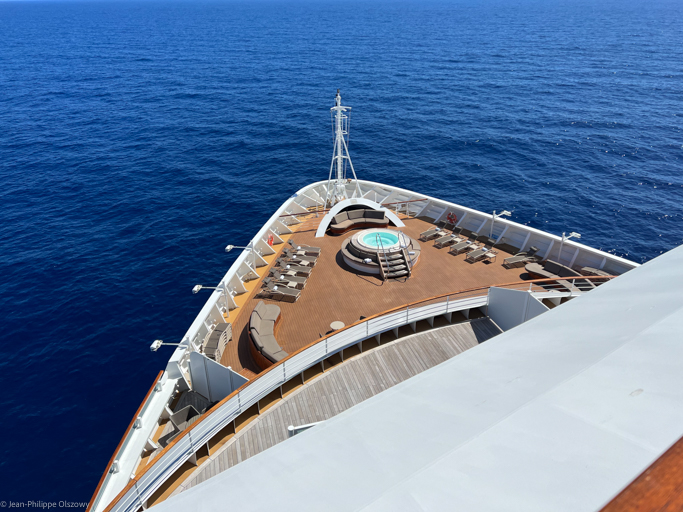 On deck 5 there is a freely accessible laundry room, with washing machines, dryers, irons, steam generators, and even a shirt steamer. Detergent is provided. This can avoid the need for the cleaning service, which is charged by the piece. The bill can quickly go up! So this laundromat is ideal for an extra laundry in the middle of a cruise.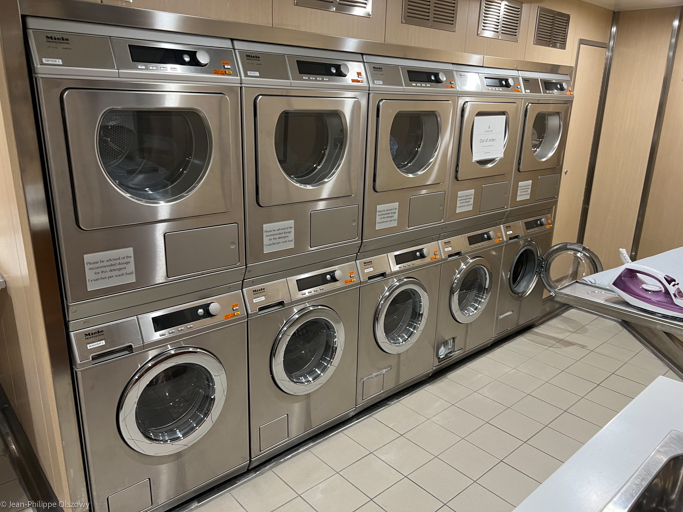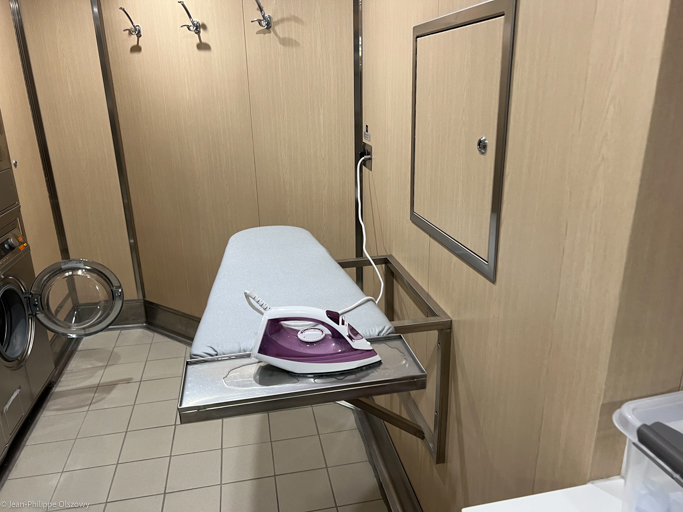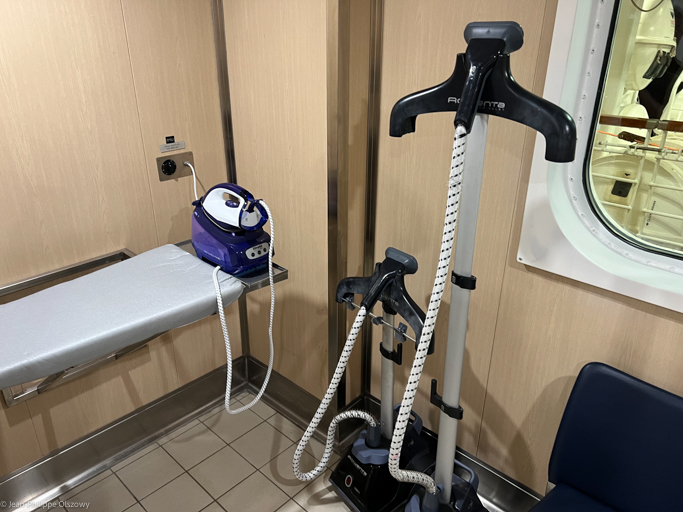 Sanitary conditions on the ship have become particularly flexible again. To board, you had to be vaccinated, and present a no more than 48 hours old negative (antigenic) test. Luckily, I had been able to do this kind of test, offered by Celebrity, the same morning when I got off the Edge.
Once on board, the mask is no longer mandatory (but everyone is free to wear one or not). Some behavior instructions are recalled on a document left in the cabin. Overall, very few people wore it during the cruise. However, it was mandatory to put it back in transport during excursions.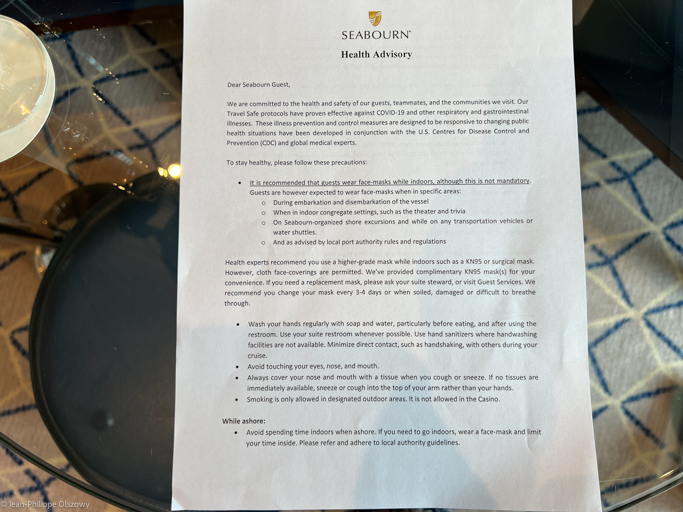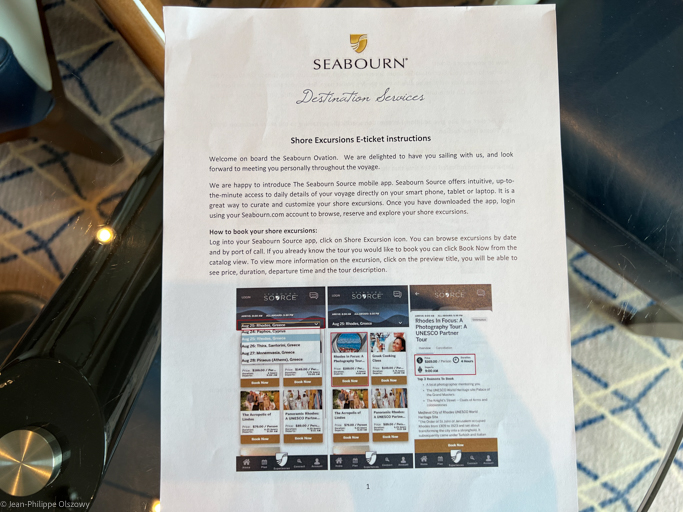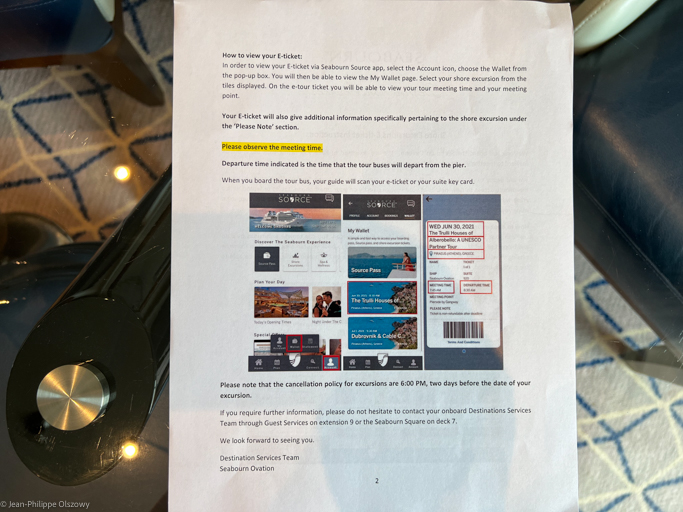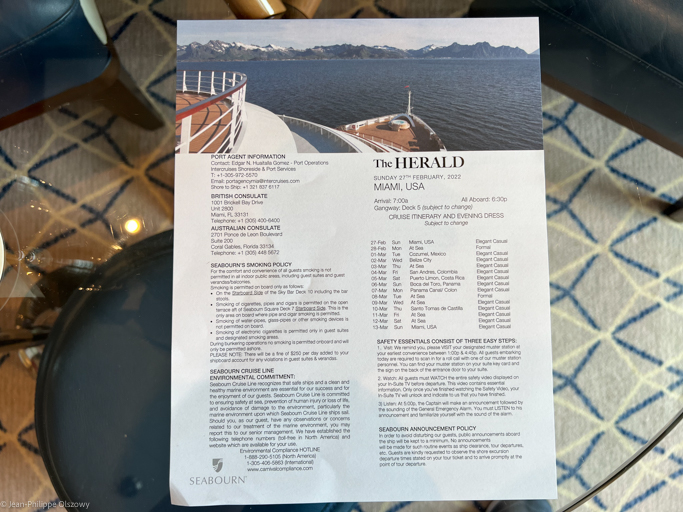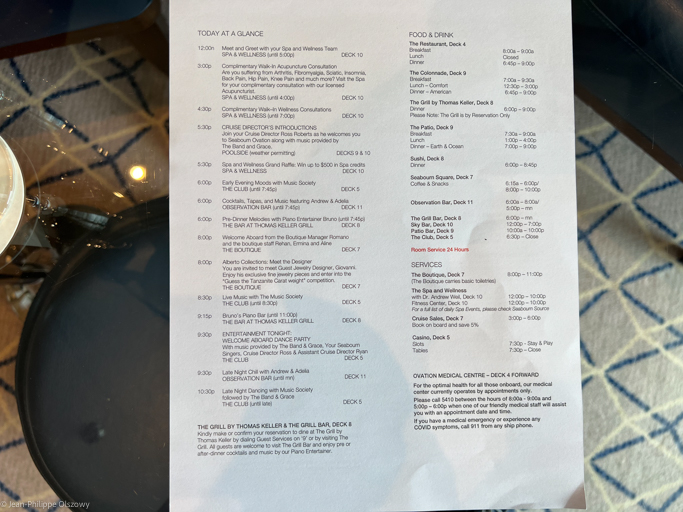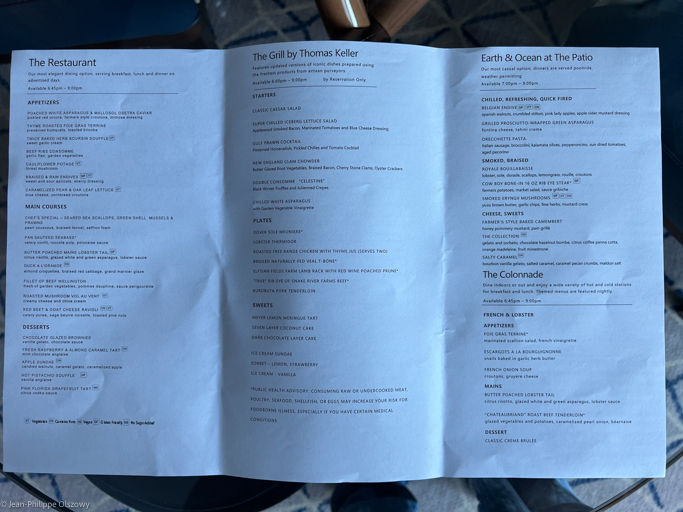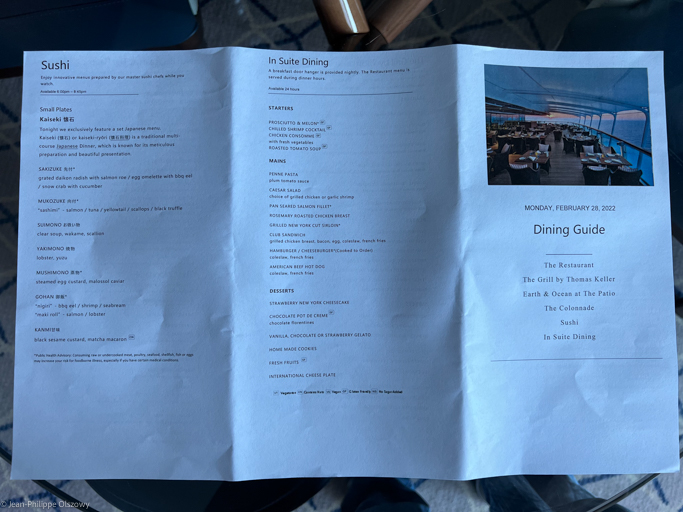 To book an excursions, classically, you can use the Seabourn mobile application, or the cabin television. But there are no more paper tickets, everything is in the application, to be presented just before the excursion. Practical, especially since this electronic ticket is compatible with iPhone Wallet. This application, although confusing at first, is rather well done, because it adapts to the place from which it is used. Unlike some apps that only work when connected to the boat's wifi, this one remains operational even on excursions, thanks to a cache system that stores all the information on the phone. Smart. The few services which necessarily require direct access to the servers even work with a normal internet connection, even if it is not that of the boat.
The "Herald" presents the day's activities, with a "Dining Guide" which indicates at a glance all the daily menus of all the restaurants on board.
Wifi is included in the price of the cruise, but you can opt for a more powerful version with a fee, which allows video streaming, VPN connections, and this for 4 devices at the same time, for $19.95 per day. It's a price rather in the low range if I compare with other companies. But the speed impressed me: I was able to reach 30 Mbps on several occasions, under different conditions, which is the equivalent of a good terrestrial ADSL connection. Remarkable. The low number of passengers on board can help, but it is still noticeable.
To relax on board, there are 2 (swimming) pools. It's a pity that you too often find people there fully dressed in the water, who talk loudly and who can stay there for hours being served beers and cocktails… someone should tell them it's not a laundry.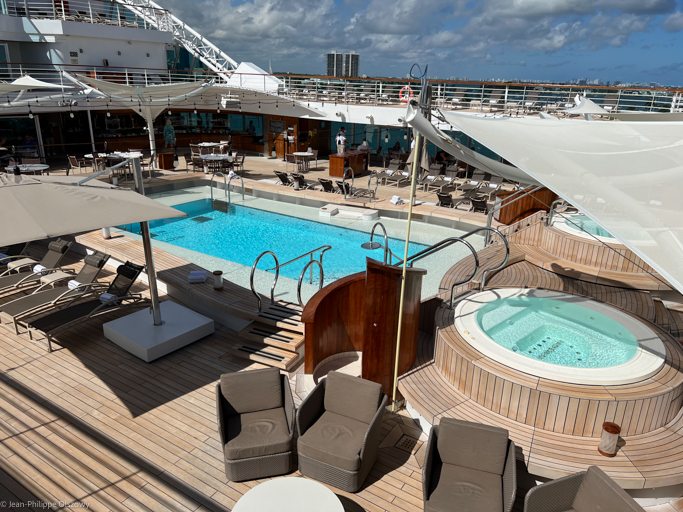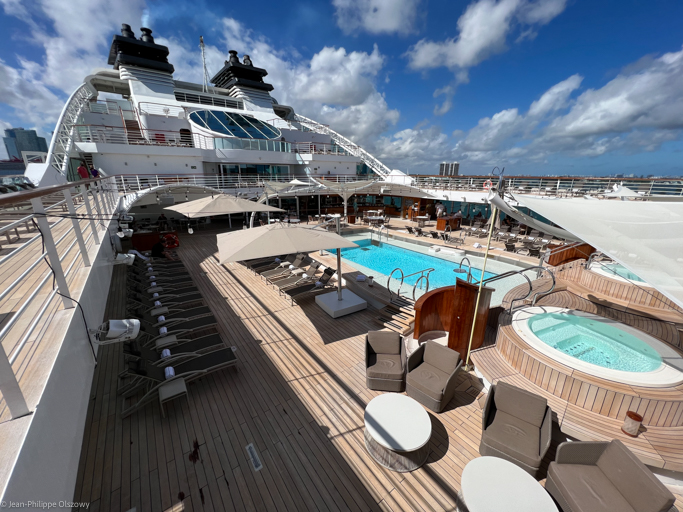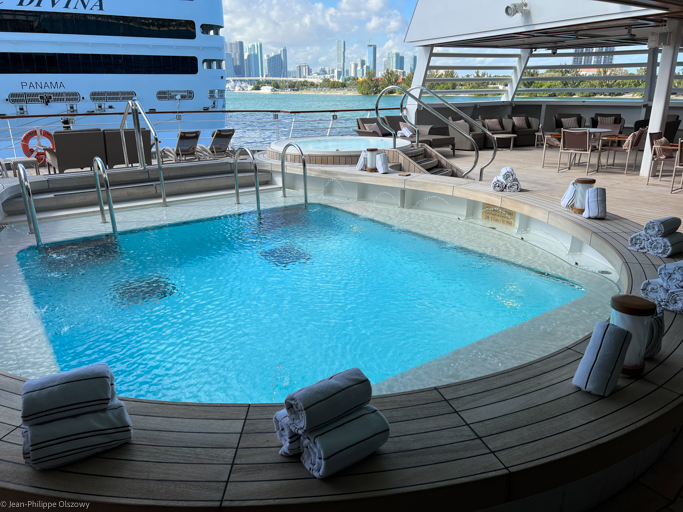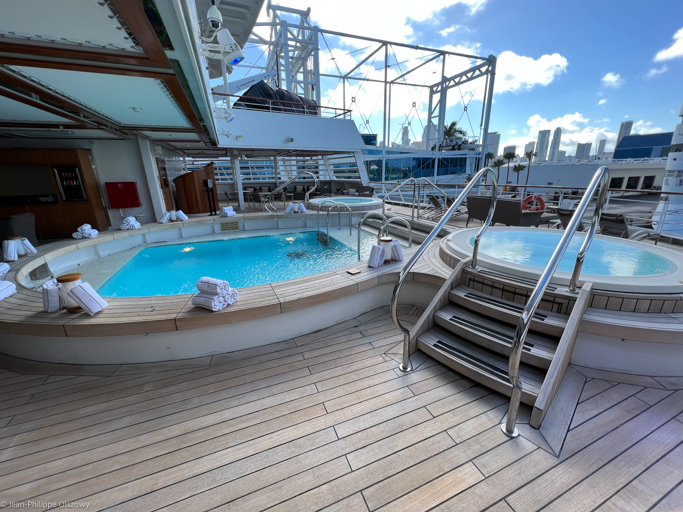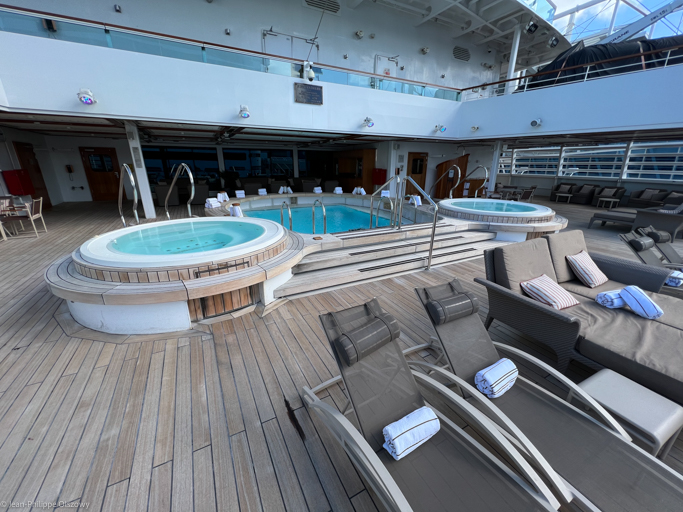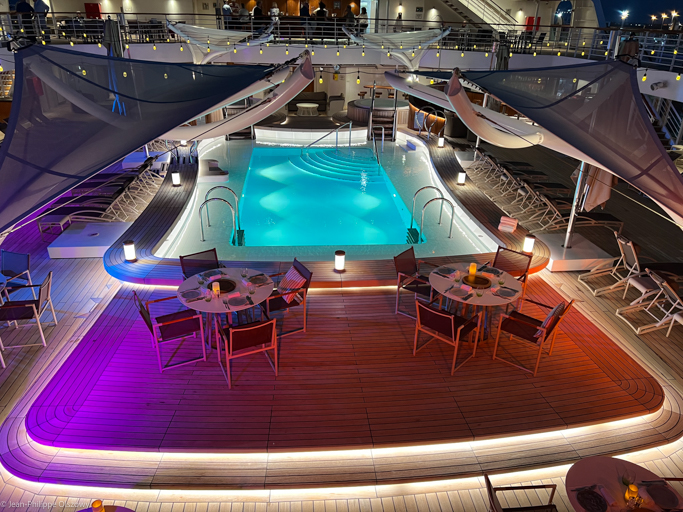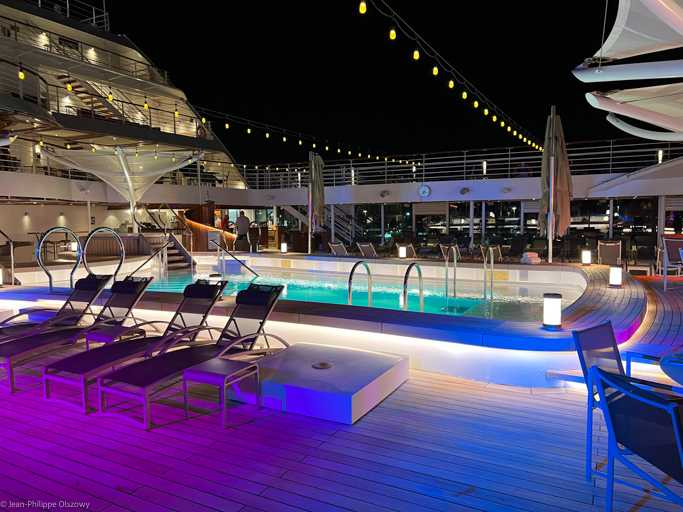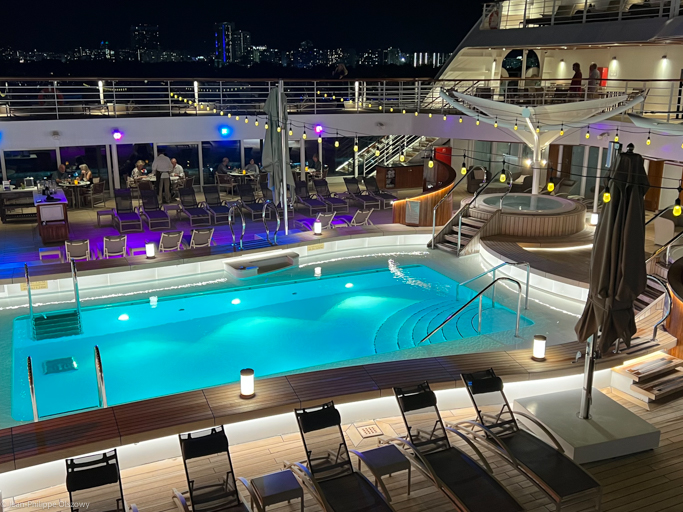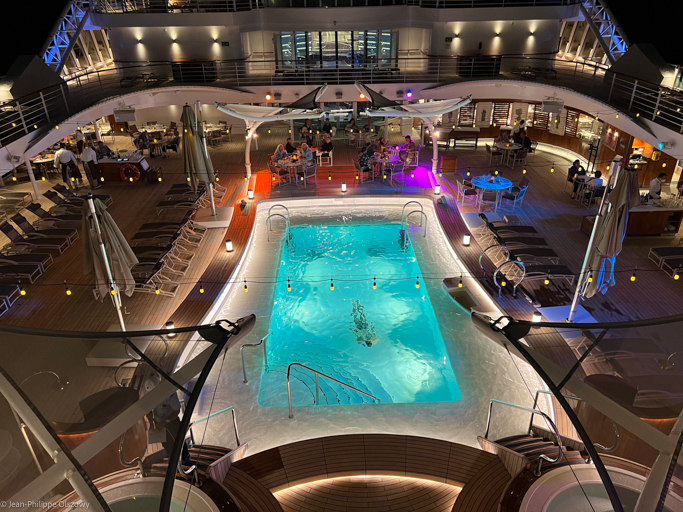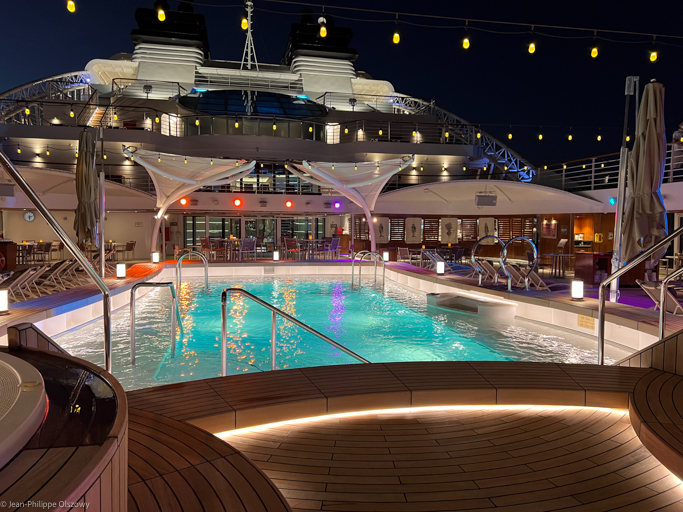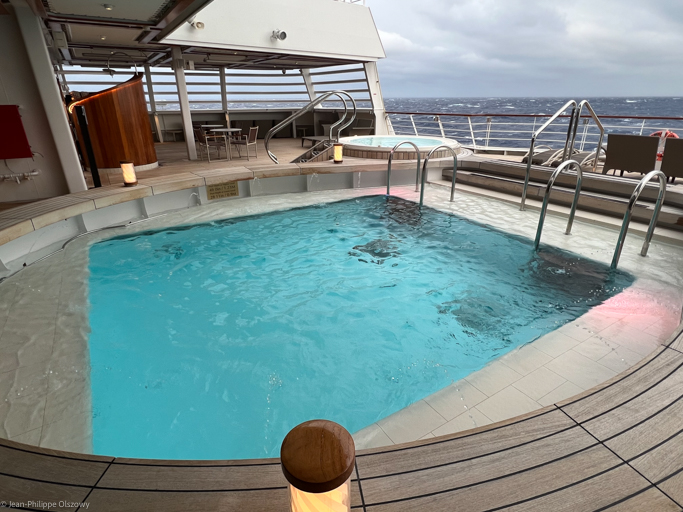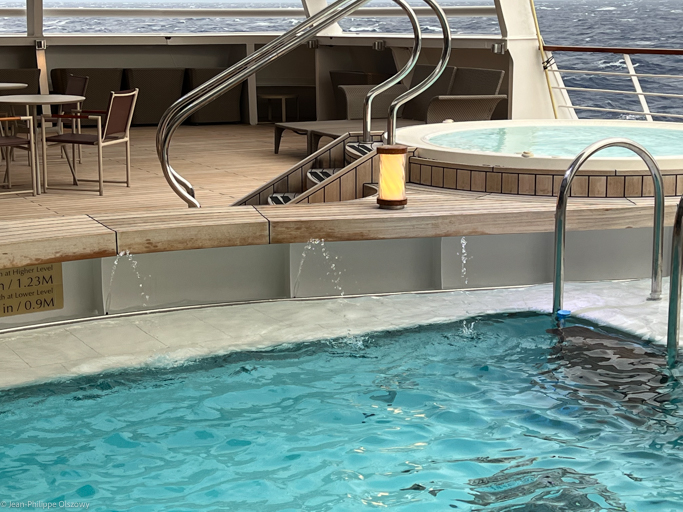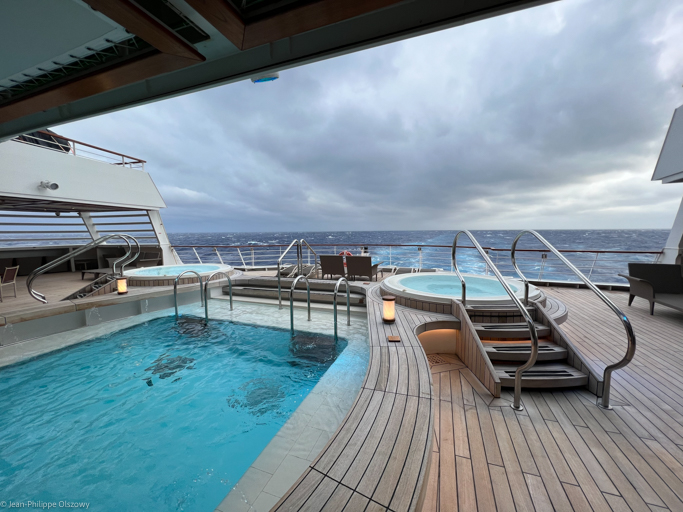 Further away, on deck 12, the Retreat allows you to enjoy a quieter moment. Access has a fee, $149 per day if the ship is in port, $249 if the ship is at sea. You can then enjoy a whirlpool bath, individual cabanas with long chairs, table and seats, television, champagne and food on request.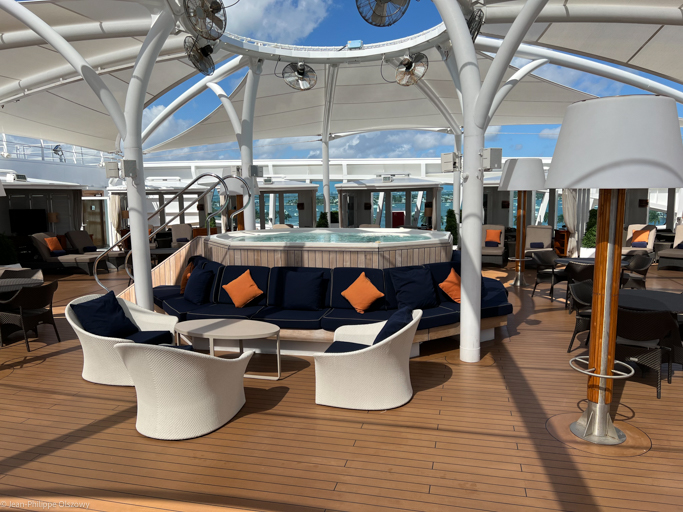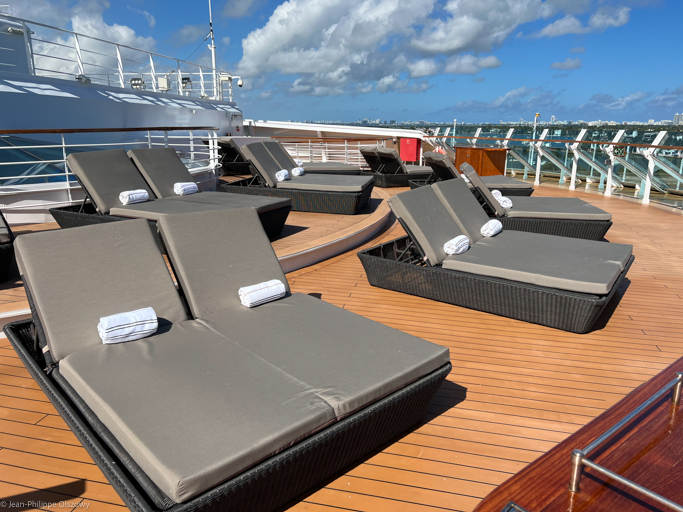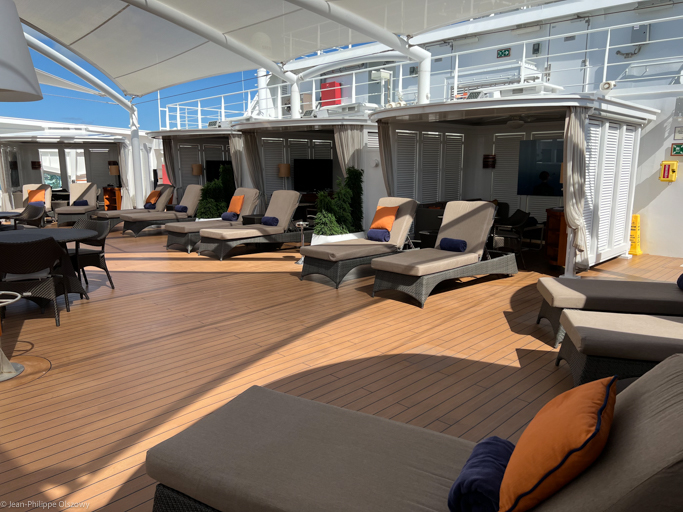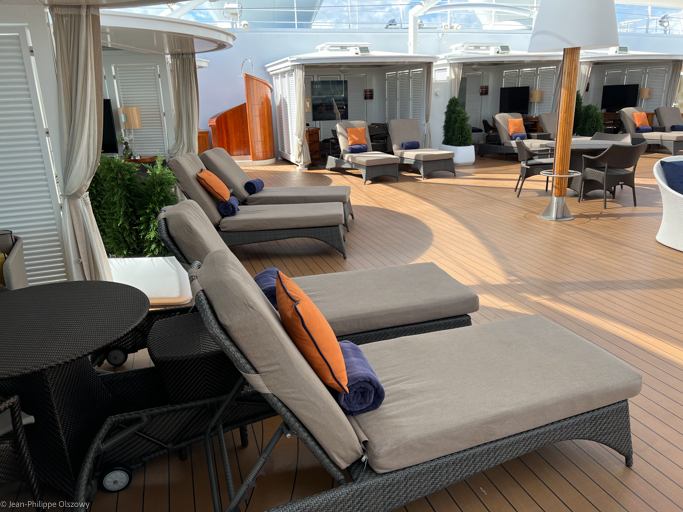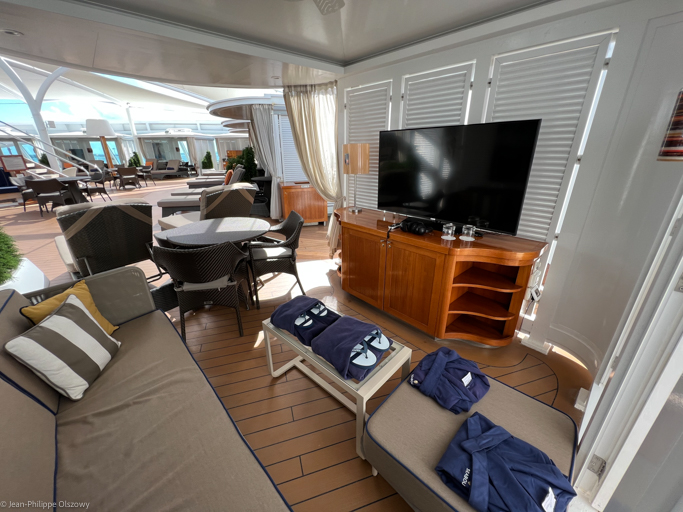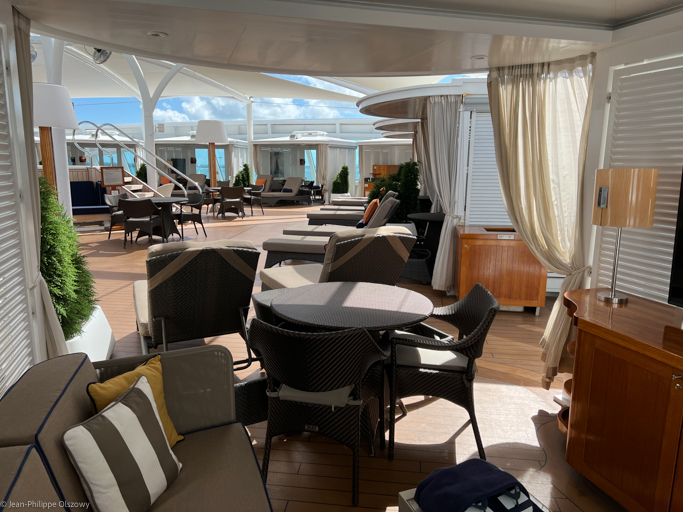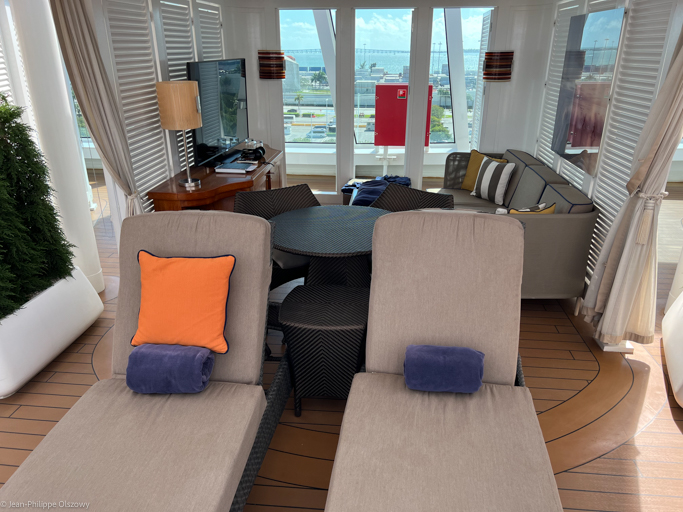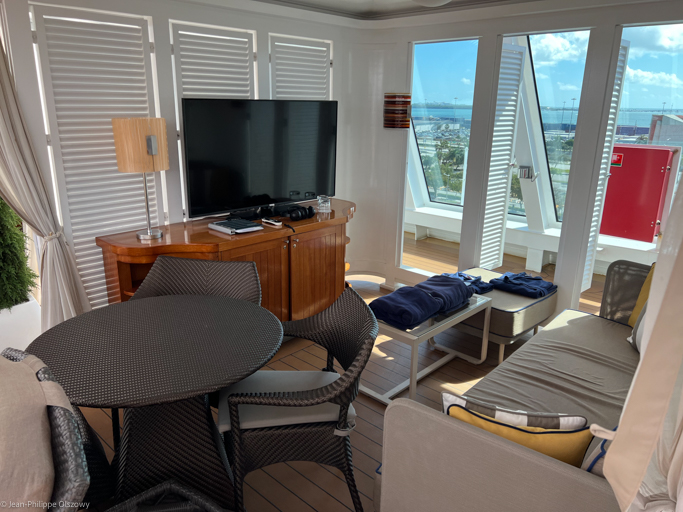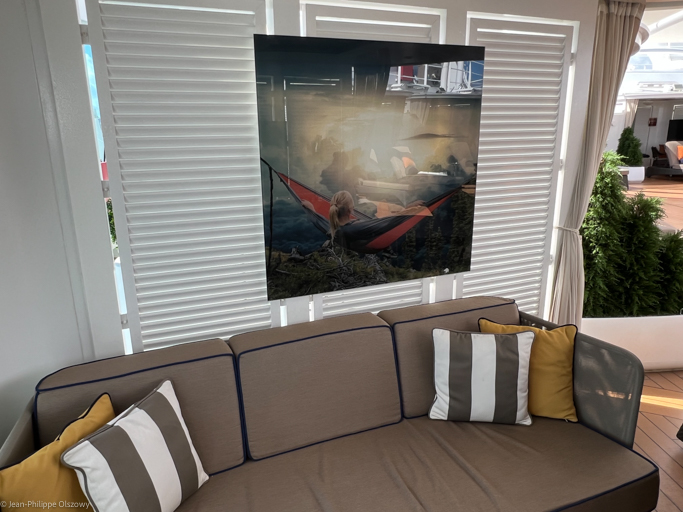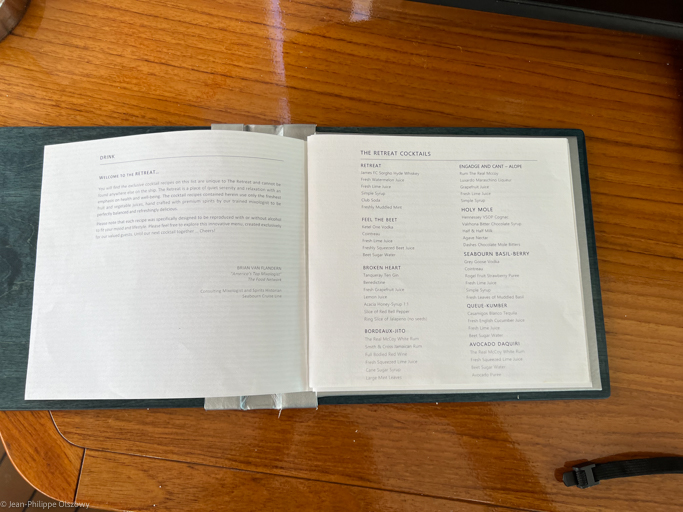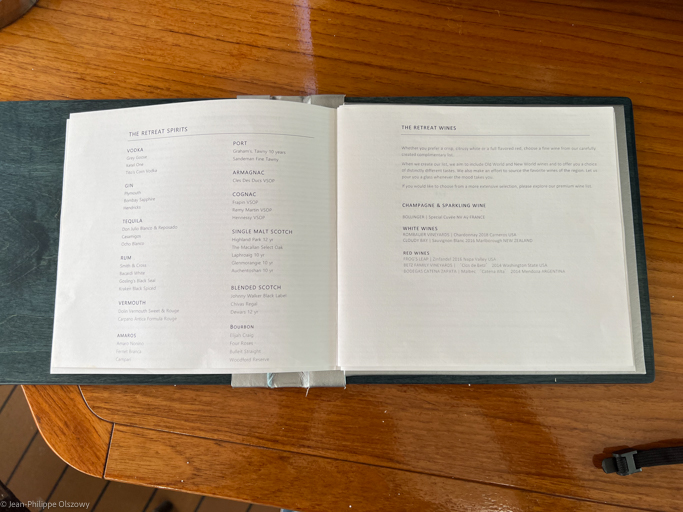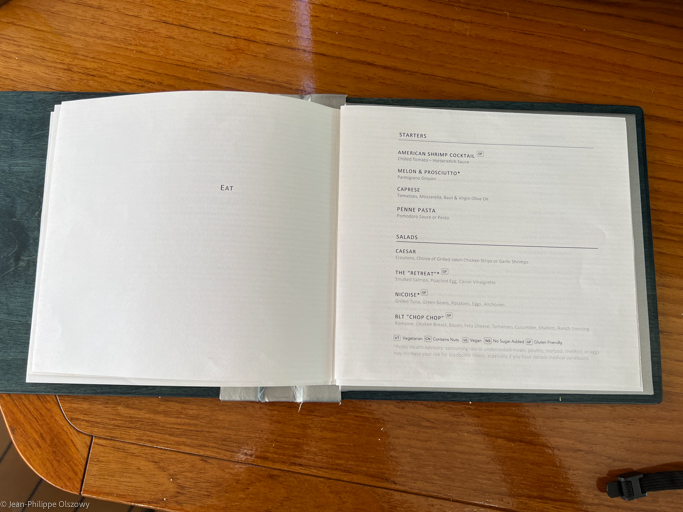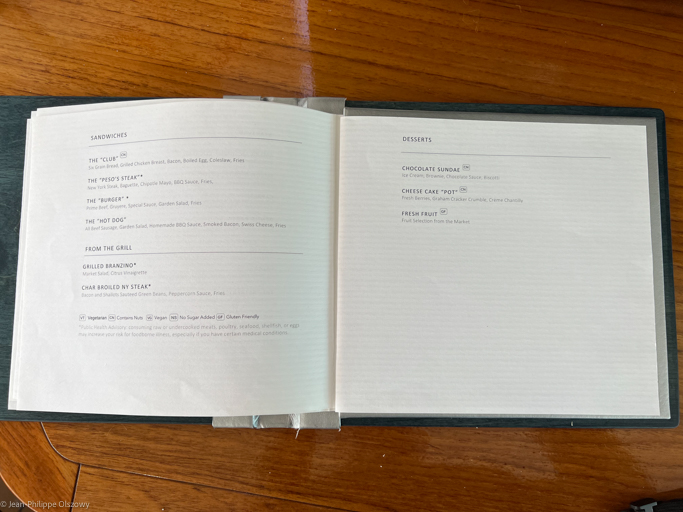 The spa, located right next to the gym, is particularly small, and offers few facilities. However, it is chargeable. $149 for the 2 week cruises. Very few people inside.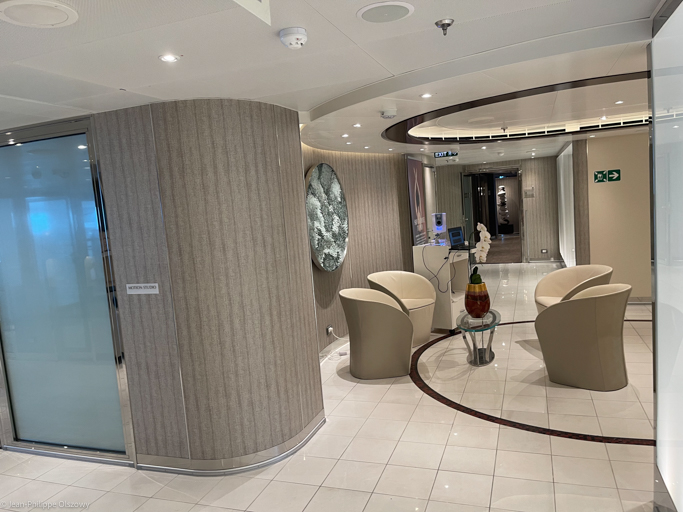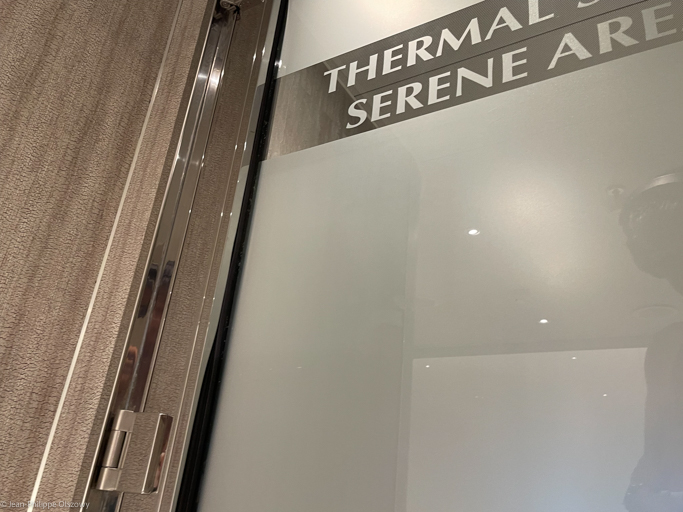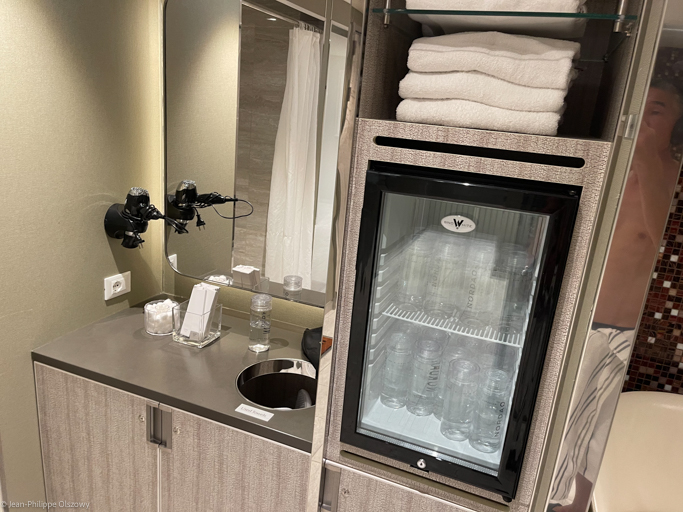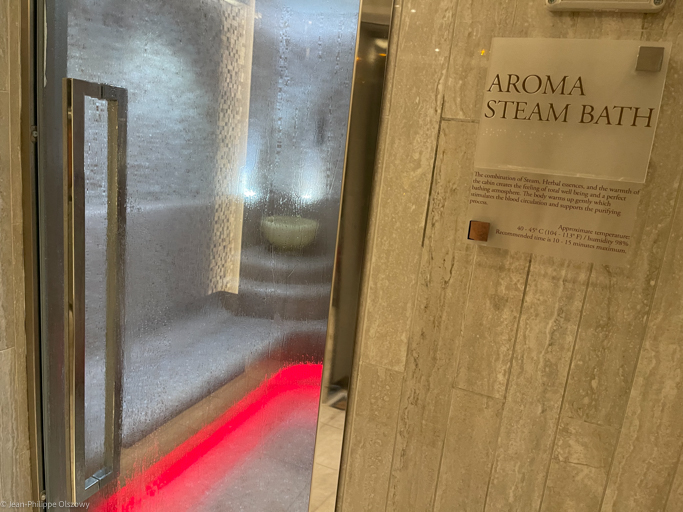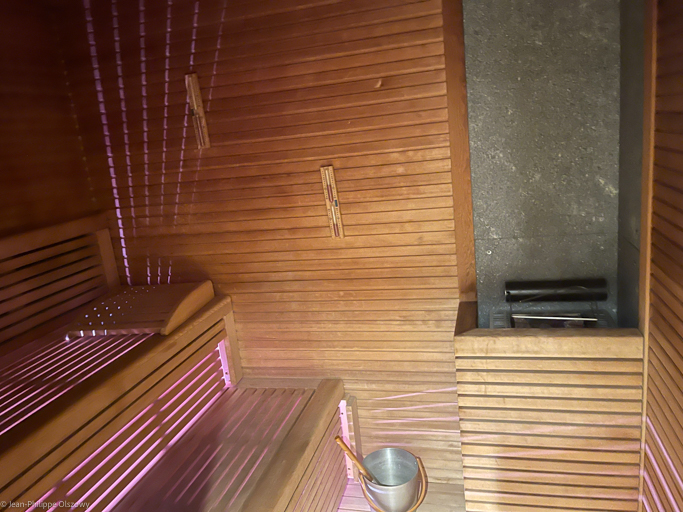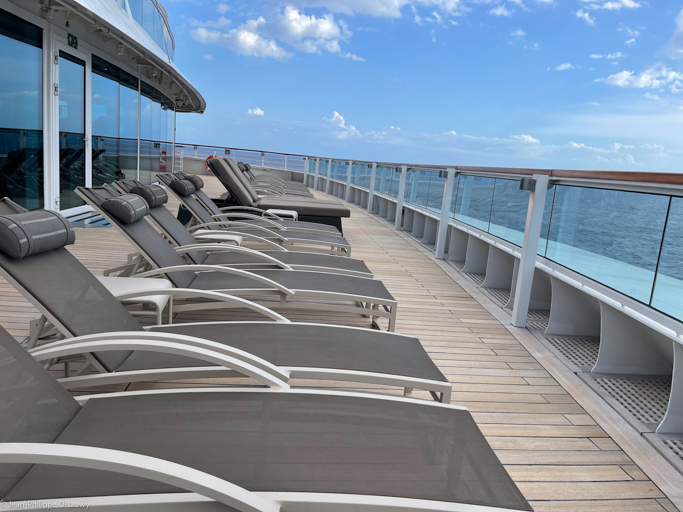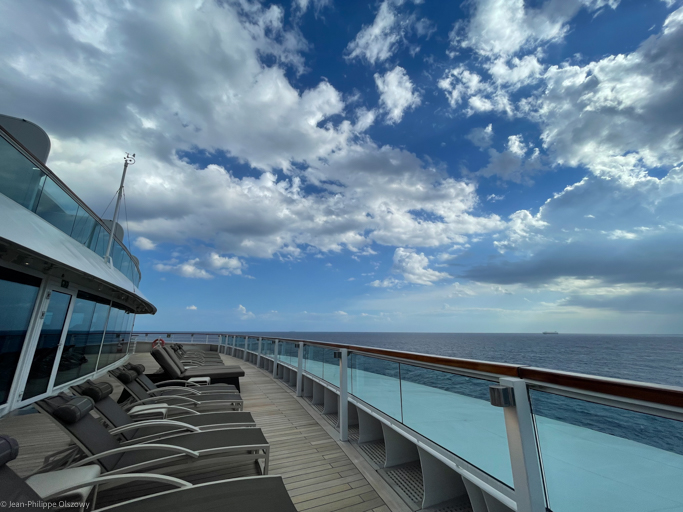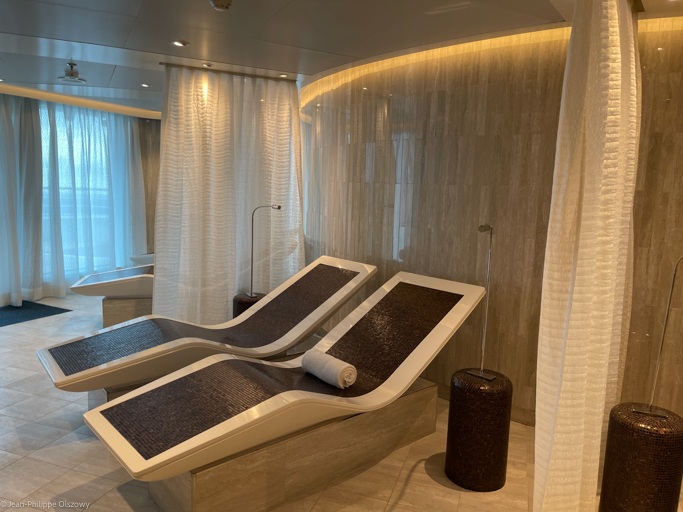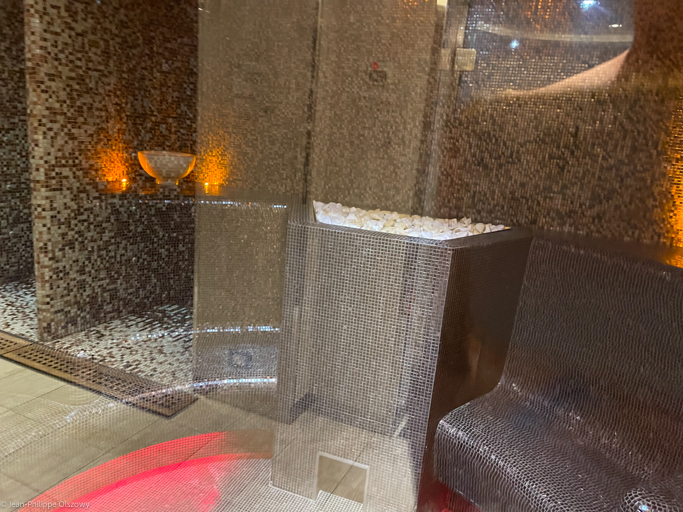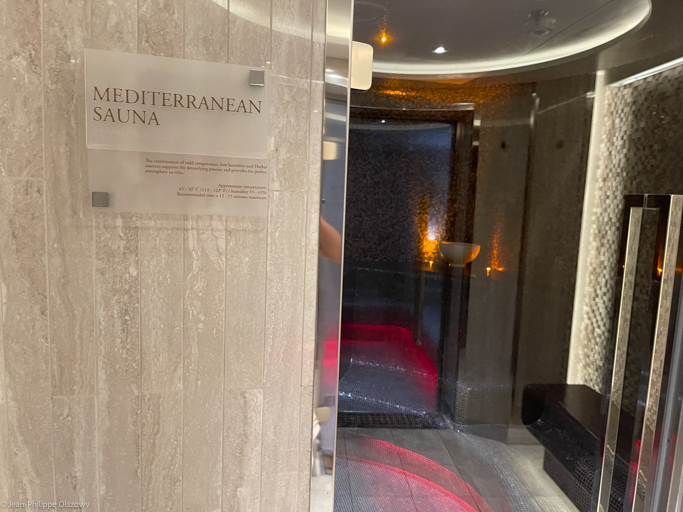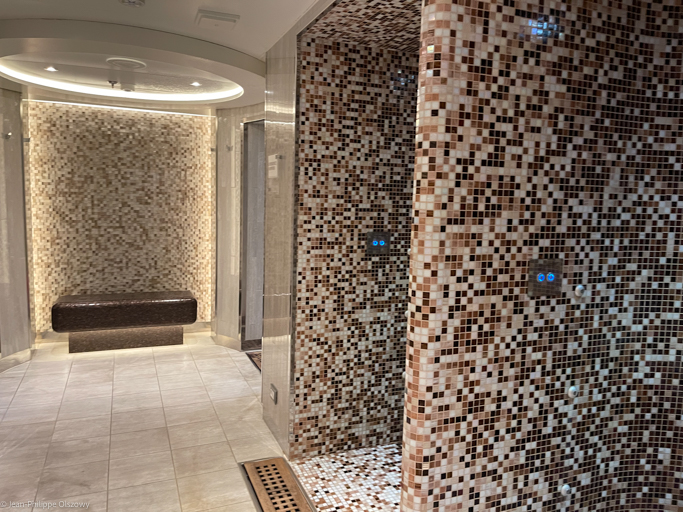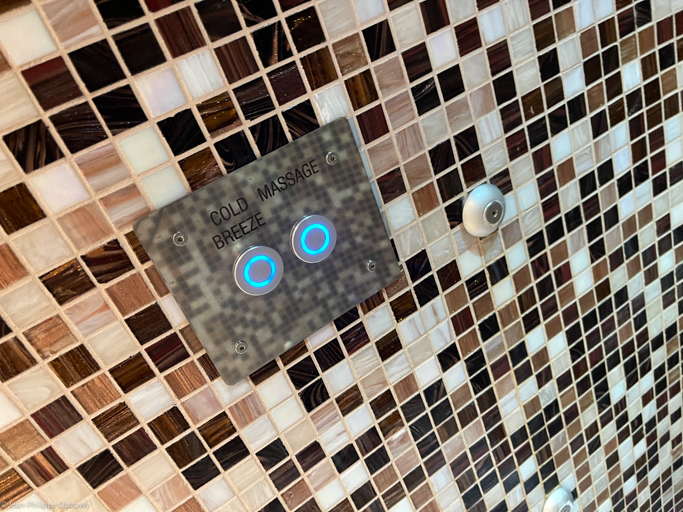 All guest services are located at Seabourn Square, deck 7. There are a few shops, and an impressive collection of "beautiful books", and a great deal of travel literature. You can have a coffee and snack at any time…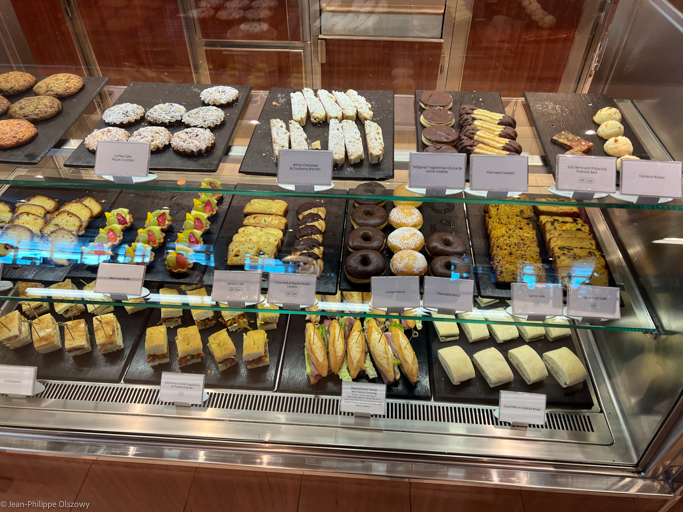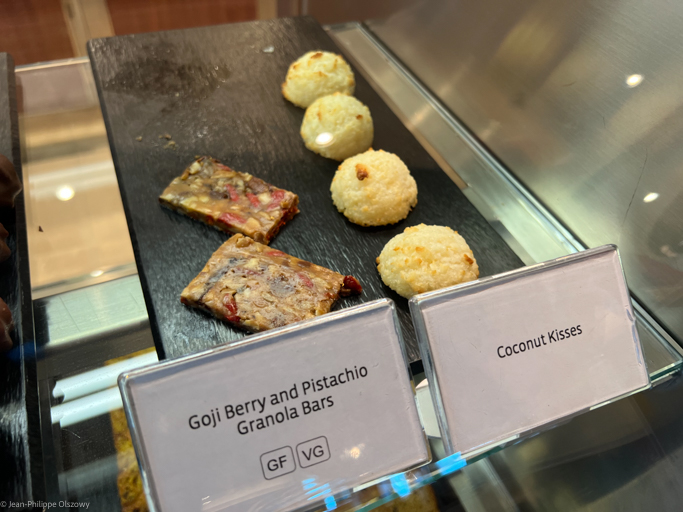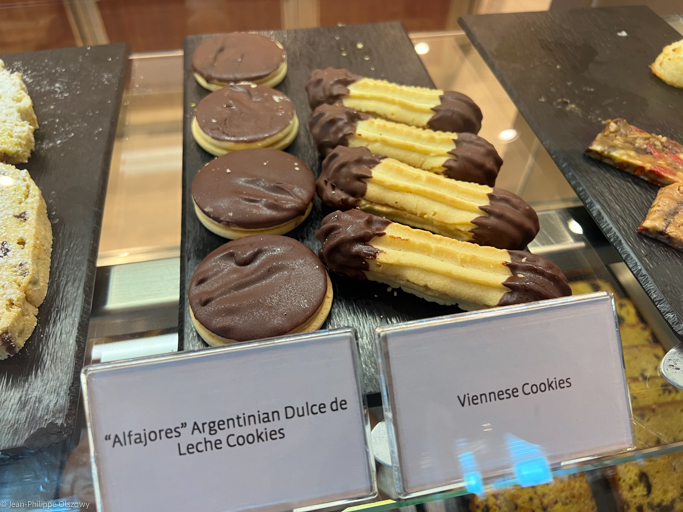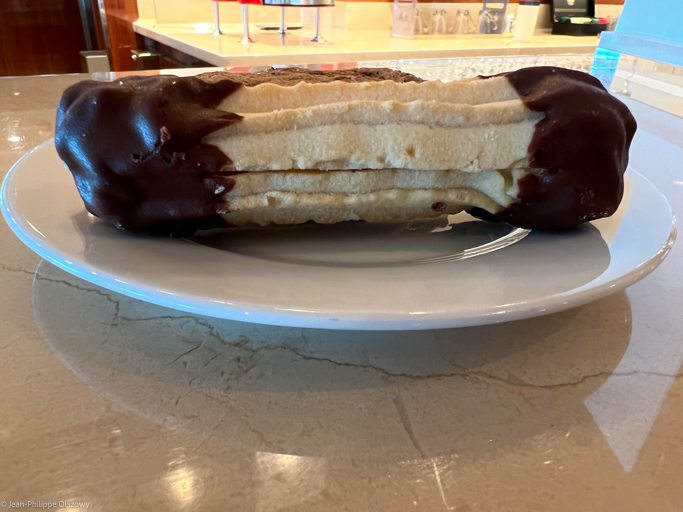 On deck 5 is the Club, for later evenings. This is also where there is a small casino, for aficionados.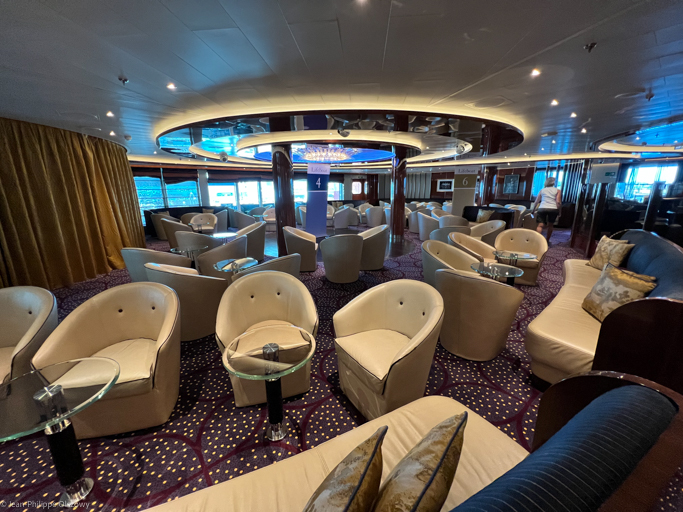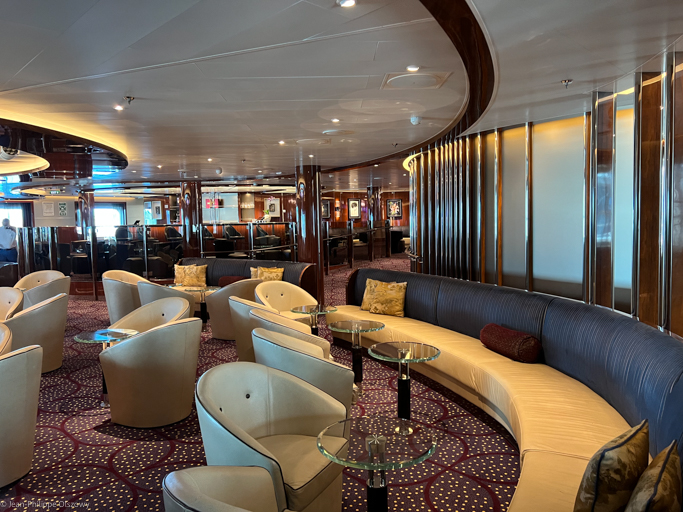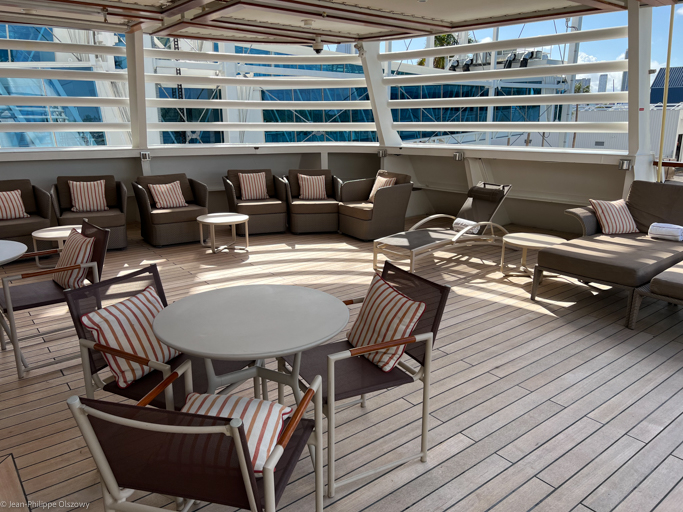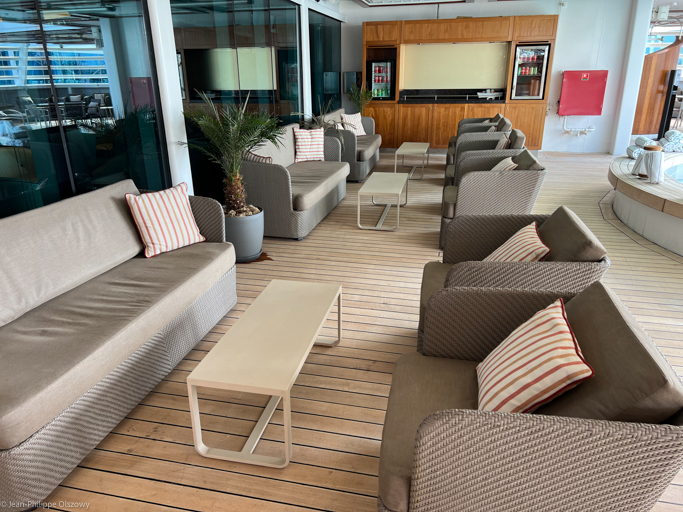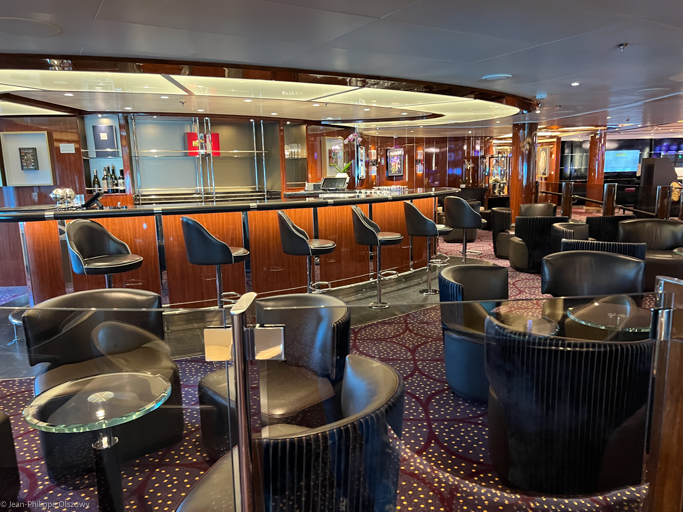 On deck 6, a theater. And further to the front of the boat, on deck 11, is the Observation Bar. In the morning, it is possible to have breakfast there. At the end of the afternoon, the mini-buffet turns into a tapas bar, then becomes a bar again for the rest of the night.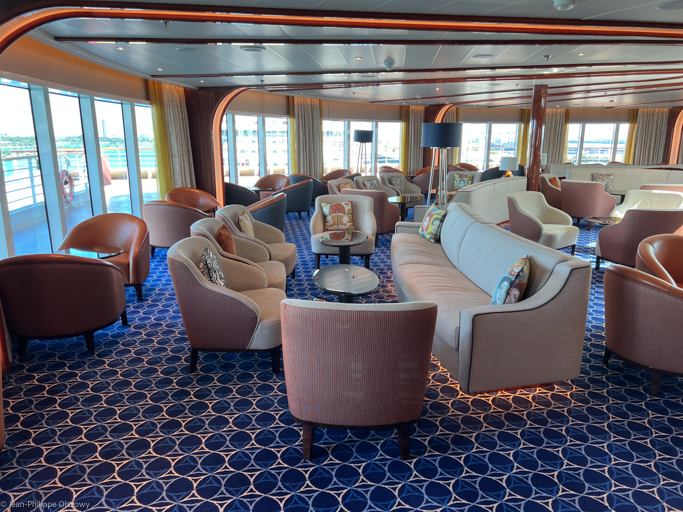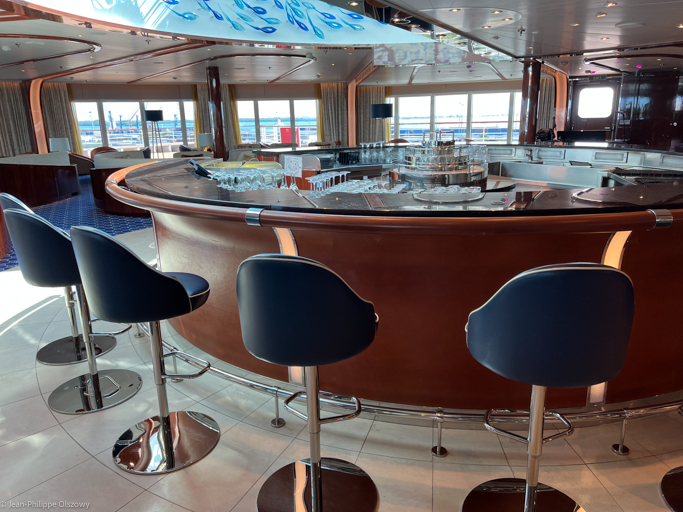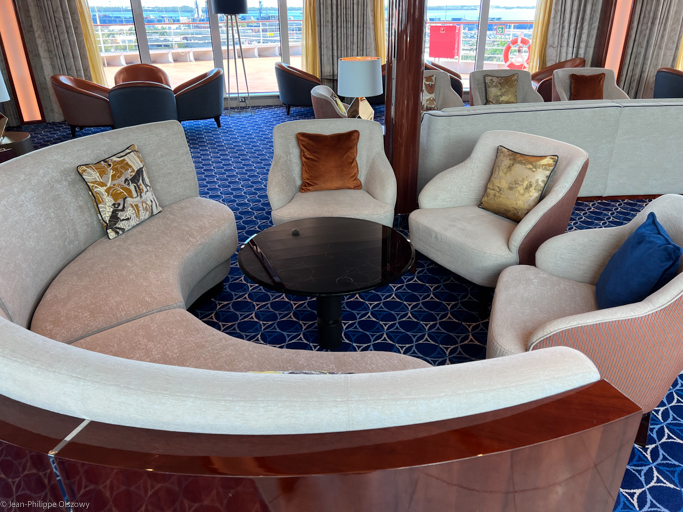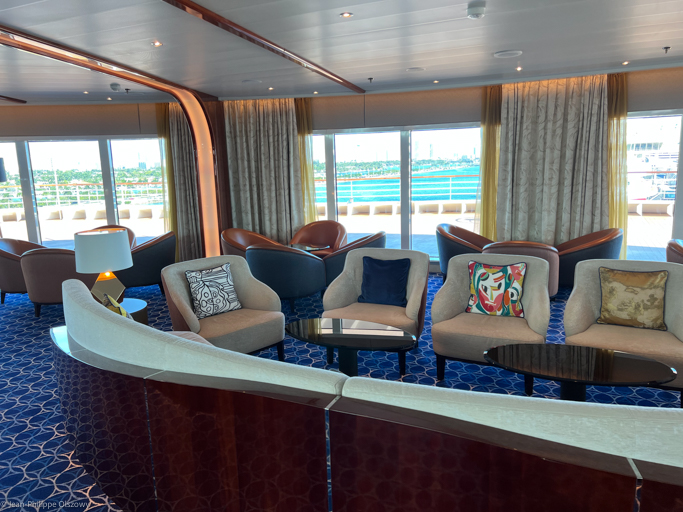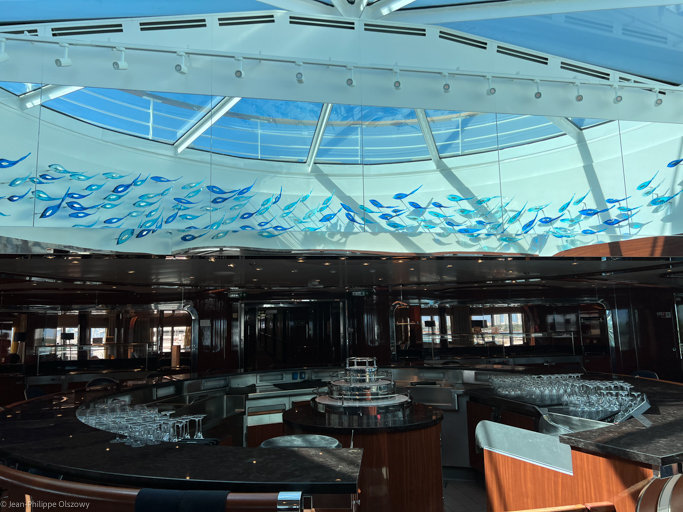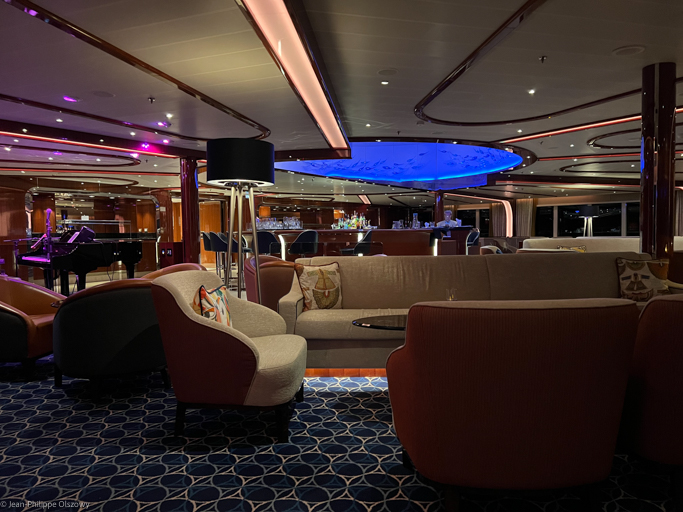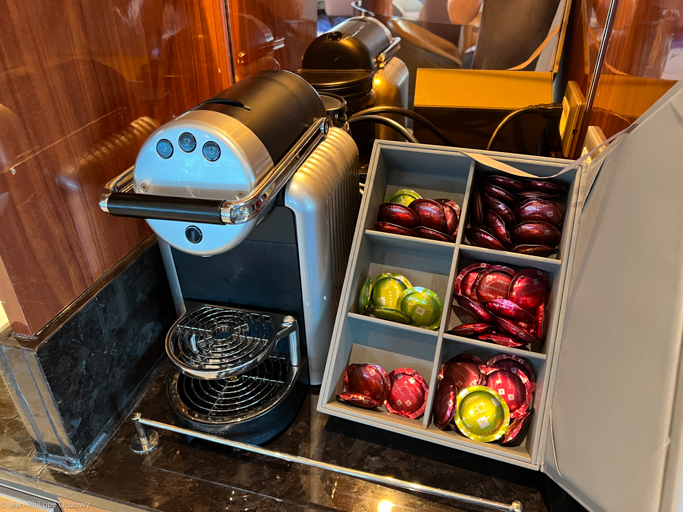 All these locations were regularly quiet and never crowded.
Next pages: cabin, excursions, Panama Canal… then restaurants!