I had only been on one cruise with MSC so far (on the Fantasia in 2009), and this experience had been very disappointing. On the one hand, the malfunctions were repetitive in terms of service, but the comparison hurt with the total freedom I had discovered on Norwegian Cruise Line ships.
Among the disappointments during this first cruise, there was the discovery, for me, of dinners at fixed times. On the website, before leaving, you are asked to choose a service (first, second and even third sometimes, on their bigger ships!). I had chosen the second, at 8:30 p.m. But arrived on the ship, it is at 6.30 pm that the dinners will be imposed on me. My table is already defined, I was put at a table with other French people, since I am French. It's difficult to get started when you're used to NCL's "Freestyle", because you eat where you want, when you want, with whoever you want. Well there, with MSC, no. Notifying that I had not chosen this first service, I was referred to an excessively disagreeable butler, who explained to me that there was no point in asking for the second service, that there was no more room (I had yet chosen it without difficulty on the website), everyone wanted the second service, so it annoyed him. He ended up writing down my name and my request to stay, as originally planned, on second serve, but, of course, he never contacted me again.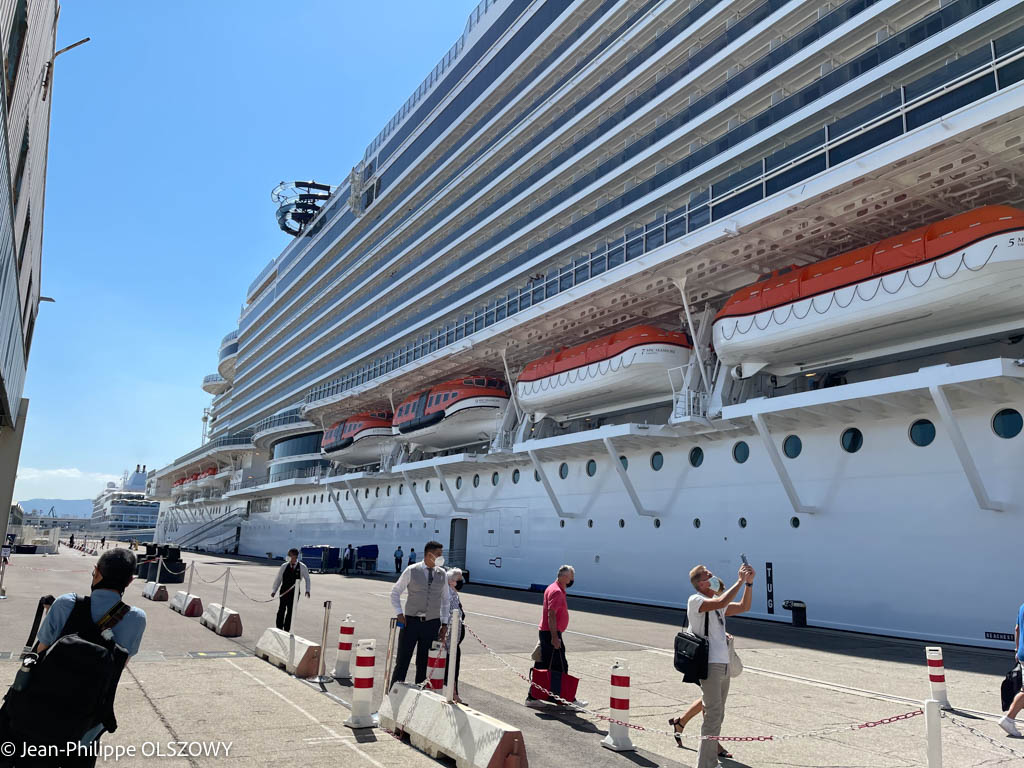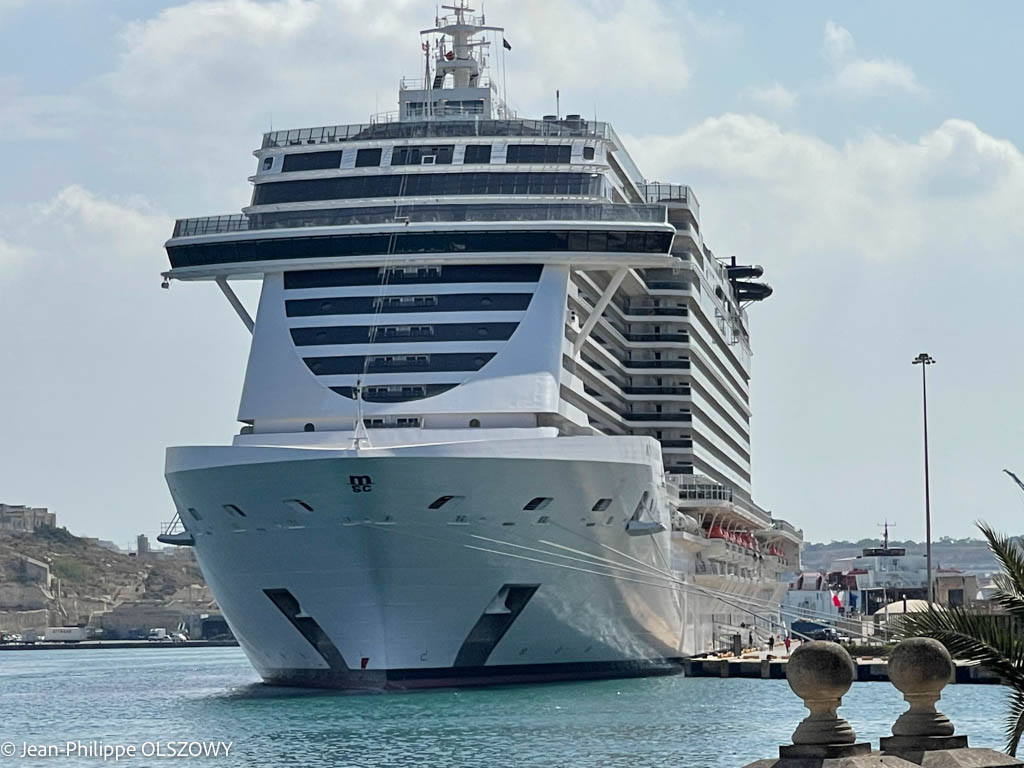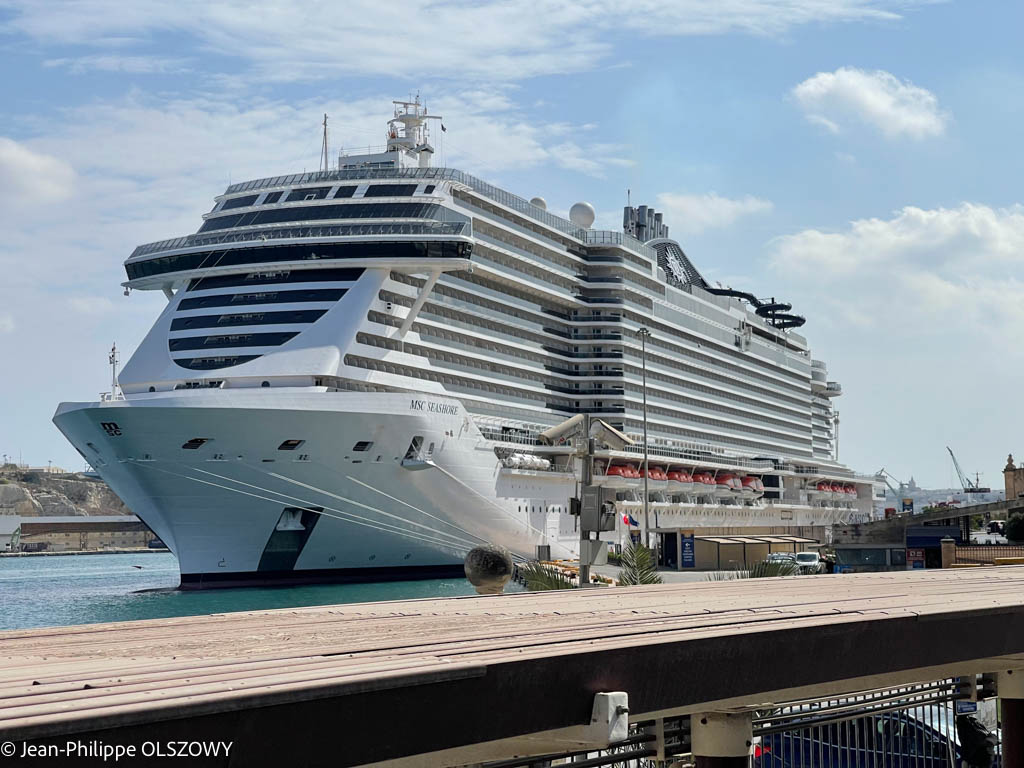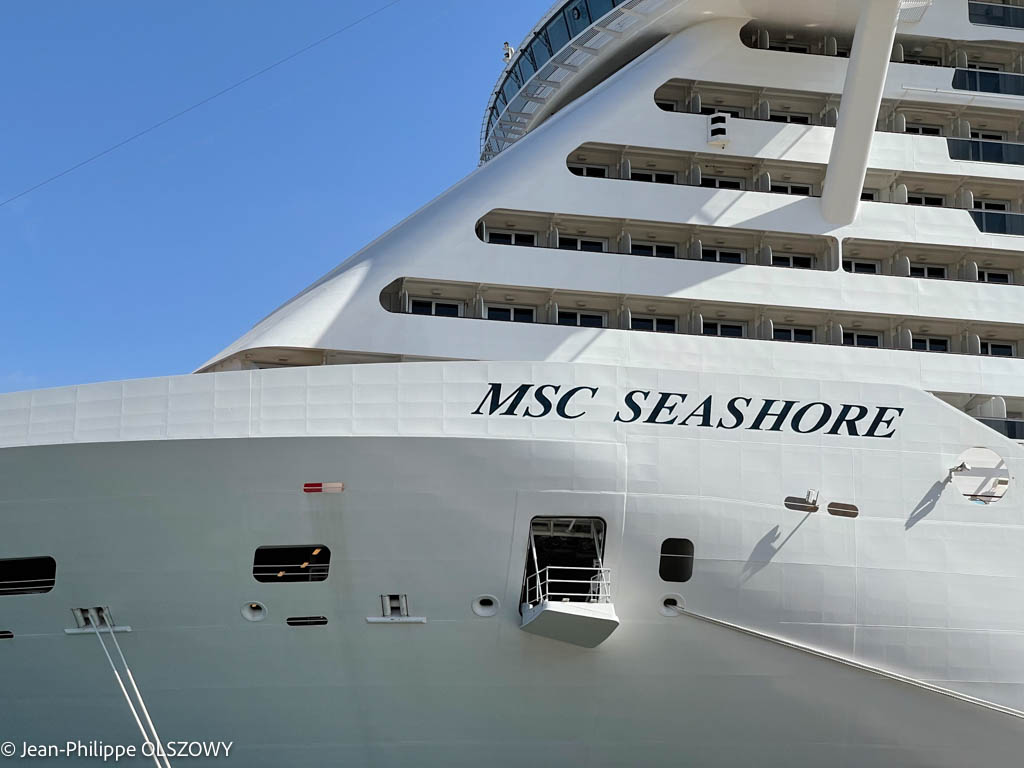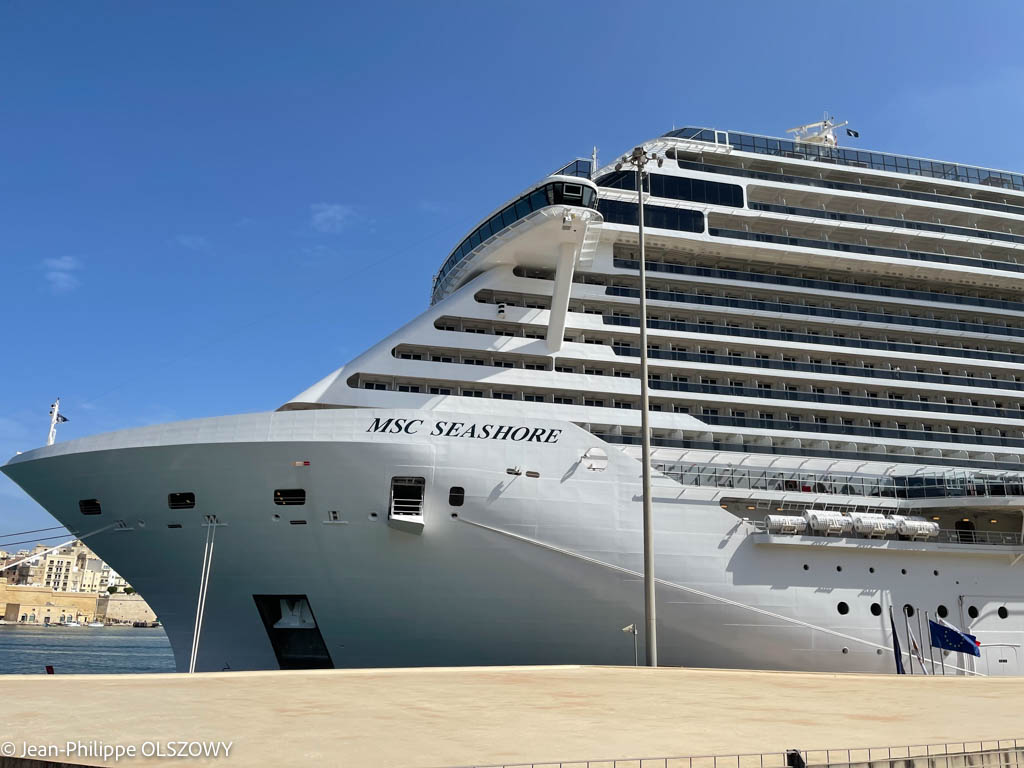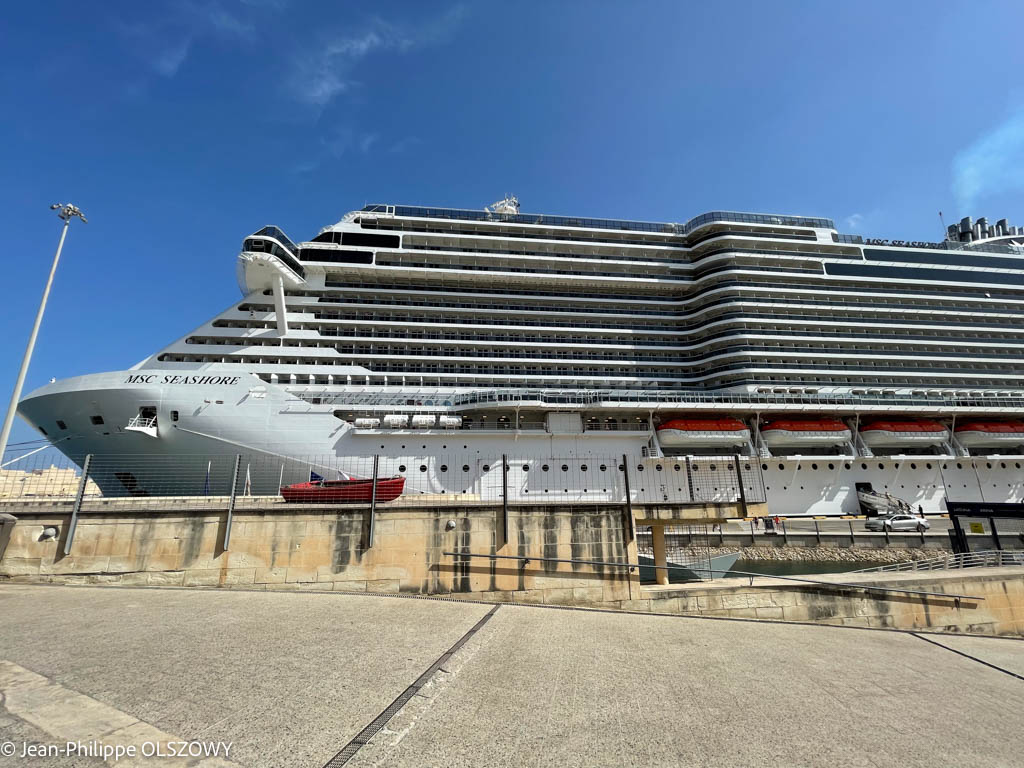 And in this wonderfully organized world, best of all, when an excursion ends too late and causes you to miss the start of your service, the restaurant doors are closed to you, and you will then have to wait for another opportunity to dine. That evening, the buffet was also closed, to prepare for a special occasion, and not to reopen until much later, for a "pasta festival" … to be hungry on a cruise ship, you had to discover MSC in 2009 to see this !
I pass on the other mishaps, such as the Nice / Genoa transfer booked with the cruise, but I was refused because I was not on the list. But that I was still able to take by dint of showing the written proof on my reservation … but it was a favor that I was being done. The favor of attributing to me a malfunction purely due to MSC … too kind.
Anyway, I told myself that I would never come back to MSC again. But the pandemic having severely restricted travel, when you are stranded in France, there are not many choices left. 2021 was therefore full of twists and turns, since I even tried the no less bad company Costa, in addition to coming back to MSC, but in Yacht Club this time, to see if the "luxury" version would improve the experience overall.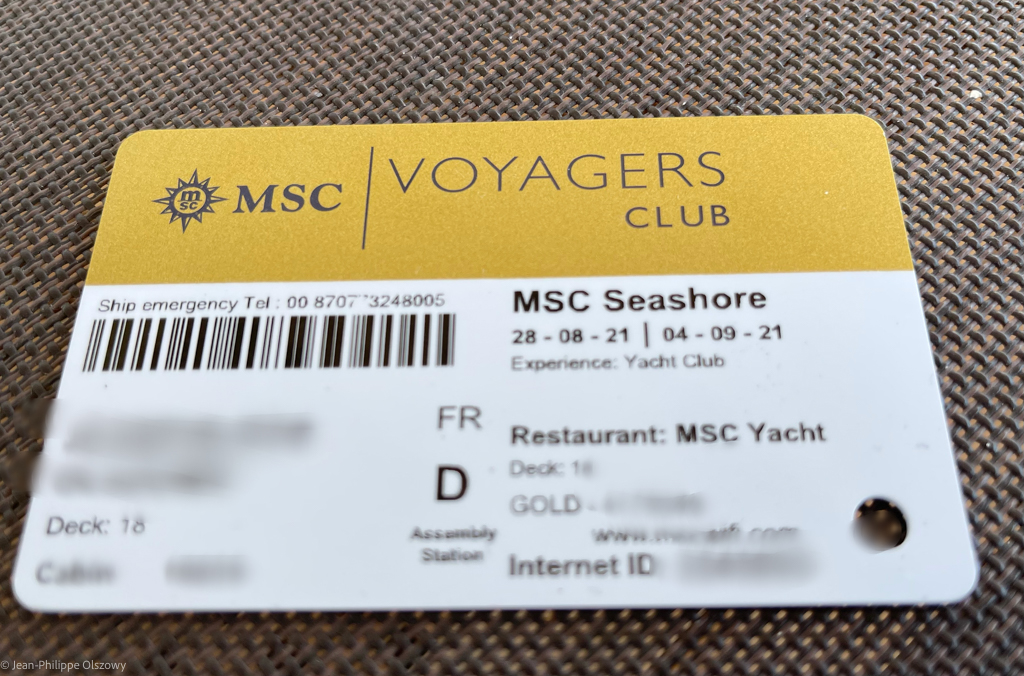 My reservation made, I was still wary, and I wanted to verify that what I had been sold was what I will have. Great good took me, since by calling customer service, I learn that my cabin will not be available. When would I have known this if I had not called before departure? I don't know … anyway, the guy on the phone looked very annoyed and wondered what he could do. After a long time of waiting, he got the answer from his supervisor, I was going to be assigned another cabin … but as there were no more available in the category I had chosen, this would ultimately be a cabin for people with reduced mobility …
I still wonder what would have happened if I hadn't called to check! It wasn't long before I found out, since this mishap would happen to other passengers.
The Yacht Club (YC) seems to radically change the experience, if I compare with my first MSC cruise in a cabin with balcony. As soon as we arrive at the port (Marseille), we are taken care of by agents dedicated to YC passengers and we begin to skip all the queues. Luggage, check-in and even Covid test: we walk past everyone. There is not really a dedicated and privileged passage, no, we are just put at the beginning of the line, in front of people who just have to wait for the Lords of the Yacht Club to pass by. Okay. I am not a fan of this way of doing things. Finally, at check-in, there are indeed 2 dedicated counters, but there is a problem with the allocation of cabins for a group of passengers in front of us, and that blocks everything (here … a problem with the allocation of cabin …) and the dedicated counters are empty. The agents are all huddled together in front of a computer screen trying to figure out the problem … until a boss tells them that they don't have to all hang around the screen, and some can resume check-in of other passengers … Truly epic!
The MSC crew guys are all very nice, but they can't seem to make up for their company's mistakes, so they apologize flatly, many times. We are taken to a sort of improvised lounge, to await the results of our antigenic tests, which will prove to be negative.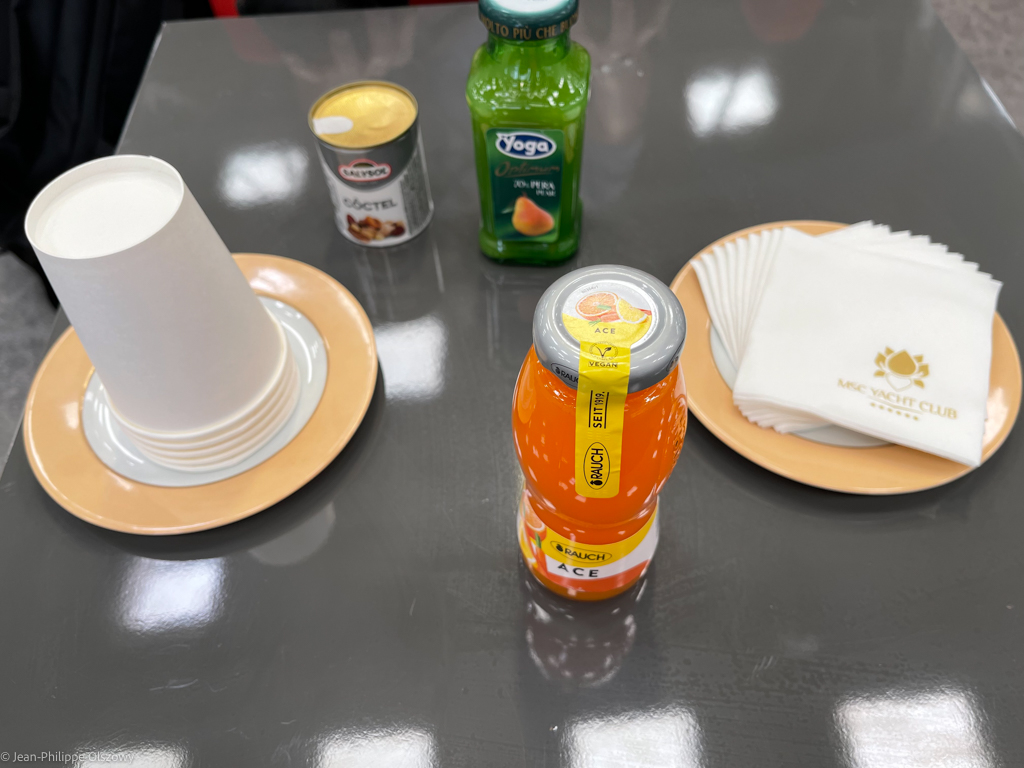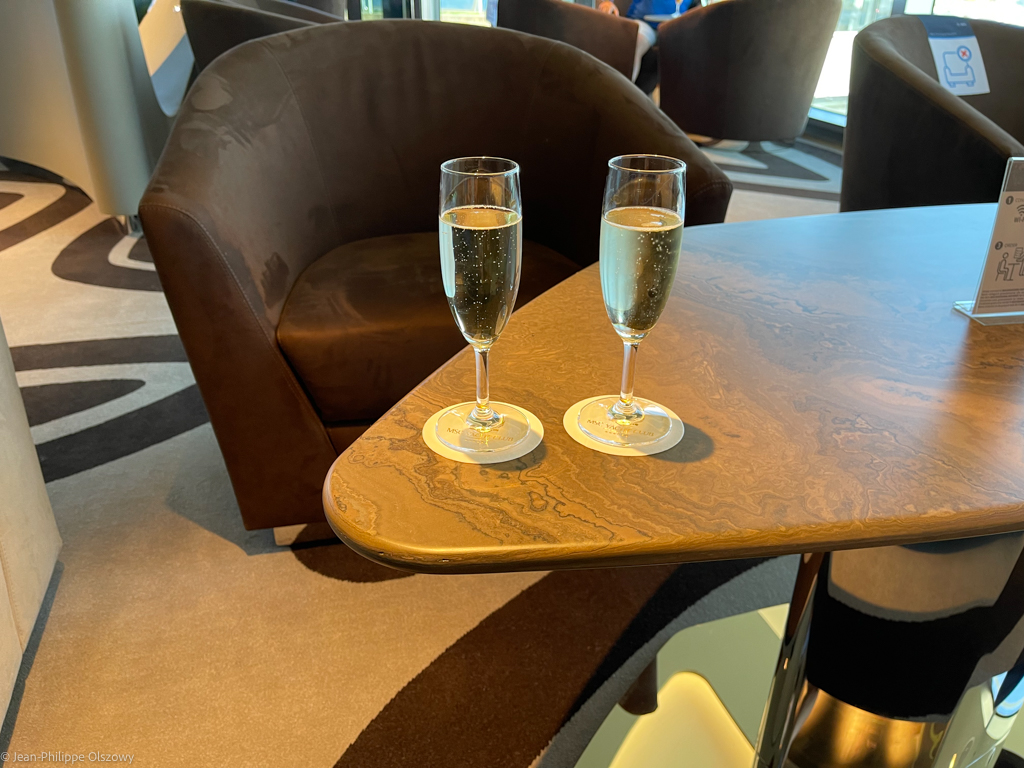 We finally arrive at the Yacht Club where we are served a sparkling white wine (it is not champagne, even if it is served in a flute). The cabins are not ready, but we can go to eat. In the evening, the YC restaurant does not have a fixed time, it is open from 7:00 p.m. to 10:00 p.m. However, we are asked what time we plan to have dinner. 8 p.m.? Uh … it's annoying, there are a lot of people who want dinner at 8 p.m. Instead, try 7:30 p.m. we are told … It's nonsense.
The Cabin
It is therefore not a "standard" cabin, which must have been a Deluxe Grand Suite. The door opens automatically, the room is large and clear of any obstacle, as is the shower room, specially equipped to accommodate a wheelchair. The balcony, huge, also has a motorized opening and a system to be able to roll there from the room. I had been warned, I had inherited a room for passenger (s) with reduced mobility.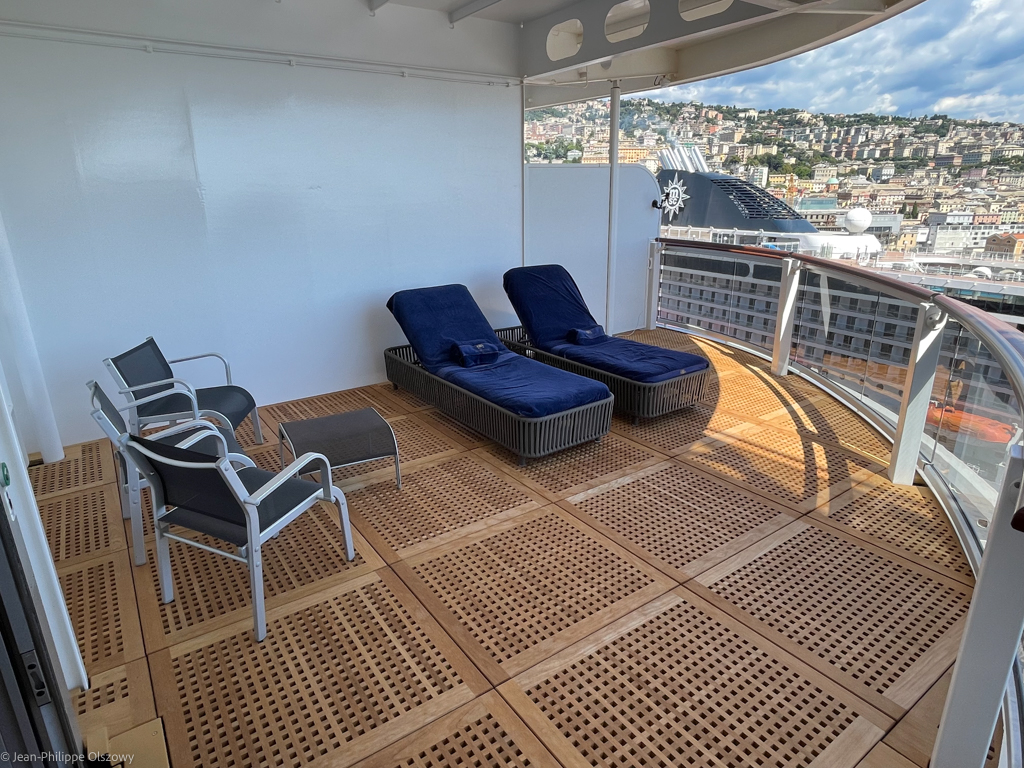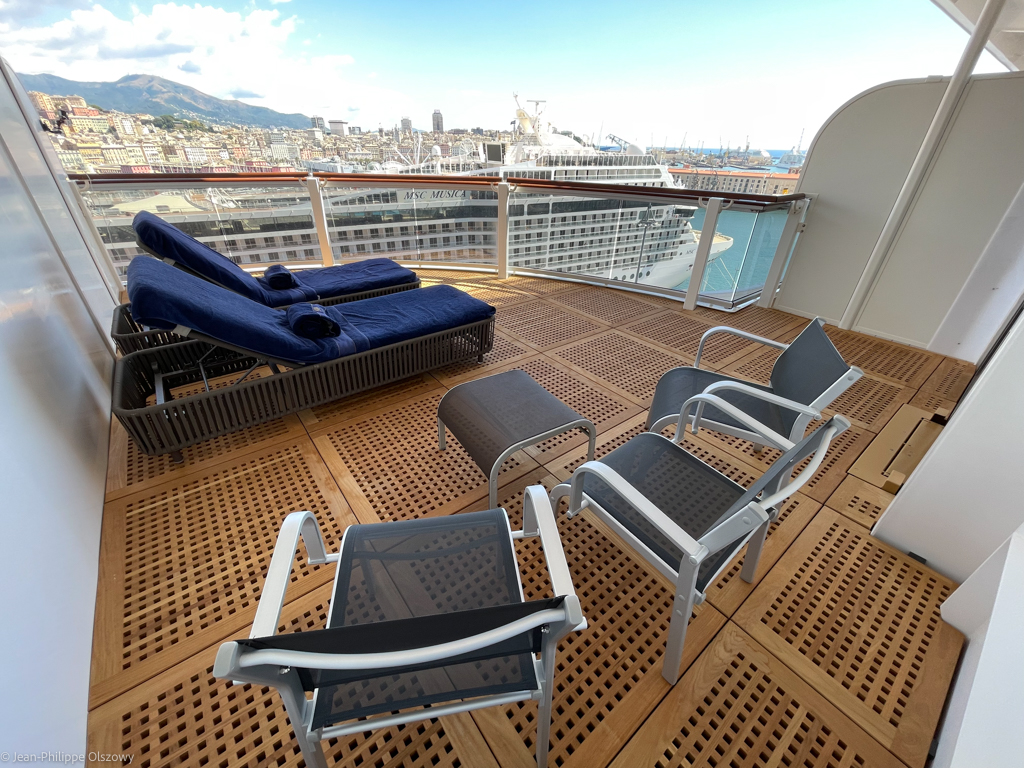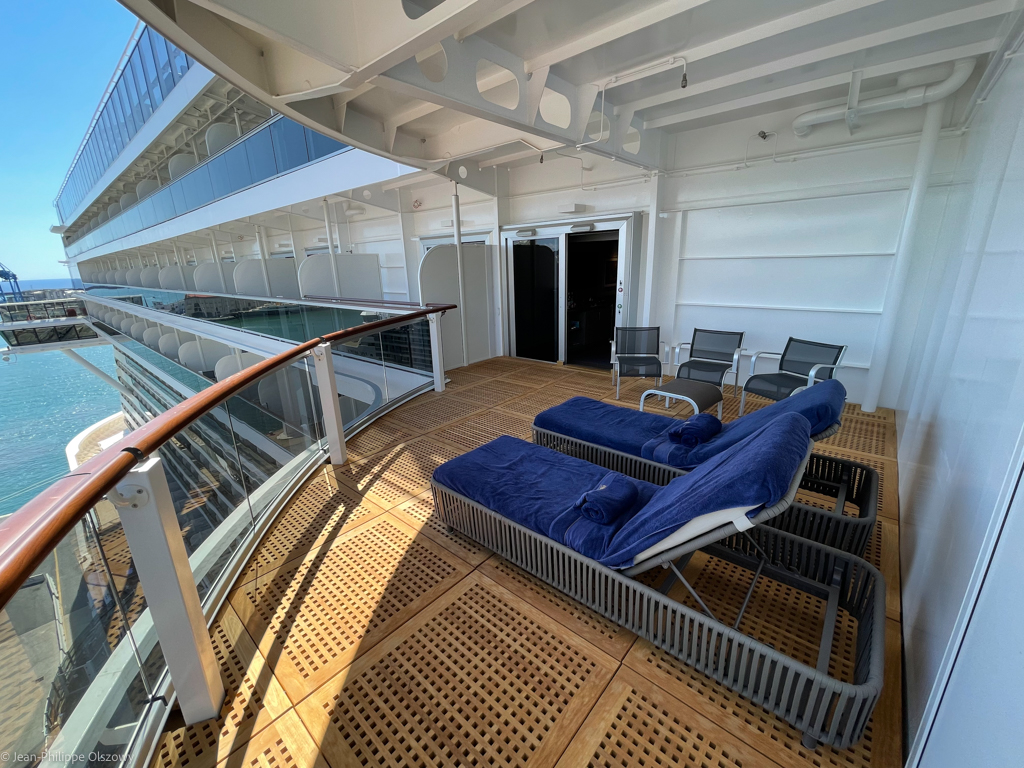 A large screen is on the wall opposite the bed. Underneath, a cupboard contains a well-stocked mini-fridge (and its contents are included in the price of the YC cruise, refilled daily). A professional version Nespresso coffee machine completes the equipment. There is a sofa in the extension, but the cabin seems empty because the space between the furniture is so large. A person in a wheelchair must be able to move around without obstacles, for sure. A good point. The balcony is located between 2 different cabin recesses, which faces the front of the ship. A breathtaking and unique point of view!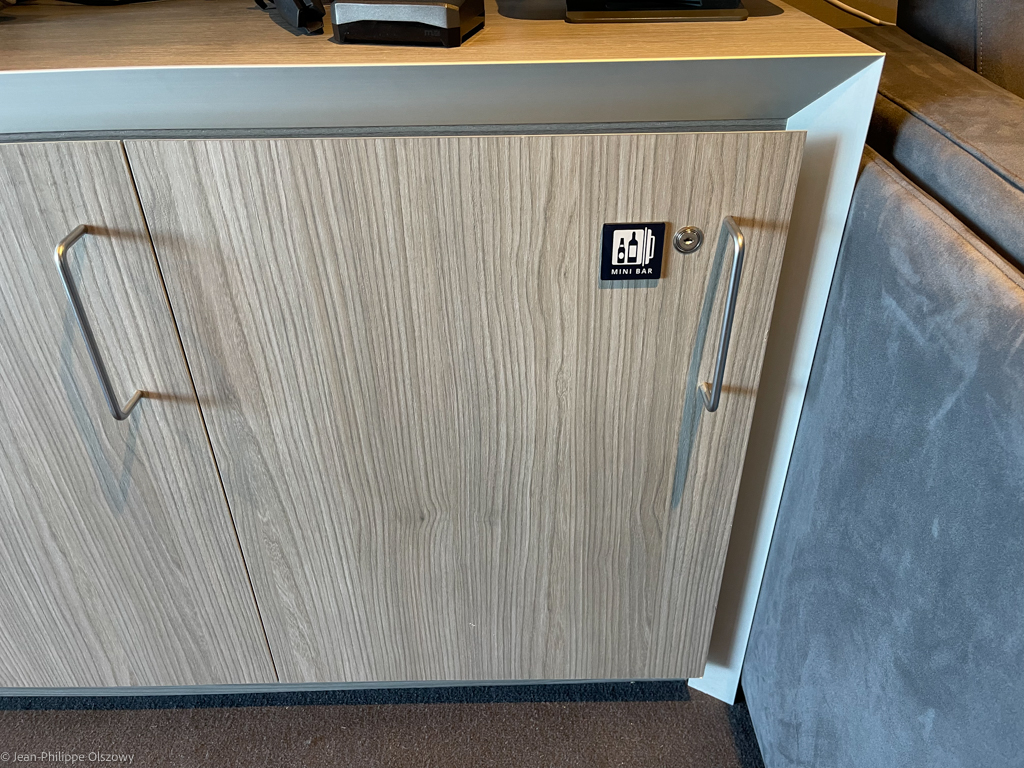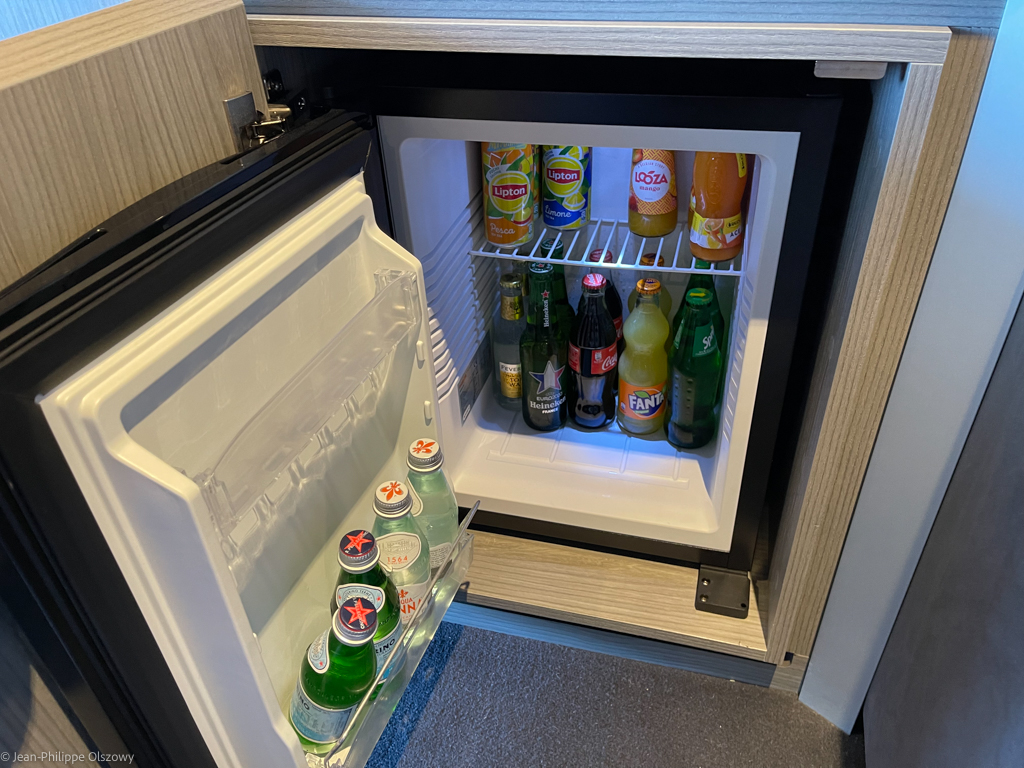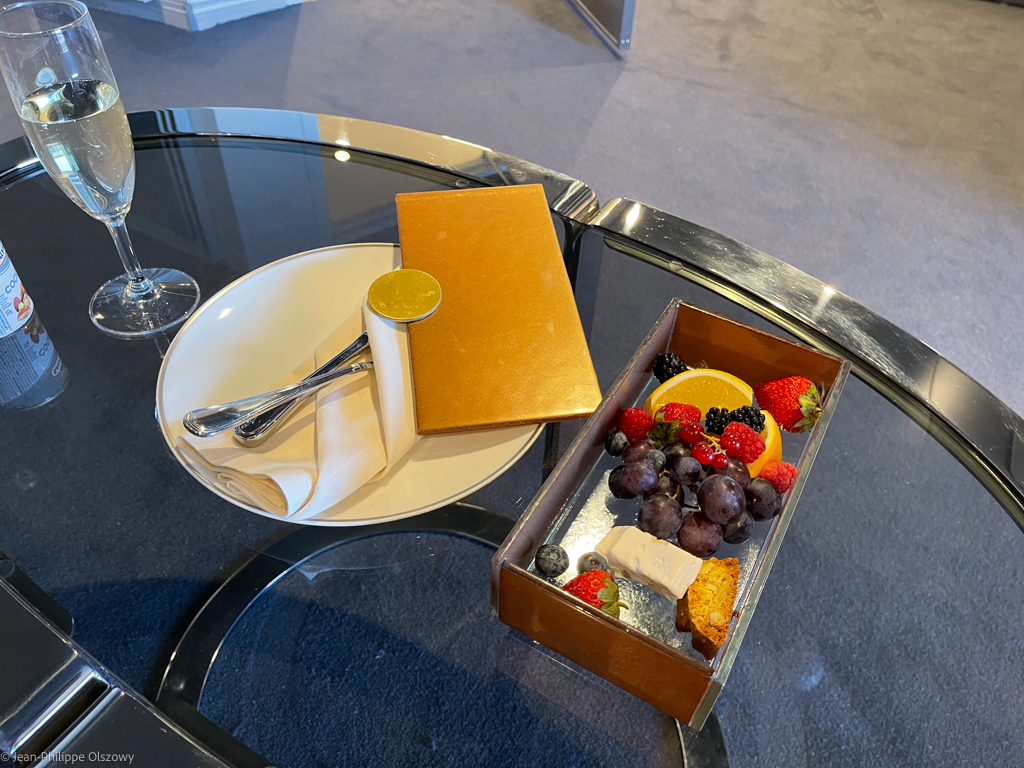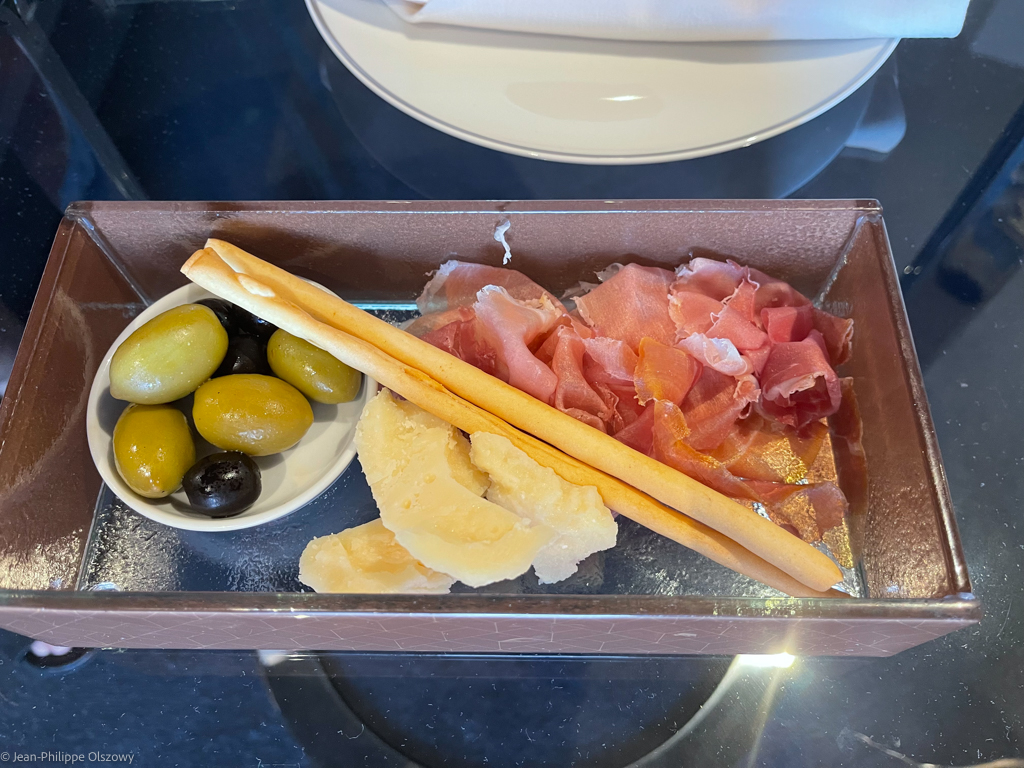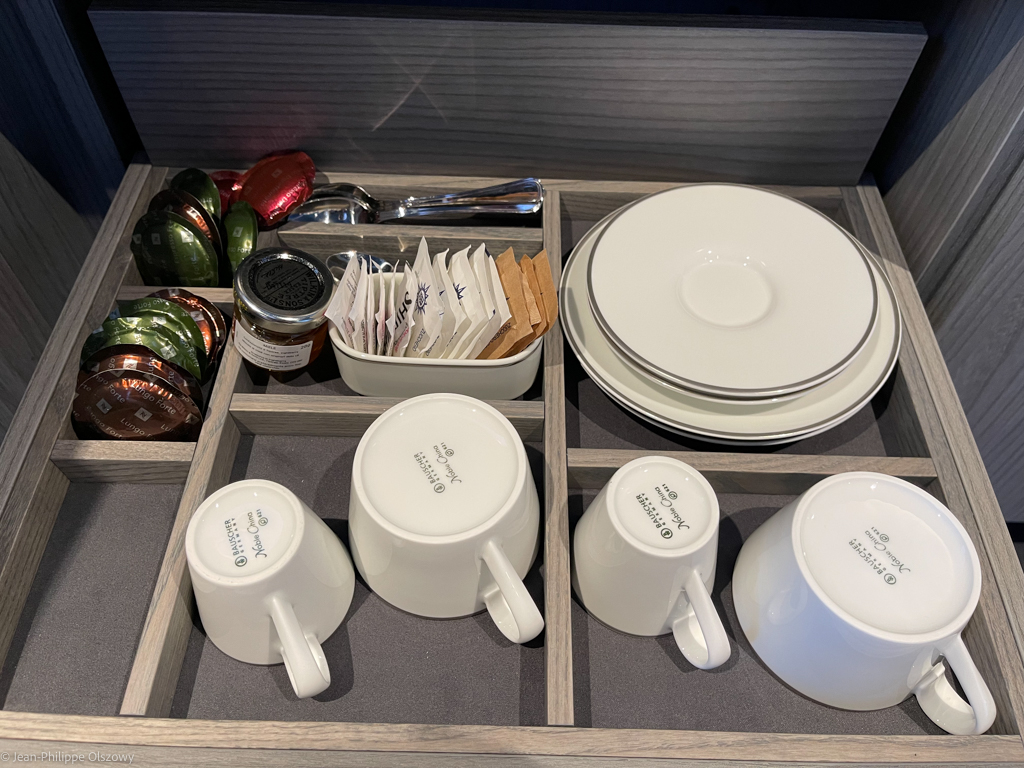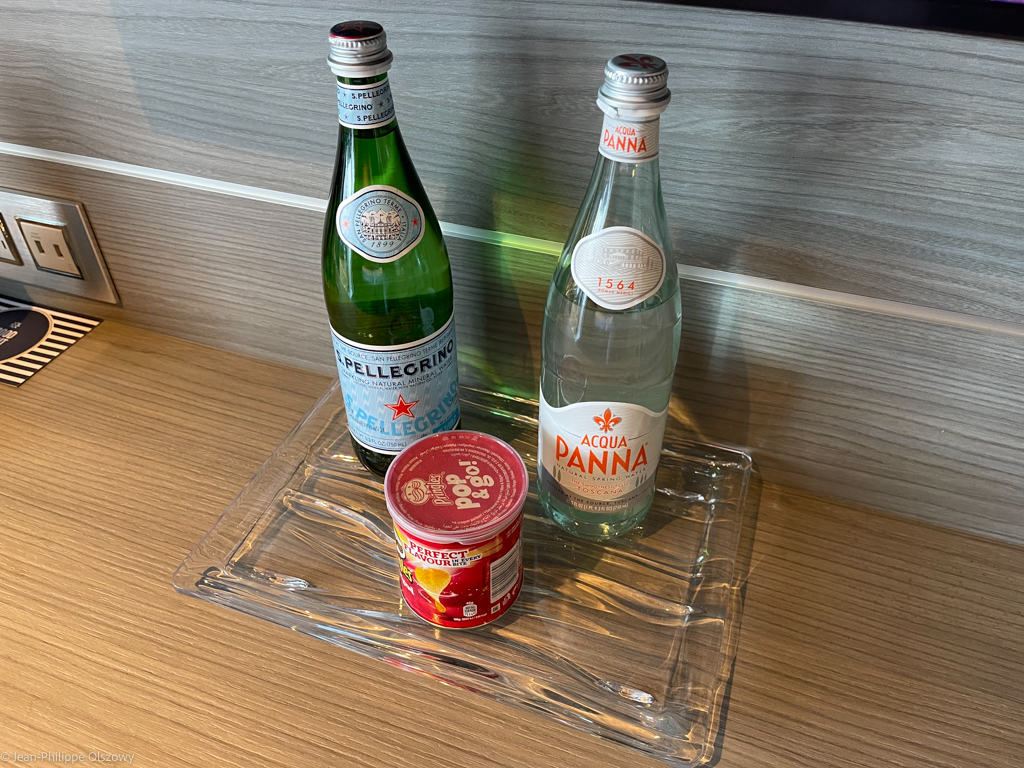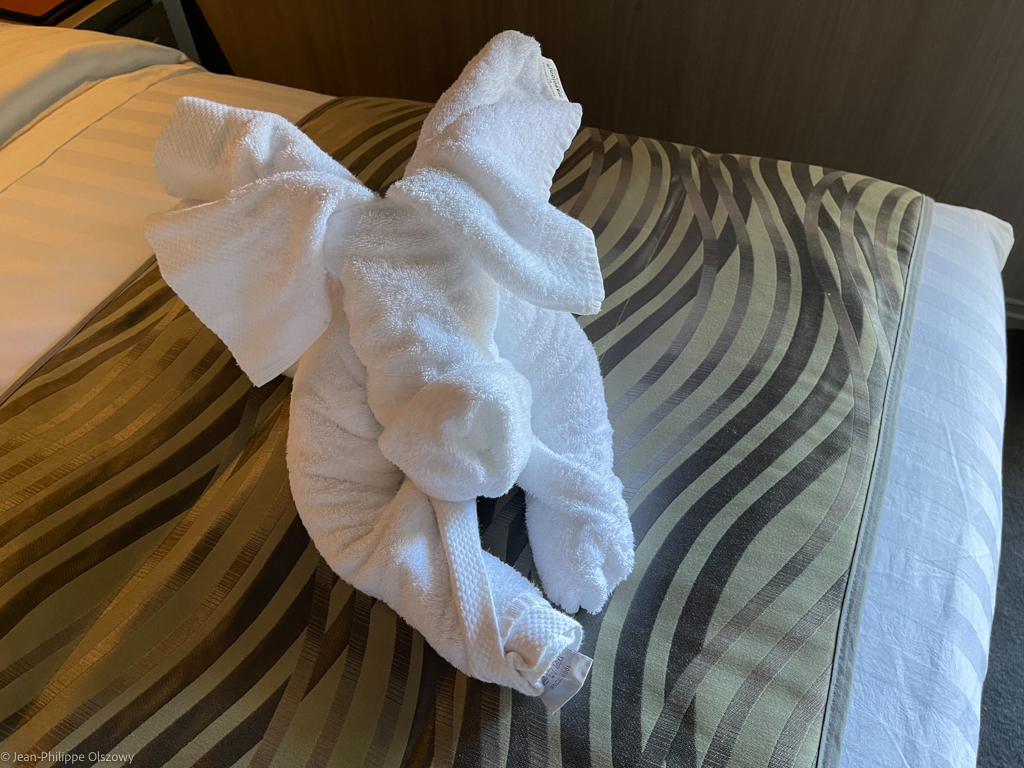 The Yacht Club
Located at the front of the ship, on 4 decks, there are in addition to many cabins a lounge, overlooked by a restaurant. On the upper deck, there is the exterior part with a large swimming pool, a Jacuzzi, a bar with a snack corner on the go. With the Seashore, MSC offers the largest Yacht Club of its ships to date. During peak hours (in the afternoon), we find a characteristic of the company: the YC is well loaded and we can not say that we can find calm there! This is obviously not commensurate with the density of passengers outside this private part, who are close to touch, but it is also difficult to compare with what we find in the competition, for this type of vehicle'space. A complete YC is therefore not a haven of peace.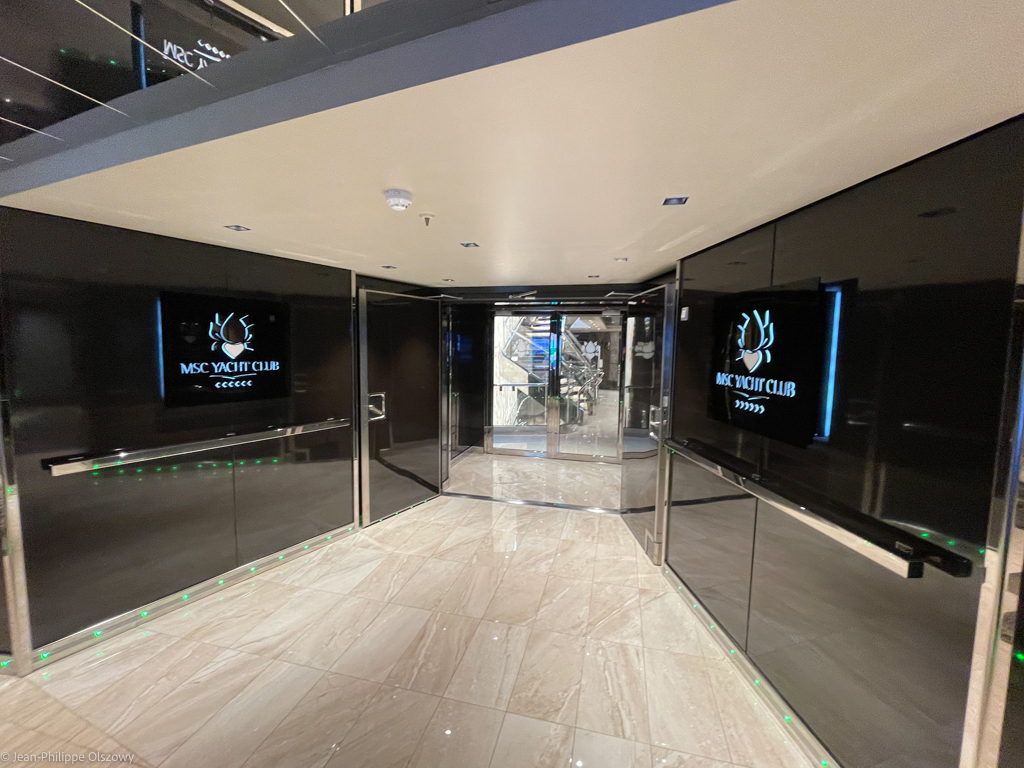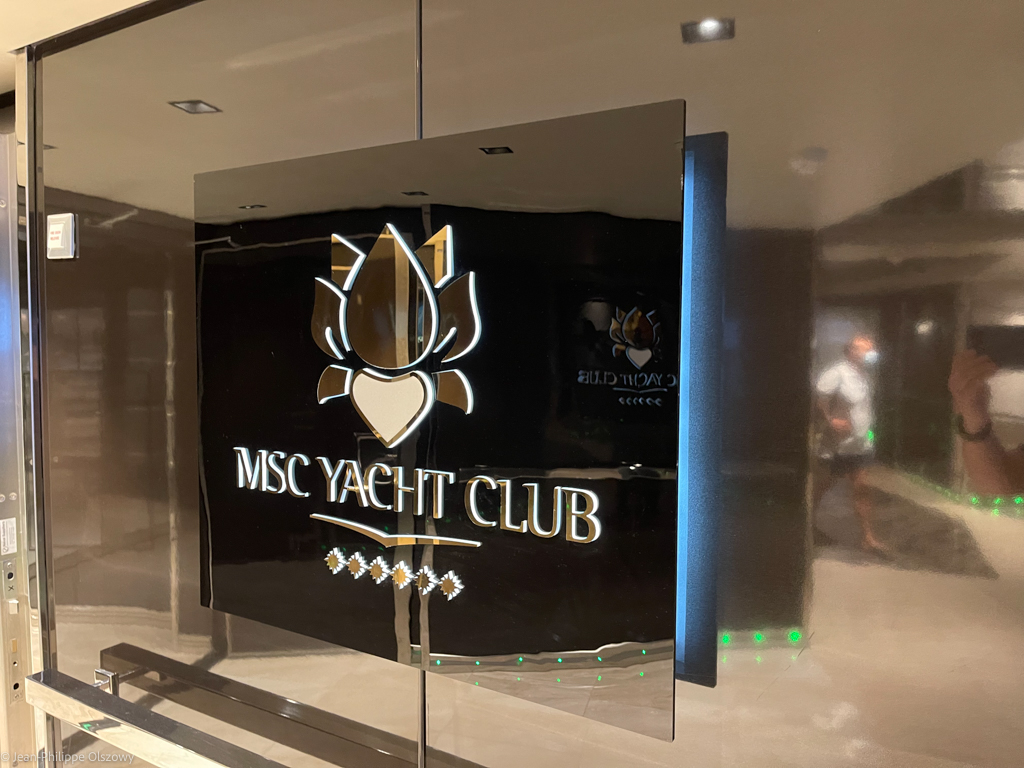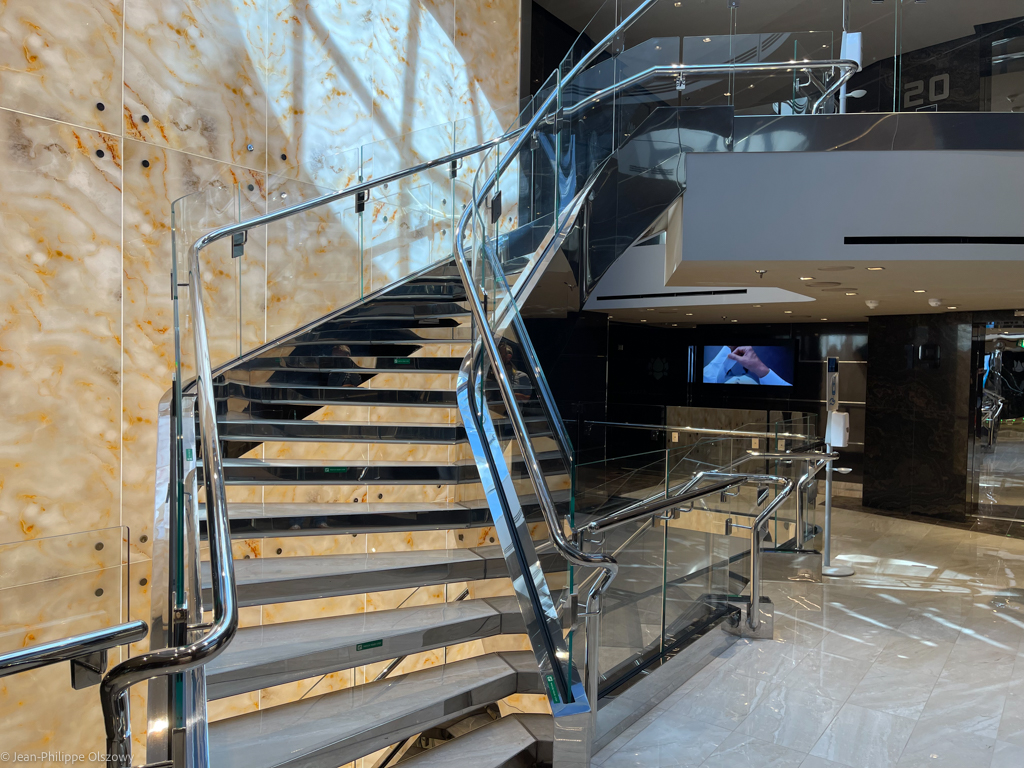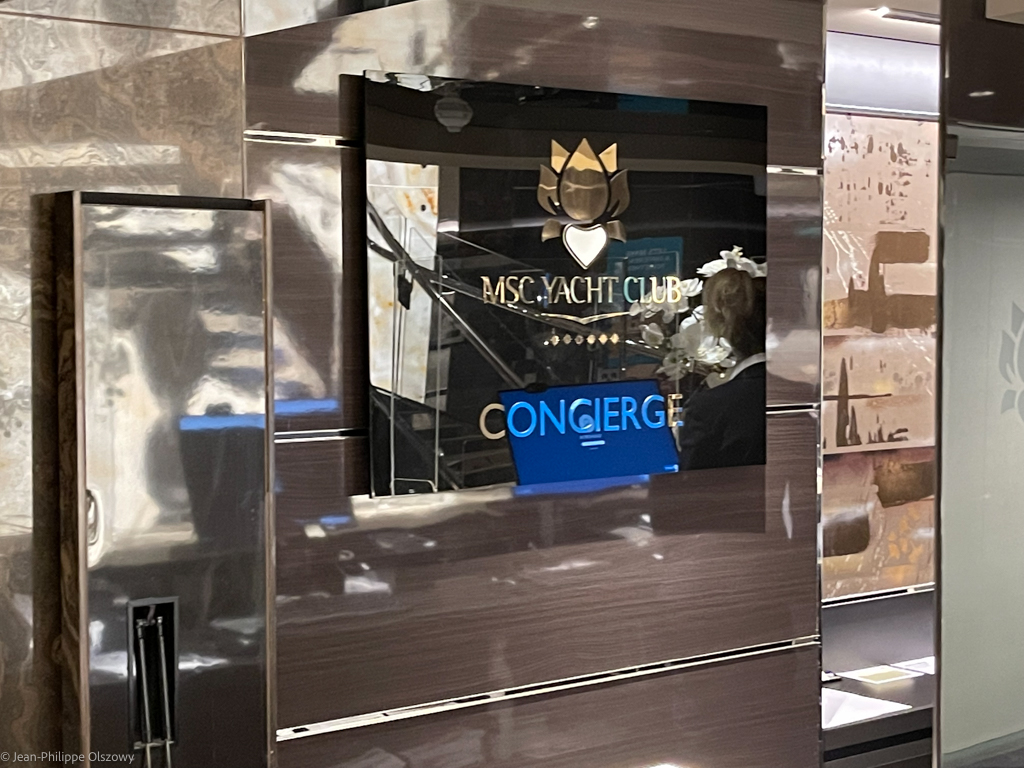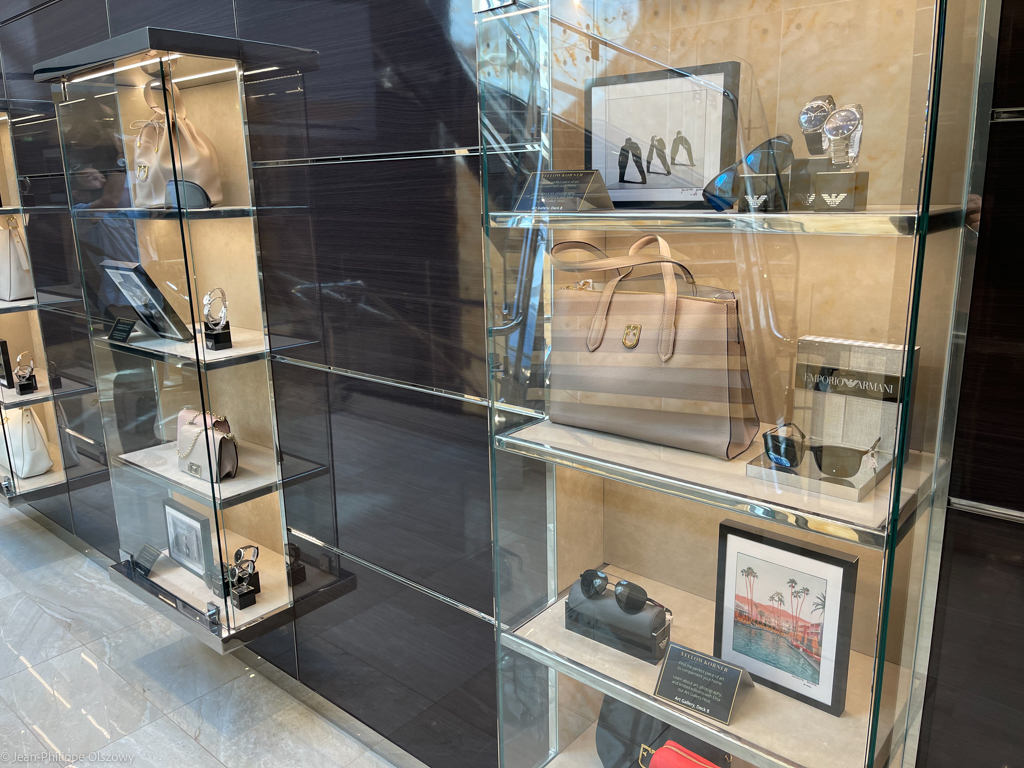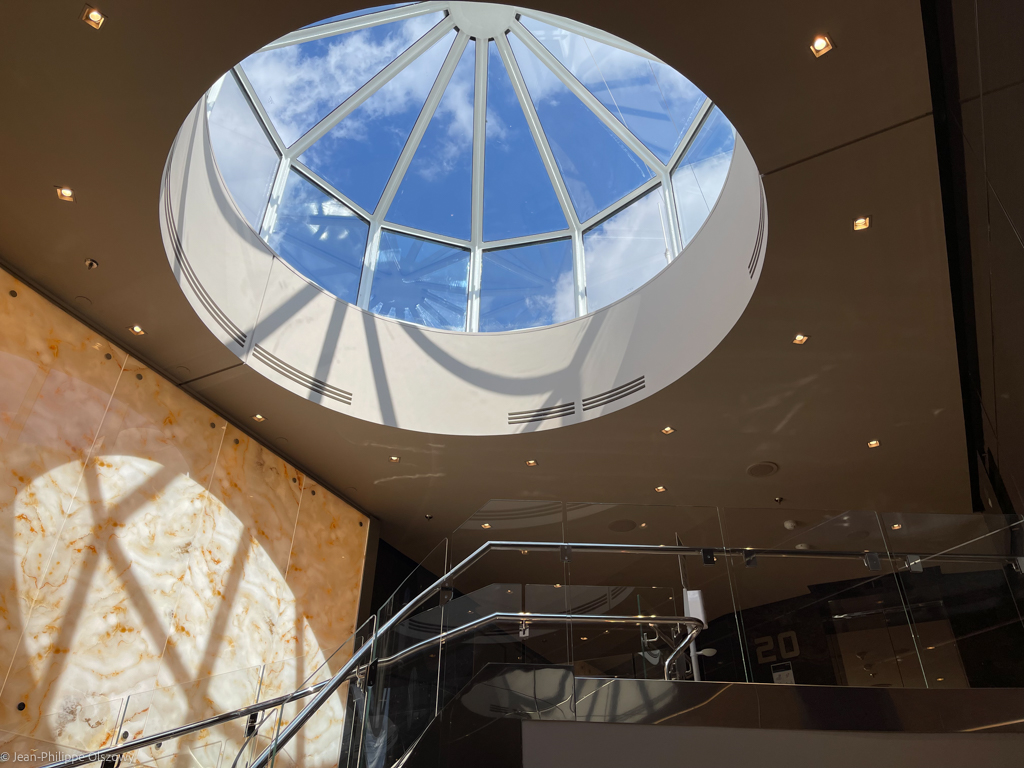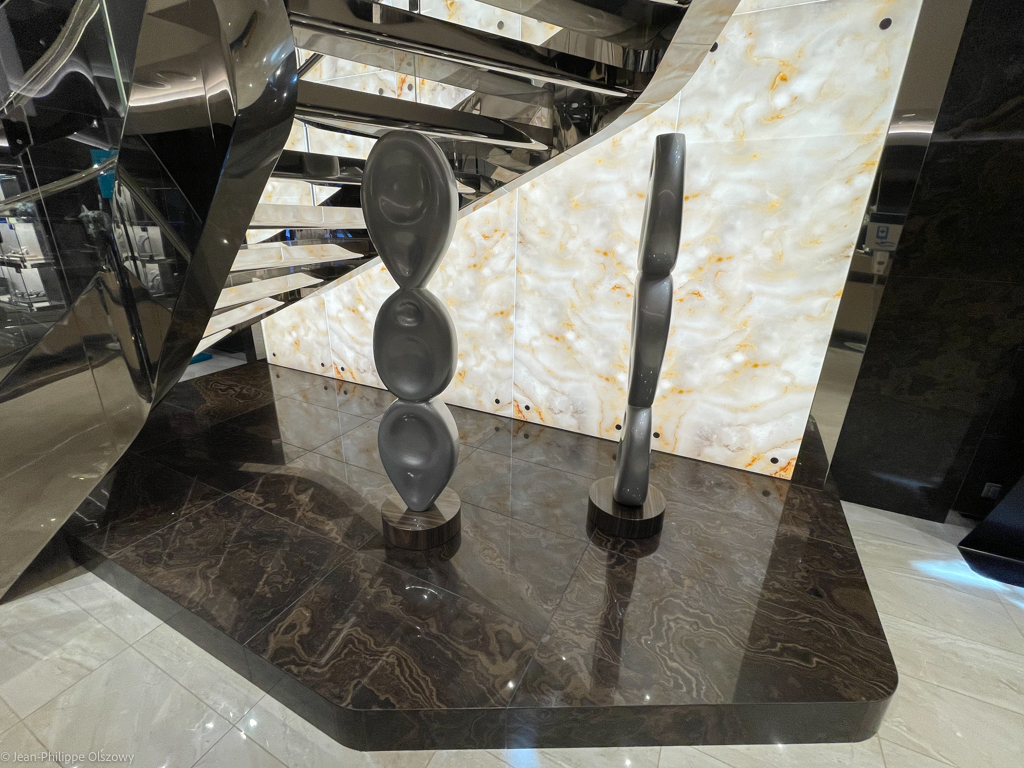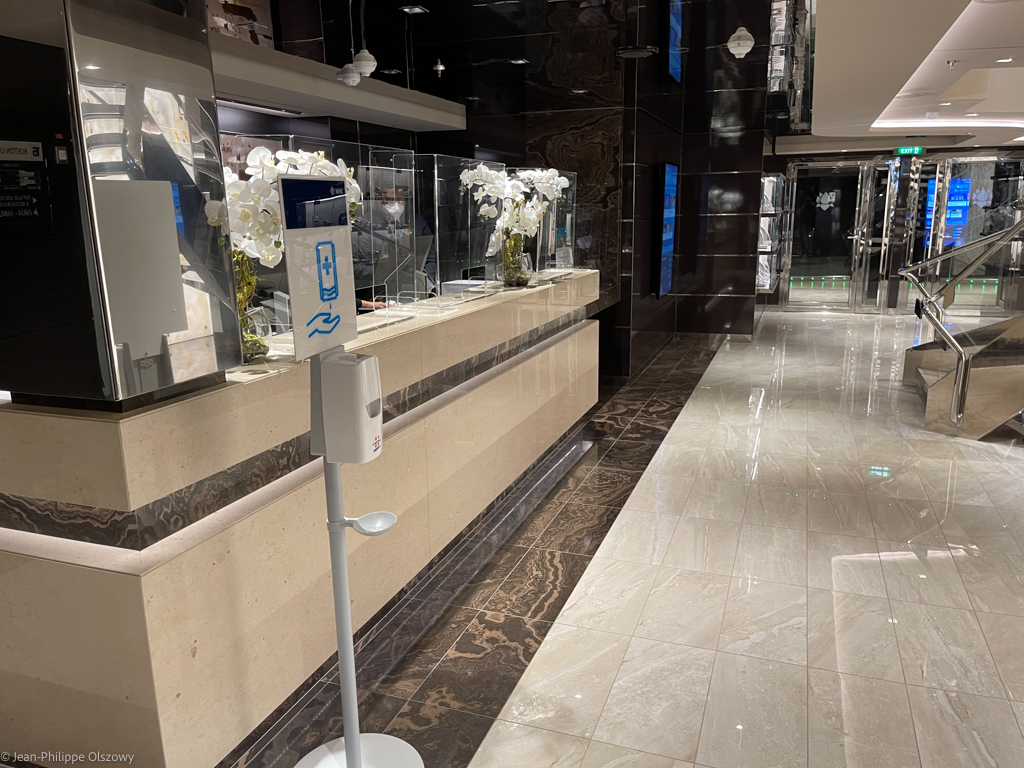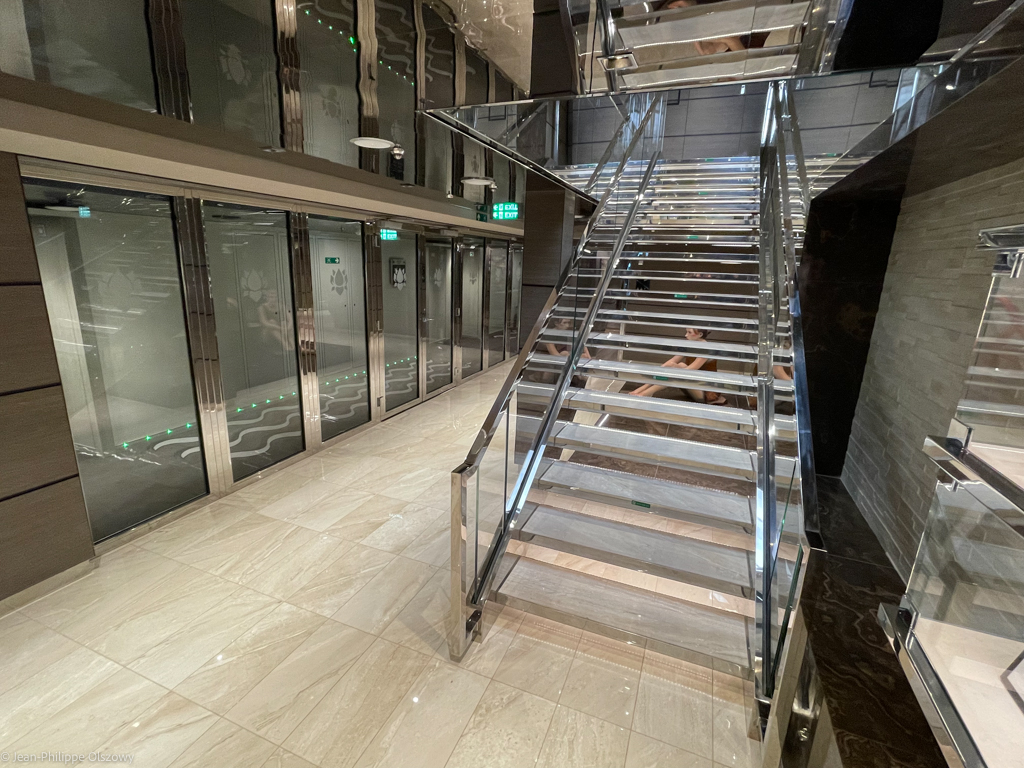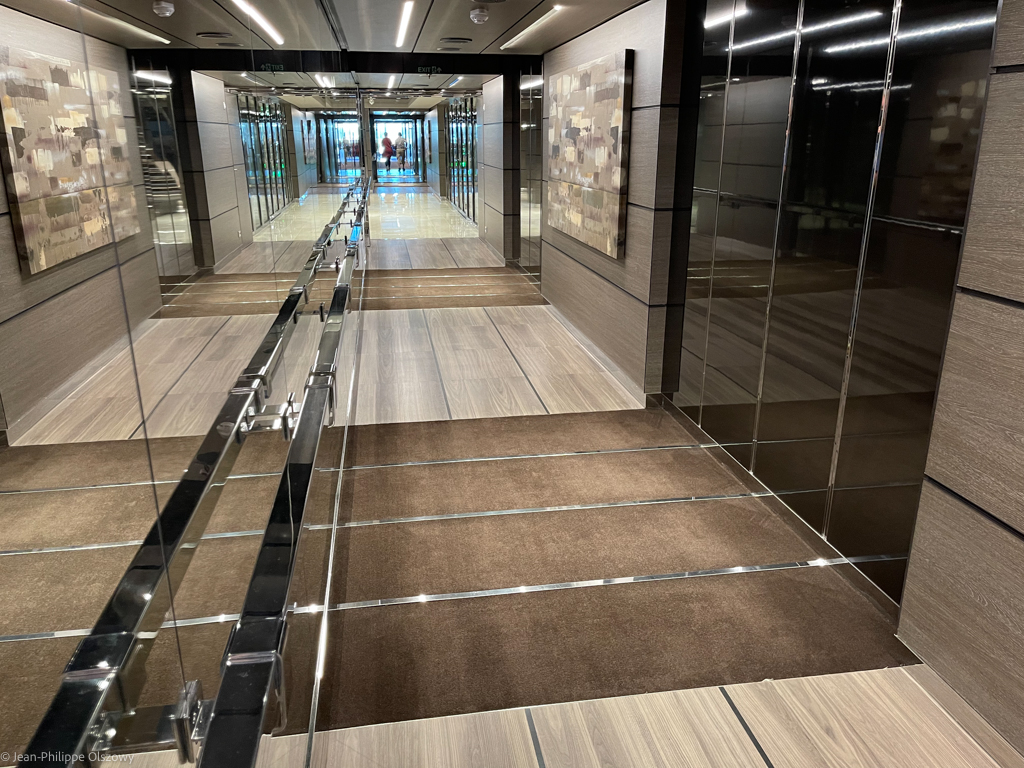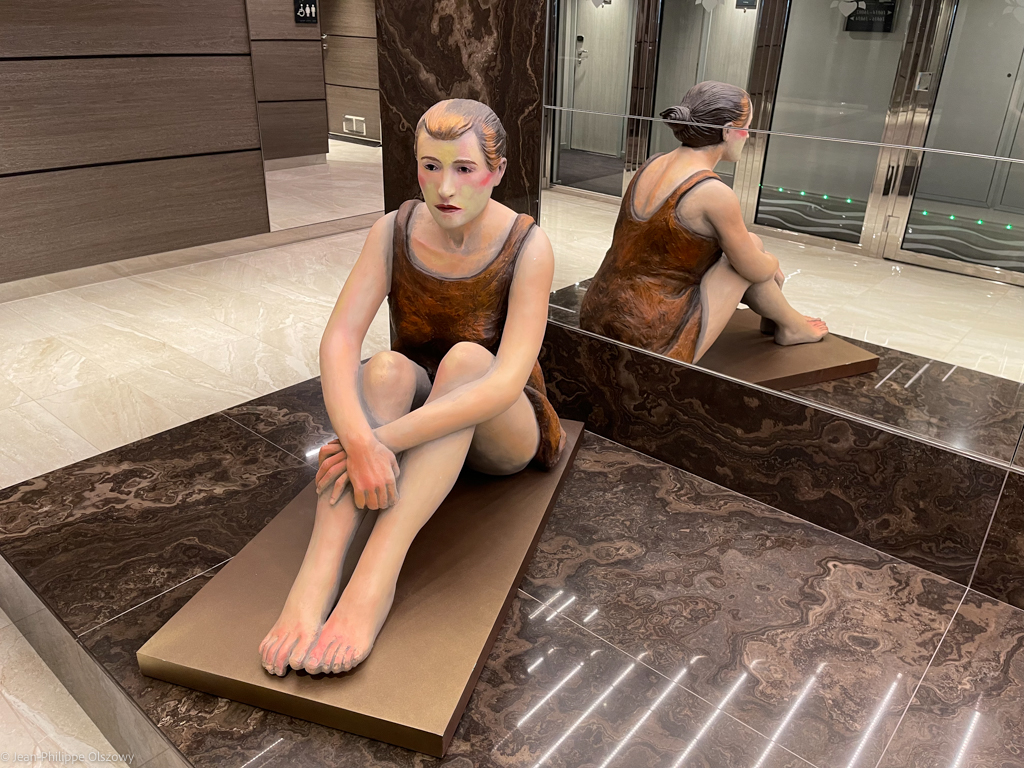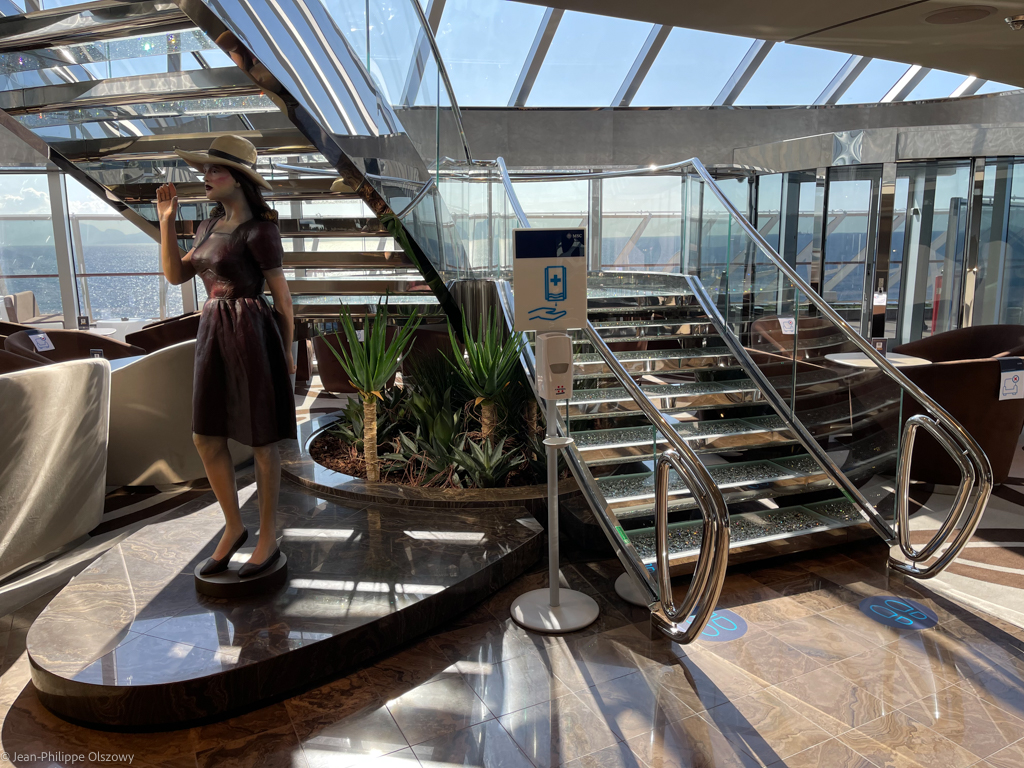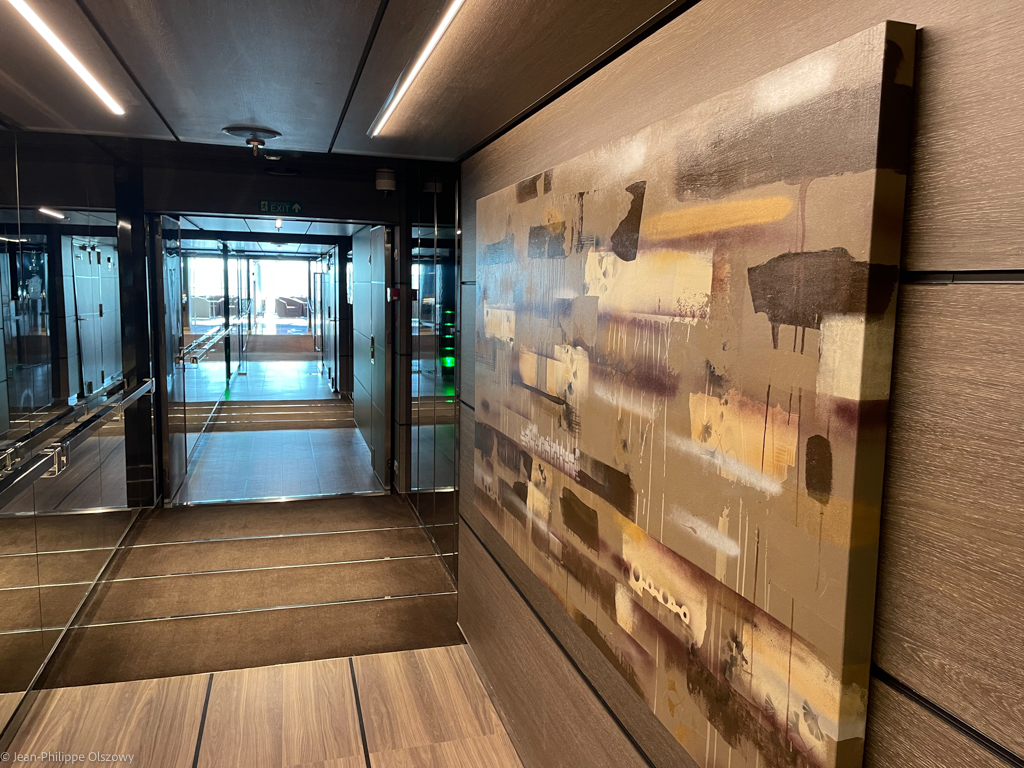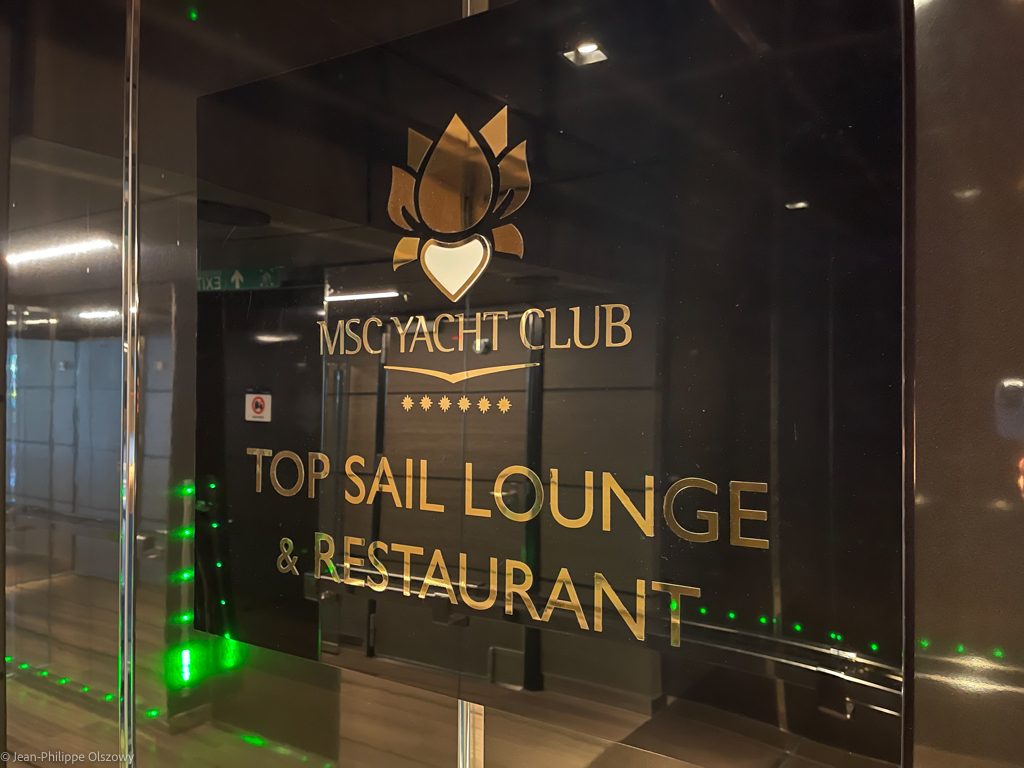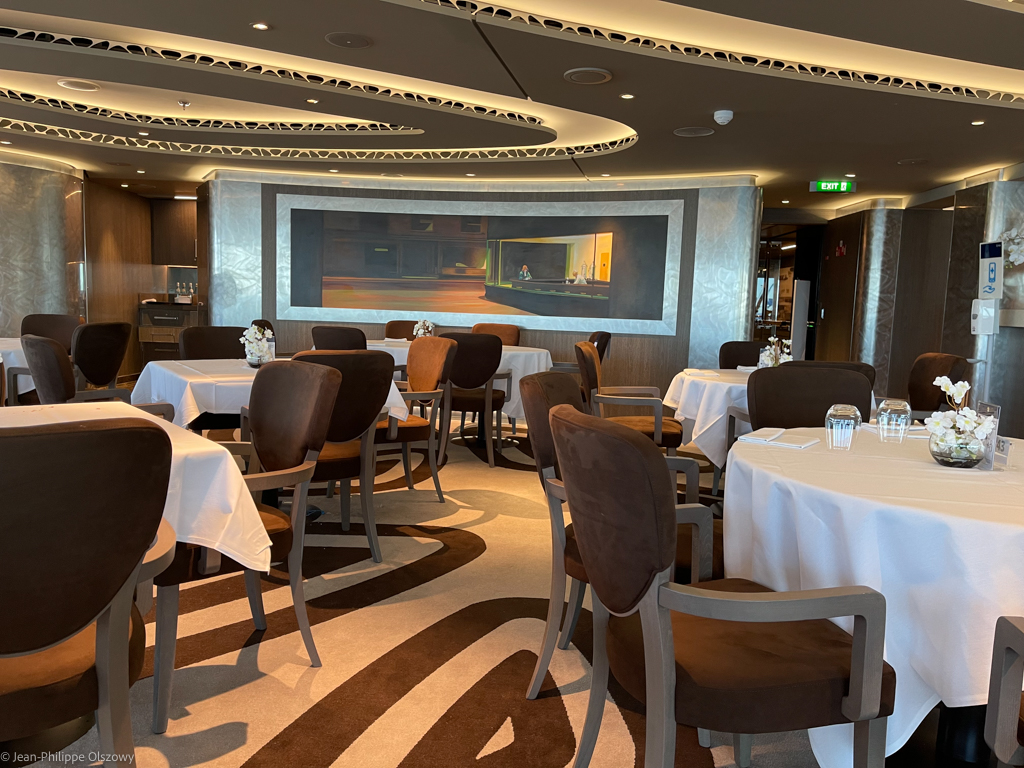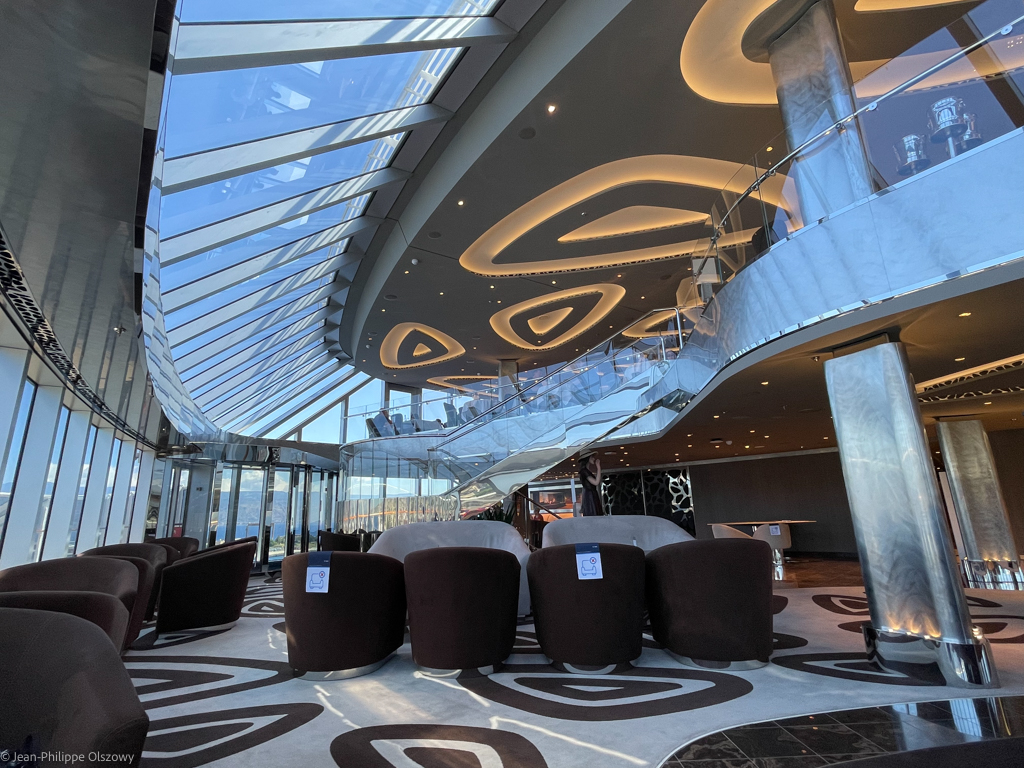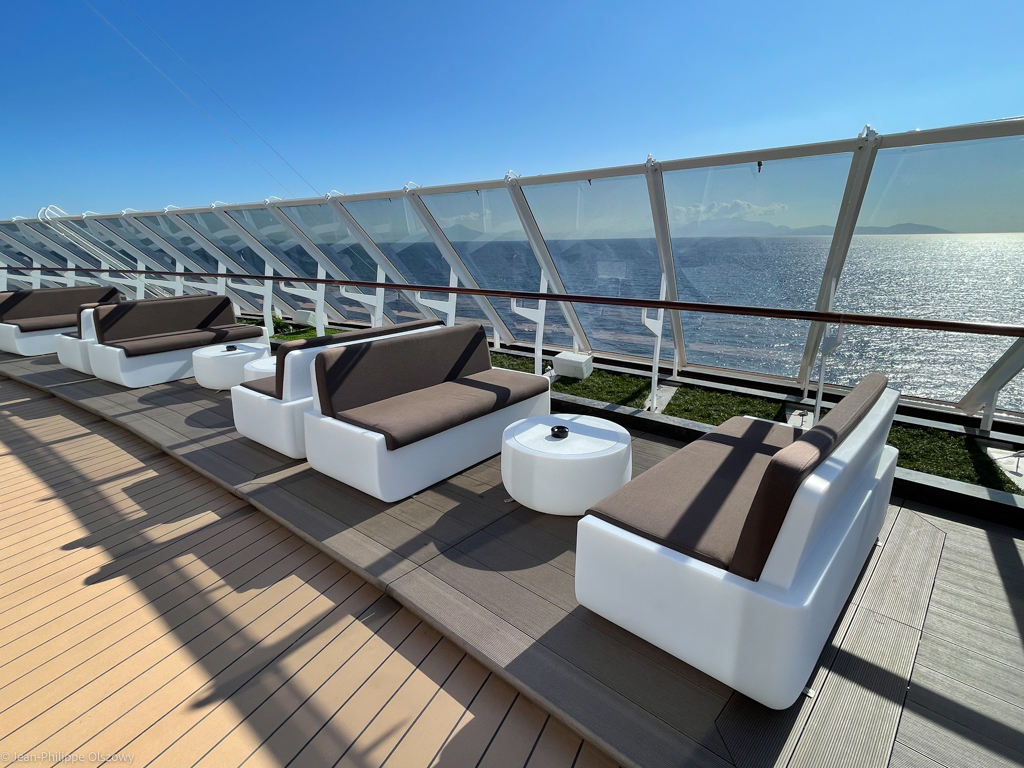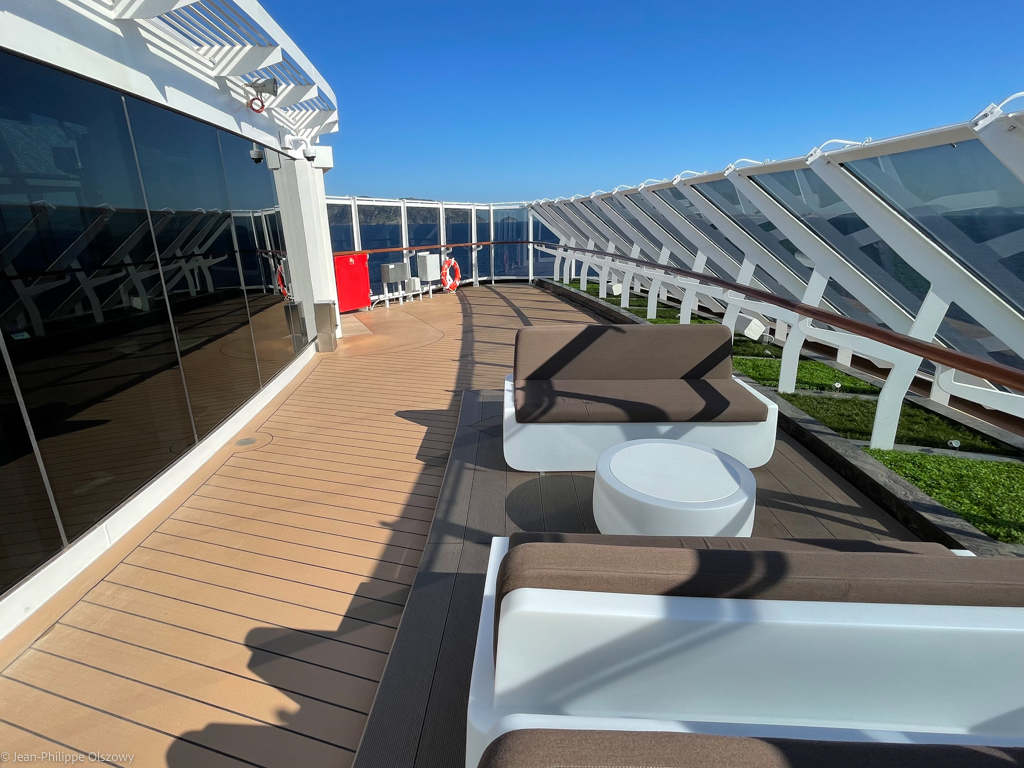 Everything inside, be it food or drink, is included in the price of the cruise. A large menu offers a variety of alcoholic and non-alcoholic drinks. Sometimes the list is even impressive, like the great variety of beers … but which were in fact not available on this cruise. A small third of the list was in stock. So finally, a more limited list than announced. This drink package is also valid in the other bars of the ship, and even in restaurants outside YC. Sometimes the waiters don't know, but in the end the drinks aren't charged.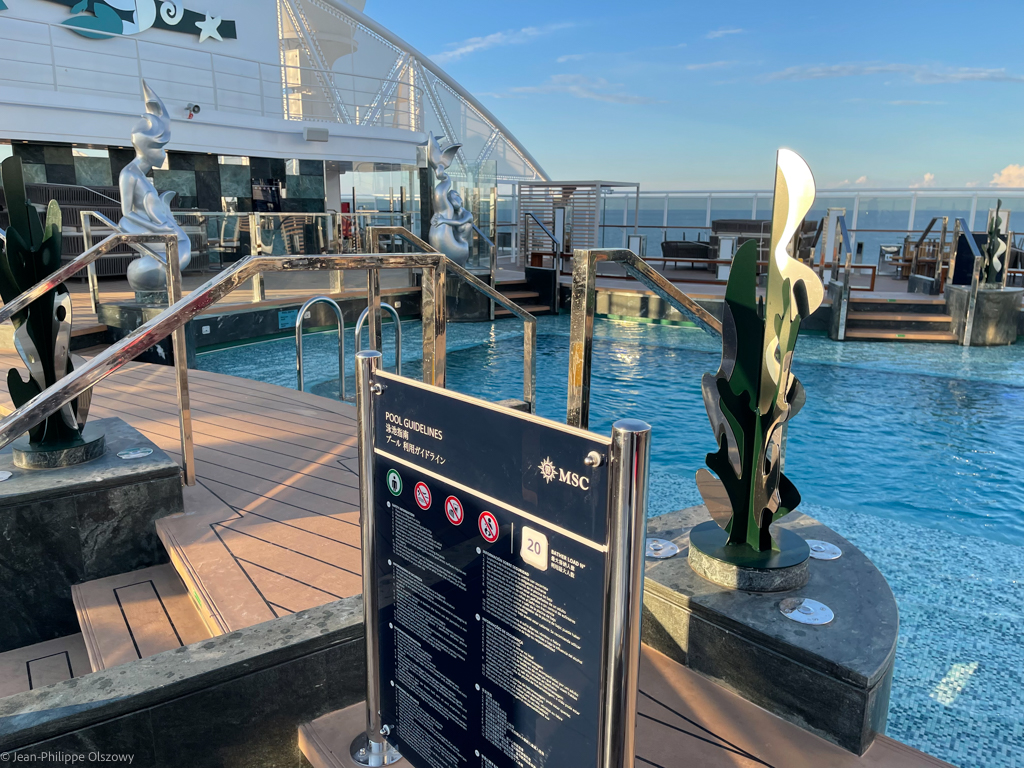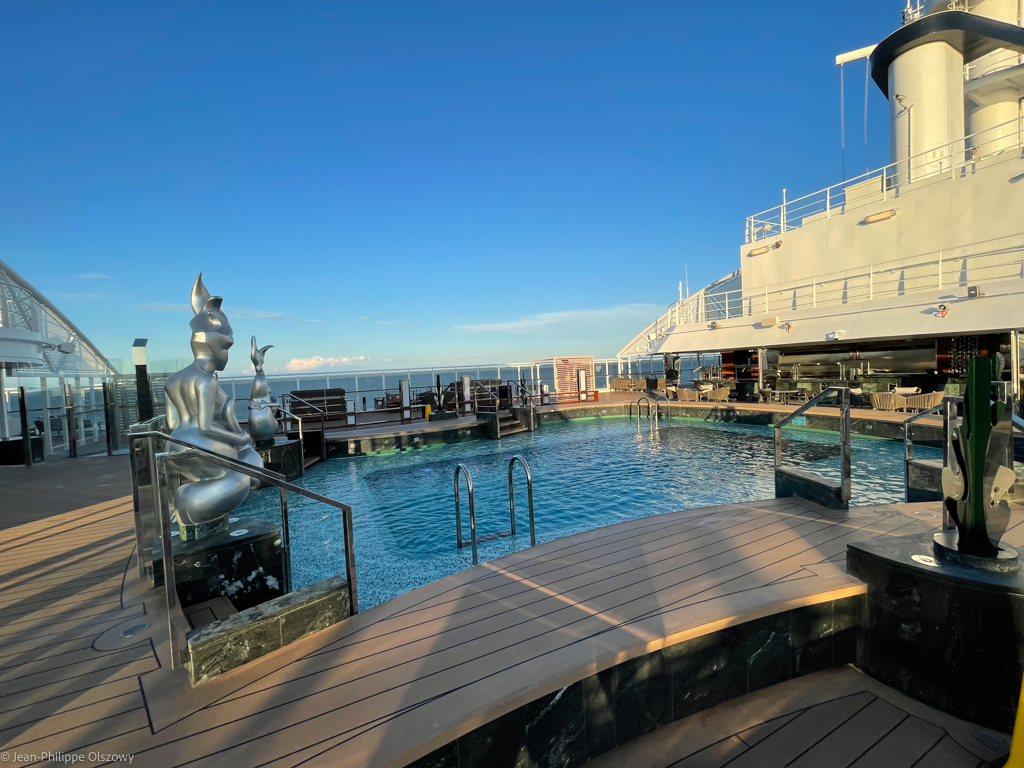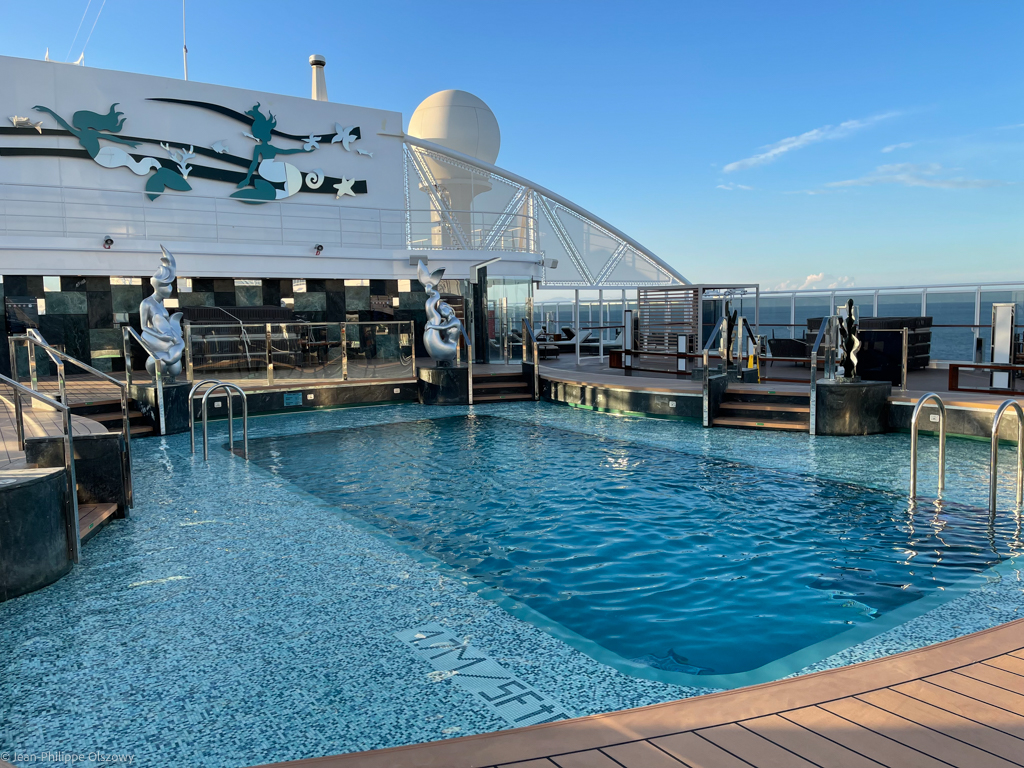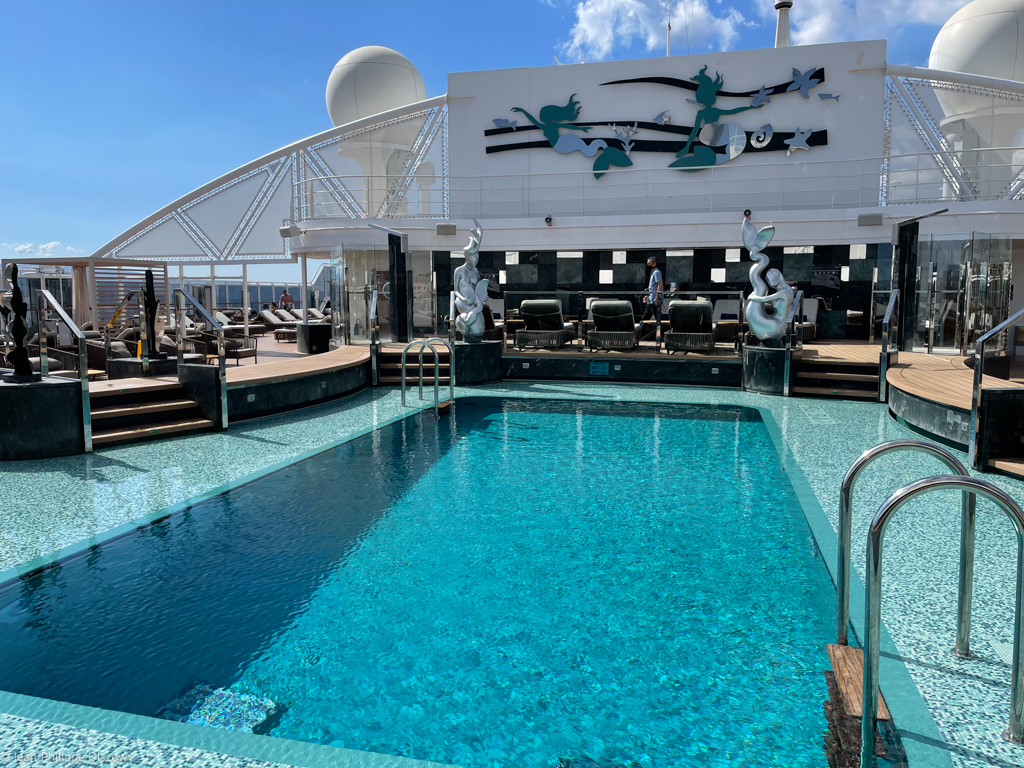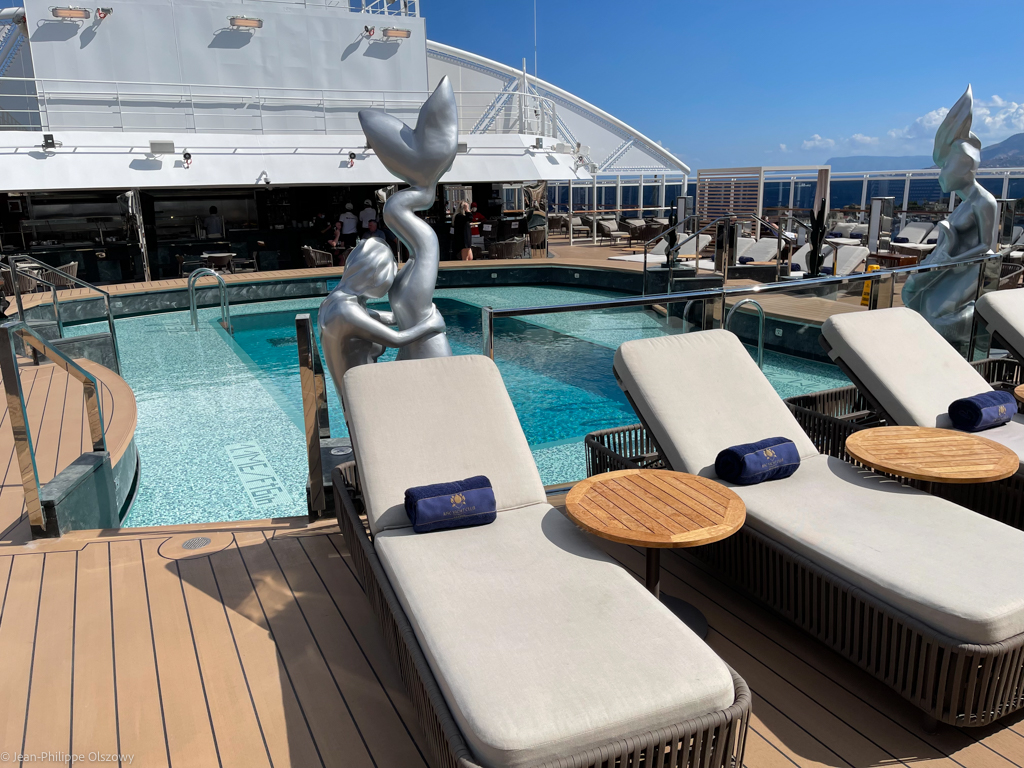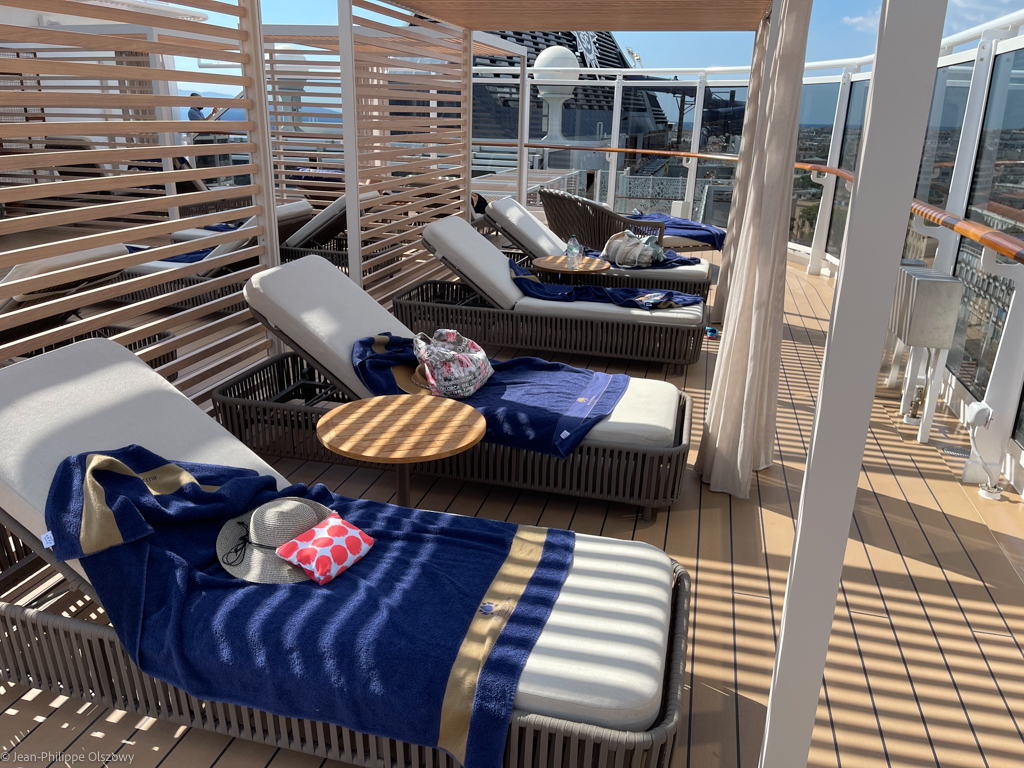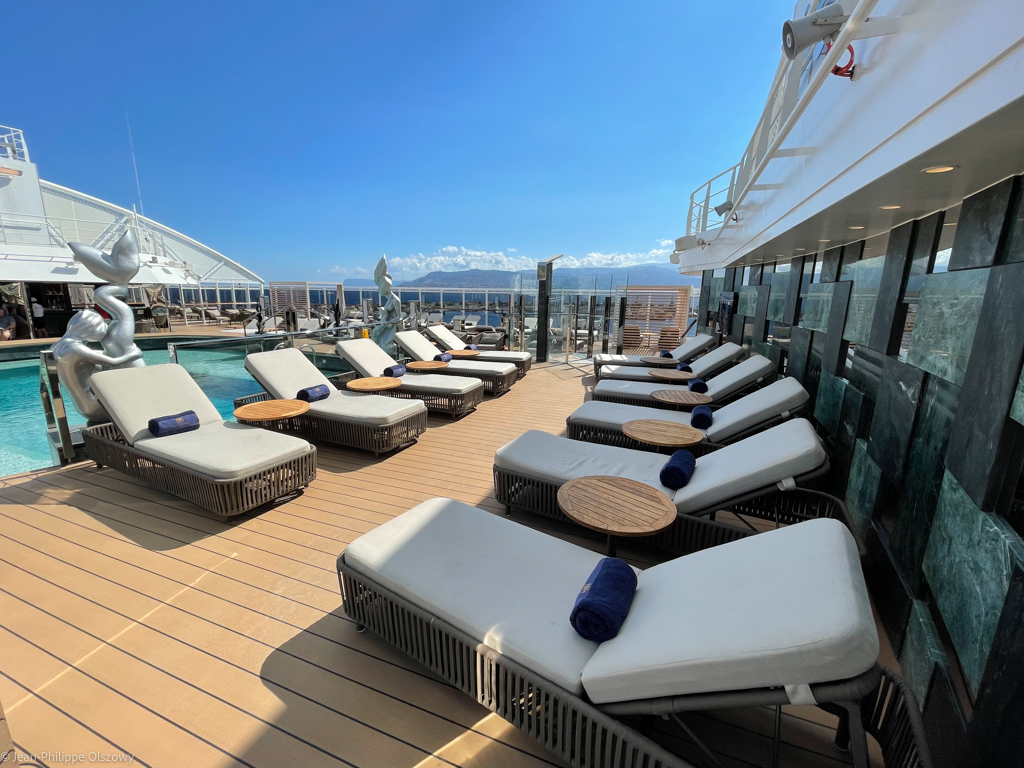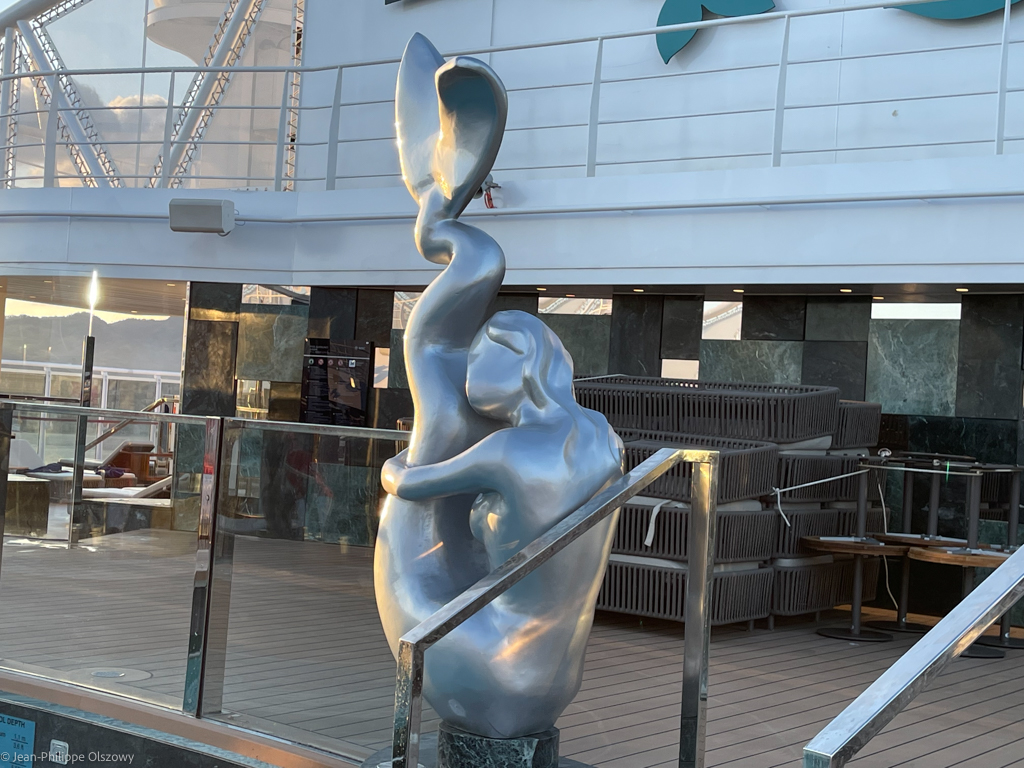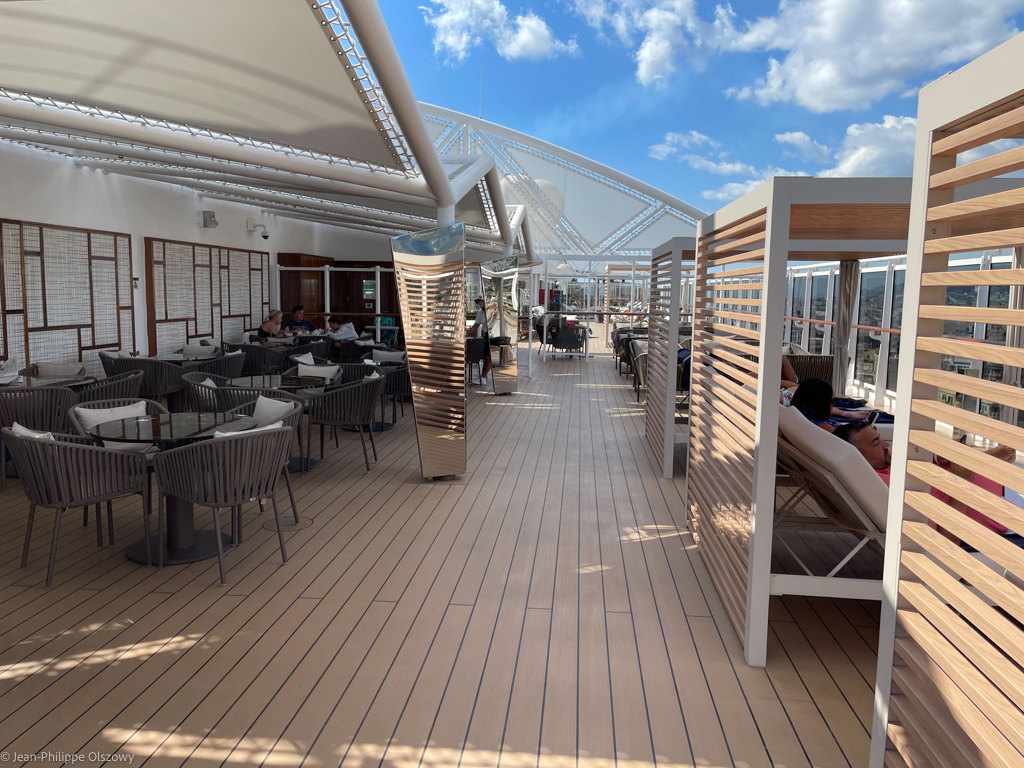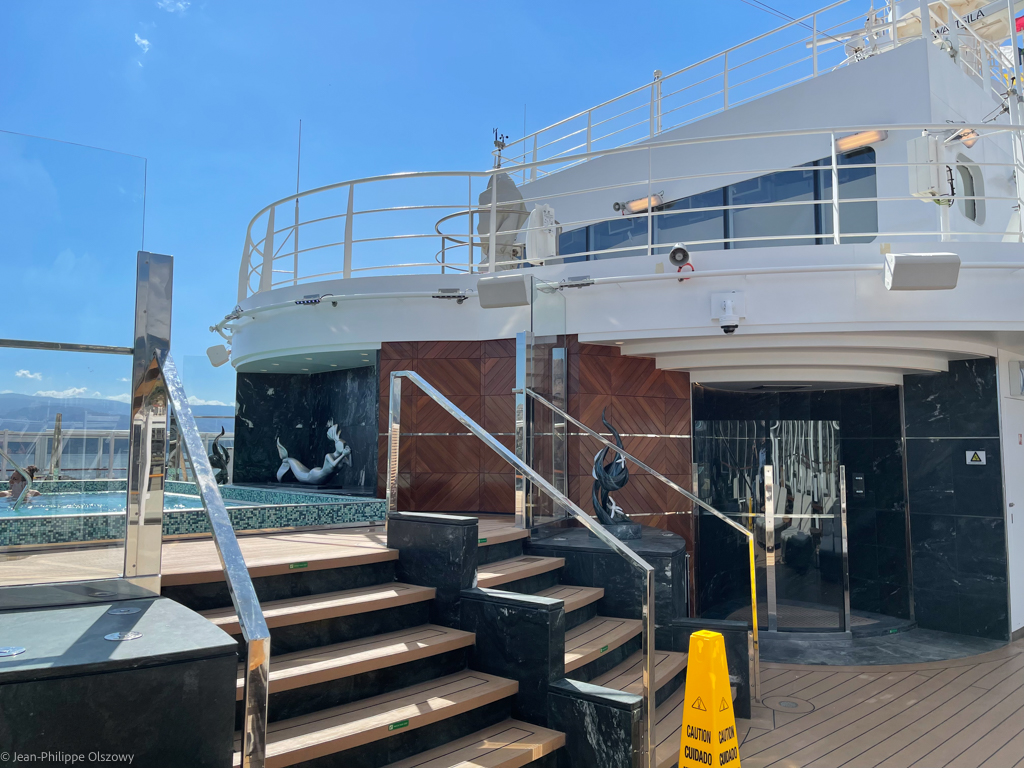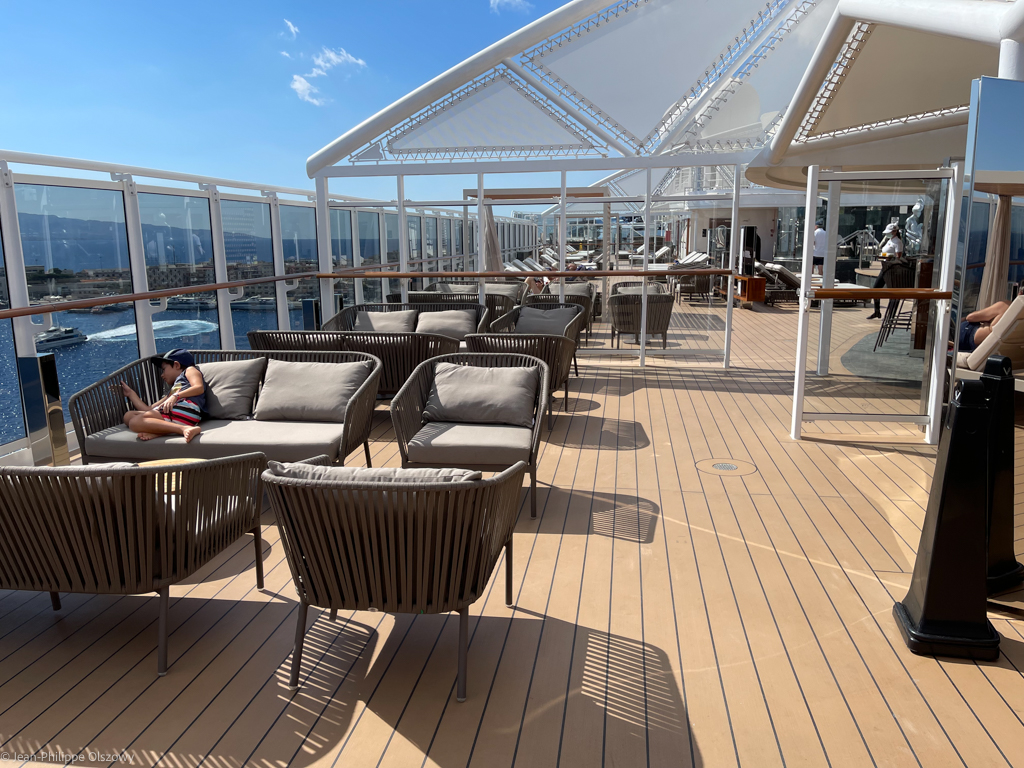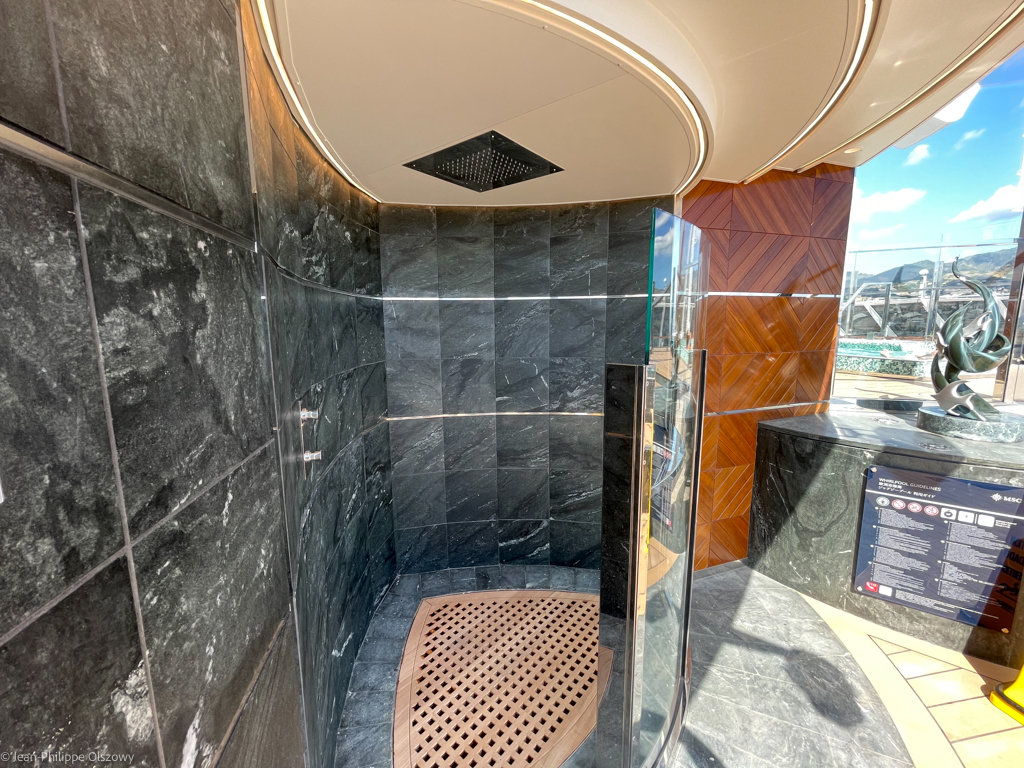 The YC restaurant serves all meals from breakfast to dinner. Lunch menus are simpler than dinner menus, but there is always enough choice. In the evenings, dishes related to the culinary traditions of the stopover of the day are offered. The service is correct, the sommelier attentive and attentive. The only downside here would rather be on the side of the passengers, some of whom simply lack education. Between those who come in shorts and thongs (whereas MSC asks for a correct dress, without being a tuxedo!), Those who enter the restaurant and sit directly at a table, pretending not to have seen that there is there were people who were waiting for their table, those who speak very loudly, those who call and tell their stories … we cannot say that the YC is … selective!
The spa
Another perk of the YC is the included access to the spa, which offers quite a few facilities. But we must make an appointment to access it, health protocol requires. Just that, it's an adventure since you have to find someone who knows how to do it, and these people are explaining to cruise passengers that massages are not free, and that the reduction is no longer. valid, because it ended the day before (and negotiating will not help). We finally get to be registered on the binder! It will be the next day at 4 p.m., which will still give us a good while of waiting, because the person who must let us in is explaining that the promotion is no longer valid but that by taking several massages of one. suddenly, there is a discount … finally, we enter!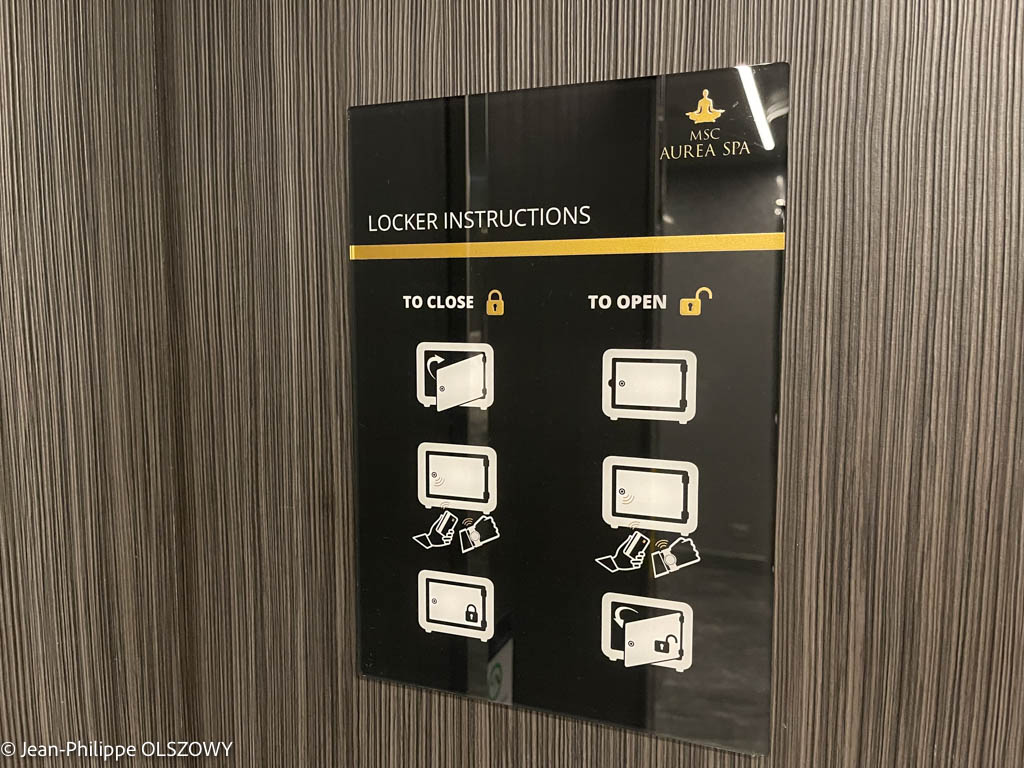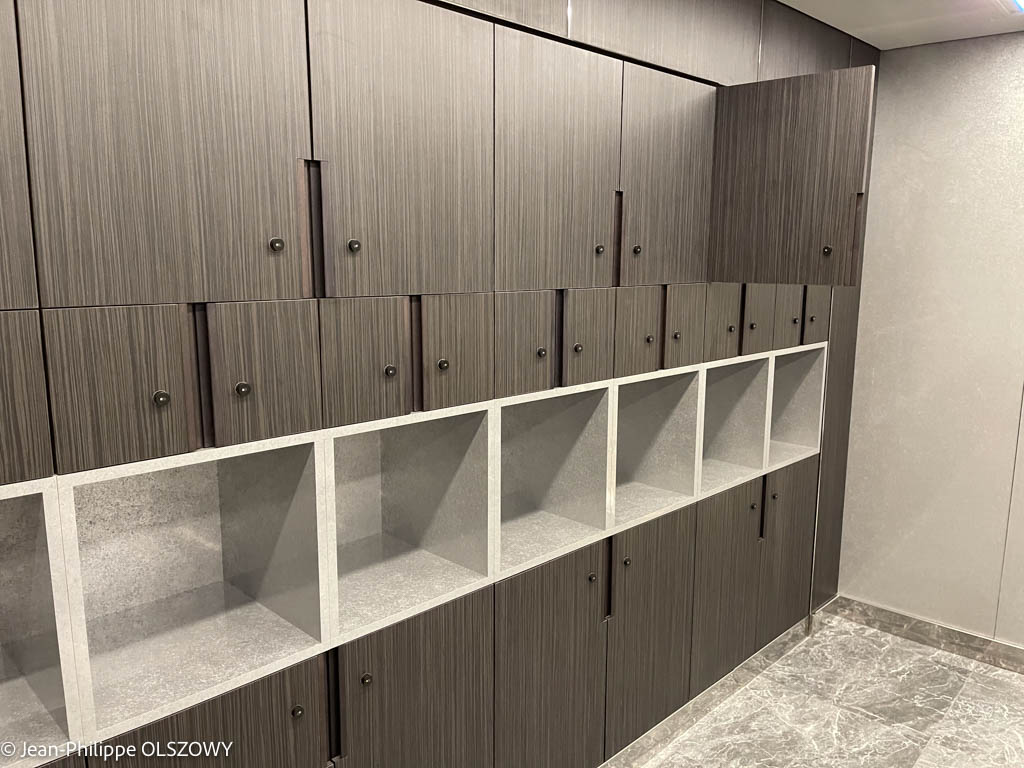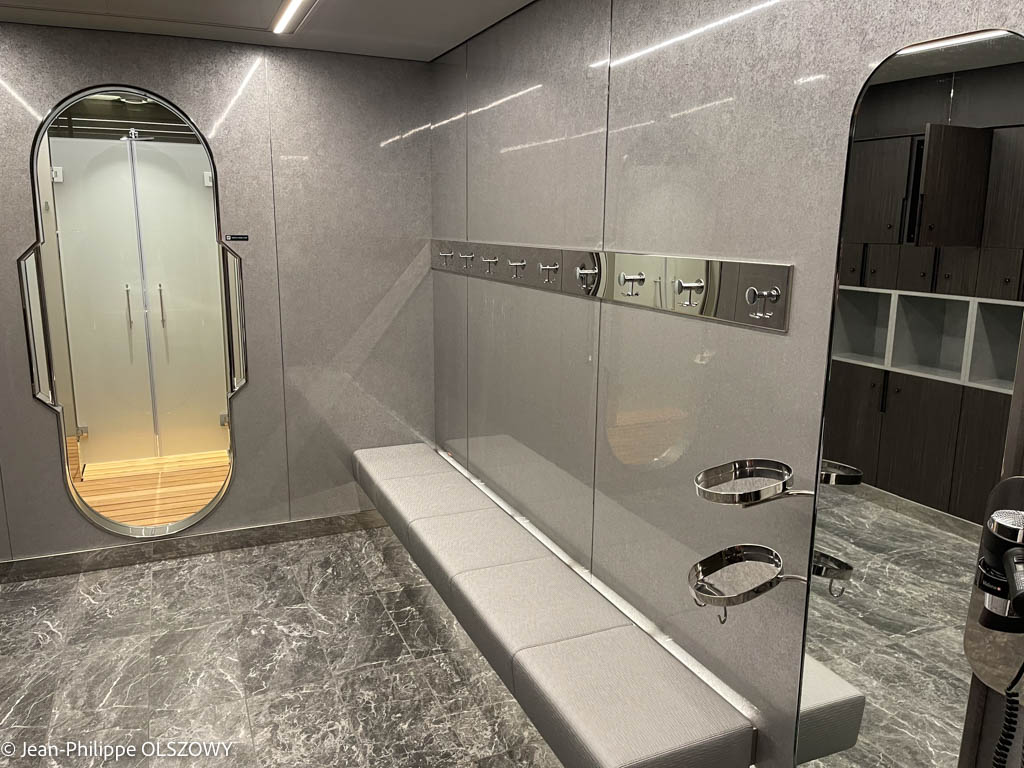 As the spa is not at all near the YC, we did not come in swimsuits (although walking around naked almost everywhere is apparently a common practice on this ship …). We therefore go through the changing rooms. There are lockers to leave your things. Contrary to what we can have on other companies, everything is empty. No towel, no bathrobe … just lockers: everyone has to come with towel and everything. Despite the explanation that shows how to close your locker (by sticking your key card there), it does not work. The system appears to be down. So I ask one of the people working at the spa. She doesn't understand what's going on. She will find out! Well … she's never coming back. Recklessly, we leave our things (only clothes) in an unclosed locker.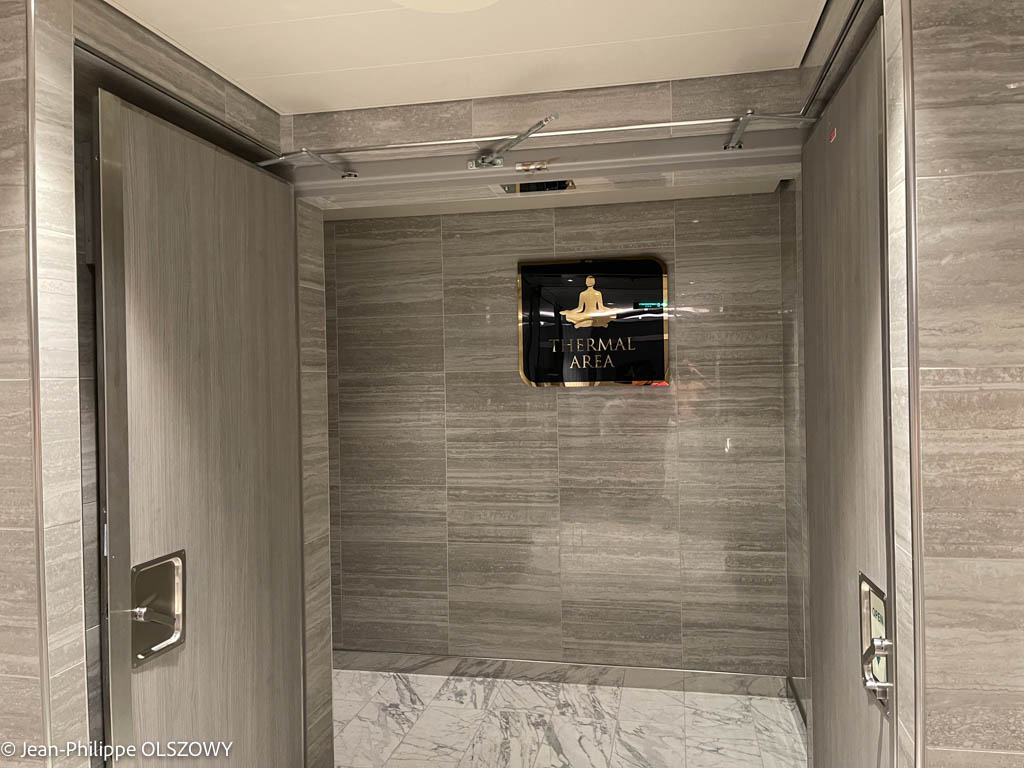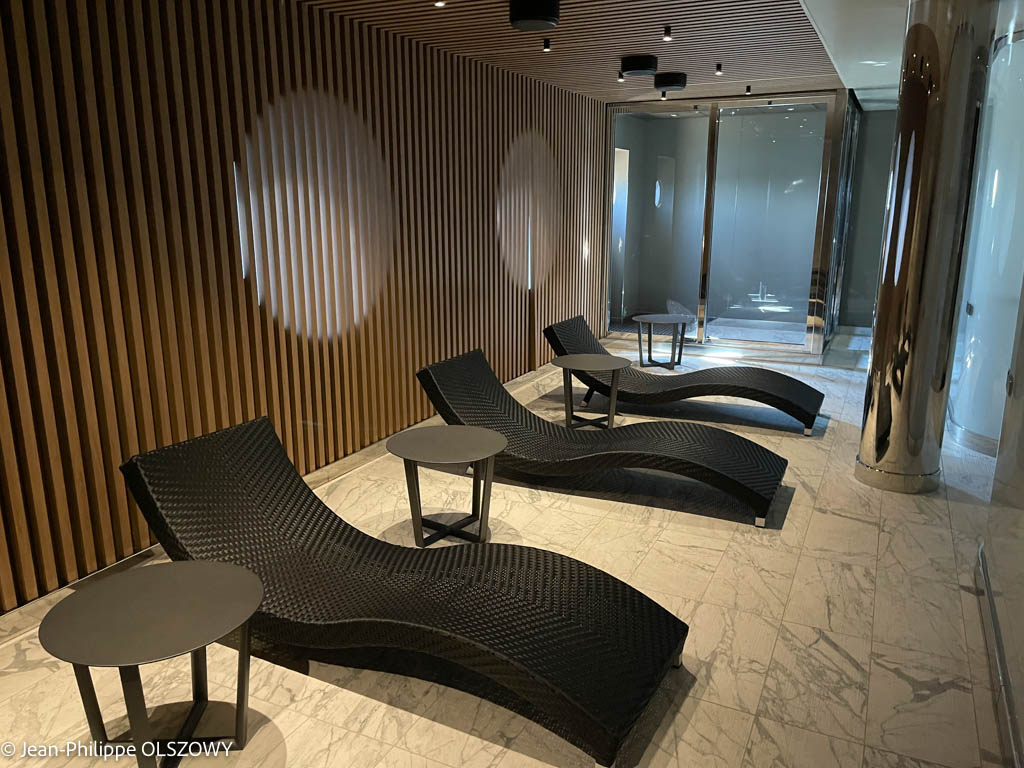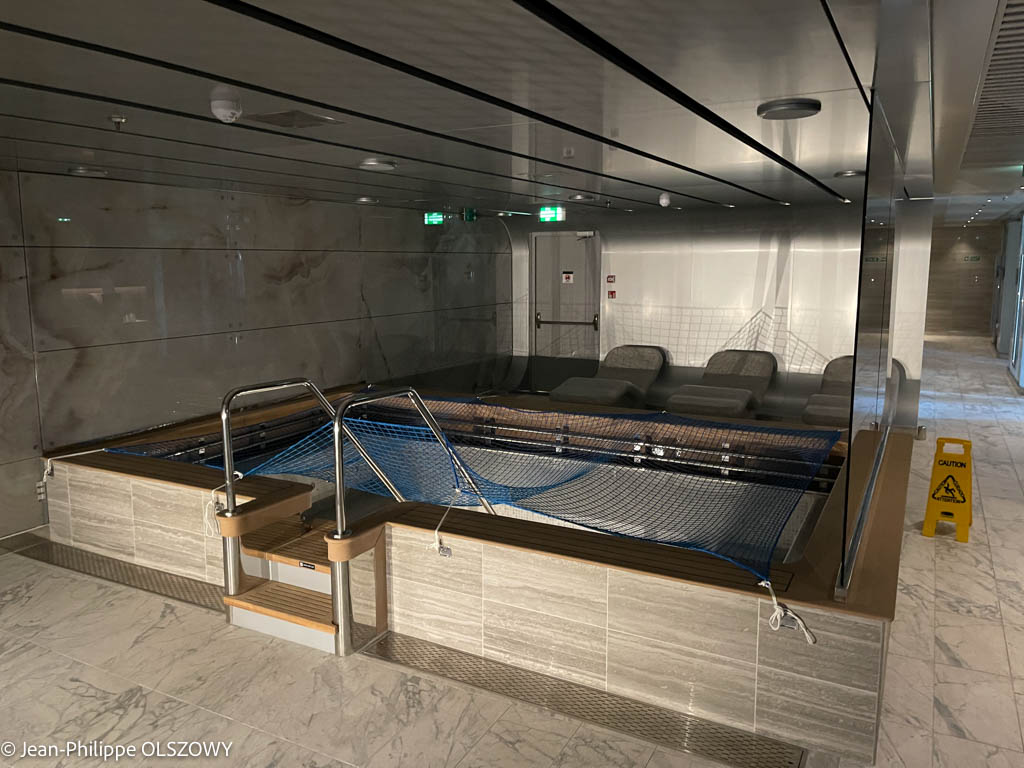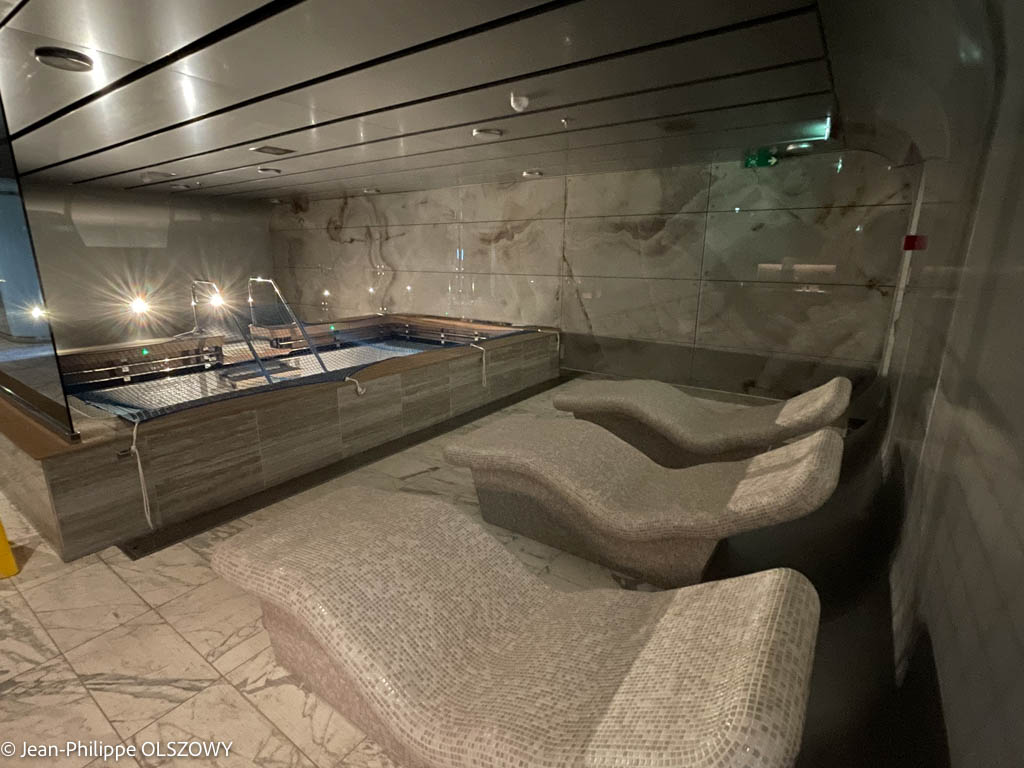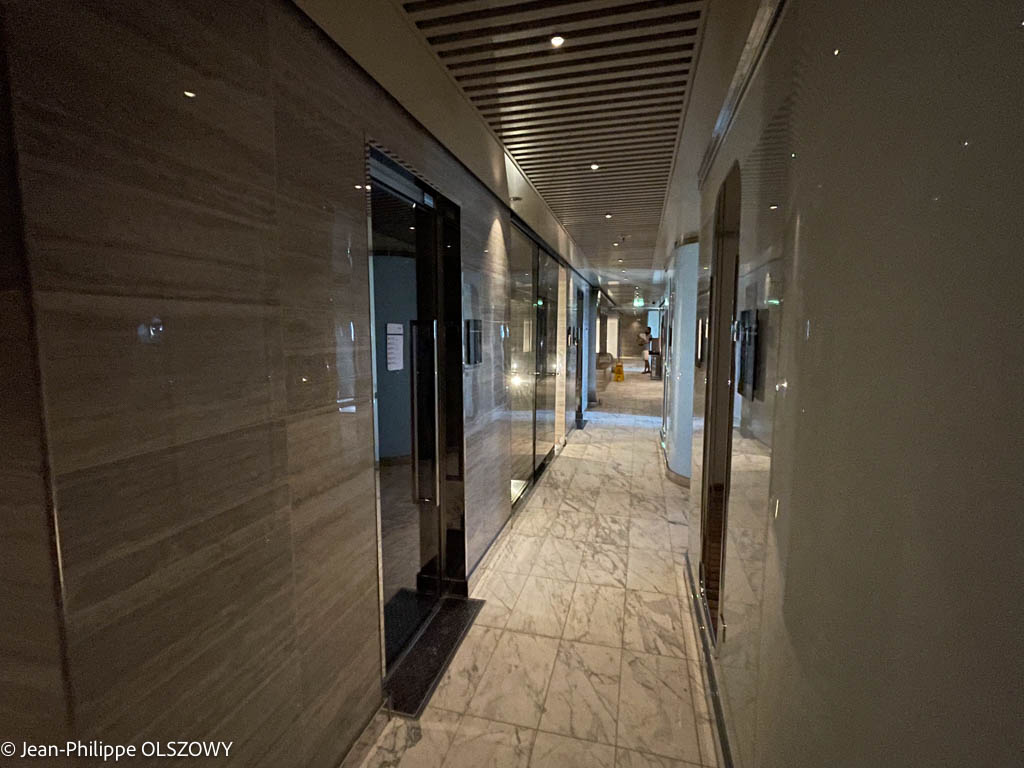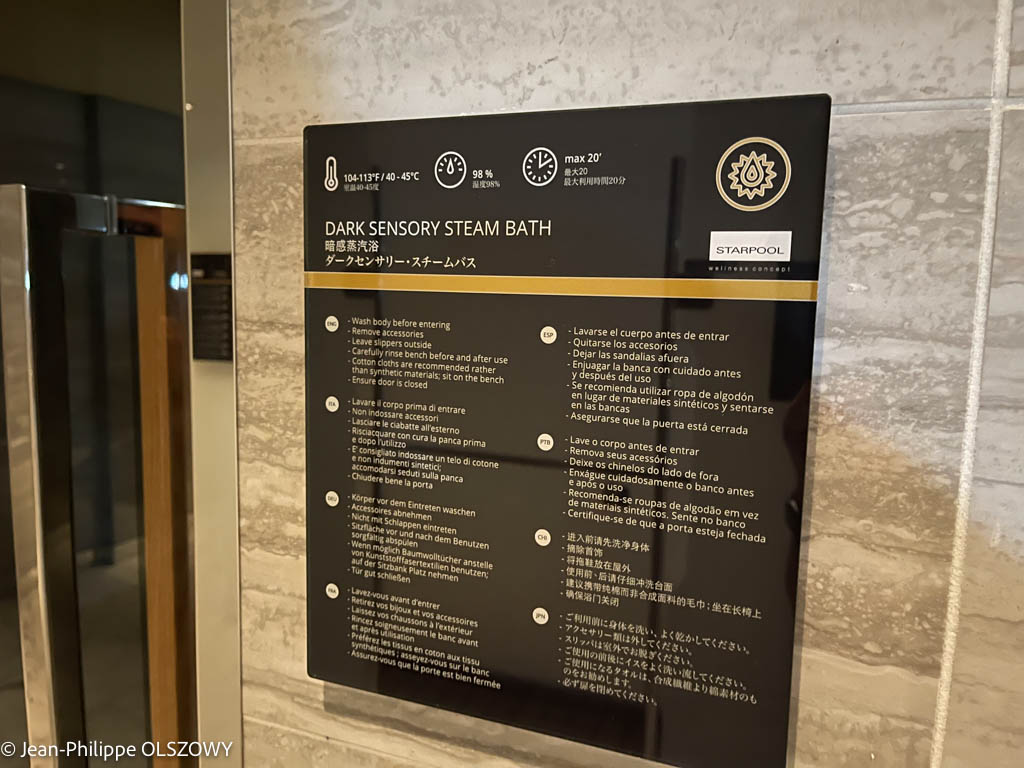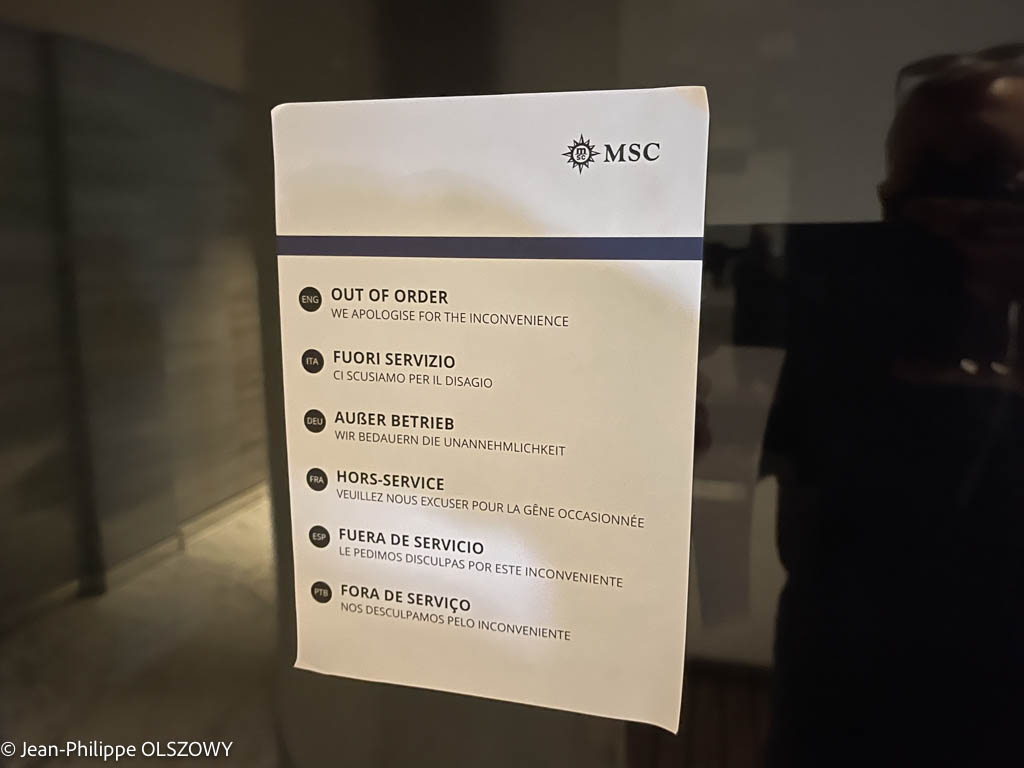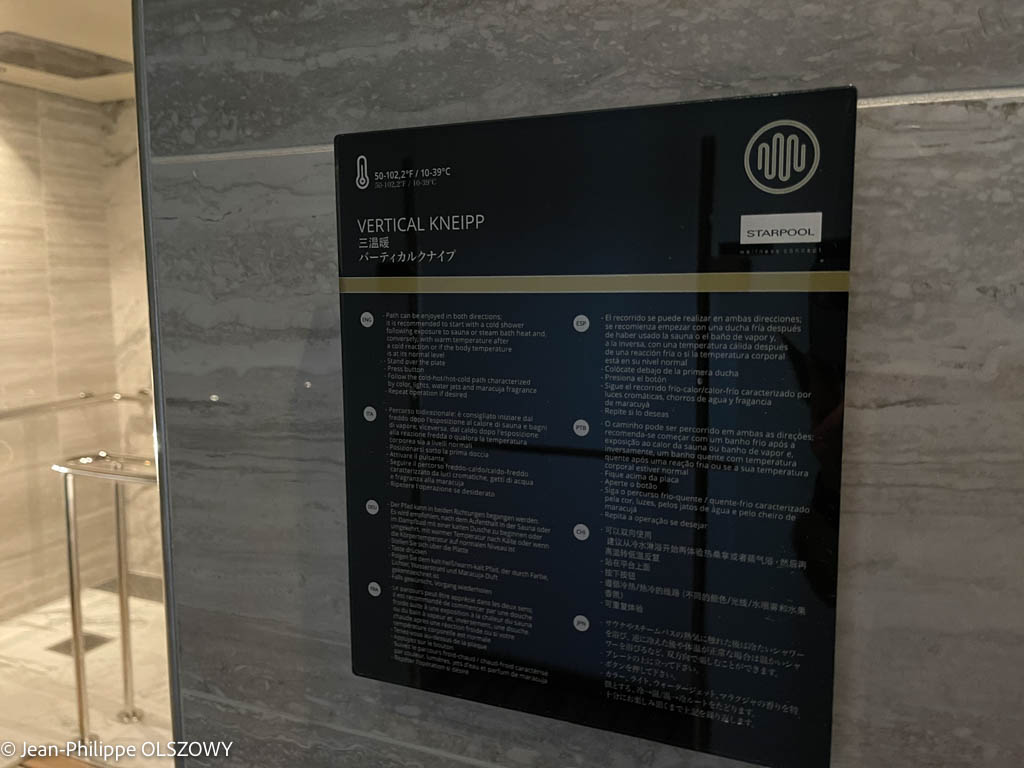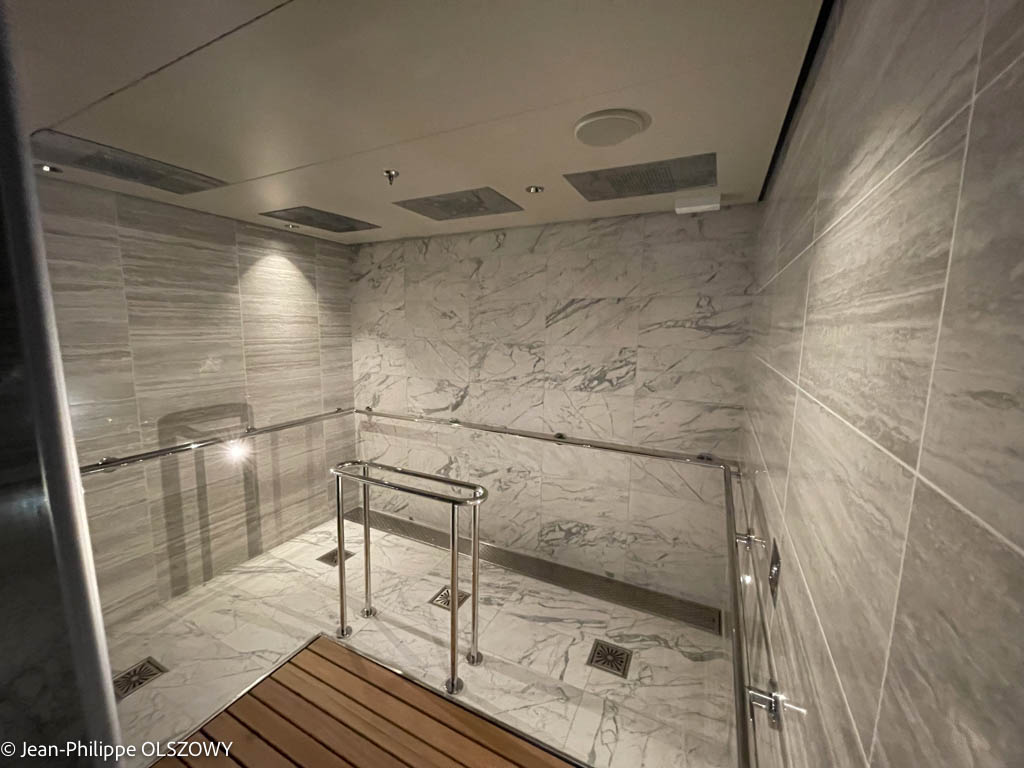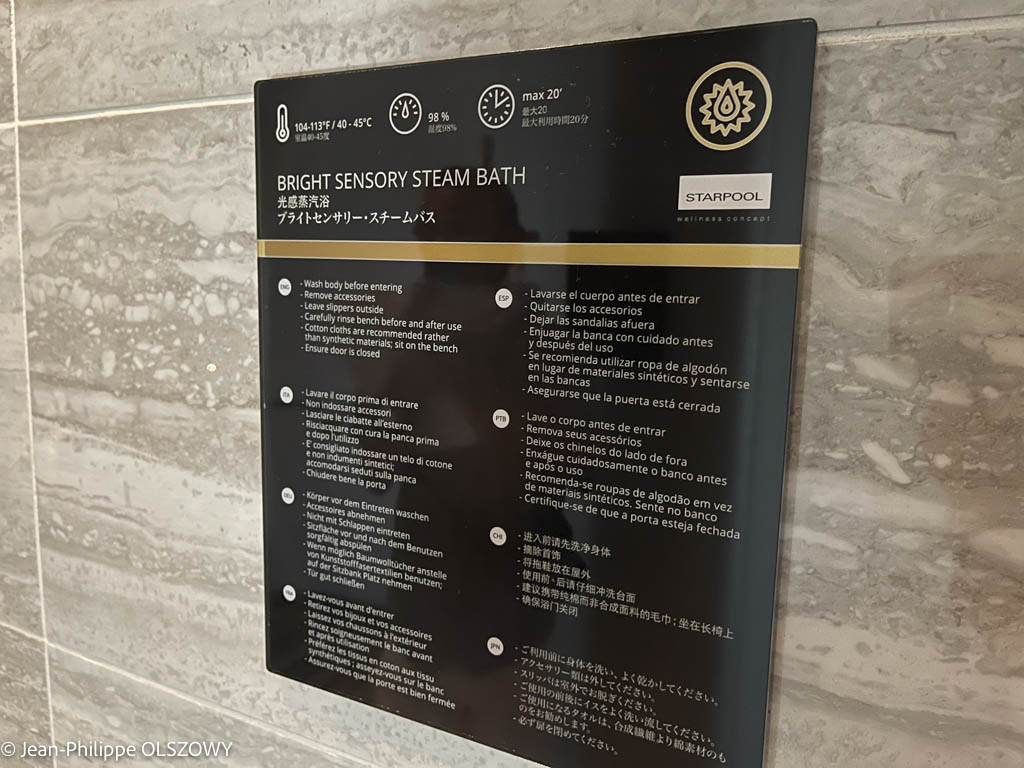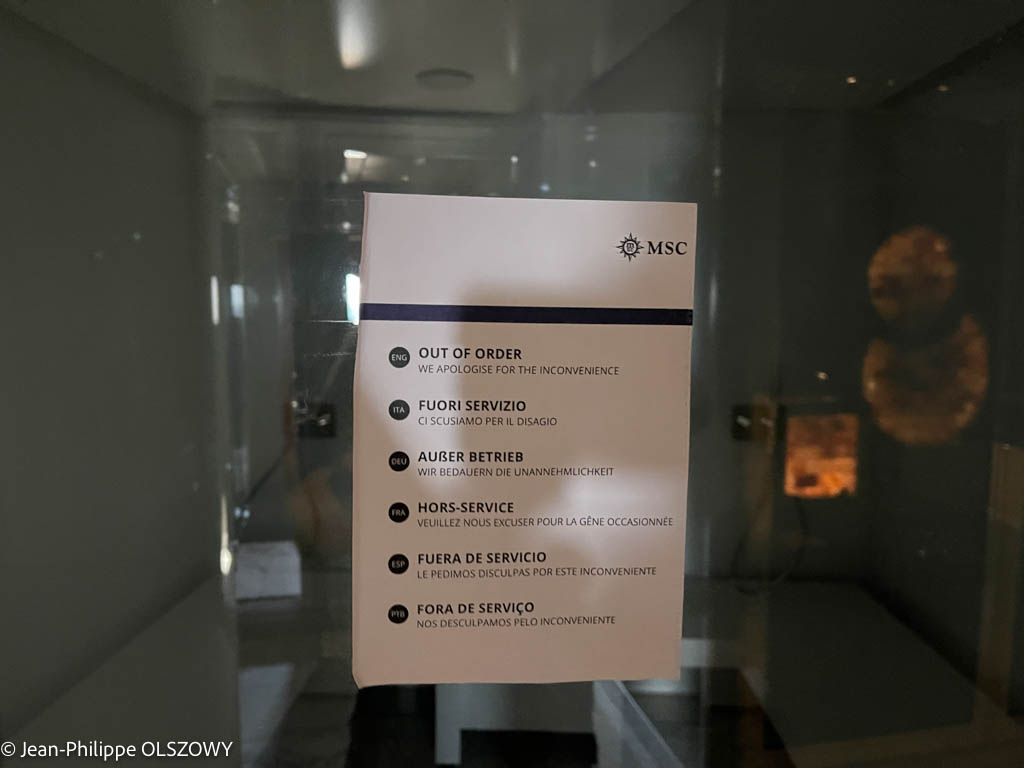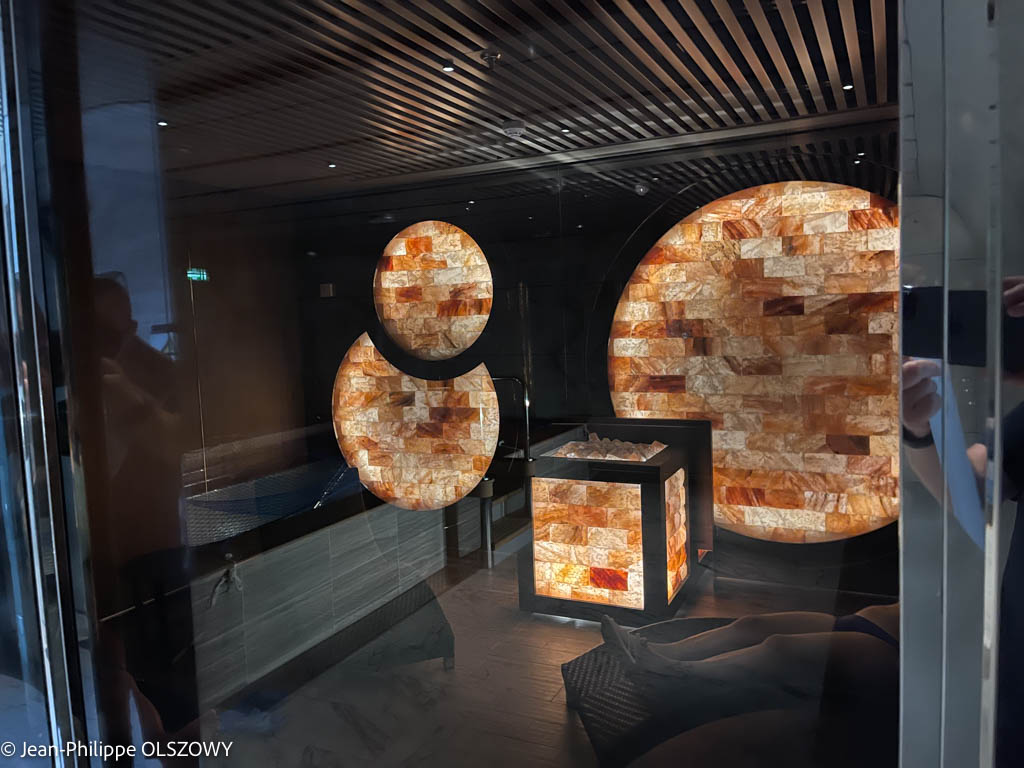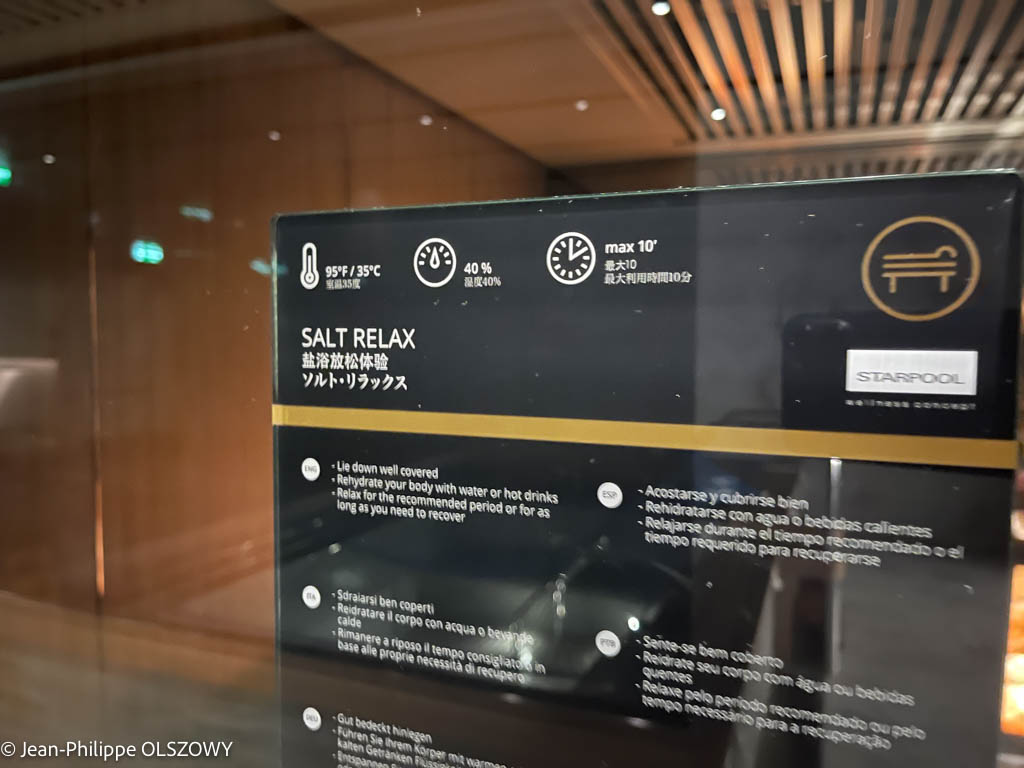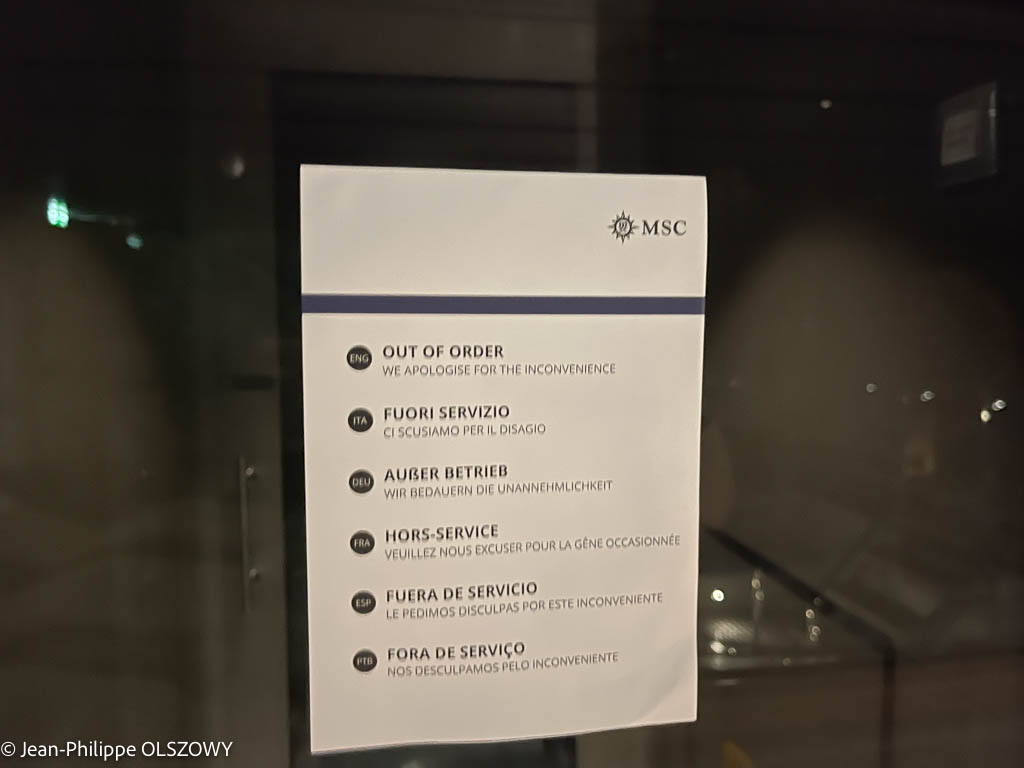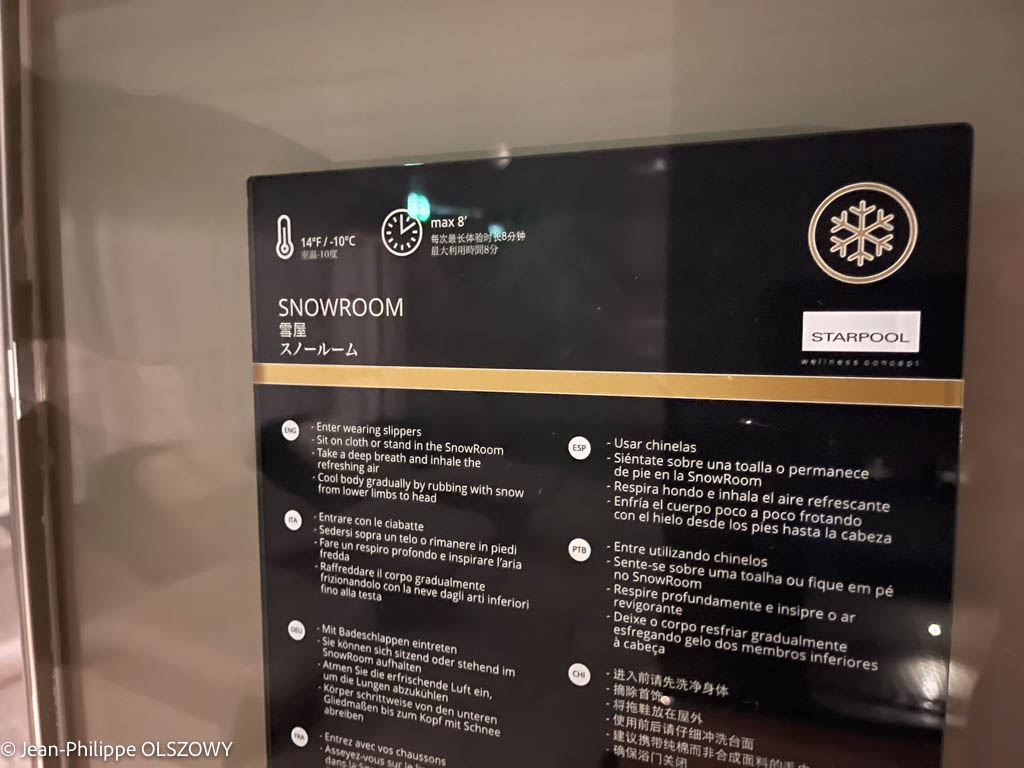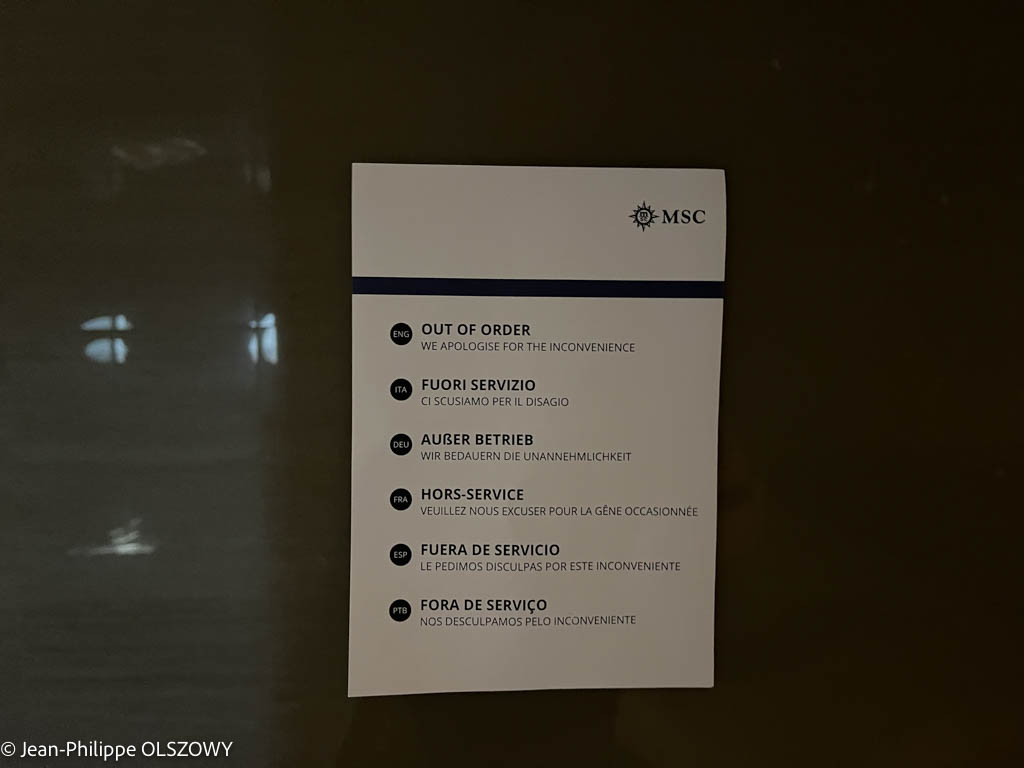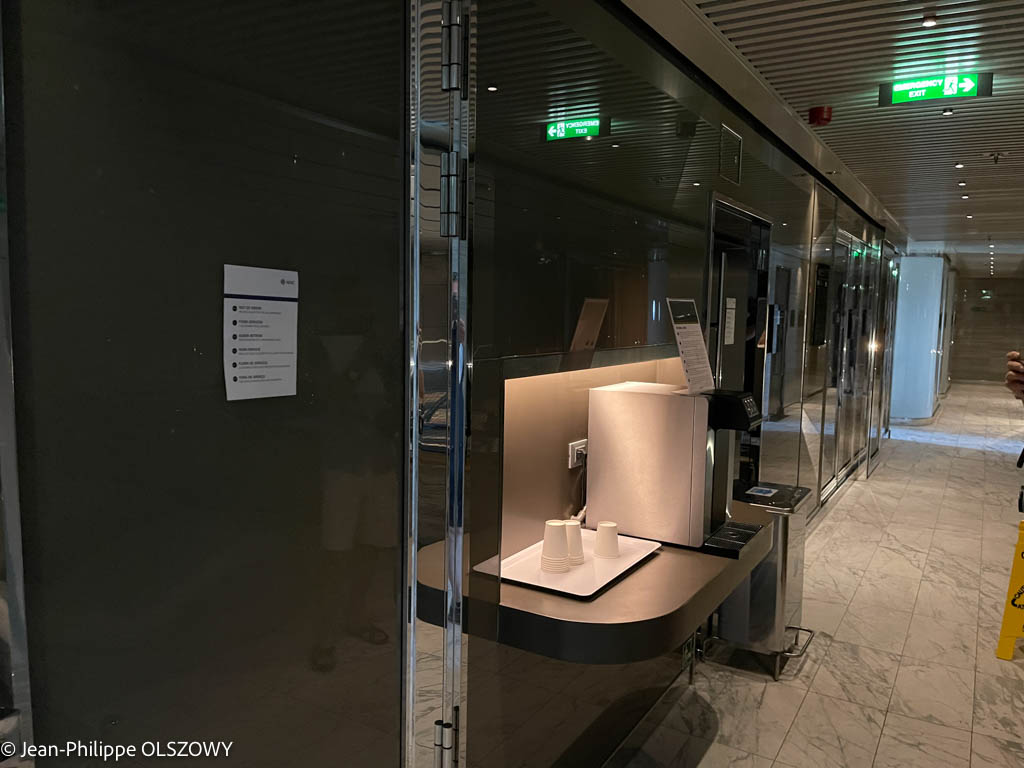 The spa is relatively empty. We will meet one or 2 other couples there who will see, like us, that despite the high number of installations at our disposal … most of them do not work: they are decorated with an "out of order" sign (the ship was launched just a few weeks earlier …). After observing these installations one by one, we will abandon our thermal session, which is totally useless! Going towards the exit, we pass in front of an airlock. To check what it looks like, we cross it and meet outside, on the promenade on deck 8. A private area, attached to the spa? No no. The public promenade! So as long as you know this passage, it is possible to enter and leave the spa as you wish, without any hygienic measure. Exceptional!
Excursions
This cruise of the last week of August 2021 is still under the aegis of sanitary restrictions and passengers cannot leave the ship without going through excursions reserved with the company, "sanitary bubbles", which do not allow to stroll at will (for the bus tours, you do not even get off). It's quite surprising when you know that cruises taking place at the same time (Celebrity, Norwegian, Princess, Ponant, Viking …) already allow free outings. Yes but here it is, MSC has not made the vaccine mandatory, and is therefore seen by the port authorities as so many covid nests. MSC has also had serious concerns with its lightness in terms of sanitary protocol. See for example this article which summarizes the disaster :
https://www.cruiselawnews.com/2021/09/articles/disease/more-covid-19-related-deaths-and-major-illnesses-after-super-spreader-cruises-on-msc-virtuosa-virusosa/
In order not to get stuck only on the ship, we therefore choose 2 excursions. And this is where we find the extraordinary know-how in terms of organization of MSC. The excursion tickets only indicate the day. No time, no meeting place. In fact, everything is run by speech, in the YC. So you have to find out what time you have to go and wait in the lounge. When we inquired, we got several different answers: 1 p.m., 1:30 p.m., 2 p.m. … careful, we came at 1 p.m. and, indeed, we were accompanied to the dock immediately. Yes but here it is … no number 72, our group number. The passengers are inquiring … we don't know. So we wait. Anyway, I'll pass you the details of this permanent mess. The meeting should have been at 2 p.m. So we had to hang around for an hour. And there, we discover that our excursion brings together several dozen groups, and that everyone is going on a single large ship, which will bring us closer to Capri and then to Sorento. No barrier gesture, little or no mask … party! Without forgetting the return to the Seashore: the excursion is very late. We are well beyond the hour of the first service. People are worried … when the crowd is free, everyone starts running to get past. But this is not possible: there are controls to pass, and the guides block everyone, to have a group assembled. People are ready to step on you if it saves them a few seats at the front of the group. And this is where I remember my 2009 experience and the fact that missing your mealtime is missing the meal … you have to fight at all costs to survive! It is time to go through the security gates … cruise passengers have run to get there first, they are out of breath. It is at this moment that the butlers of the YC appear and who with an expert eye spot their guests … they pass in front of everyone, once again. We will therefore be at the table before the dock runners … the world of YC is so ruthless. And that didn't make me very comfortable … but walking past people who would have stepped on you … why not.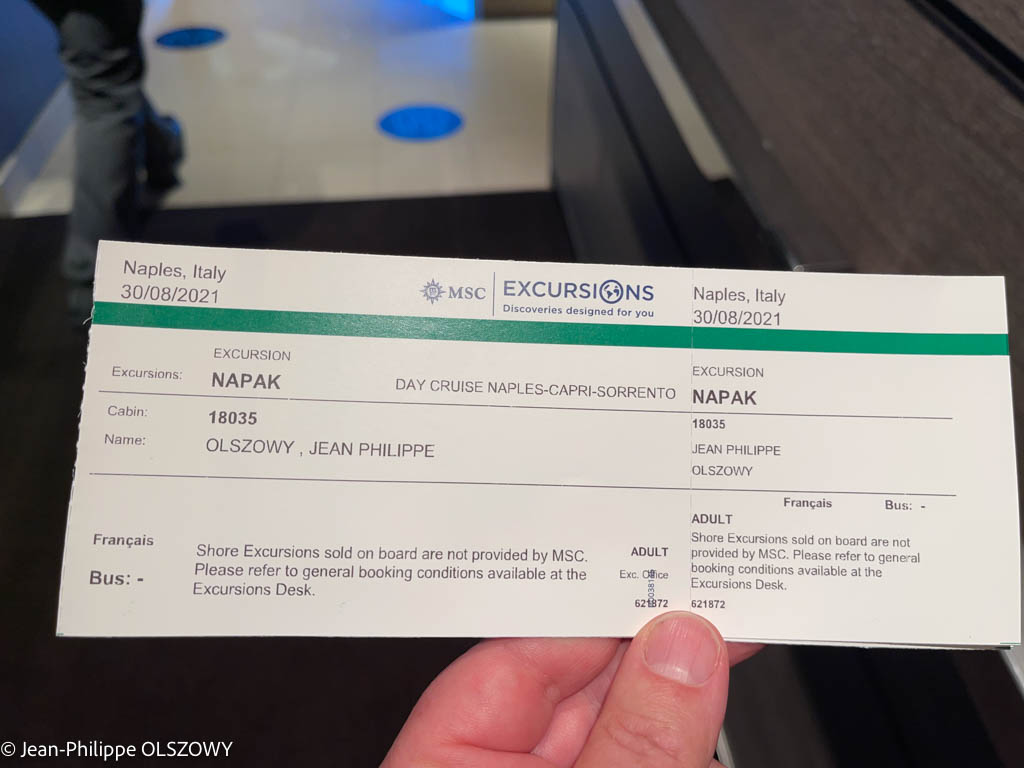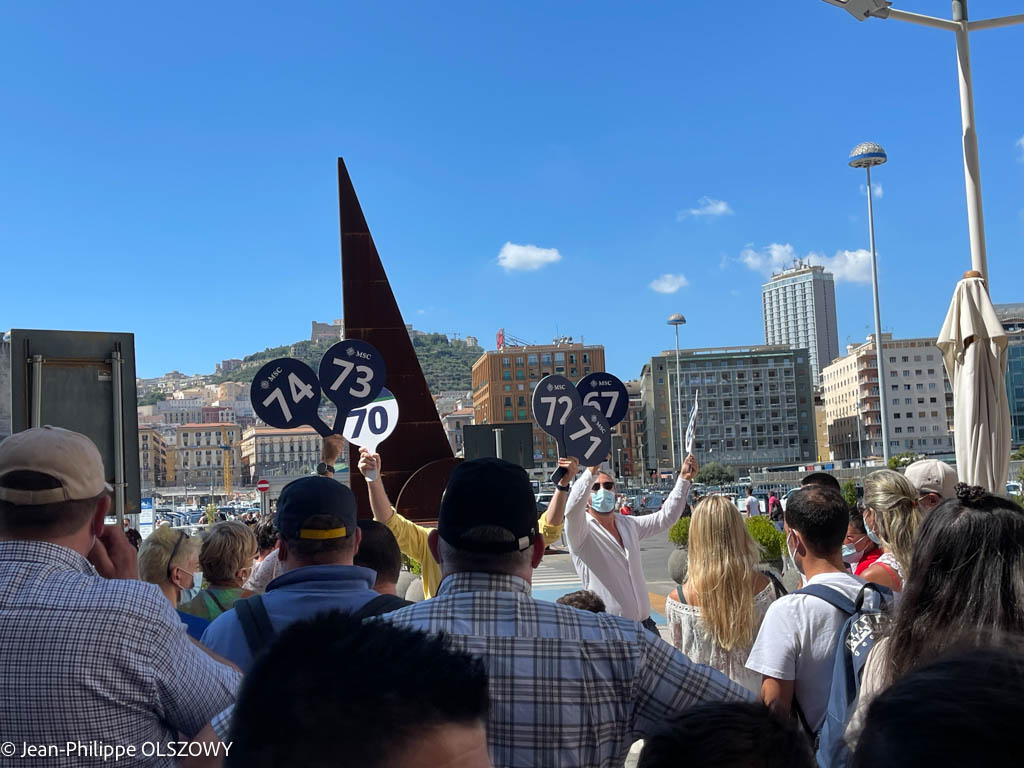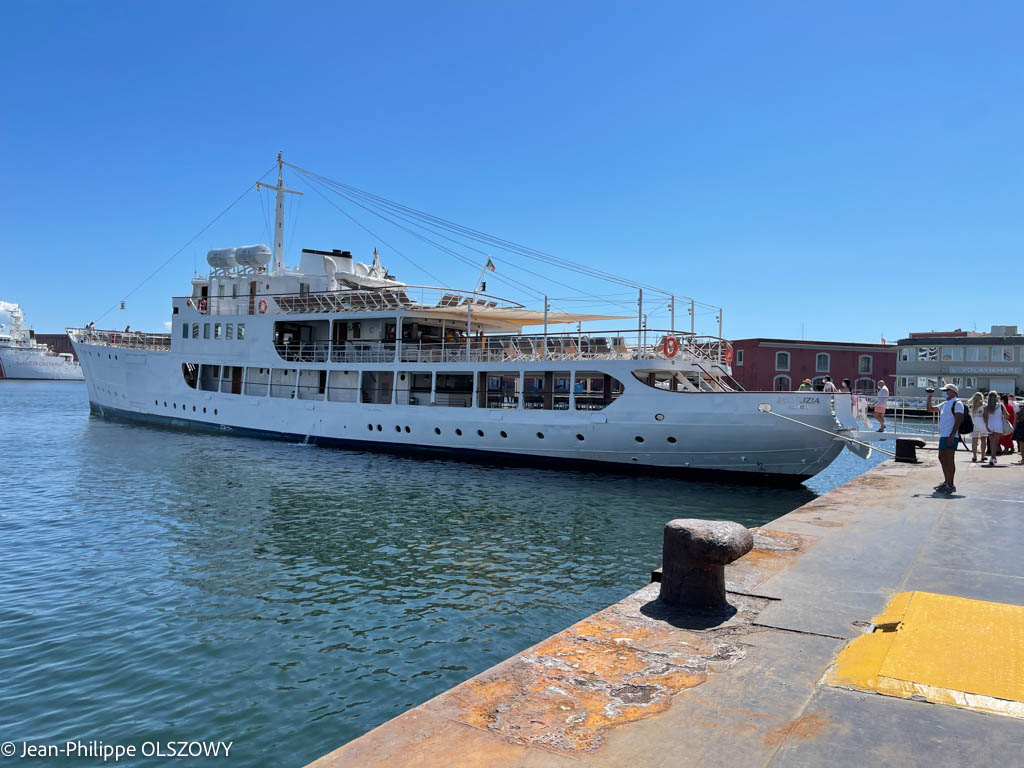 The second excursion was aboard an open-top bus. A long stroll of little interest in Malta. The passengers complained, and rightly so, that they could not even take drinking photos, so the points of interest were passing quickly in front of our objectives … but no question of getting off the bus or even of s 'Stop. MSC quality.
Health protocol
MSC therefore does not ask that its passengers be vaccinated. However, I present my proof of vaccination which the officer views with some disdain. And that will do. An antigen test is carried out on site before boarding. I did not even feel the stick enter my nose … which is to say that the value of the thing will have been very low. And we receive a written document presenting the sanitary measures imposed on board: wearing a compulsory mask, daily temperature control, additional antigen test at mid-cruise. For once MSC wrote things down. Unfortunately, it will stop there: in a week, no temperature measurement, no additional test, and the wearing of a very optional mask everywhere …
In fact, an MSC cruise like this doesn't really have a start or end: while the majority of companies pick up all of their passengers at a given port, and also disembark them all at once, MSC here considers each port as the start or end of cruise. So, every day, passengers embark or disembark. Therefore the notion of "mid-cruise" is necessarily relative and requires extensive individual monitoring (which MSC did not do in my case). Another "advantage" of this way of doing things is that you have the right to "drill" every day, this forbidding security exercise. And every day, the same speech shouted over the loudspeakers, followed by the famous abandon ship signal (7 short strokes, one long stroke). A real happiness, every afternoon.
All of this gives the ship more of a hotel form that people are constantly arriving and departing in, rather than a shared moment with a beginning and an end. Okay.
The rest of the ship
To get on the ship, MSC has thought big with touch screens near the elevators, available in a variety of languages!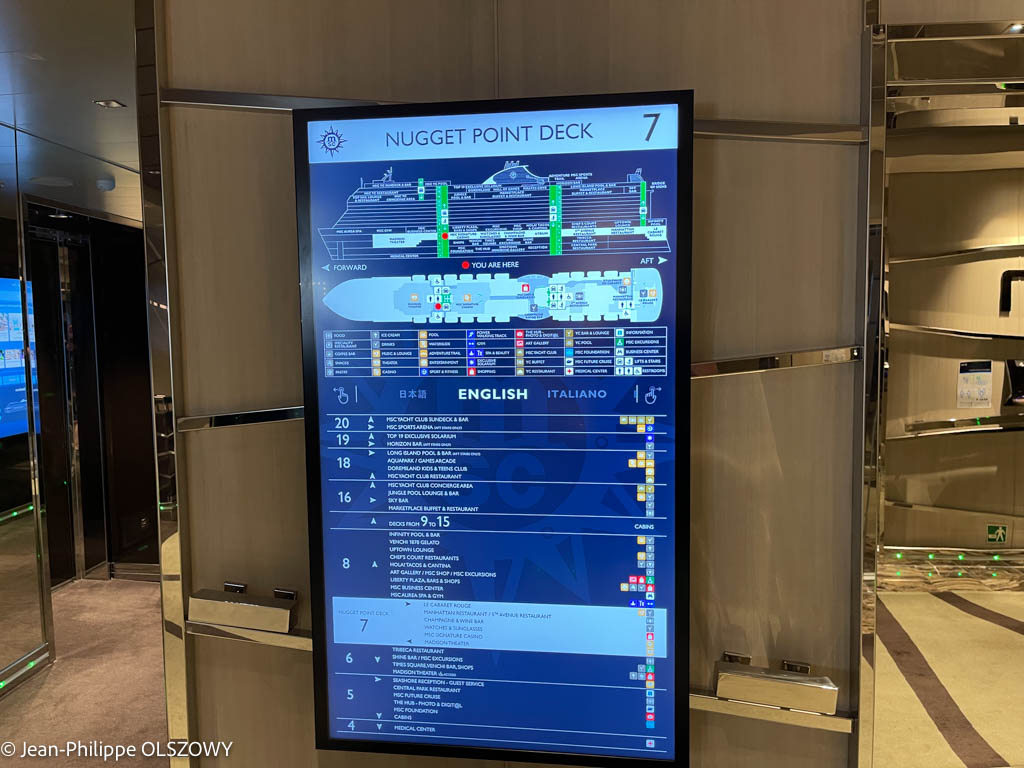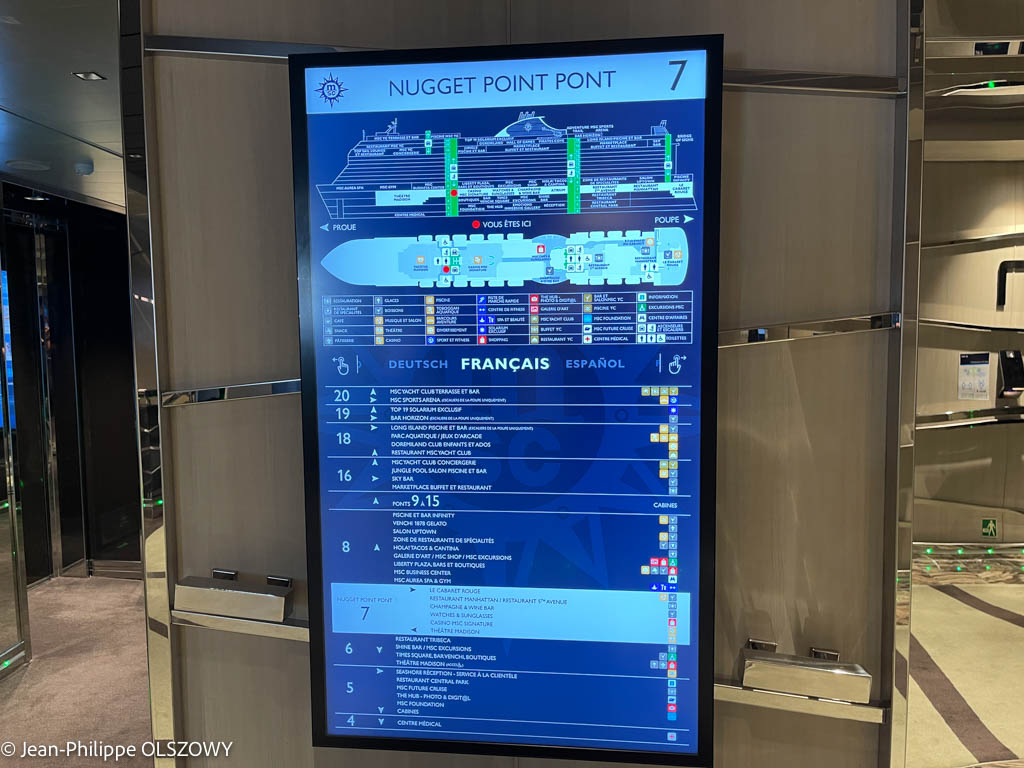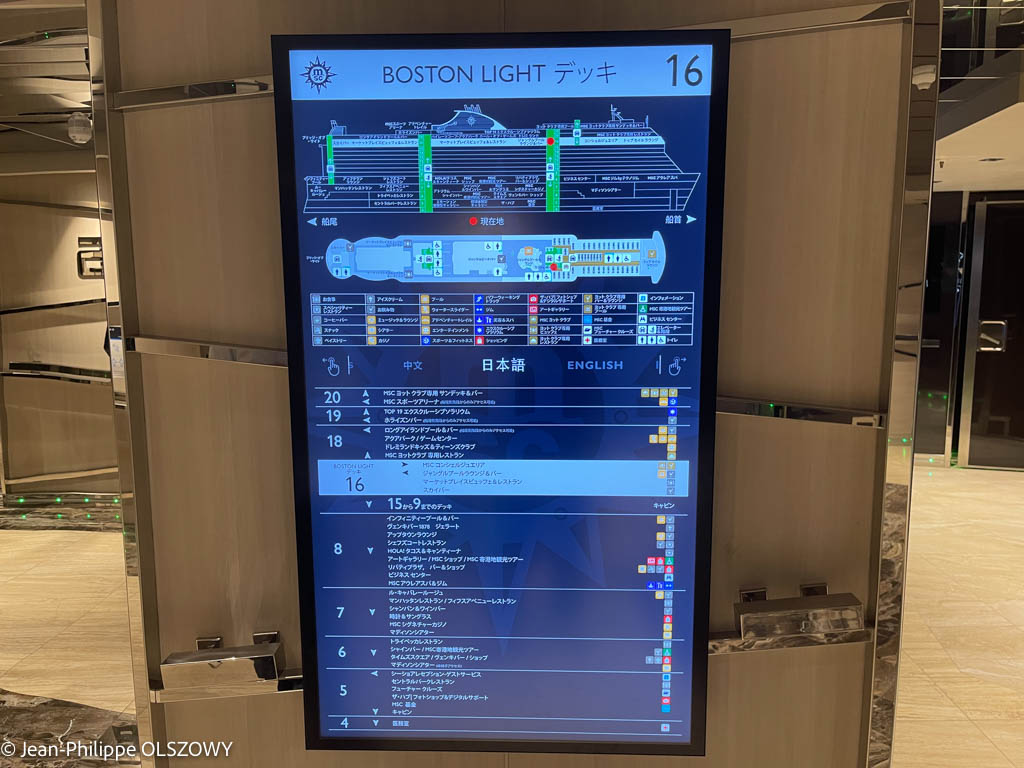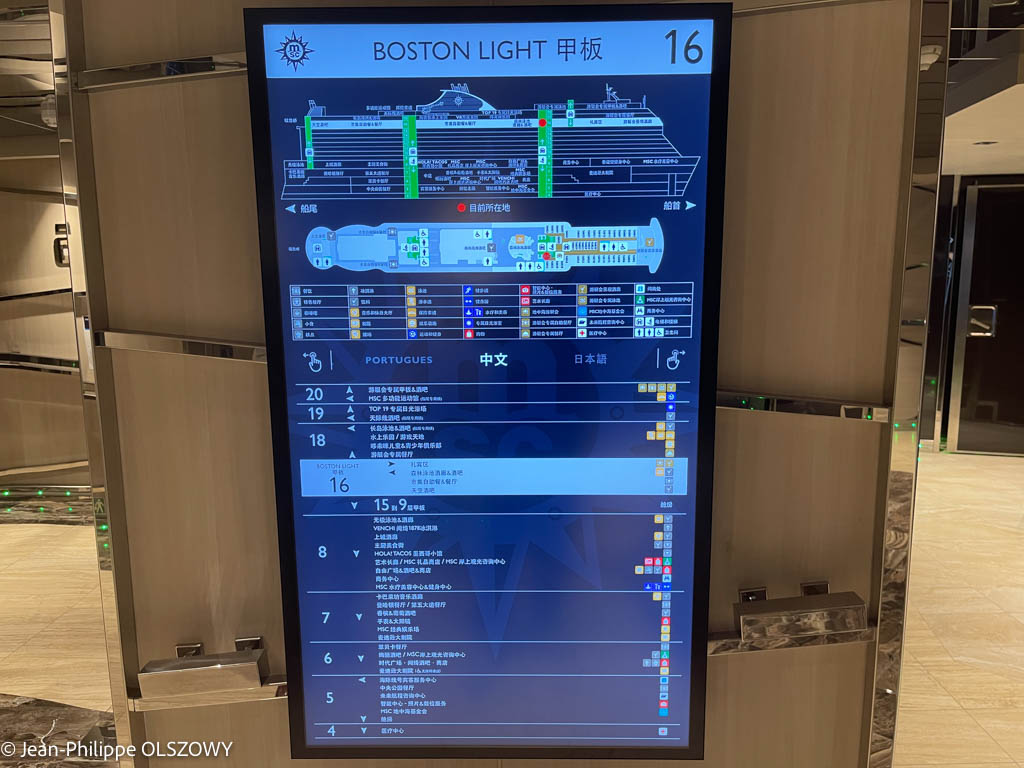 The MSC Seashore is a modern vessel, accommodating over 4,500 passengers (figure based on 2 people per cabin), or up to over 5,800 with maximum load. While I made my previous cruises in 2021 on ships with few passengers, a means by which companies reduce the covid risk on board, MSC seems to have already abandoned this precaution at the end of August 2021. The upper decks, places where the pools and lounge chairs were packed. Children would run in all directions, without a mask, just like their parents.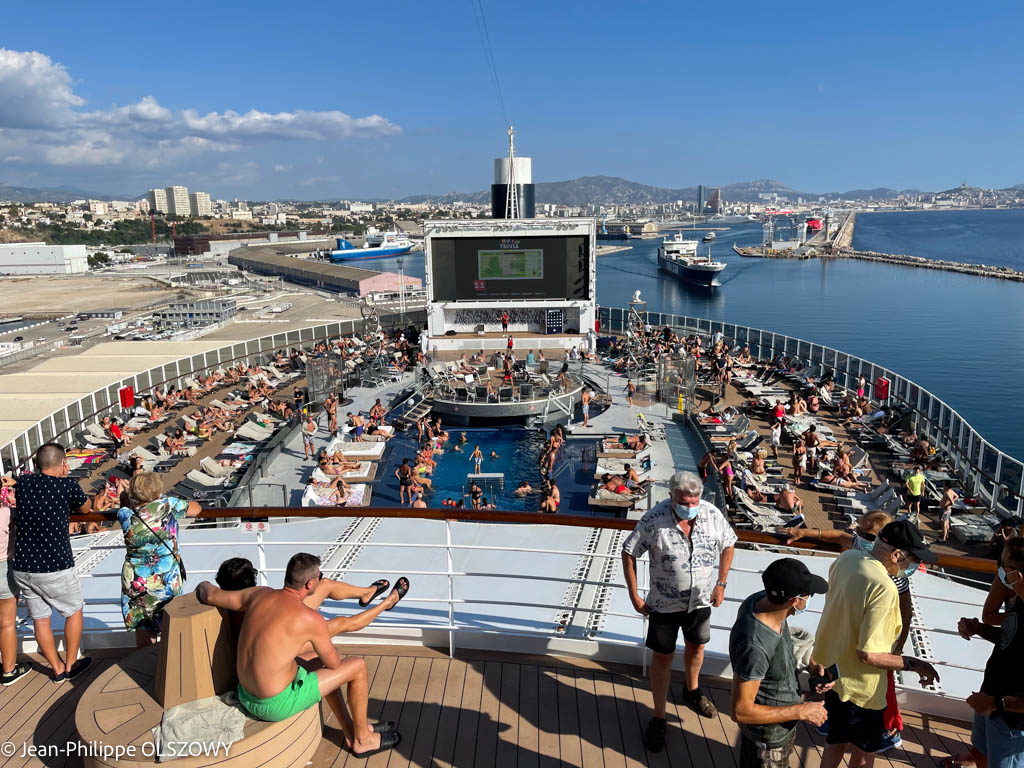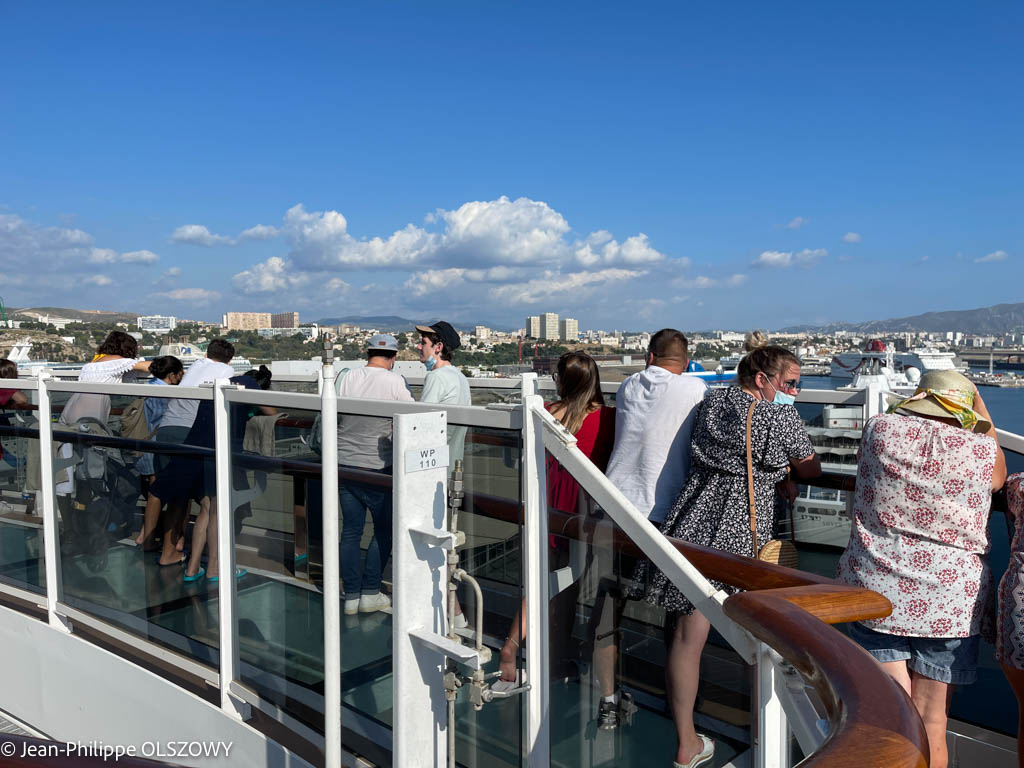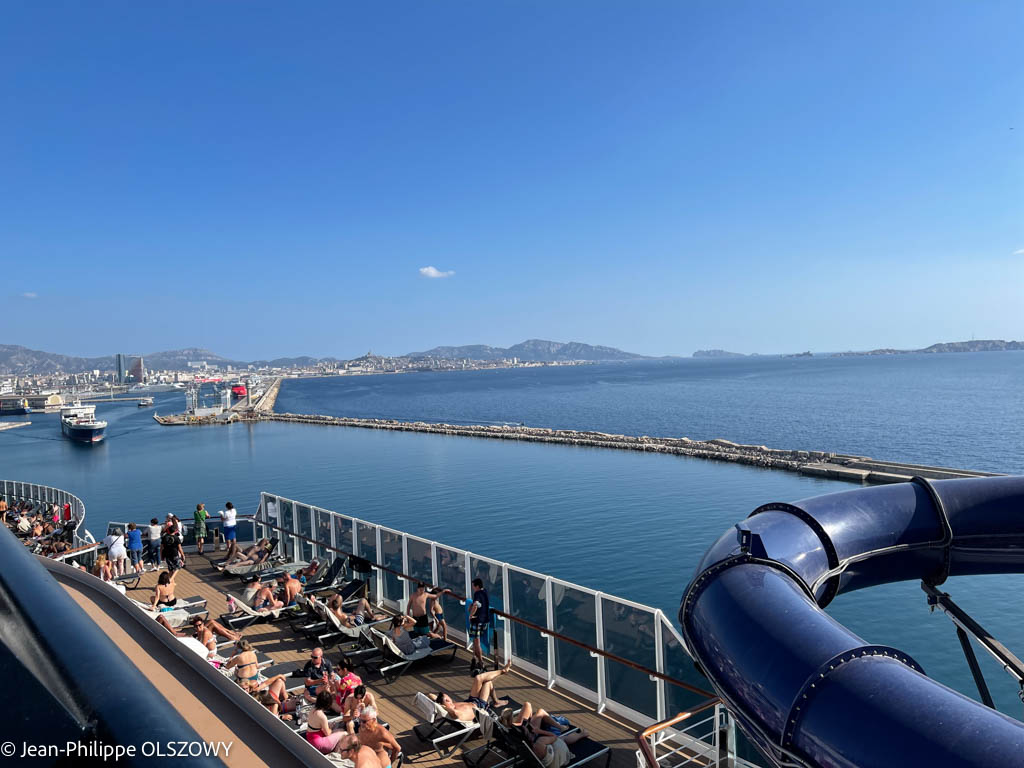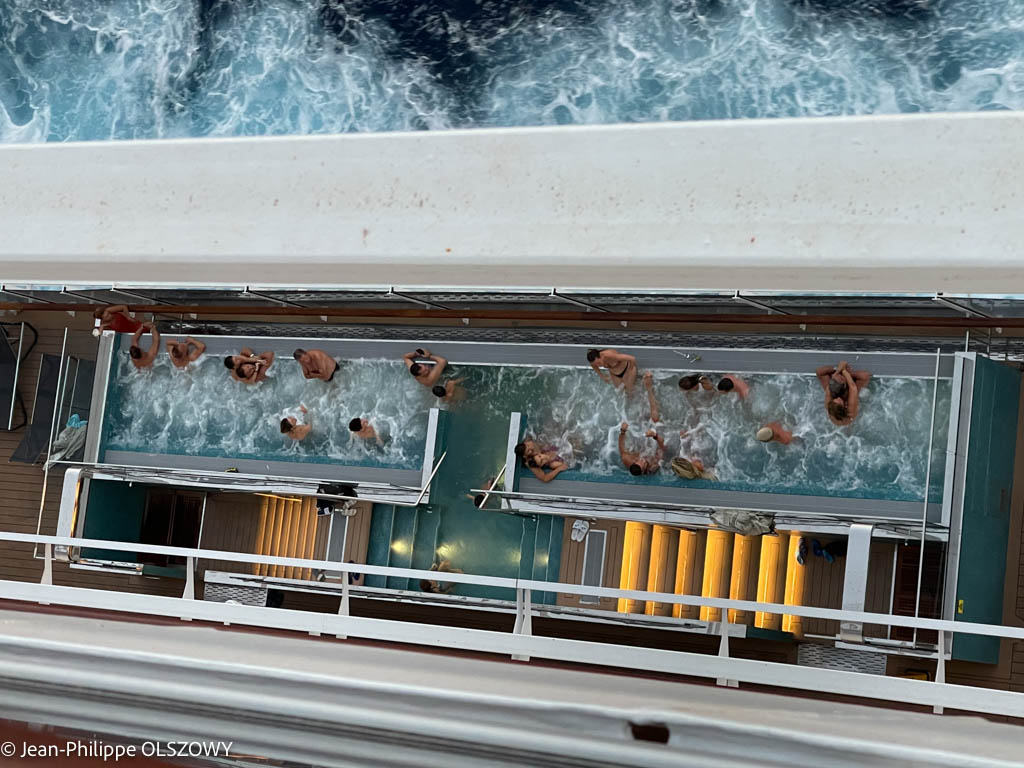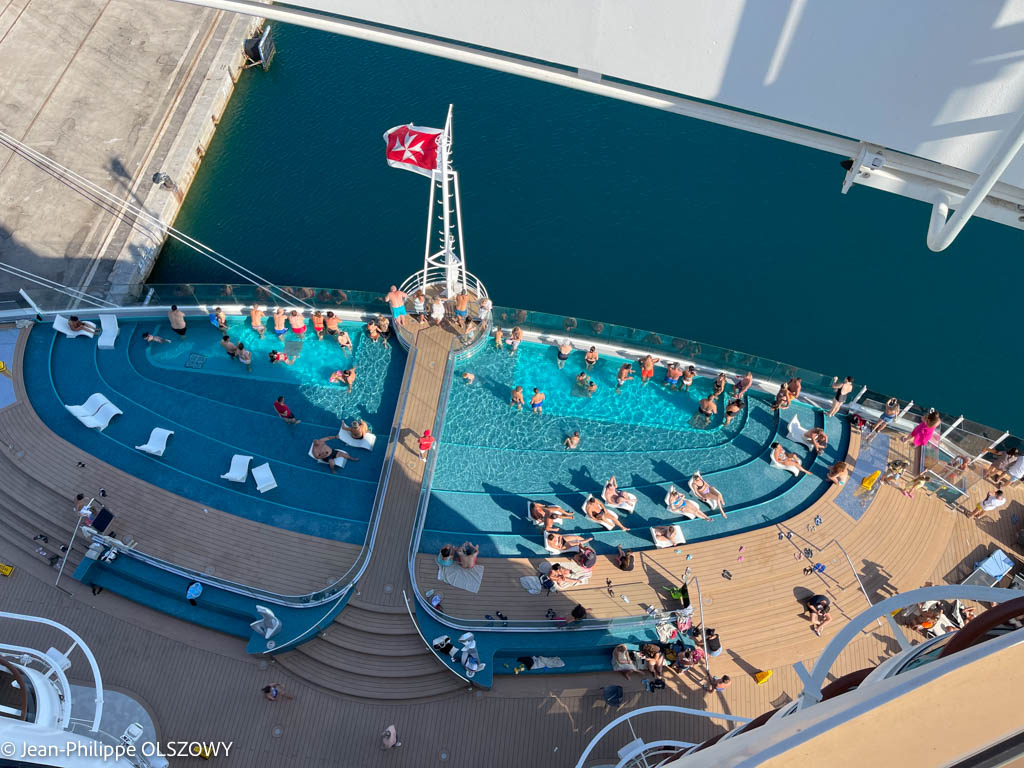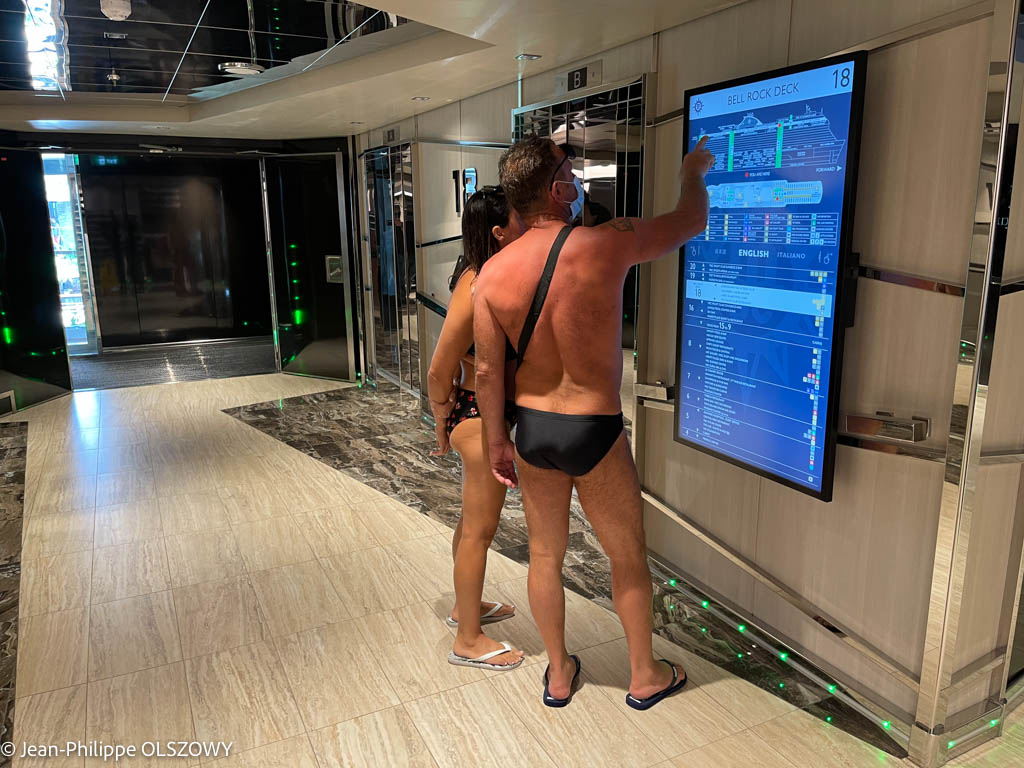 Although quite large, we therefore regularly have the feeling of saturation, particularly during the day on the upper decks, the buffet, the promenade. Pools and Jacuzzis display a sign indicating the maximum number of passengers that can be in them at the same time. The figure exploded most of the time, without the company finding anything wrong with it. The whirlpools look like real pressure cookers in which many vegetables cook, piled up.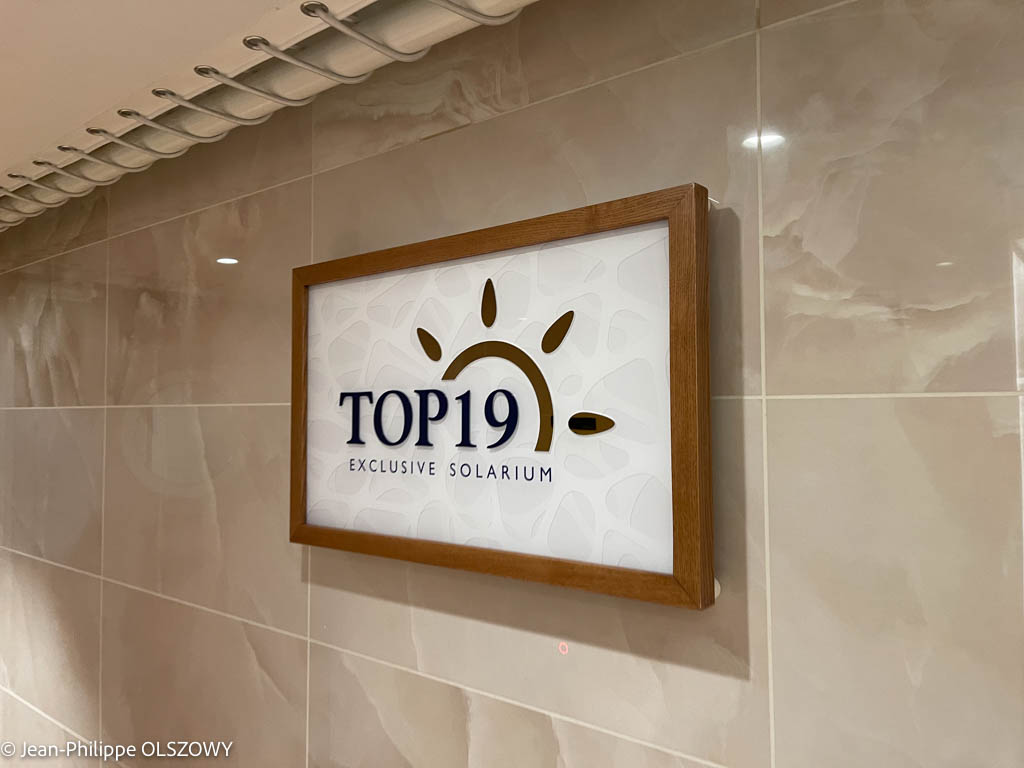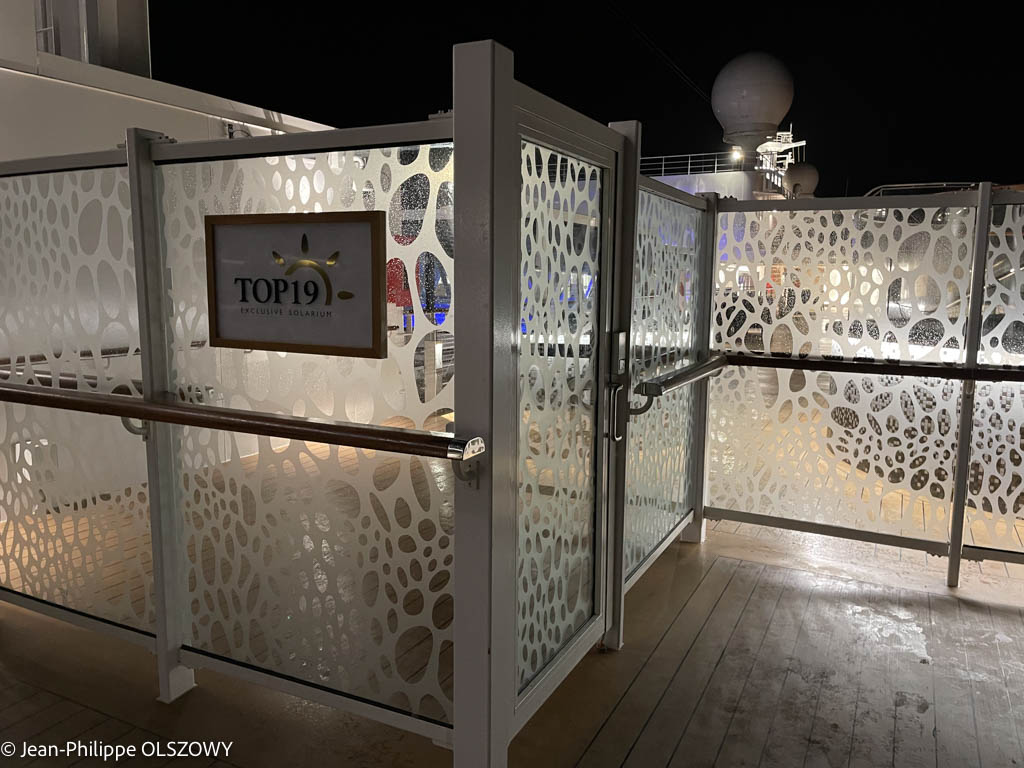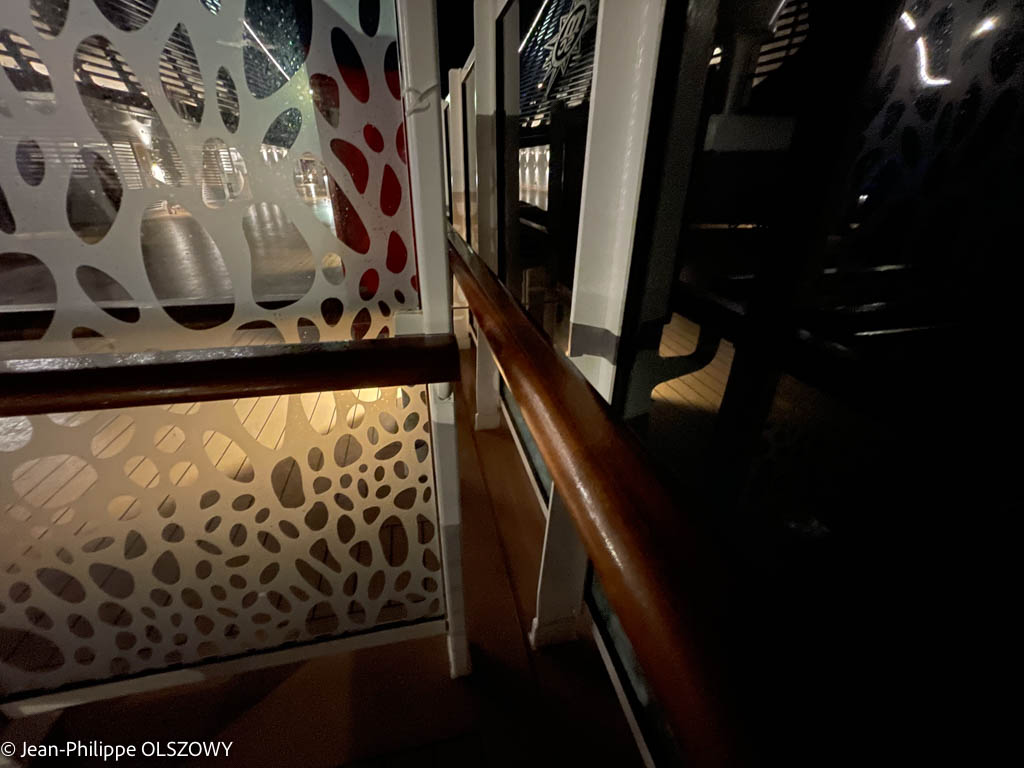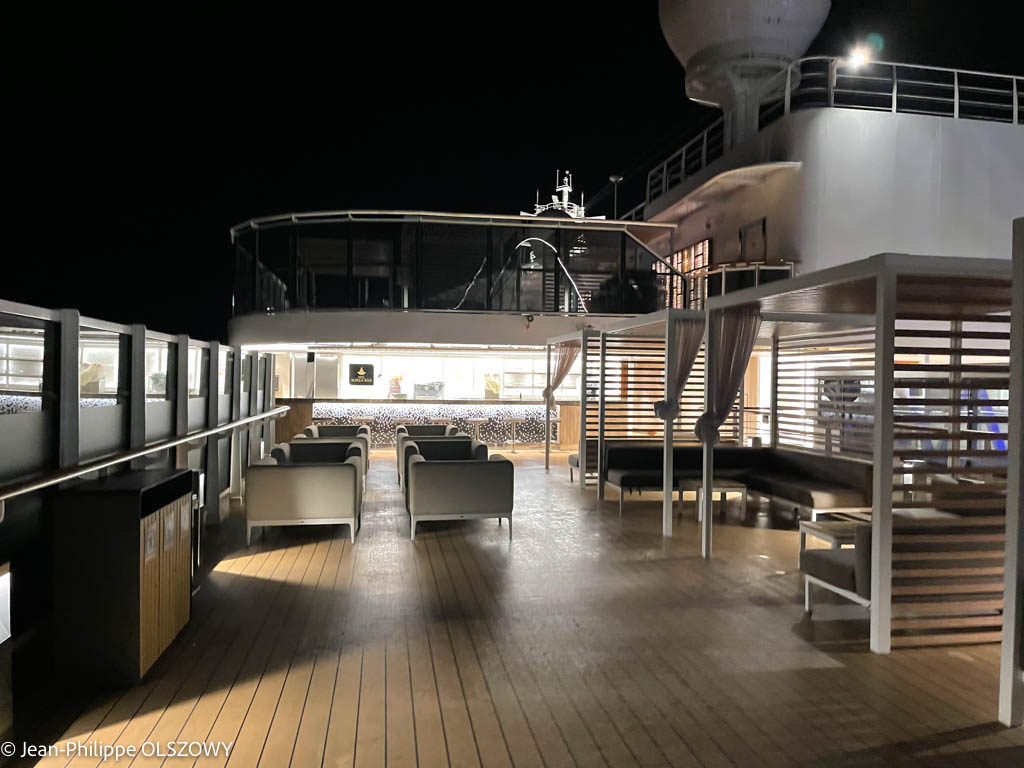 An anecdote, on the education of people … on the upper deck is a private place, the Solarium, access to which is reserved for passengers in certain cabins (including those of the YC, but not only). To access it, you must use your keycard to grant the opening of the door. The big game was therefore for some families to make a child slip through a small passage on the side, so that he would open the door to their parent. A whole mentality.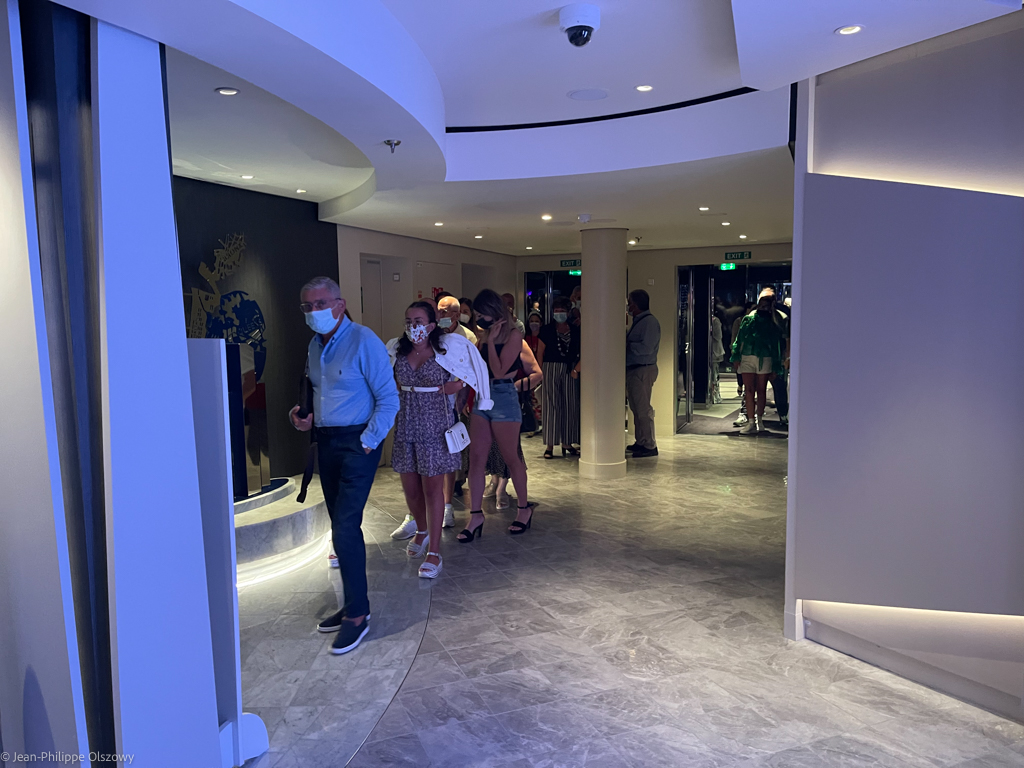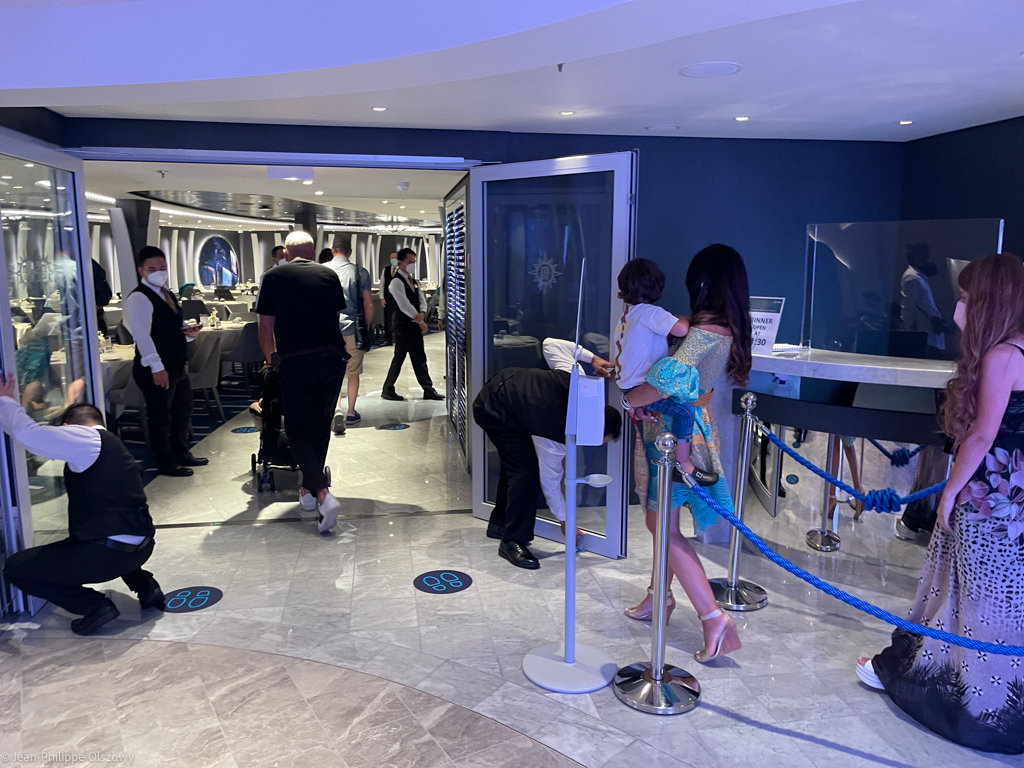 In the evening, the system of dinners at fixed times regulates the world circulating on the interior decks. The main restaurants are full, and during this time, the other places are less crowded. The last service seemed to be at 9.15 p.m., for which we could see queues forming from 9 p.m. at the entrance to restaurants. Definitely not my thing!
The many bars and places of activity give a feeling of multiple possibilities, as on most large cruise ships. Animations create crowds that disperse once it is over. The evenings are therefore a little more fluid than the days!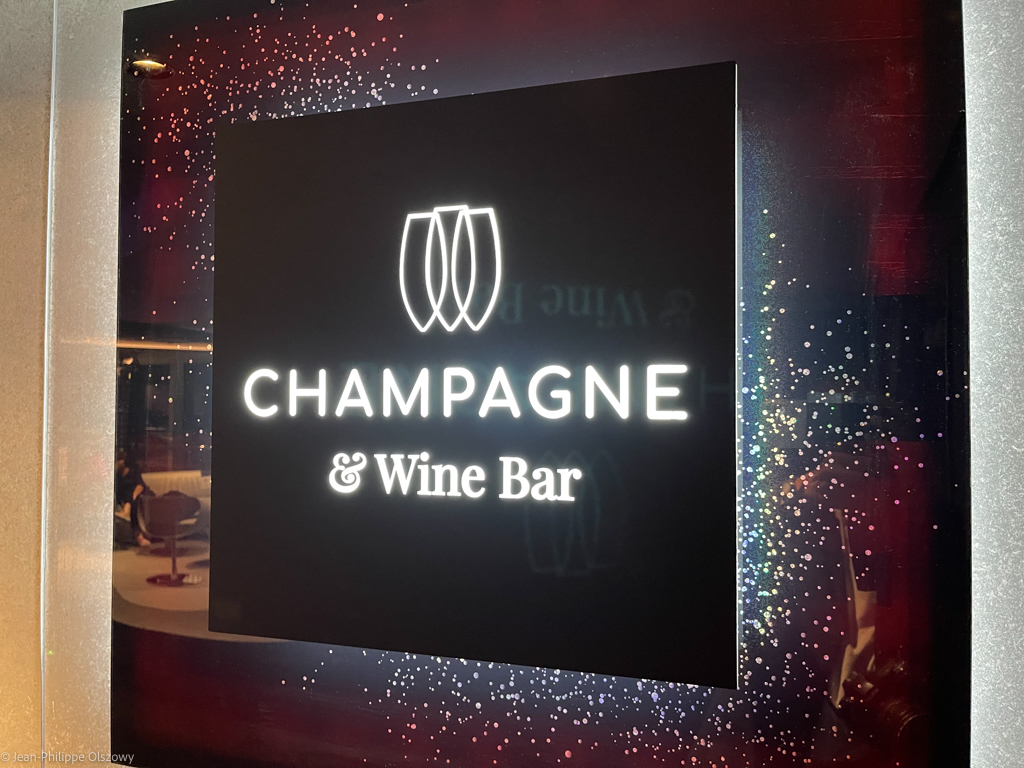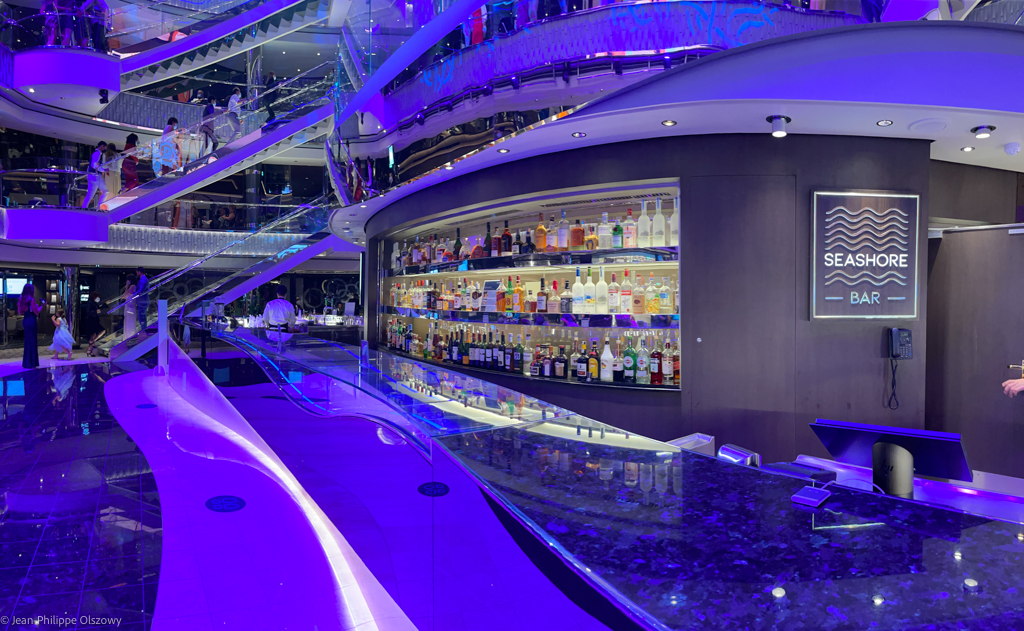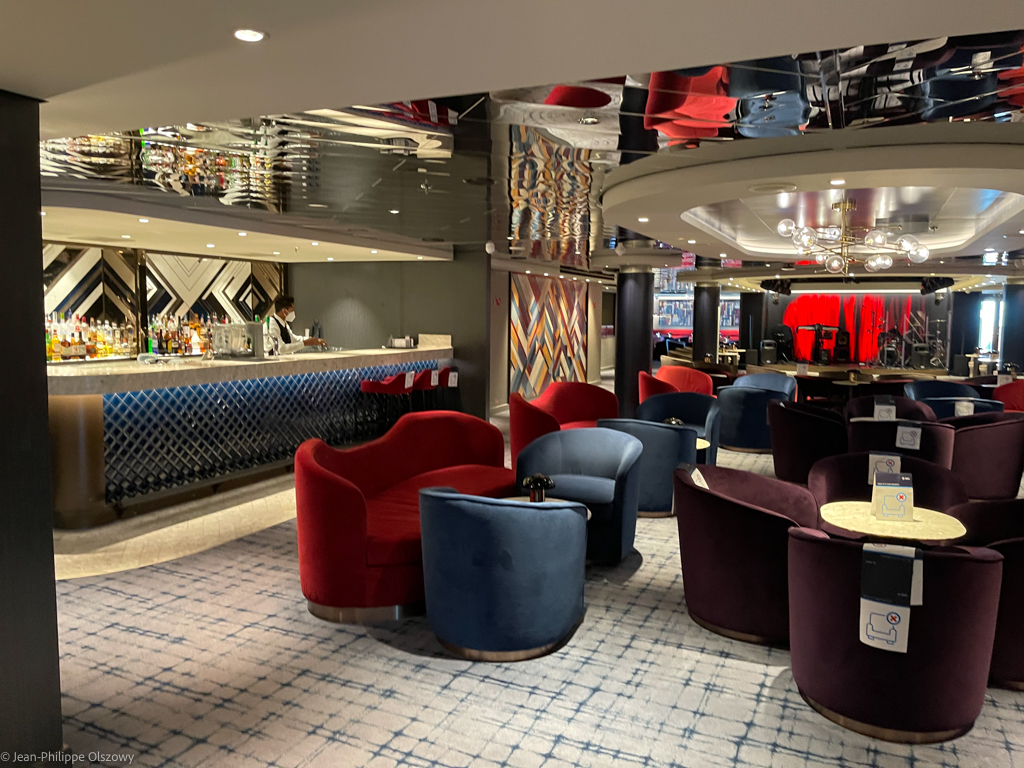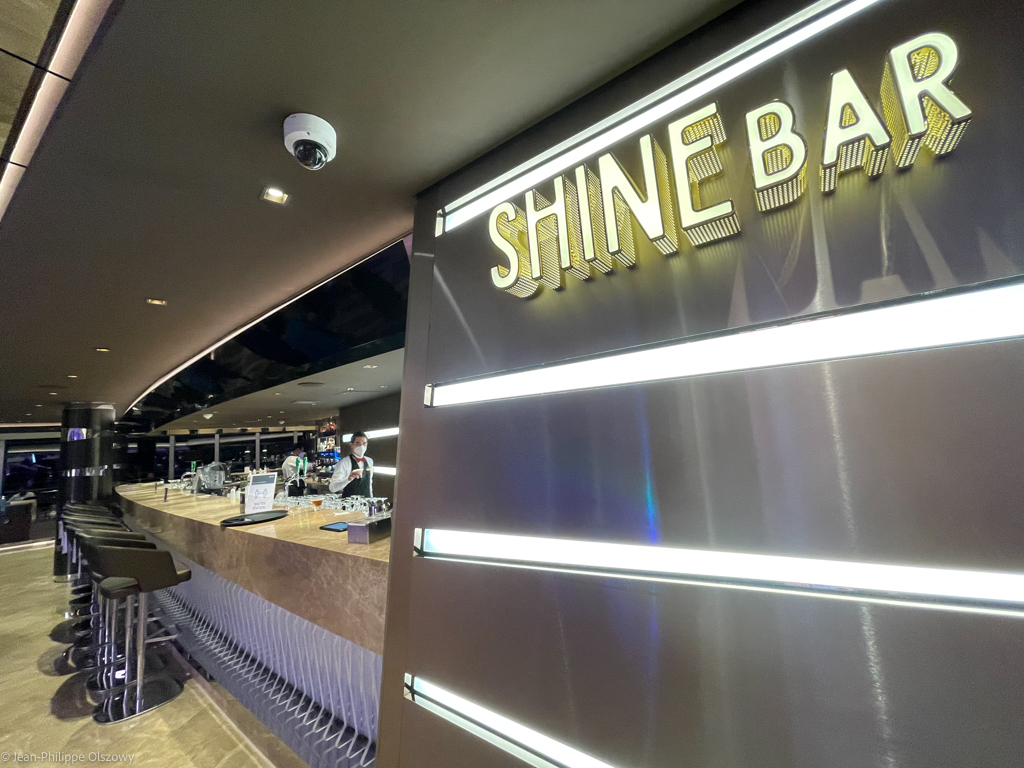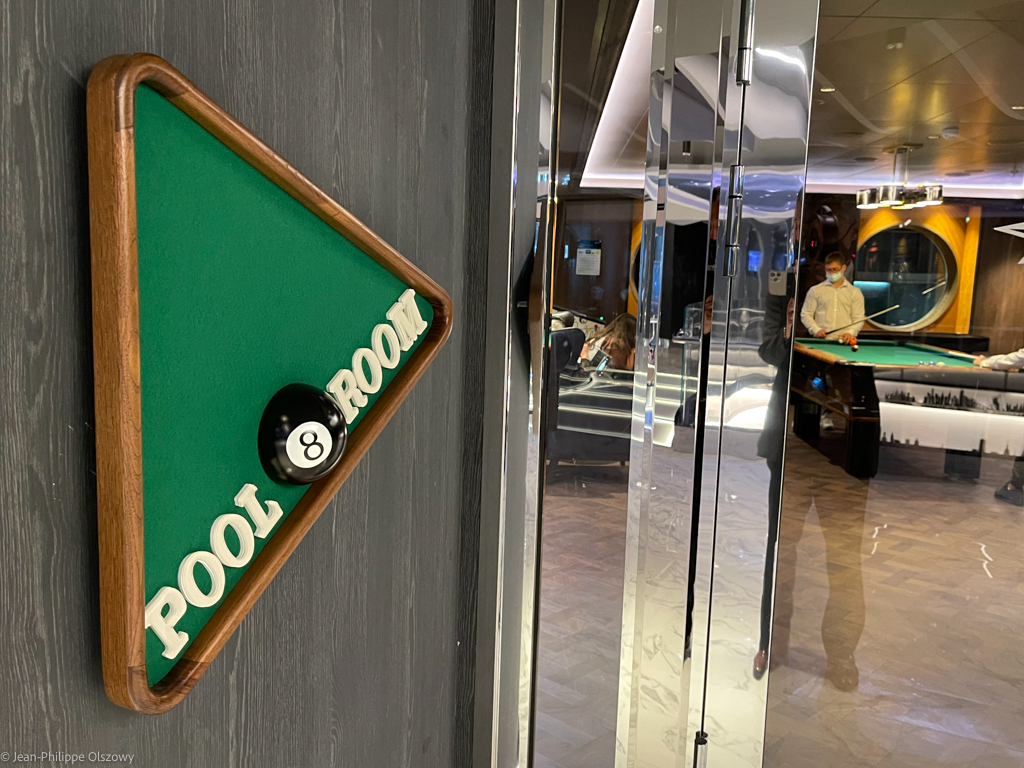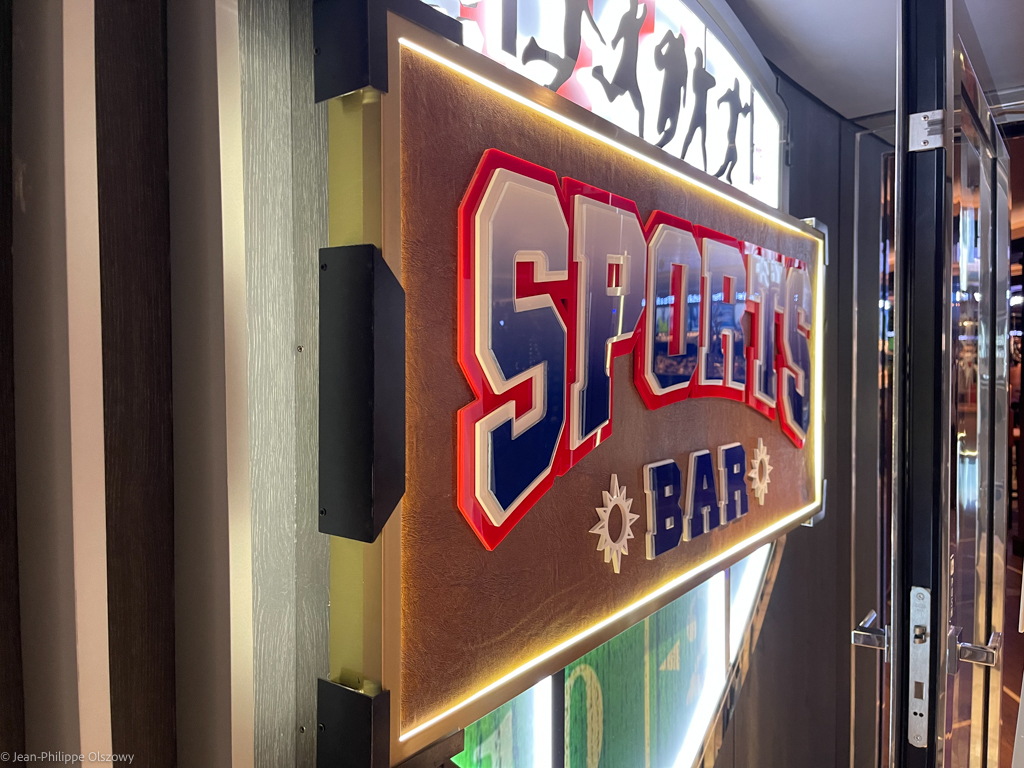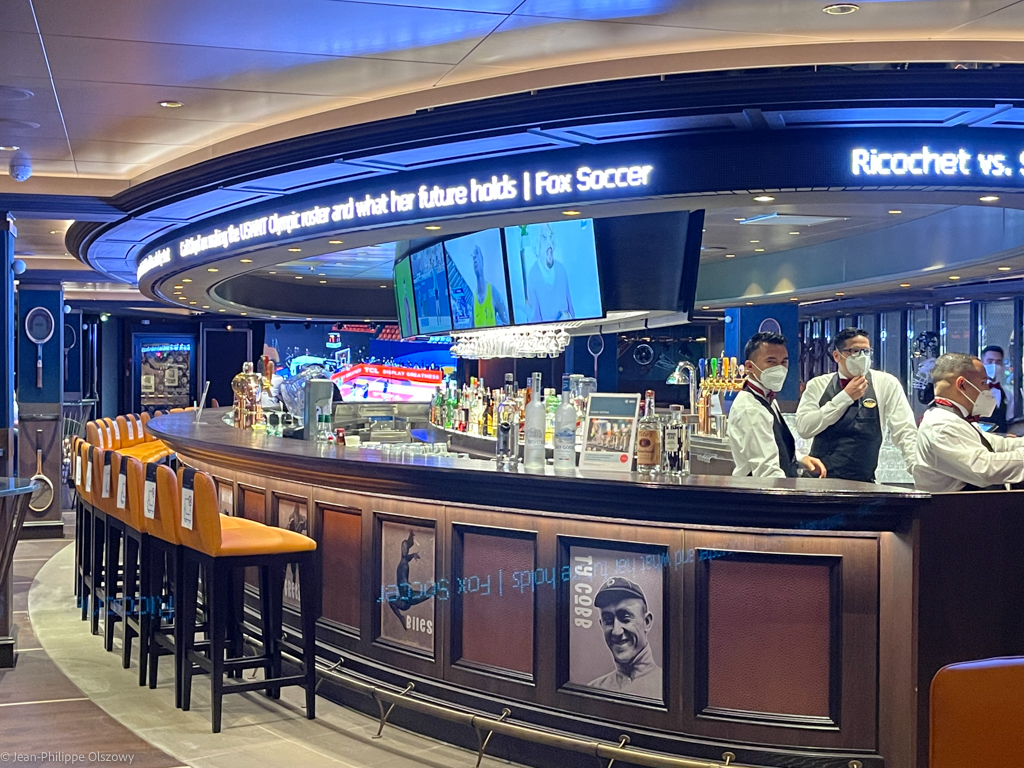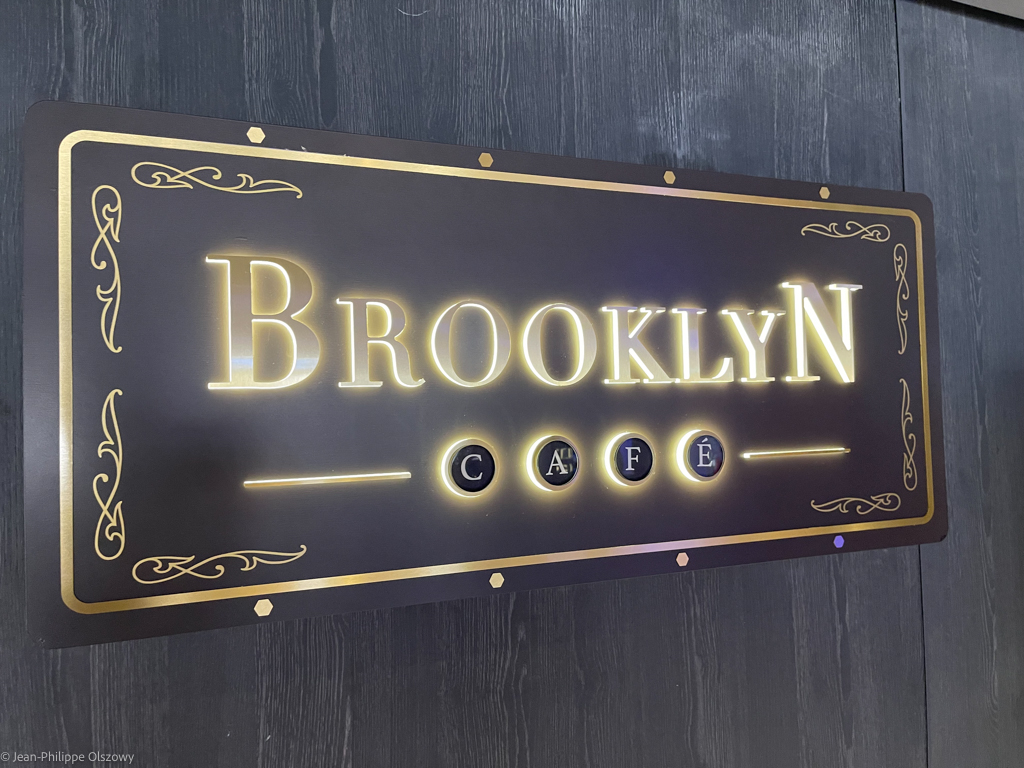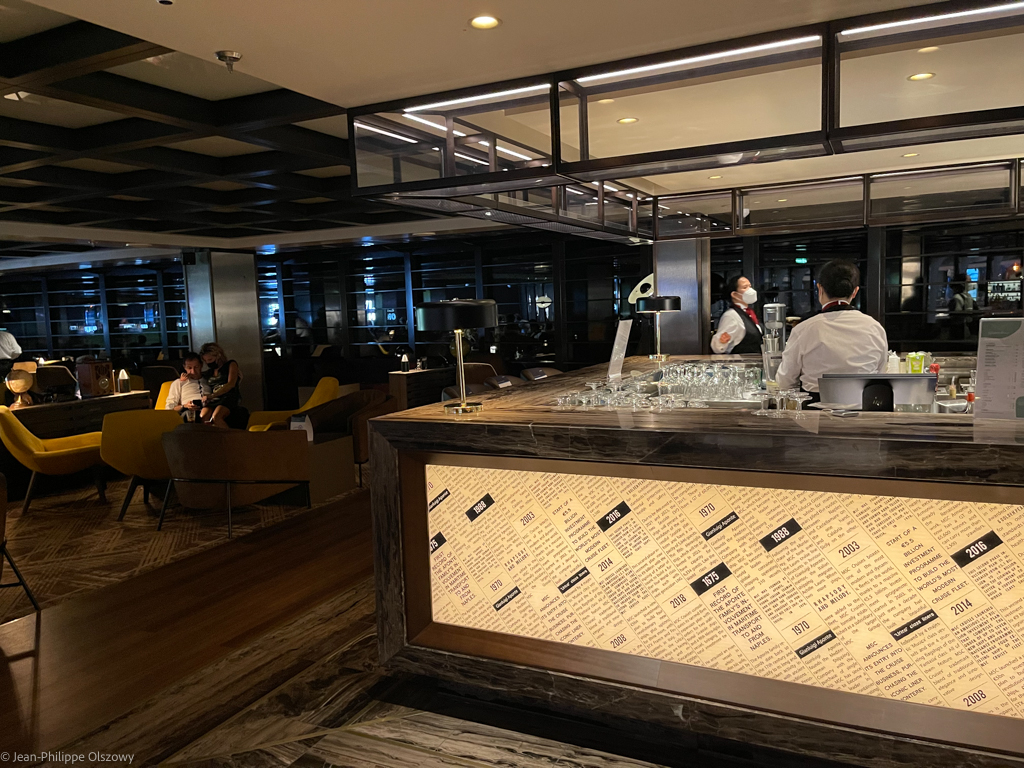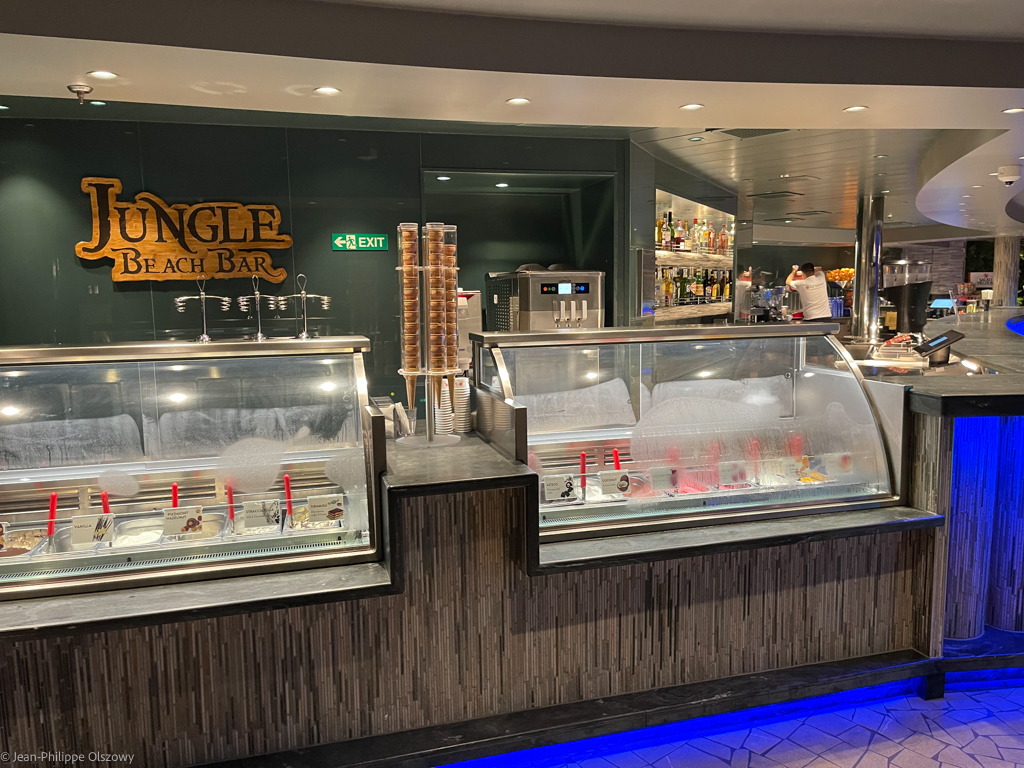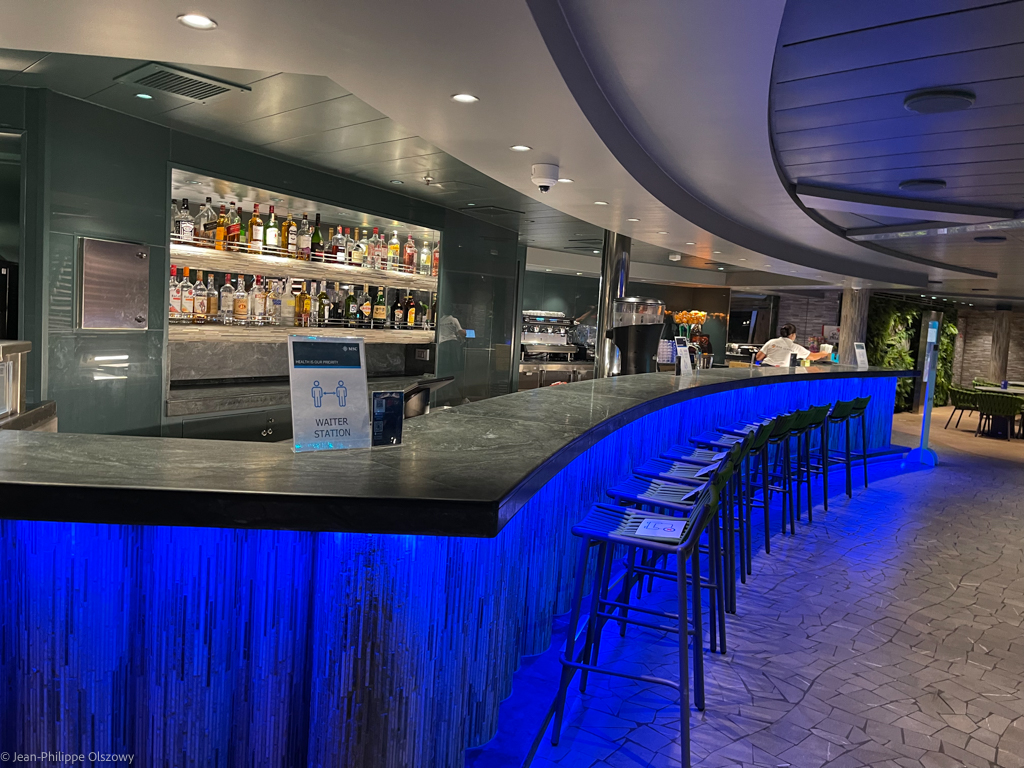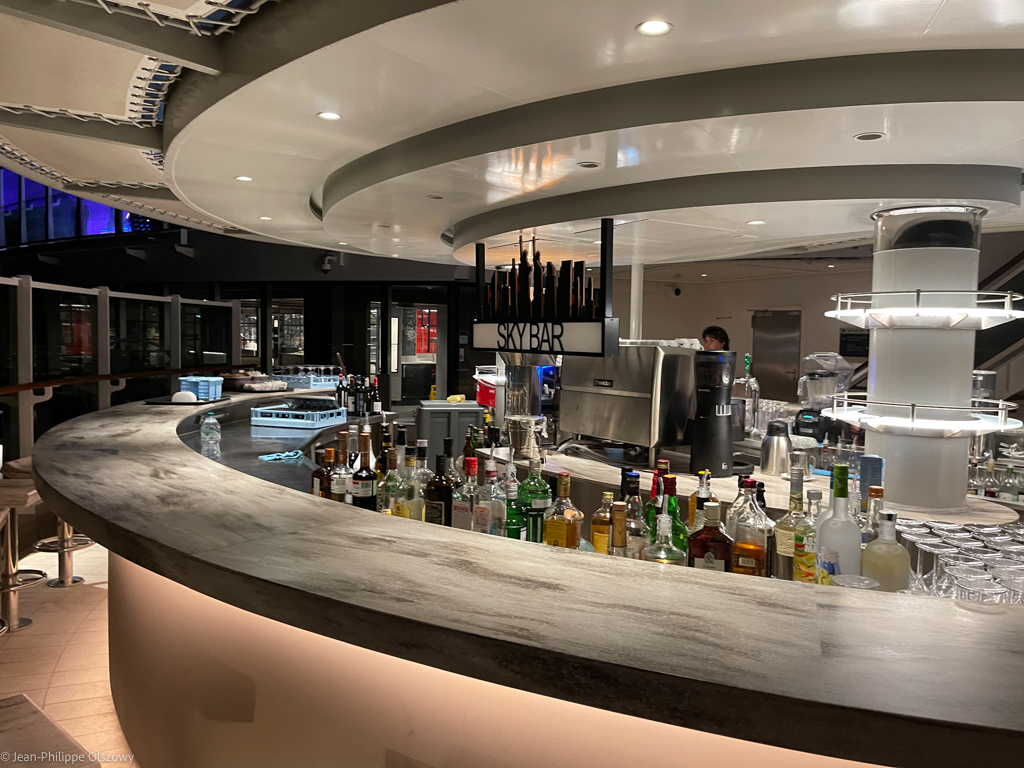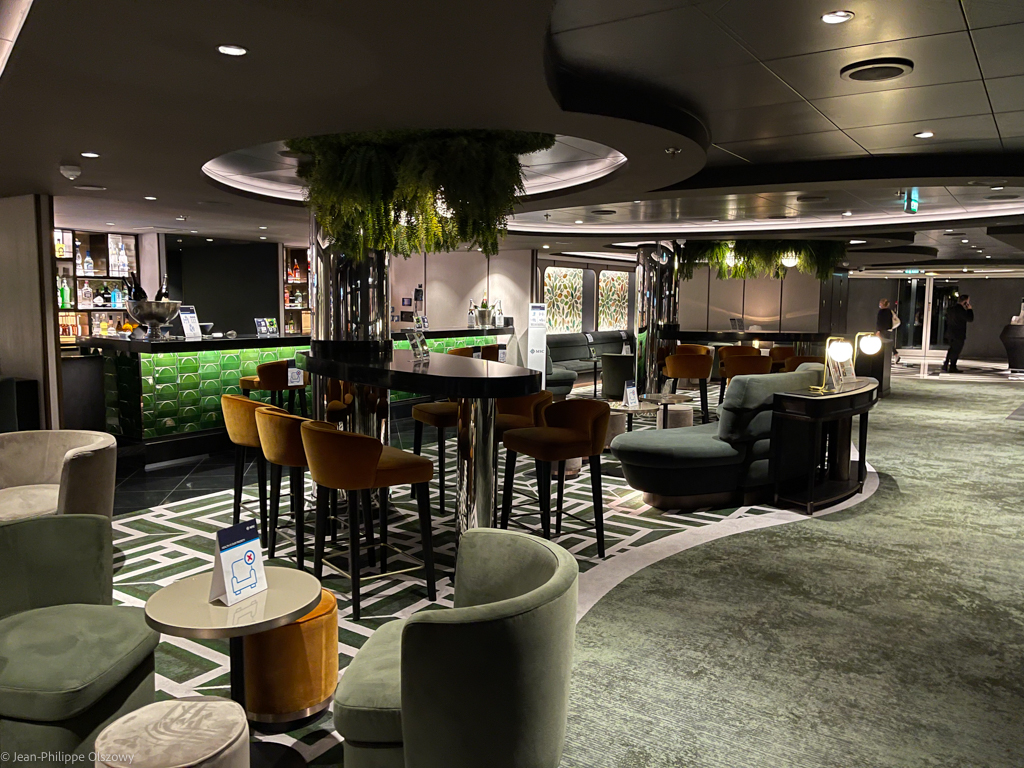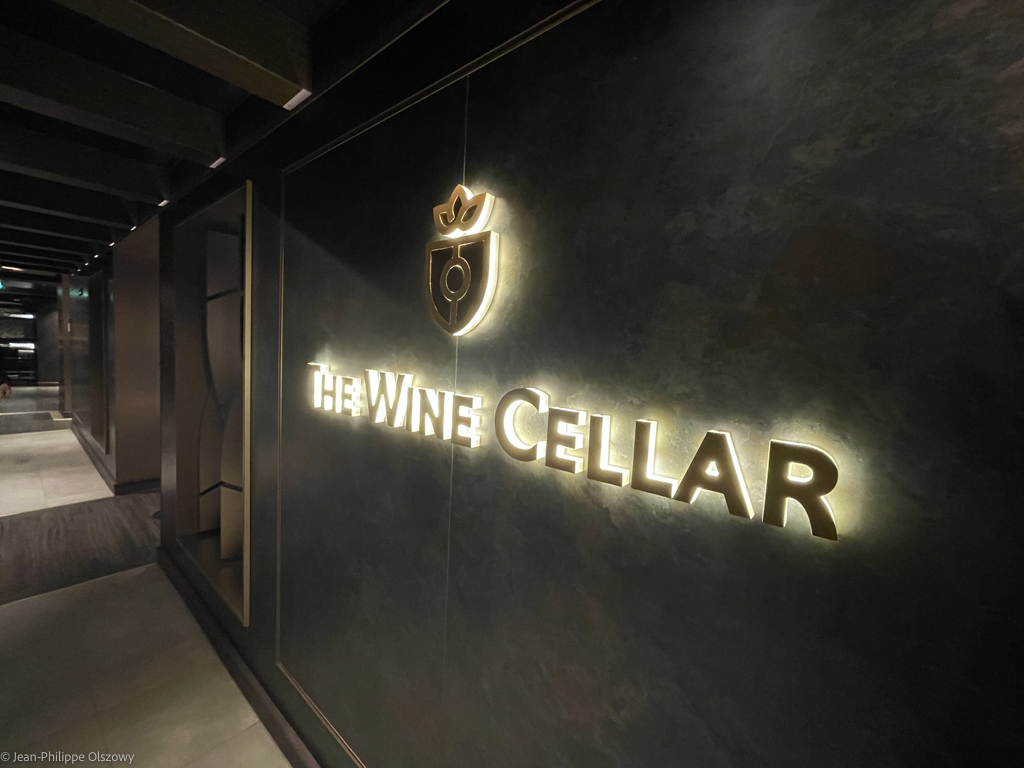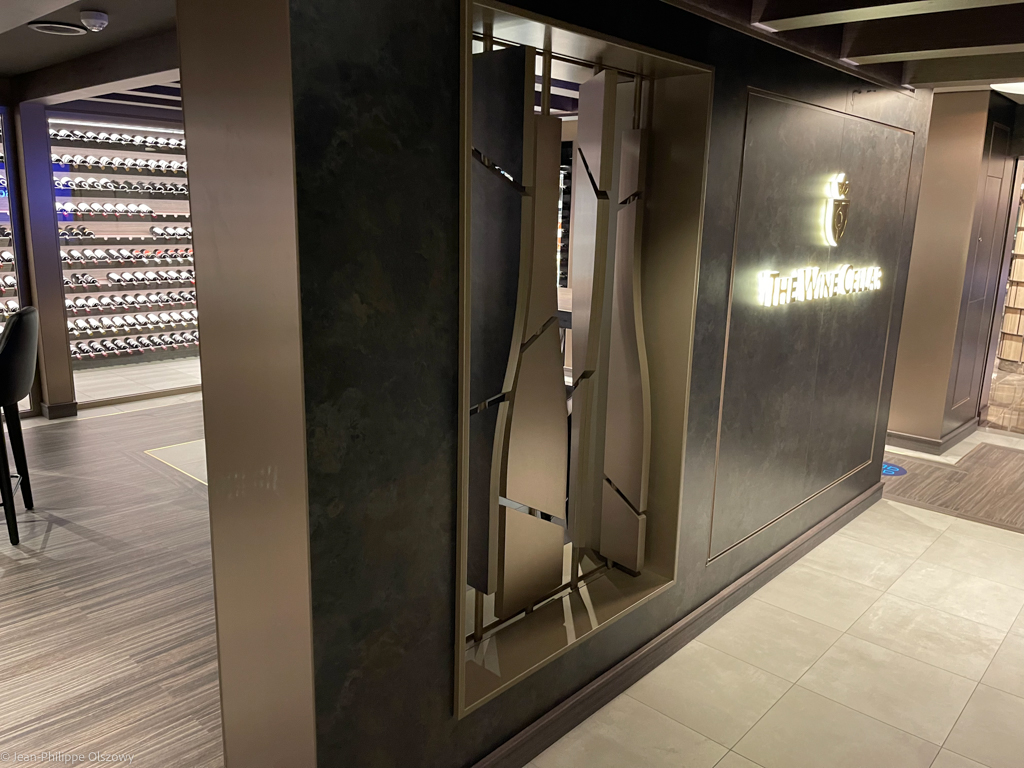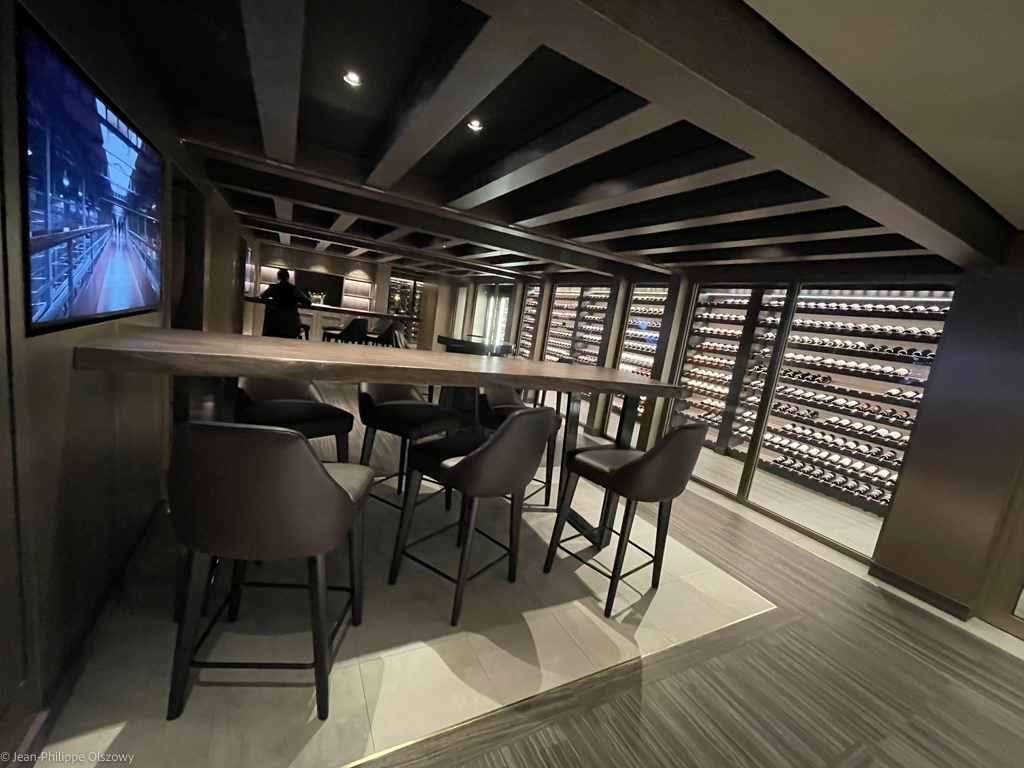 A few specialty restaurants are grouped together at the aft of the ship. I tried 2. The first one for fun: a sushi restaurant, with a magnetic conveyor belt. A special offer was offered for lunch: an unlimited meal for € 29. Each plate that passes in front of you has a color code, which corresponds to a price (from 4 to 12 €). Obviously, when this package is offered, there are only plates of 4 to 6 €, and no plates of 7, 8 or 12 € surprisingly (no). It was very correct for sushi, but little variety, and quickly, you can spot people's favorite dishes: there are no more! And they are not replaced after a while, while the dishes that no one interests are repeated over and over again.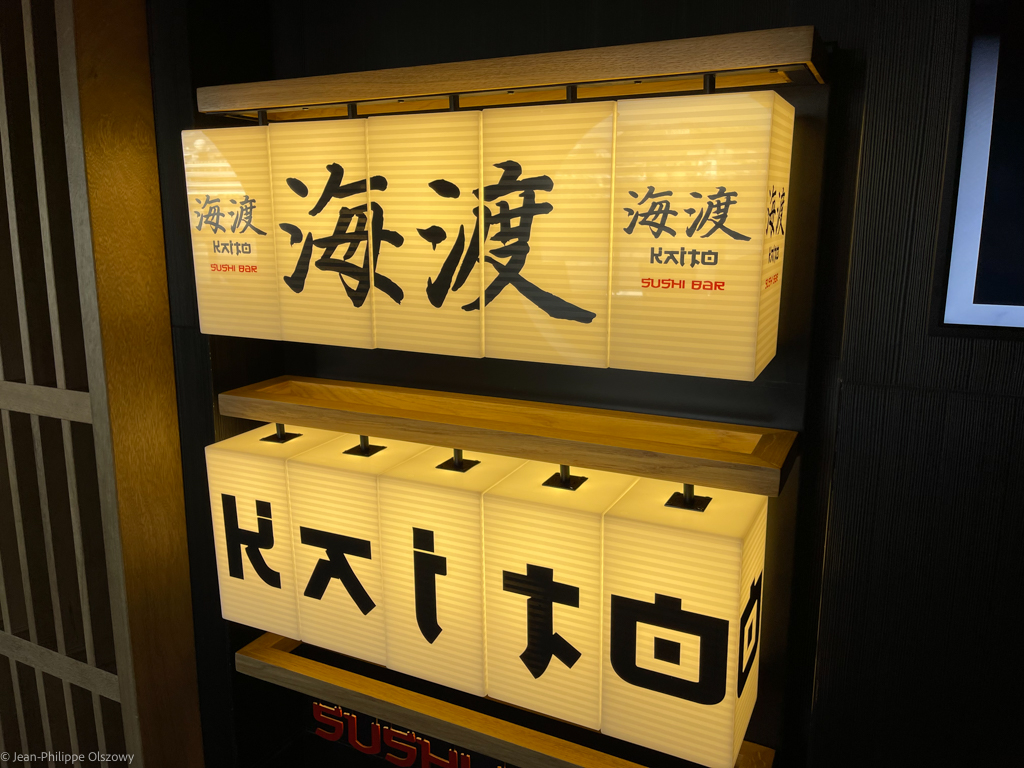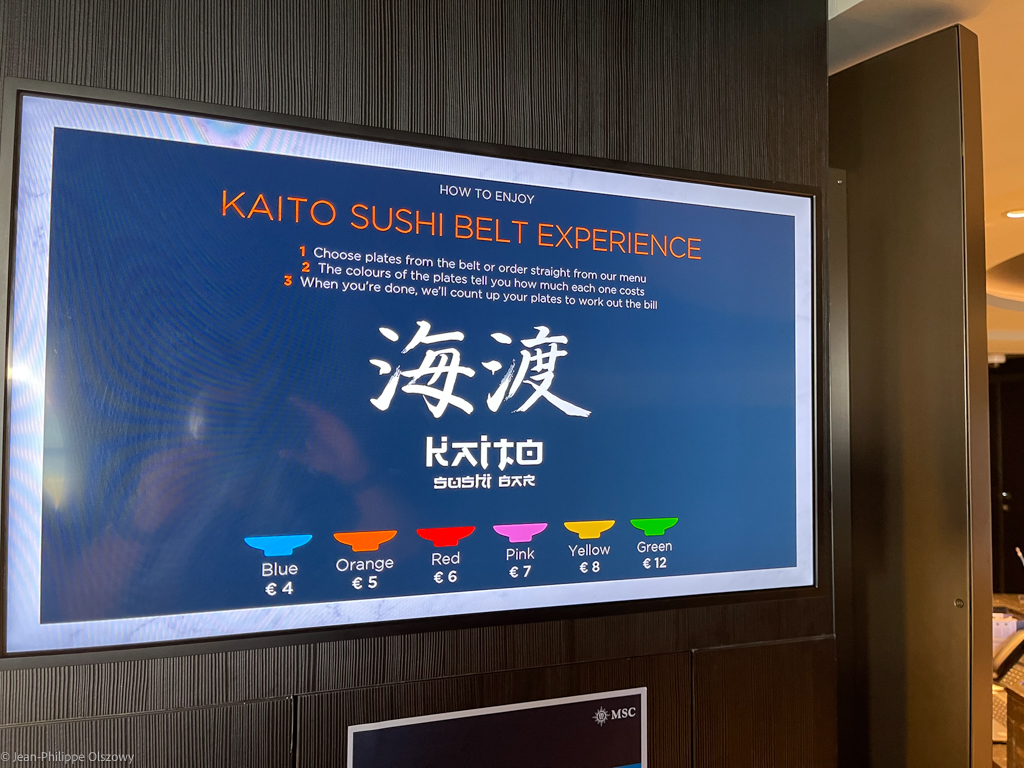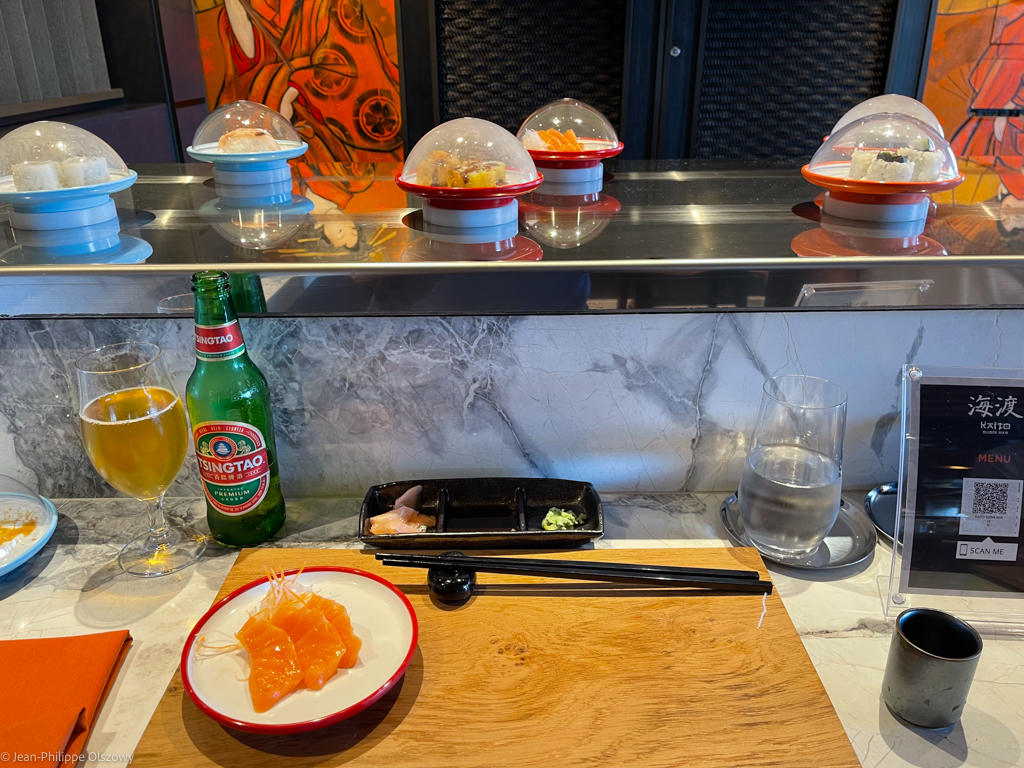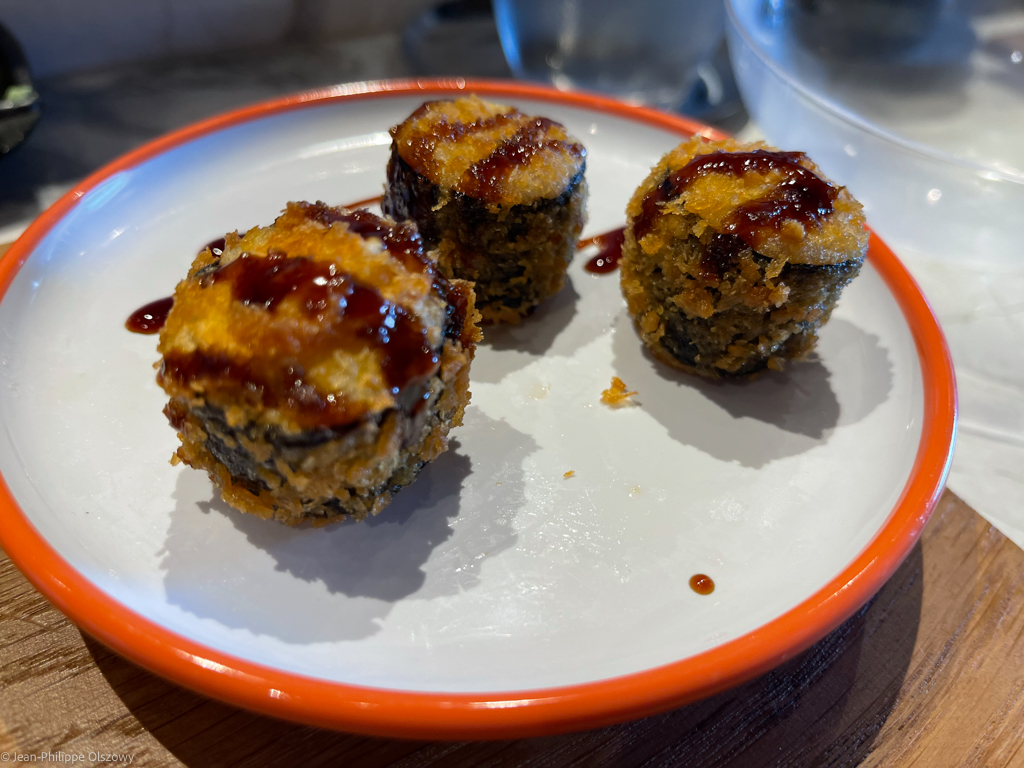 The other restaurant was the Ocean Cay, specializing in fish and seafood. I chose a grilled octopus as a starter, and a lobster as a main course. The octopus was fine, properly cooked with a good texture. On the other hand, the lobster was a failure. Hyper salty, dried out. unbelievable for a specialty restaurant. This dish is a classic on cruises, we will also be entitled to it in the YC restaurant, a little better, but far from being successful. Another tasted dish, spaghetti with clams, quite good although a little too salty too.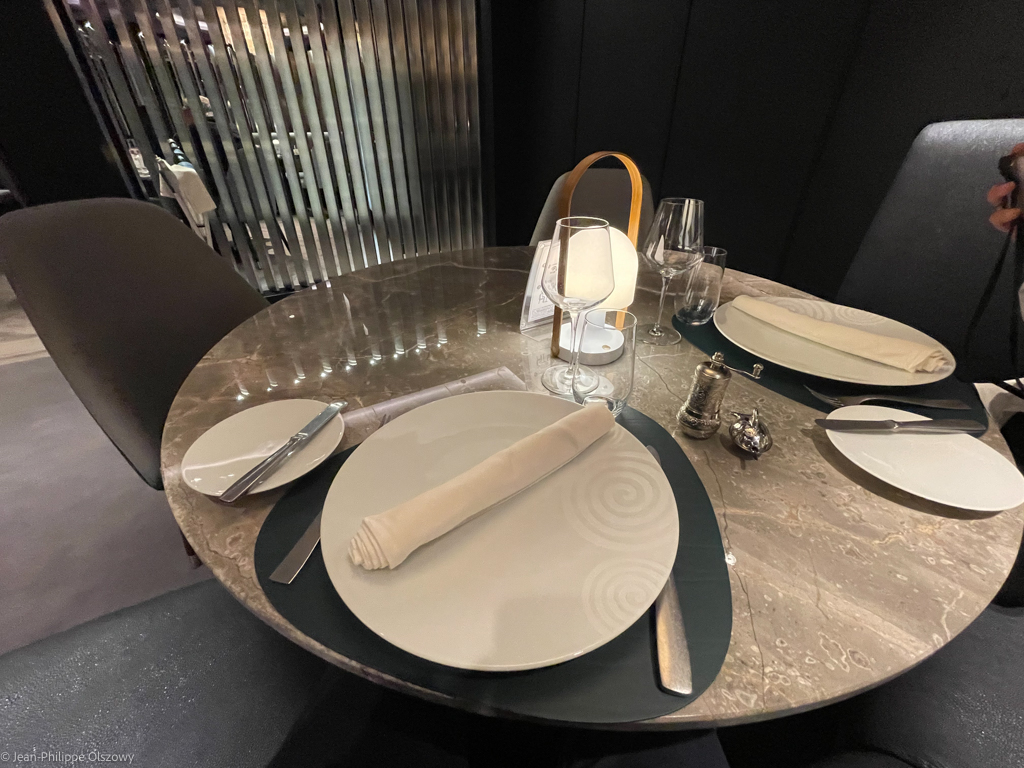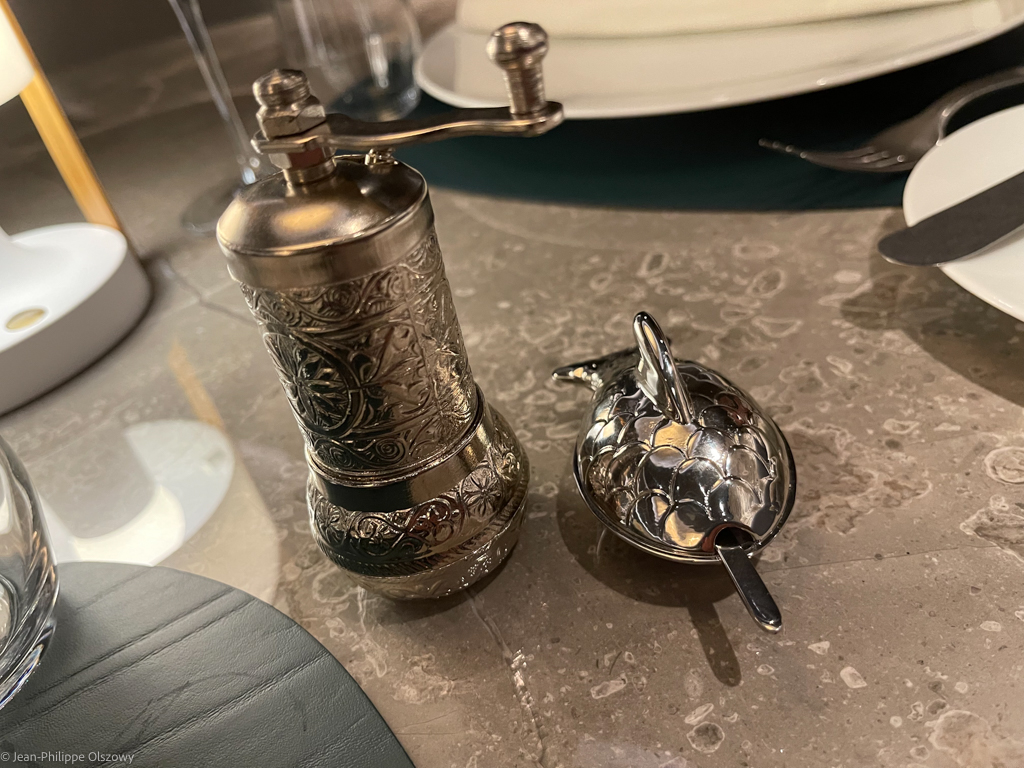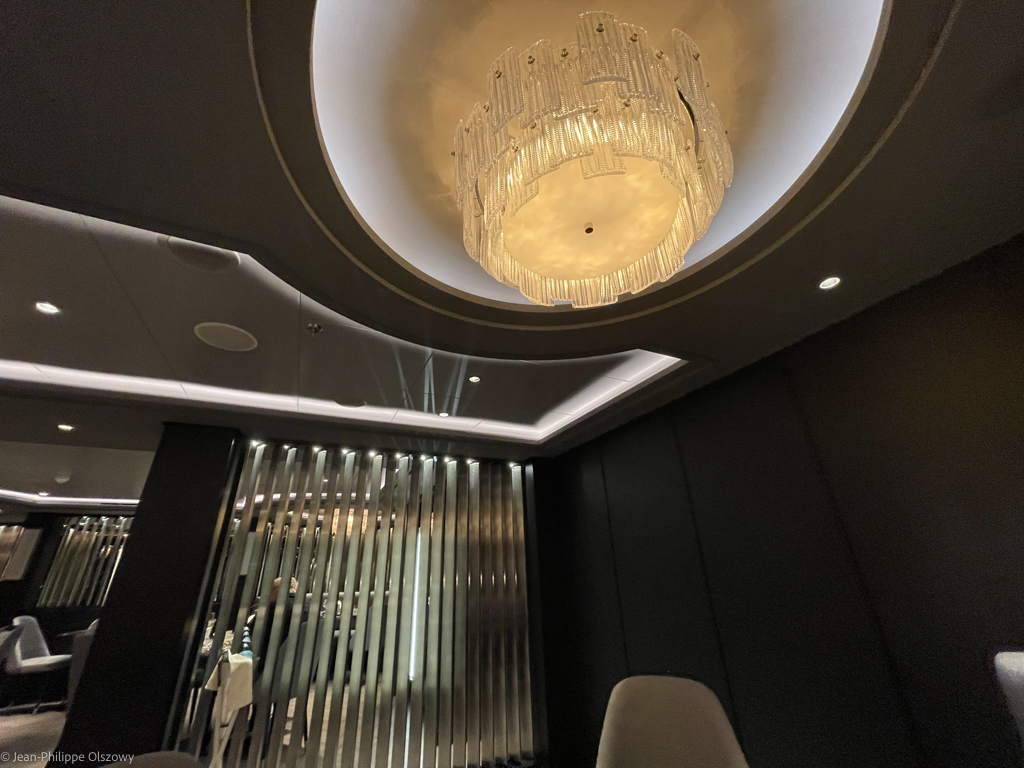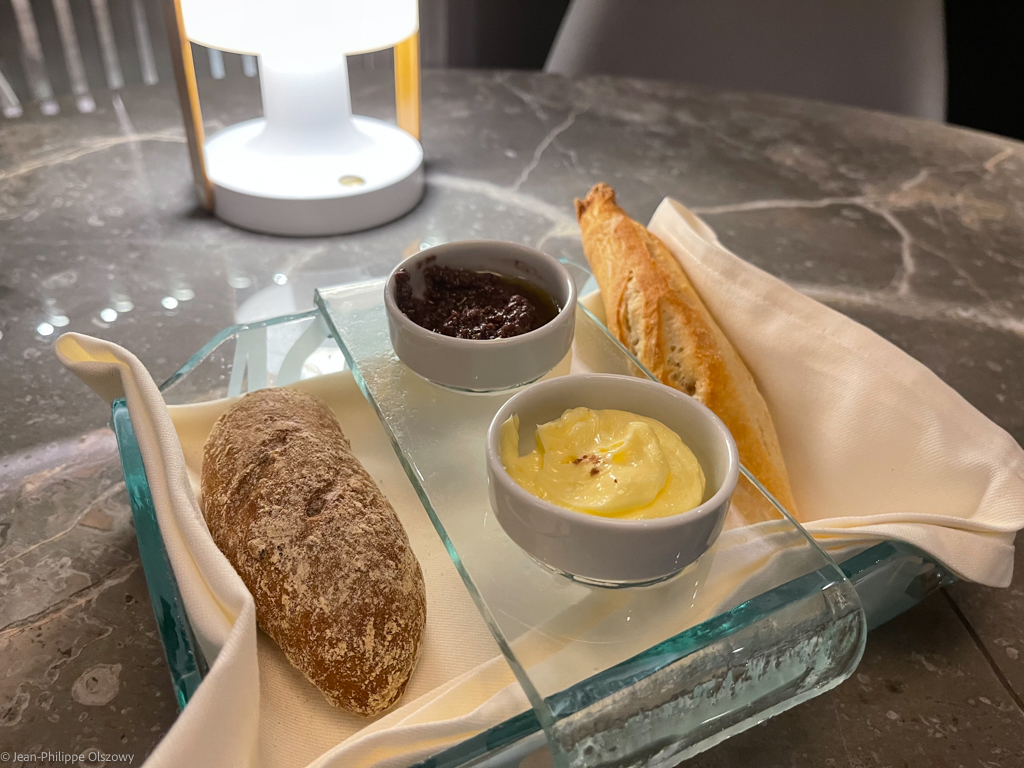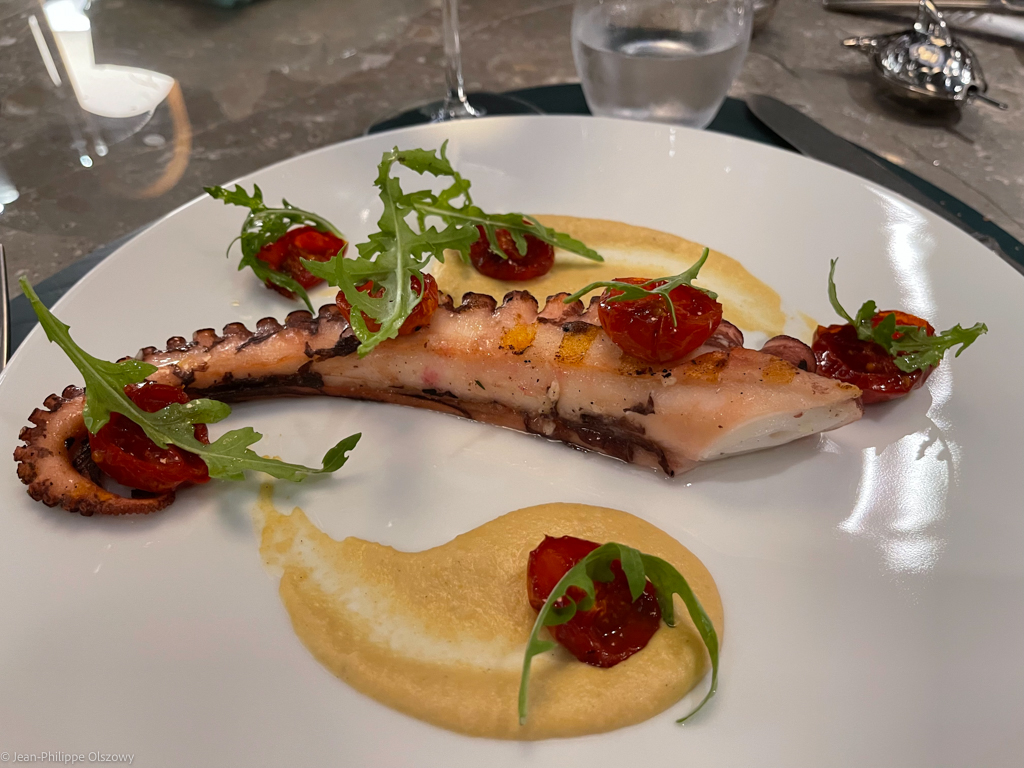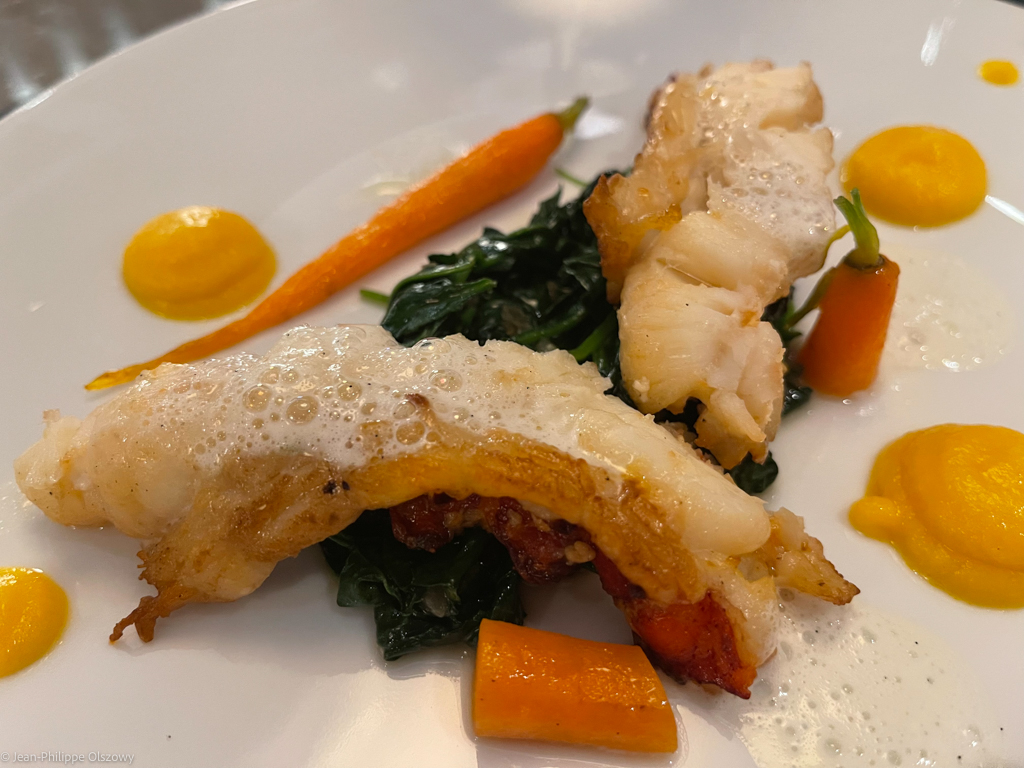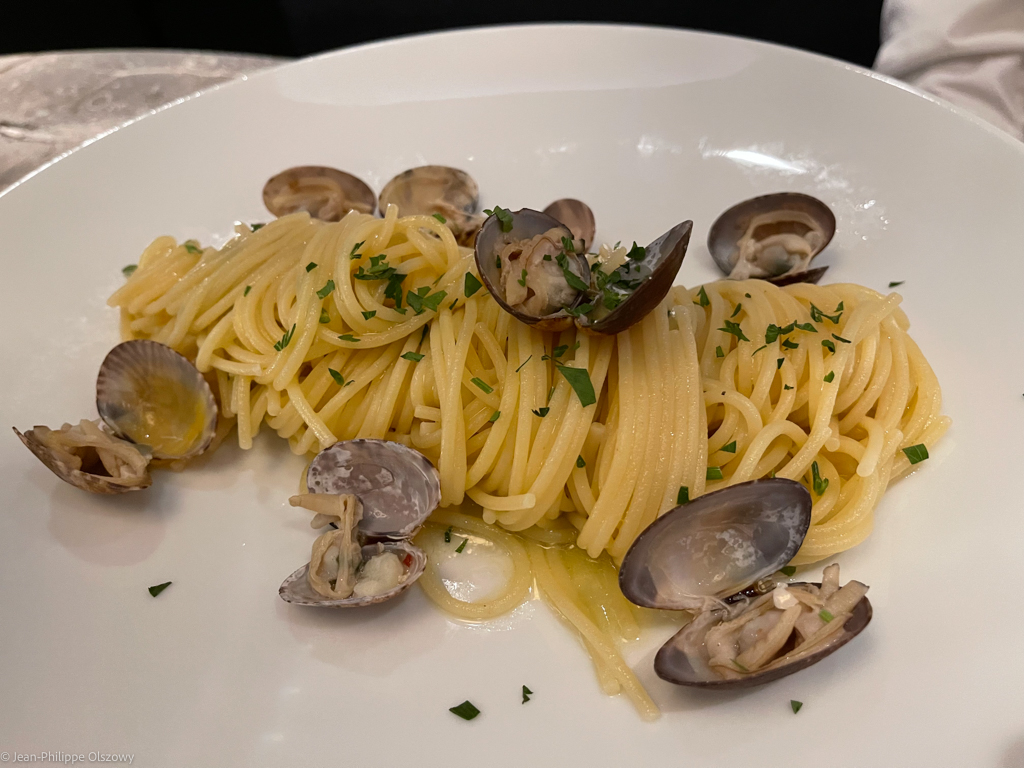 A visit to the buffet convinced me not to set foot there often. Not only is it a place with the highest passenger density. But everyone also seems to have only 2 objectives: to jump on the first place which is free to sit down and block it, then to elbow in the lines to fill his plate. The jungle ! The choice at the buffet is not great, mainly "junk food" plus a few salads. It pleases, obviously! There are people simply dressed in swimsuits, barefoot. It's special when you're not used to it. Fortunately, now, passengers are no longer allowed to touch the food!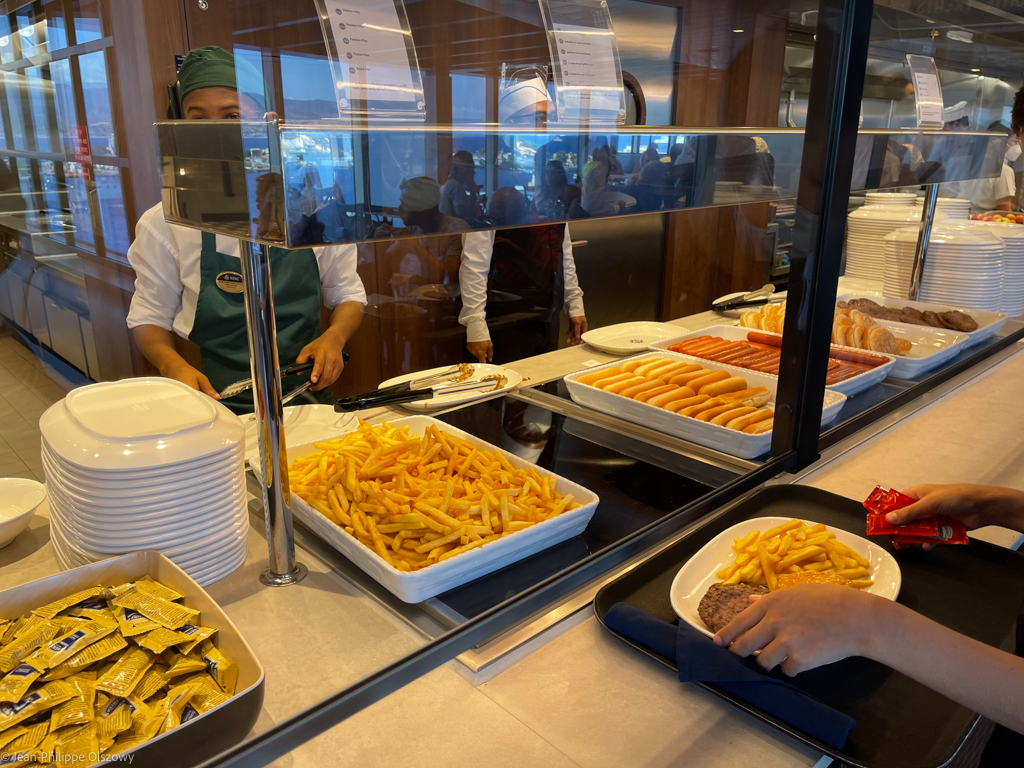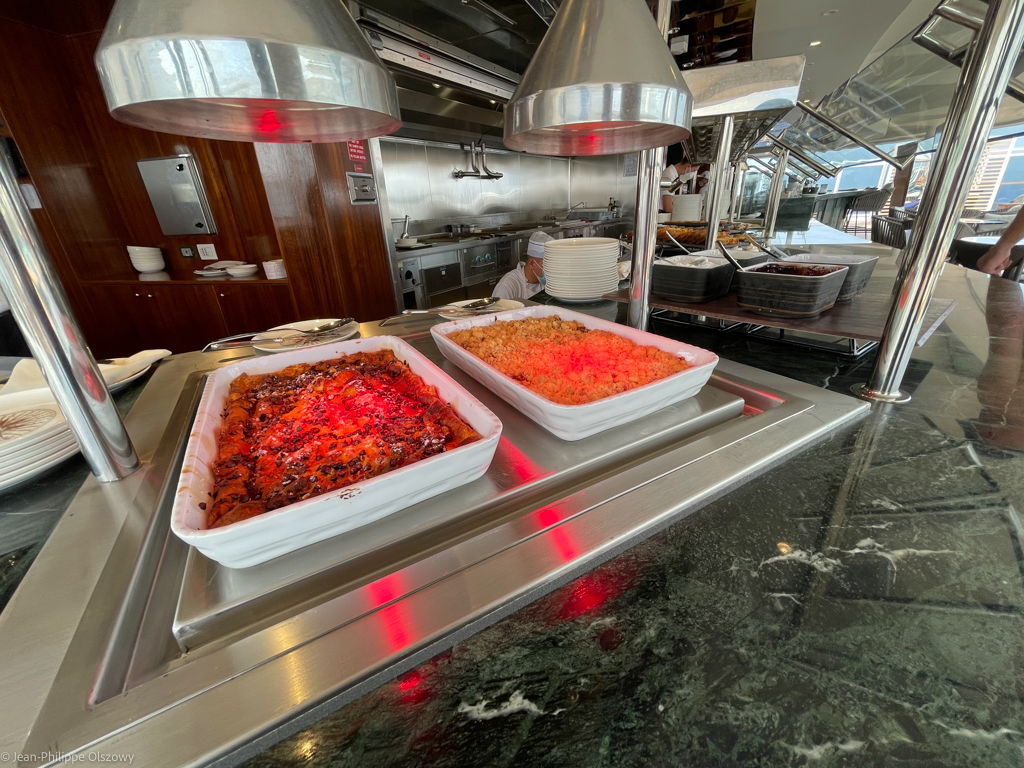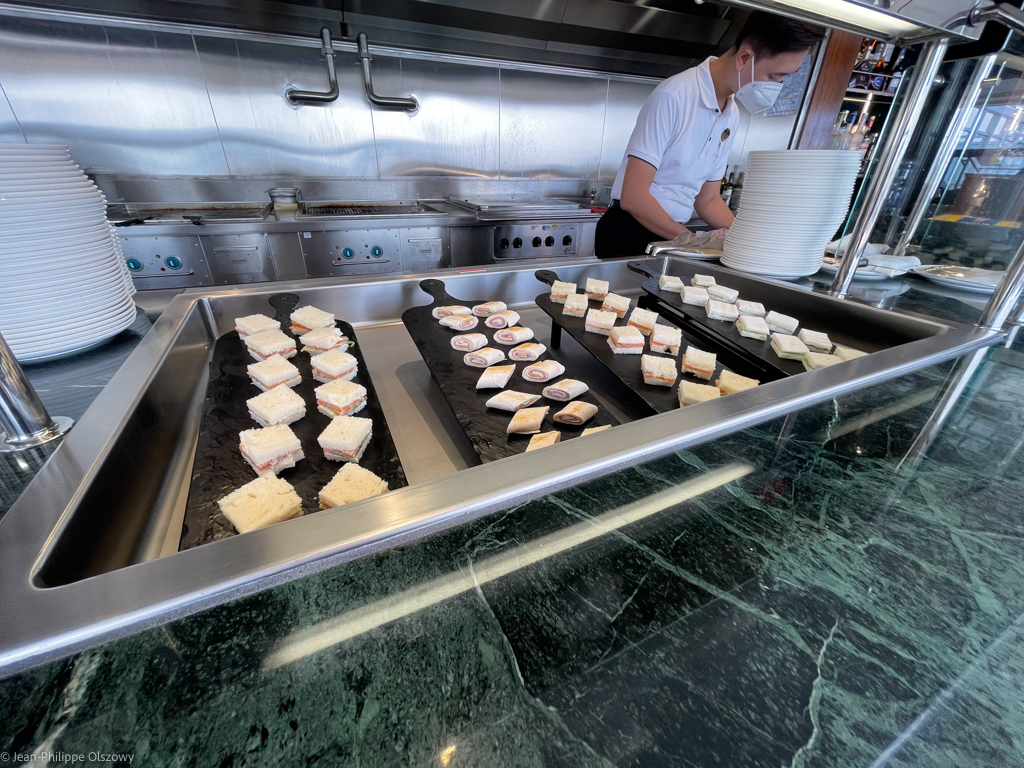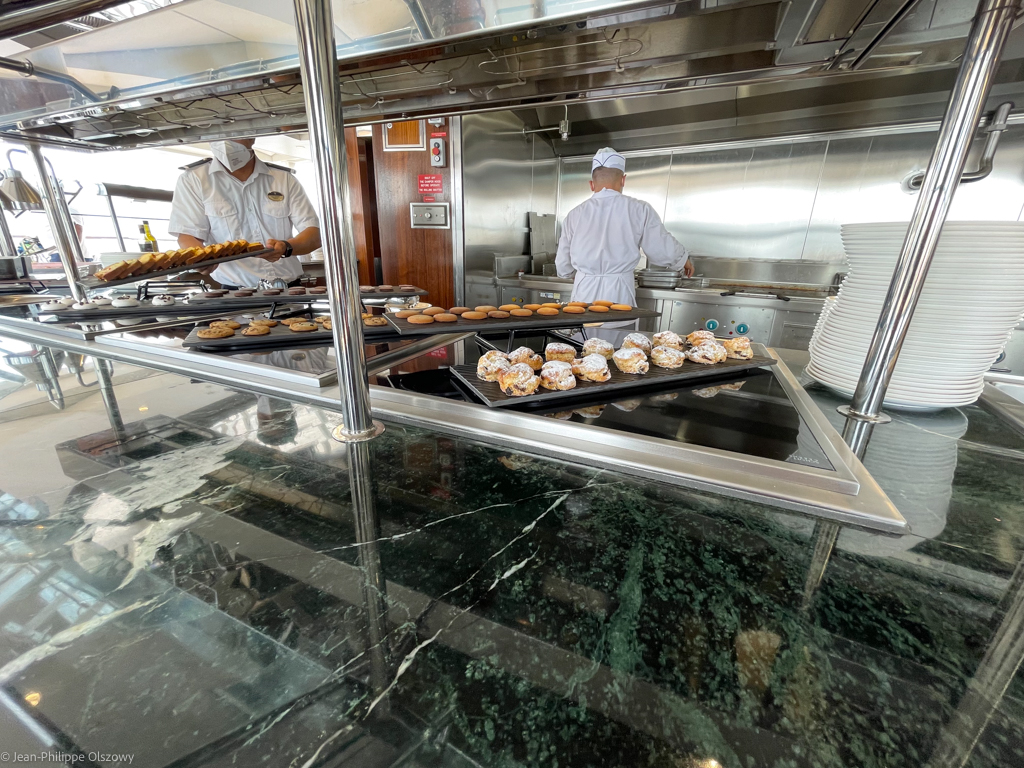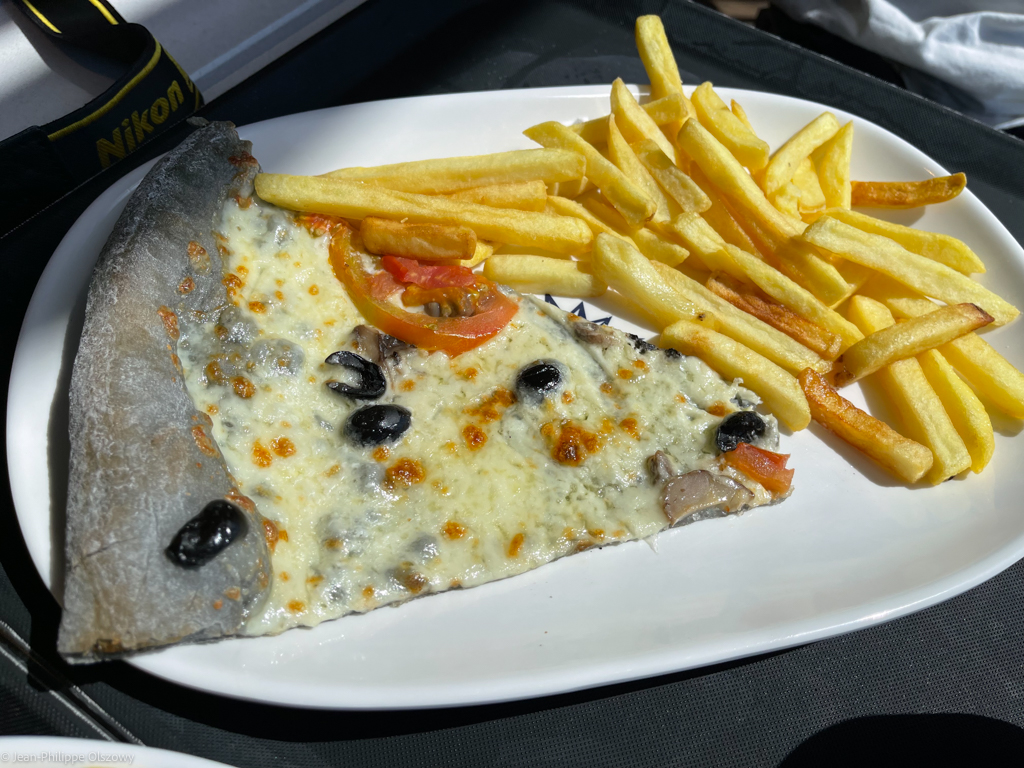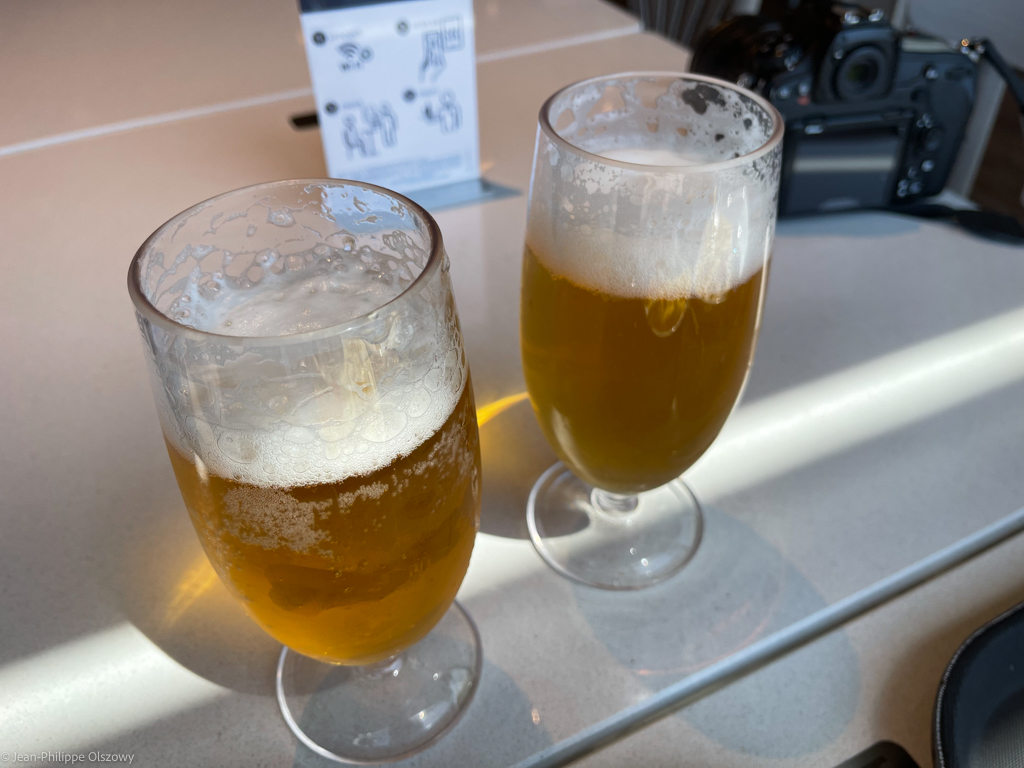 Overall the YC offers decent food, sometimes even good. By trying too many other competing companies, it is easy to realize that in the world of cruises, MSC does not really shine with the quality of its cuisine. A point in common with Costa. For example, some dishes are prepared too in advance and arrive on the table a bit faded. This was the case with a "salmon tartare" whose "caviar" (orange balls) had merged with the plate! Terrible.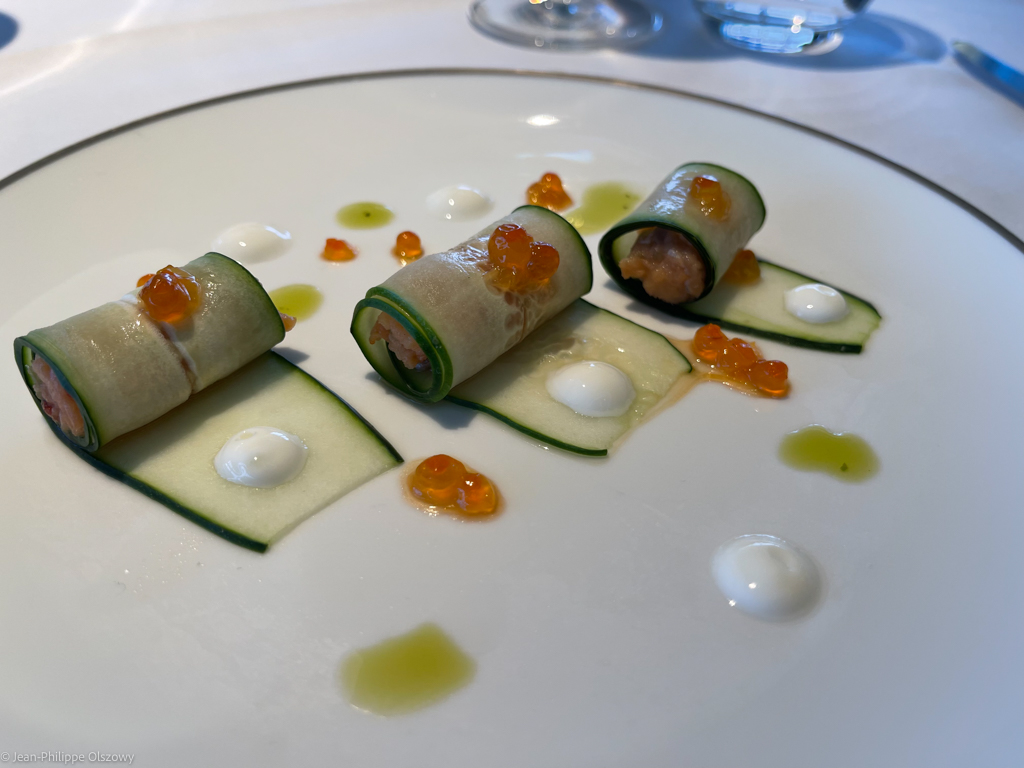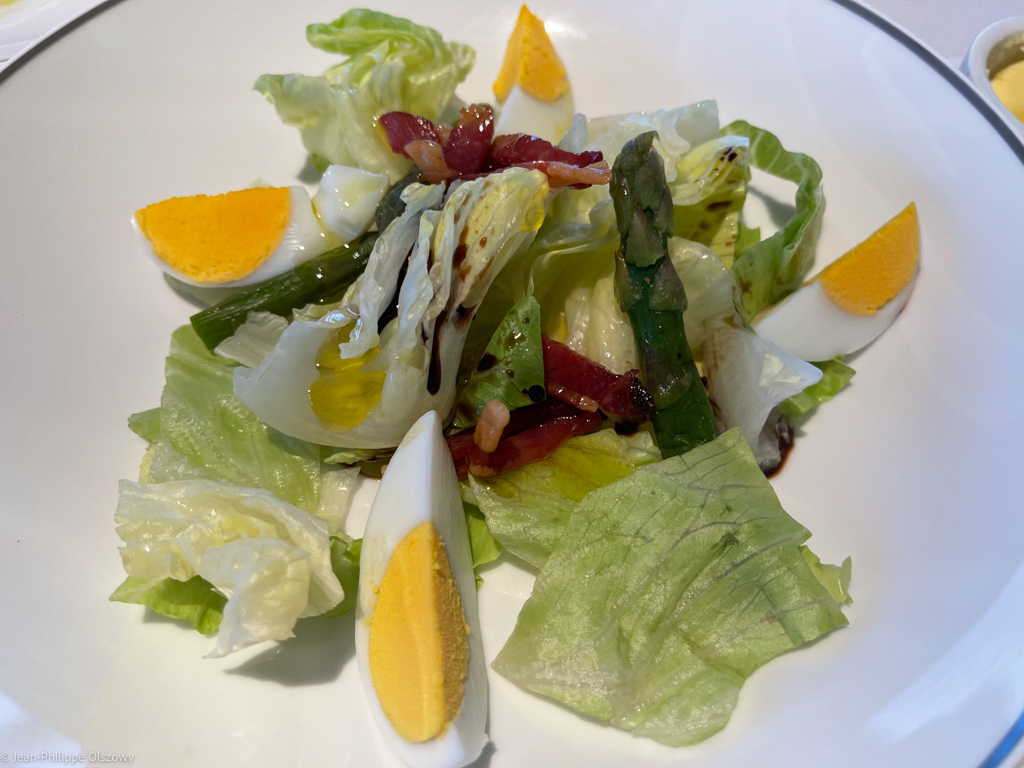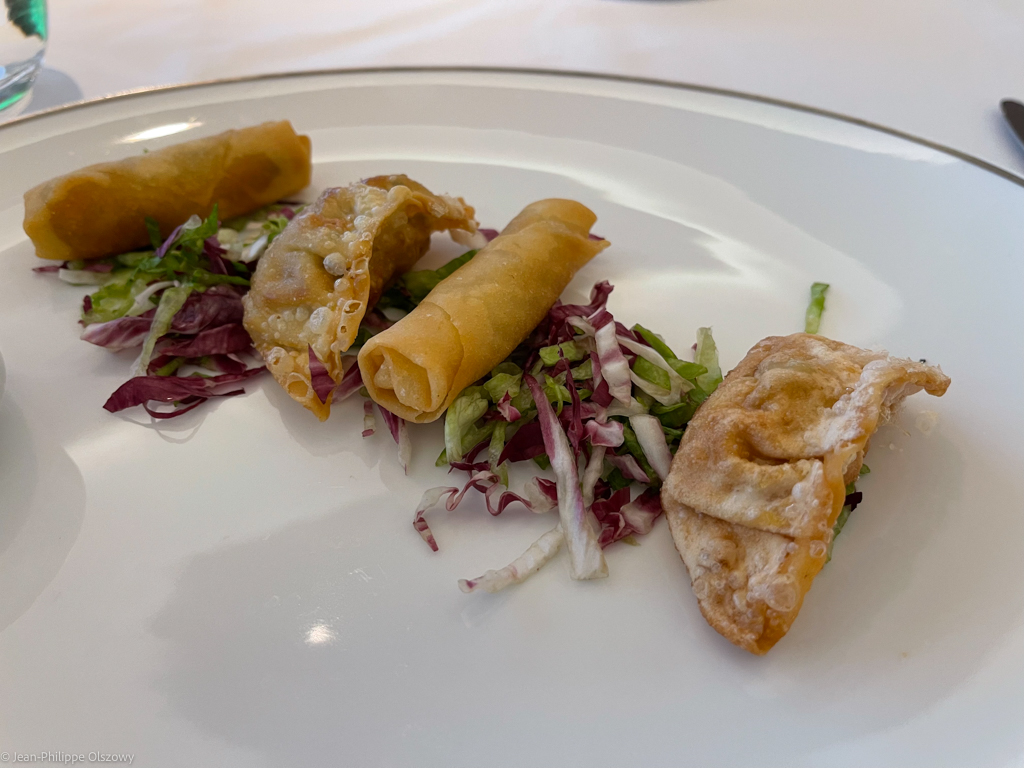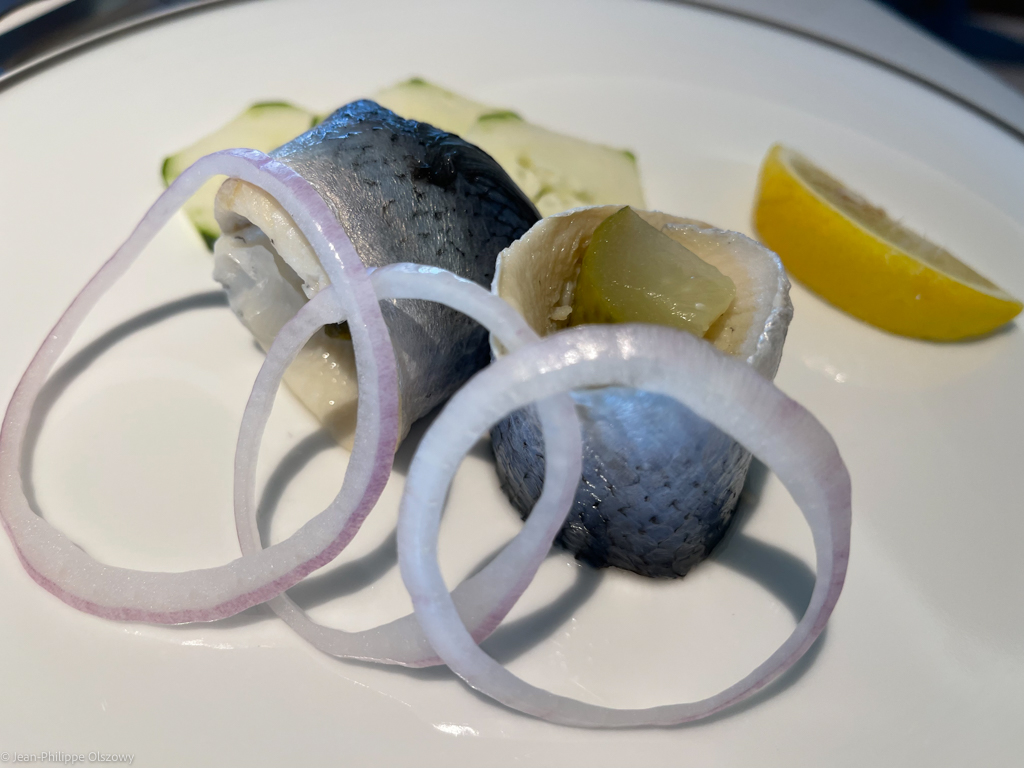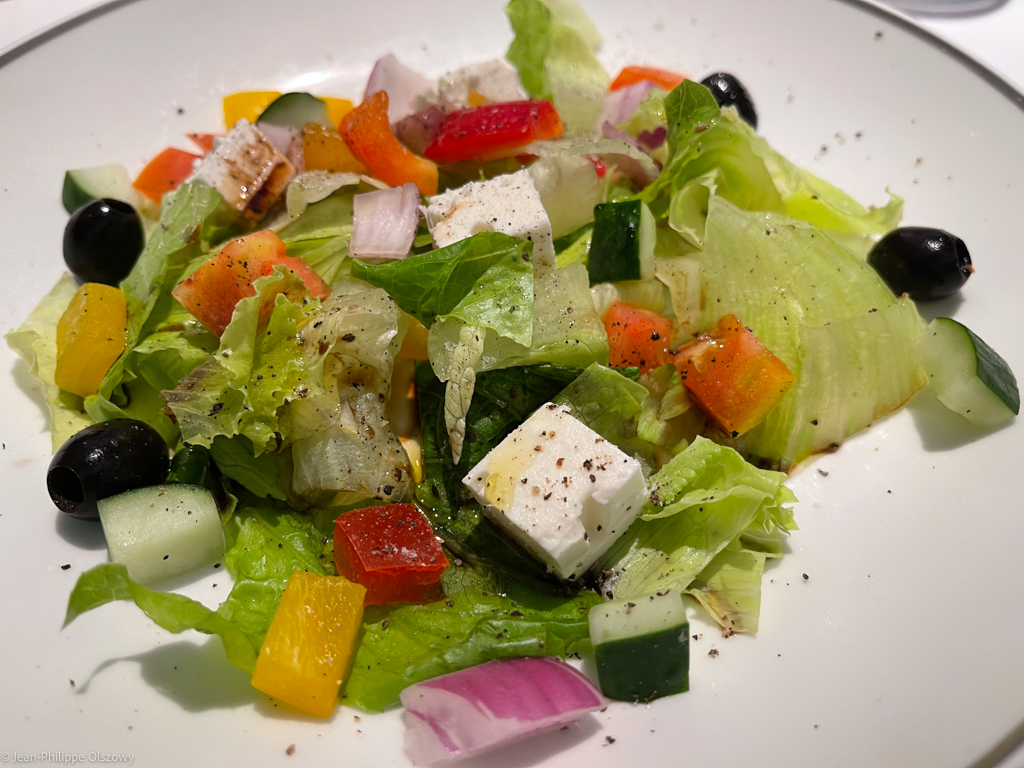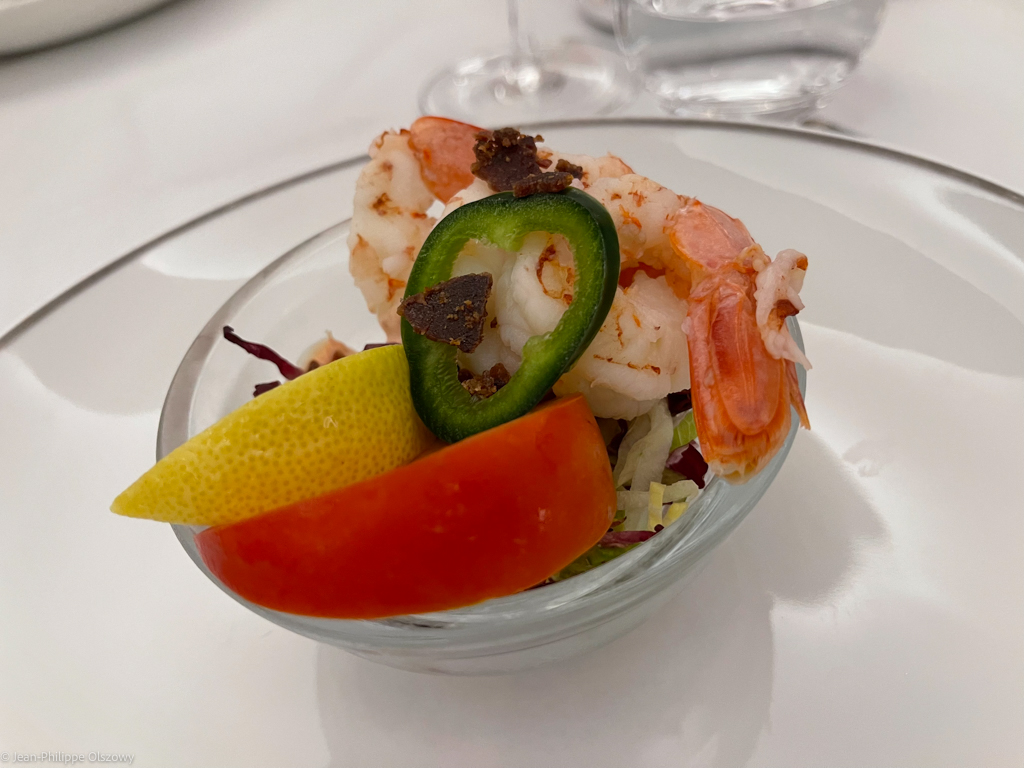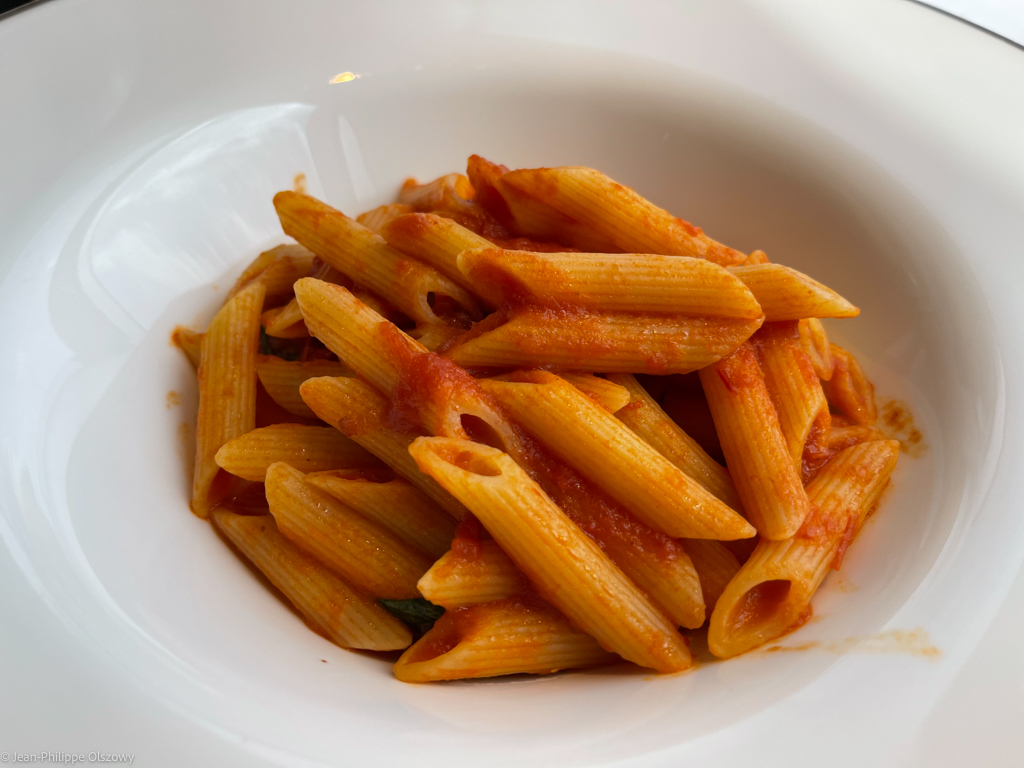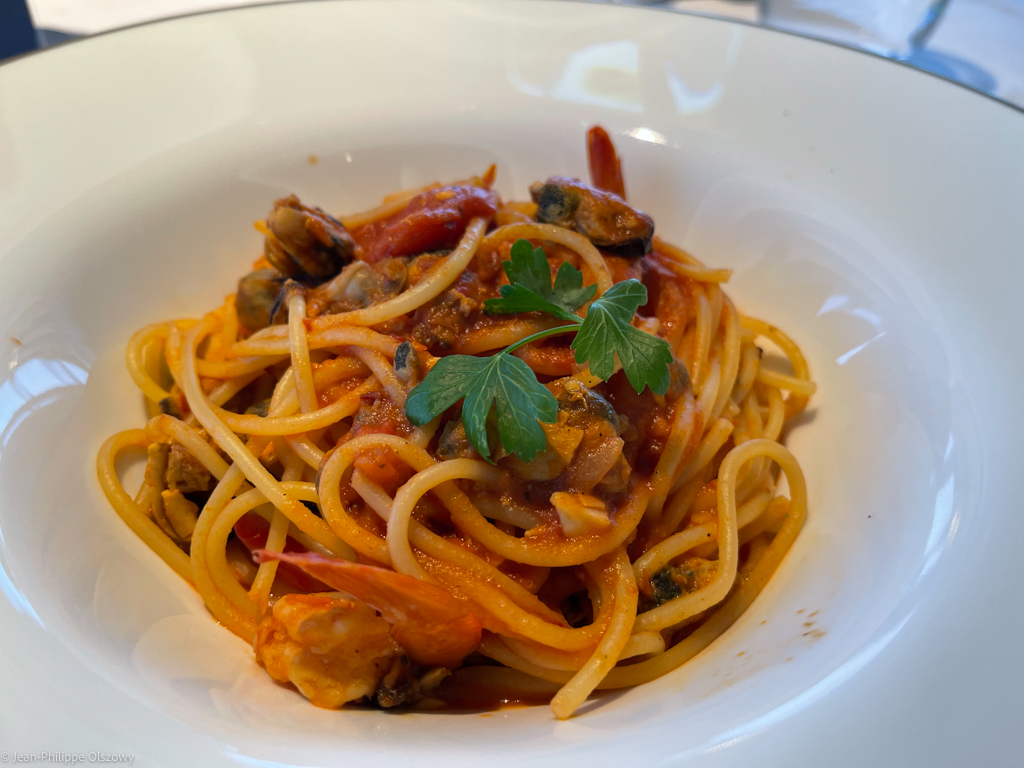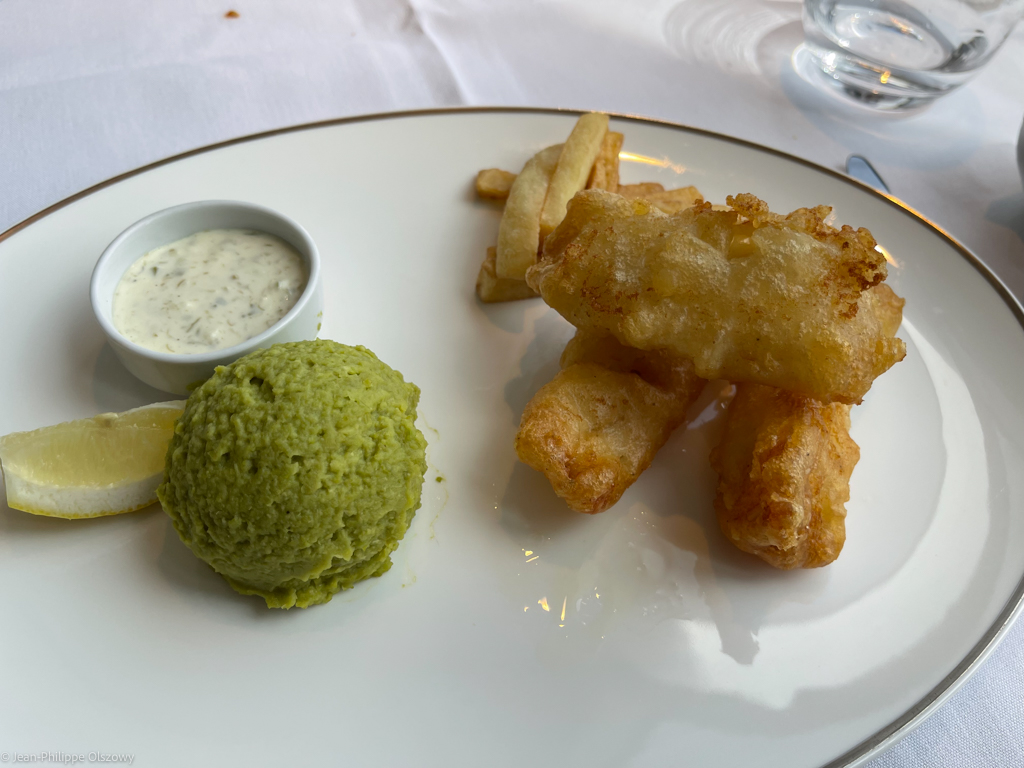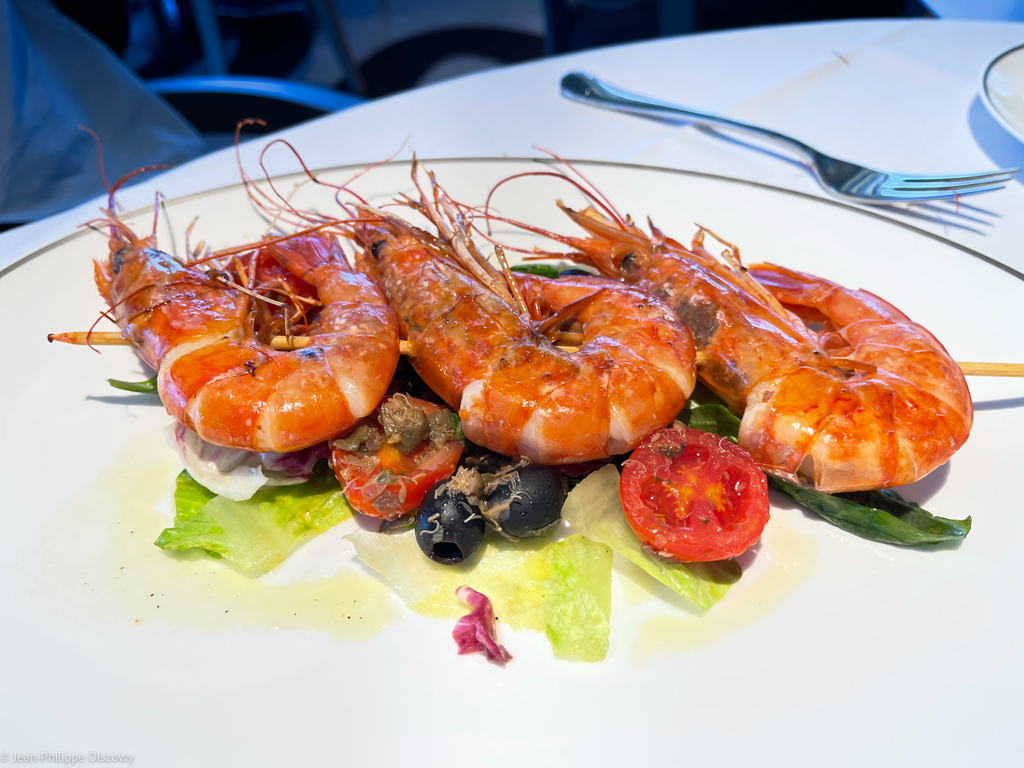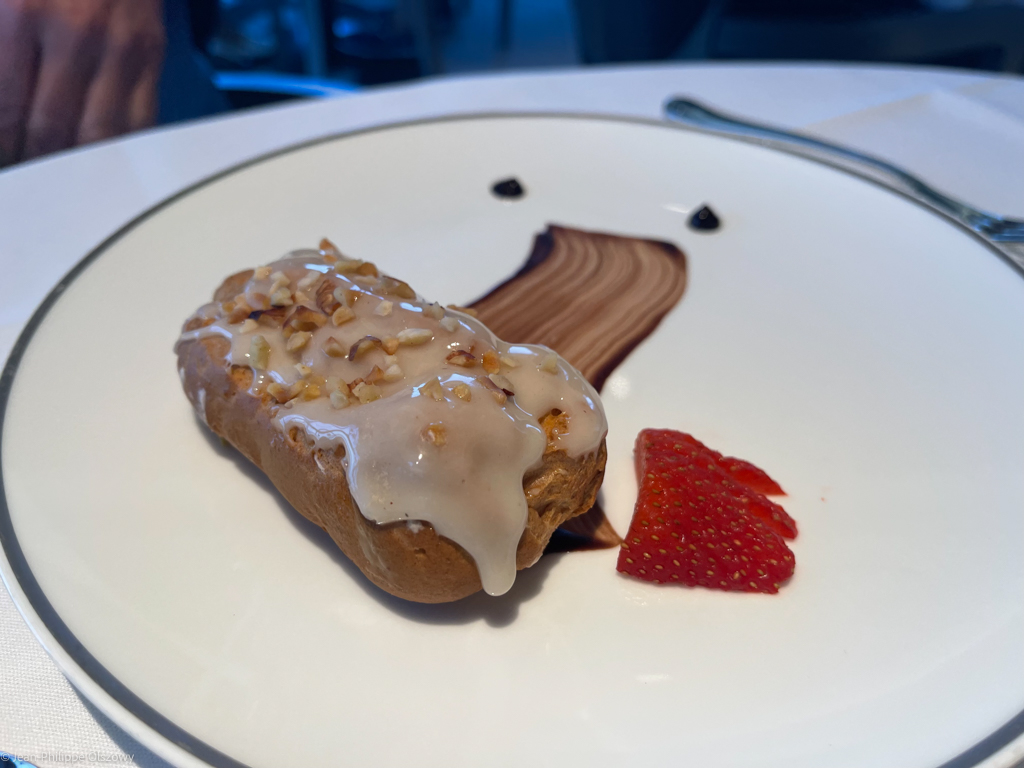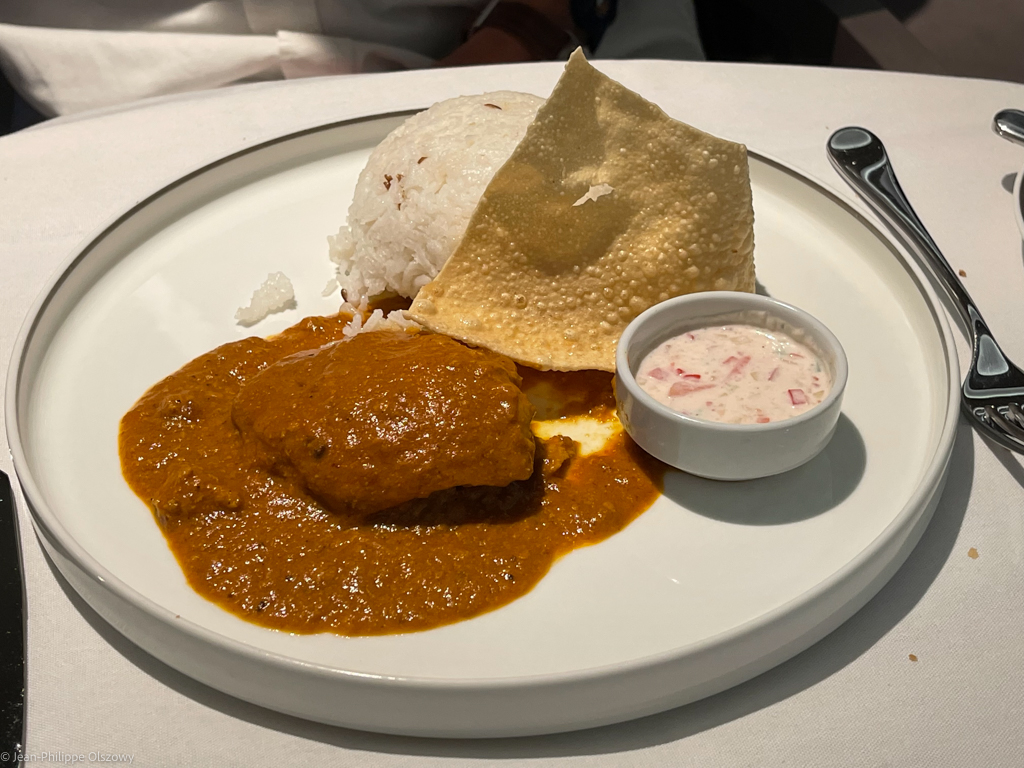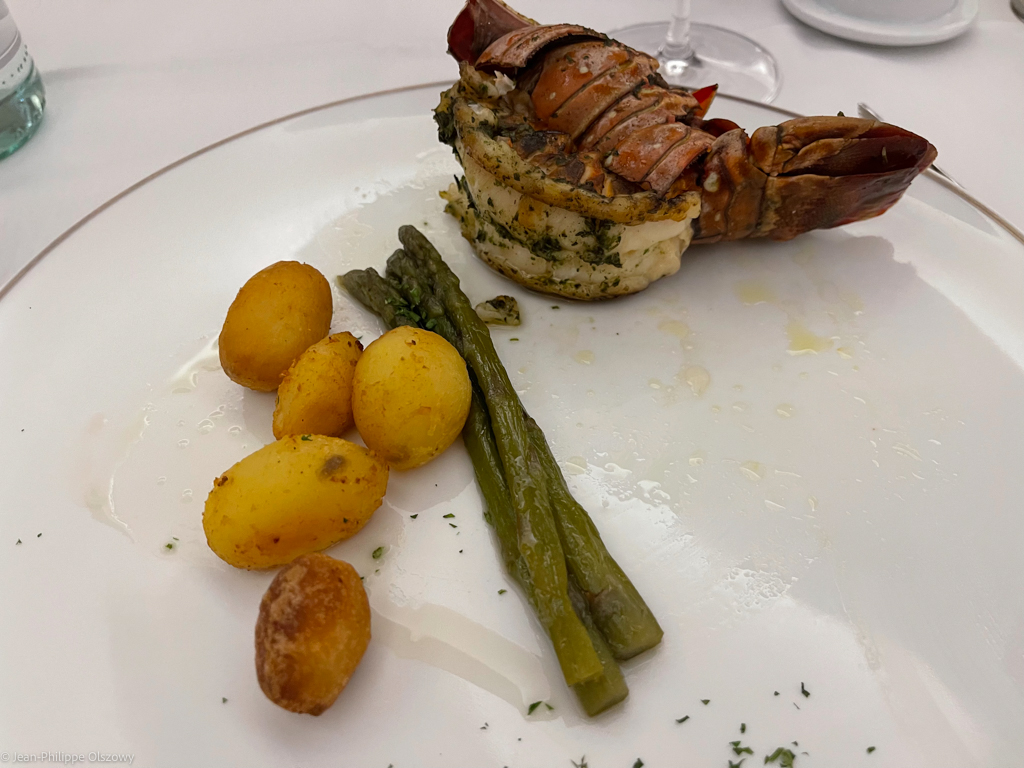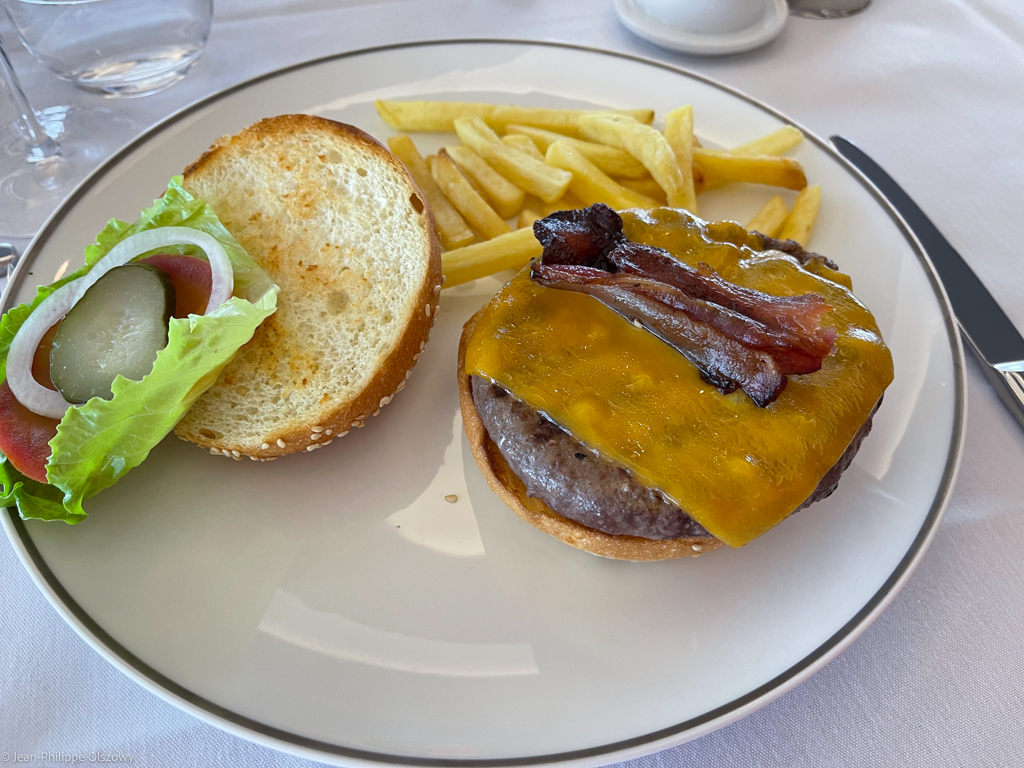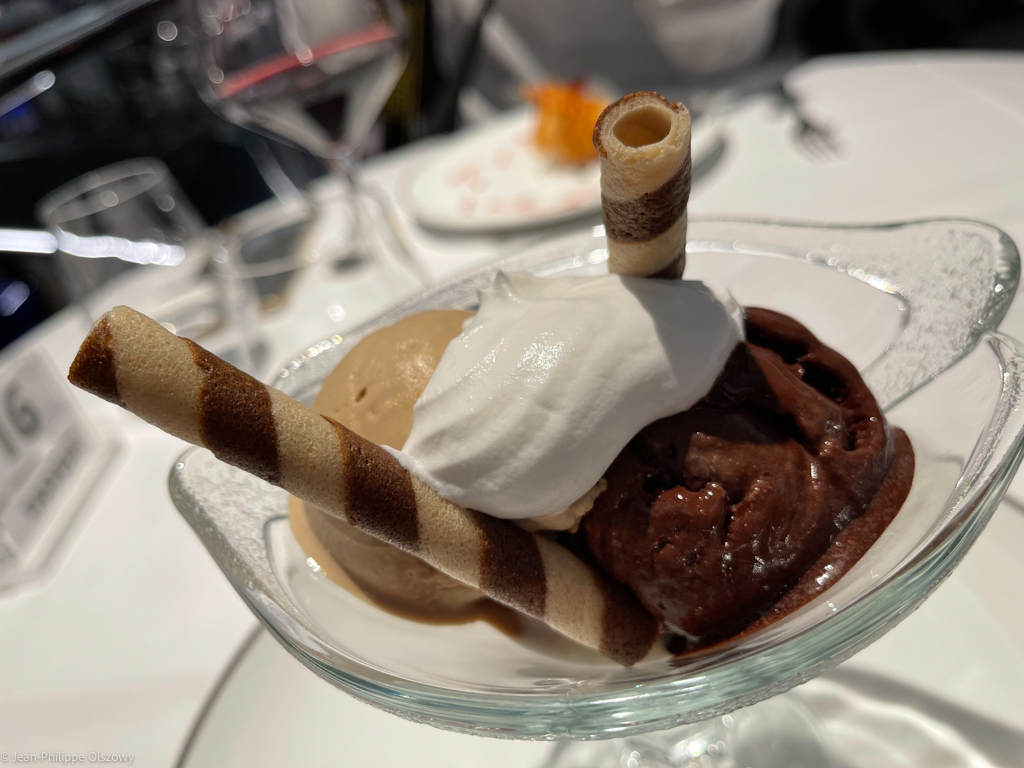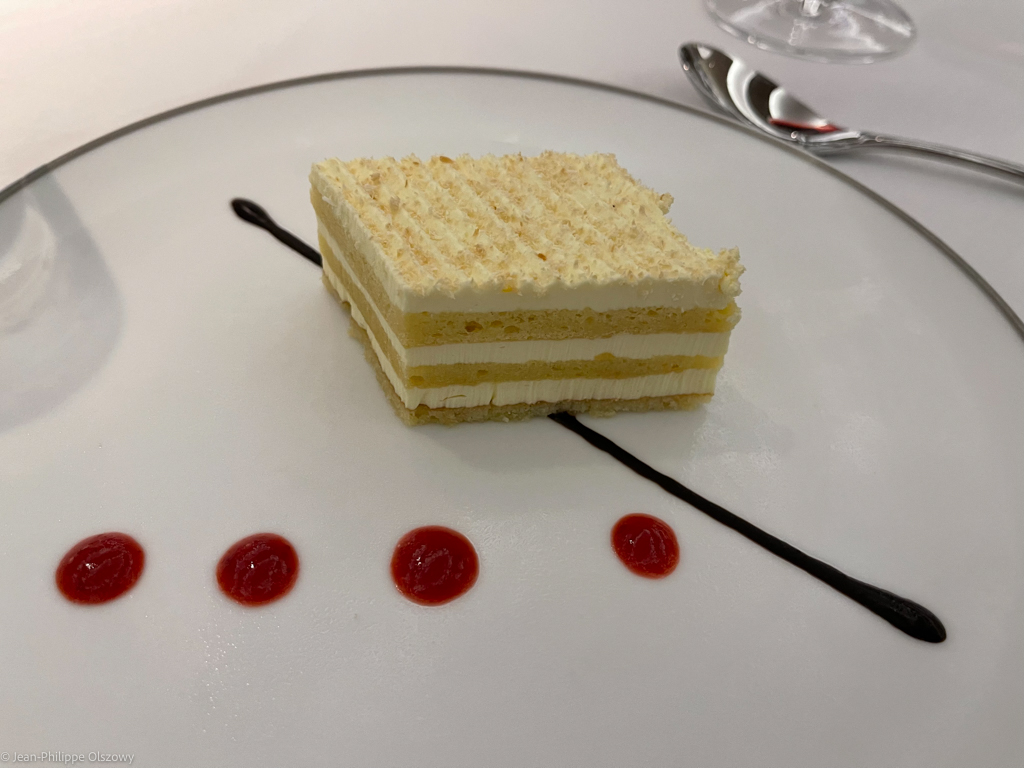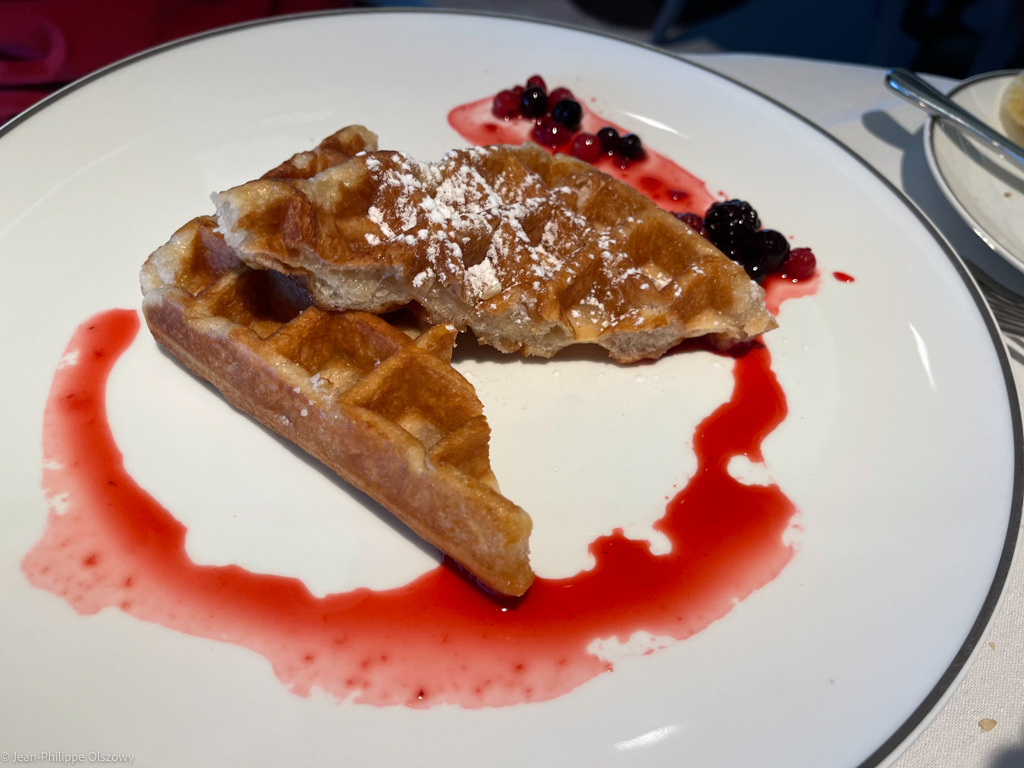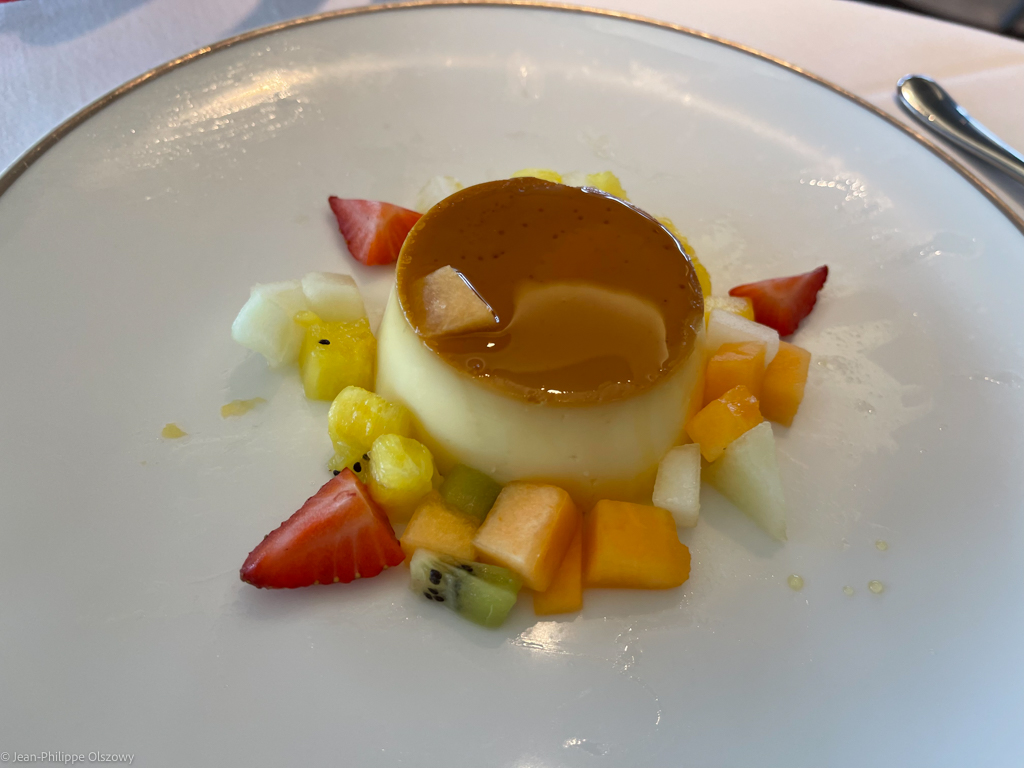 The price
Undeniably, it is at the level of the price that the weaknesses of the Yacht Club must be put into perspective. Even if the equivalents of this private part at the competition (like the Haven at Norwegian or the Retreat at Celebrity for example) are far above what MSC offers, it is most of the time for a price 3 or 4 times higher. So obviously, it's difficult to push the comparison to the bottom, because if the Yacht Club loses in front of its competitors, it is on the contrary its competitors who lose in terms of price! Finally, the YC, like MSC, remains in a low cost segment. It makes, after all, the MSC experience more bearable from my point of view, avoiding at least the hyper saturated impression imposed by the "basic" version of MSC cruises. However, MSC's chronic inability to run a flawless organization remains a real problem. Used to Anglo-Saxon rigor, I still don't get used to this permanent amateurism in the organization. And that does not mean that the staff are not pleasant, on the contrary! But even they seem to tire of having to deal with the weaknesses of their company.
For a week on the Seashore, in a Yacht Club, I paid € 2,049, an all-inclusive offer. I only wanted to improve my internet connection by going from the "browse" version (included in the price of the YC) which is officially limited to consulting web pages, without video, to the surf version, which promises the possibility of consulting services like Netflix, for 83 € per week. Of course, my purchase, paid in advance, did not work on the ship and I had to call the concierge to manage to trigger it (by buying it back and then getting it reimbursed). Unfortunately, the internet speed to be shared among the large numbers of passengers is very limited. The worst moment is when the ship leaves a port of call and the phones lose their 4G … everyone switches to the ship's wifi … which crumbles irreparably, for the rest of the evening. We find a little flow in the night, late. This allows you to send or receive messages, to painfully post a few photos on your accounts on social networks … as for watching or posting videos, it was never possible this week.
If I had to go on an MSC cruise again, it would have to be in the Yacht Club, to eliminate a little the totally saturated part of these cruises. MSC would really have to come up with an exceptional or unusual itinerary for that to happen. This is not planned at the moment! MSC, like Costa, are positioned in a "low cost" segment in the world of cruises. This offers the possibility of going on an adventure with a fairly reasonable budget. Overall, the concept results in poor service, although the crew members, with rare exceptions, are very friendly and dedicated.
Bonus
For anyone interested in cruises (not limited to MSC and Costa!), The Mediterranean in 2021 is a place where you could see a lot of ships, which were often not in service … Regent's ships Seven Seas deserves a lick of paint (especially for this ultra luxury company!). Seabourn's next exploration vessel was nearing completion in Genoa (Seabourn Venture).