It's been years that I cruising around the world with serveral cruise companies and diverse ships. Quite a significant experience, with some less convincing experiences, particularly the one with MSC cruises. This cruise company together with Costa Cruises are the major offerings for the French cruise industry.
With the pandemic and the very slow and random resumption of cruises in Europe, the idea came to me to test a company that I only knew by name and of which didn't have a great reputation. Costa Cruises was also distinguished by the sinking of its ship, the Concordia, which had seriously damaged it's brand value, and rightly so.
Long before the recovery in other countries, particularly in the United States, several cruise companies relaunched cruises in the United Kingdom, in Asia, and in Europe. Costa and MSC started cruises from Italy , with a reinforced health protocol. Recently, Italy also reopened its borders to European nationals, provided that a negative PCR test of less than 48 hours is presented at the time of entry into the country (and a form avout ones travel plans). So I took the opportunity to book a week from Civitavecchia, the cruise port near Rome.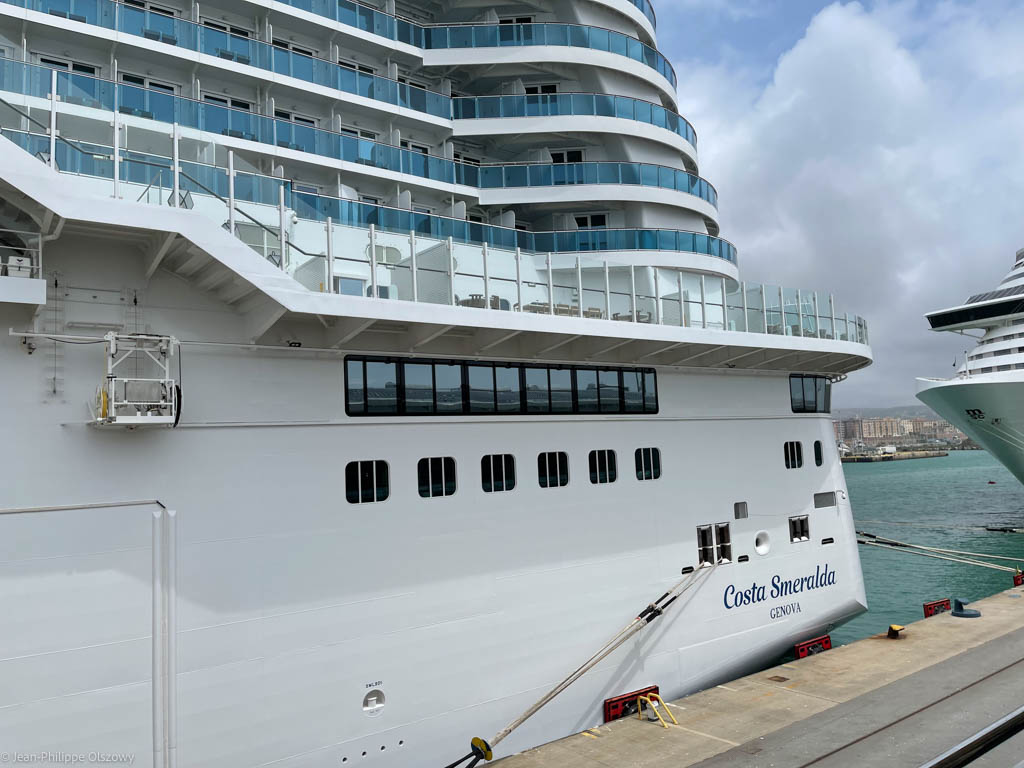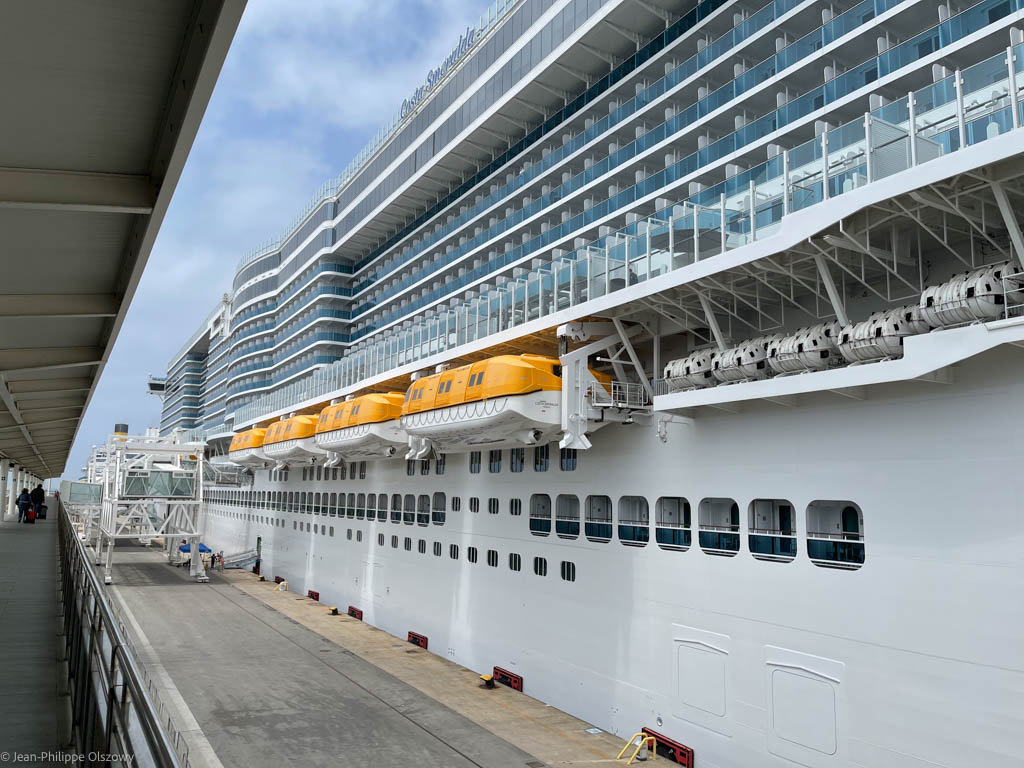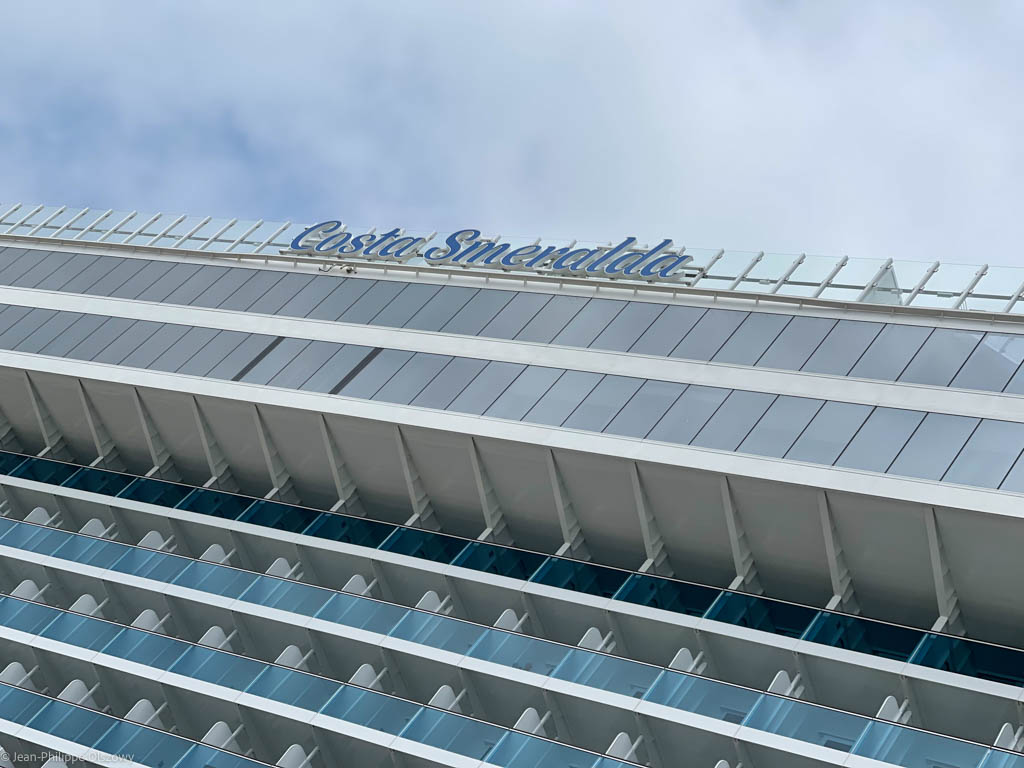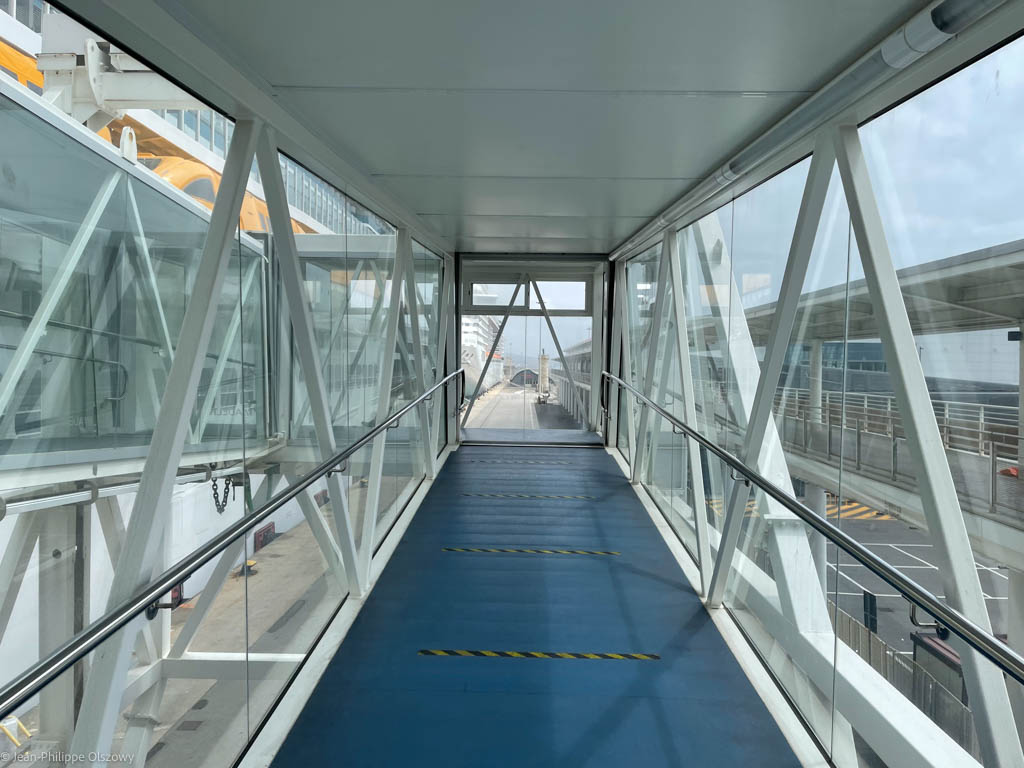 It was not any kind of ship. The Costa Smeralda is a turning point in the cruise industry. These huge ships are criticized for polluting a lot, in particular with the fumes emitted from their chimneys, due to the fuel they use (raw diesel). Recently, cruise ships powered by LNG (Liquid Natural Gas) have recently come out of the shipyards. This is the case of Costa Smeralda which distinguishes itself from its congeners by not emitting this black smoke!
Here, I am going to give you my impressions and my appreciation of this voyage, this ship and this company. To contextualize this, it is important to give the following details:
Health protocol
To get into Italy, you need to provide a negative PCR test of less than 48 hours. You also need one to get on the boat. Difficult exercise because with results generally obtained in 24 hours, and a hotel night on site before boarding, it did not work. So I did 2 tests, one for the day of the Paris-Rome flight, the other for the next day, the day of boarding.
At the port of Civitavecchia, passengers are sorted according to their country of origin. A list of twenty countries are divided into 3 colors. People from the countries in green are entitled to a quick test (15 minutes). If it is negative, boarding is authorized immediately. This is the case for Italy, the overwhelming majority of the passengers. For countries in orange (like France, currently), this is a standard PCR test. The result is however delivered relatively quickly (approximately 2 to 3 hours). The passengers, after a nasopharyngeal swab, are isolated in a lounge. They are offered a lunch box to wait. The deadline is met. Tested around 11:30 am, I was able to embark a little before 2:00 pm. I did not know what was planned for the countries in red … the list was not public, I just saw it from afar.
Another PCR test is performed at mid-cruise. Passengers are invited the morning of the 4th day. Something is stuck in the nose again! The result will not be communicated to me. So I would assume it was negative!
At the end of May 2021, wearing a mask is compulsory everywhere, including in outdoor spaces. The only exceptions are in your cabin, and when you are seated at the table to eat or you are having a drink. Even moving from ones table to the bar for an order requires putting on a mask. I even got called to order by a waitress when I was seated and had just finished a coffee: she asked me to put my mask back on since I was done.
People who try, especially outside, to free themselves from this obligation are quickly caught up by the crew members and must put on their masks, even if some try to negotiate … Wearing a mask under the nose is also fought effectively.
It is also required to apply social distancing with the other passengers, and, without being certain, one had to stay within his group, without being able to mix with other groups. This was the case for the tables at the different meals. Many tables and chairs, as well as places in the various bars and lounges are neutralized with a sign in the shape of a cross. A free place, a neutralized place. You can deviate from this rule to stay in a group … but only within your group. Cleaners regularly come and disinfect tables and seats as soon as people leave.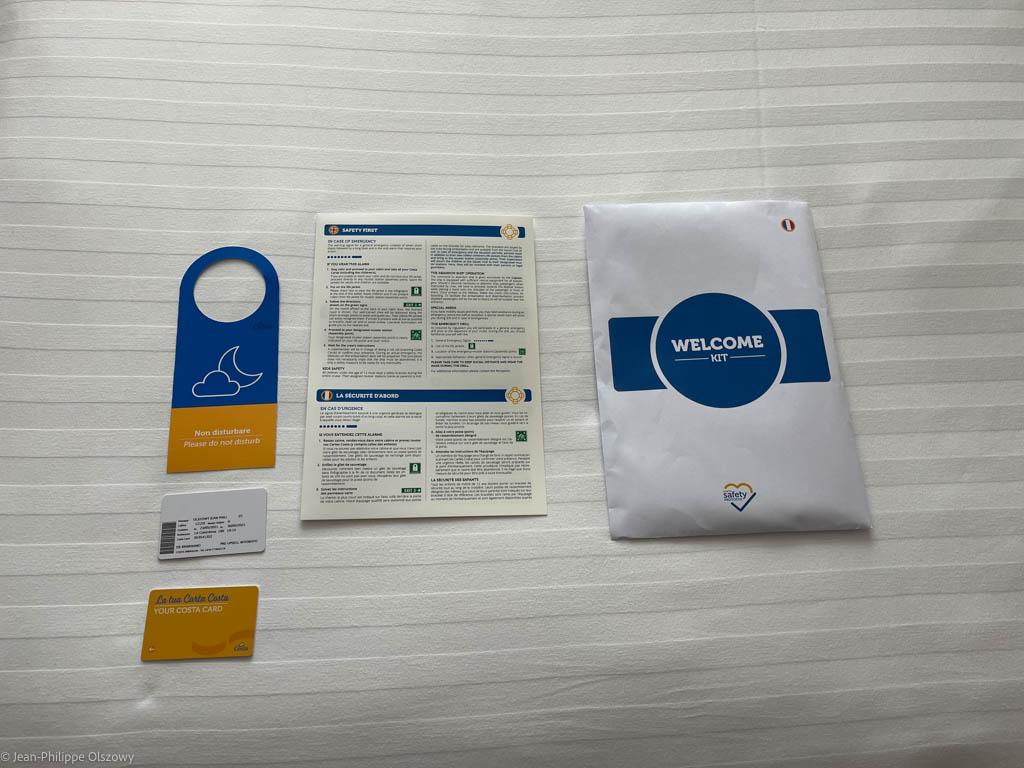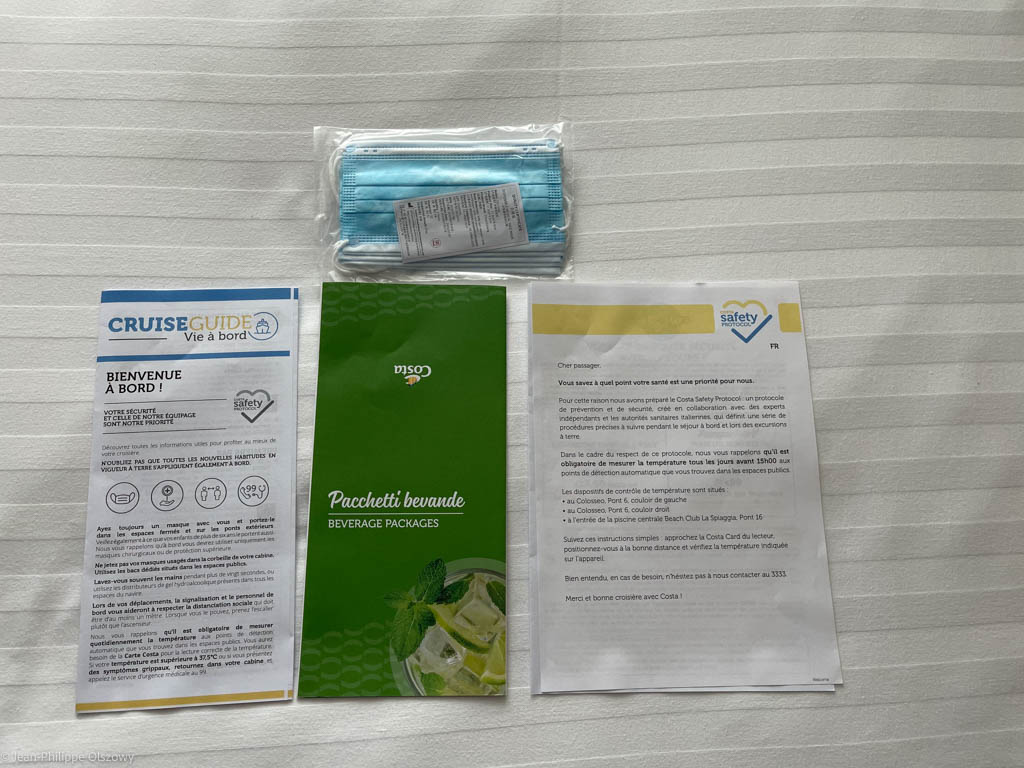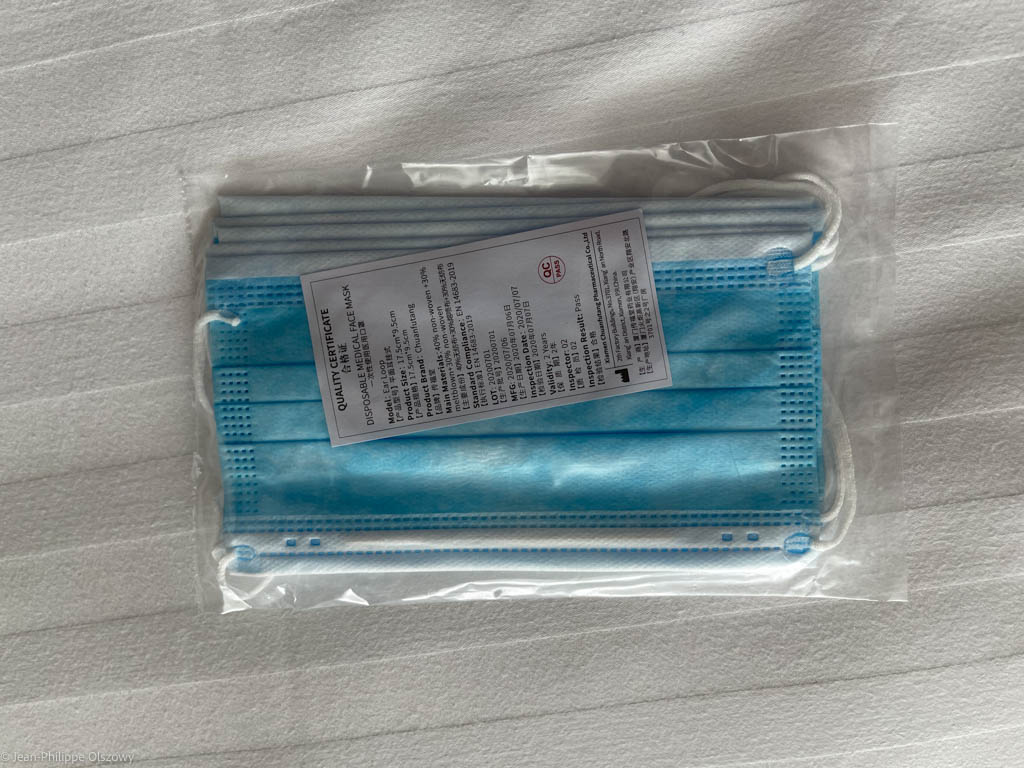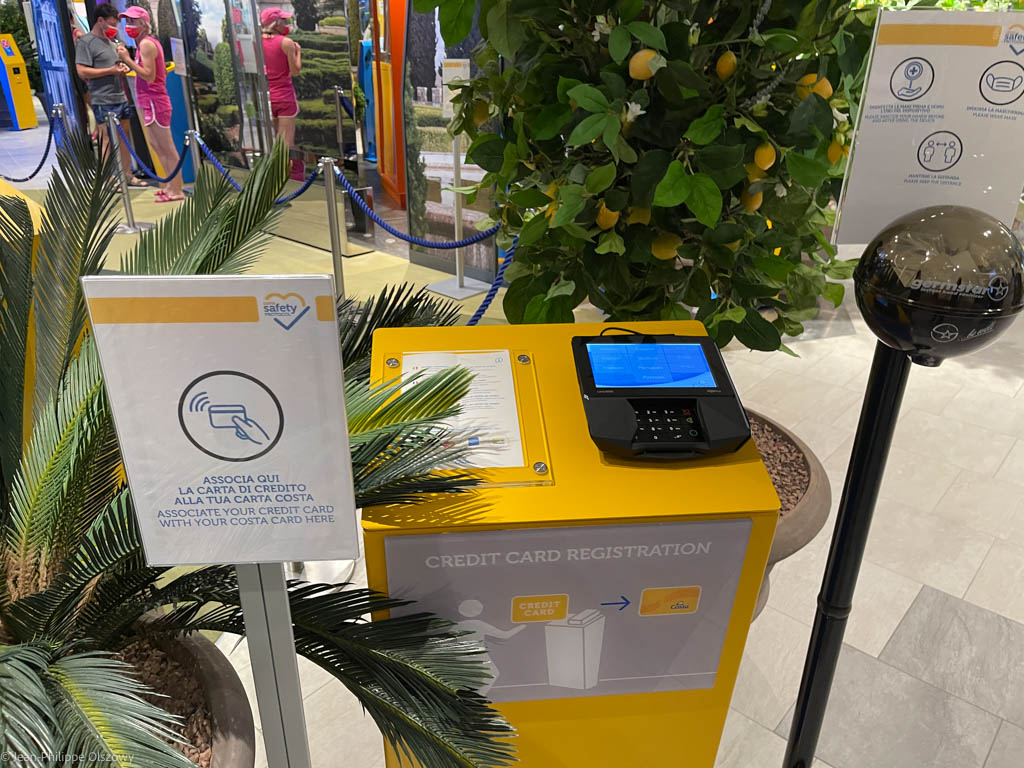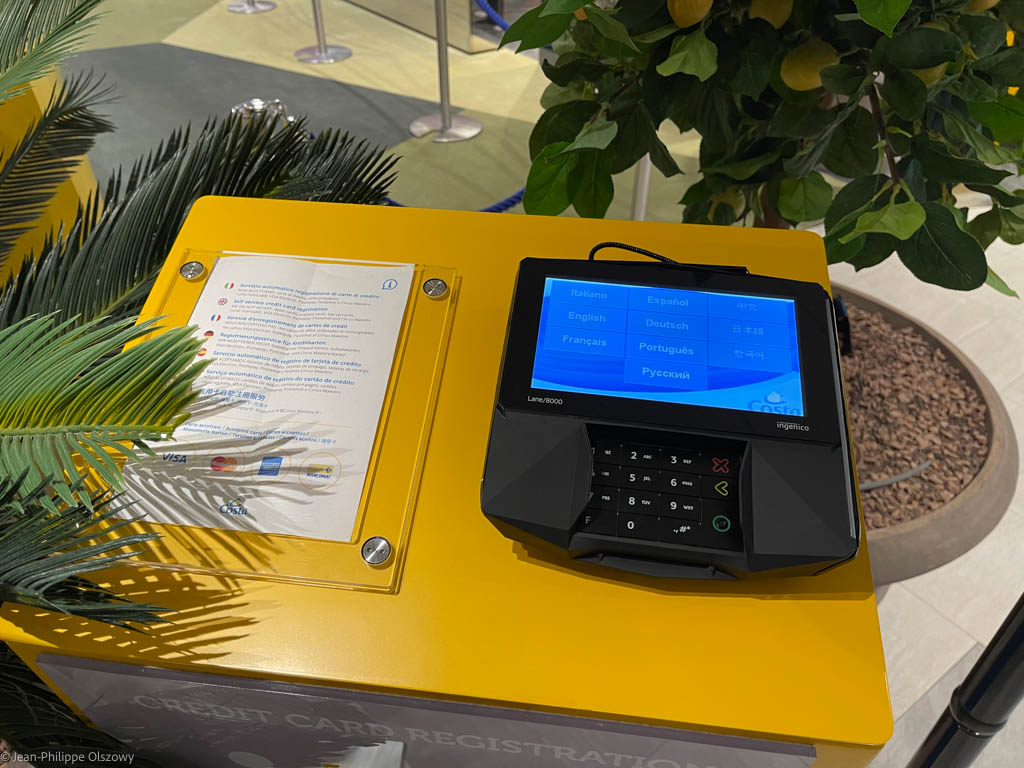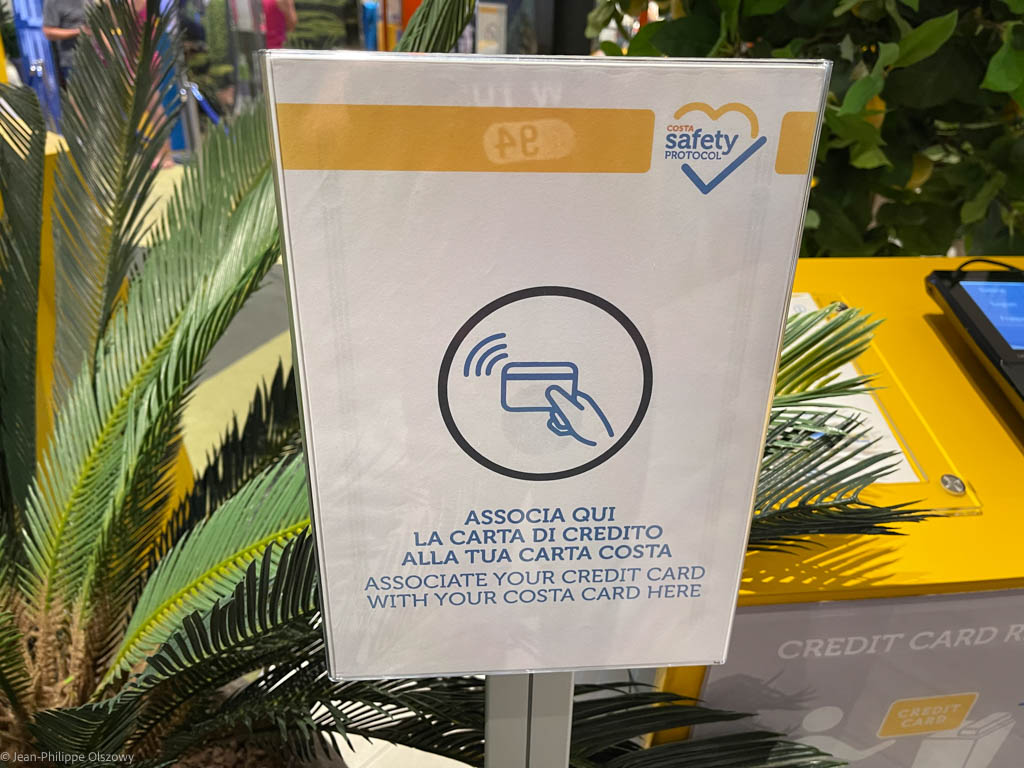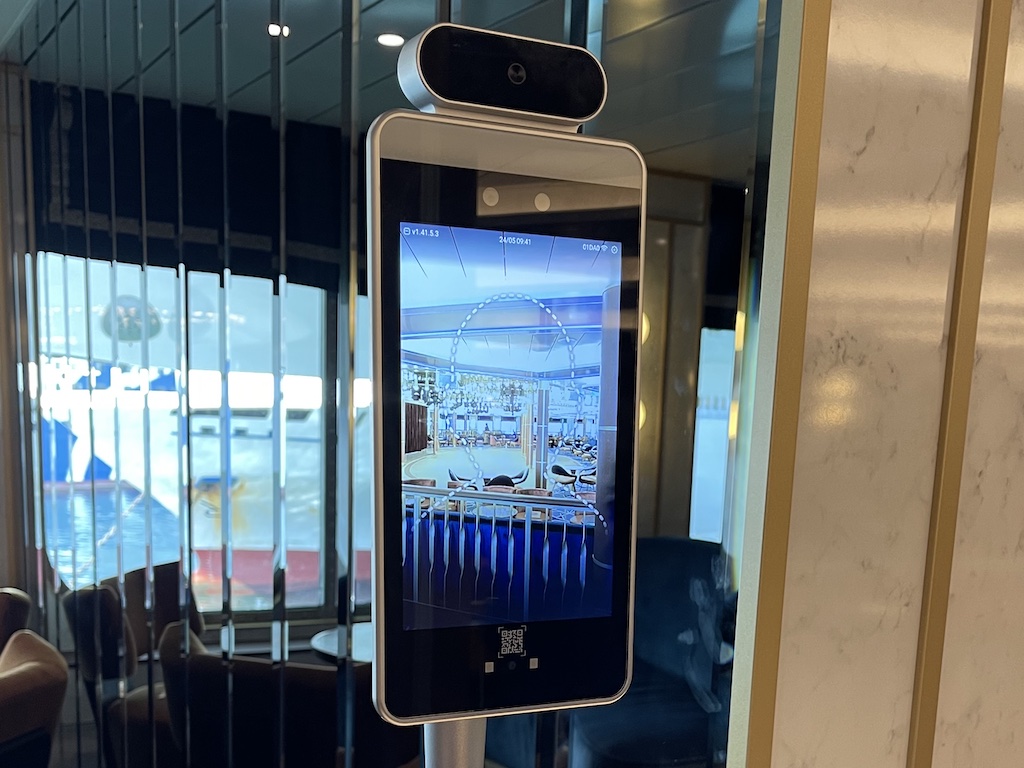 The keycard, a magic card that is used for everything on the boat, was in my cabin, which remained open until my arrival. I also found a certain number of explanatory documents, as well as some masks (5 for the week, for 2 people). If we run out of masks, we can have others, by paying them. The protocol seems to have eliminated a lot of physical exchanges, such as the handing over of this card which was not usually done before getting on the boat. Ditto for giving your bank card and linking it to your on-board account: machines are there for that. You swipe your keycard and insert your bank card, to enter your code and indicate which passengers in the cabin have their expenses also covered. In this transaction, no one other than you touched your cards.
Hydroalcoholic gel dispensers are everywhere on the boat. The crew members are there to regularly offer to use it. As soon as there is something to do, like using an automat or touching a screen, there is a gel dispenser next to it.
You are also required to take your temperature once a day, before 3 p.m. To do this, screens with temperature sensors are scattered all over the boat. You have to bring your head closer so that your face fits into the frame displayed on the screen, while presenting at the bottom of the screen the bar code located on the back of your keycard. A synchronization exercise that seems to be a problem for a few people … but overall it's quick and efficient. If you forget to comply with this daily exercise, you will find a written reminder at the end of the day, left at the door of your cabin, asking you to help the company by not forgetting to take your temperature every day, on time. .
Costa also offers to do a PCR test on demand. Very useful for returning to France, especially when you have no other means and you take the plane the same day the cruise ends. All you have to do is make an appointment at the reception, giving you a time slot to go to the infirmary. The result of the test carried out in the morning is available at the end of the day. An official document is given to the passenger, as a proof that the test was undergone and its result. This service is billed 40 € per test.
The procedure for leaving the boat does not really have any specificity linked to the sanitary protocol. The exits are spread out over time so that there is no crowd in the terminal. Luggage is collected at night and dropped off in the terminal hall, color coded, as it is unsually done with most cruise lines.
The Ship
Launched in December 2019, the Costa Smeralda has the distinguishing feature of being powered by LNG (Liquefied Natural Gas). A much-awaited development in the world of cruises to reduce the pollution generated by the smokestacks of these ships, by avoiding the emission of sulfur dioxide.
The state of the vessel is impeccable. It is true that since its launch, it has not been overexploited, and has so far spent the majority of its short life without passengers. Being on board with only 25% of its cruise passenger capacity also provides a rare experience that avoids the well-known impression of saturation. There was room to settle down everywhere. And the imposed social distancing meant that the closest neighbors, when there were any, were a significant distance away. The stock of deckchairs stacked in a few places on the ship was nonetheless there to recall a reality that will soon be back.
There are 4 pools, 3 outside, relatively small, and one inside. It is not easy to enjoy it quietly, as families have taken up permanent residence there, with the exception of early mornings or late afternoons. But I was surprised by the relatively early closure of the outdoor pools, unlike what I'm used to with other companies. Some evenings the pool was covered with a net from 5 p.m. The water slides even officially closed at 4:30 p.m., very different from the 10 p.m. or more that can be found in the competition.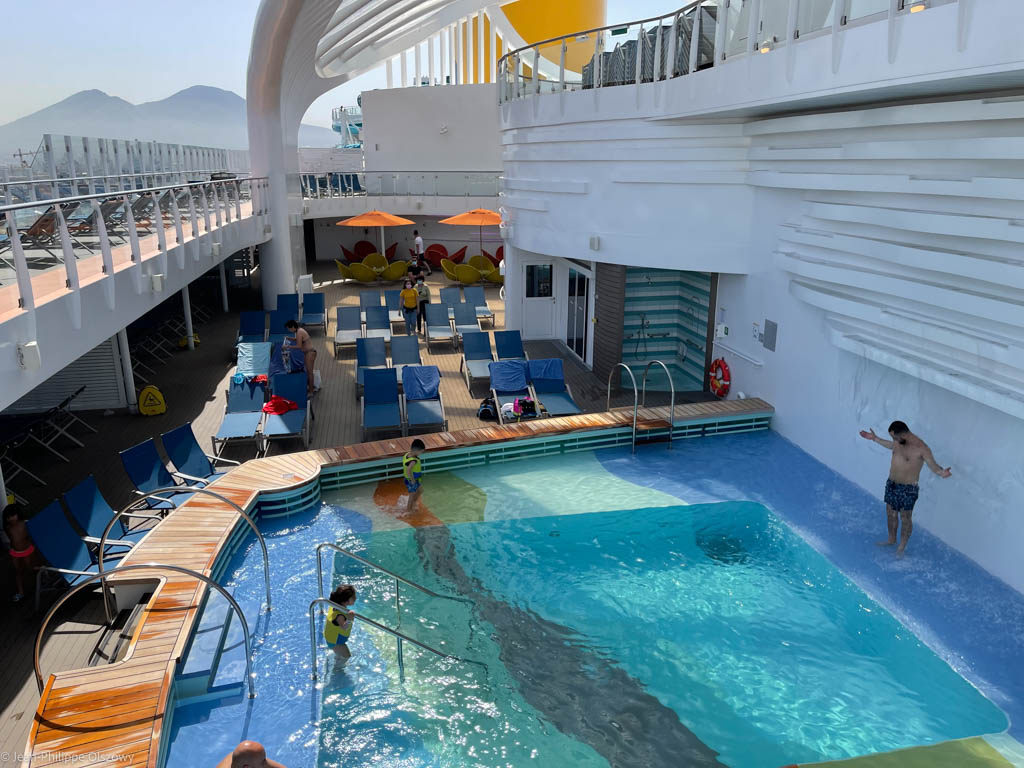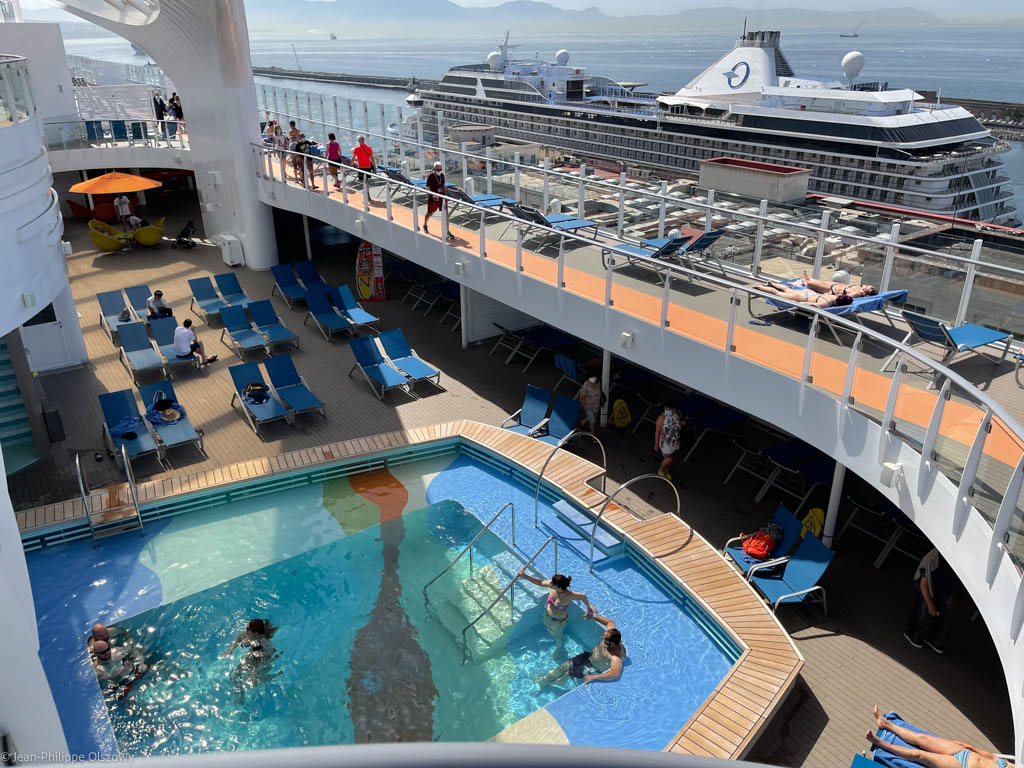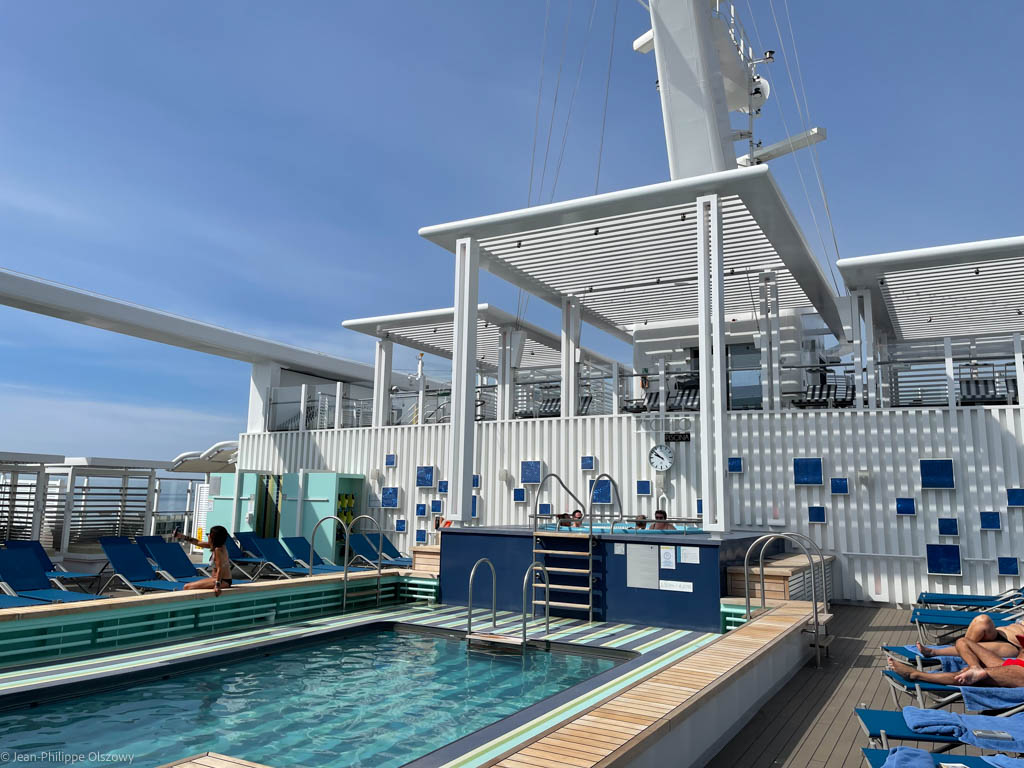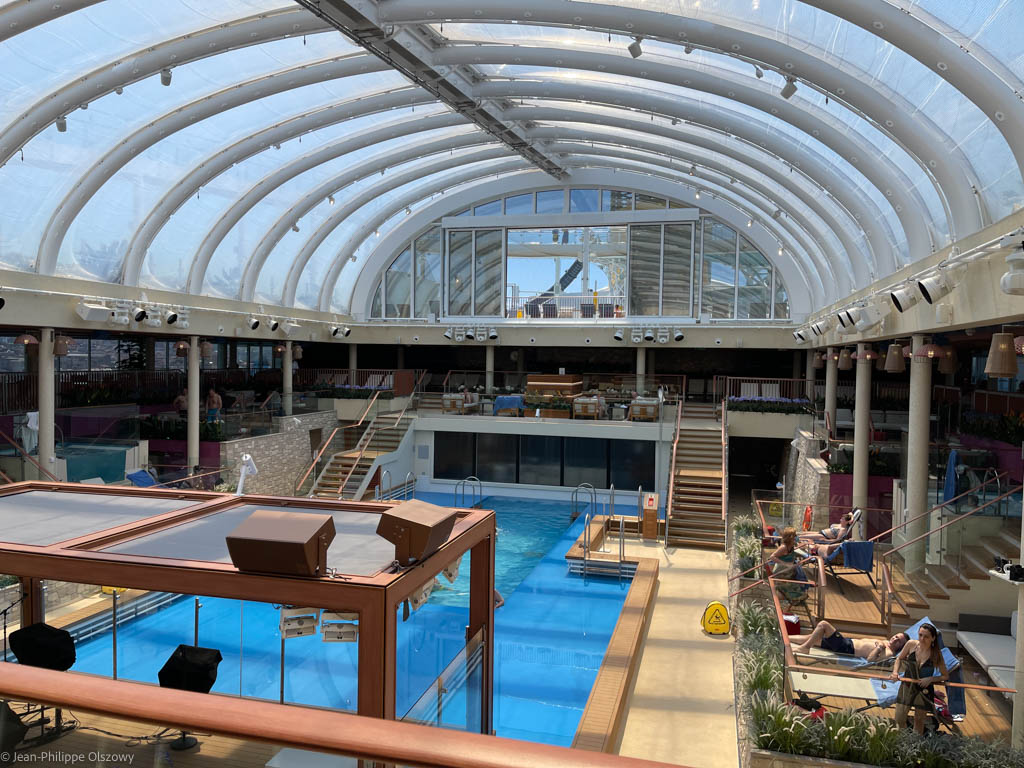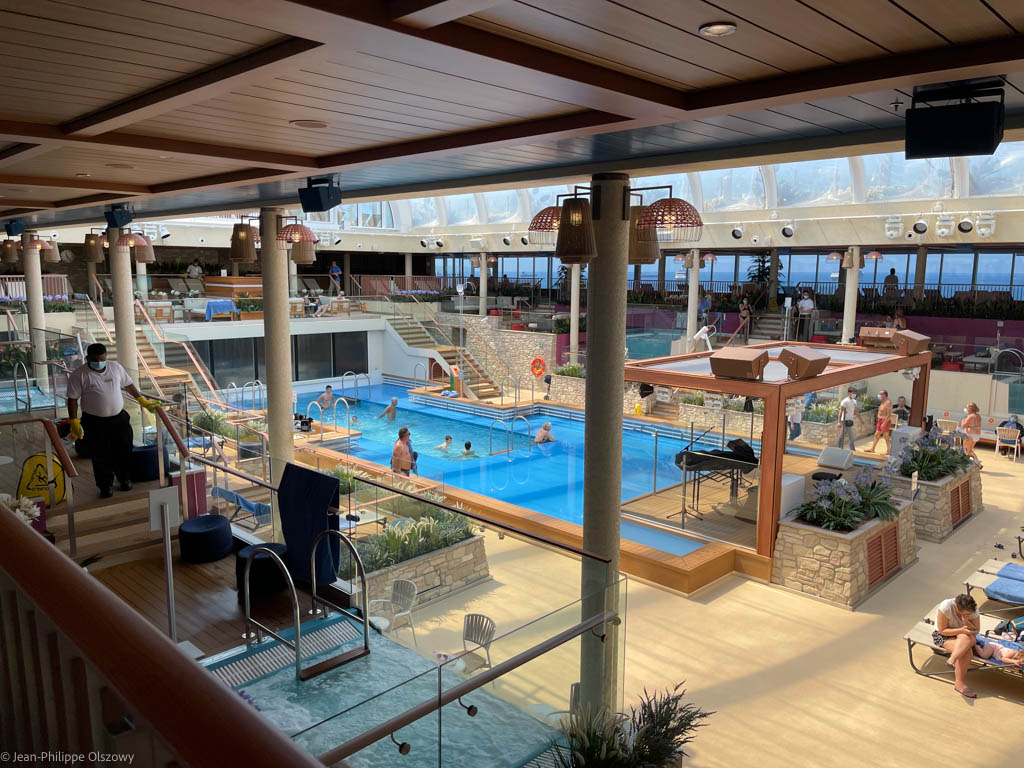 The indoor pool is in the middle of a two-story complex, where there are snack / bar areas (which open relatively late in the day, but remain open until late in the evening). At one end of this swimming pool there is a stage, and above a DJ station … the rhythmic music resonates loudly in this hall, covering the shoutings of the children who throw themselves into the water. Thus, there too, there were not many people. Only the jacuzzis perched on the sides remained tirelessly occupied.
The upper deck offers a short jogging track. It is difficult to use during the day, as on most cruise ships, because a lot of passengers walk on it without paying attention, not to mention some people who simply move their deckchair across the path to sunbathe. As with swimming pools, you can try your luck early in the morning or at the end of the day, it's quieter.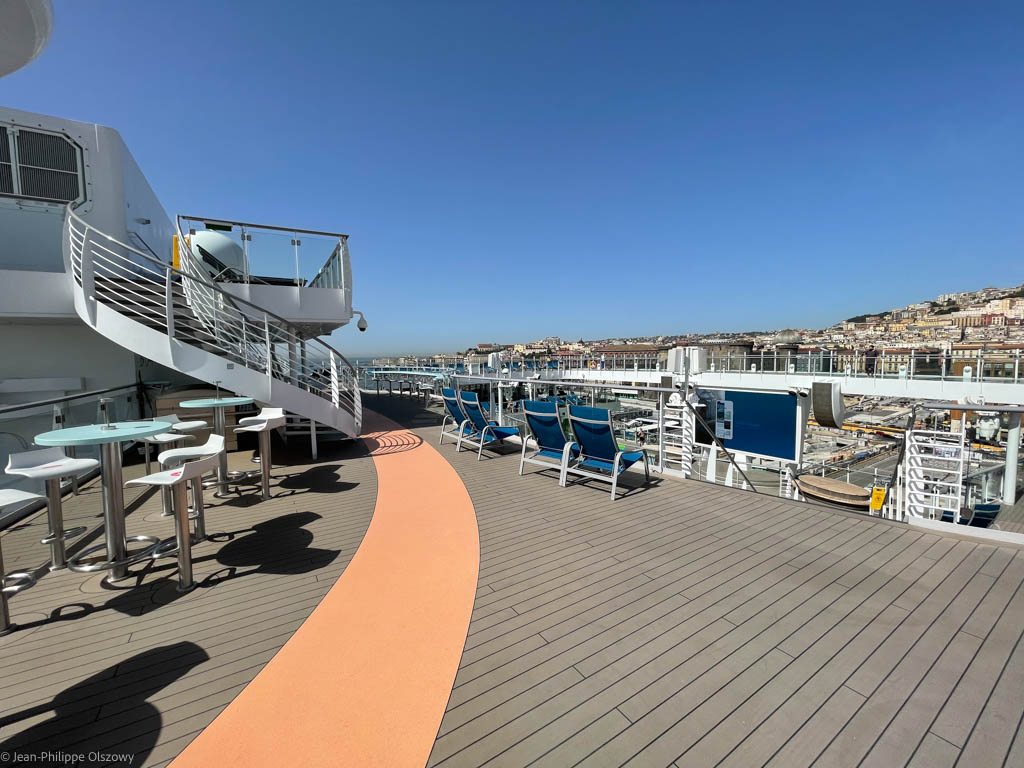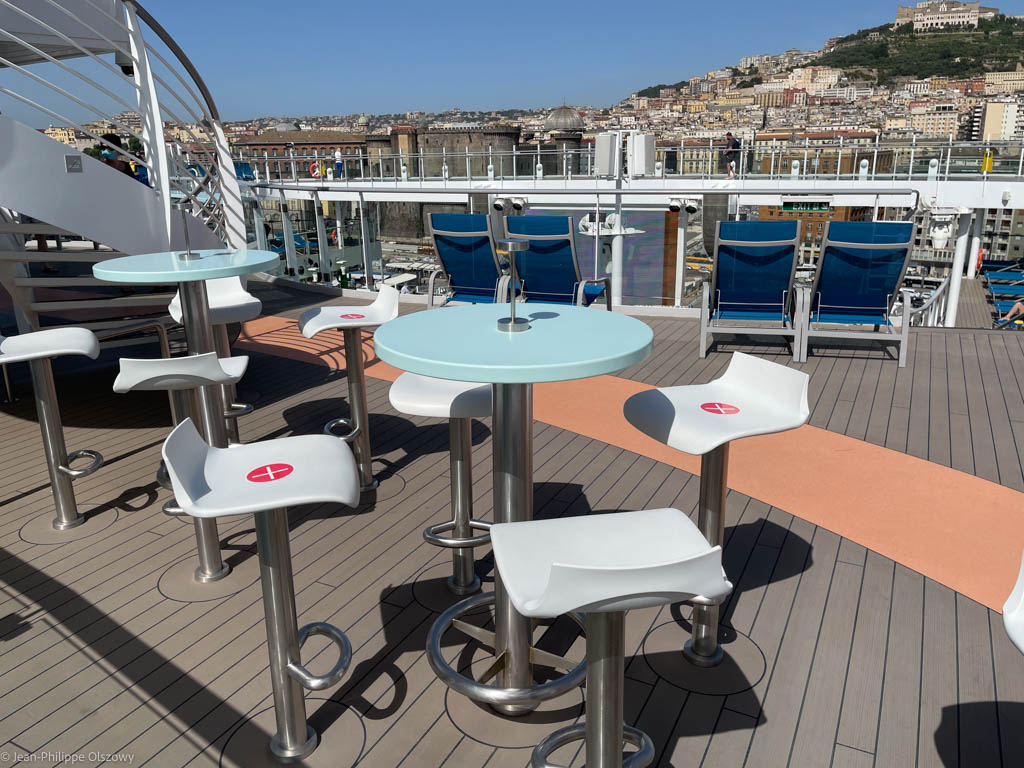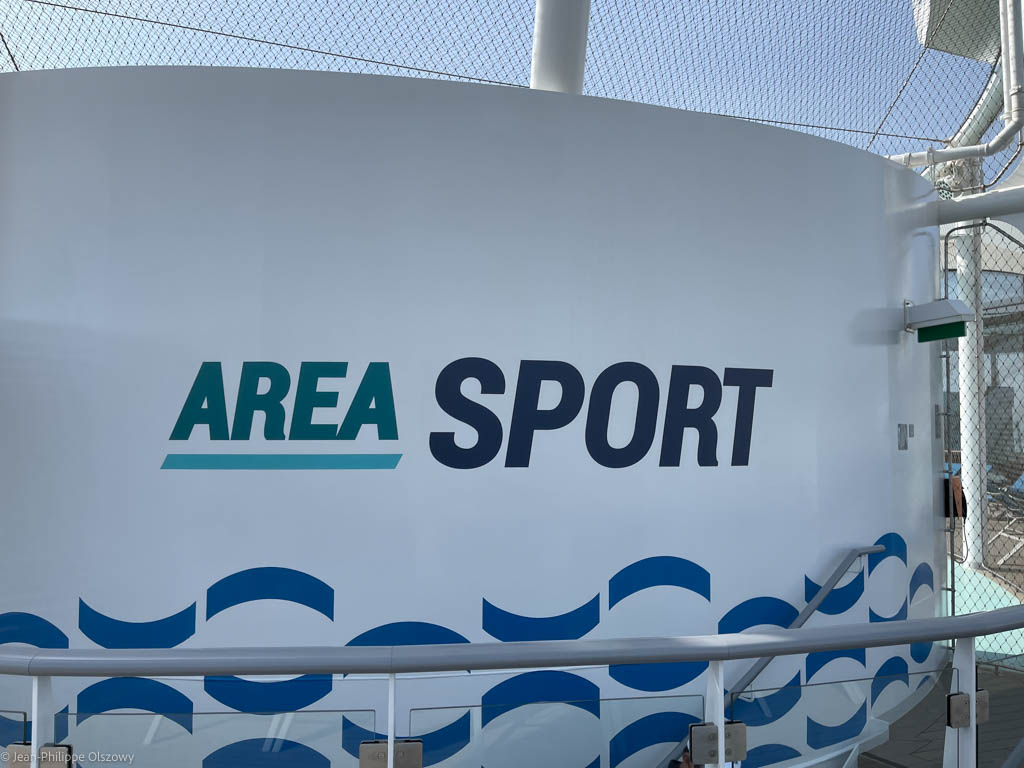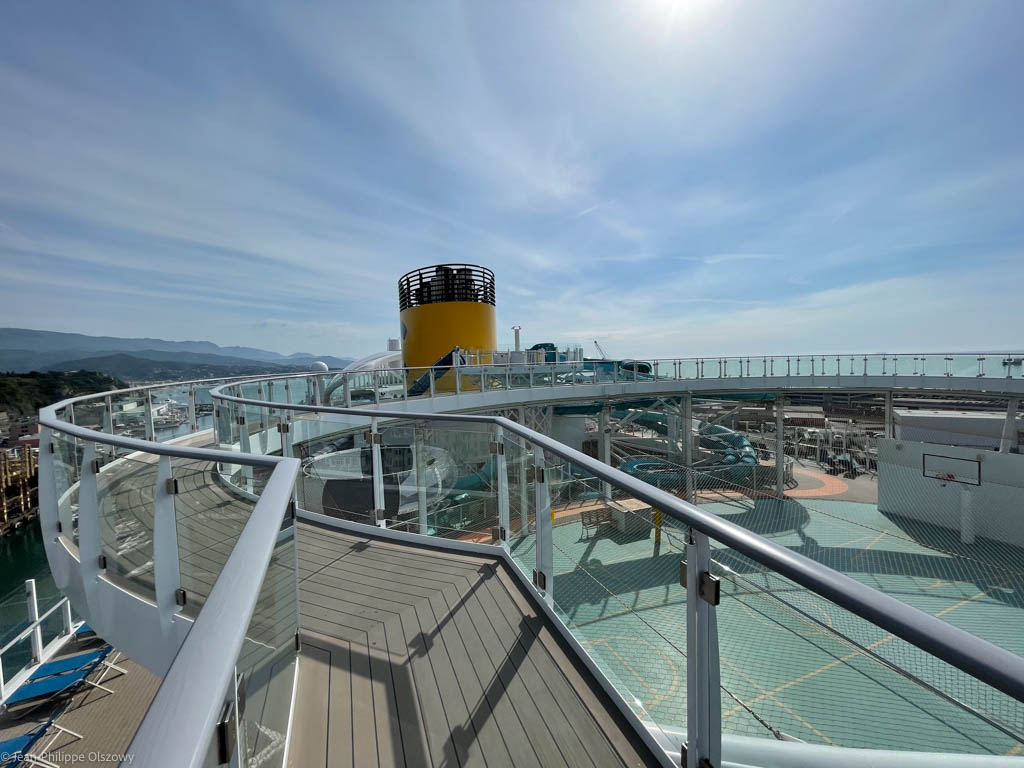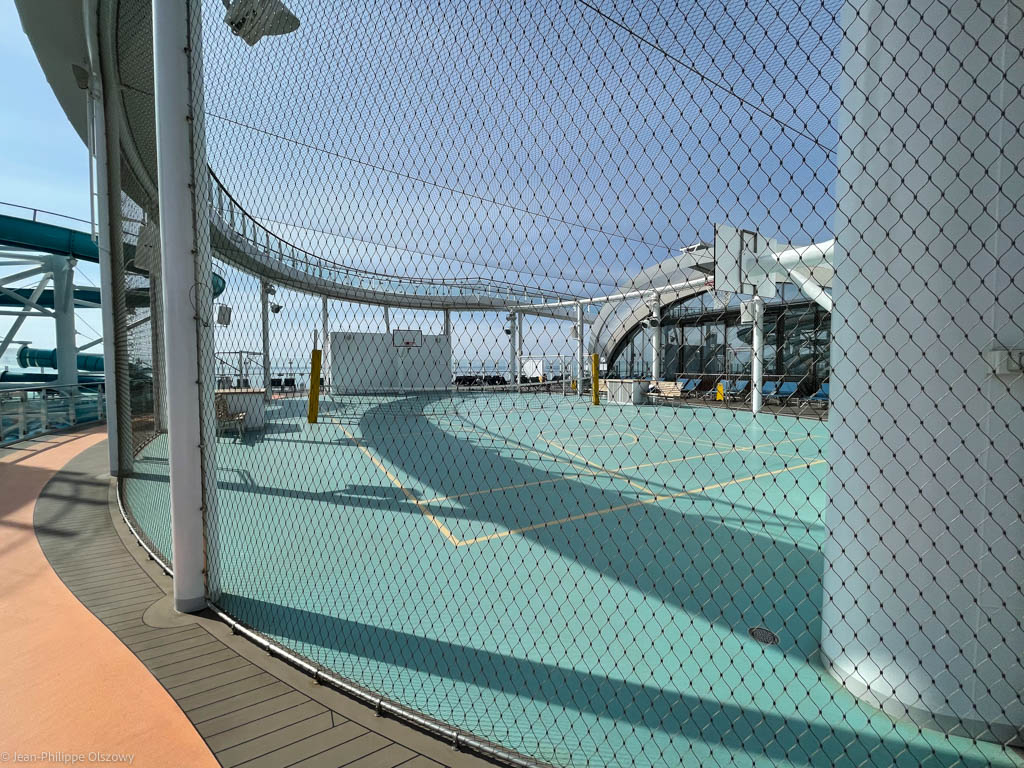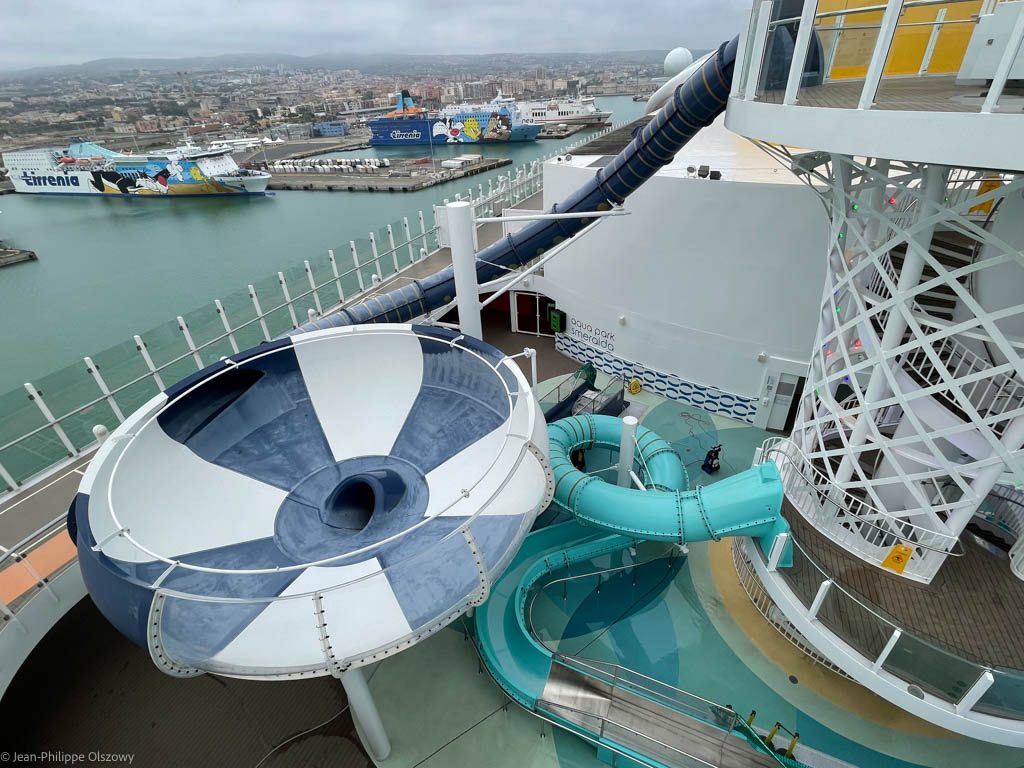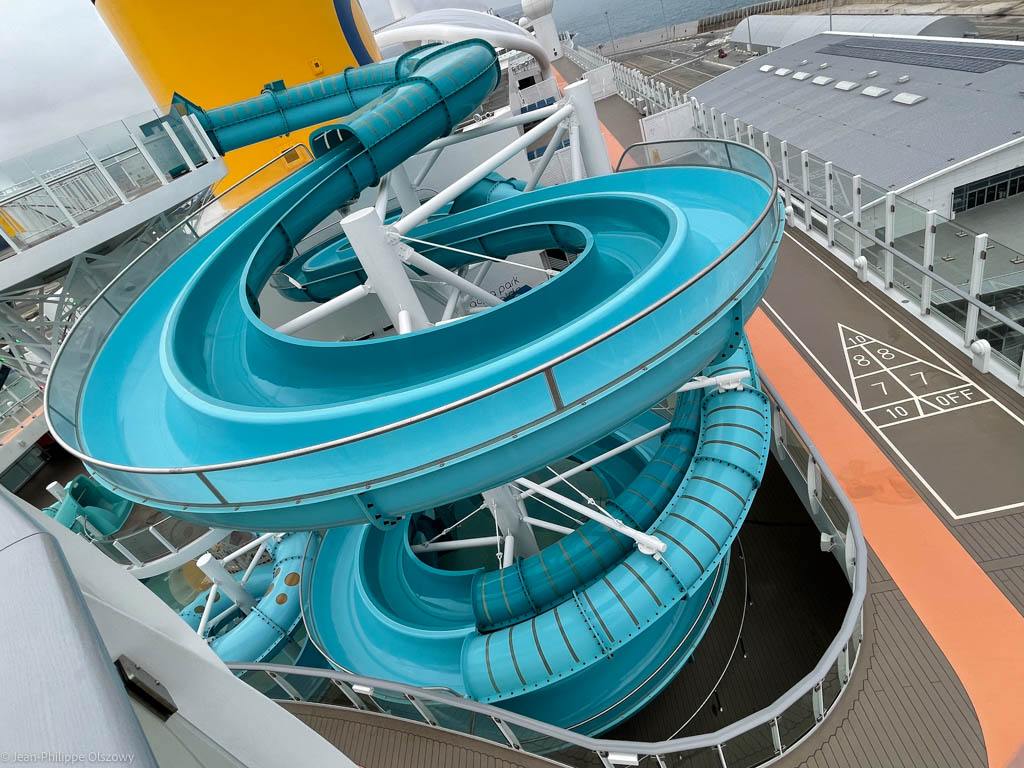 A multisport field allows young people to play basketball. A tennis game was also organized there. An elevated passage (Passeggiata Volare) allows you to oversee the area and gives you a panoramic view of the surroundings. At the front of the ship, an area seems quieter, around the so-called "Private" area. Much less people there, but it is protected from the sun so it is less of interest to people who come to sunbathe. This is where we meet passengers reading, listening to music or sleeping, sheltered from UV rays.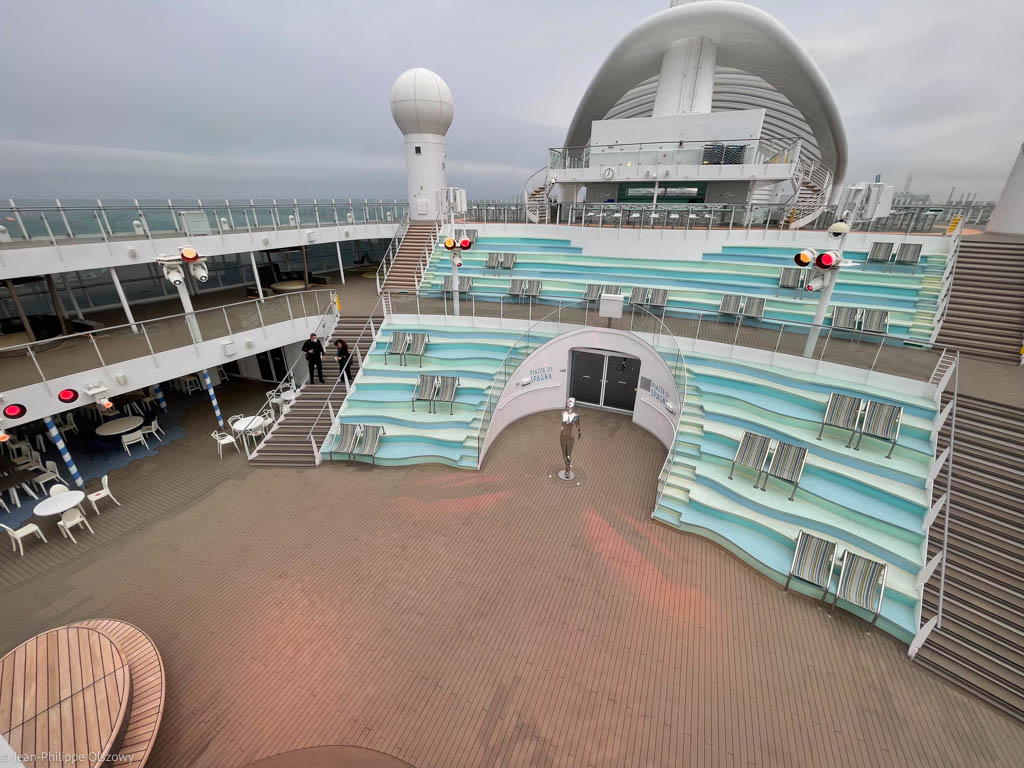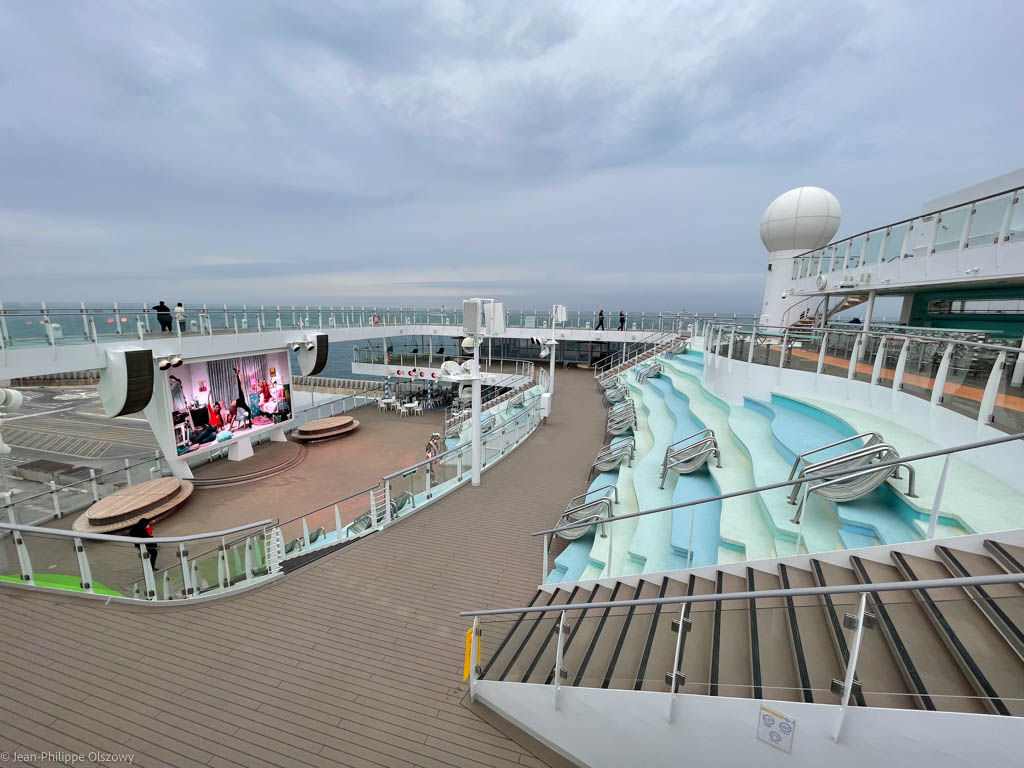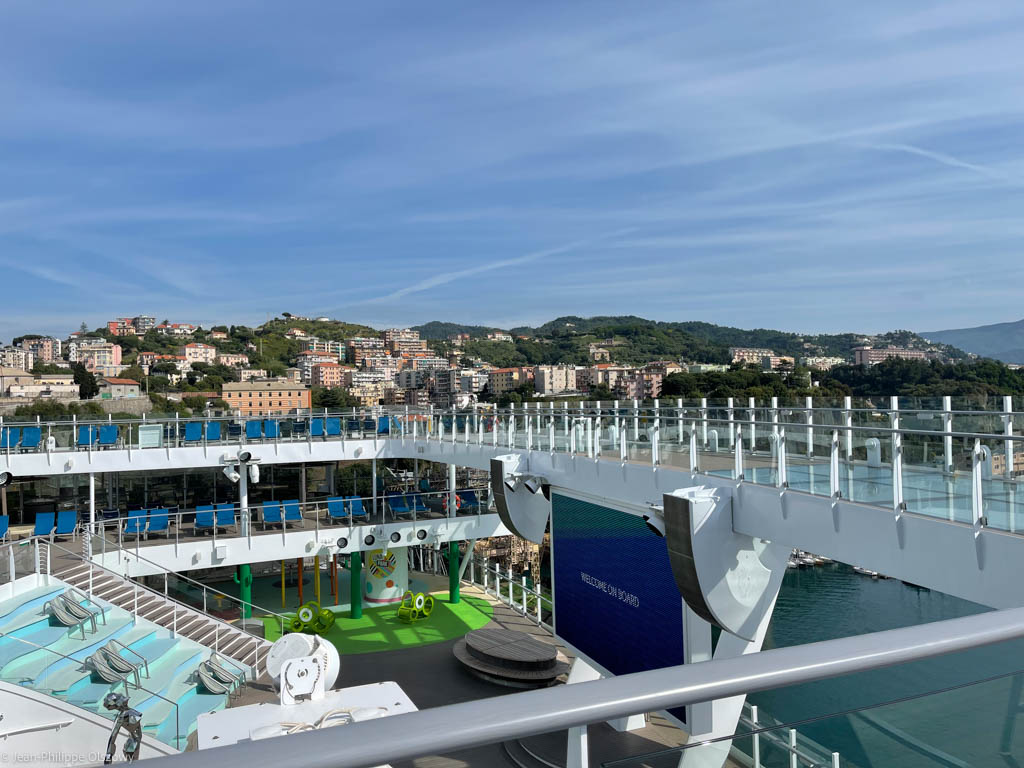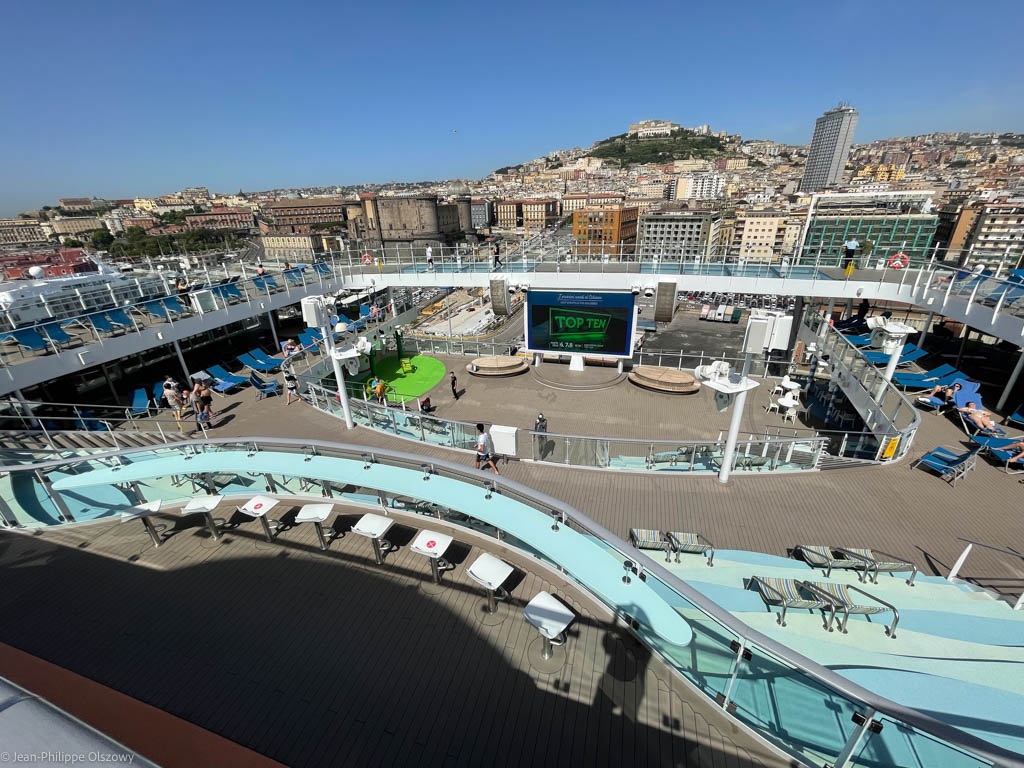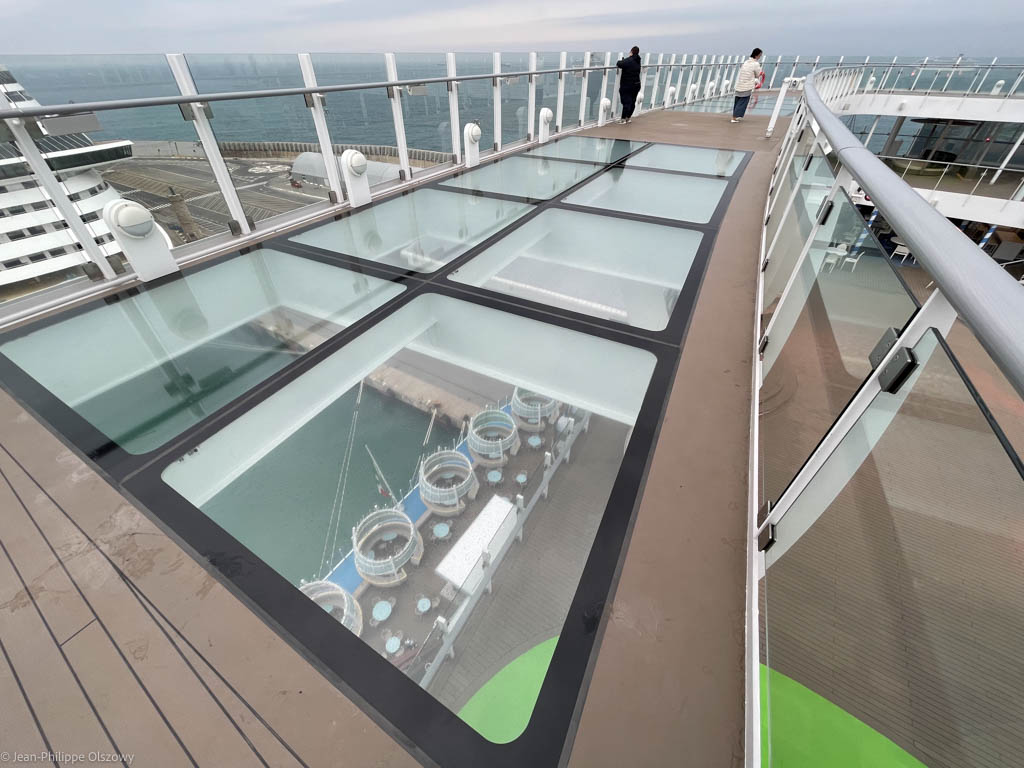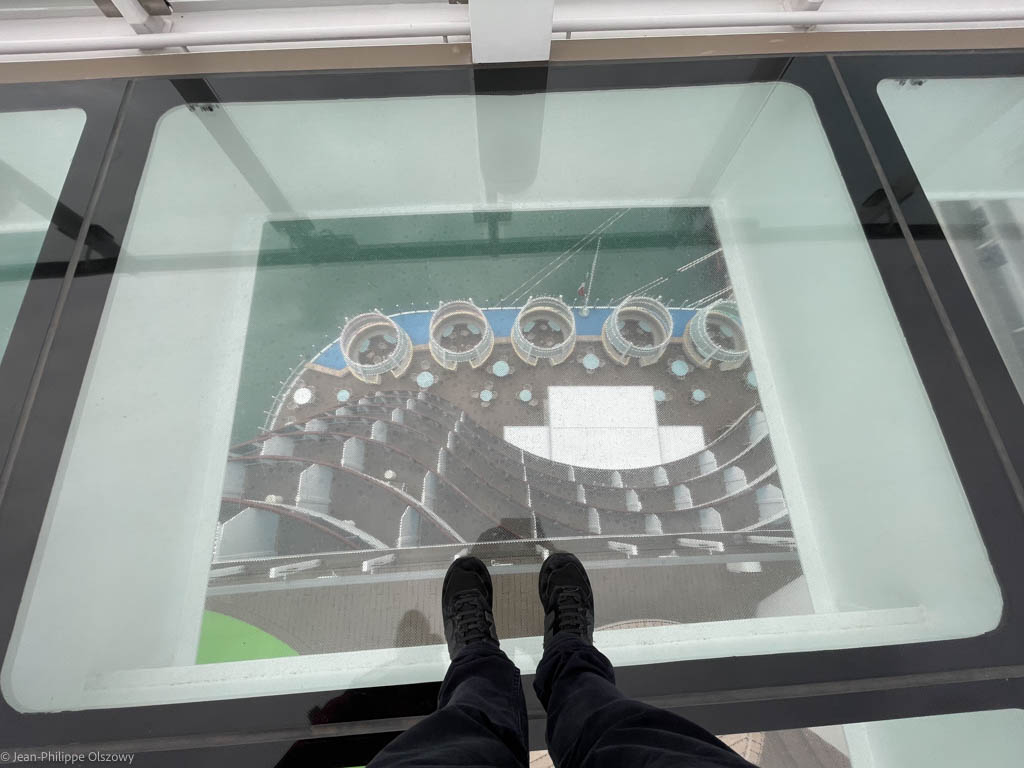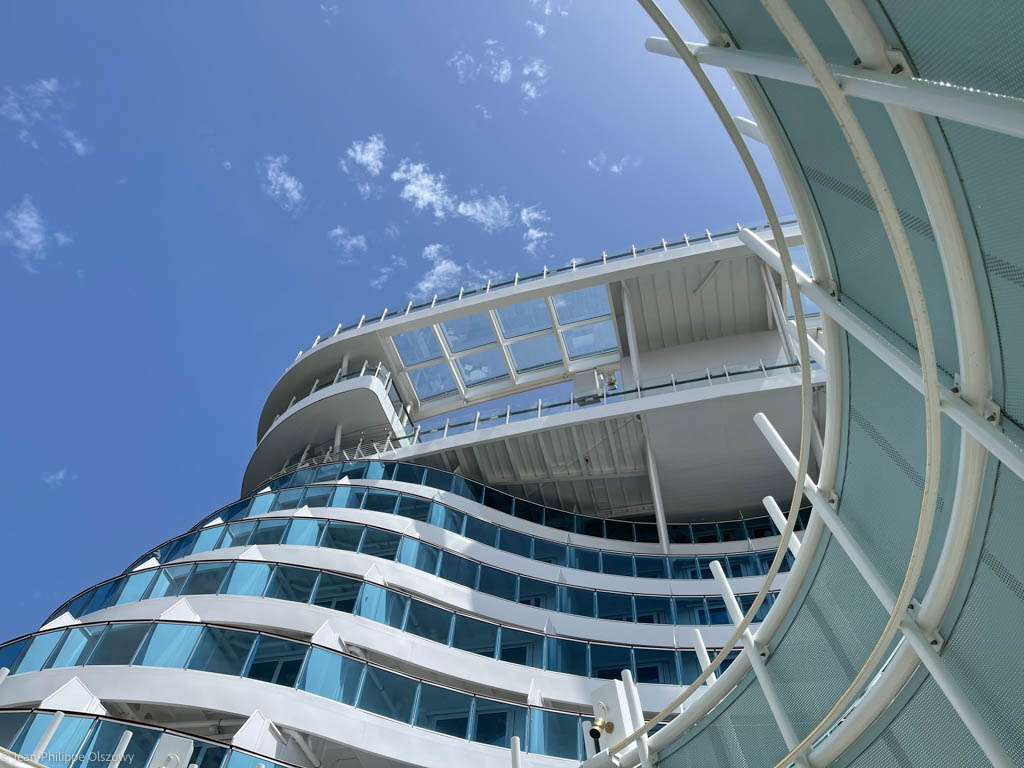 At the back, a kind of amphitheater inspired by the Plazza Di Spagna in Rome is equipped with a giant screen and serves as a place for a lot of entertainment and games. Directly above the Orizzonte bar is mainly open in the afternoon or at the end of the day. A footbridge overlooks both this square and also a terrace bar (Terrazza Superba) which is located about ten bridges below. This walkway has transparent glass parts. You can scare yourself by looking at the void beneath your feet. Guaranteed effect!
Another interesting exterior part, a promenade goes around the boat, on deck 8 and below. The highlight is at the back, with the Terrazza Surperba, the one that can be overlooked from the Plazza Di Spagna on the upper deck. Alveoli containing a few tables allow you to isolate yourself and protect yourself a little from the sun during the day. They are lit in the colors of Italy at night. Throughout the ship, the furnished areas follow one another, with tables or deckchairs. Some cabins have their balconies that directly overlook this promenade, with (plastic) greenery along. Charming but probably problematic for their occupants. Passers-by can look and see inside the cabin, and some conversations can go on late into the night at the patio door … and, totally unacceptable for me, smokers can come and roast one right there. , with the wind blowing the smoke inside.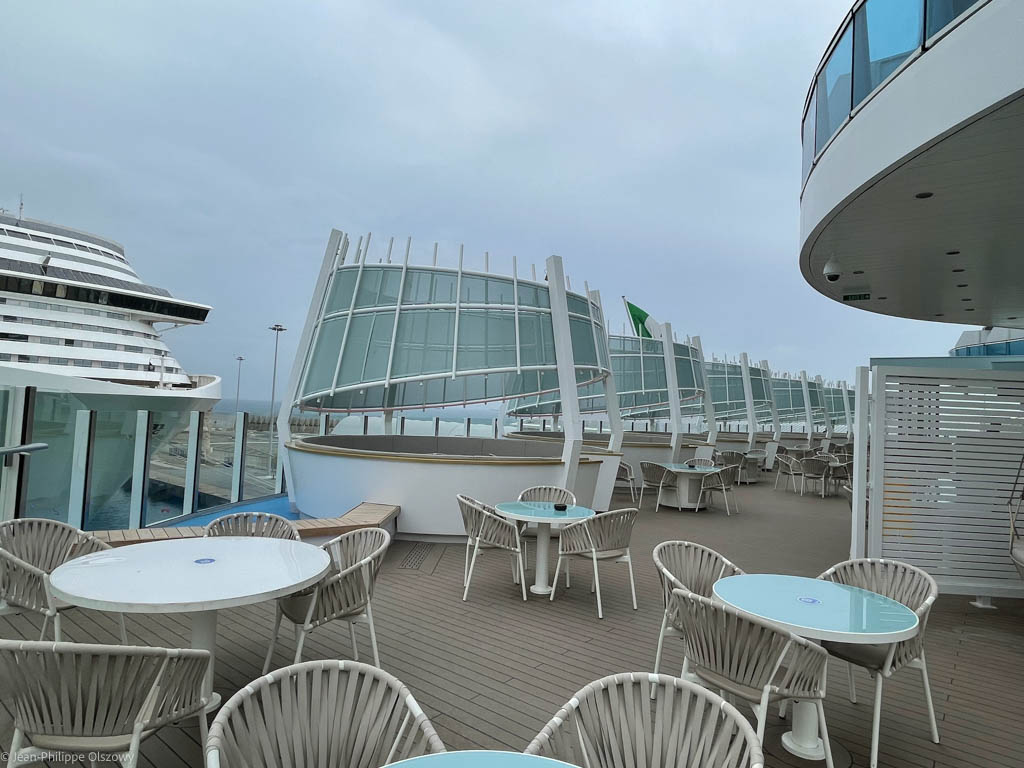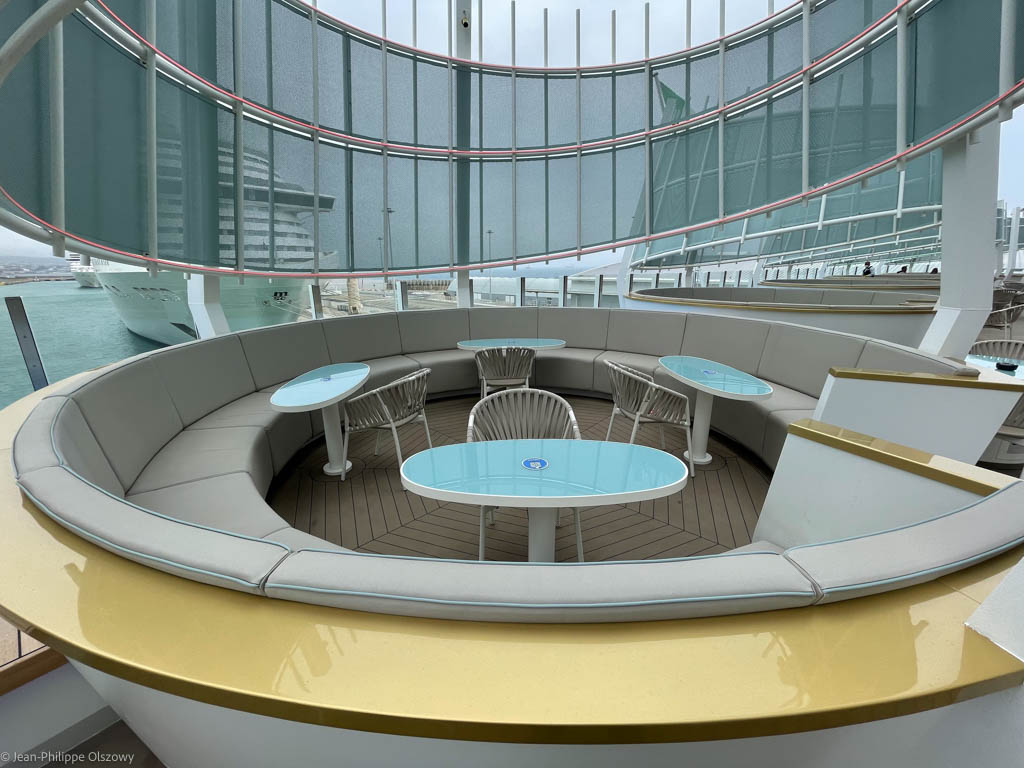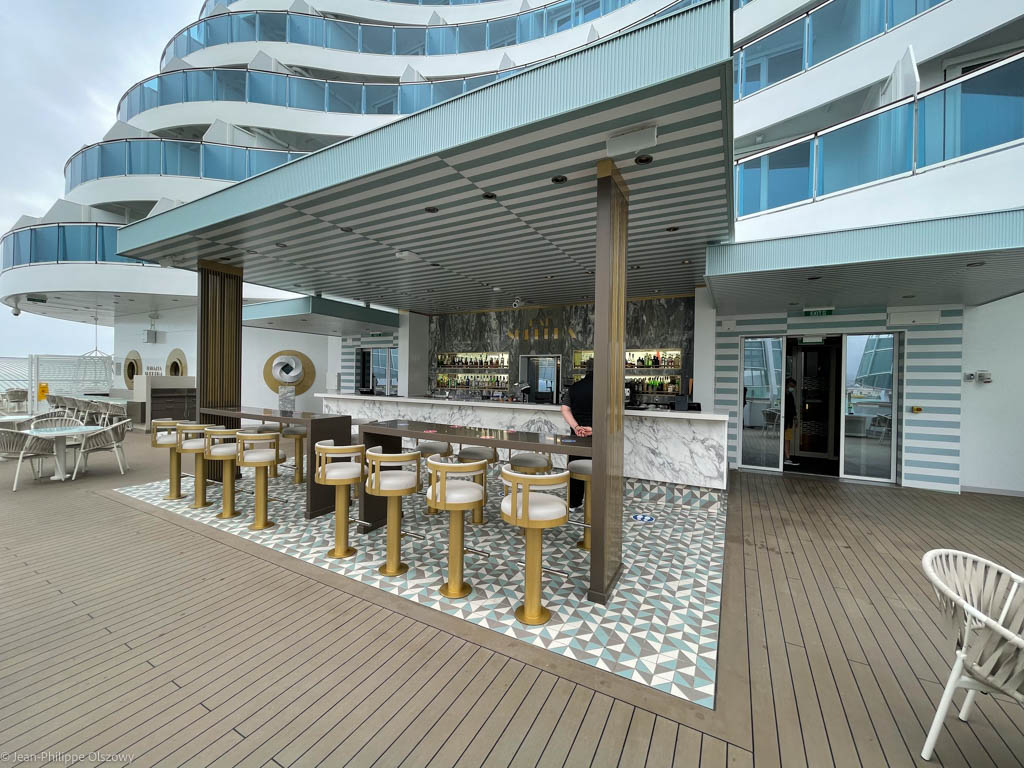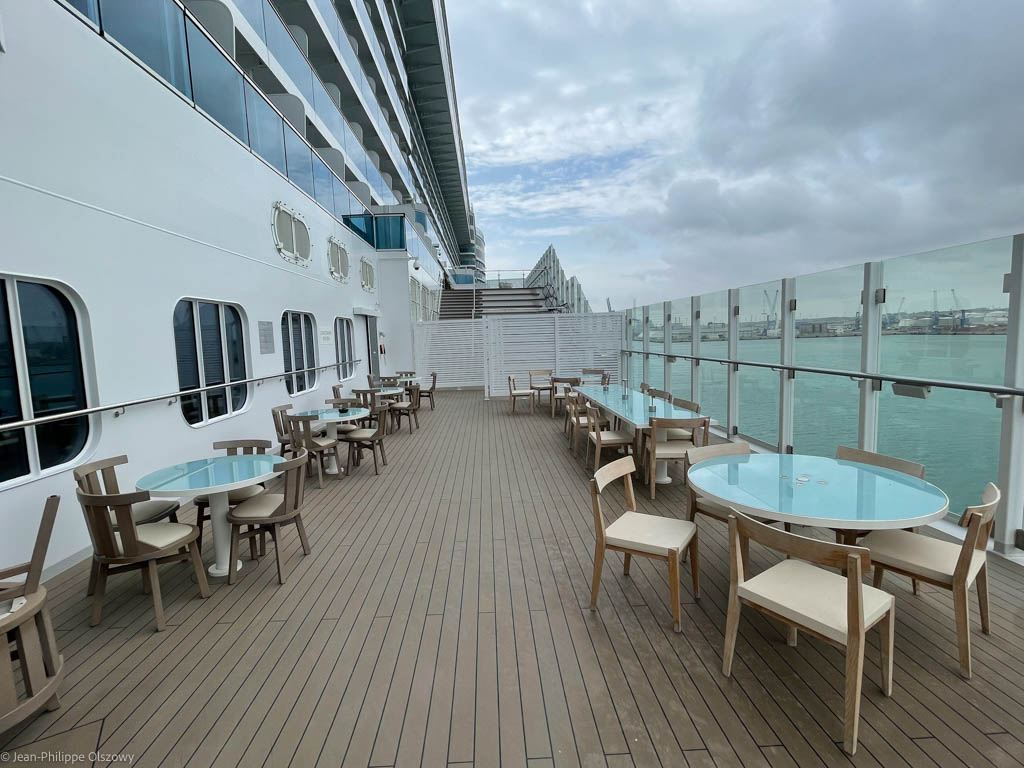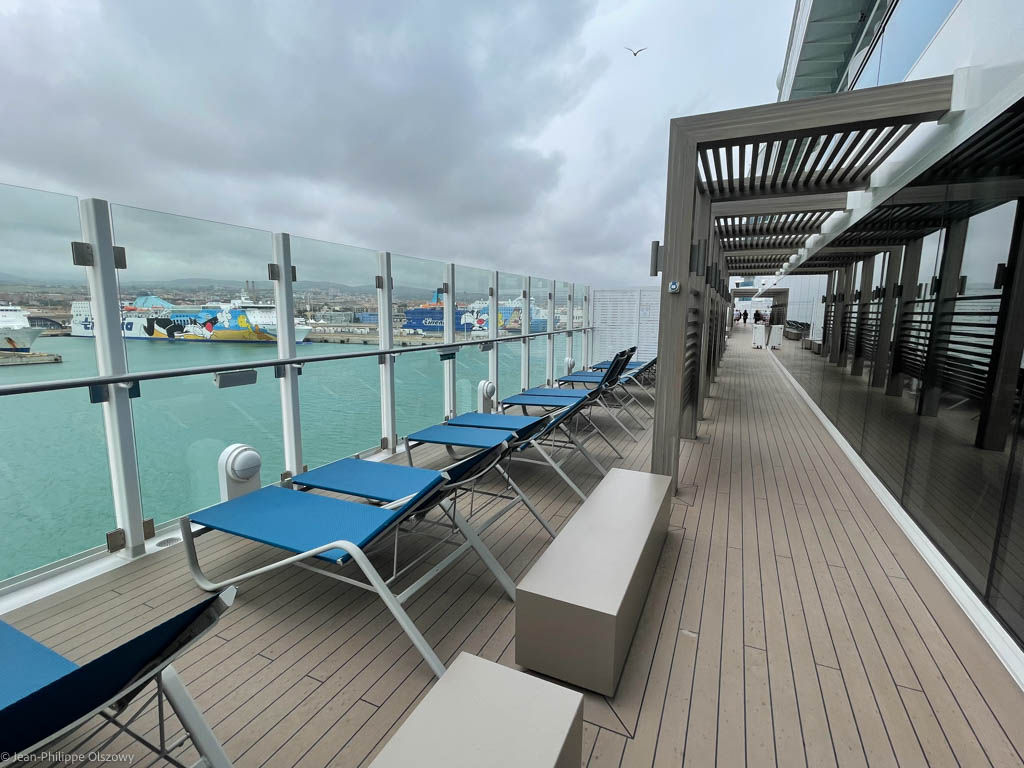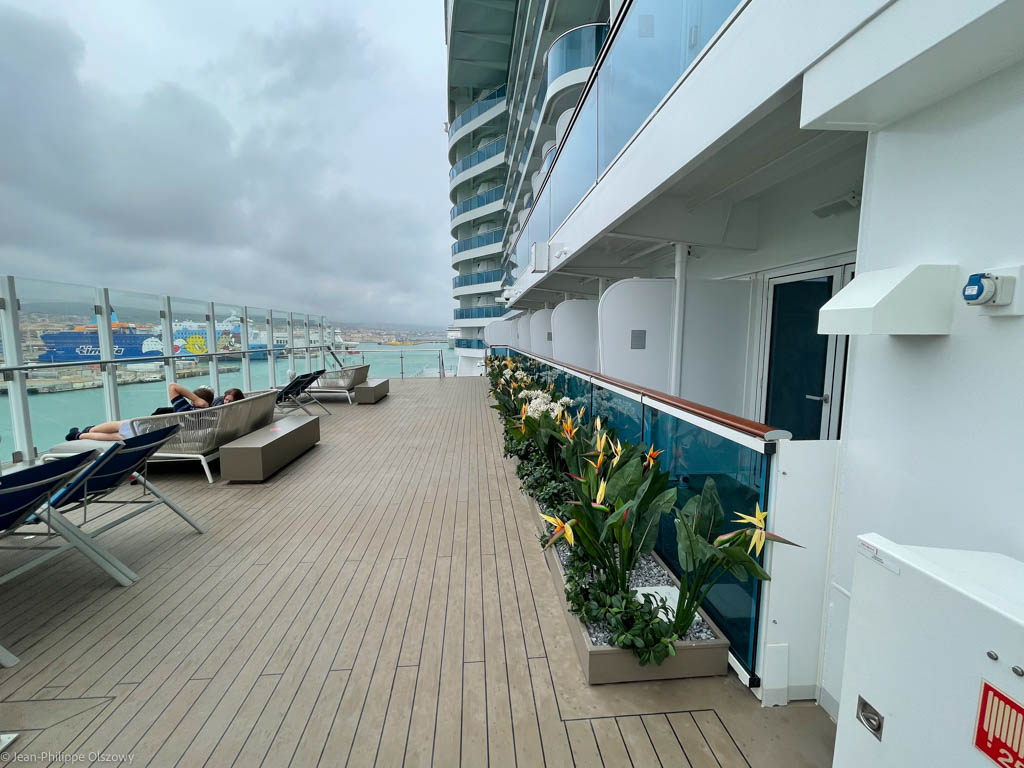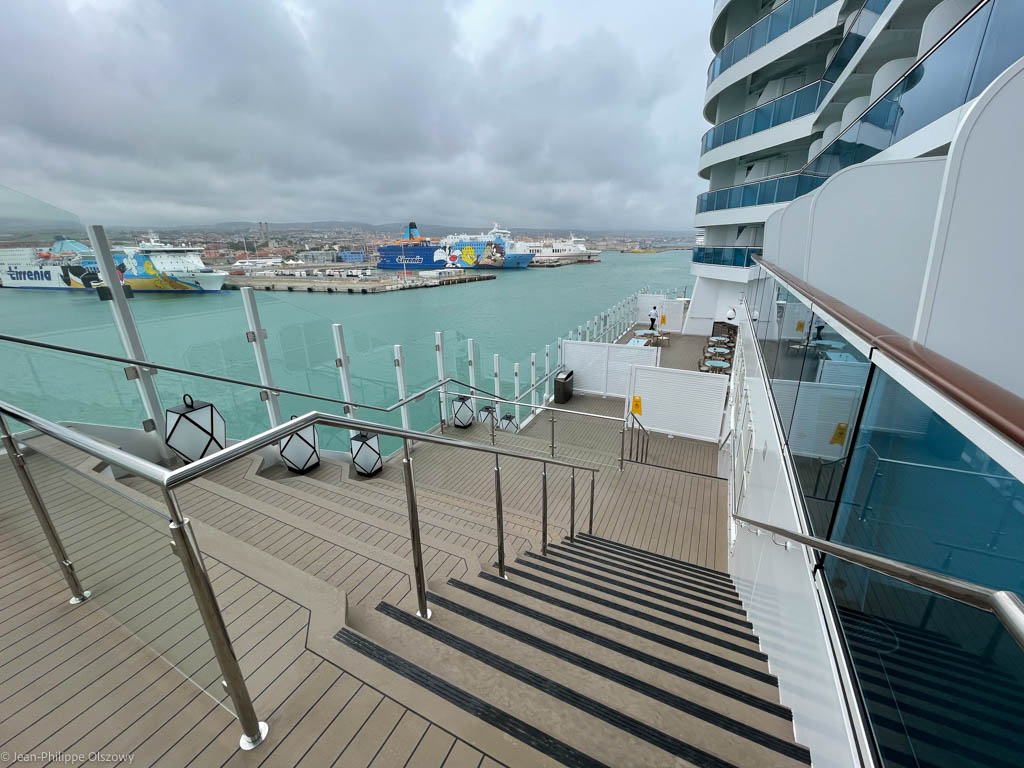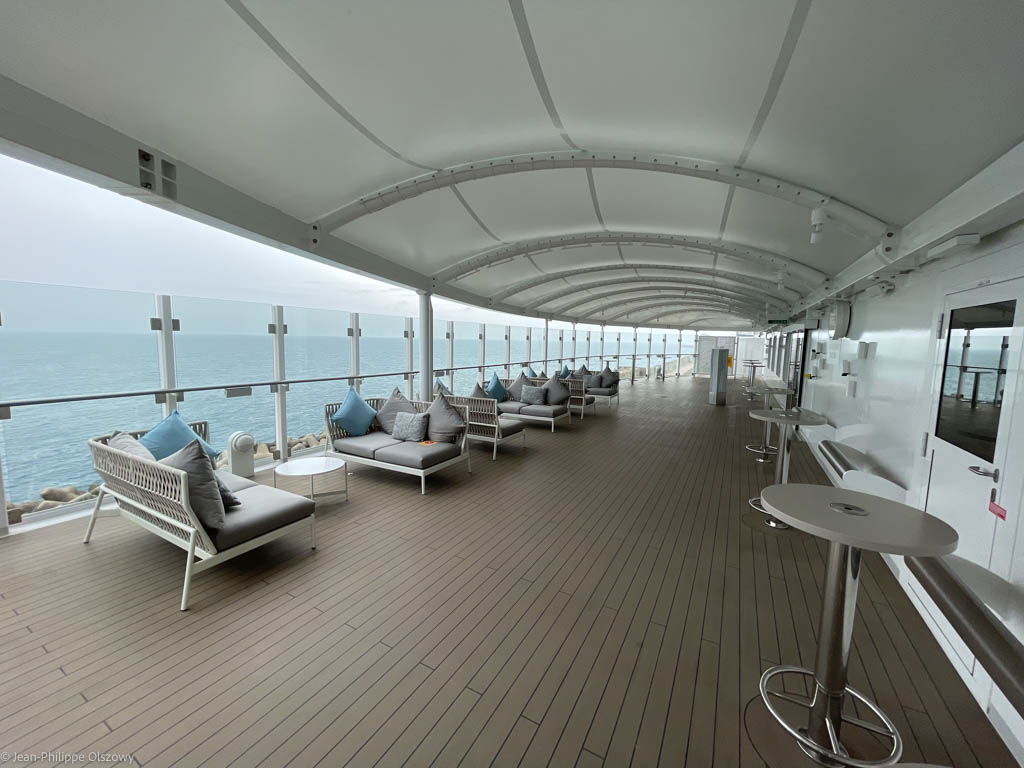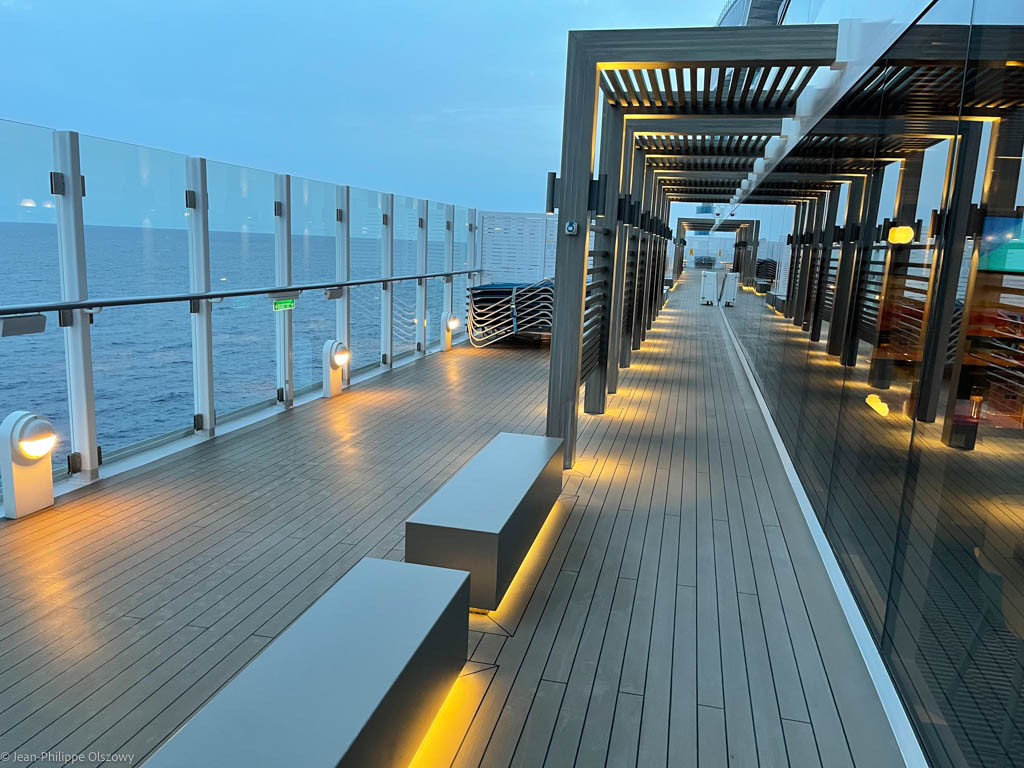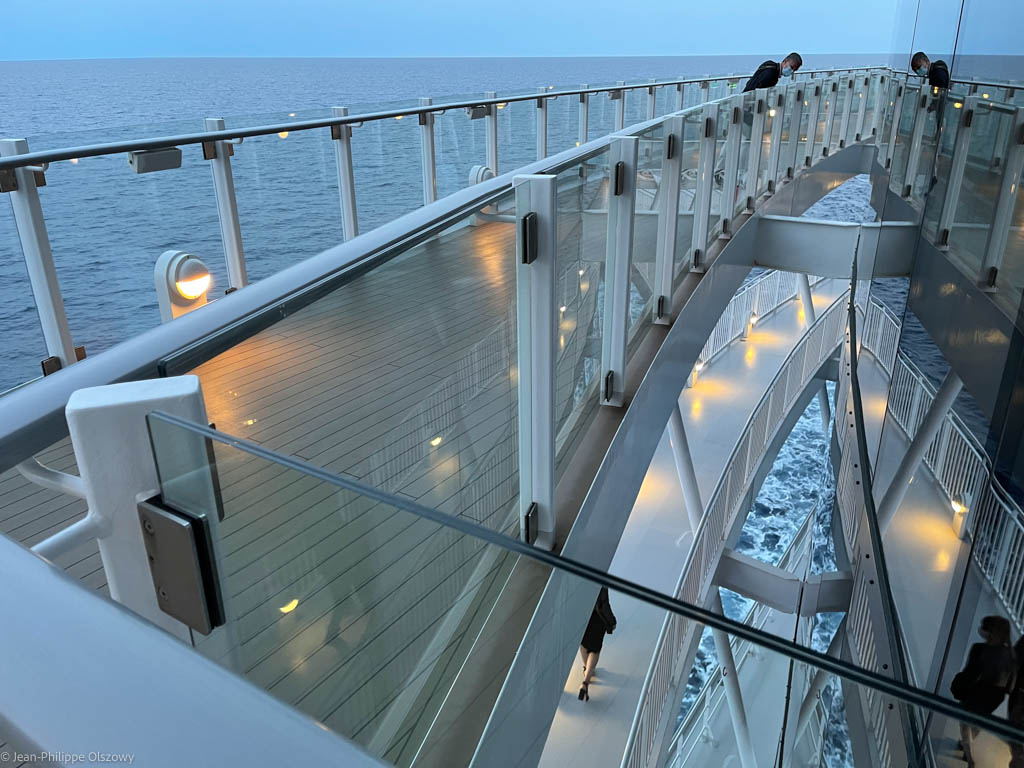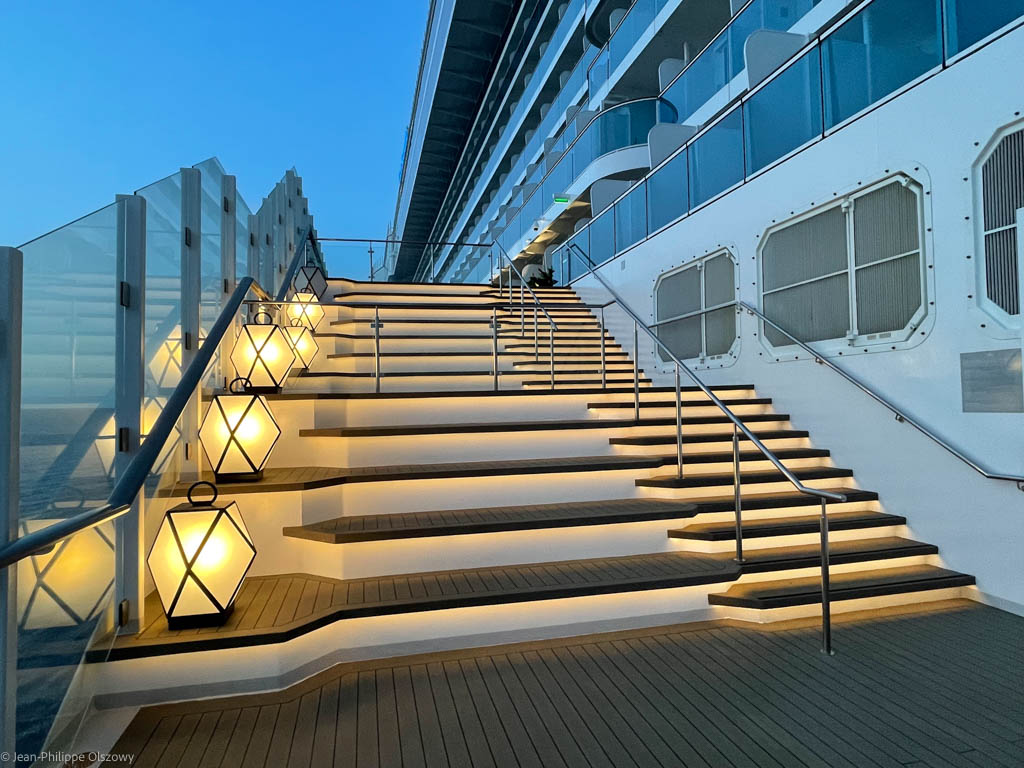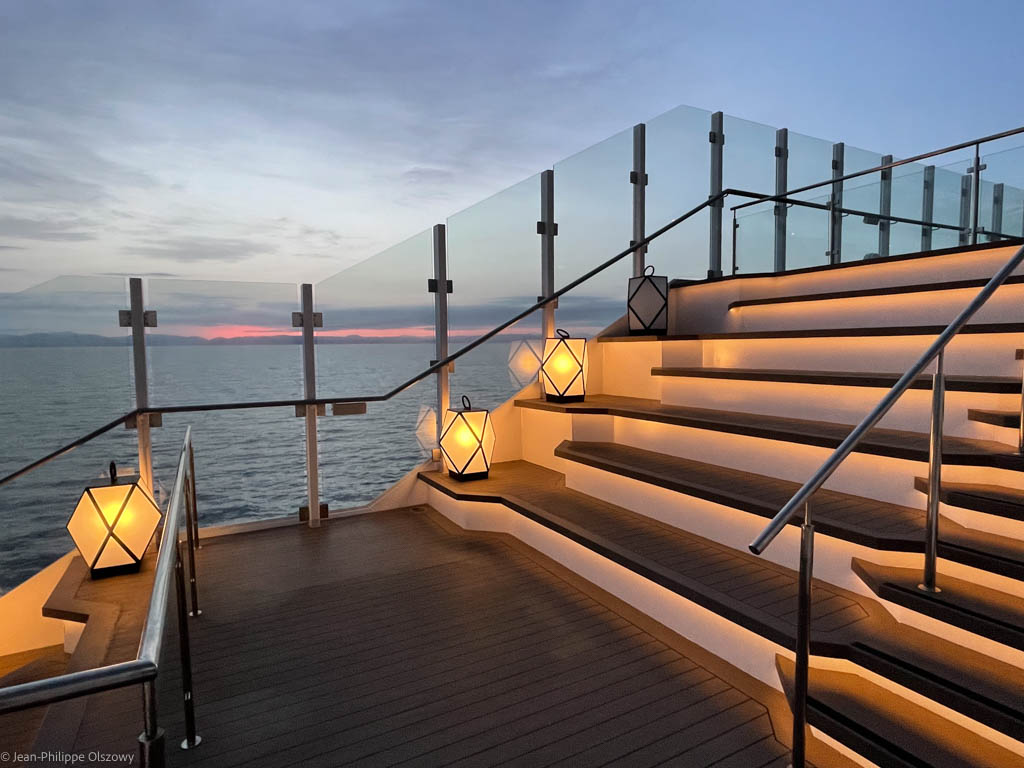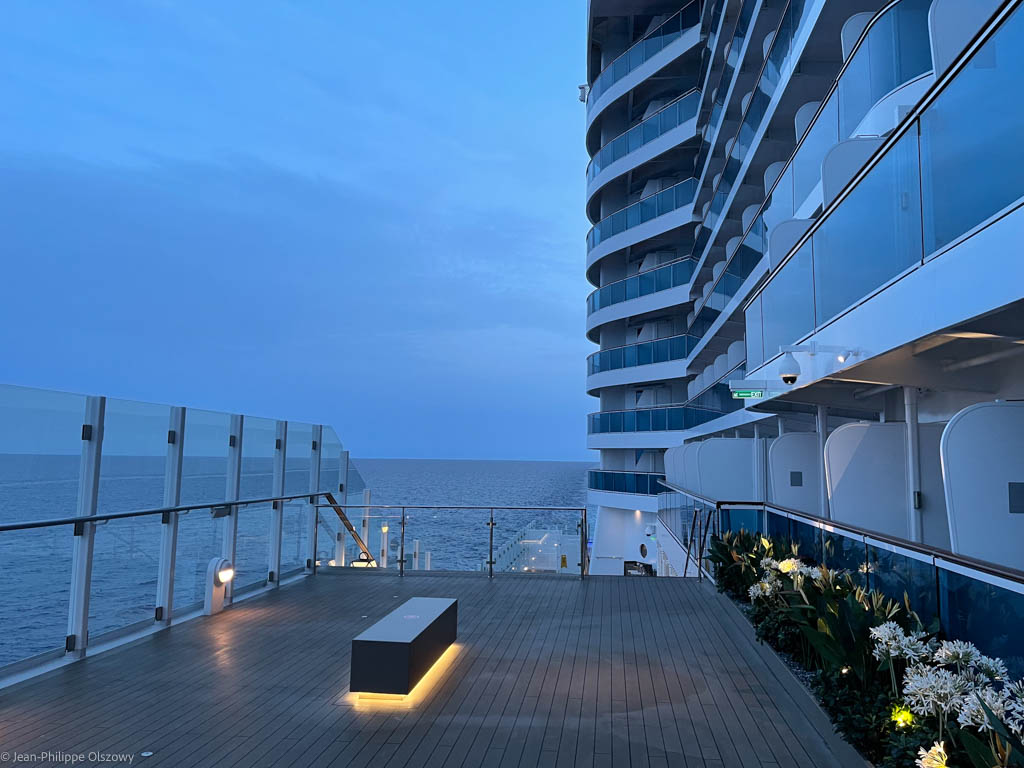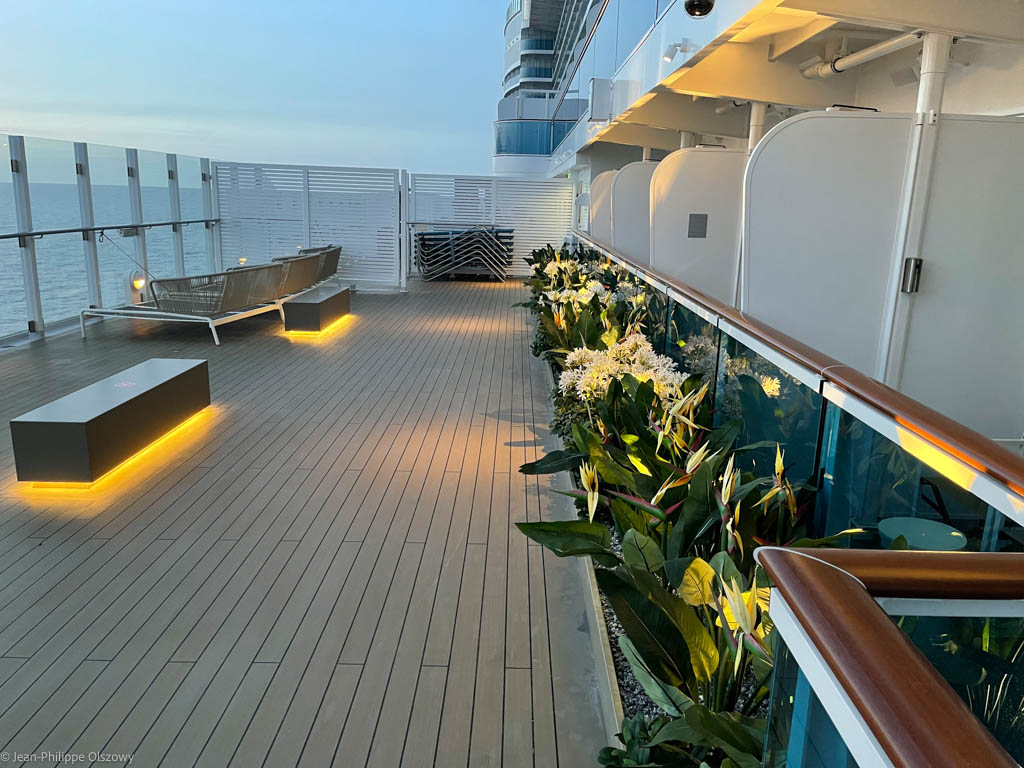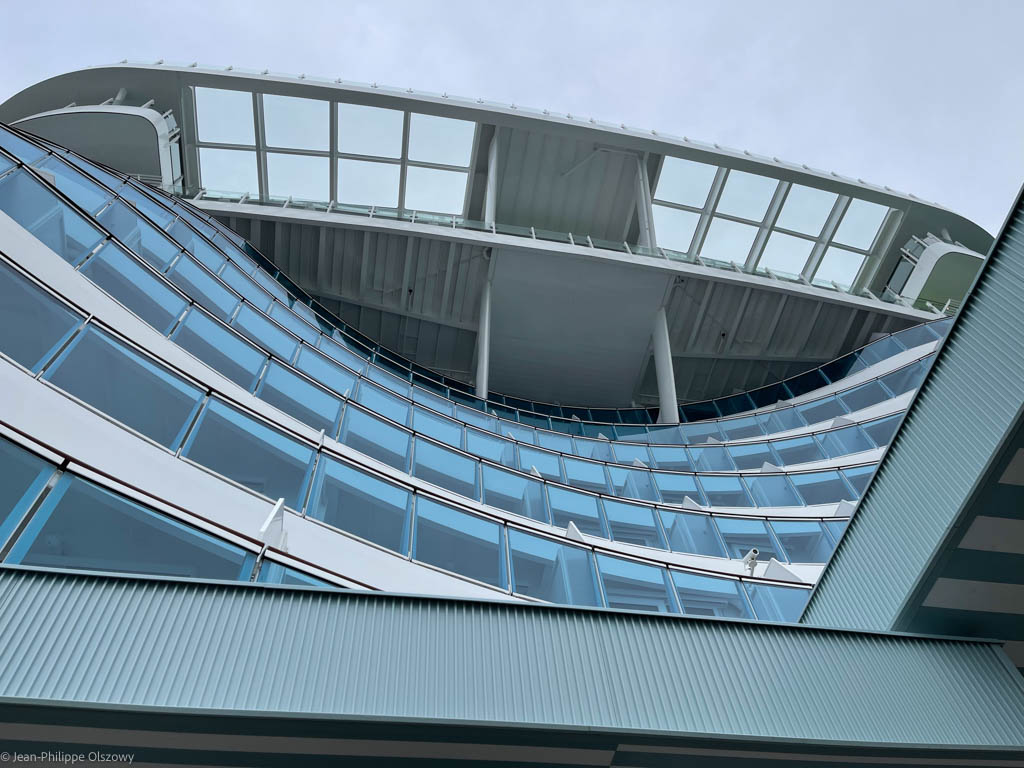 The space available for smokers on this boat was also a surprise. Ashtrays in several places show that it is possible to smoke almost everywhere. It's also very different from other companies I'm used to. The smoking areas are very limited, both in number and in size. Costa does not seem to have followed this trend (which I praise a little more on each of my cruises, since going on a cruise is not meant to breathe smoke from cigarettes!).
The interior is organized mainly on decks 6 to 8 around the Colosseo, which is similar to an atrium in a boat. On the lower level, deck 6, there is a stage on one side and the circular central part is also a stage made up of concentric podiums which can mechanically change level. The walls and ceiling are covered with LED screens that light up and show videos depending on the activity. It's immersive.
At Colosseo decks 7 and 8, there is a circular balcony on each level. Around this balcony, there are 3 to 4 rows of seats with a multi-level arrangement, which allows you to be comfortably seated and have good visibility. One in two seats was neutralized, for social distancing. A place that must be very busy in normal times and probably saturated when there are events. At the base of the Colosseo, the Illy café-bar serves all kinds of coffees that you pay for, but also, depending on the time of day, pastries, sandwiches or small salads (offered free of charge to passengers who wish to enjoy them).
The decks around are surrounded by different bars, restaurants, the photo gallery, the internet cafe, the reception, the Costa Club, a design museum …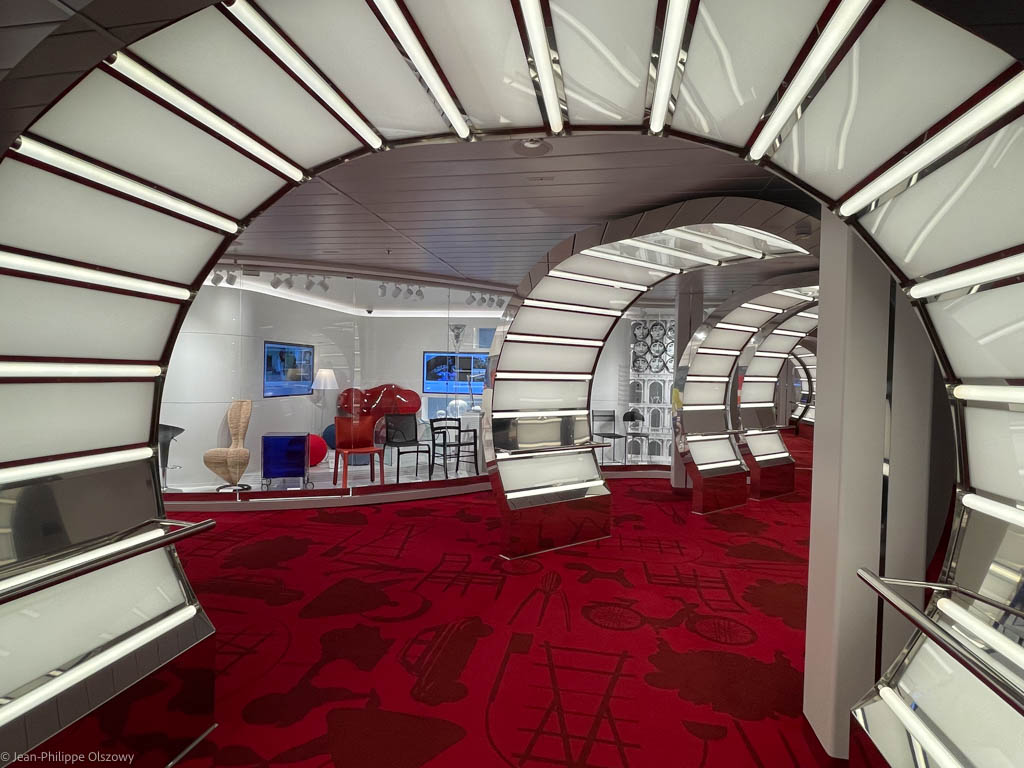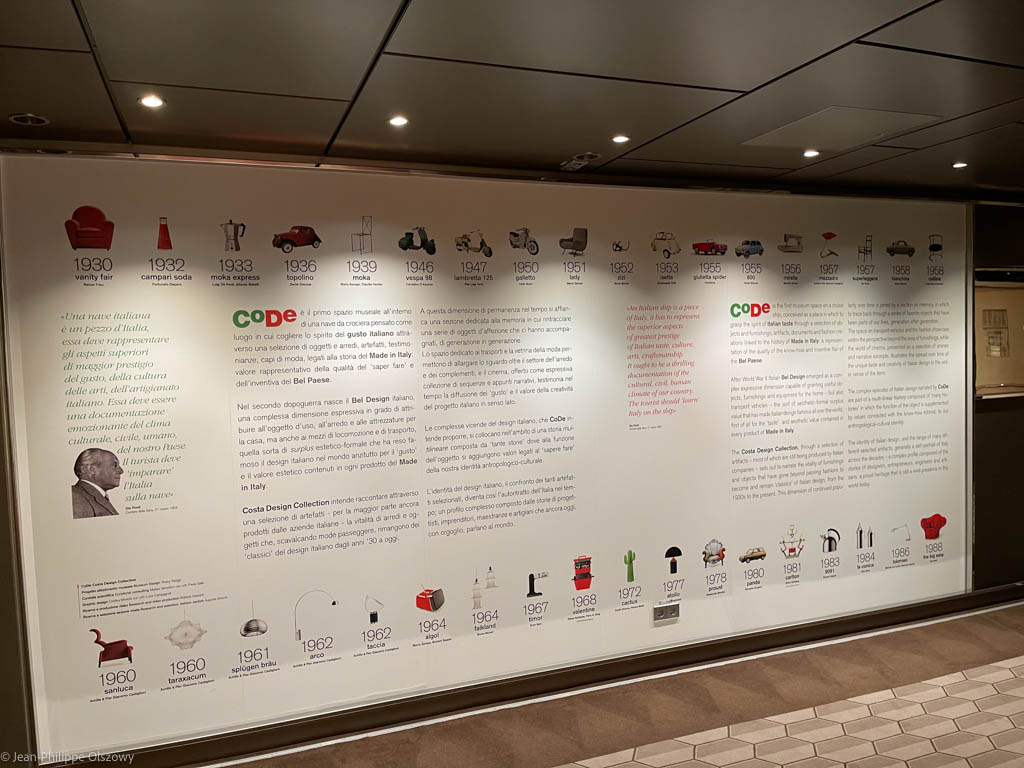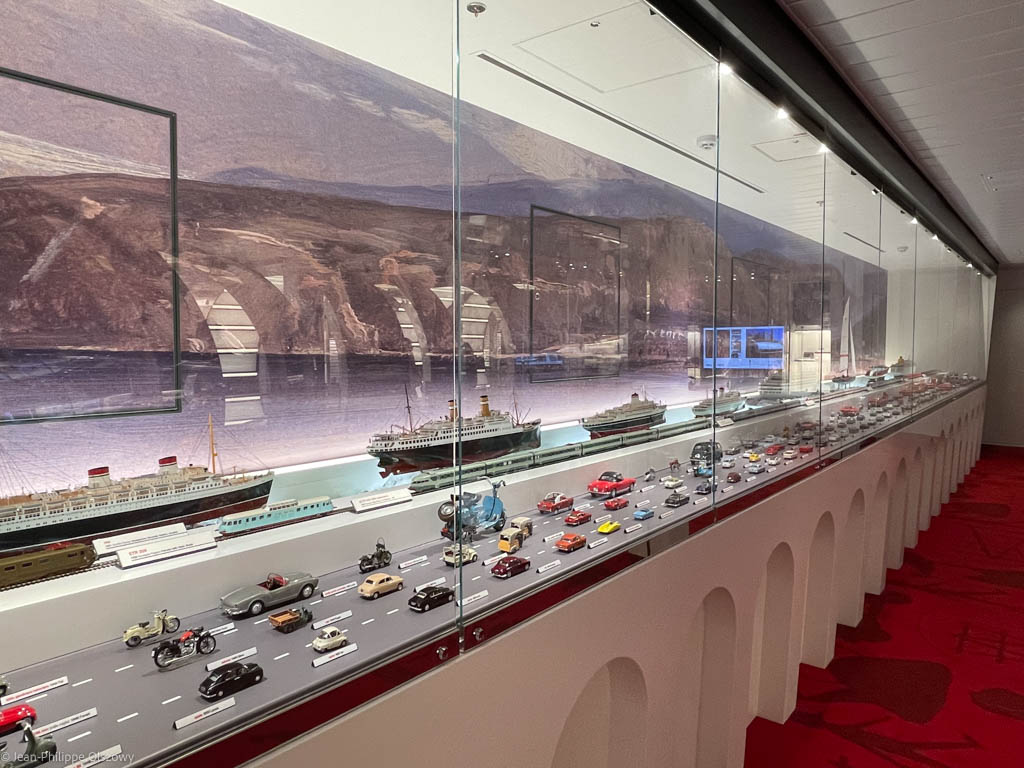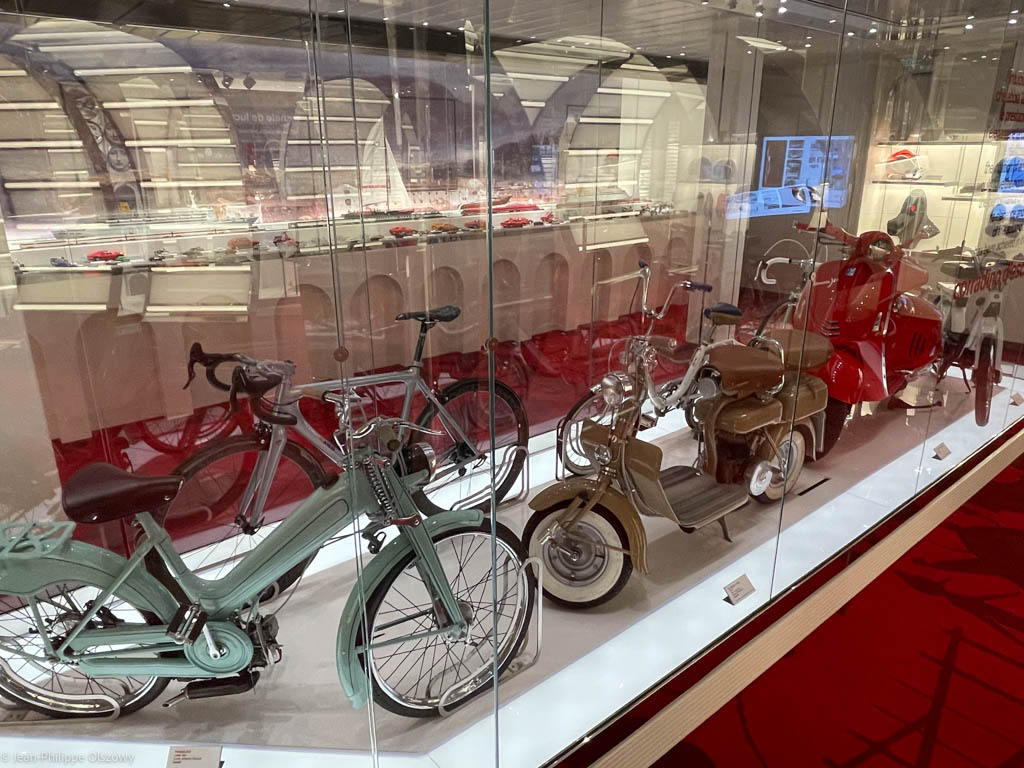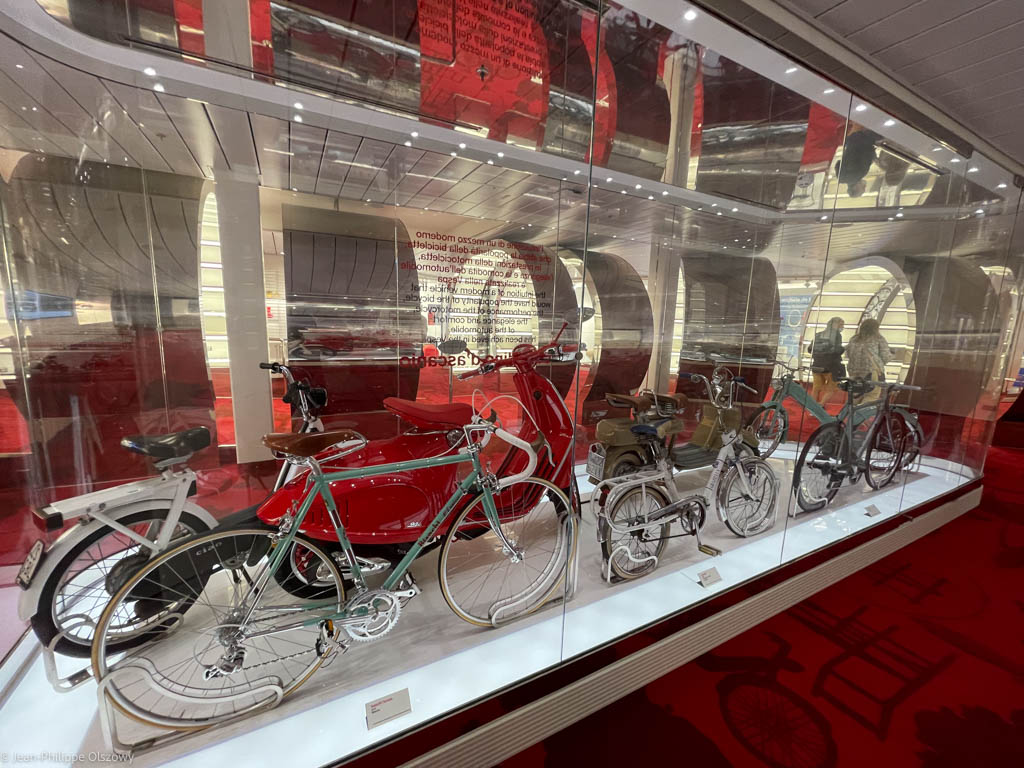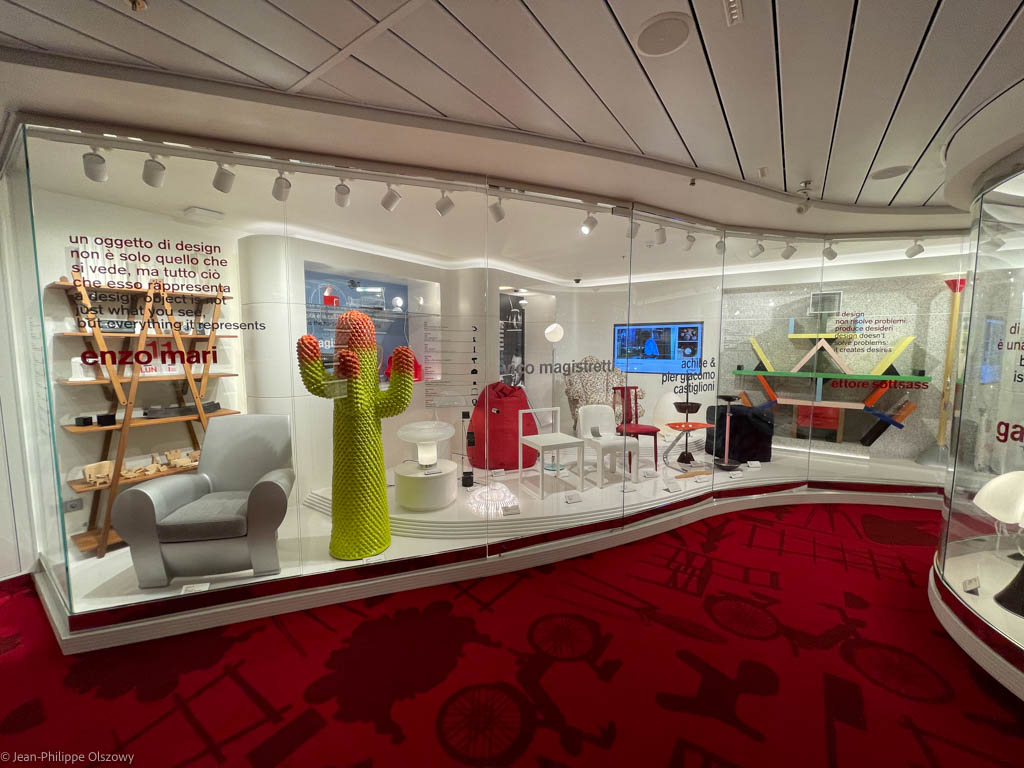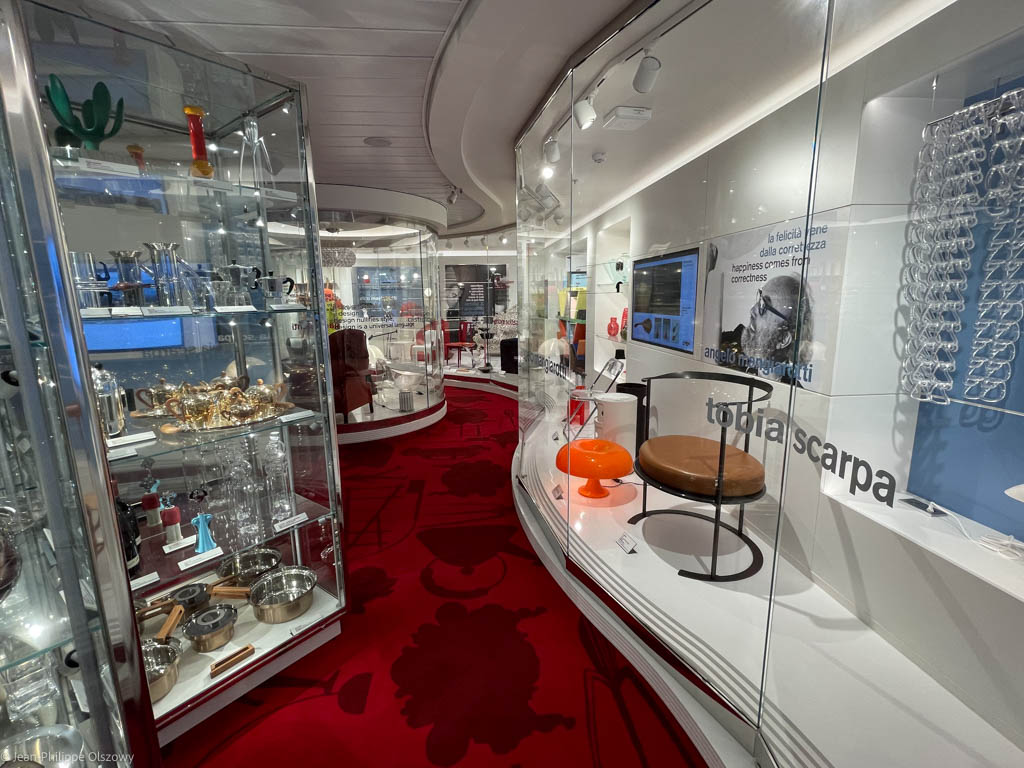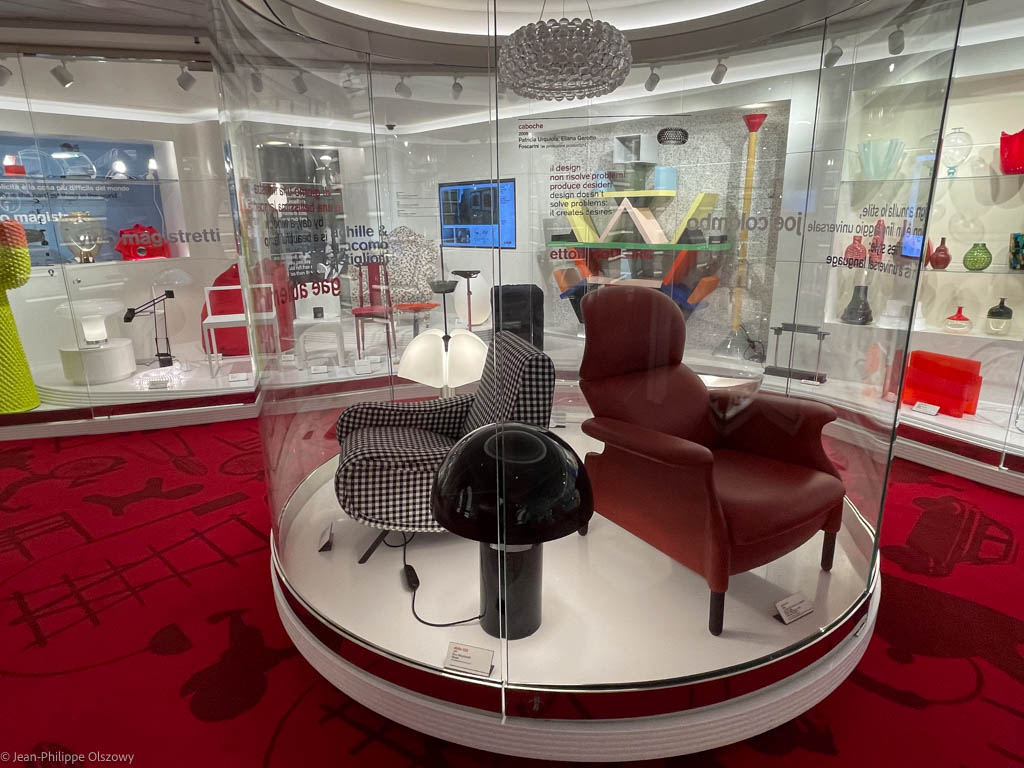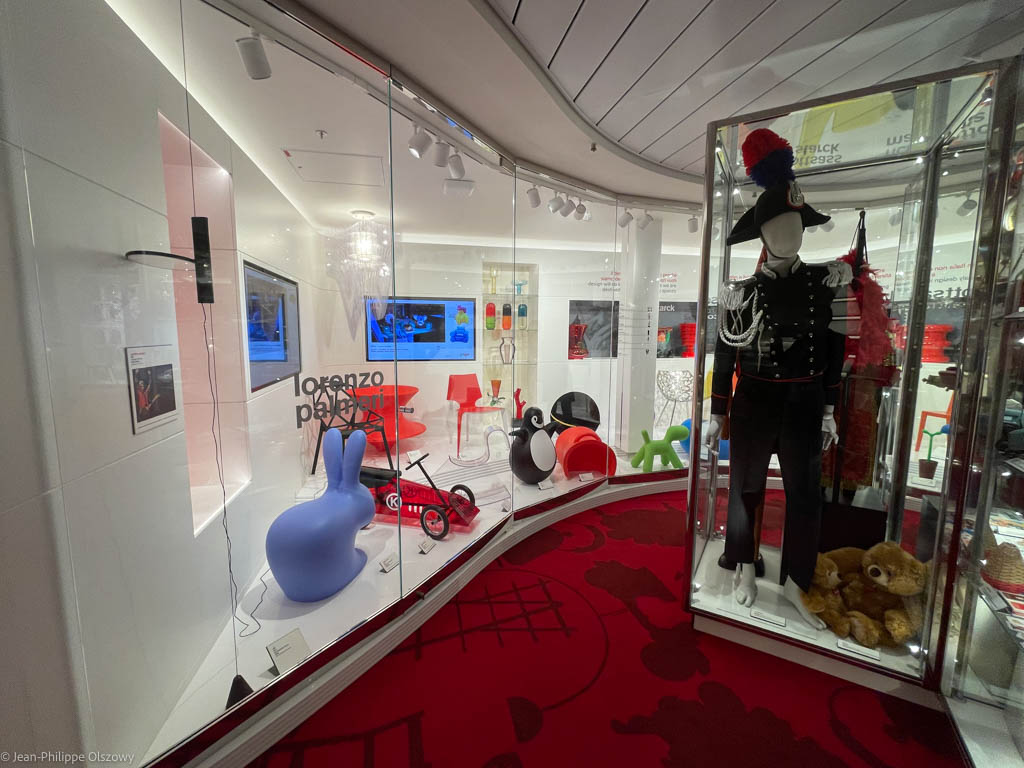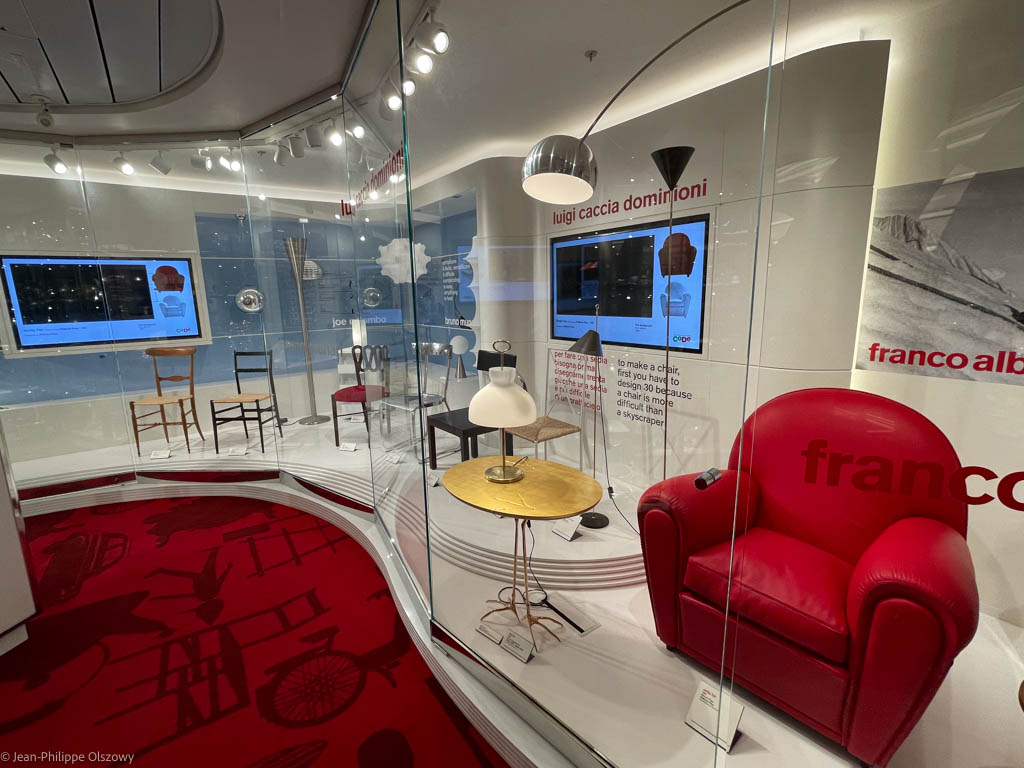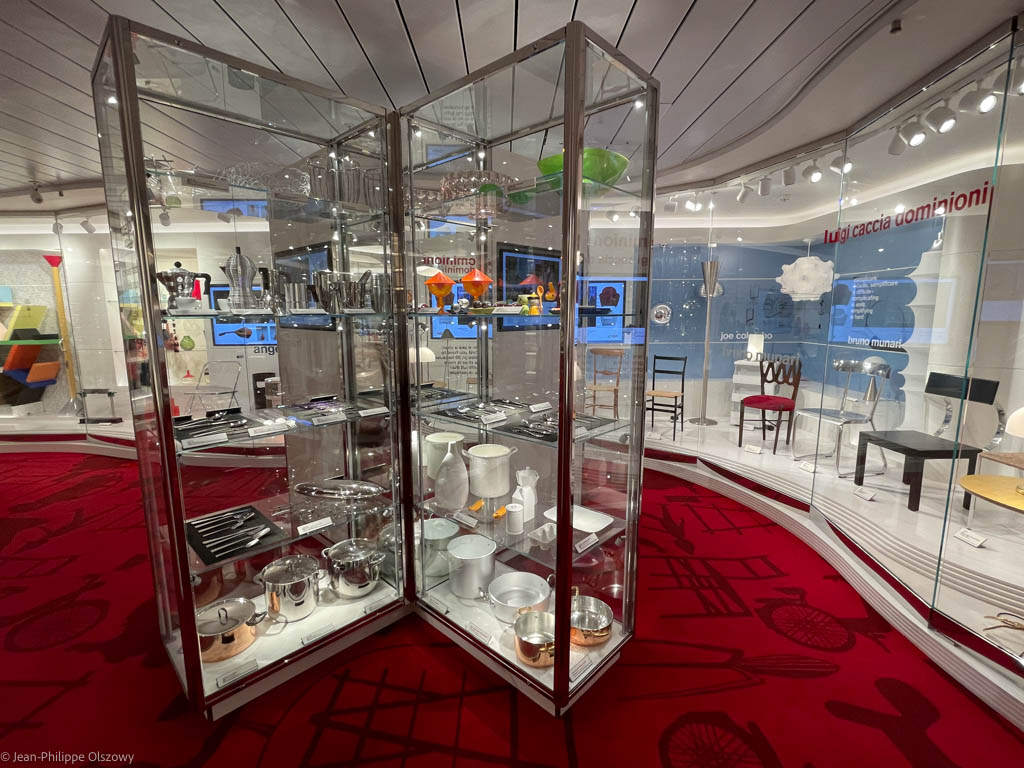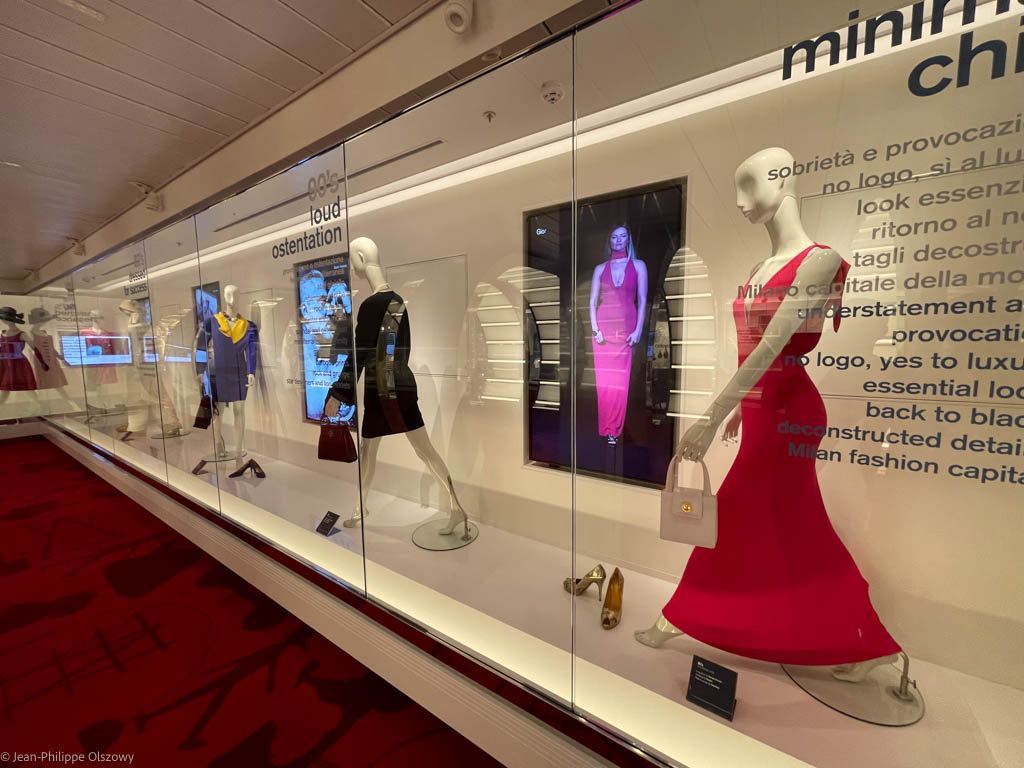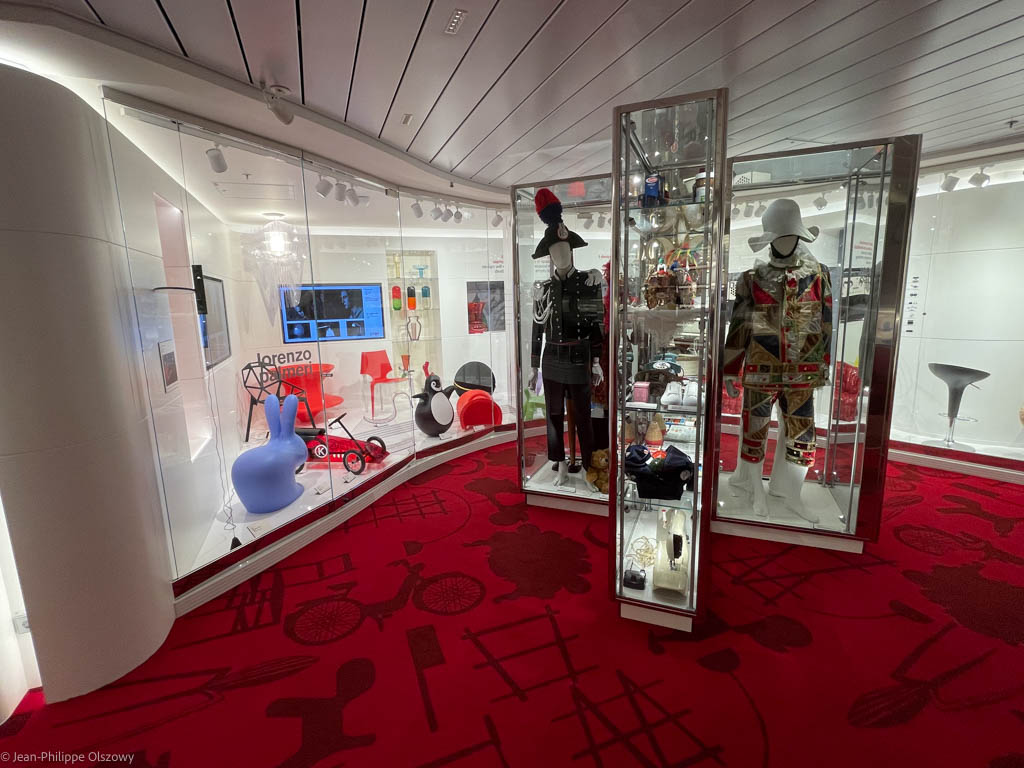 The ship has 3 groups of elevators, located in the front, middle and rear of the boat, each group having up to 8 elevators. Enough to serve the thousands of passengers expected on board. Each lift was limited to 4 people at a time, each in their own corner, distancing required.
The bars
Costa Smeralda has a choice of over a dozen bars. The most central is the Illy Café, which has the most extensive opening hours. Standard coffees (including a typically Italian espresso that will delight fans), and special coffees (the pistachio one is a killer) are at a fee You can also have something to eat on the go, depending on the time of day, at no extra charge. A selection of spirits is also available, it is not part of the price of the cruise, but you can buy various beverage packages, just like coffees, I will come back to that.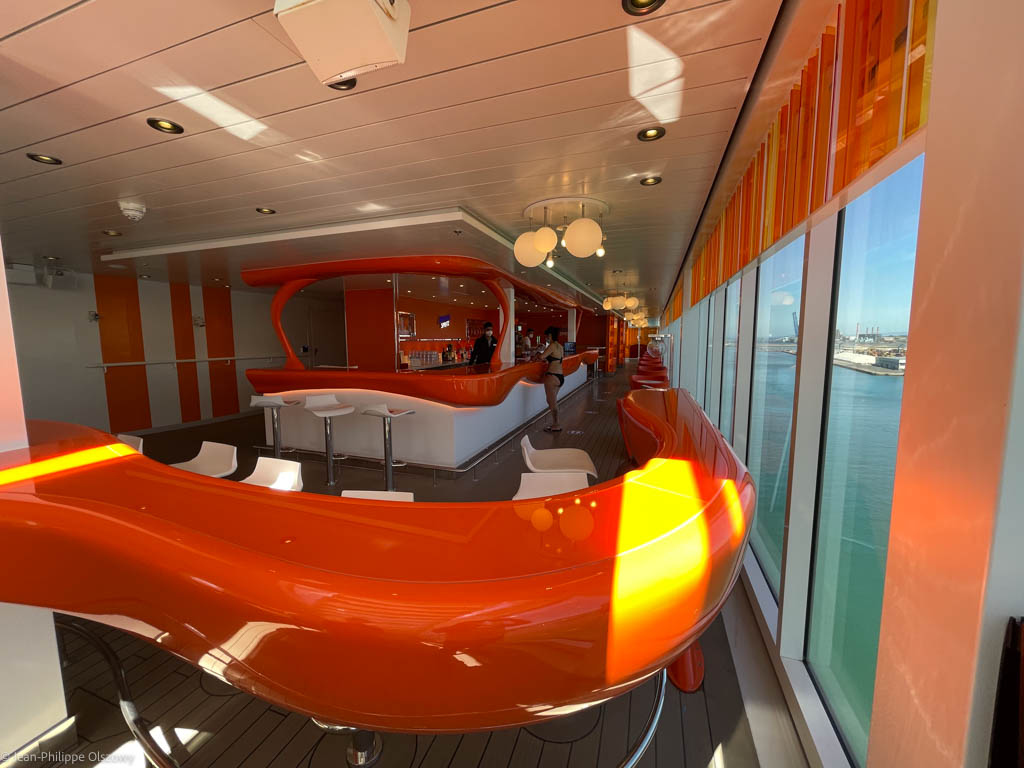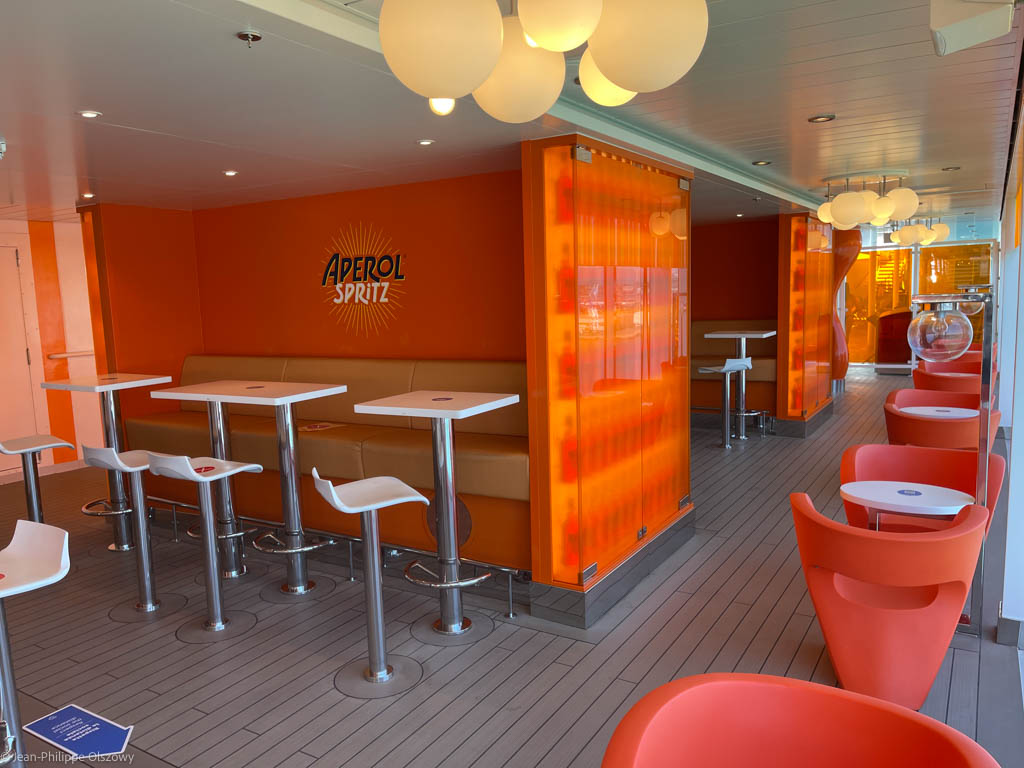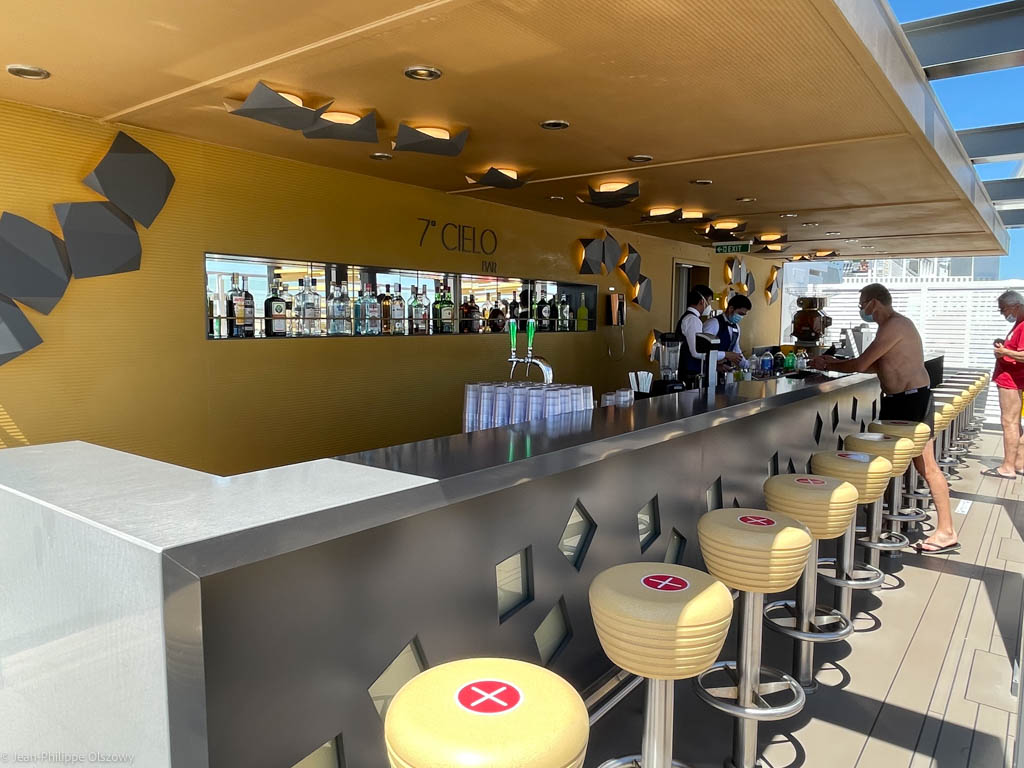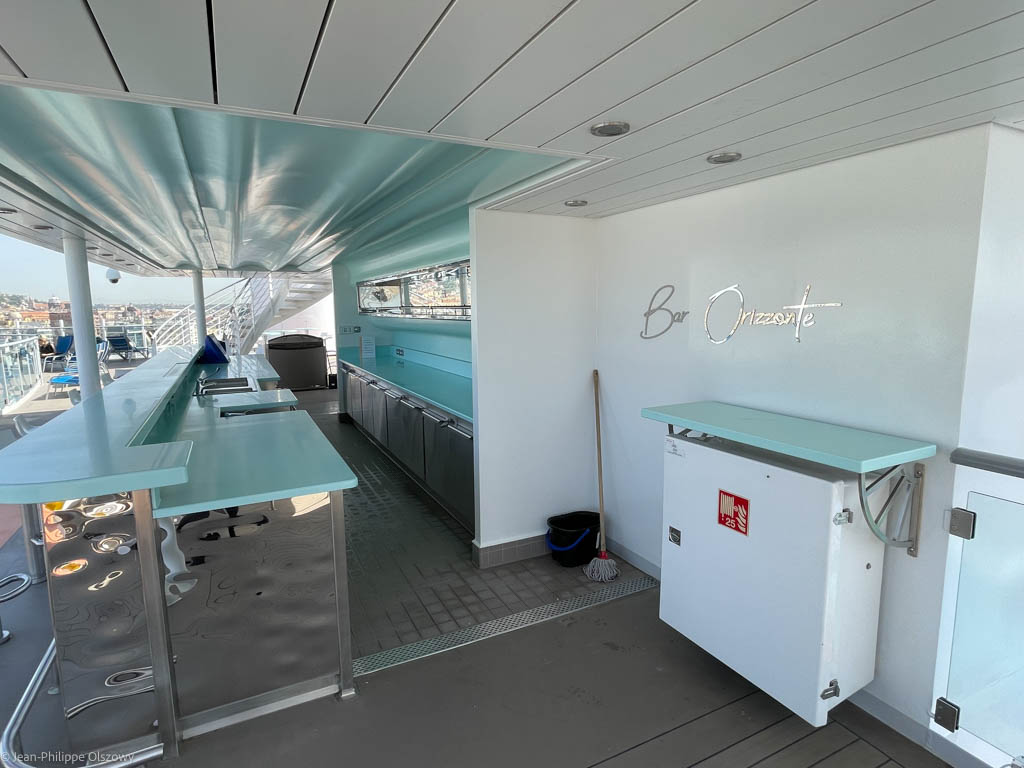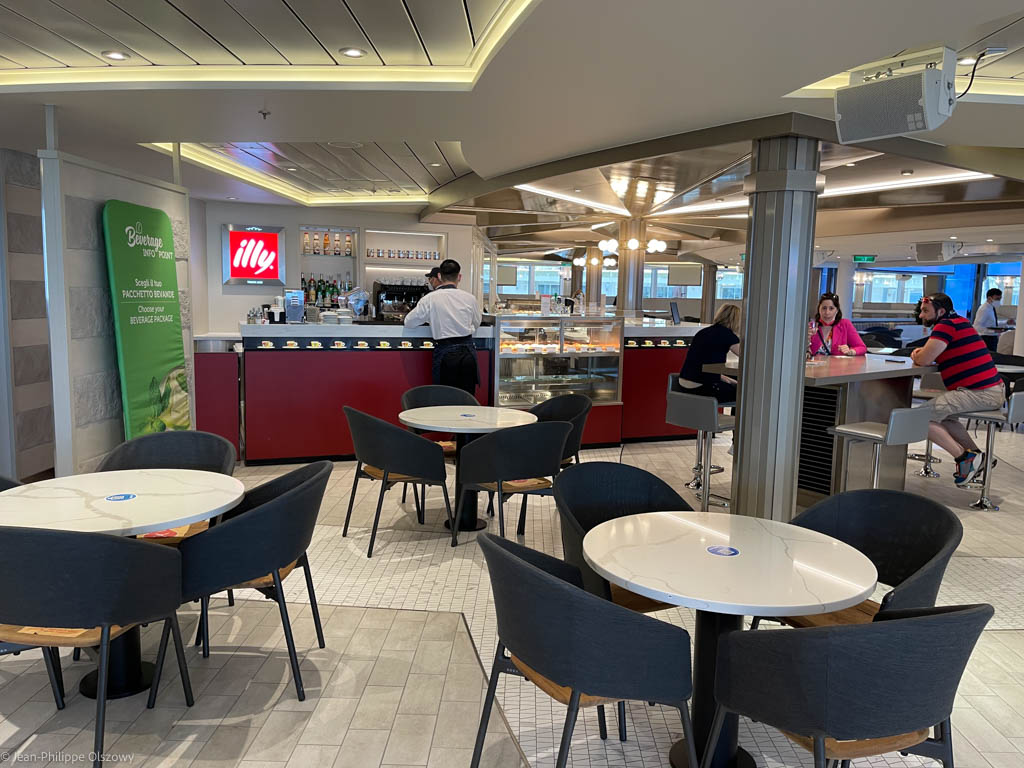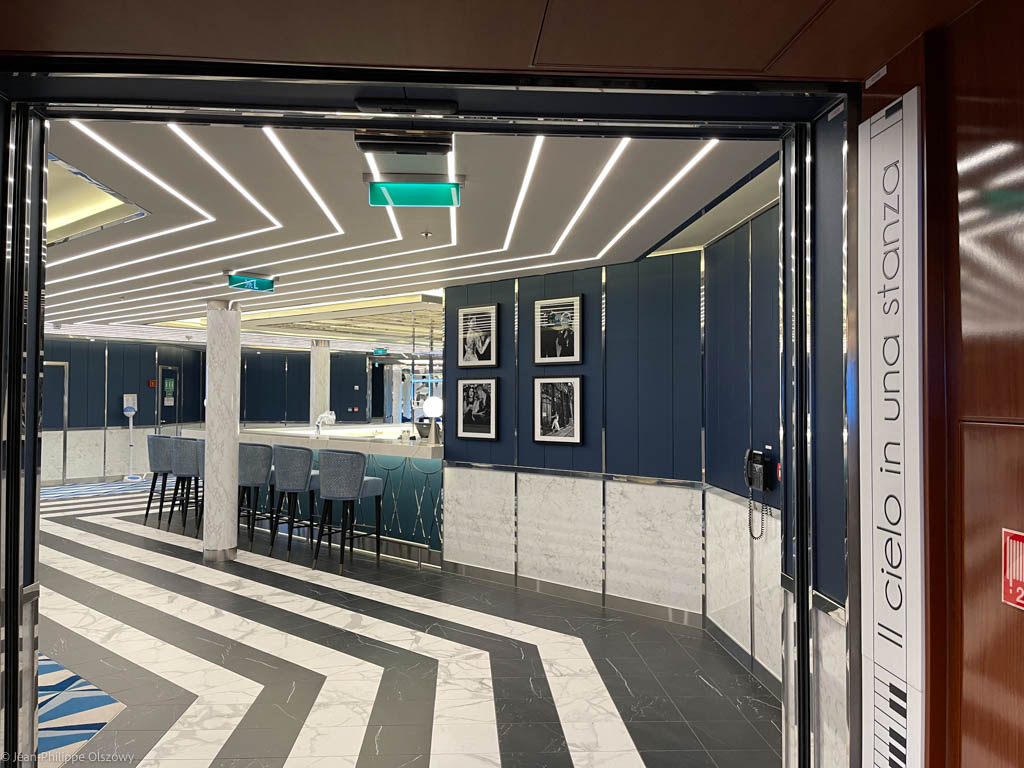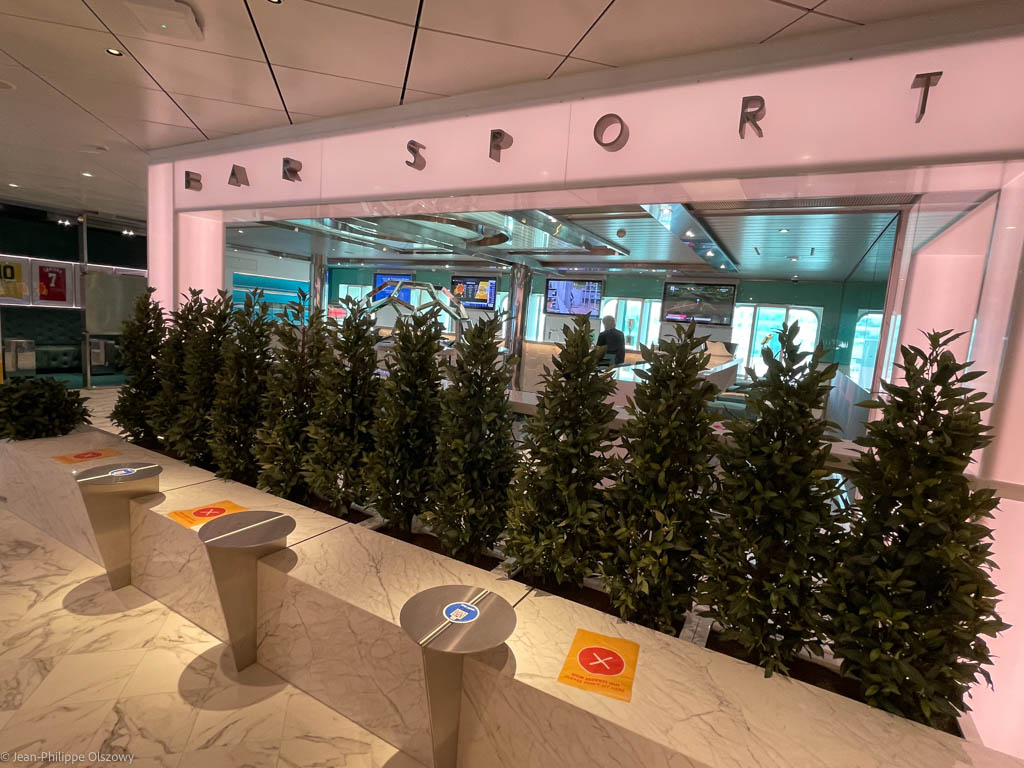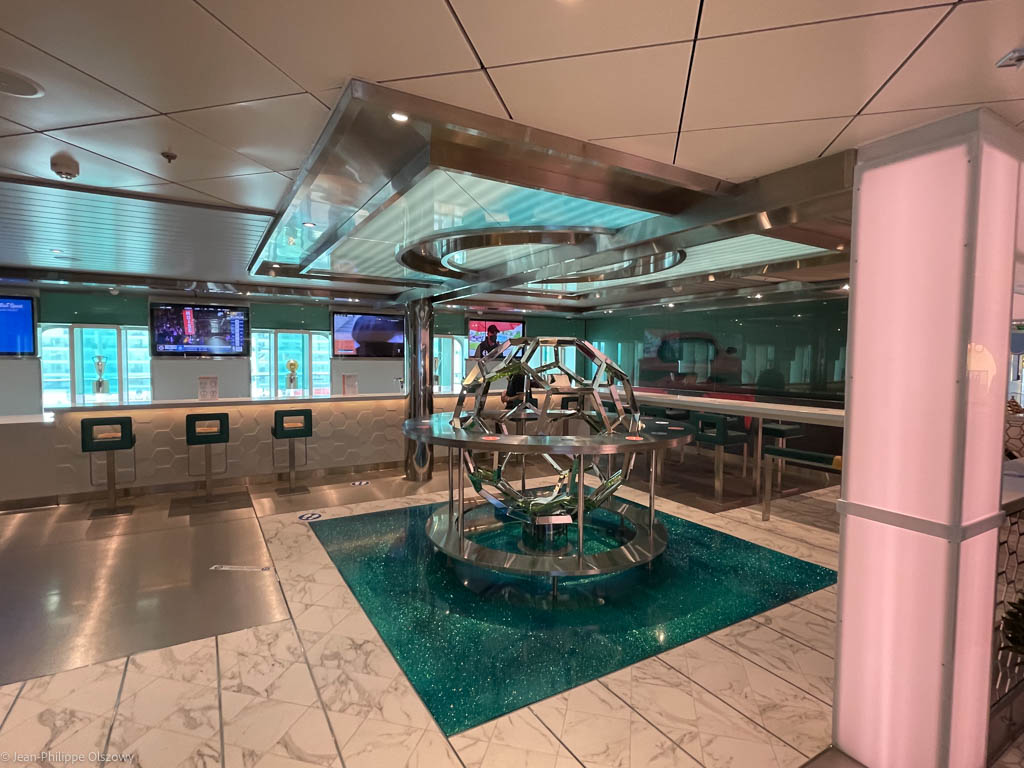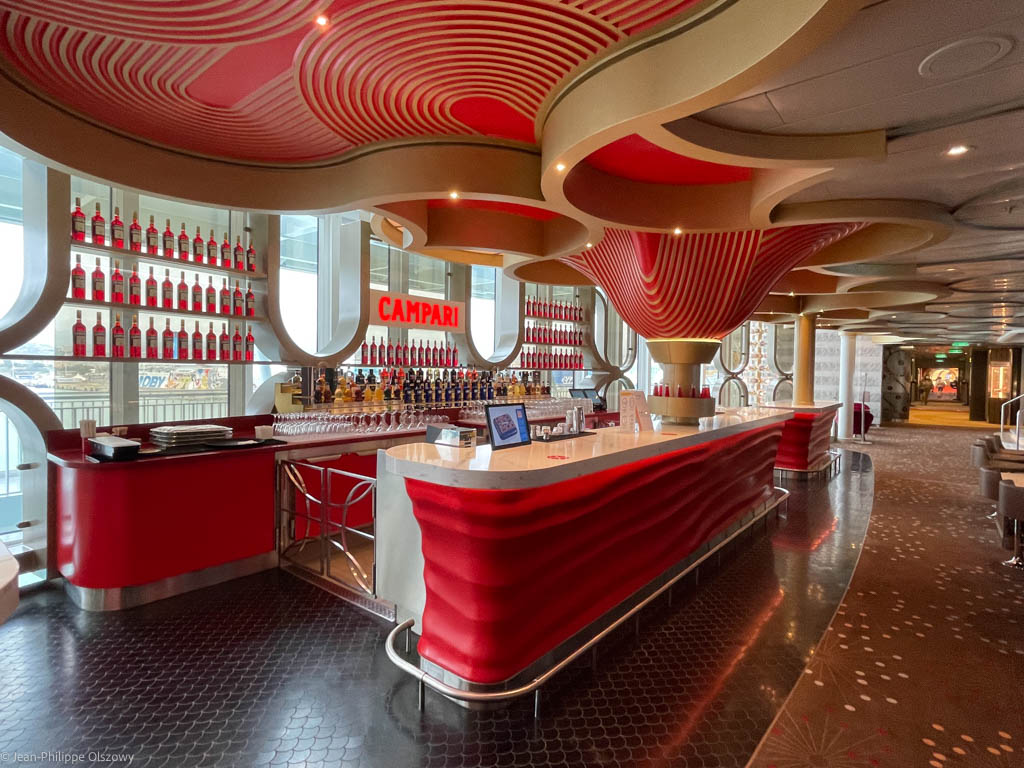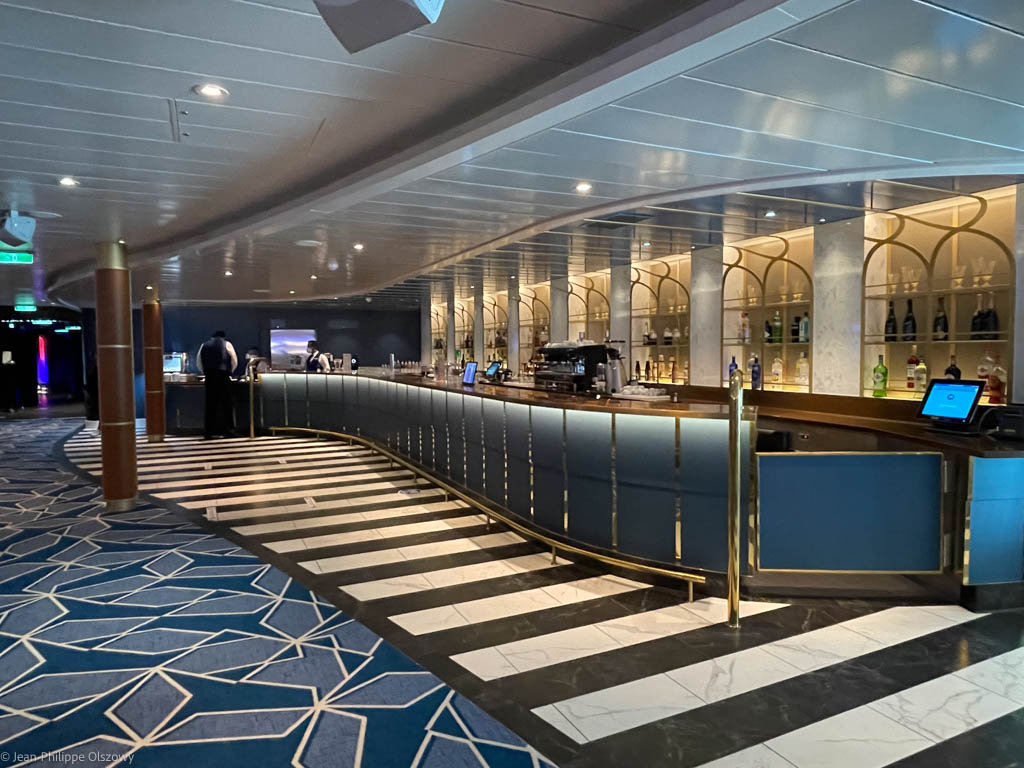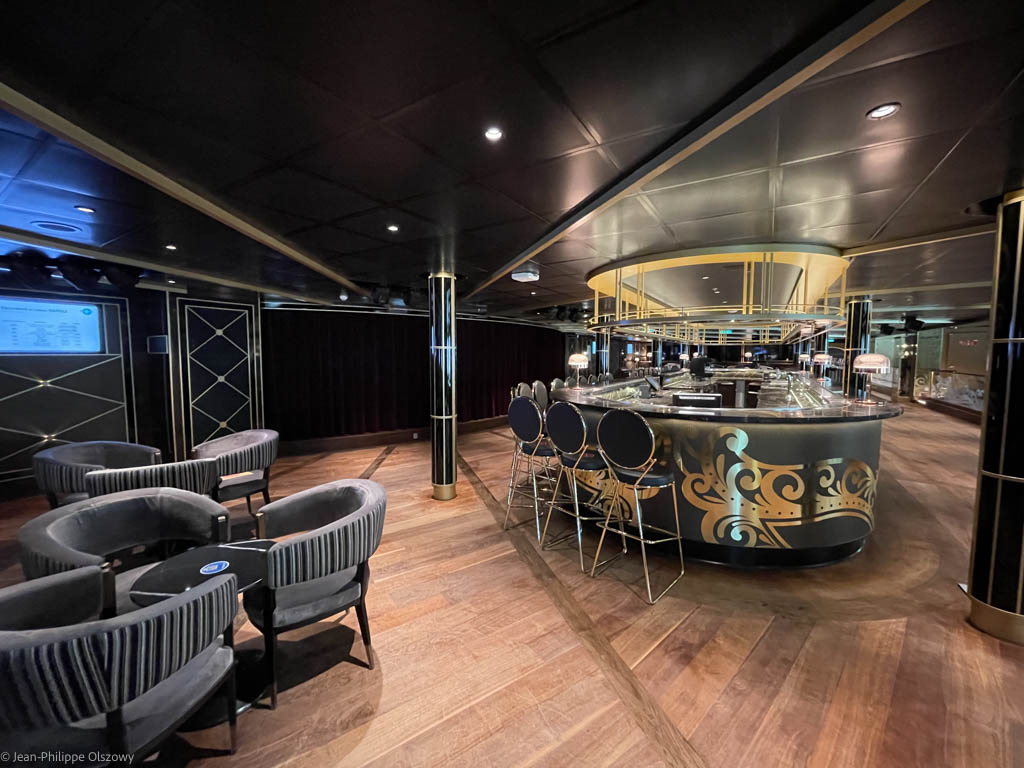 One of my special treats on a cruise is to drink real fresh orange juice in the morning (not the kind of chemical mixture usually served as standard). Unless you have opted for a suite and all that goes with this more luxurious option, or if you are in the Aqua Class on Celebrity, fresh fruit juices are an option Here it is 5 € a glass (not a large glass …). It's a bit pricey, but it's a real fresh juice which I have found to be very good every time (oranges not from Florida?). It is possible to order it at the table during breakfast, as well as at certain bars, such as the Spritz bar (which does not open until 11 am).
Bars are often themed, and thus they limit their offer to these themes. You won't find beers at the Campari Bar for example. One of the bars with the most extensive options is the Laguna, right next to the casino.
All these options are really interesting in conjunction with a beverage package if you like to have a few drinks, during meals, as an aperitif or in the evening. I will talk later: a real surprise, if again we again compare with the other companies.
The restaurants
As usual on cruise ships, there are several "main" restaurants, each with their own unique style, but sharing exactly the same menu. A buffet is also available but with the sanitary protocol, it was not operational (at least in the classic buffet format) and it was operating like any other main restaurants with the same menu. It was required to consult the menu via your phone and thanks to a QR Code, and get the waiter to take the order with his smart device. No doubt that the lifting of the restrictions soon will restore the buffet function of the Sagra Dei Sapori, whether in full self-service or served by someone to avoid touching the dishes, but it will be without menu.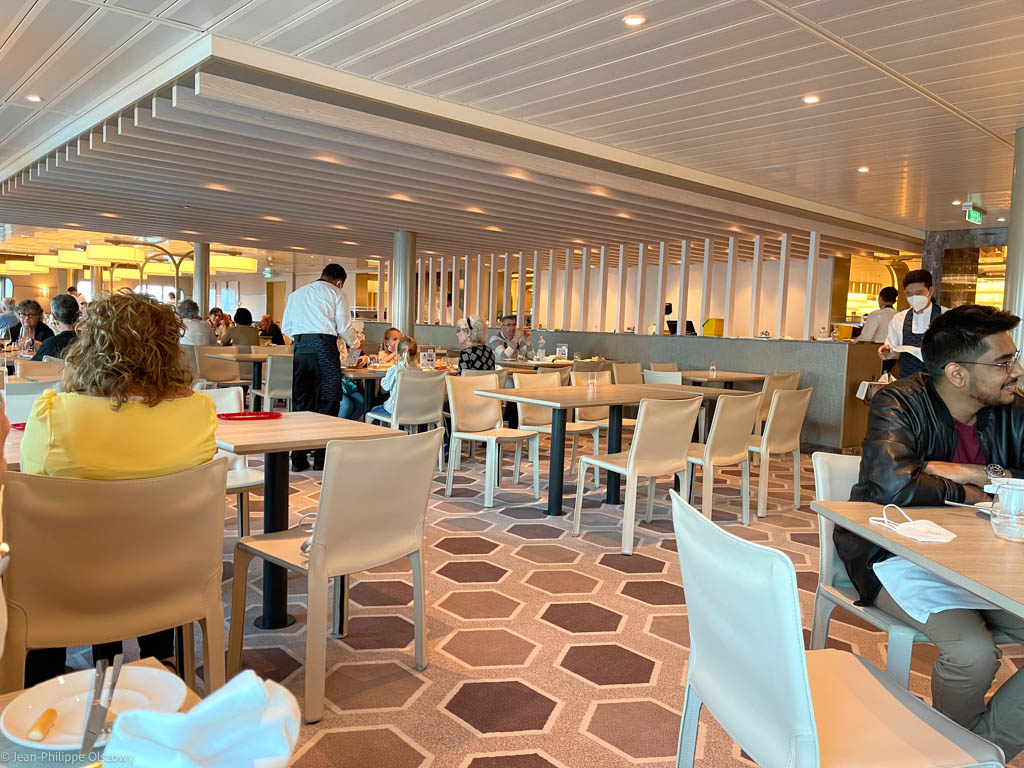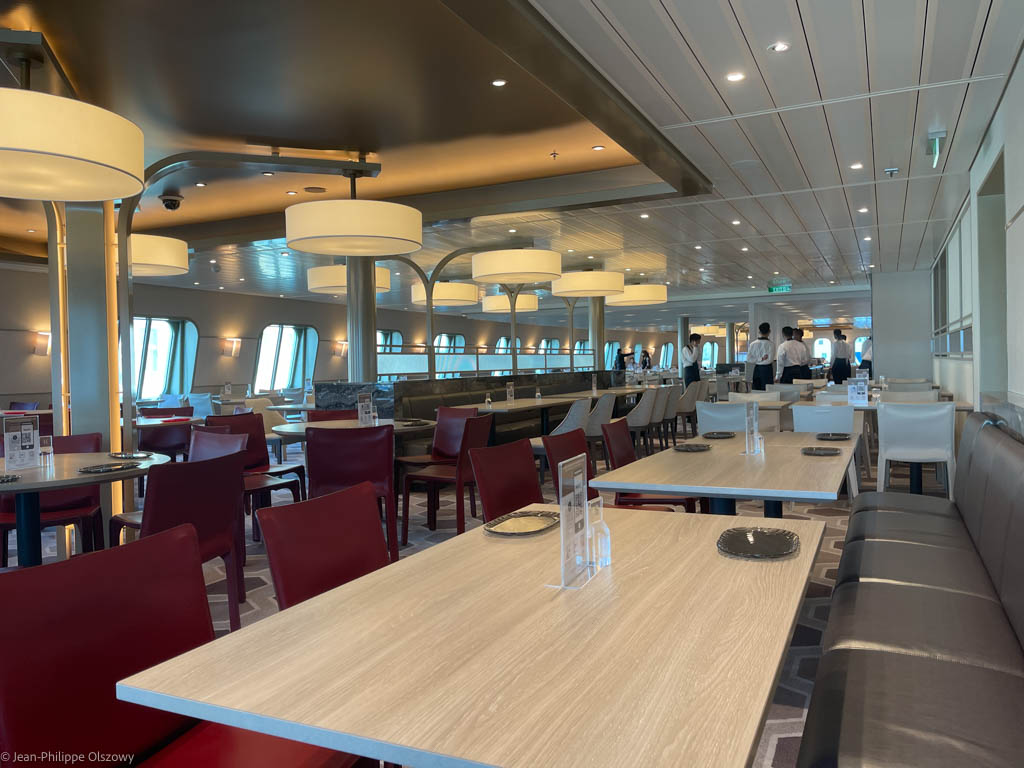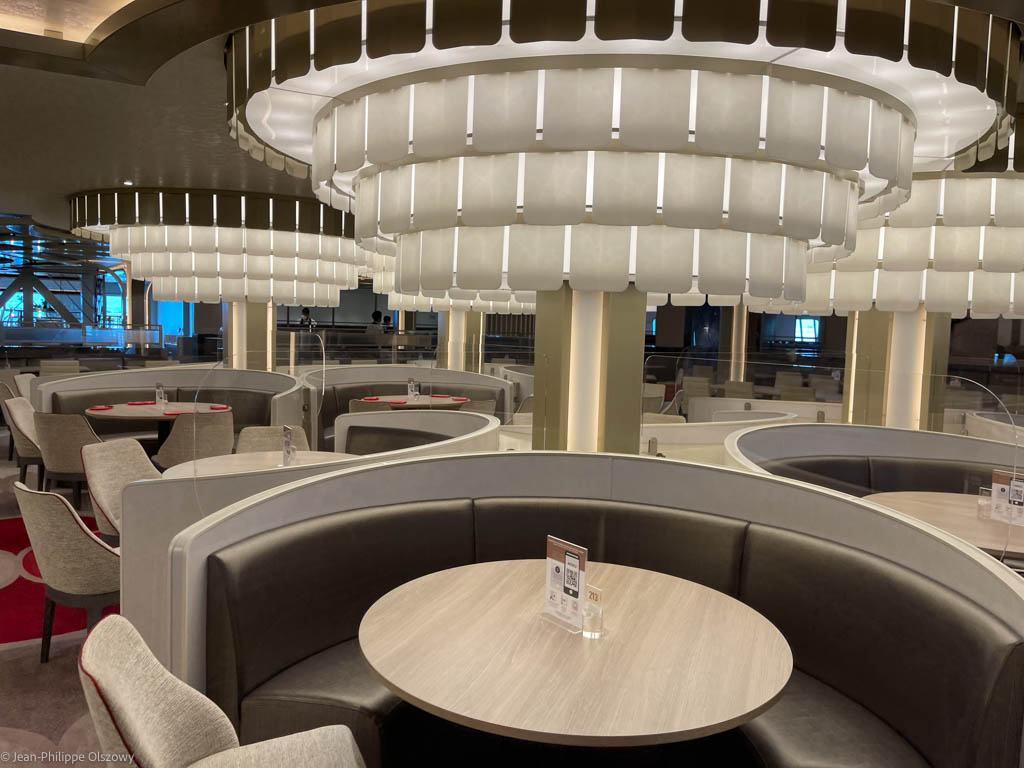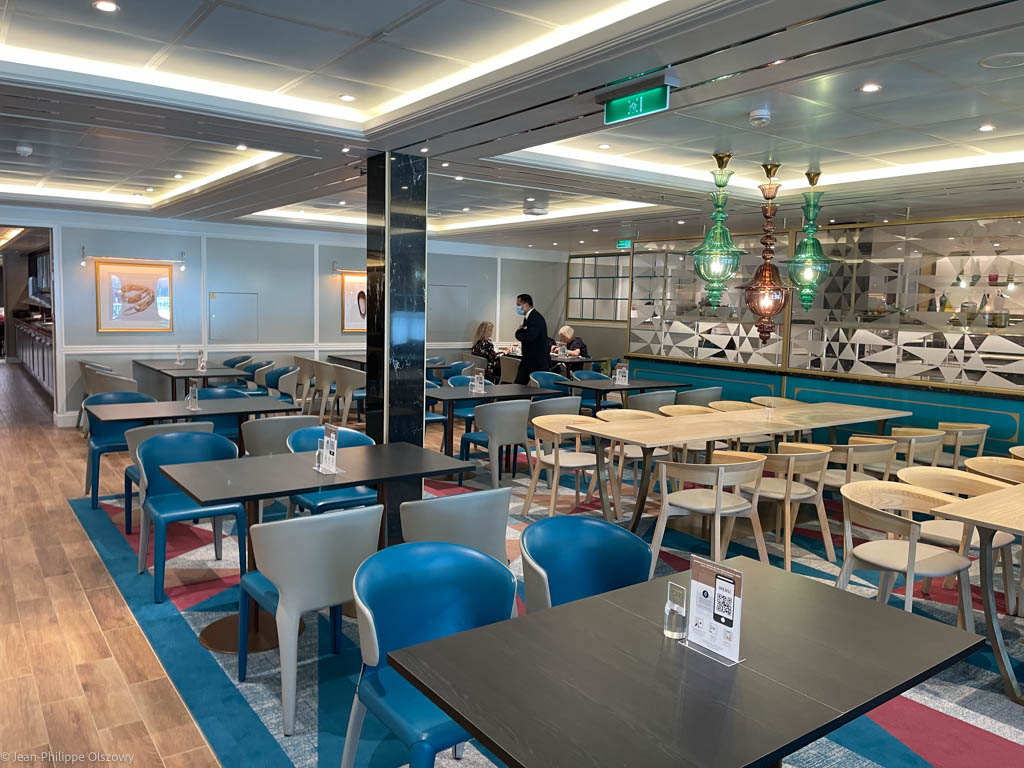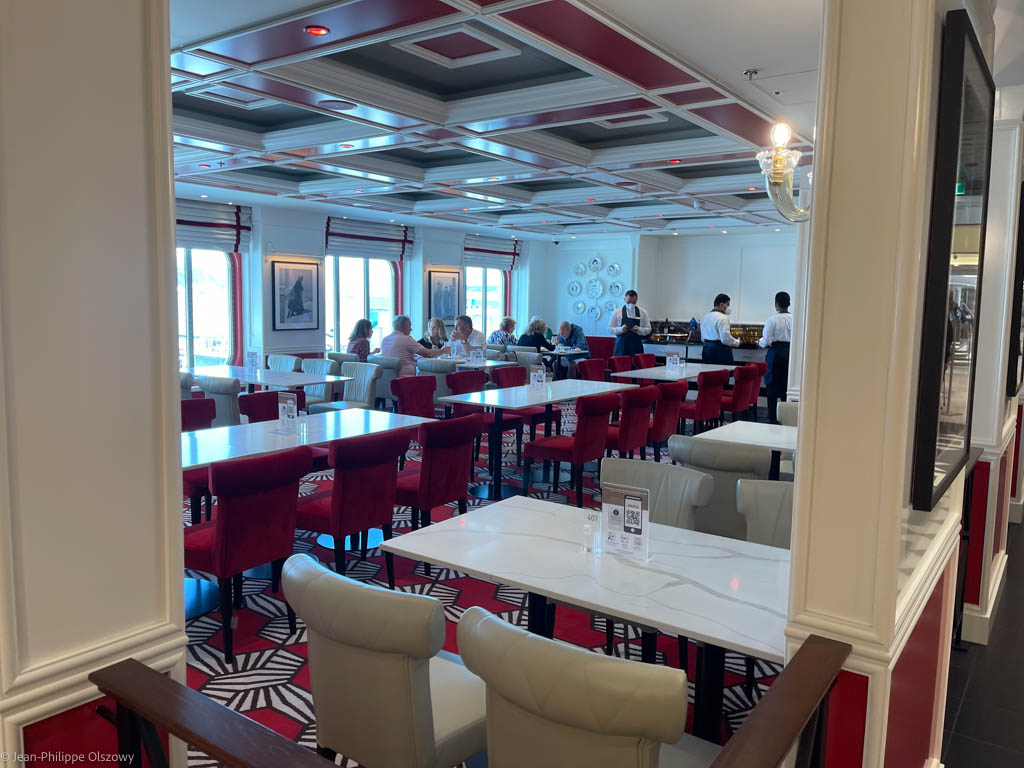 You can choose any main restaurant for breakfast, among those that are open in the morning. The menu selection is relatively varied. A good point for fresh fruit platter which is good (sufficiently ripe and with real taste), which is quite a change from other companies where melons in particular are consistently hard and tasteless (US sourced?). Though a bad point as most dishes are prepared in advance and thawed before serving. Costa has the honesty to point it out on the menu. But scrambled eggs just warmed up after thawing isn't that great. Again, by comparison, I had never seen this on other companies: all the egg dishes were prepared on the spot, with fresh eggs. Astonishing, and disappointing. The coffee is as bad as any American coffee that is usually served on ships. It also has the drawback of being served regularly almost cold. If you prefer tea, it is better not asking for a "Darjeeling" or an "Earl Gray", as most waiters do not even know what it is about.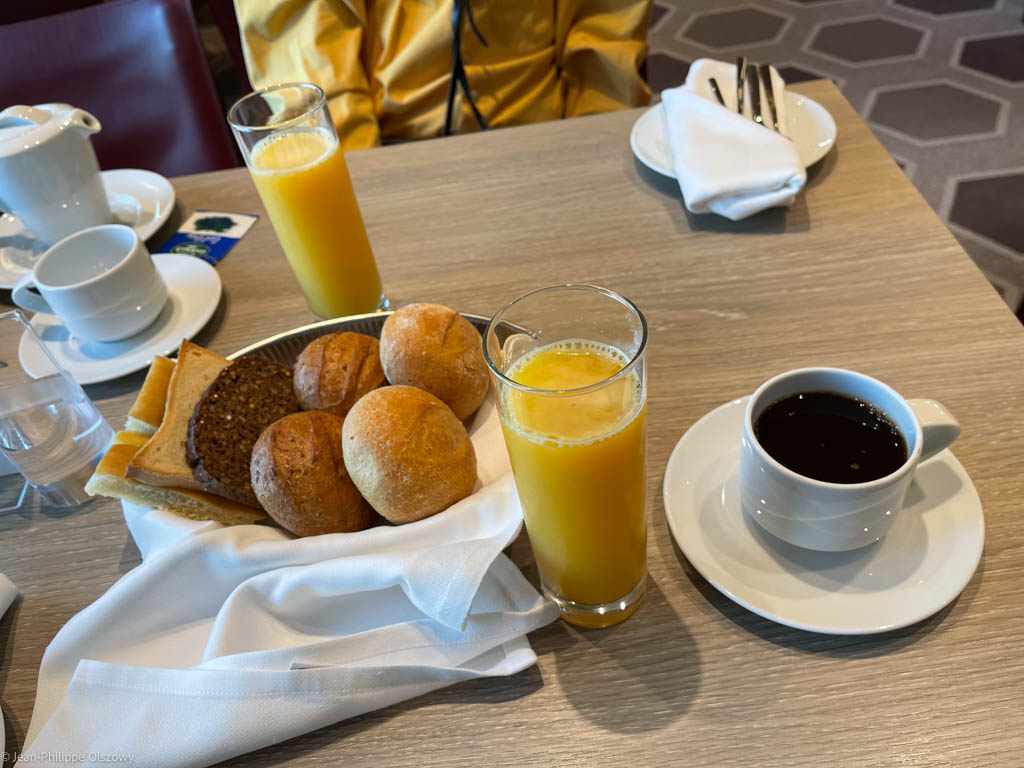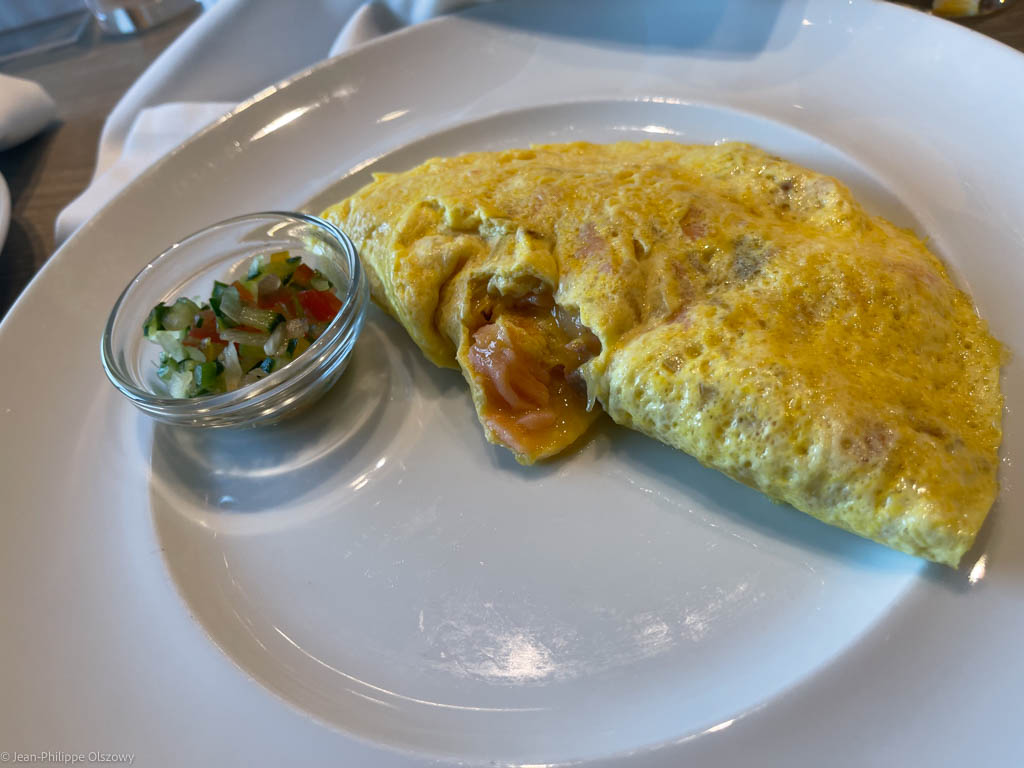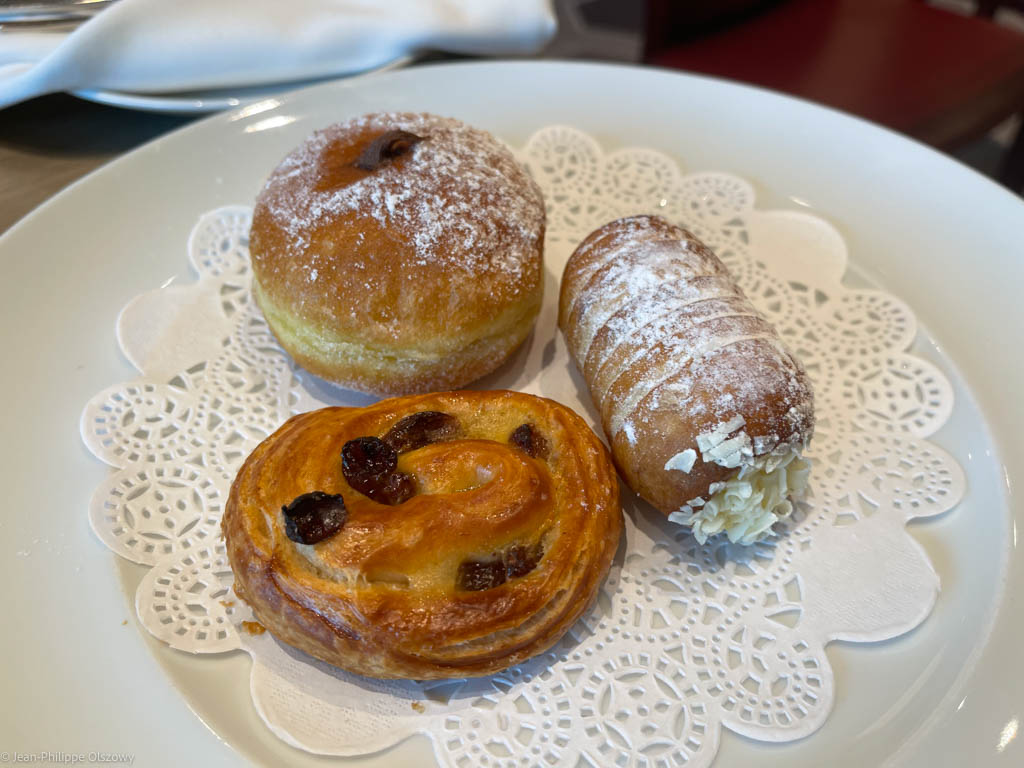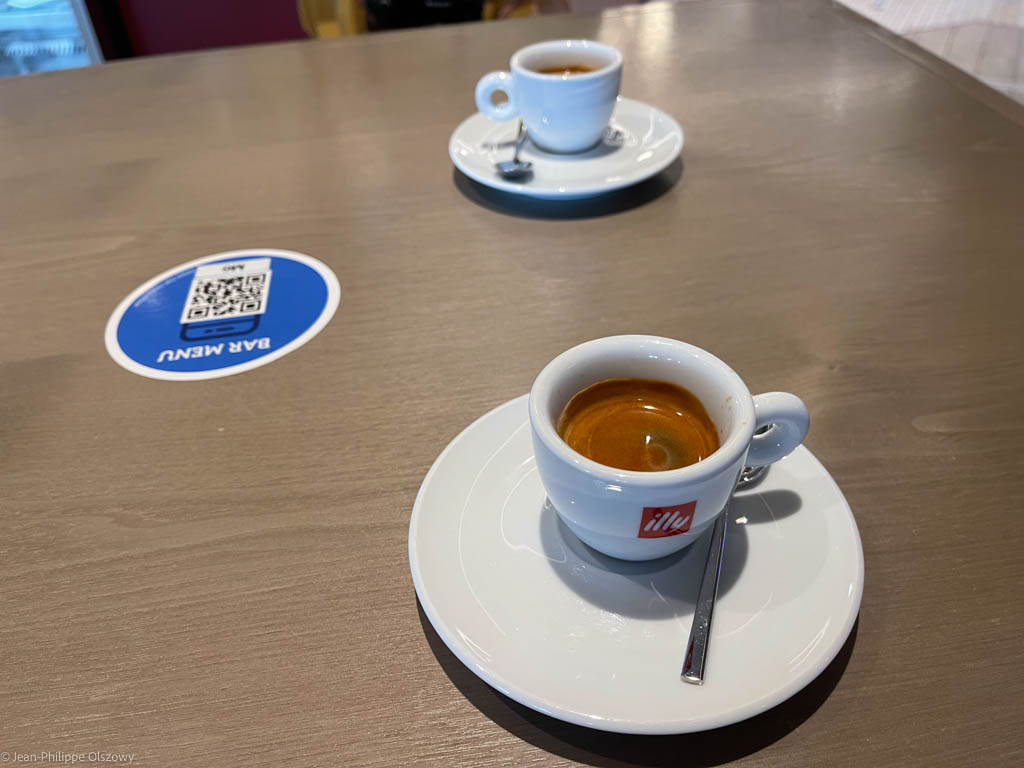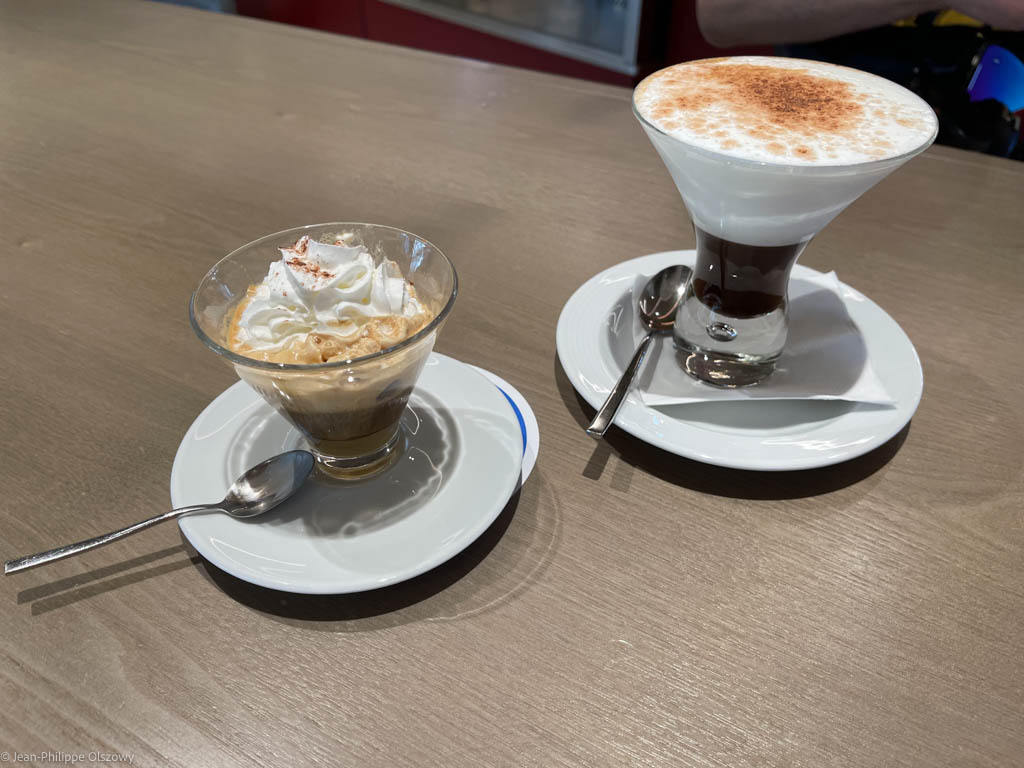 For lunch too, we are free to choose our restaurant. The menu is again unique and does not depend on the chosen location. Over the 7 days of my cruise it was different every day. In the form of a starter, a first course, a second course (Italian style) and a dessert, there is also a selection of dishes systematically offered such as pasta, beef. .but no hamburger. We are not on an American culture company! And strangely enough there was no cheese platter available.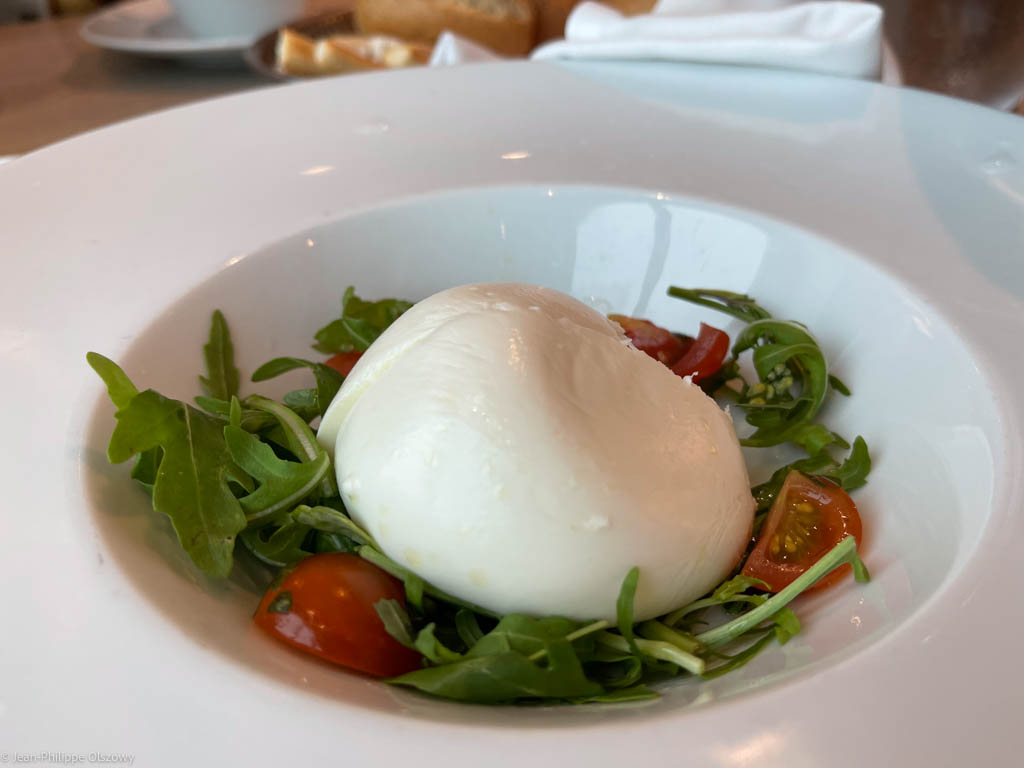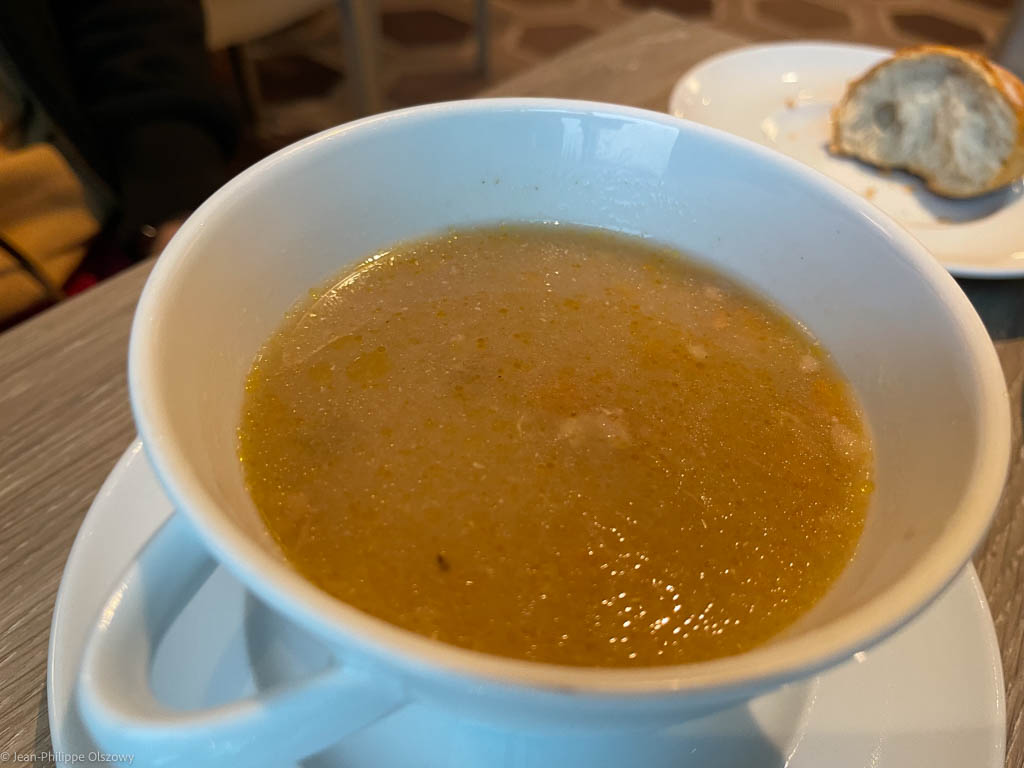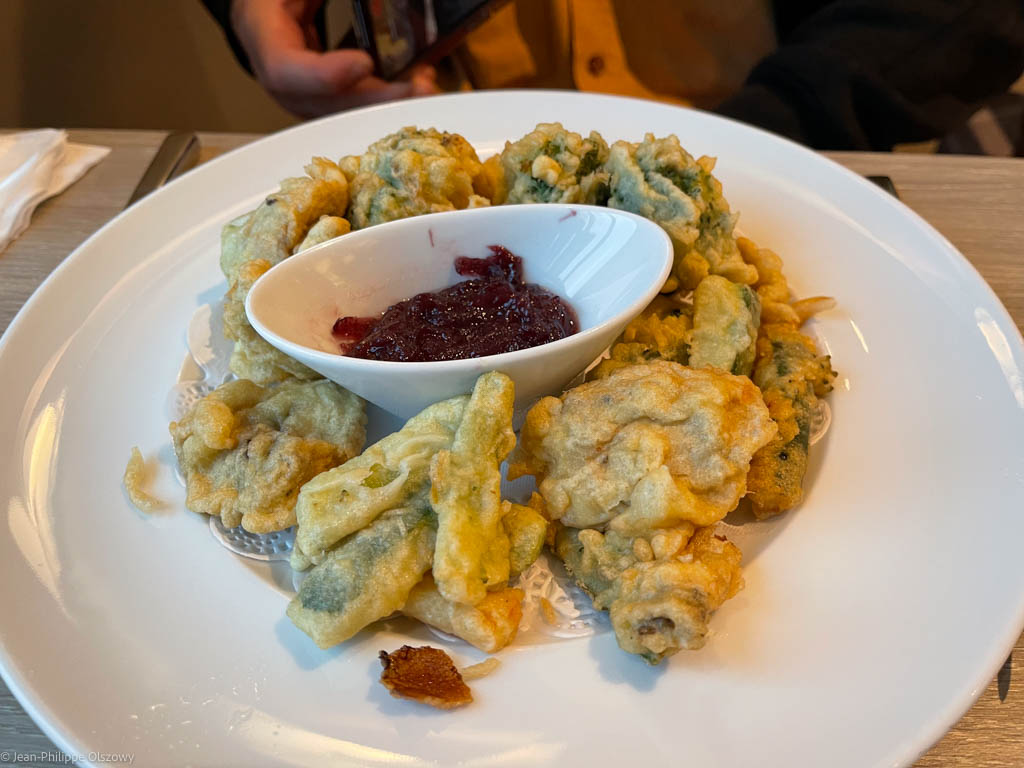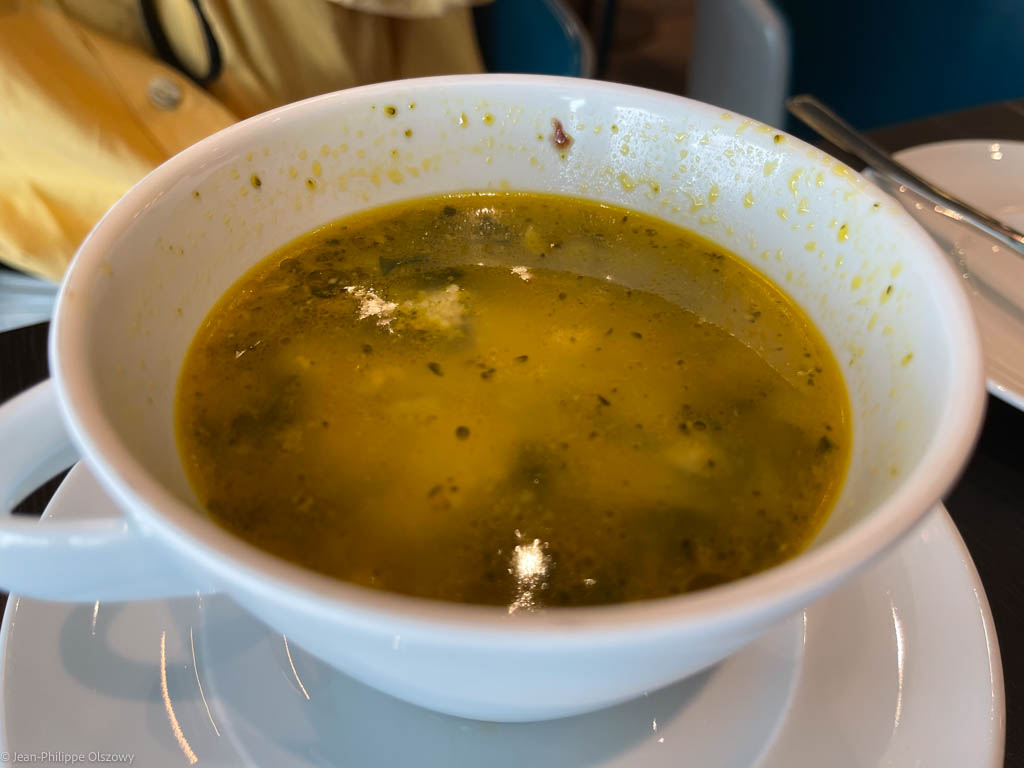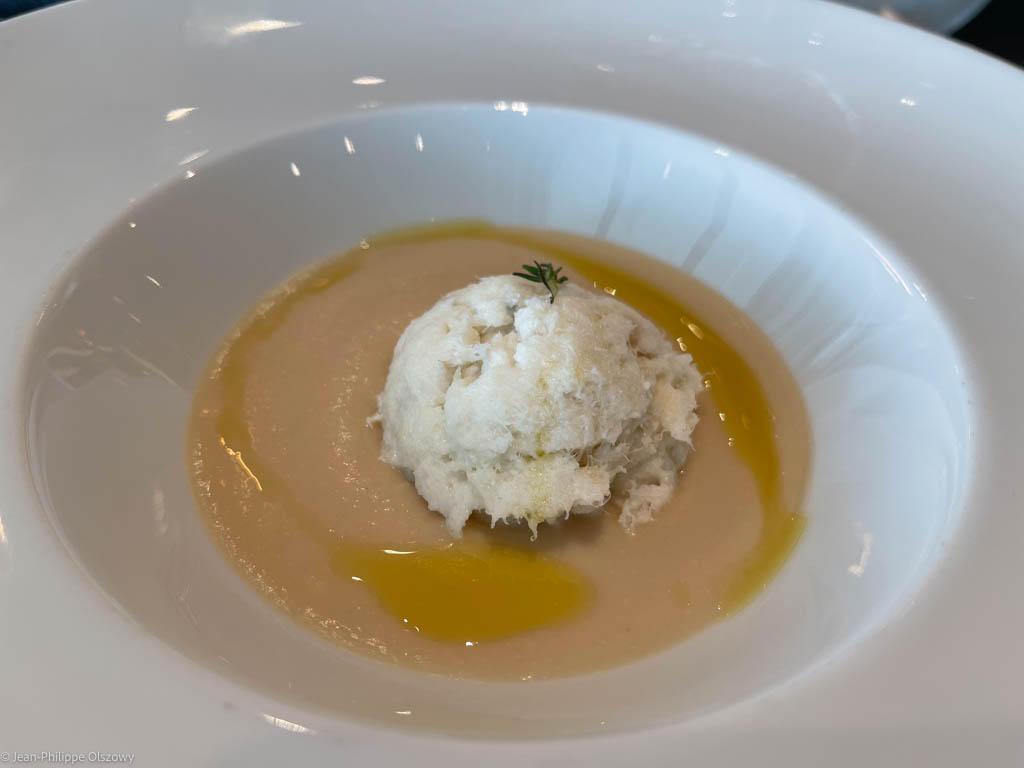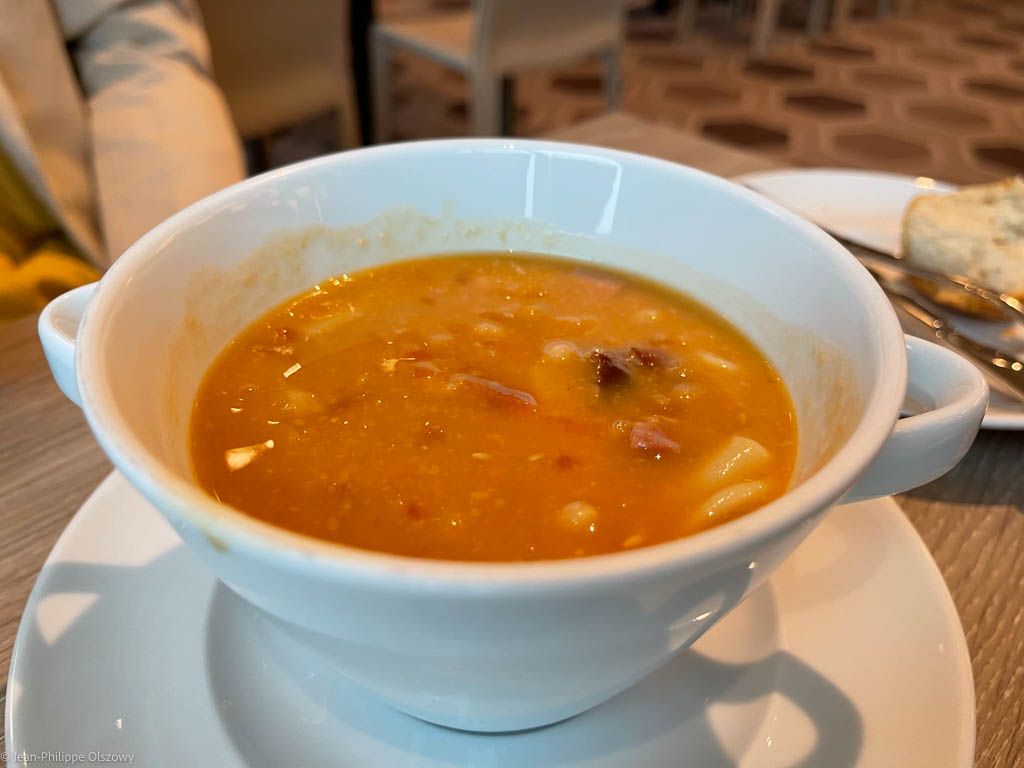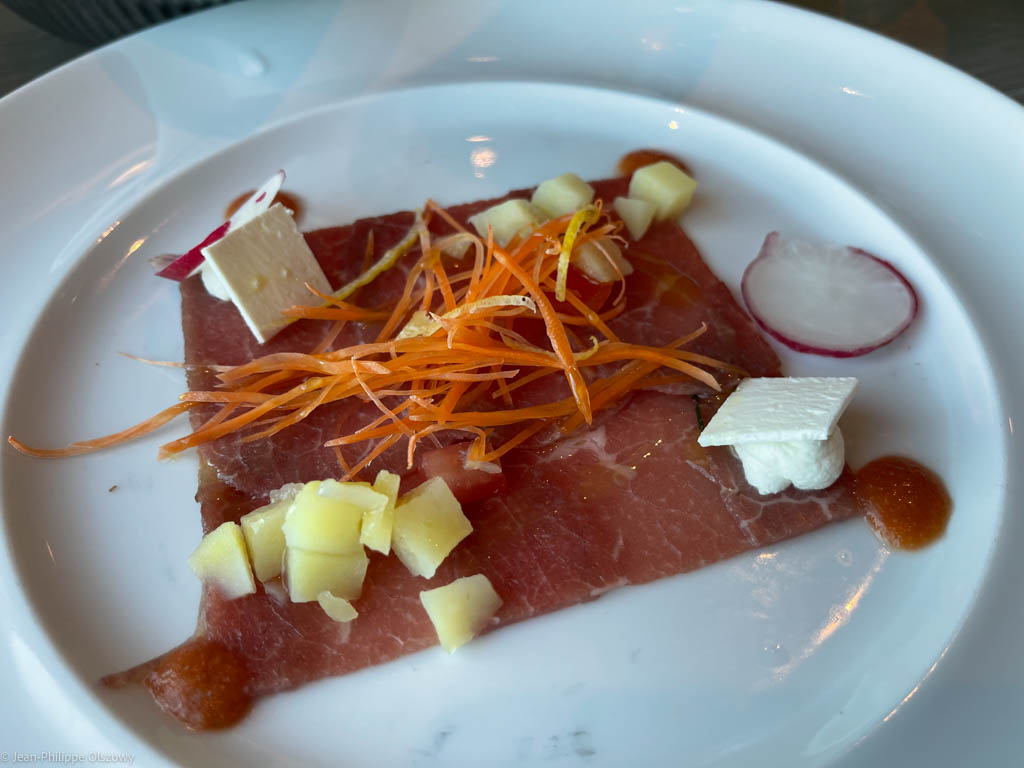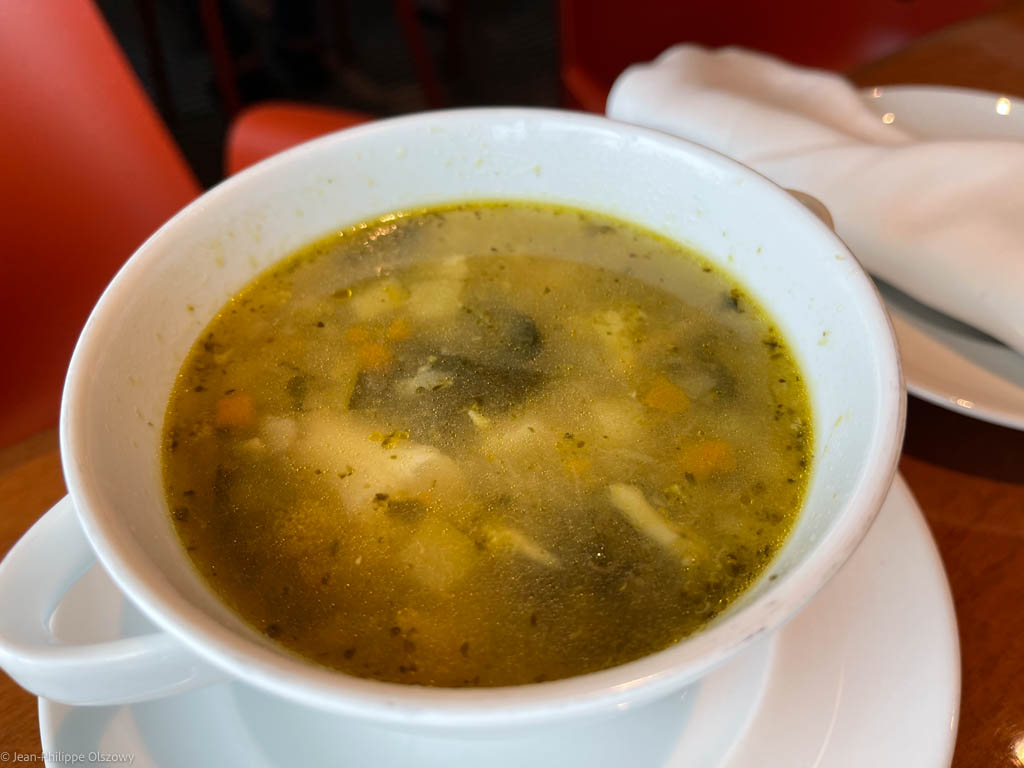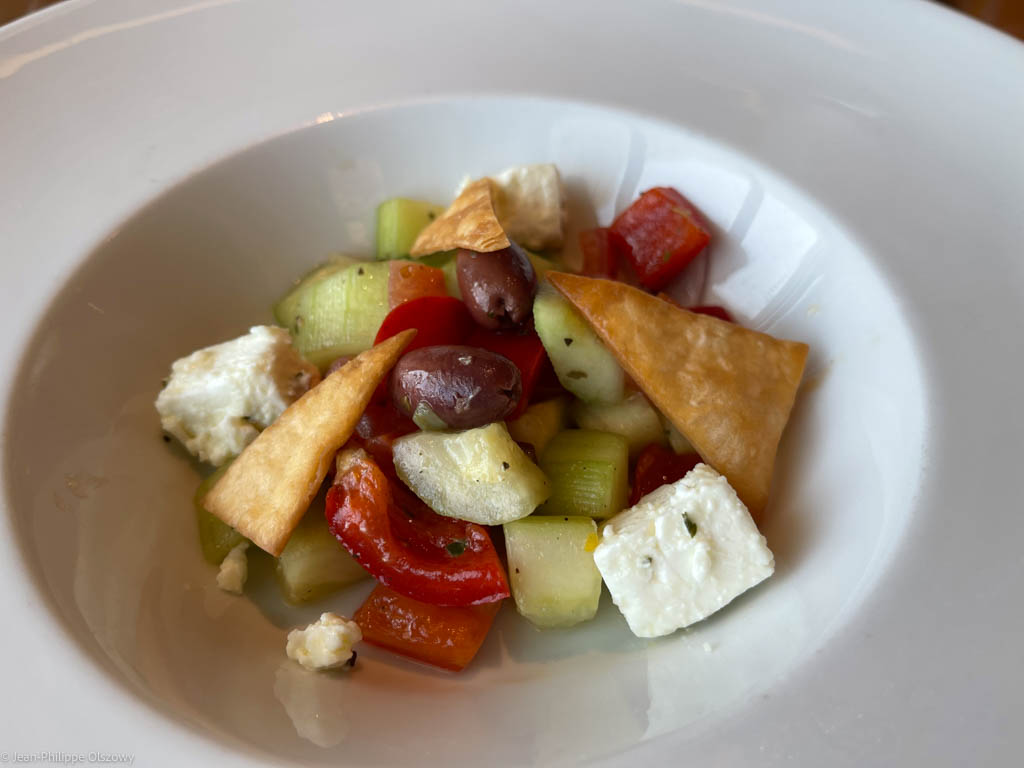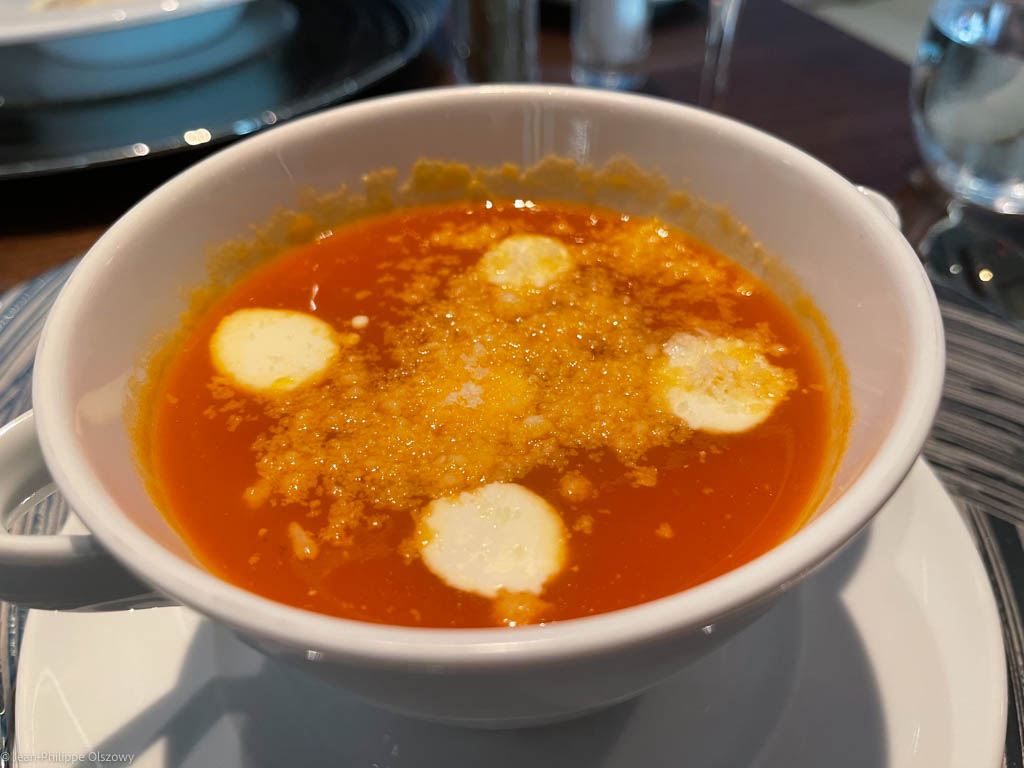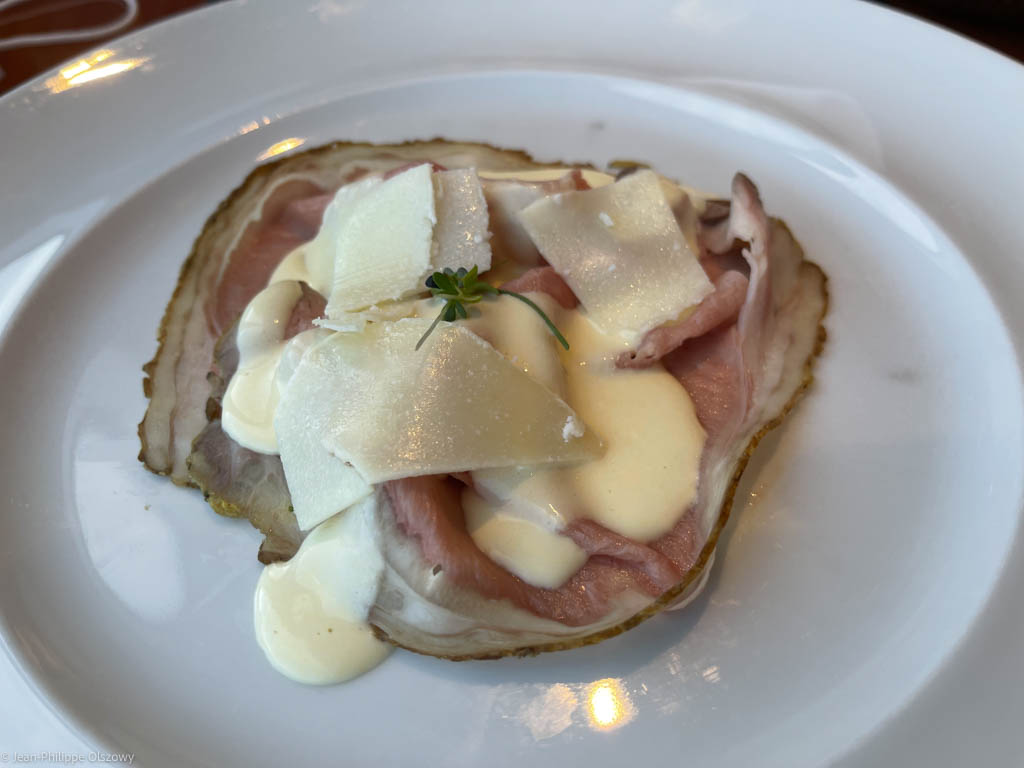 On the other hand, for dinner you are set to a particular restaurant : a restaurant and a table in this restaurant are allocated once and for all the duration of the cruise, as well as dinner time, at a fixed time, either on the first or on the second service. It is supposedly possible to choose your restaurant and service before the cruise (if you got the Comfort option). This is what I had, and I was indeed able to choose my restaurant and service from Costa's website. Once on the boat, neither the restaurant I had chosen, nor the service that I preferred was what I got. This has something in common with my unique experience on MSC (the worst cruise I have done so far): you are offered the choice, but it is not taken into account. And complaining is useless: "it is like it is". A bad point for the service. It will not be the only one! Agan, the menu changes every day. And a set menu comprising a starter, a main course, a dessert is also offered in relation to the food specialties of the stopover of the day.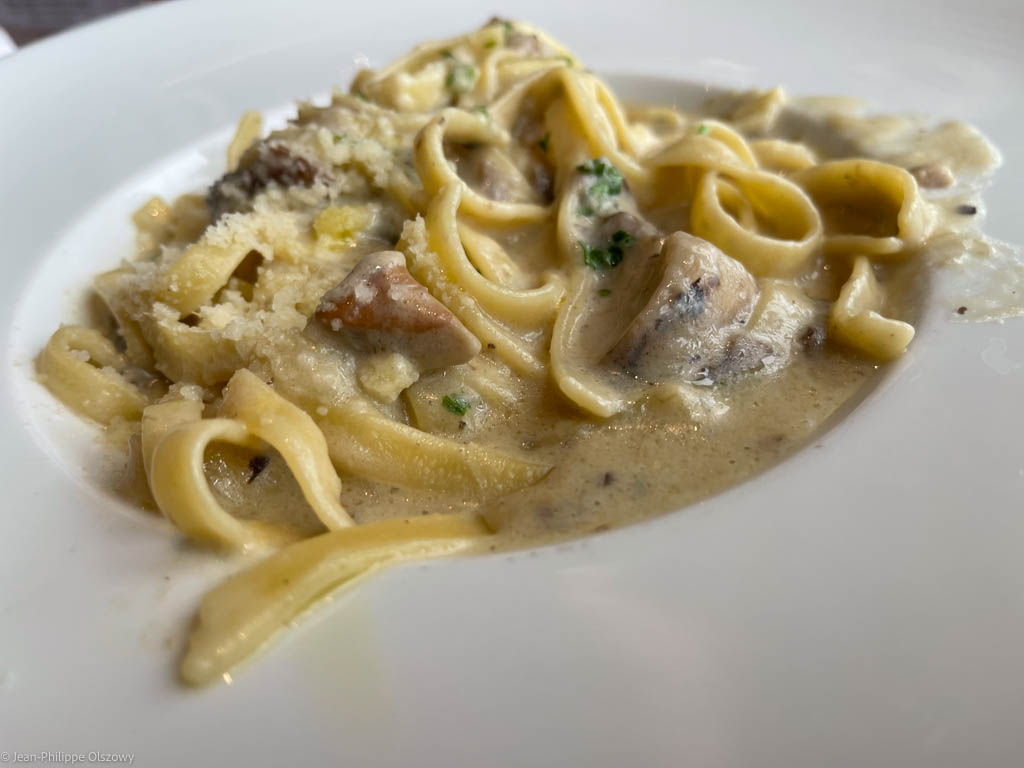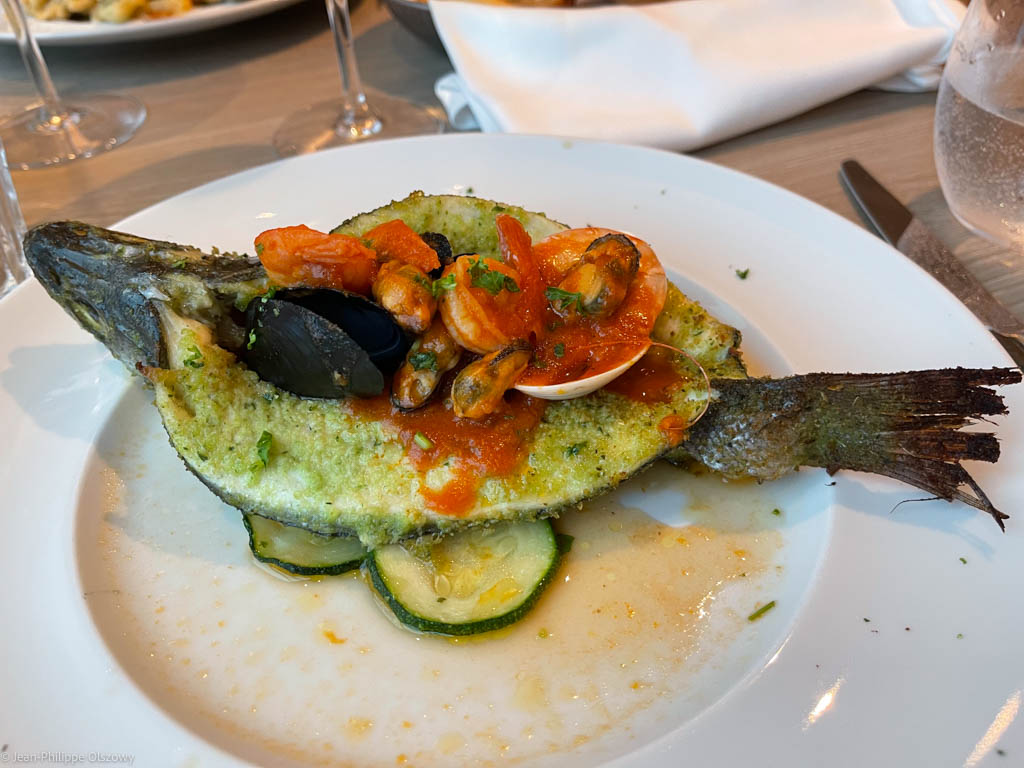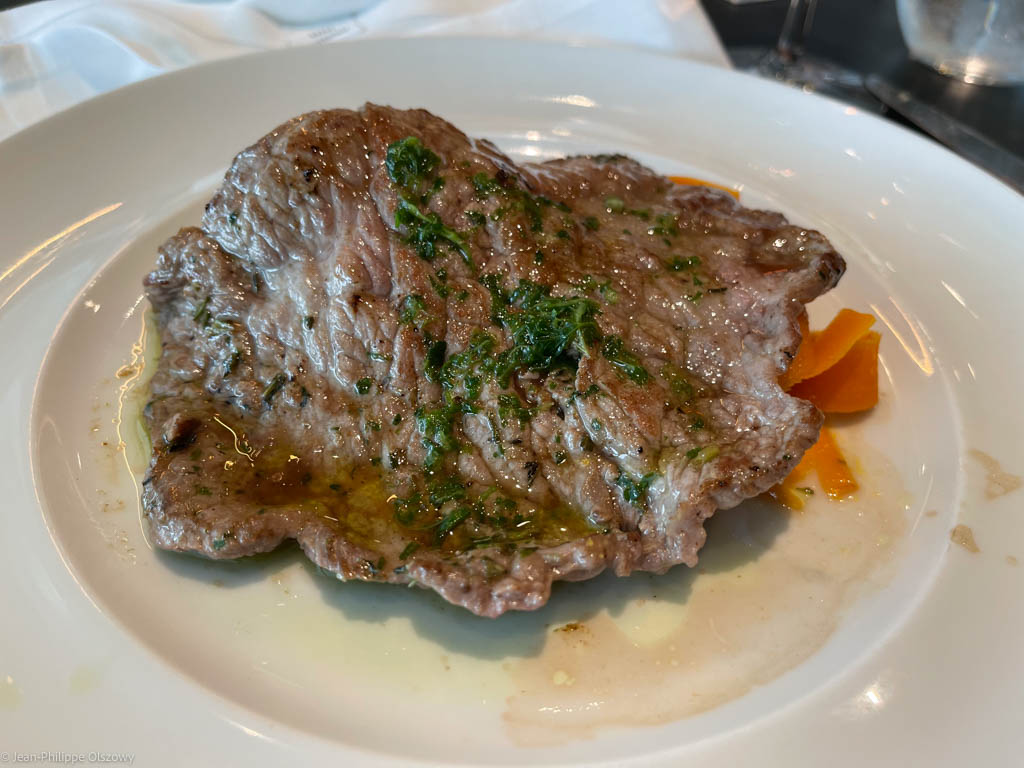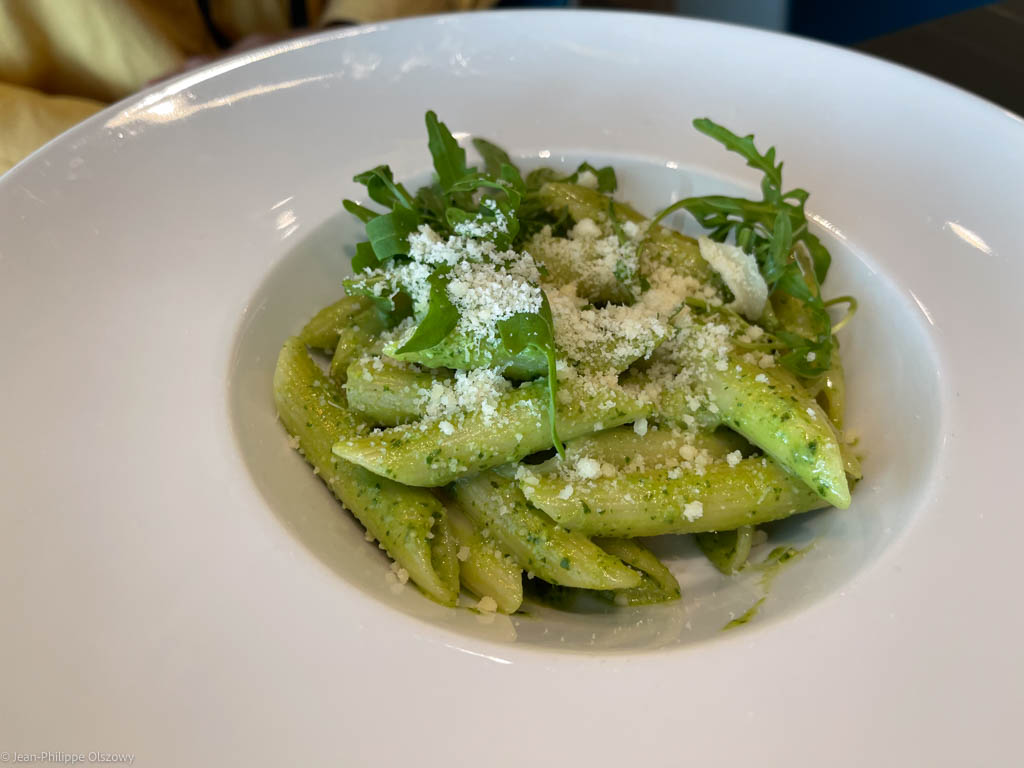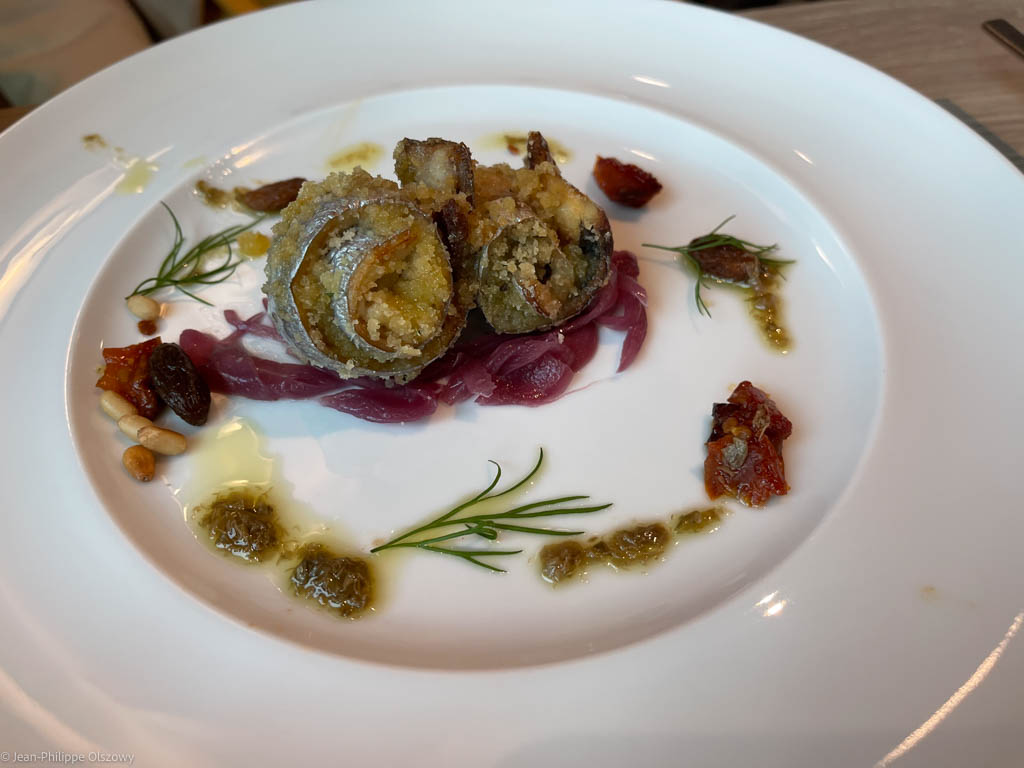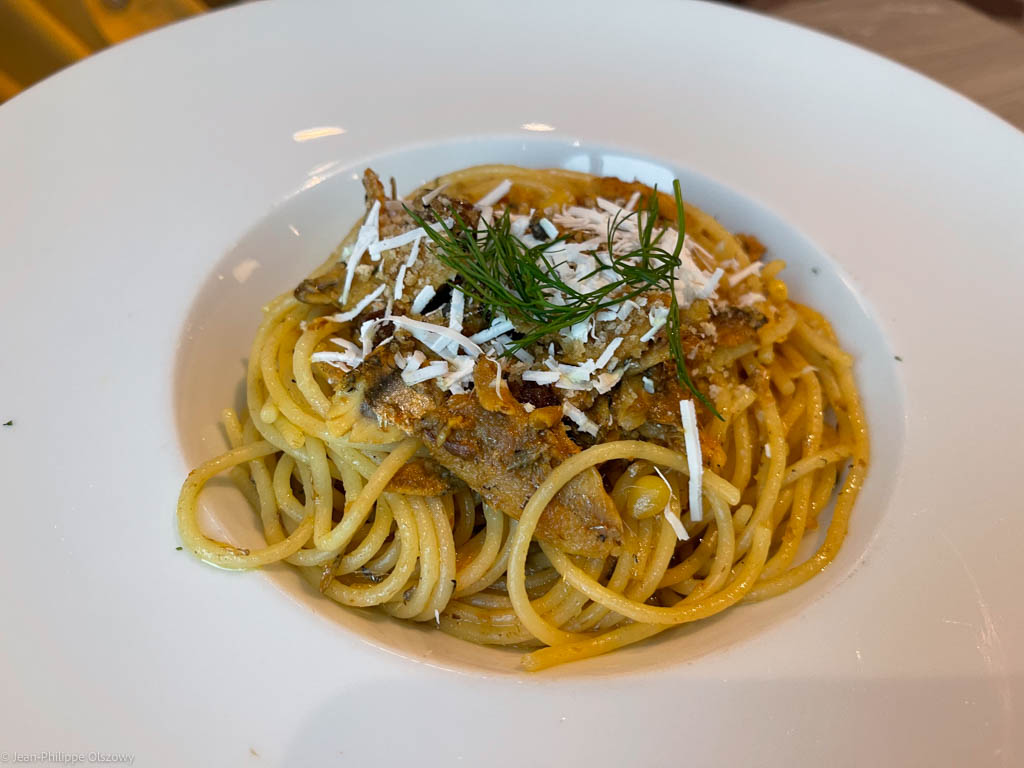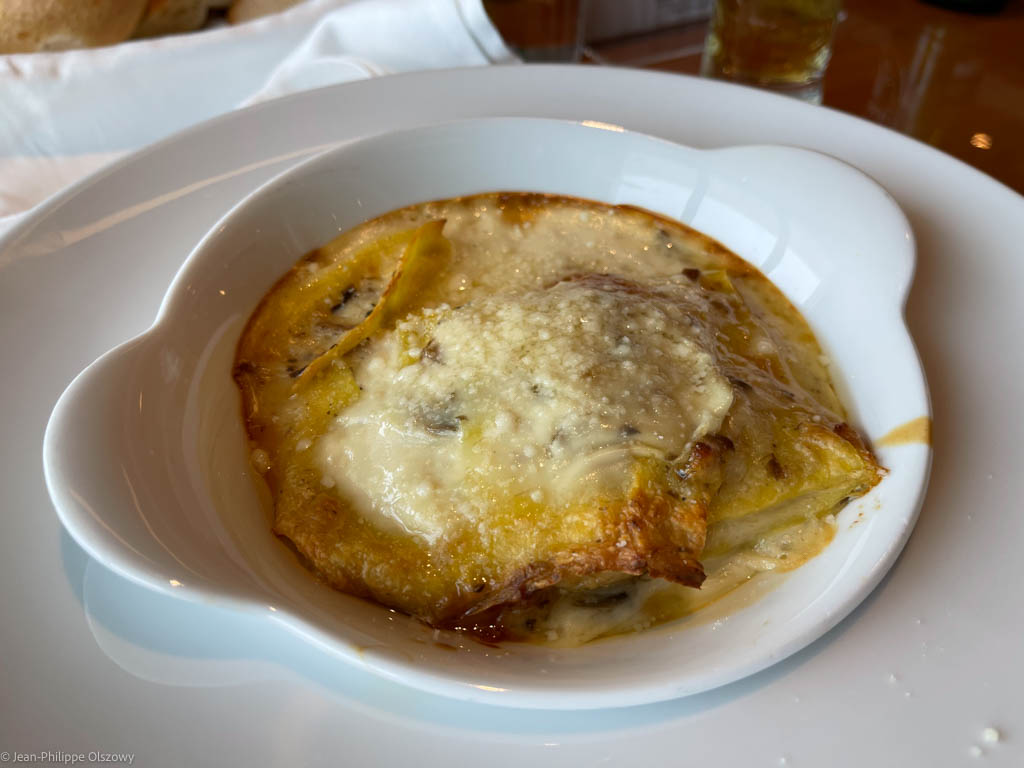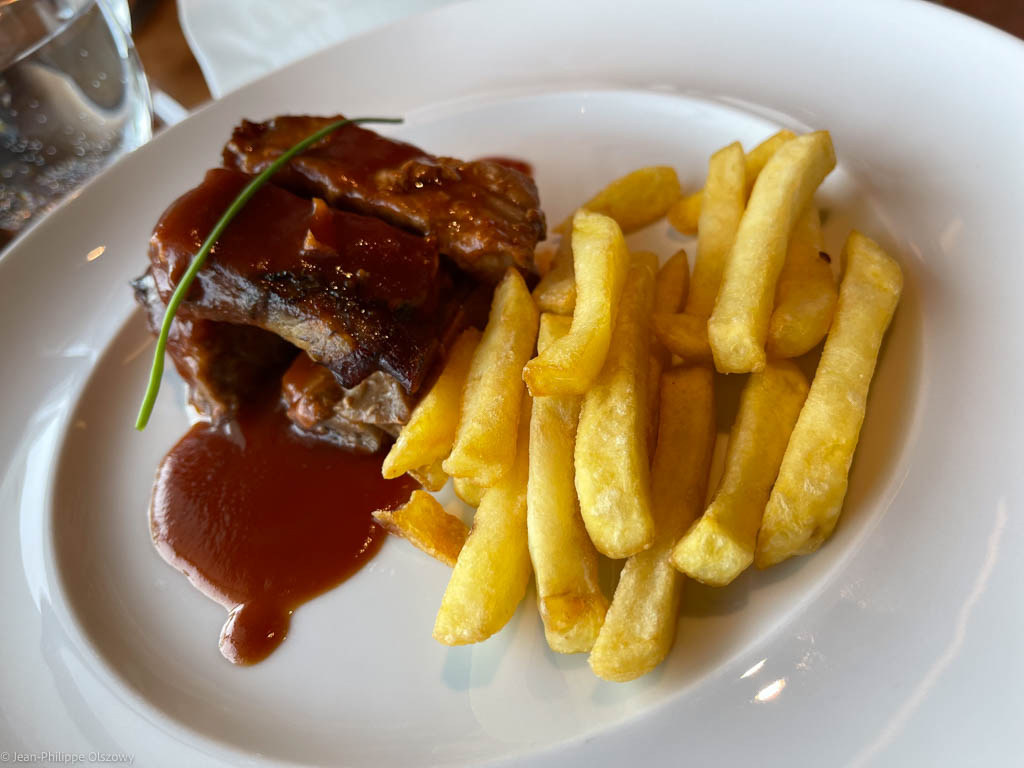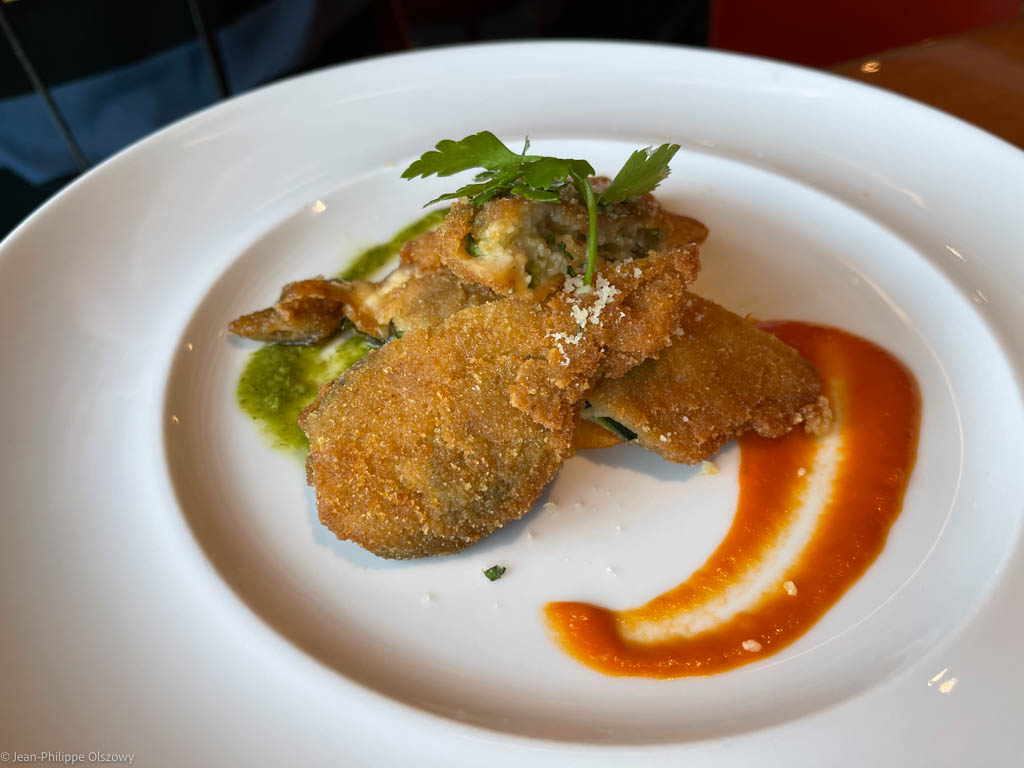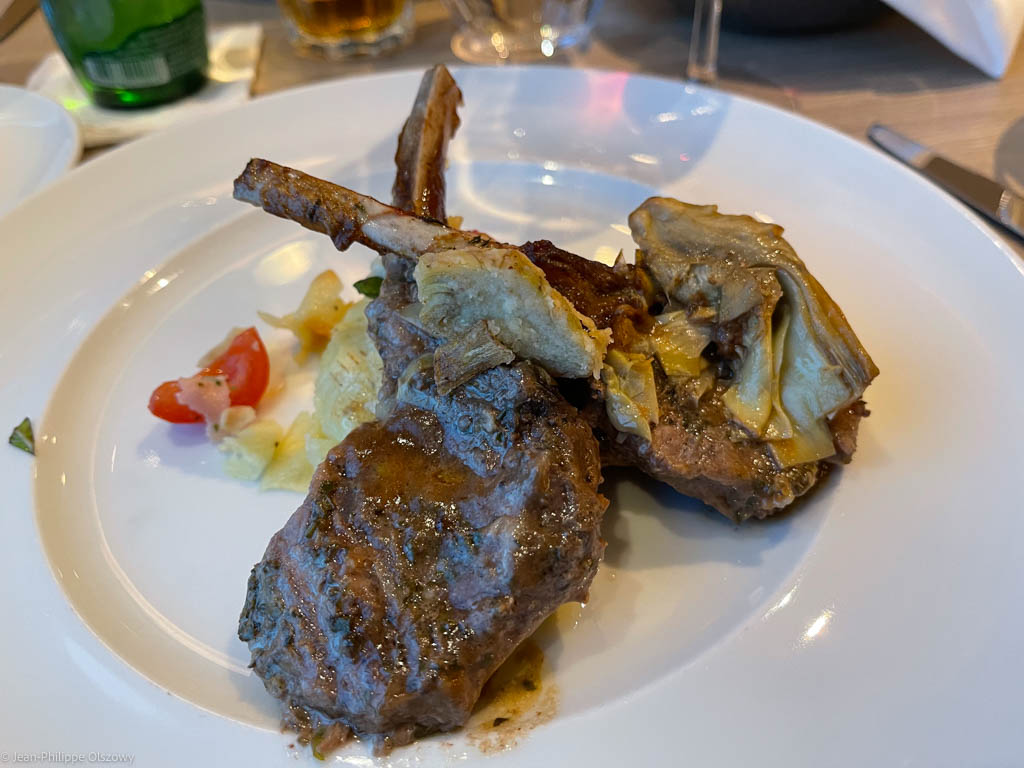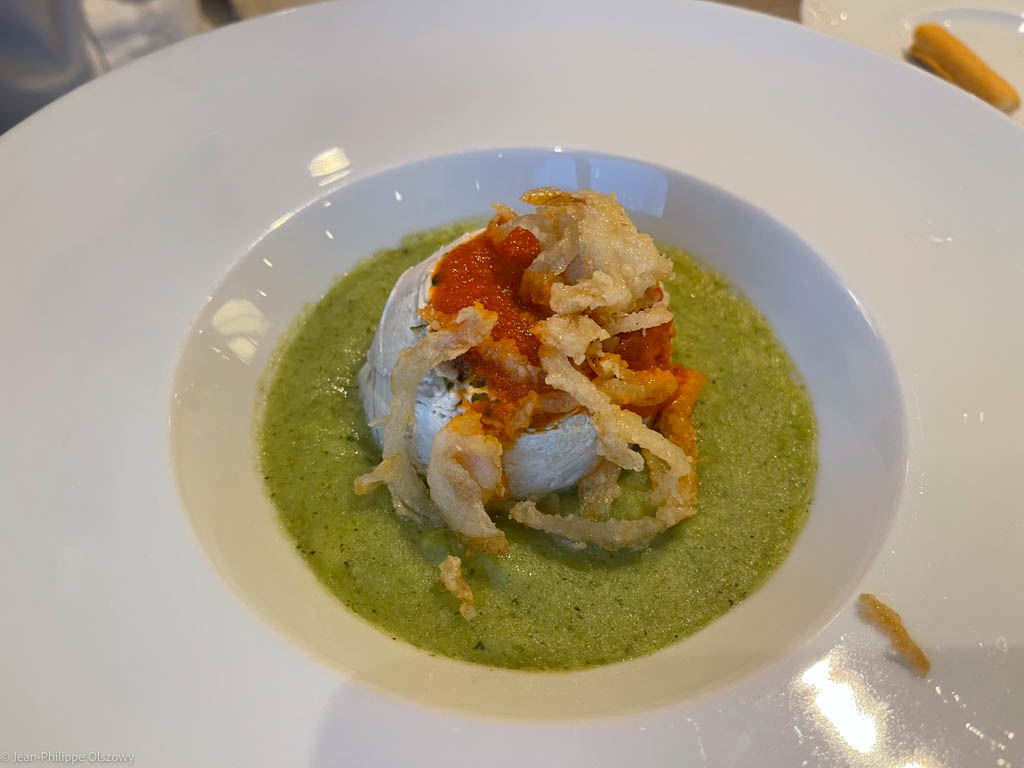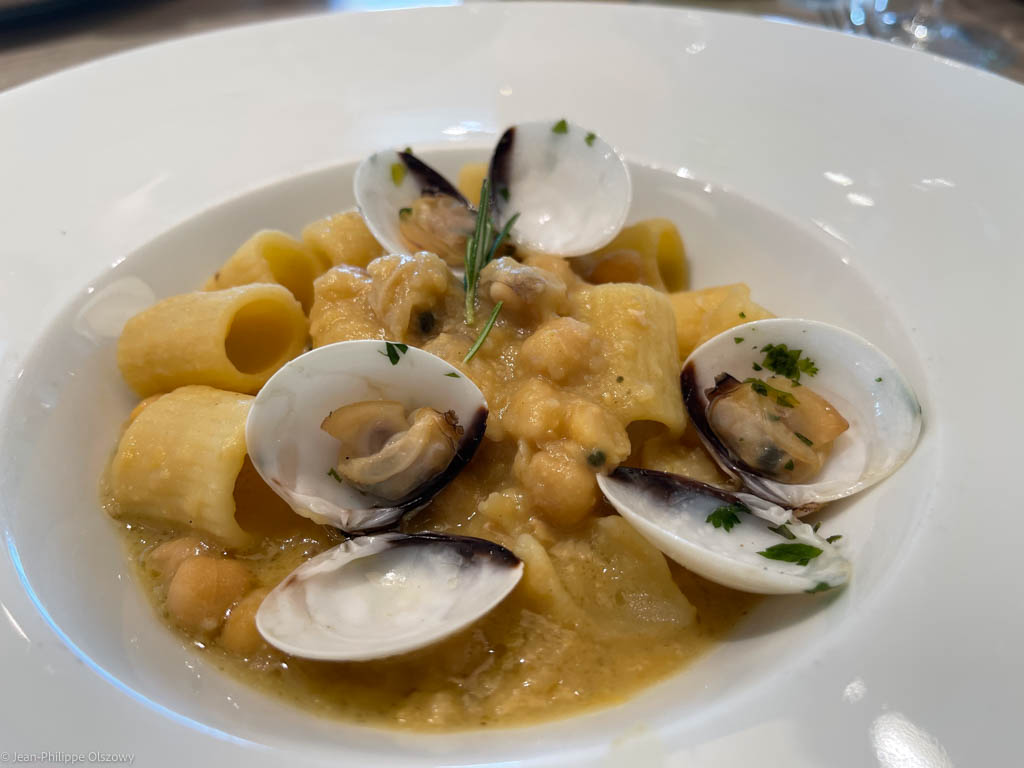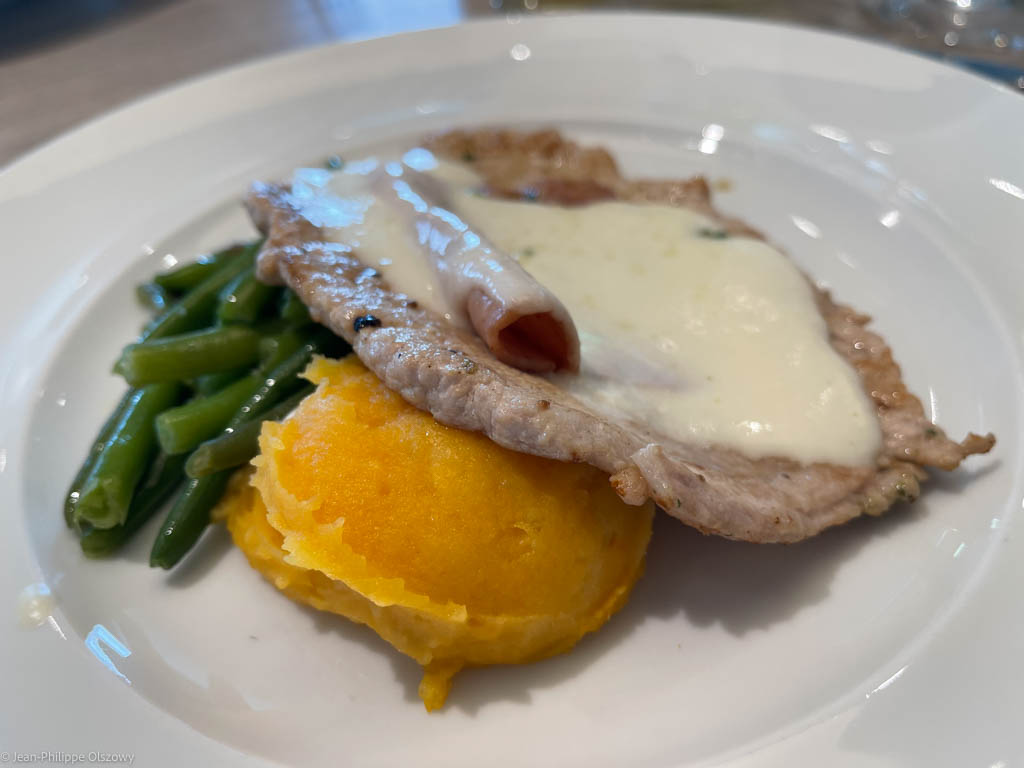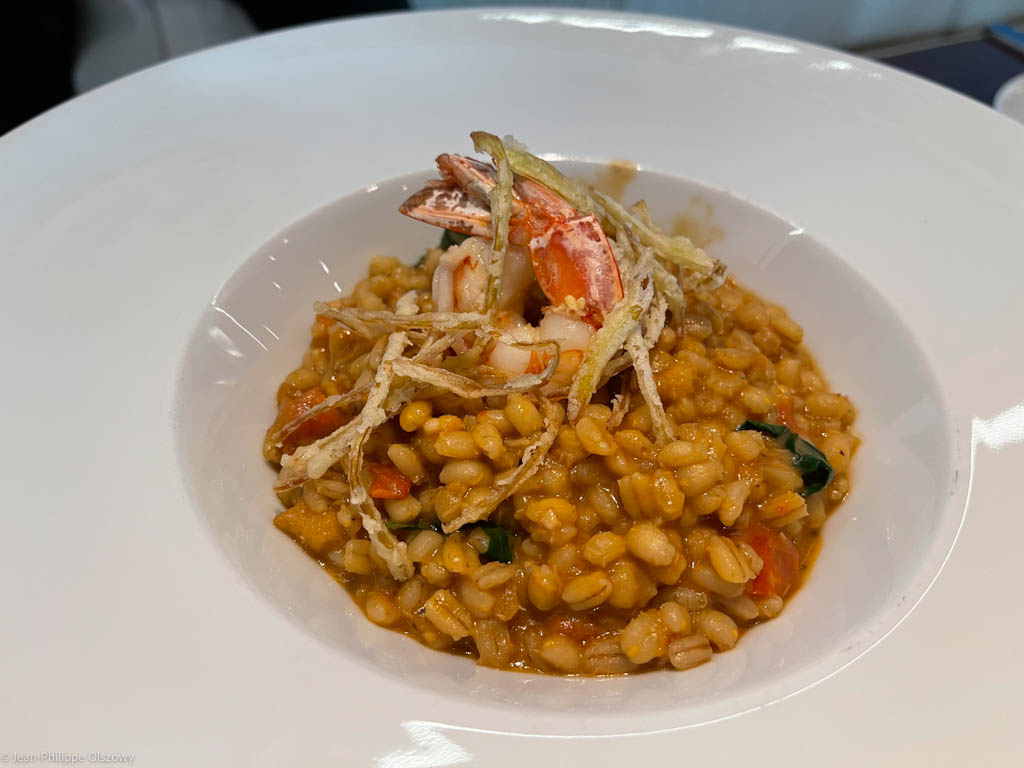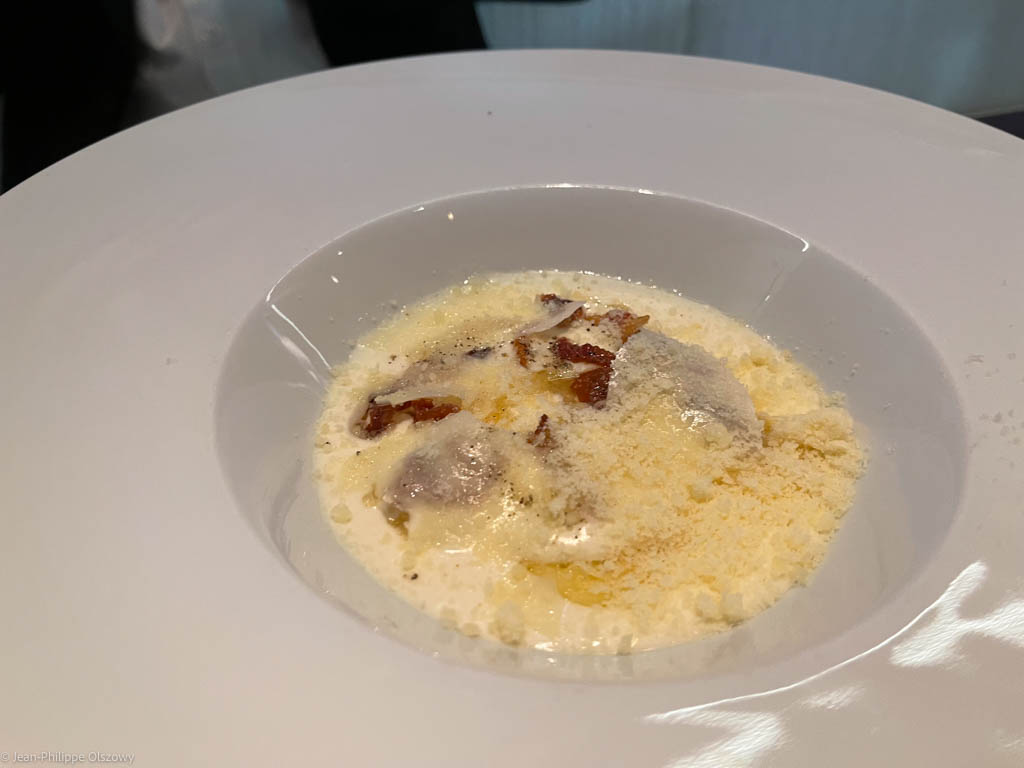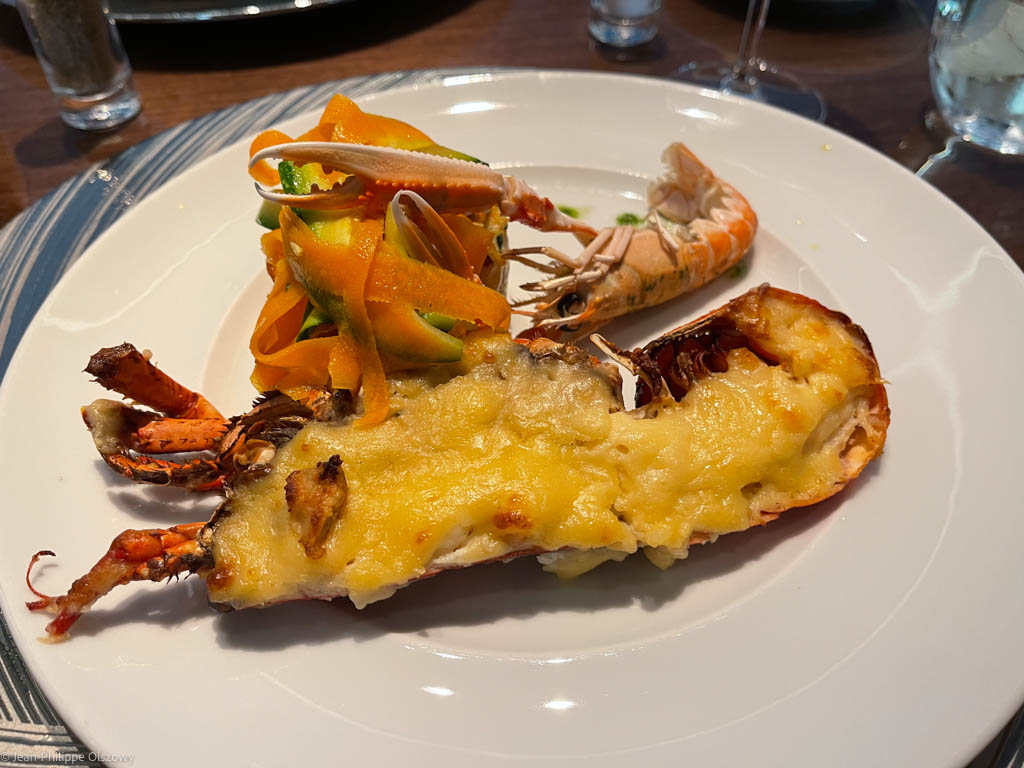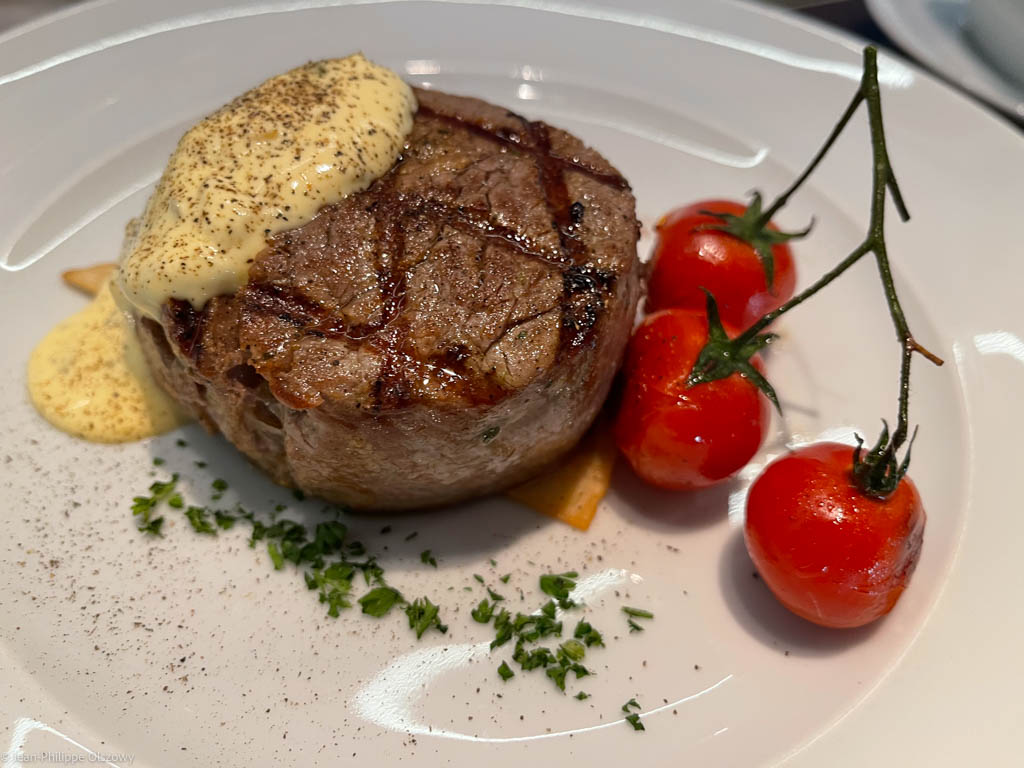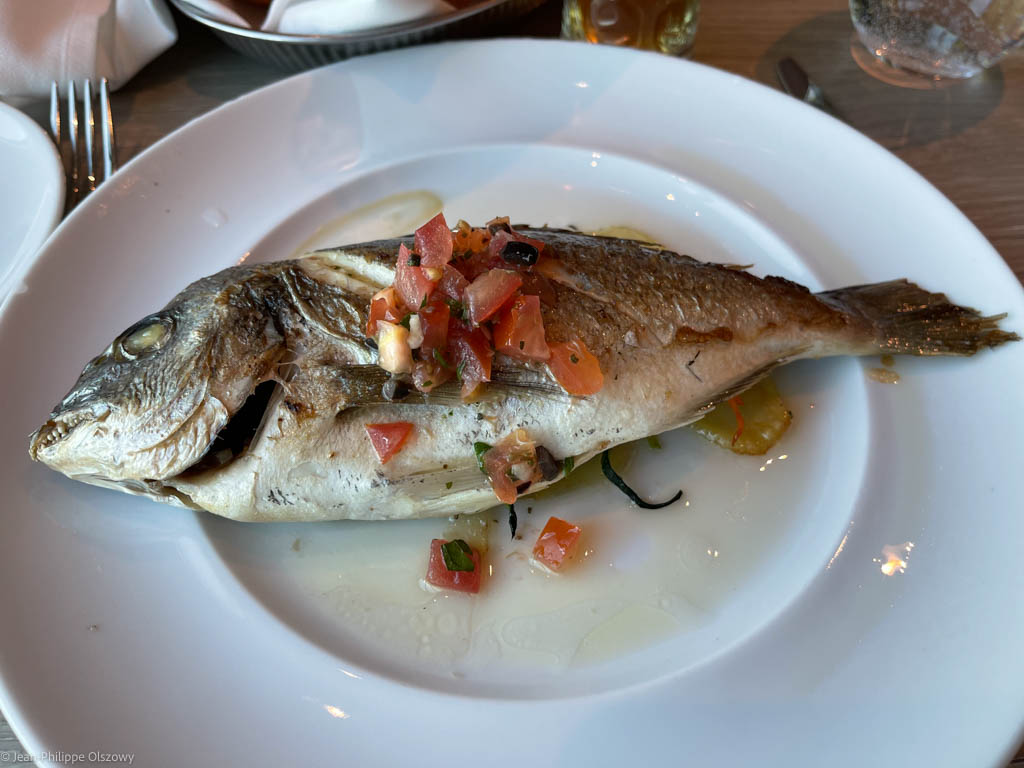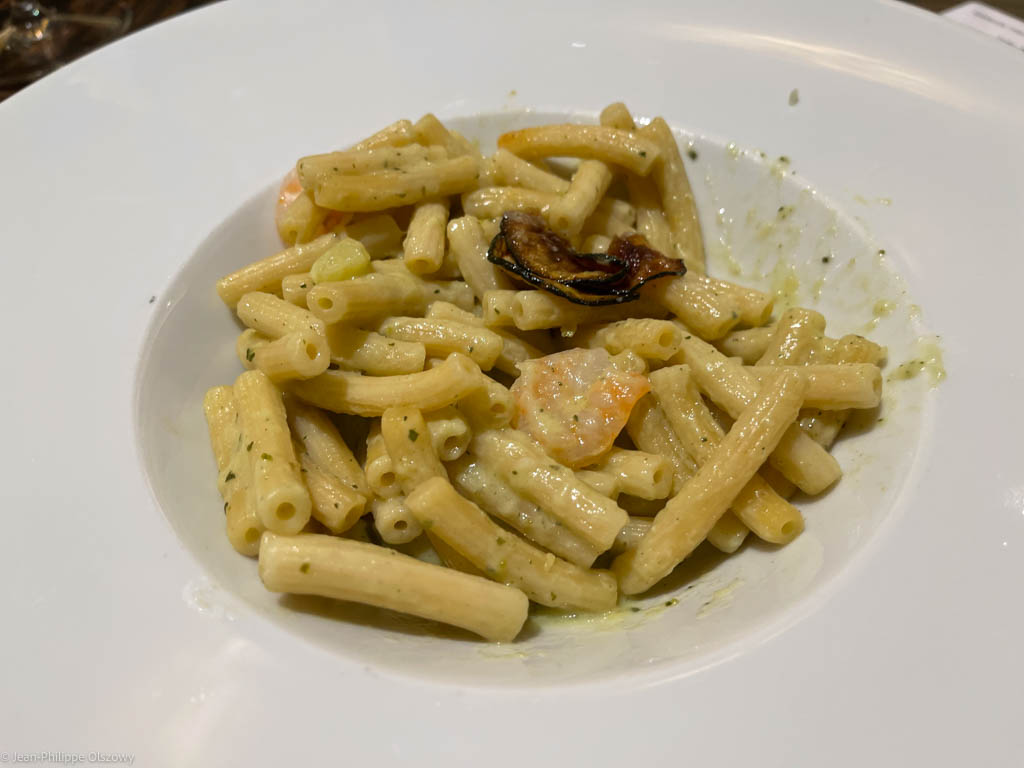 As for the dishes, a good point for the pasta, which is always different across the menus, and which is generally good. Soups are always too salty (and not just "a little too salty"). The rest of the dishes are correct but overall less good than the other companies that I know. I rank Costa last on this criterion.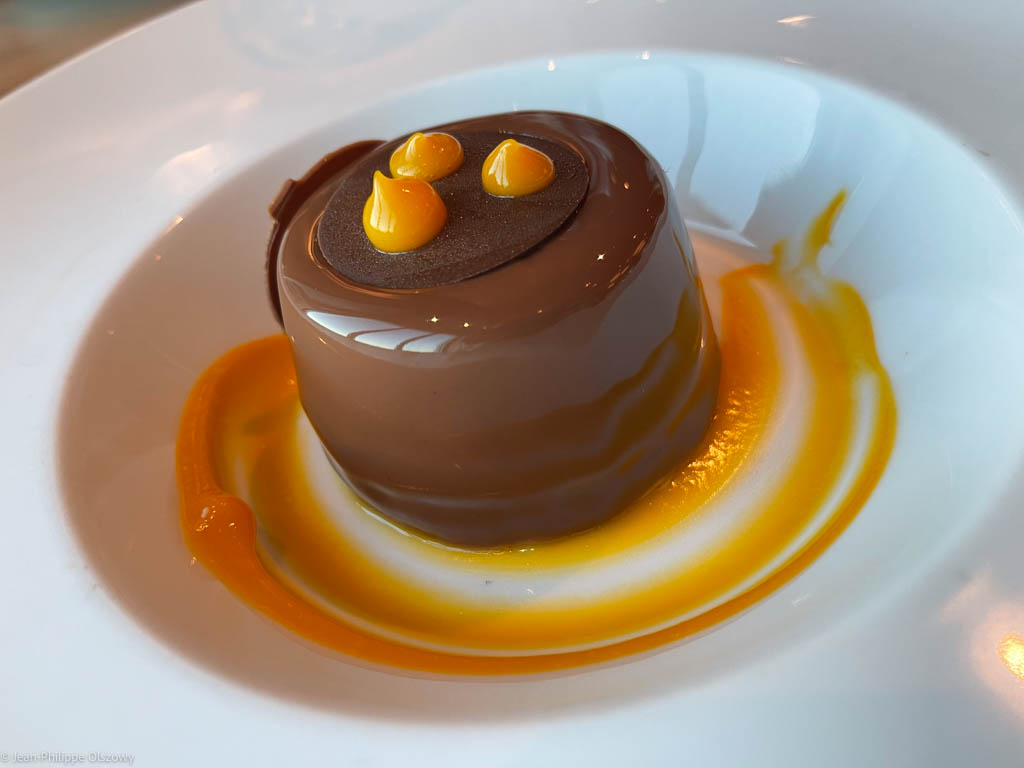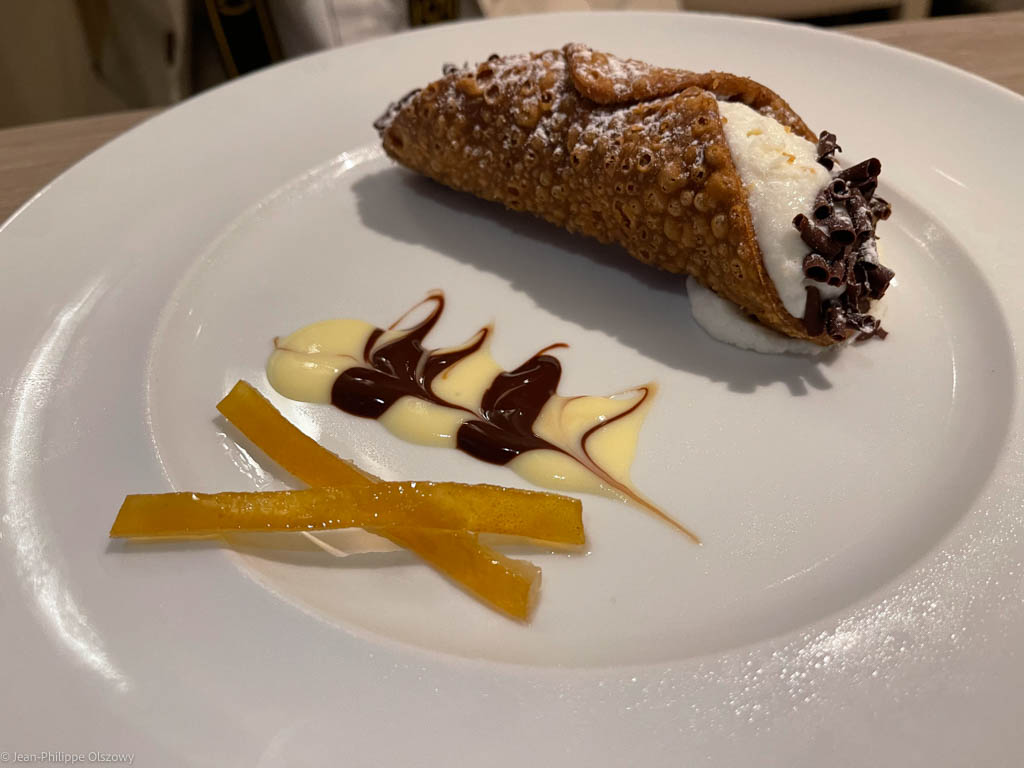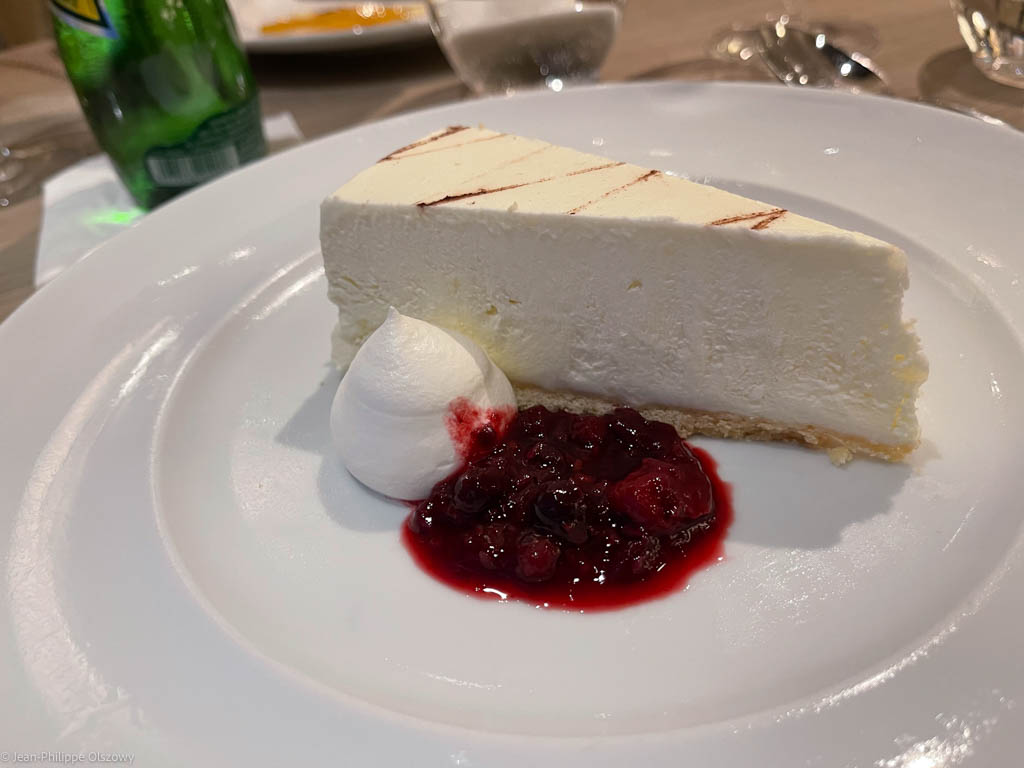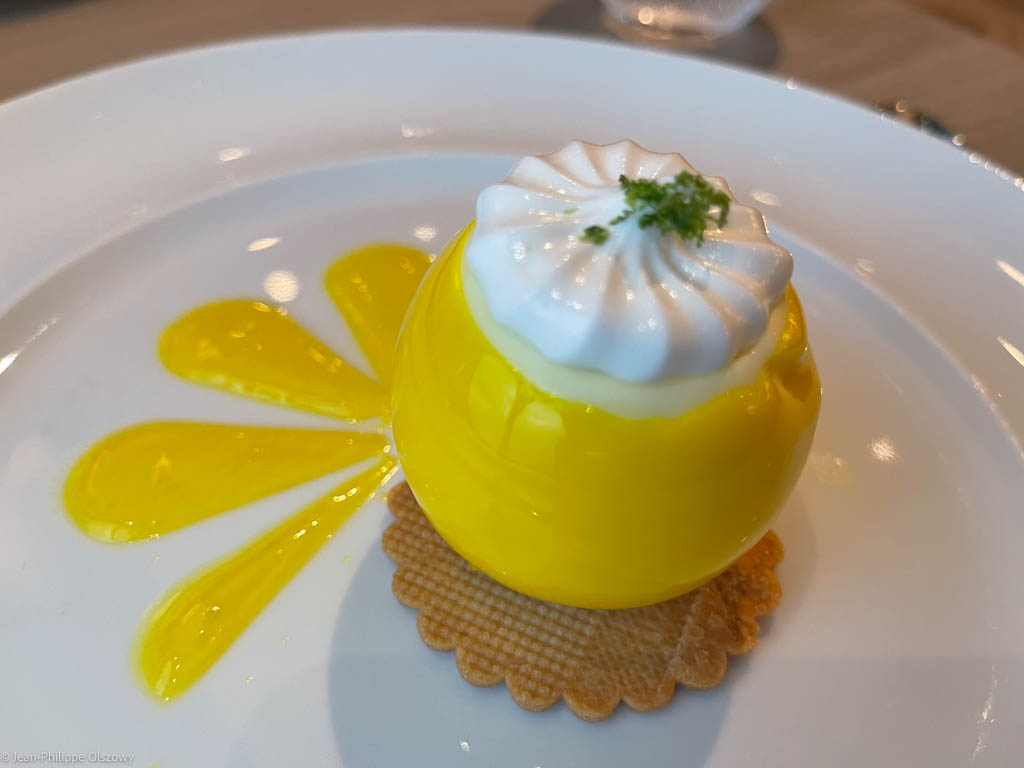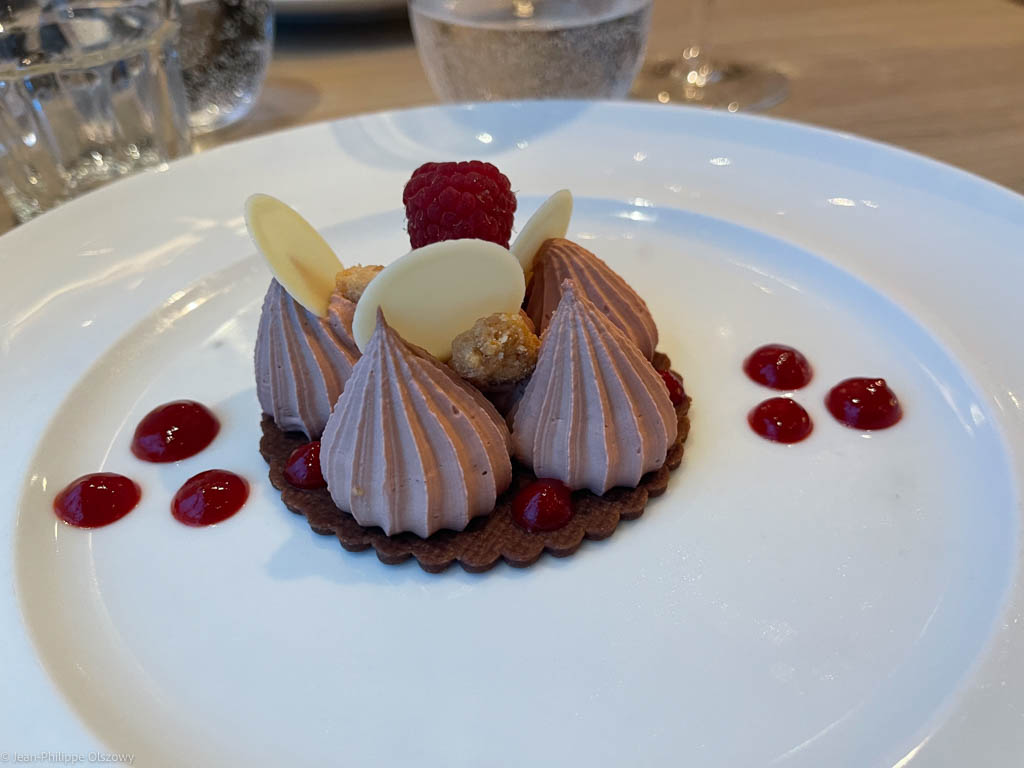 There are a few specialty restaurants, for a fee. Teppanyaki, a classic of its kind available on other cruise companies, which consists of cooking your dish in front of your eyes on a large hot plate around which the guests are seated. It is open for one service at 12:30 p.m. and 8:30 p.m. One must reserve. It was € 38 per person for the standard menu. I haven't tried it. I admit that this show meal that I have tried many times in the past has become boring. The jokes of the cooks are always the same. It's well done, funny the first time (s). But afther the 10th time … all that end up with the quality of the dishes, which is fine. But playing with food isn't really my thing, and the omelet toss that passengers have to eat on the flight doesn't amuse me at all. However, this is certainly an option to consider if you are unfamiliar with Teppanyaki, or get aloing with repetitive jokes.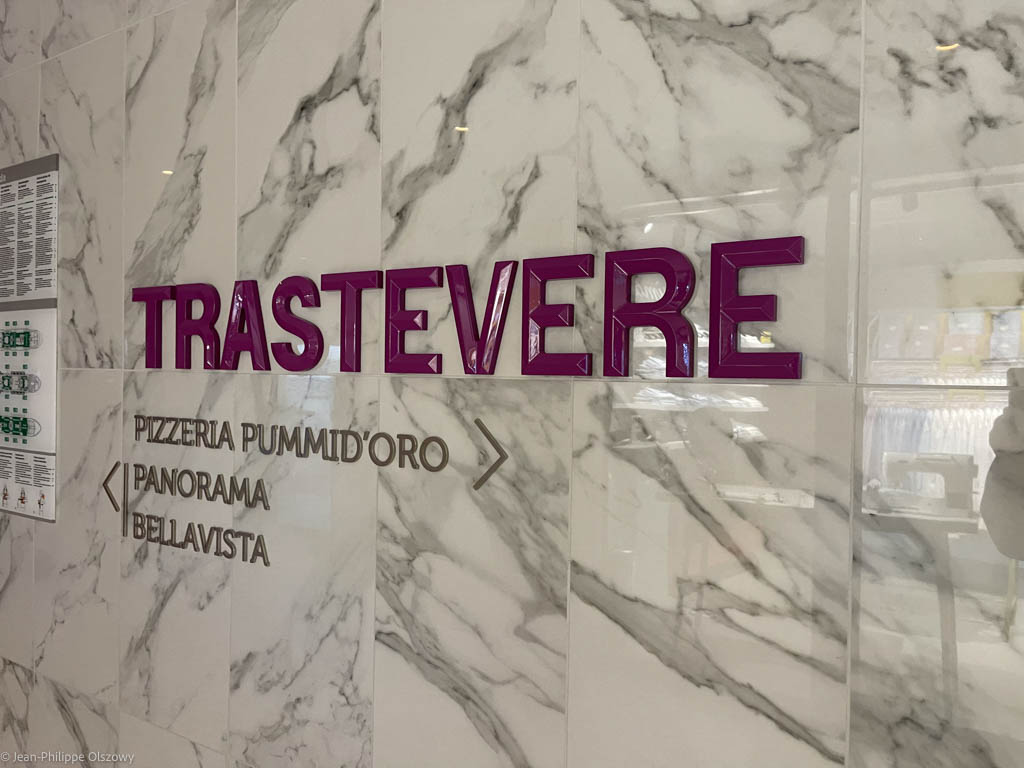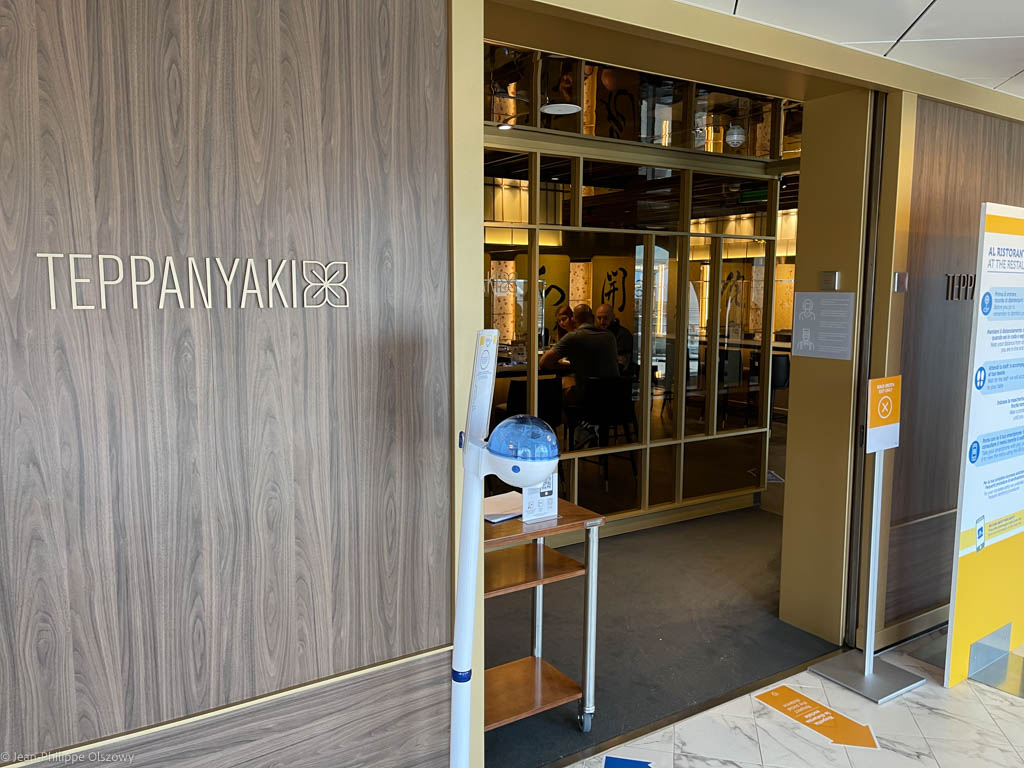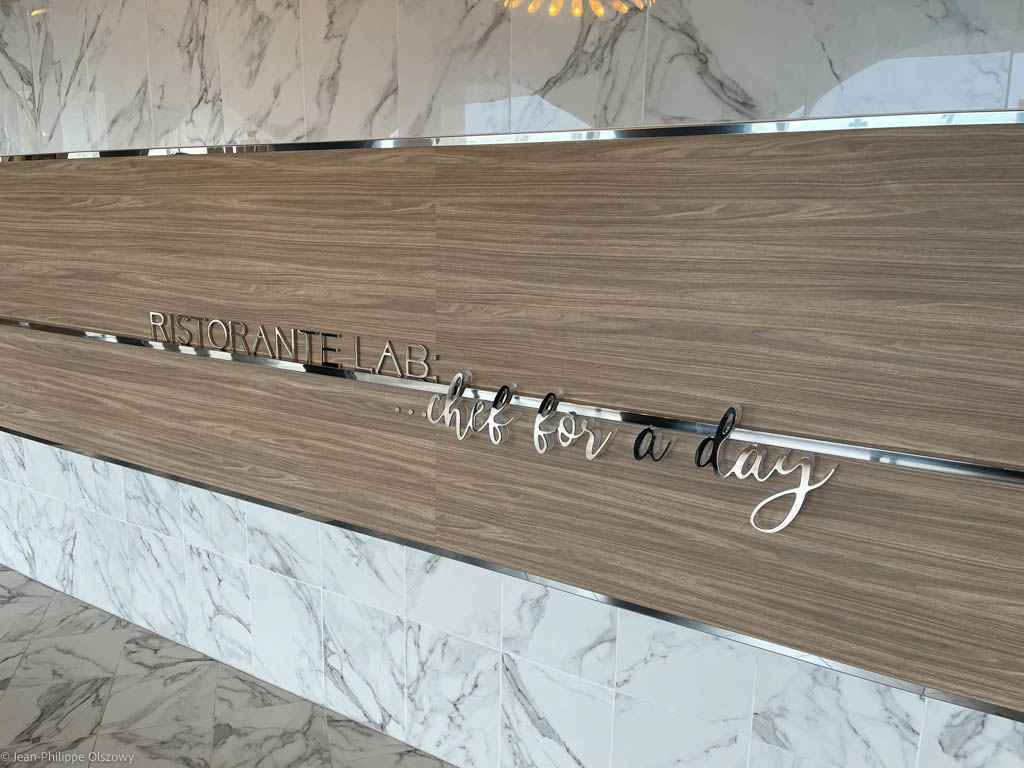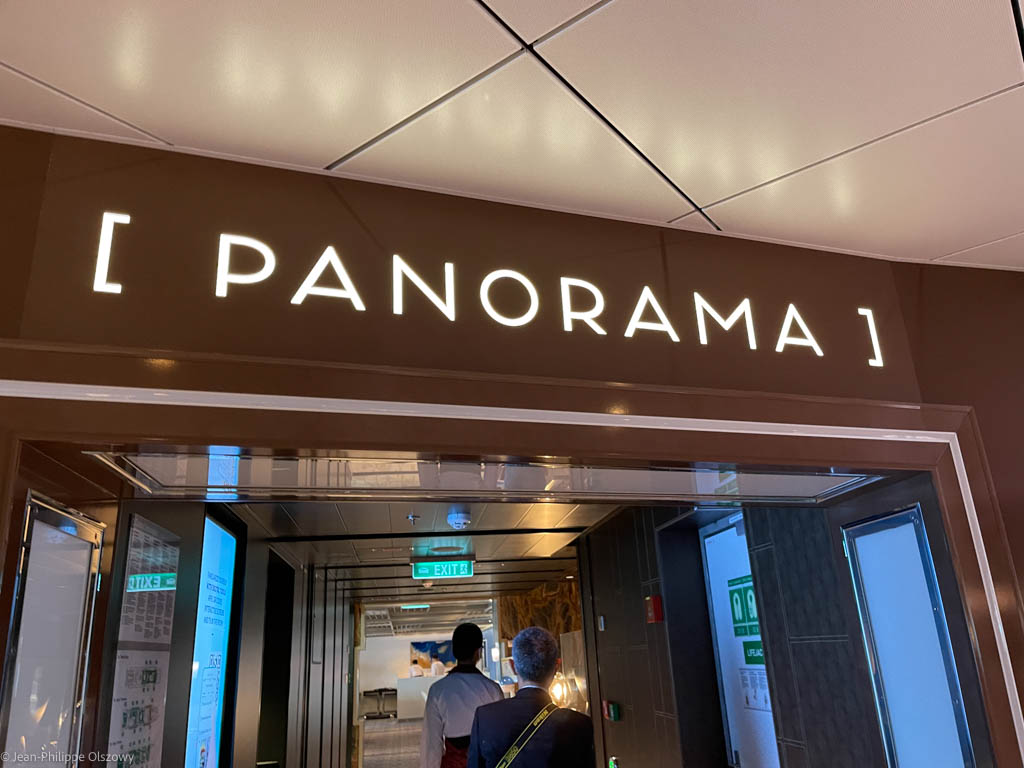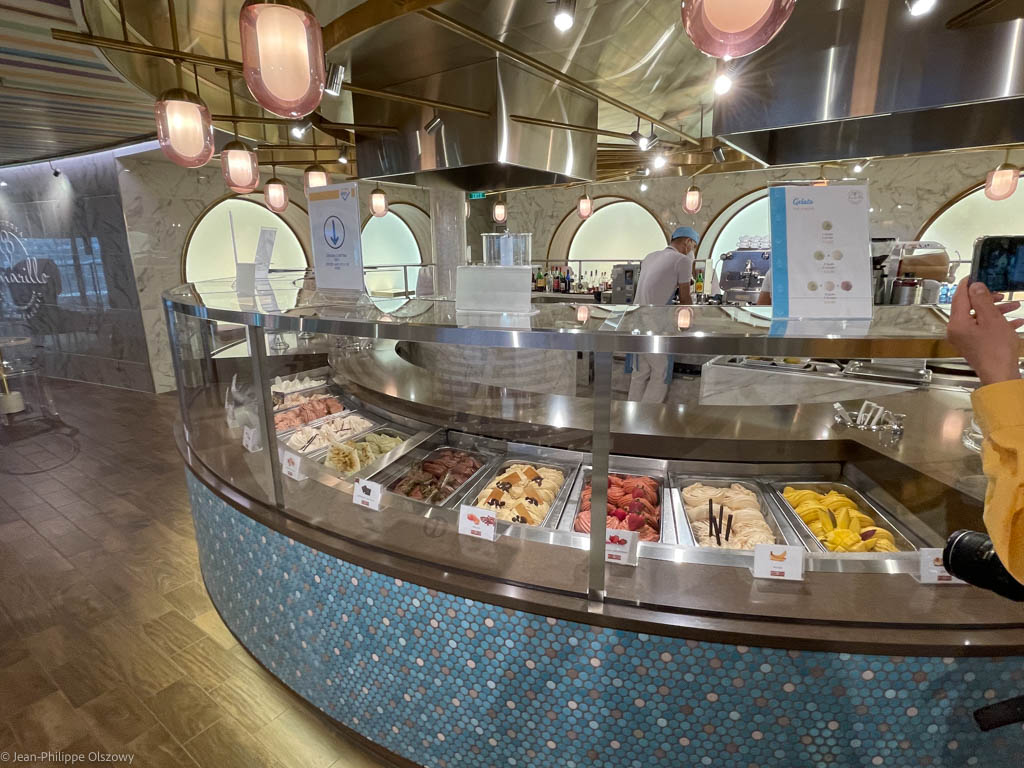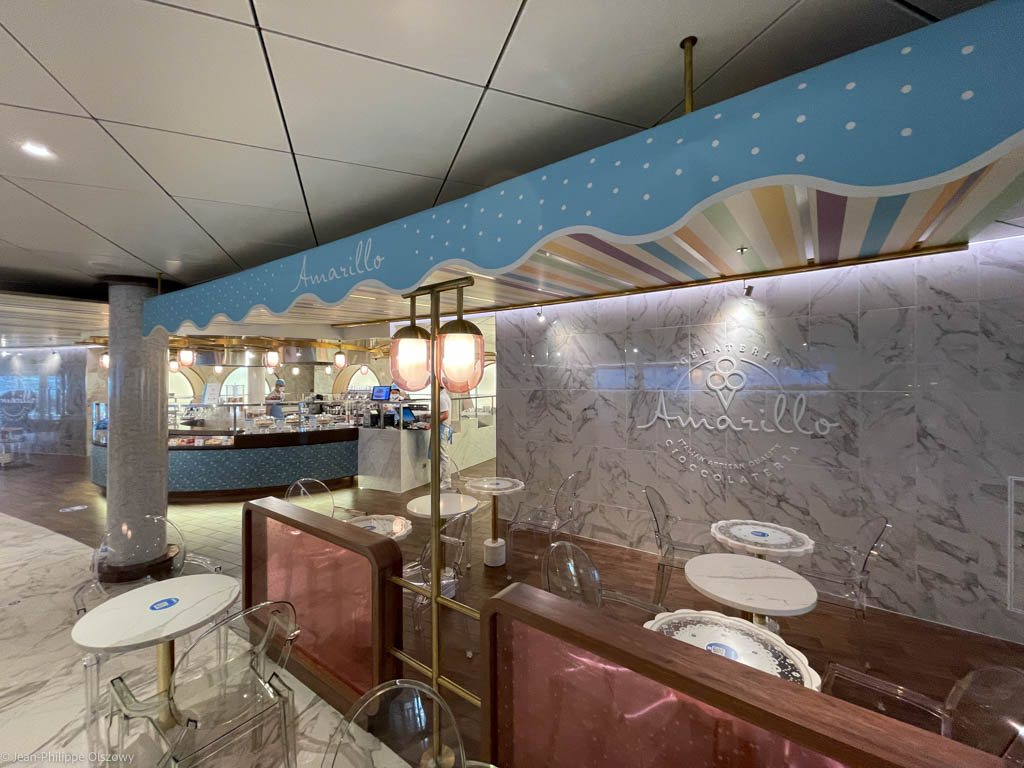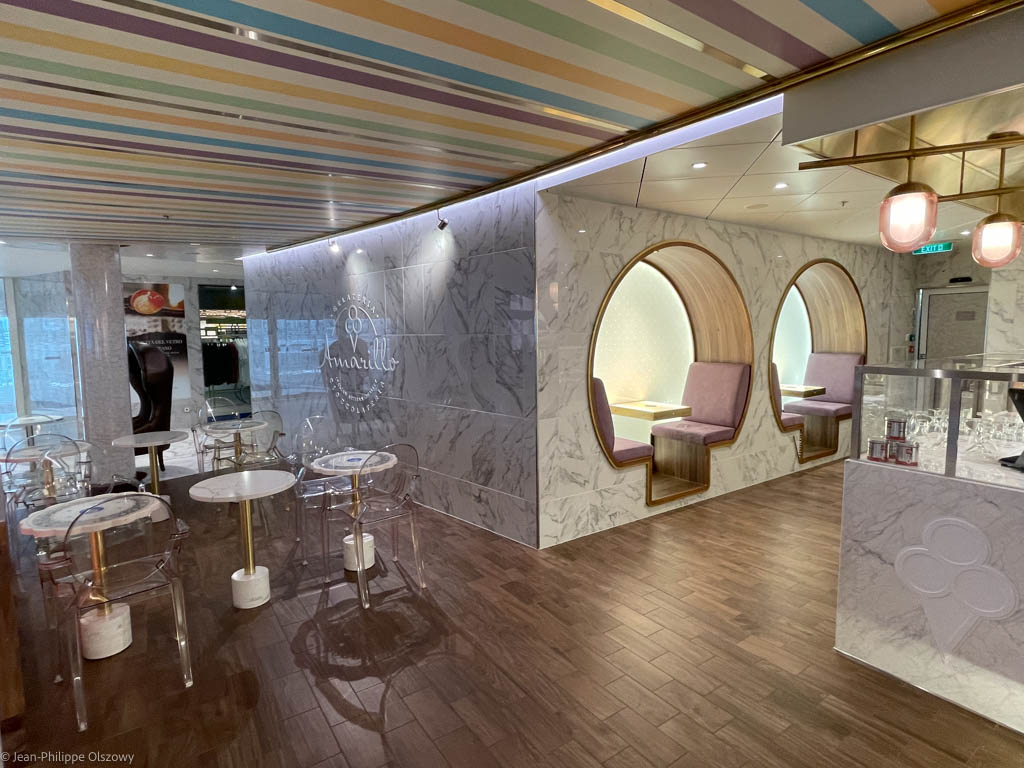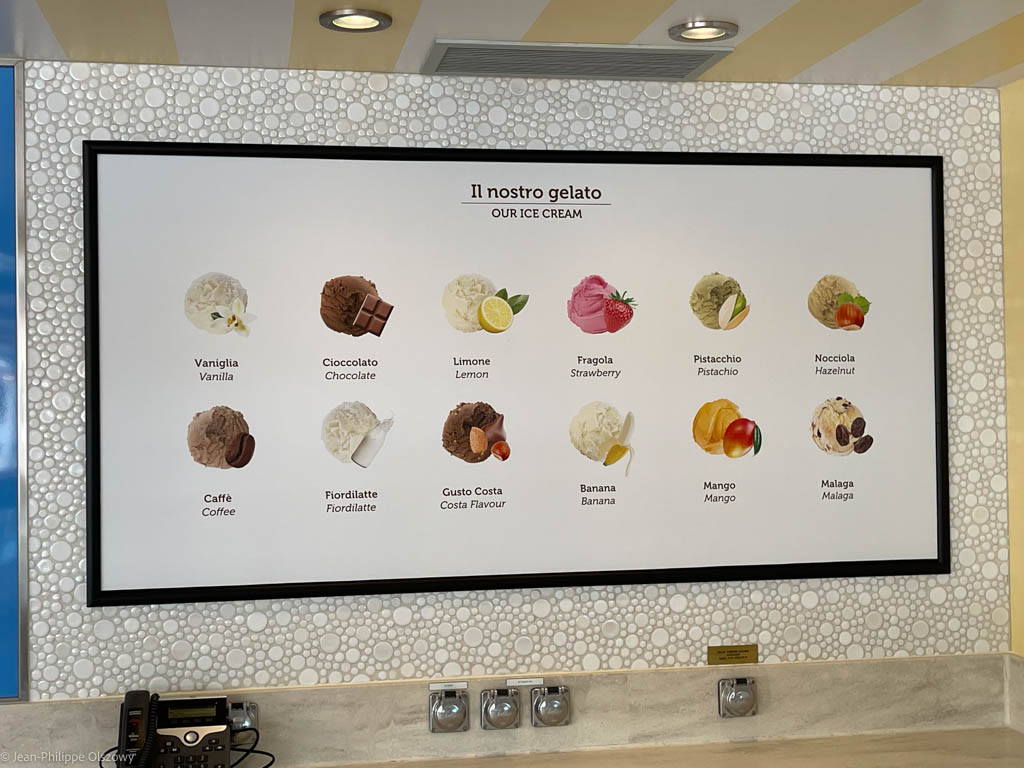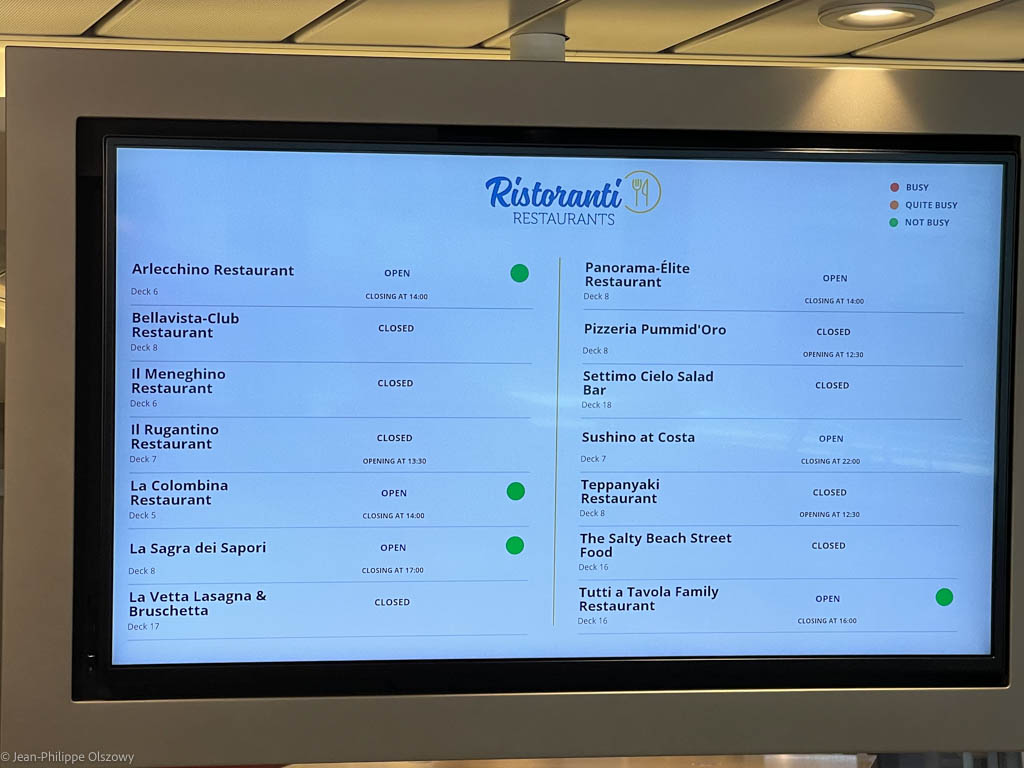 Le Lab is a restaurant where you prepare your own dishes and eat them immediately. I have not seen this restaurant operate, probably due to the situation.
A pizzeria, Pummi d'Ora, offers a wide variety of pizzas, between 8 and 16 €. It is open until 12:30 a.m. Ideal for getting out of the daily fixed-time dinner plan! Note that the prices are halved if you are part of the Costa Club. To do this, all you have to do is register online.
The Bellavista is a seafood restaurant.
A good surprise was the Sushi Bar. Open for lunch and dinner, it offers, among other things, an "all-you-can-eat" menu for € 15. The choice is limited but varied enough. You can also order à la carte. There is even a "take away" menu. This is a pre-set selection of a dozen pieces, that you can modify if you don't like something. Again, the quality is correct. It's a mini-feat to offer raw fish on board a ship anyway. However all the Sushi bars I have been able to test with the competition are doing better than Costa.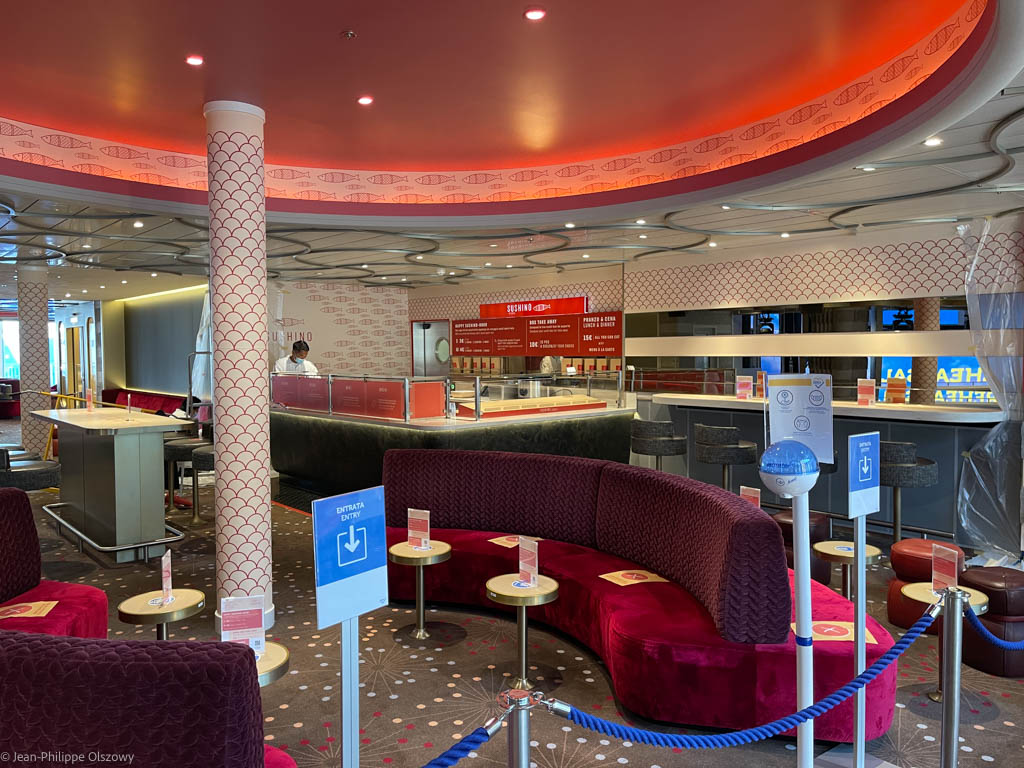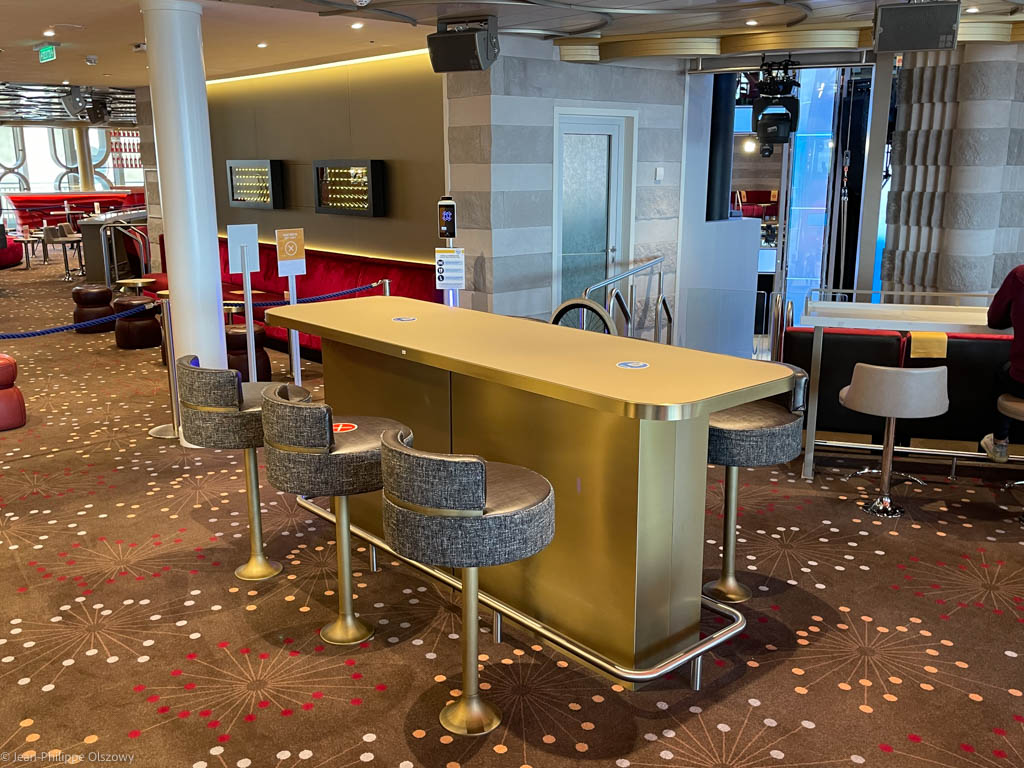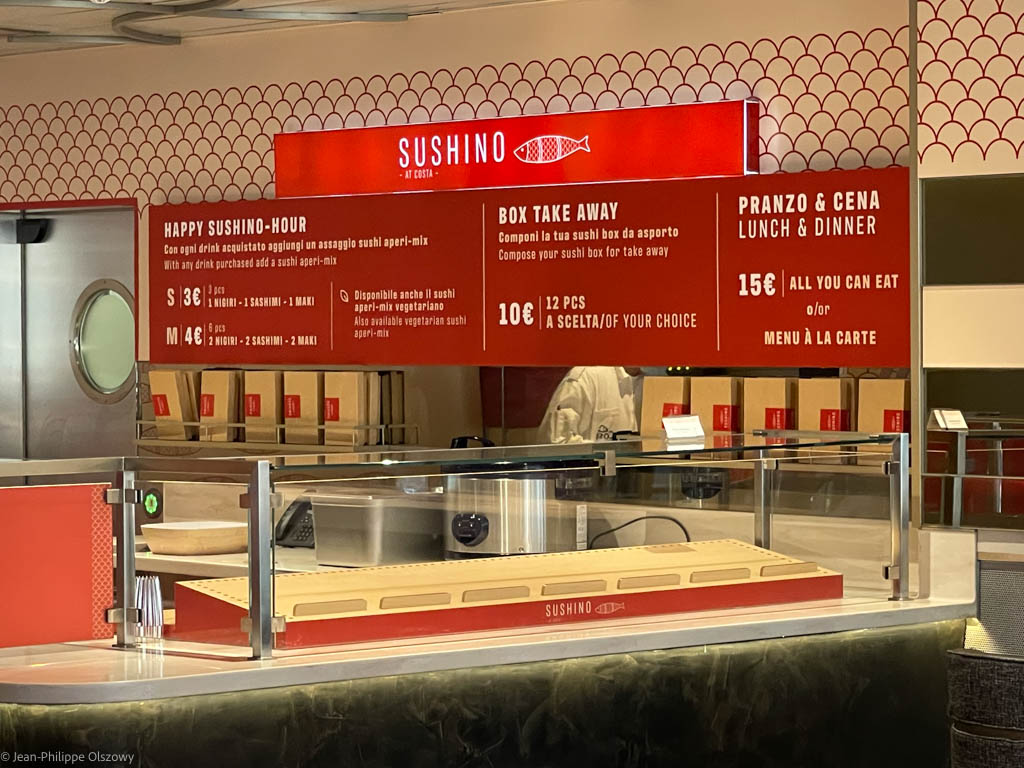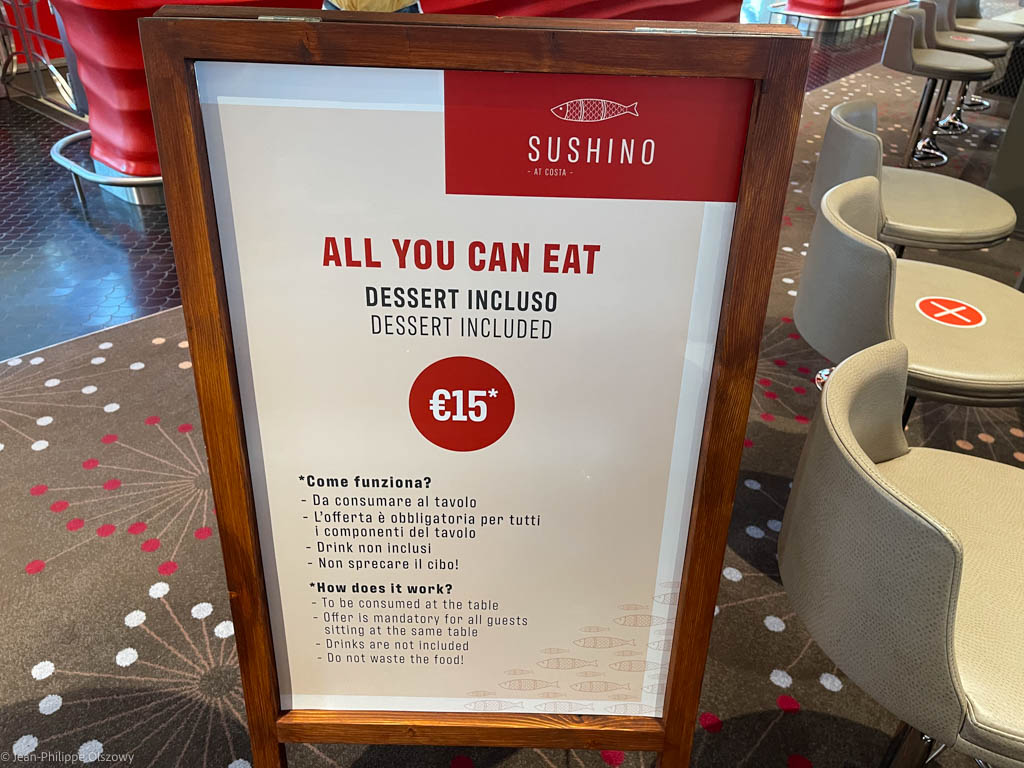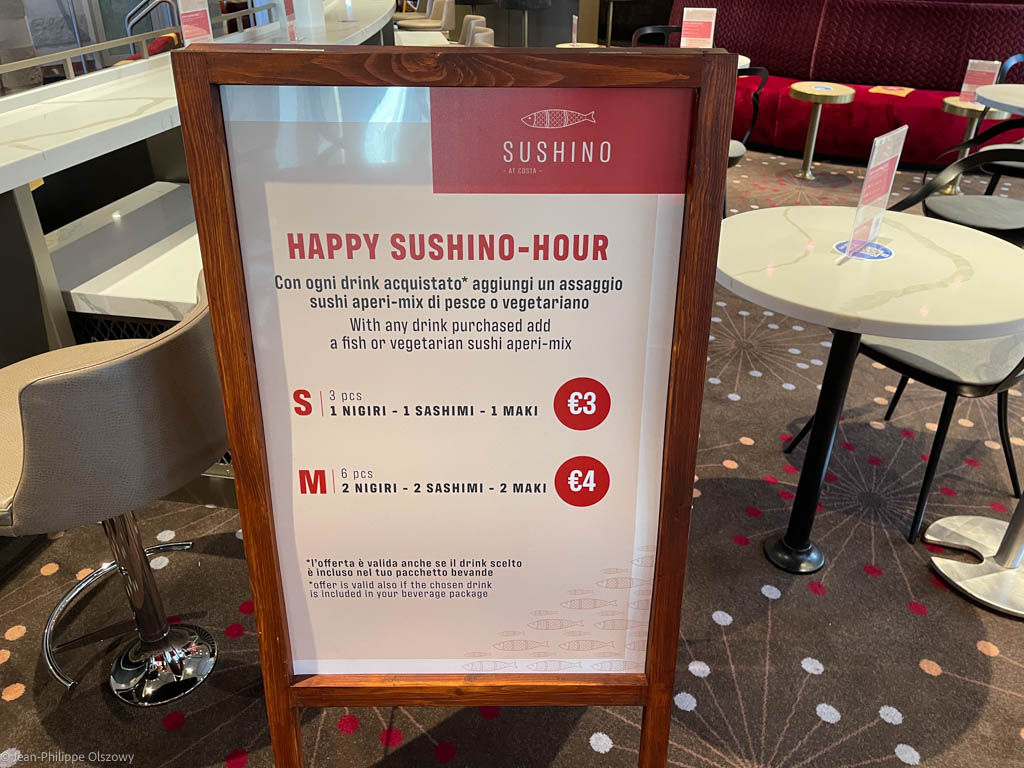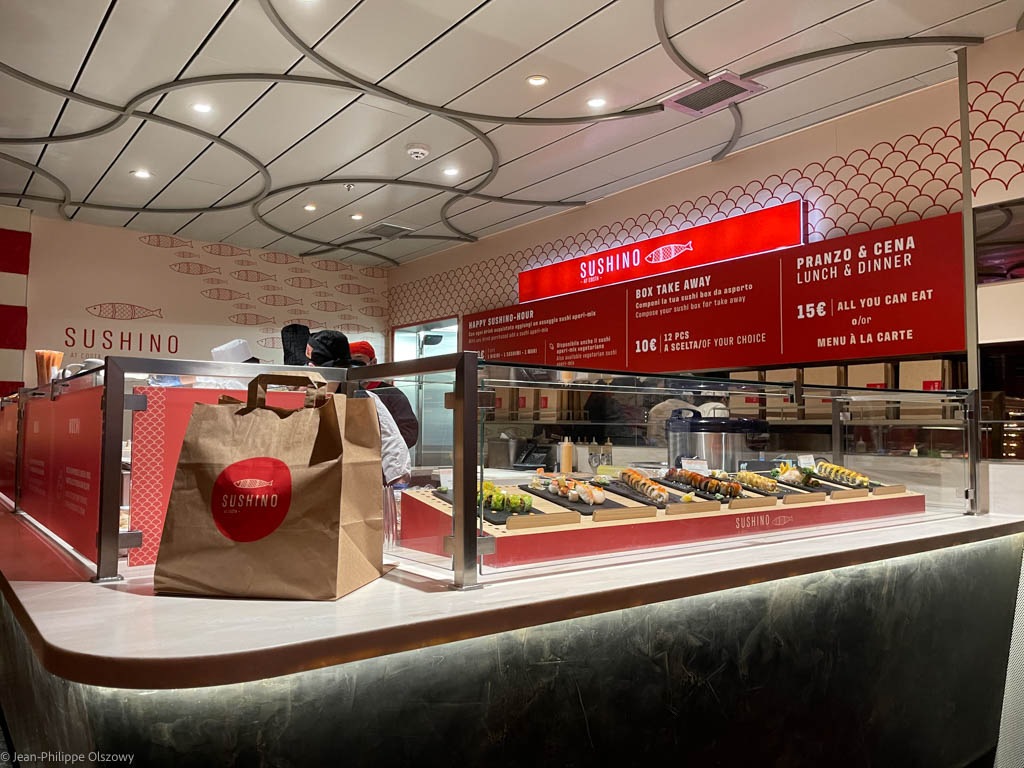 There are also snacks, ice creams and burgers near the indoor pool. These are for a charge, but not very expensive. A cheeseburger with Frenc fries is worth € 2. I tested. This is probably the worst industrial cheeseburger I have eaten. Not good at all.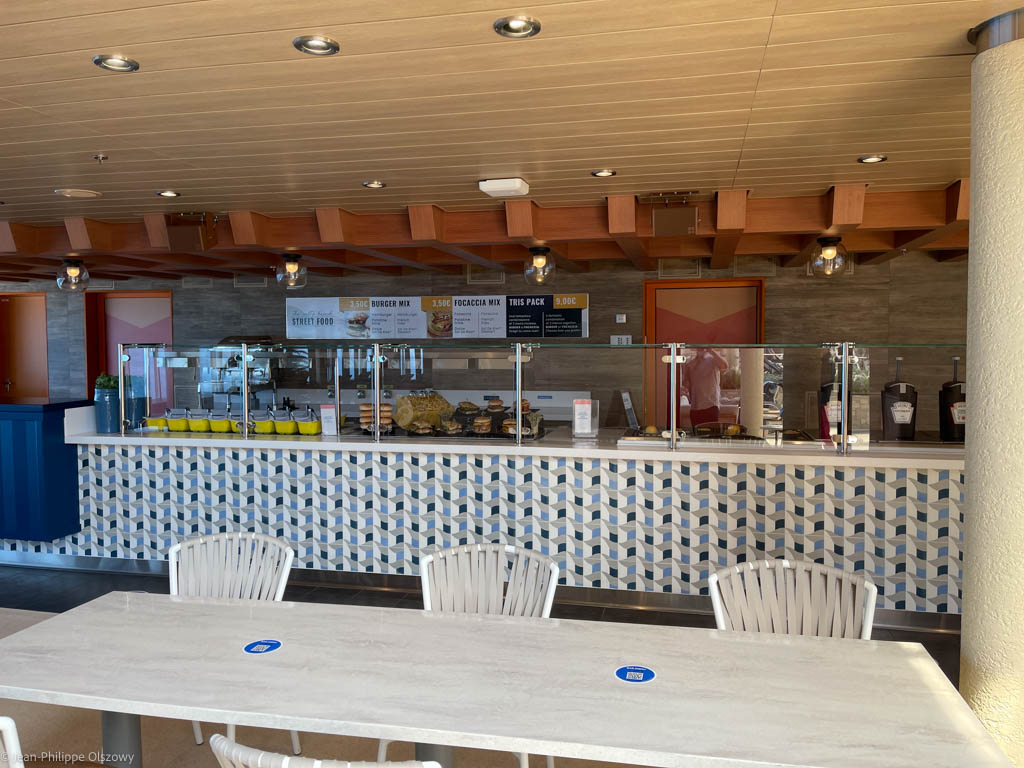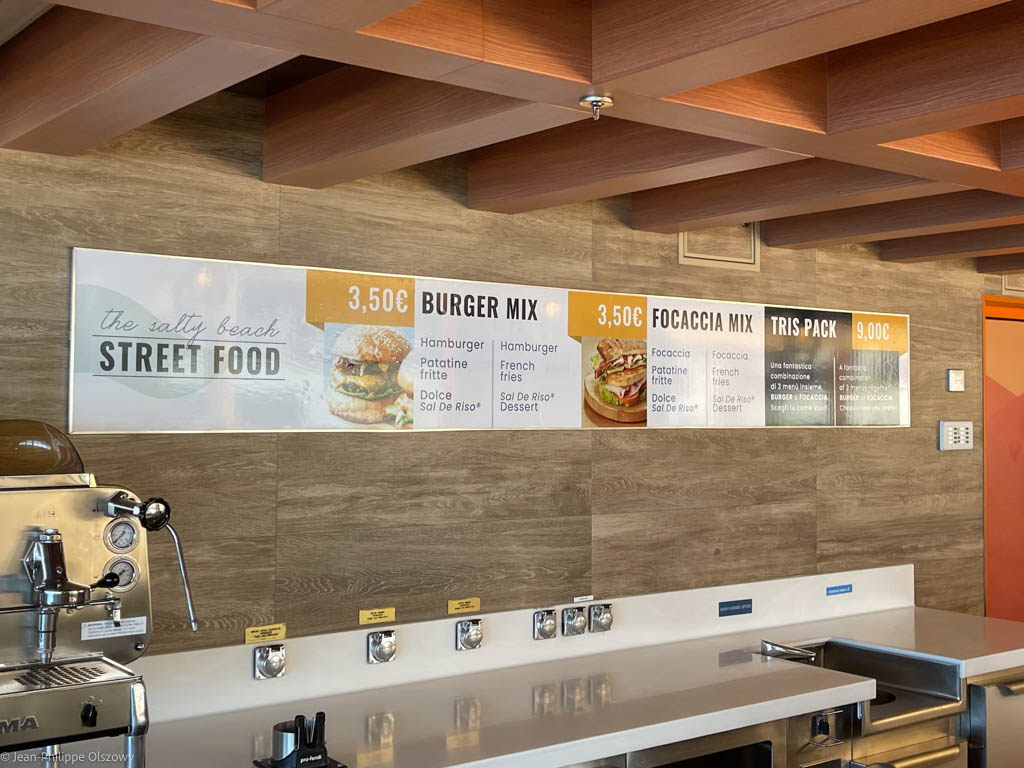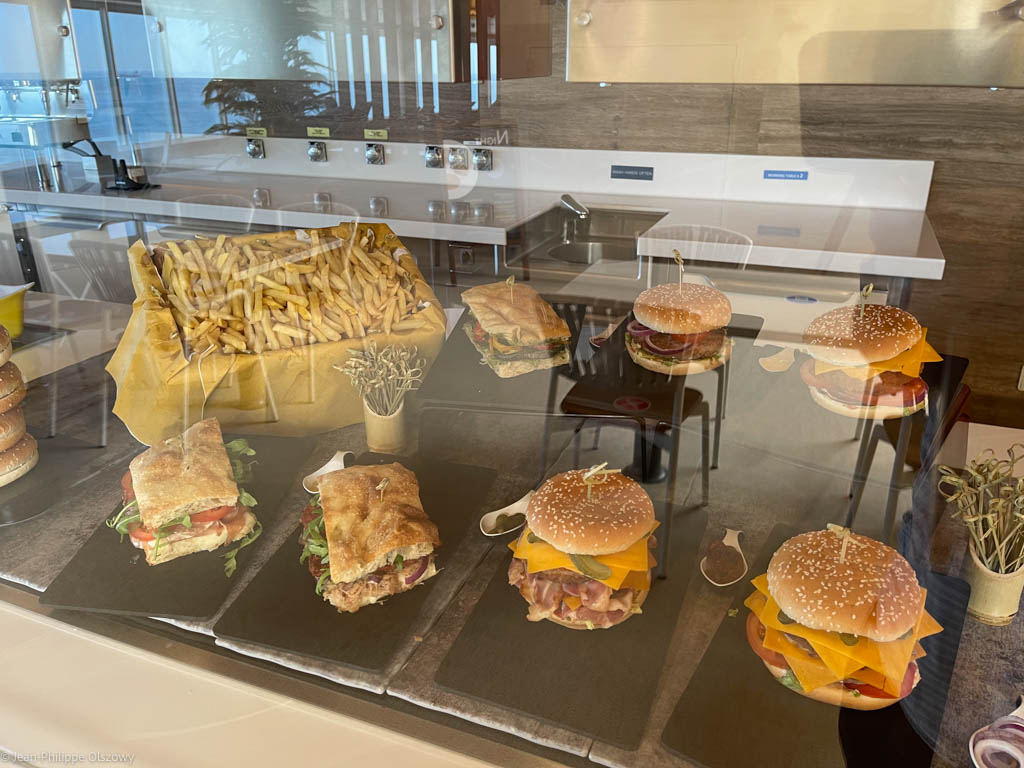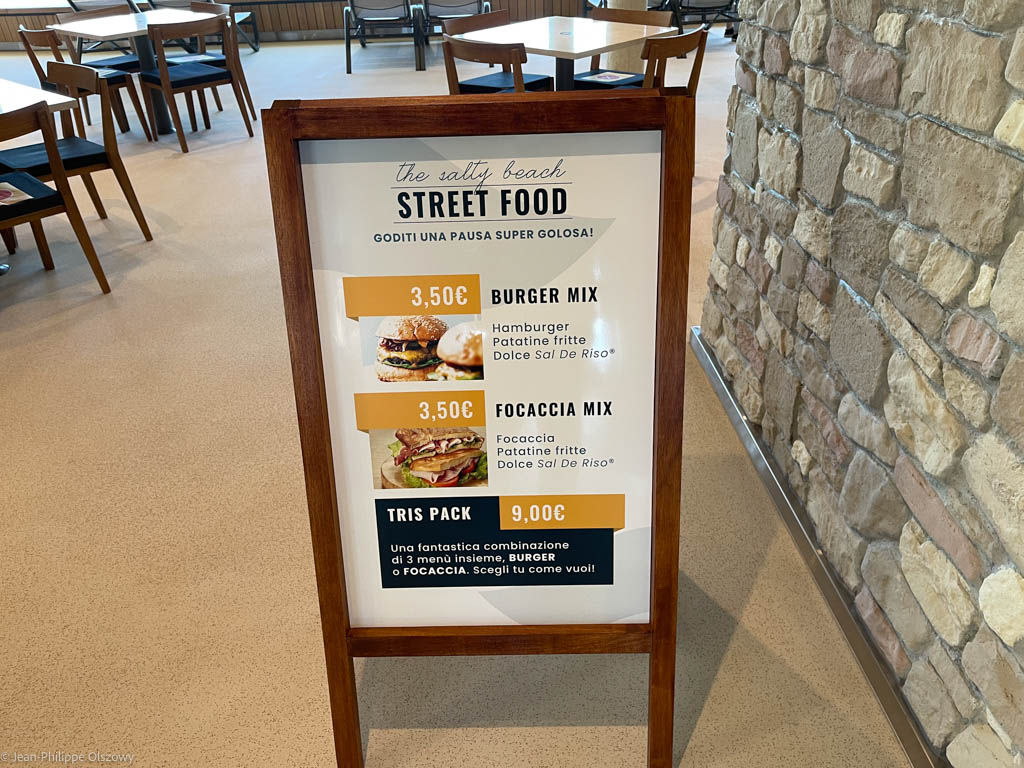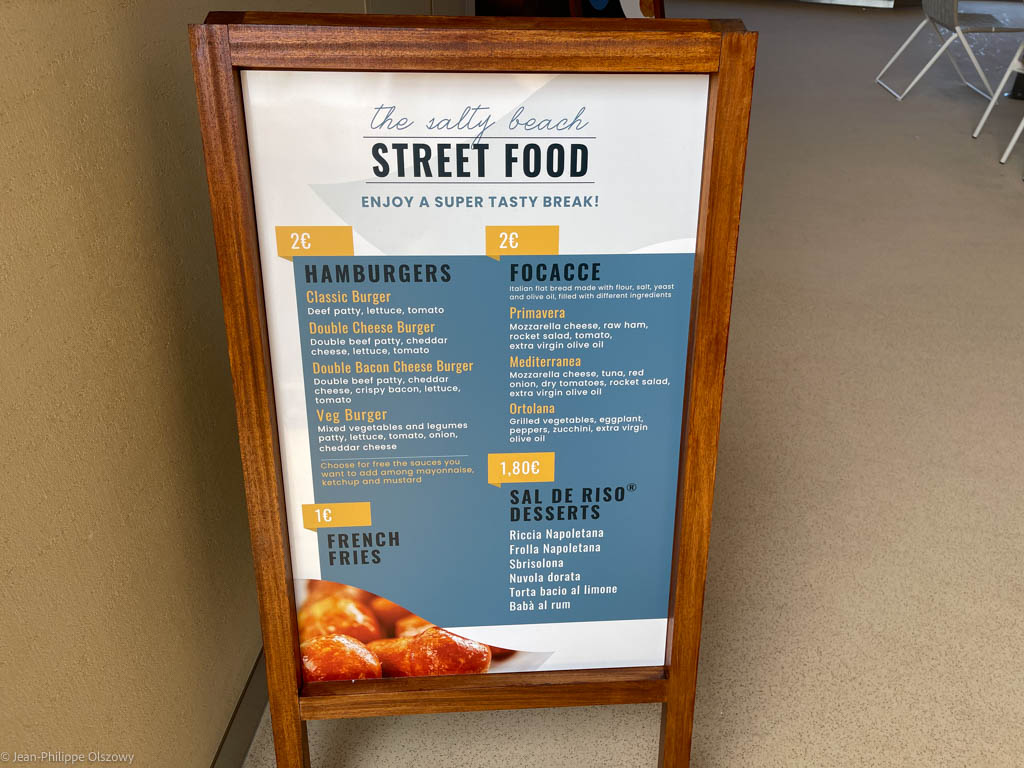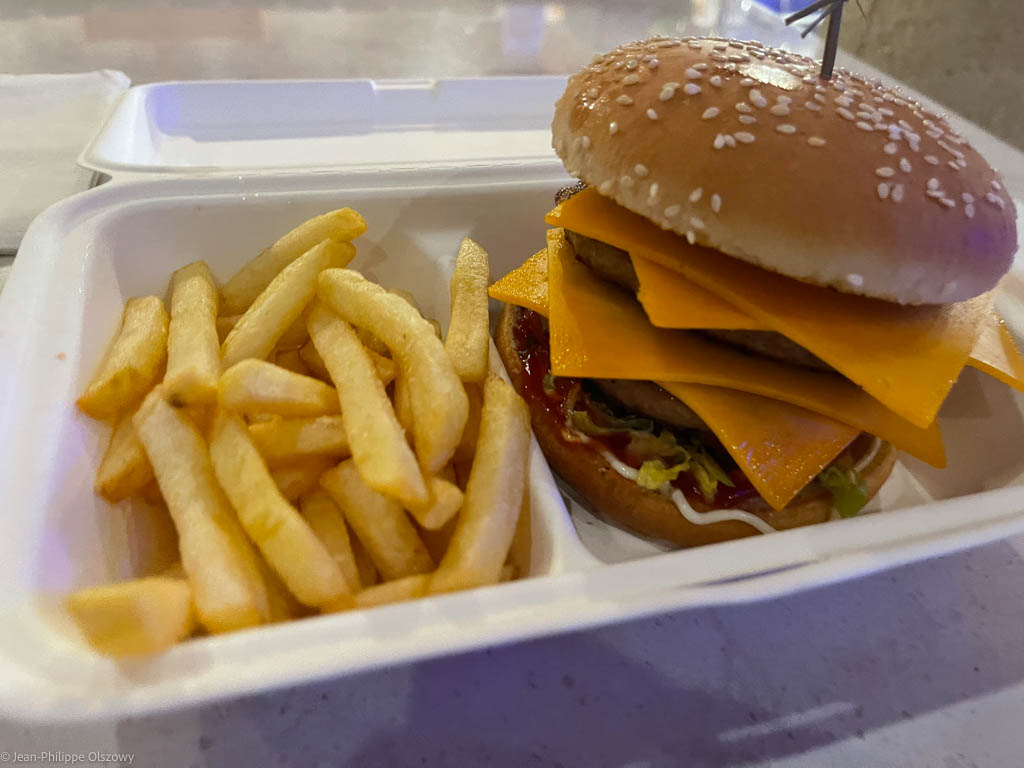 Not knowing the Costa company, I thought for a moment that the restaurant called Panorama was a specialty restaurant. I understood later that it was the restaurant reserved for the passengers of the suites. It is however possible to dine there, for the so-called view, with a service charge (hence my confusion). The menu served here is in fact the same as the one in the main restaurants, with 2 additional dishes, a little more elaborate (that day, lobster and butcher's piece), the quality of which is indeed superior to the rest of the menu. It's hard to praise the "panoramic" side of this restaurant when you have a table with a seat facing the wall, with your back to the sea. The setting is better though and the service is more attentive. But it's not worth the 39 € charged. I'll repeat myself, if you compare with other companies' suite-only restaurants, Costa is dead last.
The cabin
I chose a cabin with a balcony, and added the Comfort option. As a result, the cabin I got was larger than a standard balcony cabin, comparable to what other companies call (and this is misleading) "mini-suite". The balcony was actually relatively large for this category. Too bad that with all this space the chairs were not deckchairs, and the stool as a small table. The deeper cabin had a sofa in addition to the bed. So a few more square meters.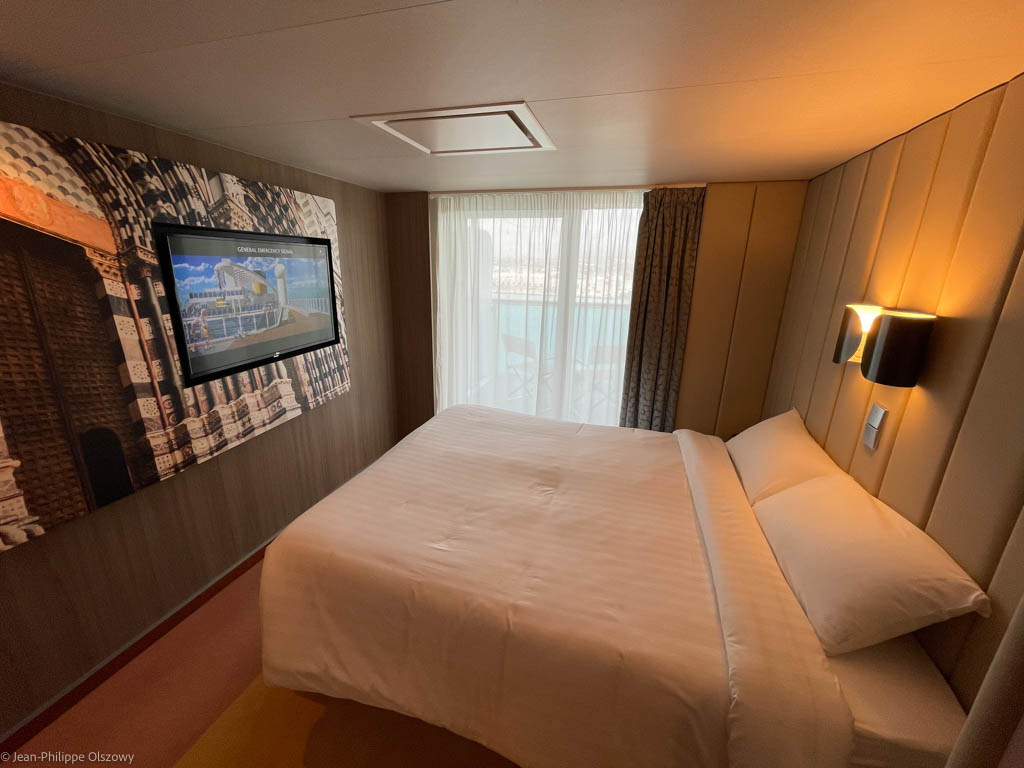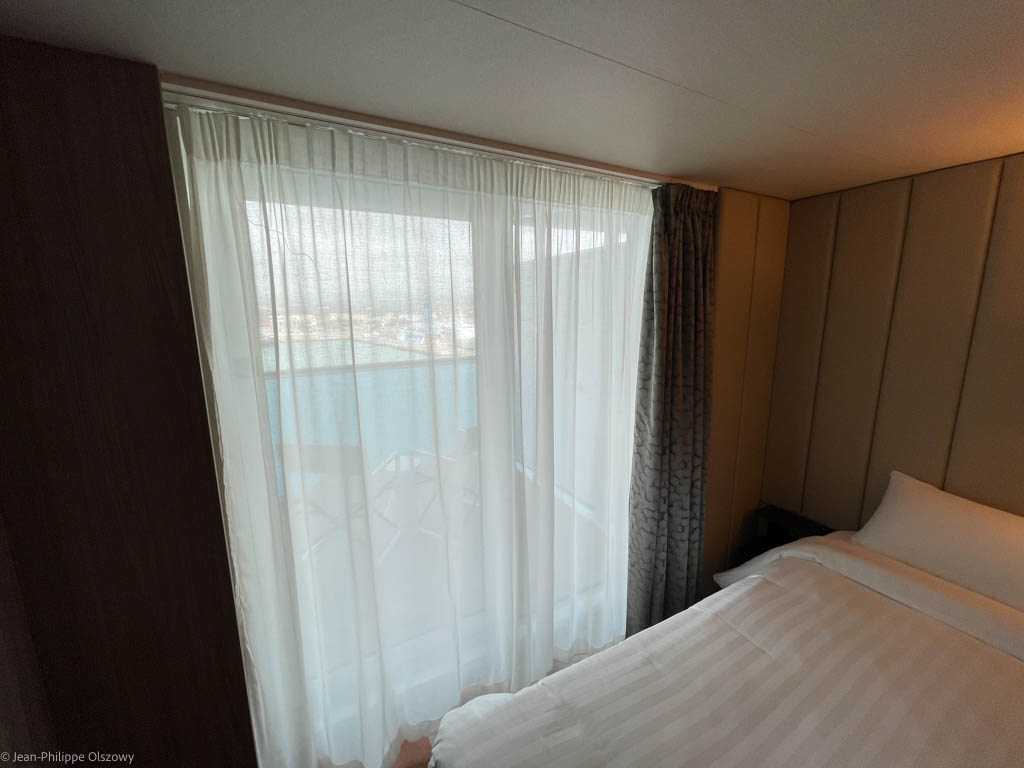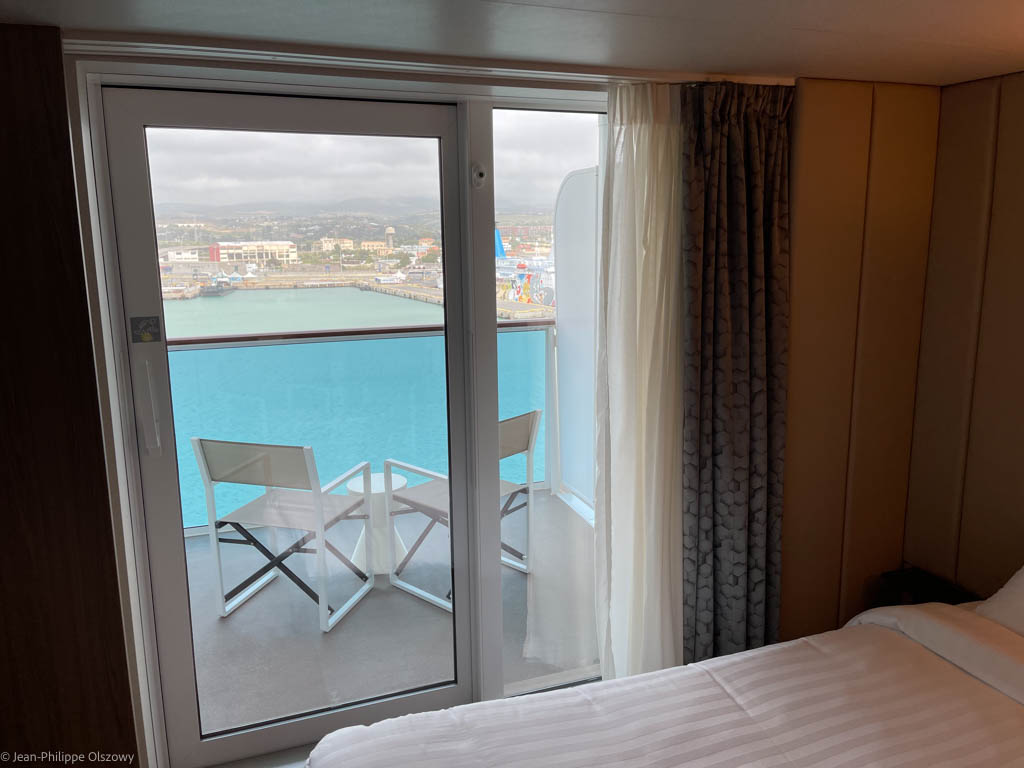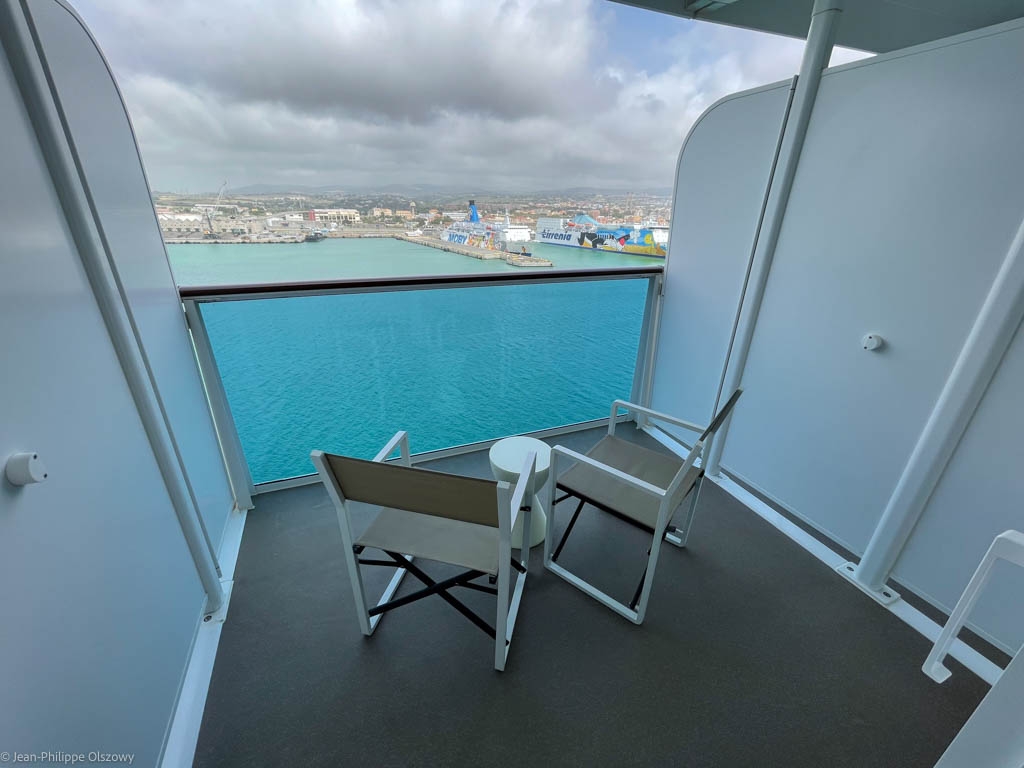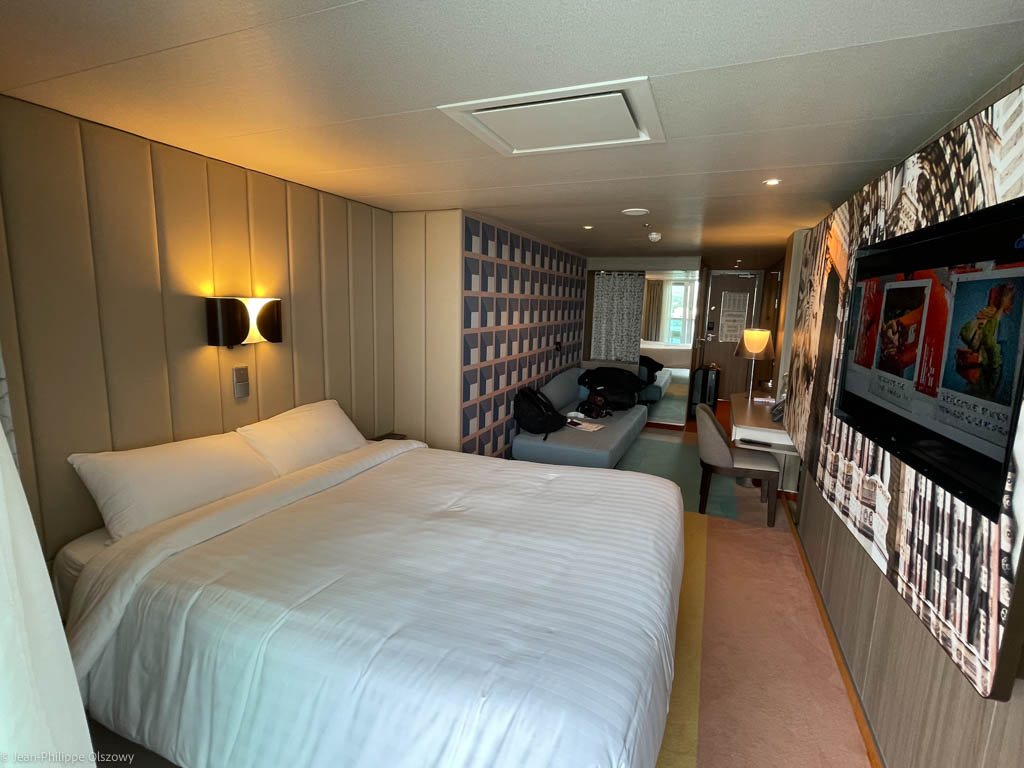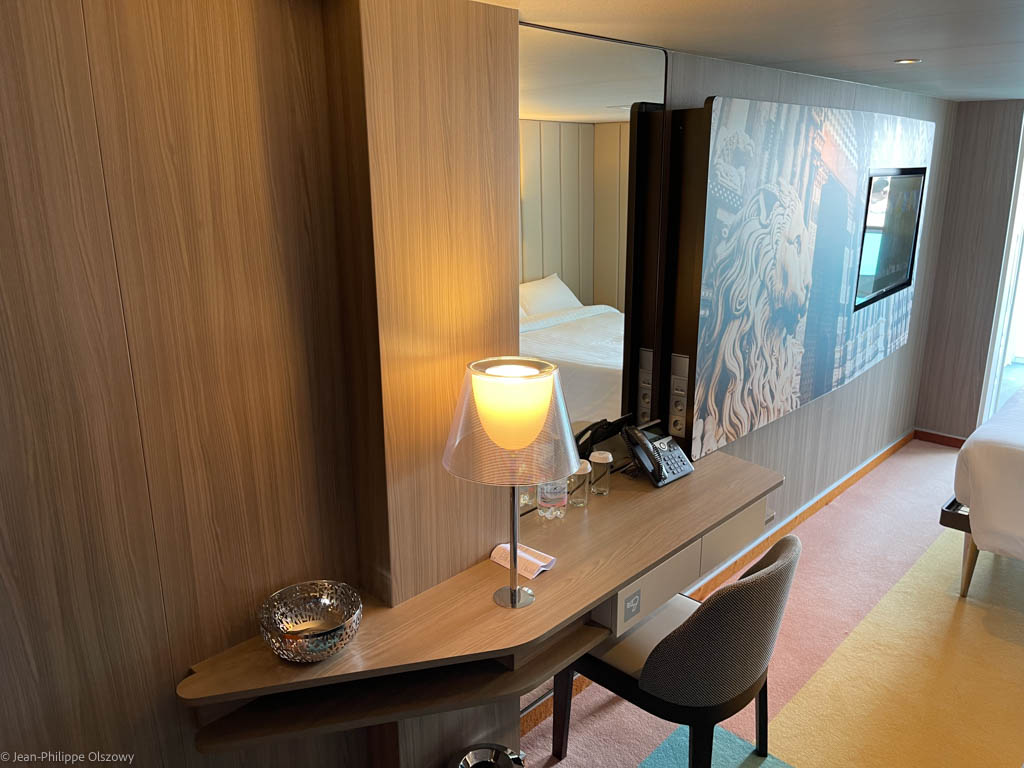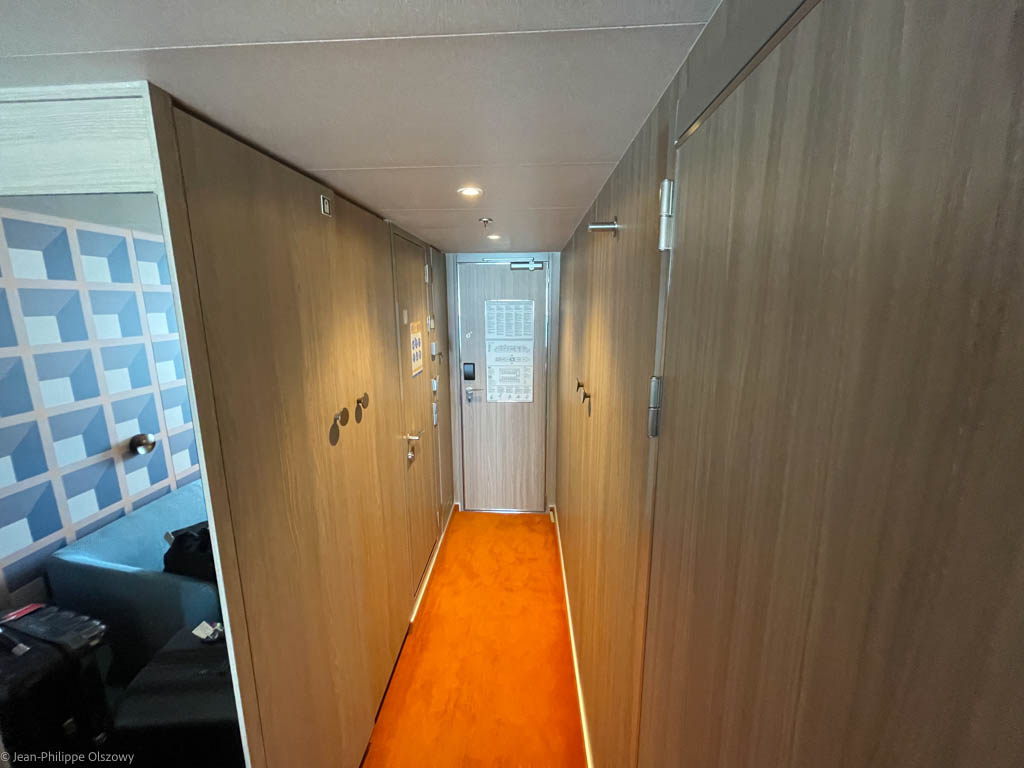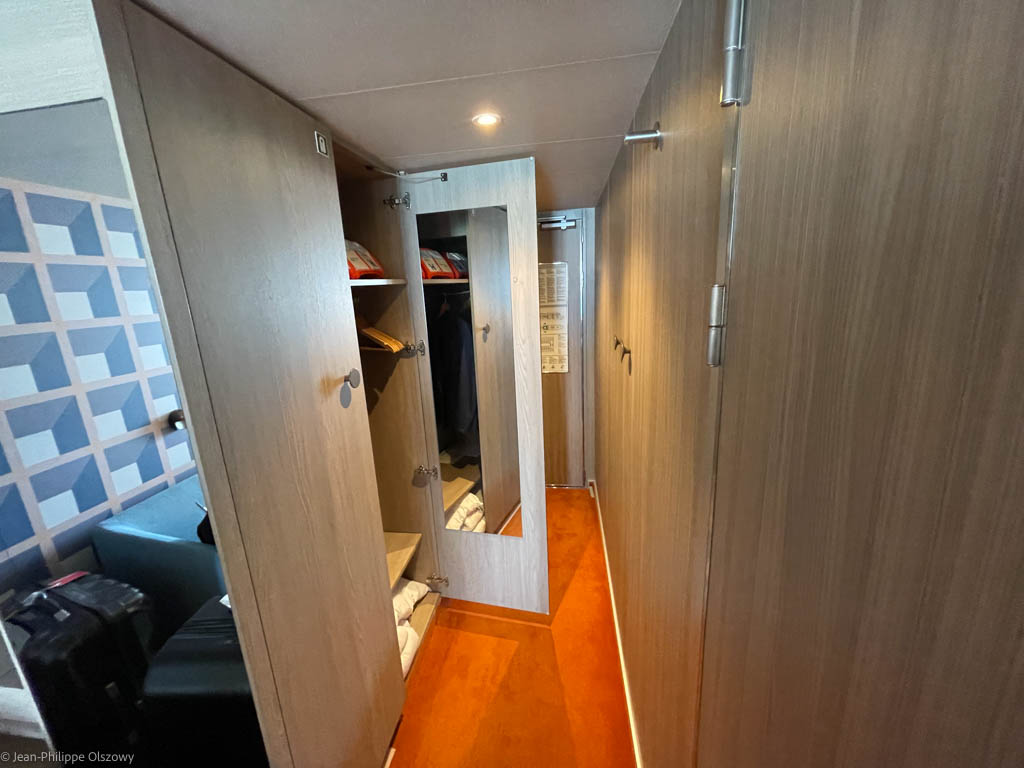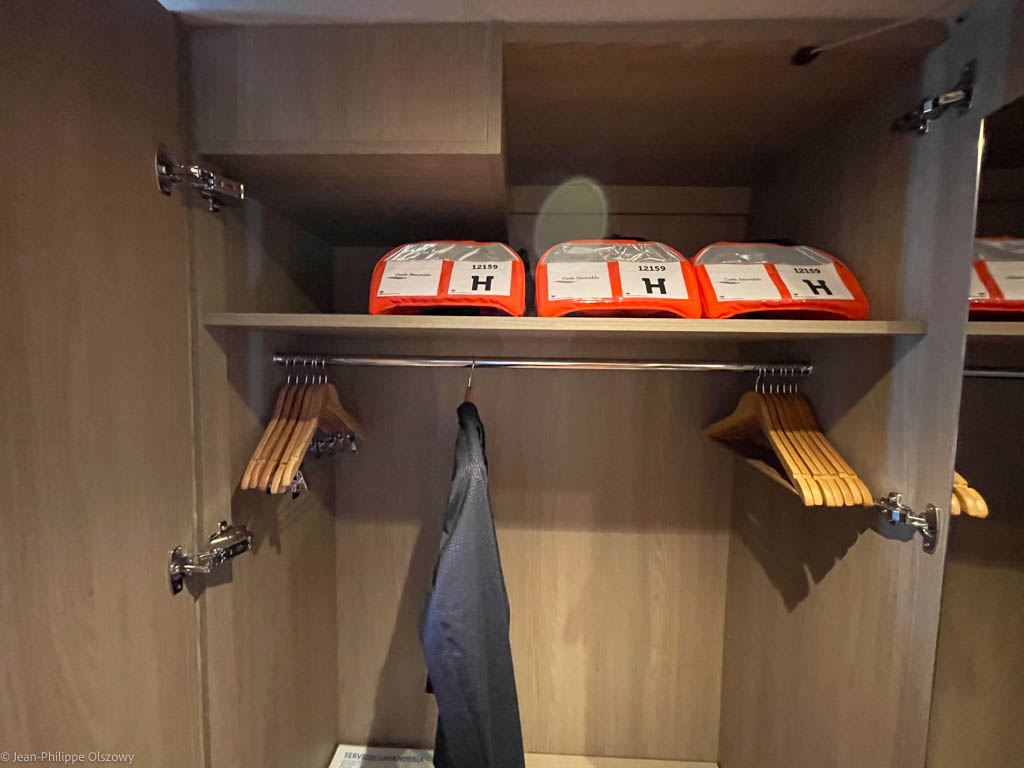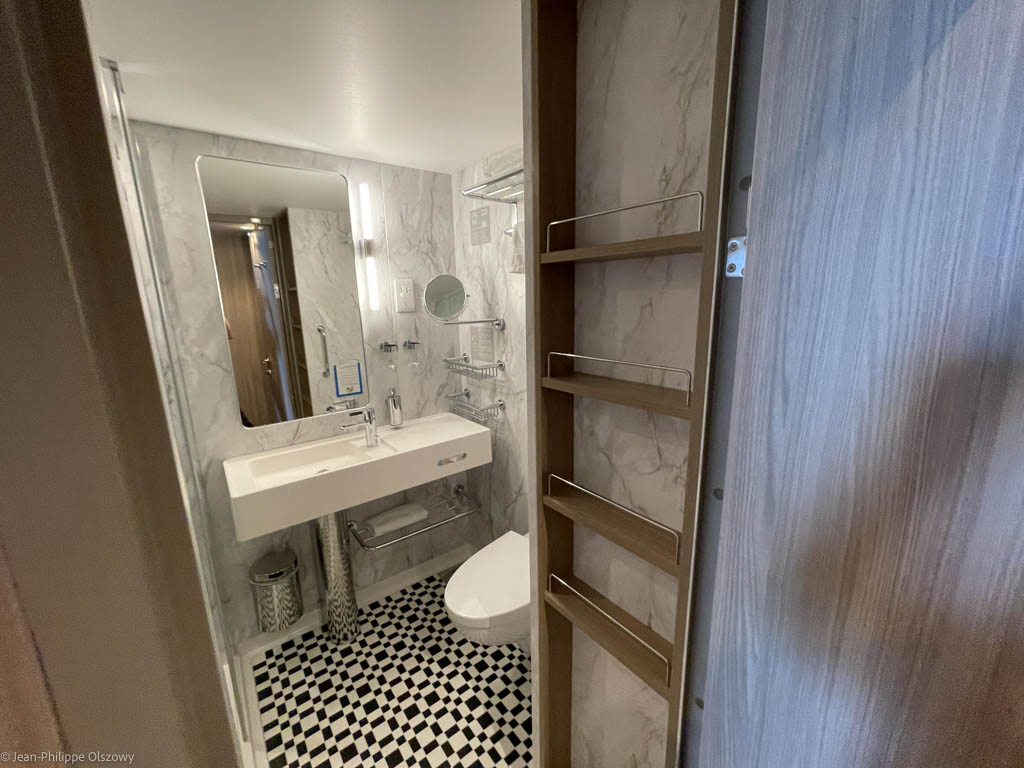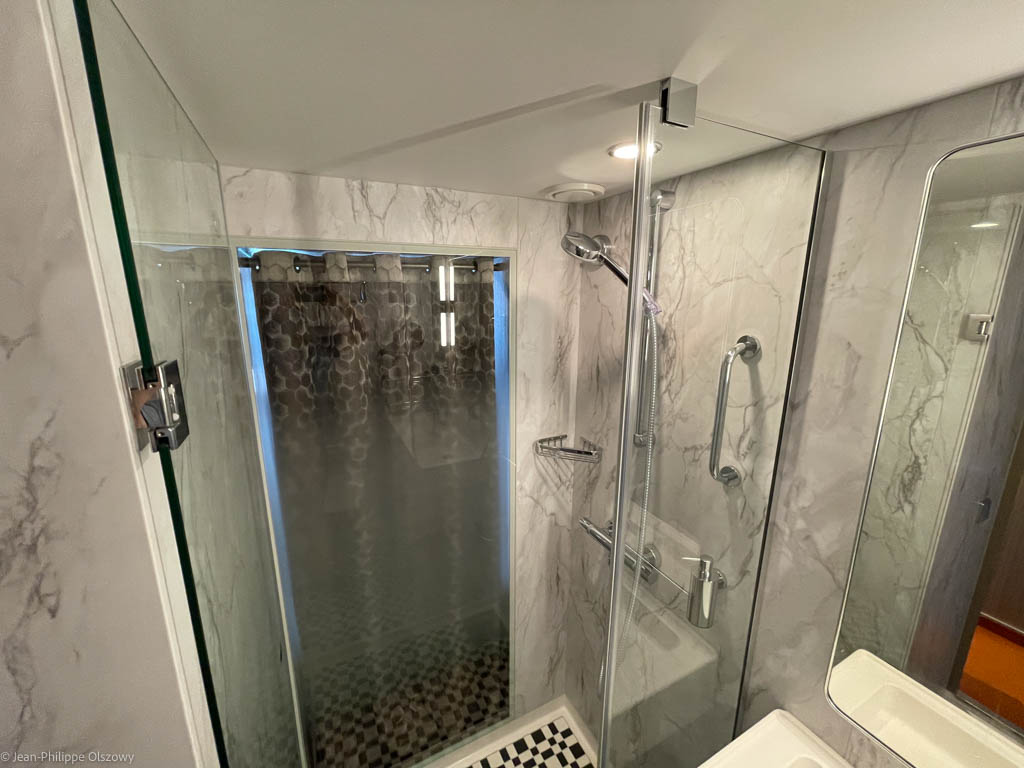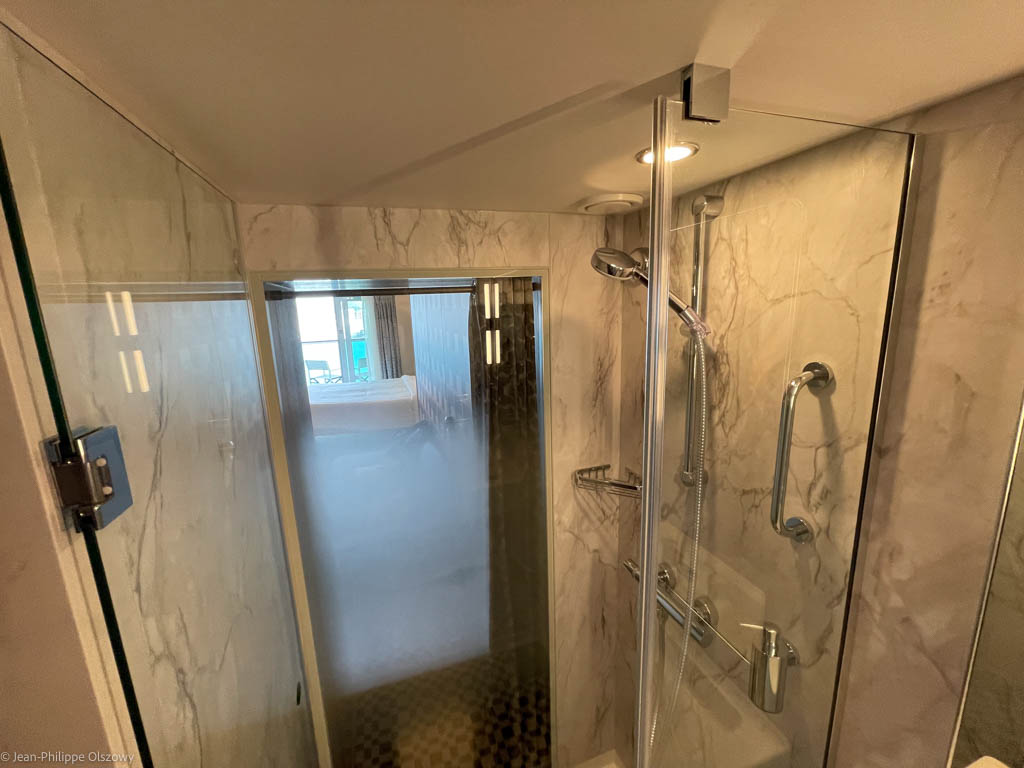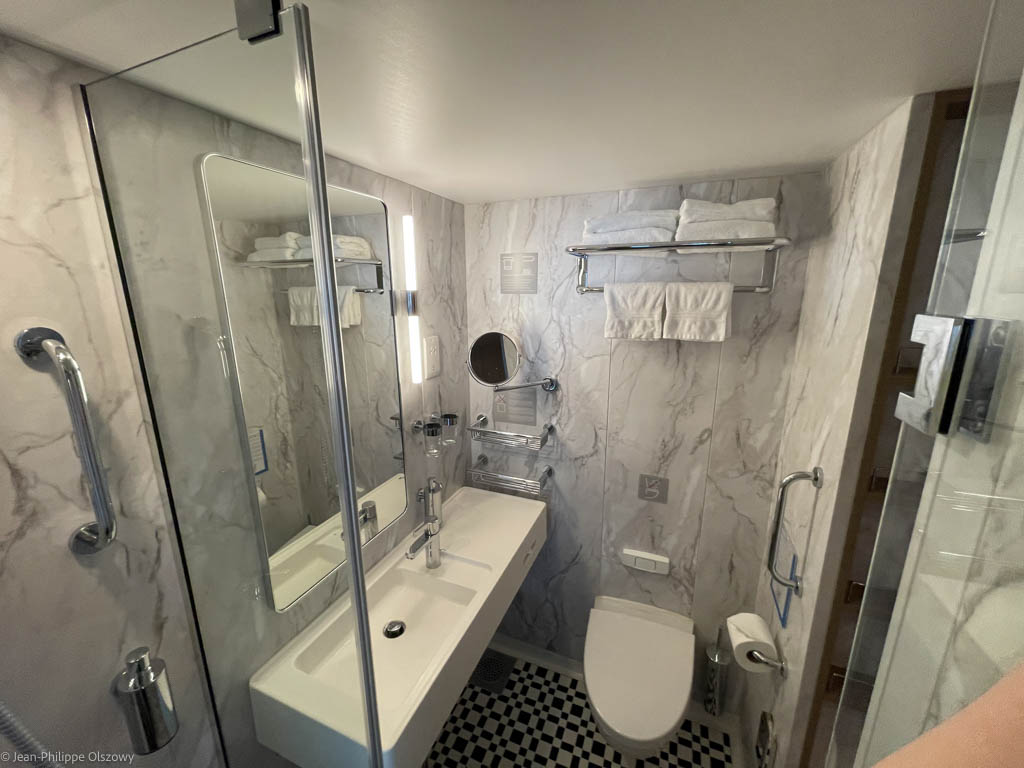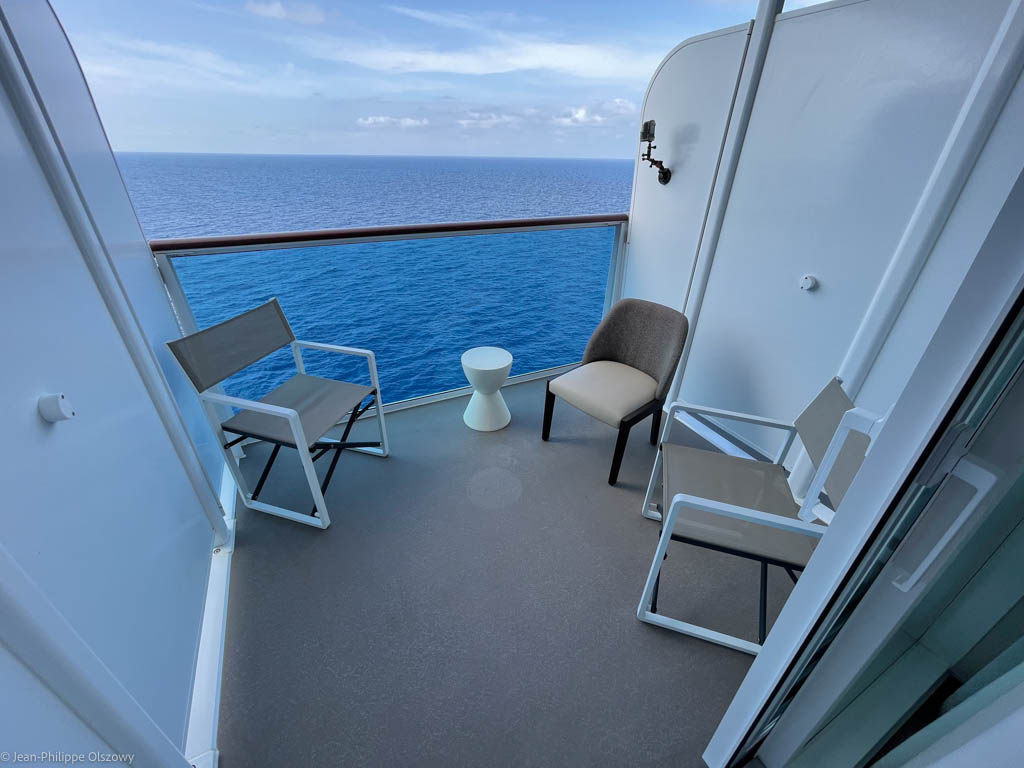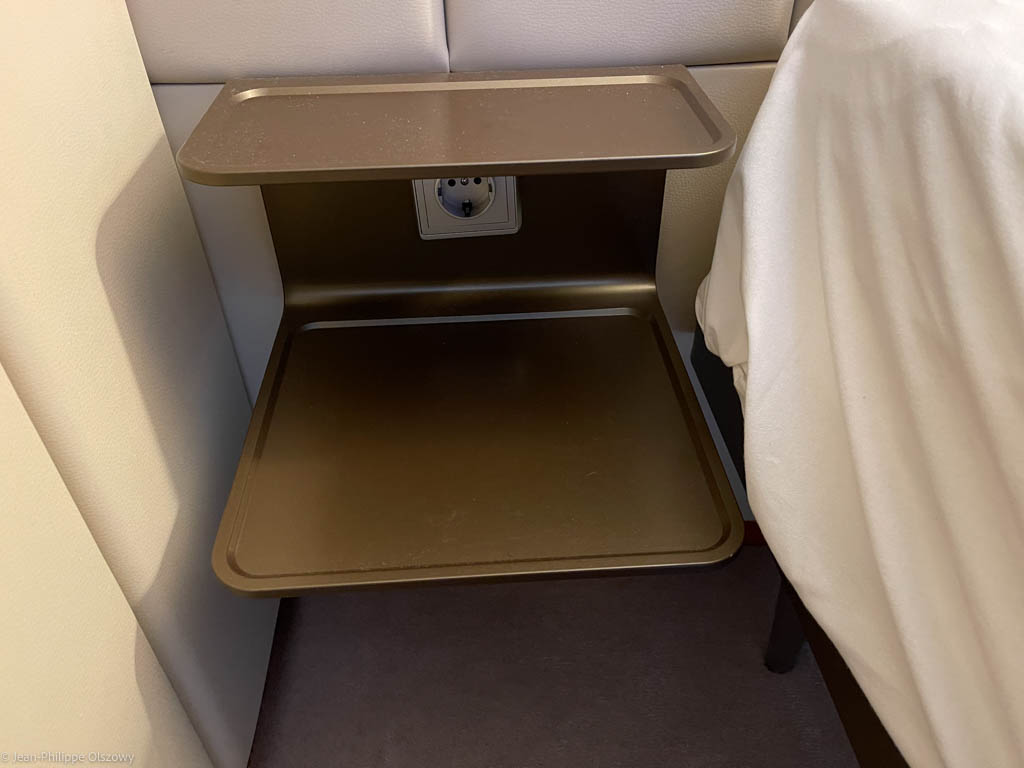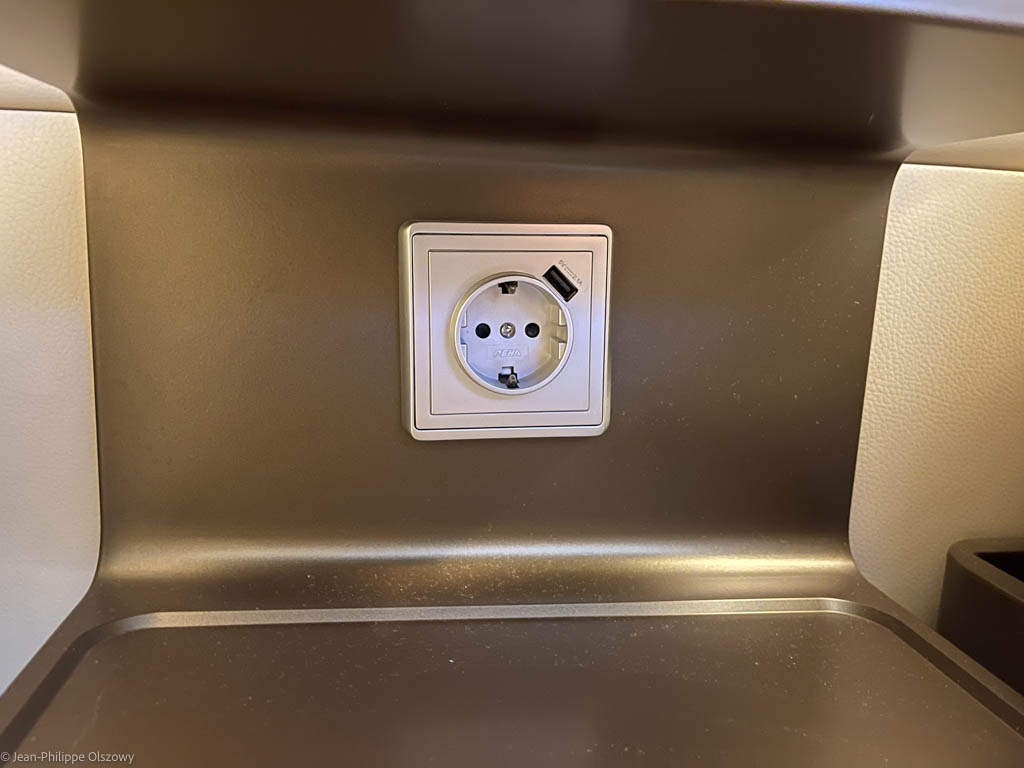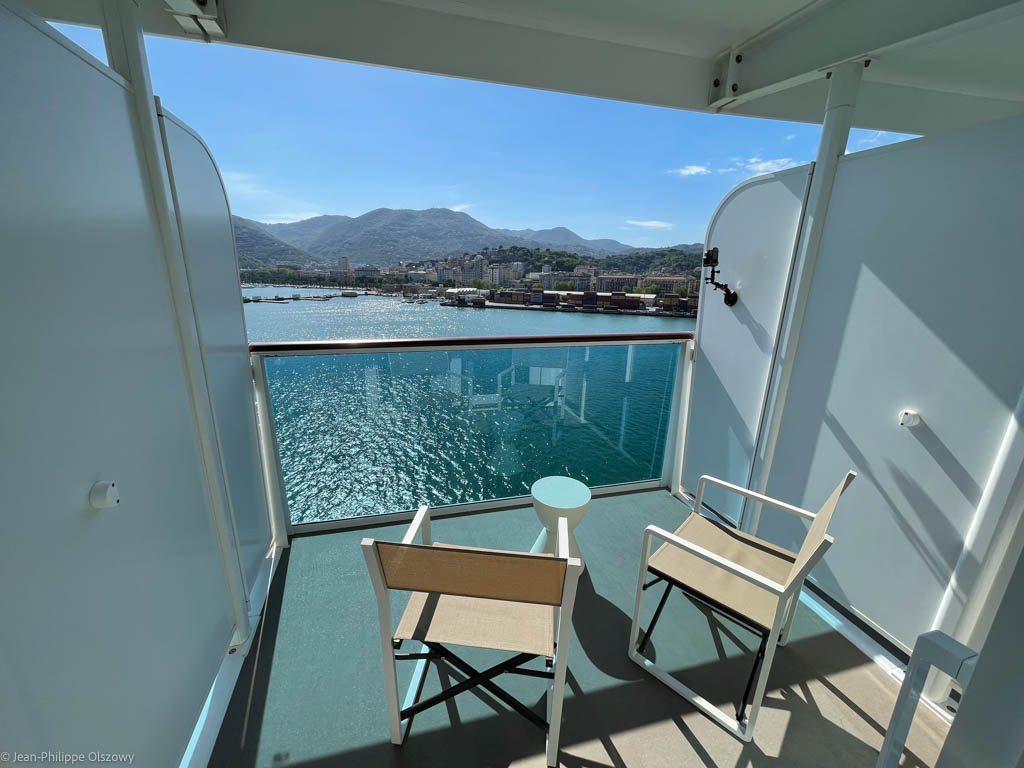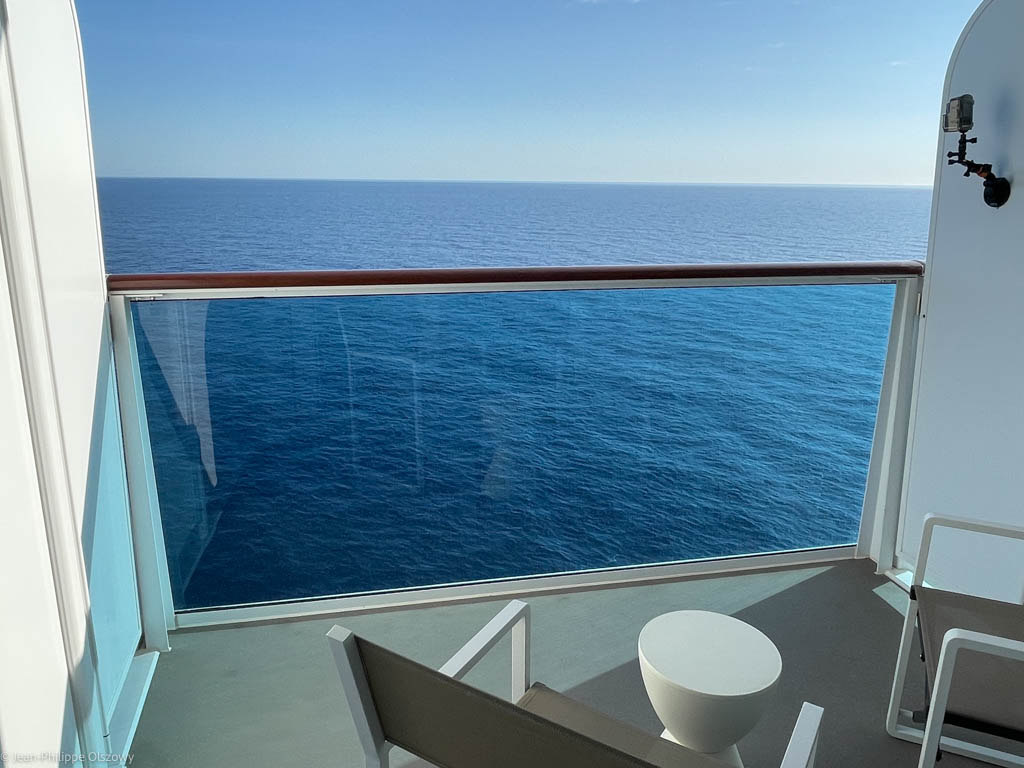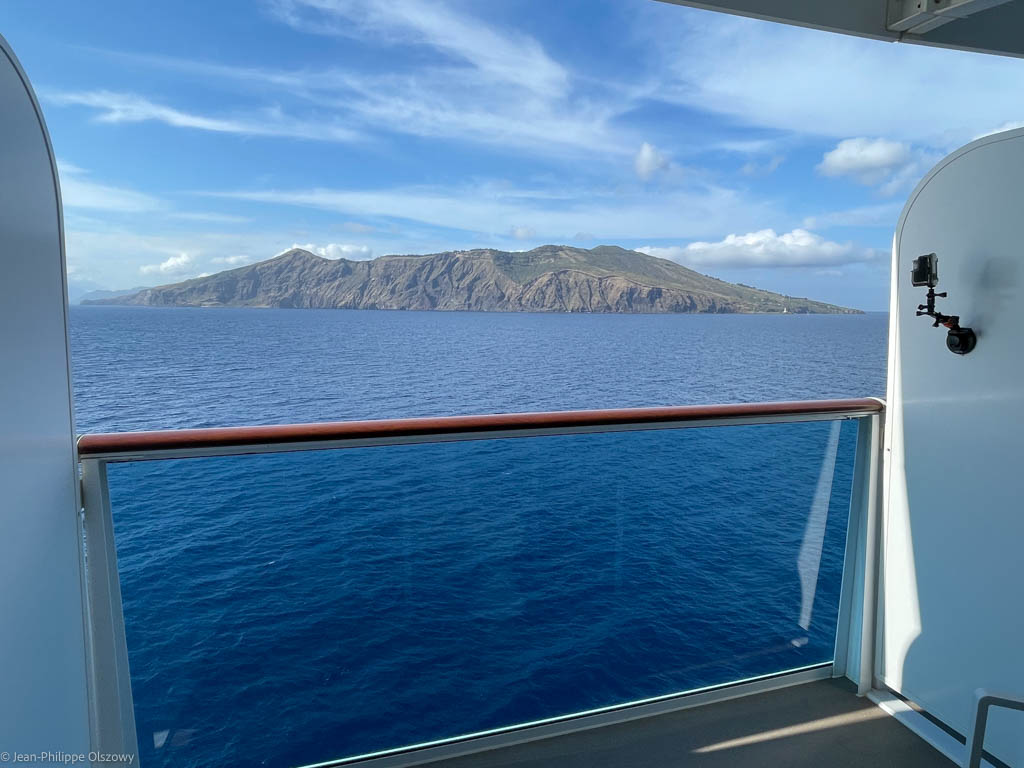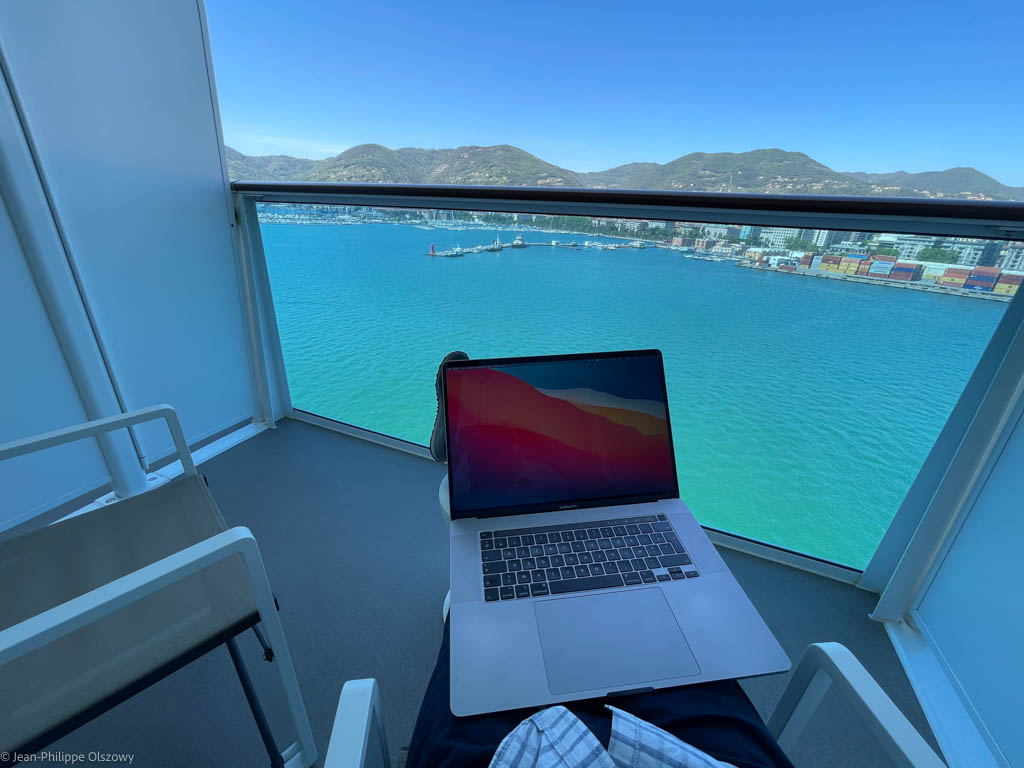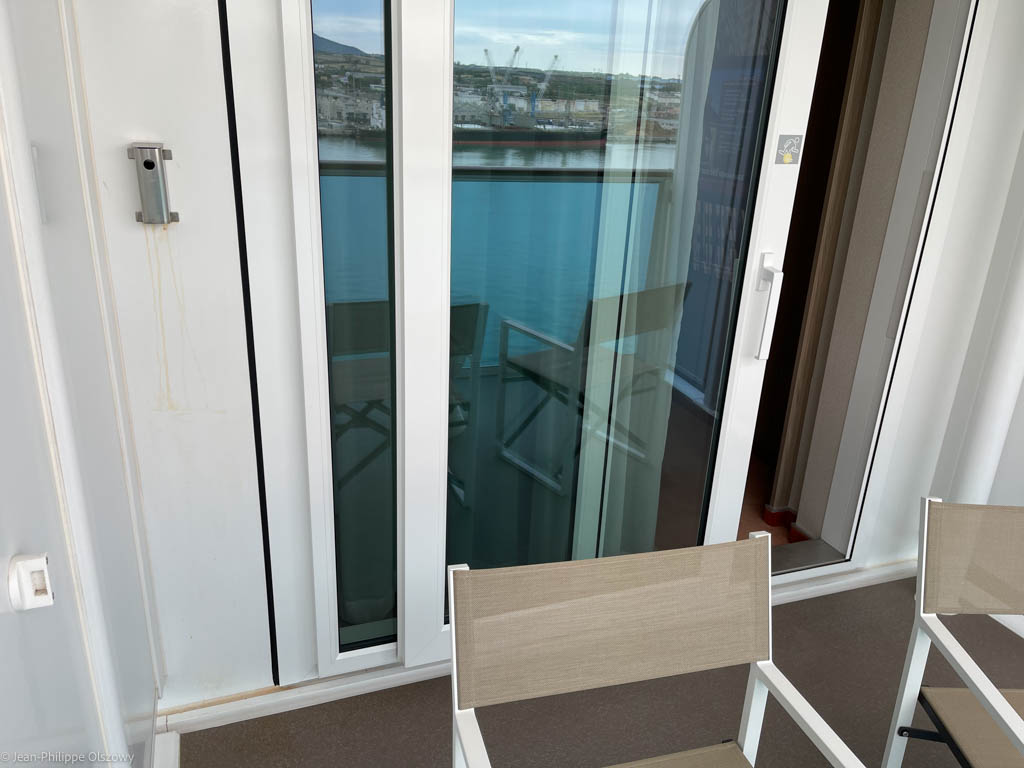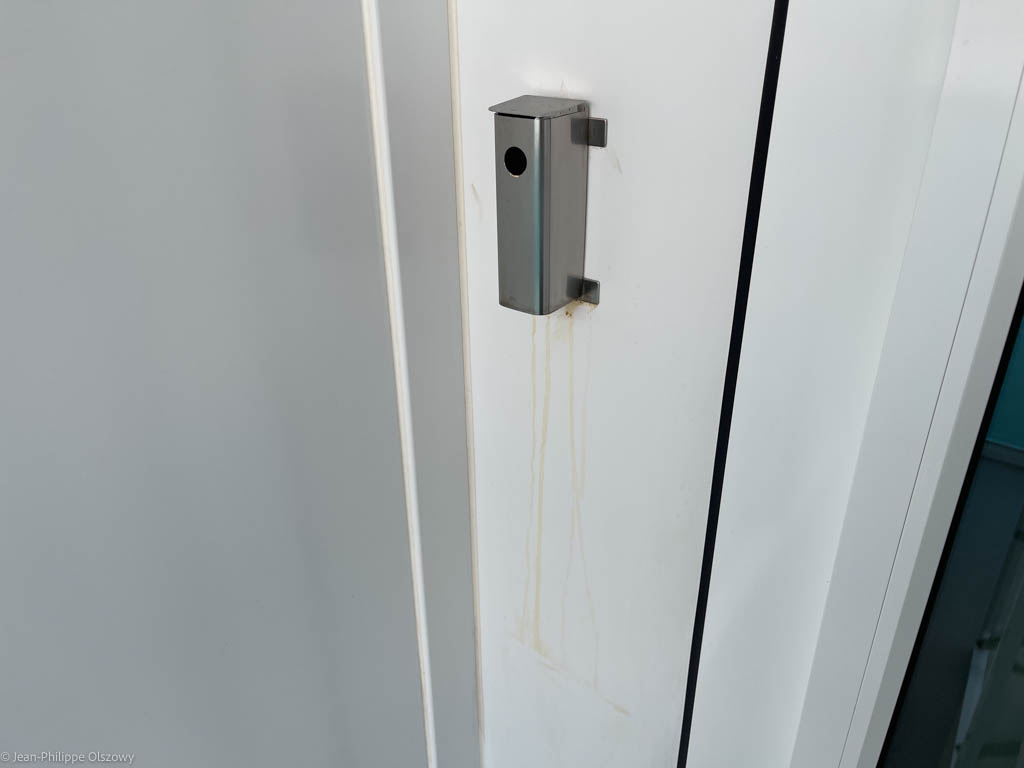 The bathroom was relatively small but functional. A glazed part overlooked the rest of the cabin (and vice versa), bringing in exterior light. Rather a good idea! A curtain, on the bedroom side, allowed this view to be opened or closed. The glass that separated the 2 rooms was translucent in its center, you'll understand why.
A table with a mirror, a few drawers and electrical outlets completed by 2 USB sockets, allows you to empty your pockets and sit down. Opposite the bathroom, there is a small, lighted make-up area. A large closet as well as a smaller one is enough to empty your suitcases. Additional pillows are available there. No fridge or mini-bar.
The television facing the bed is a fairly large LG model. The number of channels available is impressive (more than a hundred, while most other companies offer only ten to twenty), the majority are in Italian language (I did not imagine that there were so many channels in Italy … but it is clear that they all look a little alike). 8 French language channels including LCI, CNews, France24, TV5Monde, Arte. On the other hand, no interactive system, as we now find on the cruise ships.
Room service was very good. Discreet and efficient, only in the morning.
App, Wifi, Internet access
Using your smartphone and the Costa app has become essential. Once on the boat, connected to Wifi, the application provides all the information about the onboard activities, the restaurants, the current and upcoming activities, the excursions, the status of the bill … Whenever you need a menu, you have to scan a QR Code which refers to the menu of the place where you are. Everything is available in several languages, including French. You should also be able to find the plan of the boat there, but I never managed to display it.
If you want to stay connected with the outside world, you can buy an internet package or pay per consumption. It is very expensive, as on all ships. The highest plan costs € 100 (+ € 3 commissioning) and corresponds to 3 GB of data. In other words, not a lot if you use social networks like Facebook and want to share photos throughout your trip. The application allows you to activate or deactivate your internet access. Very good idea when we know that the applications on our phones spend their time exchanging data, even when we are not using them.
Overall, the application is well done, simple, and operational. A good point. It offers a dialogue service in text mode ("chat"), which does not require any internet package. It allows you to send SMS messages between each other, and with other passengers, if they chose to share your trip, or all those who have declared their profile as public. It's quite fun to browse the directory … some have humor!
The beverage package
Costa's reputation made me understand that drinks were not included in the base price, including water at the restaurant! Many cruise passengers have told online on their blog, their Youtube channel or on Twitter the bad joke about buying water … Costa is positioned as a low cost in the world of cruises, and it is assumed. Some fans of the company totally accept the consequences of this choice, the overall price of their cruise taking precedence over any other argument. This is quite understandable.
When booking, Costa's website offers a Comfort option. It offers the possibility of choosing your cabin (but I never had this opportunity to do it on the site), a better experience on board (I actually had a larger than average cabin), and adds a first level of beverage package. Water is then included when you're in the restaurant, as well as some alcohols such as wine (a white, a rosé, a red) and a few others, with a limited selection. It is possible to purchase a premium version of this package, before the cruise departs via the website, or directly on board at the start of the cruise.
If we are interested in the prices of these packages, they are expensive, even very expensive on most companies whose cruises are not "all inclusive". But the surprise here is the additional price to pay to improve your package. I am giving here the example of the Brindiamo package (the first level) to the Intenditore package (the highest level).
Costa website, we find it advertised at € 26.09 per day. But if you take the Comfort option, you get this package by paying only € 40 per person, or less than € 6 per day. Very easy to make is worthwhile even with scarce drinking, and even if the choice is very limited. Even more interesting is to switch to the Intenditore package ("connoisseur" in English which is the company's premium beverage package). The website advertises it at € 41.74 per day. Honestly, this is the price you find on other major companies, for a comparable package. But the trend in recent years is to "offer" this package in the price of the cruise. I put "offer" in quotes because the real term would rather be "included" in the price. Do not be mistaken. If the marketing presents this to you as a gift, the company has first done the mathematics so that the price covers the cost of the "gift". 😉
To switch from the Brindiamo package, after paying these 40 € for the Comfort option which is not only for drinks, you can switch to the Intenditore package for 122.50 € per person for 7 nights. This gives a global price per day of 23 € in all. And there, being at the highest level of the package which includes a large part of what is offered on board, it is a much lower price than what can be found with the competition (but this package has a limited selection). And for my type of consumption, it is really worthwhile! To demonstrate this, I show you what can happen on one of my typical days.
1 "real" long coffee: € 2.90, 1 fresh orange juice: € 5, 1 double espresso: € 3.40, 1 bottle of mineral water: € 2.90, 1 beer lunch: 5.5 €, 1 espresso: 1.70 €, 1 glass of wine: 8.5 €, 1 cocktail: 9 €

(price as of May 30, 2021)
Those who have spent days on a cruise ship know that it is not very difficult to drink this. It is even little compared to the average of my cruisemates … however, the total amount of this day would be 38.90 €, or 15.90 € more than the price of the highest package, in which all these drinks are included. And don't repeat it, but I often have a 2nd orange juice, a 2nd glass of wine (a white followed by a red), and sometimes an aperitif (and the evening is not over 🙂).
To conclude, even if Costa does not include a beverage package in its price by default, it confirms here its low cost policy. The "à la carte" prices for drinks are also correct. So also good for those who will only have a drink here or there, without having to buy a package.
However, there is a significant difference with the competition: the Intenditore package includes certain drinks (such as wine or certain cocktails) by the glass, costing up to € 9. If you choose a glass of wine at 11 €, this is the price that will be charged to you, while on other companies you'll rather pay only the difference between the limit of your package and the price actual price (here, 2 €).
A personal note on the wine list: impossible to find a correct wine from my point of view. The "house" wine (included in the basic Brindiamo package) is undoubtedly the one that does the best in terms of value for money. I even tried wines not included in the package, it wasn't worth. Moreover, the wine at 11 € a glass that I take as an example is a French wine which can be found in supermarkets for less than 5 € a bottle. Do you see the trick?
A last downside, which can probably be attributed to the somewhat special period of this pandemic: often some drinks offered in the beverage menu were not available. This can be disappointing for someone who is particularly fond of a drink and takes a package thinking that they will drink it regularly … but he won't.
NB: All these prices are those observed during my cruises aboard the Costa Smeralda from May 23 to 30, 2021. They are therefore subject to change.
The spa, the fitness room
The spa is also operated according to the sanitary protocol. Paid massages and other therapies are as usual offered by appointment. Access to the thermal suite can be made by reservation. It is in this case privatized for 2 persons of the same cabin (most likely), for an hour or a little more, and for 40 € per person. A good deal when you know the prices of access to these places, generally not privatized! One downside: the sauna and hammam inside the thermal suite were not open. What's left are the showers, the bath, the heated stone beds …
The gym was accessible but with a limit on the number of people. Temperature measurement was performed on arrival, and on a sheet you need to write down your arrival time then your departure time. Wearing a mask compulsory when moving around, but not during exercises. 1 in 2 treadmills and other bicycles are allowed, to leave more space in between people. As soon as a person leaves an equipment, an employee comes to disinfect it. The equipments, like the ship itself, are brand new.
The service
Maybe because I'm more used to American or Anglo-Saxon companies, I always expect a very good organization, where everything is planned in advance. The same goes for the service in general, with well-trained employees, aware of the procedures and responding to everything.
It is clear that this is not the case on the Costa Smeralda. It starts with the Guest services, a service which on other companies I have experienced is open in extended hours (often 24 hours a day). The opening hours are clearly displayed if it is temporarily closed. Here, none of that. No one is there during the day and no schedule posted. I was lucky to walk past by at a time when there was finally a person at this reception. Several passengers were in line to wait for their turn. Suddenly the person left the reception, without speaking to anyone, and will not come back … the few passengers who were waiting remain dumbfounded.
In fact, everything refers you to the dedicated number 33 33 (say tre-tre, tre-tre). The answer of the operator is almost always the same: "I'll find out". With a recall … or not.
Room service is only done in the morning, another difference compared to other main companies where someone comes in early in the evening to check that everything is fine in the cabin, change towels if necessary, empty the trash, and prepare the bed. Nothing essential, I admit, but a noticable difference.
Most of the waitresses and waiters at the table are friendly and dedicated. Most find it difficult to use the app they use to take the orders. No wonder given that the boat is only restarting its cruises, and that the given application is not necessarily very old either. They are also some difficulties dealing with the beverage package. Costa indicates on the keycard that I have the Brindiamo package and that I have "upgraded" it to the Intenditore package. I would have found more logical to simply indicate that I had the Intenditore package … and unfortunately the waiters only see the "Brindiamo" part and reminds me each time that what I order from them is not included … and I have to show them that I have a package for that …
Eating every evening at the same time, at the same table means that you end up with the same waiters and the same people around. I know some travelers prefer this. Me not, as it strongly restricts the possibility of organizing your evening as you wish. Due to social distancing, each table is well separated from the others. We are far from the American atmosphere where everyone talks with everyone. It is difficult to say whether it is due to the sanitary protocol, or to the culture of the passengers, with a strong Italian majority.
The waiter I meet every night is of Indonesian origin. He speaks English, Italian and … French very correctly … a surprise compared to most of the other waiters (who often know a few French words, related to their activity, but not more). There is an explanation: he served for a few years on the Paquet Cruises (a French cruise company)!
The price
I mention the price of this cruise because it is a selling point of Costa cruises. One week (8 days or 7 nights, depending on how you put it) in a cabin with balcony, at the end of May 2021, was priced at € 829 per person (double occupancy, that means that it is the price per person when there are 2 in the cabin, because a single traveler would generally pay double this price or little less, except for some promotional offer for "solos"). To this was added the 40 € of the Comfort offer (which offers a slightly larger cabin and the basic Brindiamo beverage package). I also took the COVID insurance, compulsory (but not necessarily to be taken from Costa): € 22 per person. I opted for the Intenditore drink package for € 122.50 per week.
Daily service charges are added to the bill. Here it was 10 € per day and per person.
Excursions in this context were only possible with the company, without the possibility of walking freely. Prices ranging from € 30 to over € 100 could be found at each stopover. Everyone is free to take excursions or not.
A total price for a version that could be described as "all inclusive" is at € 1083.50 (€ 155 per day and per person). It is clearly competitively priced. We can reduce it even further by choosing an interior cabin, without a balcony, and none of the options, and go below € 100 per day. I have not studied the version in a Suite. But I think that in this area too, Costa remains very competitive, but might not provide the same level of service as the competition.
My final point of view
So I was able to make my own opinion on this company that I had never tried in more than 15 years, and about fifty cruises. The feedback I got from it weren't good, except for the price. I confirm at least this last point: the prices charged make Costa one of the cheapest companies with a comparable offer. There are even cheaper companies, like Carnival, Costa's parent company, for example, but above all you have to go to the United States, and to the Caribbean. It is therefore necessary to take into account the trip in addition to the cruise (various transport, return flights, hotels and other additional expenses).
Now I am ranking this company at the bottom of my comparison list, right next to MSC.
I don't like the principle of embarkation and disembarkation at each port. There is no longer a cruising experience as a whole, and we are getting closer to a simple hotel where people arrive and leave without sharing the adventure. It's a huge difference from what I'm used to, and I realize, as I had already sensed with MSC quite a few years ago that I like it a lot less. Maybe Costa offers longer cruises and no permanent in / out otherwise. But this was not the case, and I was able to verify the difference.
I don't like dinners at set times either. Since you're supposed to be on vacation, you don't have to worry about what time it is, and you can decide at the last moment that it's time to eat, choose a restaurant, share your table with other people, new friends or old acquaintances … real freedom. Well, it's not the case with Costa. Although some arrangements might probably be possible, you have the feeling that it was not à la carte. Or, you have to choose a specialty restaurant (which you generally have to reserve in advance, and which will be chargeable). So, a restaurant is assigned to you (and if you have chosen one beforehand, not sure if it is this one). A service is also imposed on you (first, here it was at 7.15 p.m., or second, around 8.30 p.m. … but sometimes it's 6.30 p.m. and 8 p.m.). And the table assigned will be the same throughout the cruise. For me, this is incompatible with a real vacation, and above all, anything that interests you on the boat can happen, too bad, either you attend the events or you have your meals in the main restaurants. Your meal can take place at the time of departure (so as I love to take advantage of this moment, it is missed). Or when the boat passes near an observation point, like an island … same: too bad. Eat or observe, you have to choose. It is not very surprising that many companies are partially or totally abandoning this mode of operation, even if I know that some passengers (not the youngest😉) still appreciate it.
Service is not a strong point. Overall, everything can be fine, but it is better if there are no unforeseen events. When it comes to organization, we are far from Anglo-Saxon mastery. The biggest difference for me was in the written directions. I am used to have everything being written, arrowed, indicated (and even already written in the internal journal left every day in your cabin), here everything is spoken. People talk, shout, gesture, make mistakes … I call it organized mess. It's devilishly less effective.
Without being difficult, Costa is not playing in the major leagues when it comes to the quality of its food. Far from being "bad", I still have the impression that the other companies are making an extra effort on this point. Some, like Norwegian Cruise Line, or particularly Celebrity Cruises, have set the bar much higher. And I am not talking about the specialty restaurants of these companies!
The beverage offer is very correct (even if it is less extensive and less diversity in premium spirits than its competitors) and is distinguished by a very good value for money. And if you're a fan of real, tight, Italian-style coffees … you're served!
A last big caveat that comes to me from my cruisemates: Costa has this reputation for overloading its boats with the number of passengers. I could not verify it on this cruise because the huge Costa Smeralda was limited to 25% of its capacity, so far from more than 5000 passengers on board in standard conditions. However, and this is not a good clue, I could on several occasions feel the start of saturation, of "too many people", even with this hyper reduced capacity. It does not bode well with 4 times more passengers.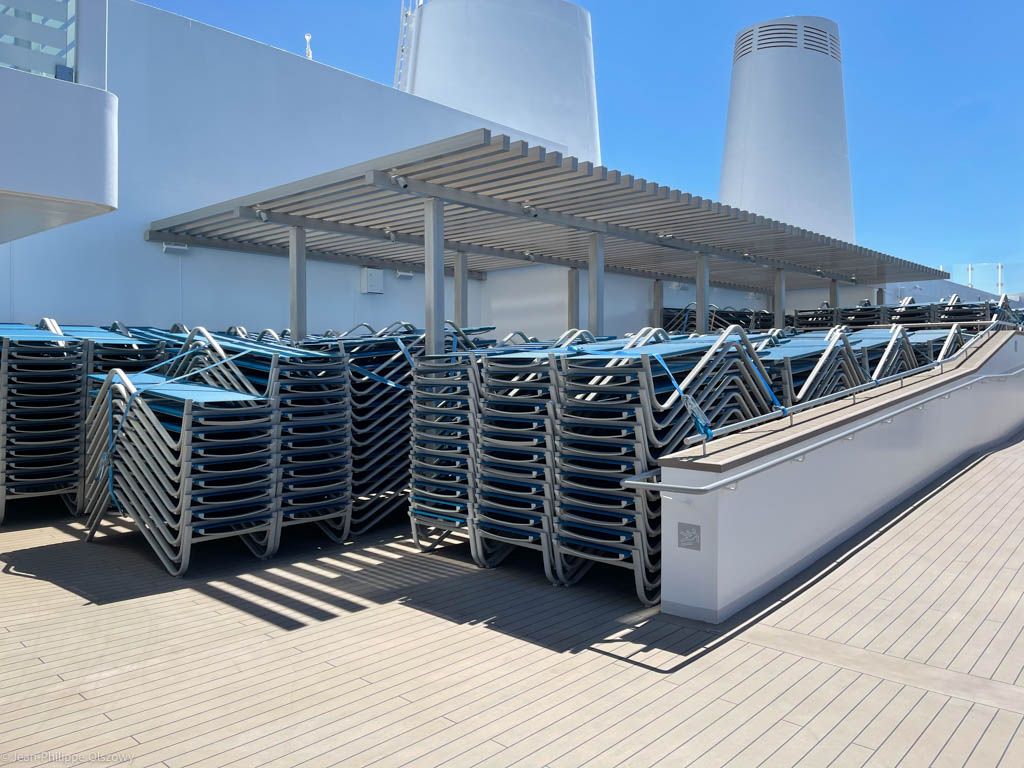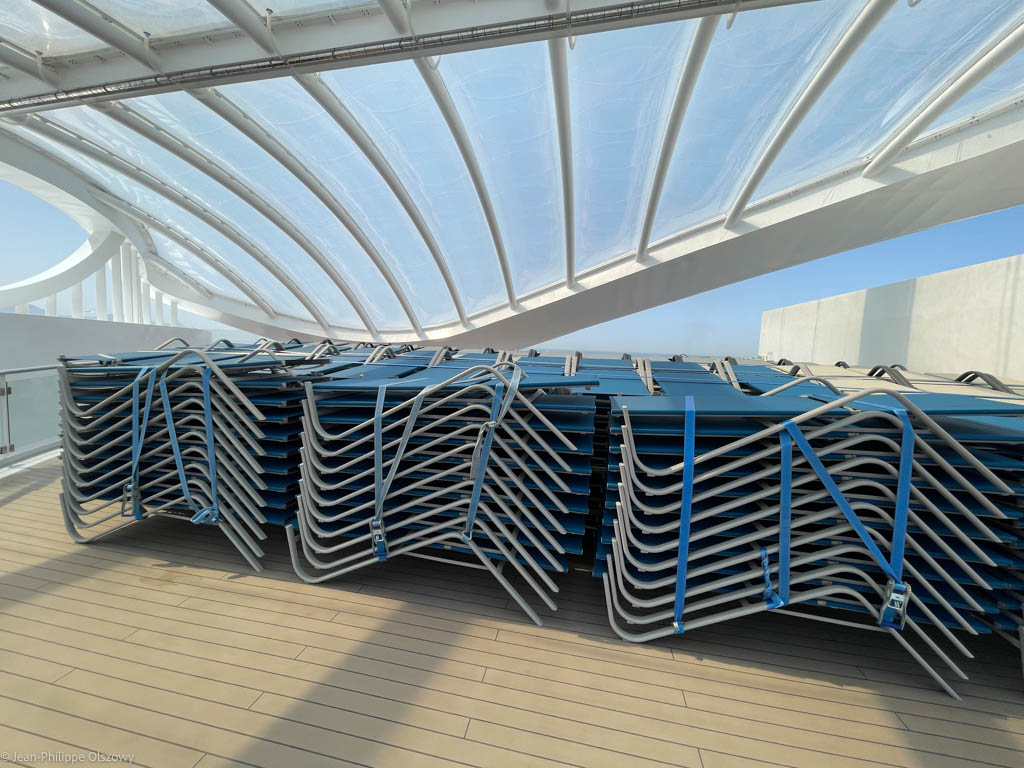 Would I do a Costa cruise again? Probably not. Not because I refuse to do it, but rather because the other opportunities offered are so numerous that I would surely favor my favorite companies (Celebrity, Norwegian, Princess, Royal Caribbean …) or else I would try others. (and it's planned: Ponant, Oceania, Virgin …). Unless I find an itinerary so exclusive that I couldn't do otherwise 😛